Making a good first impression, whether on a first date or at a business meeting, is an endeavor with tons of moving parts. You want to care, but not too much. You want to be interesting, but there's nothing worse than someone trying to be interesting.
It's a head-spinning social balancing act that's, in essence, no different from crafting welcome messages for your new email subscribers.
Your welcome email is the first step to having a lucrative, open line of communication with customers—as long as it's done right.
We'll take a look at 11 great welcome email examples that succeed at both motivating the first purchase and building the foundation for a long relationship.
But first, we'll go over the basics of welcome emails.
Would you like to see more ecommerce email examples? Download our free swipe file and get inspired by 30 real-life ecommerce newsletters.
A welcome email is the first communication you send to someone who willingly signed up for your email marketing newsletter.
Welcome emails serve as a confirmation message to those new subscribers. But they should also introduce your brand and products—while setting the stage for future emails.
The content of a welcome email varies with different ecommerce businesses (as you'll see in our welcome email examples).
Just about all of them feature a warm greeting and other common elements which include a discount code, helpful resources, and/or the company's brand story.
What makes a good welcome email?
Sending a warm welcome is all well and good, but it needs to hit all the right notes to be truly effective.
Here, we'll go over some welcome email best practices that will help consumers feel rewarded for handing over their contact information. Let's see!
1. A personal touch
Welcome emails should make new subscribers feel like the email was written just for them. You can accomplish this with a personalized greeting or through familiar language and tone.
In fact, if you use someone's name in the subject line of your welcome email, they're 26% more likely to actually open it.
The more personal data you gather from the signup form, the more you can personalize their experience. Some signup forms just ask for an email, but others have fields for name, age, and gender preference.
OptiMonk has several popups that can help you grow your email list and collect personalized data.
2. Consistency
Remember that your welcome email is just the first email you'll send to users in your email sequence.
So you need to think about how all the elements of the welcome email set up the rest of your email marketing strategy.
Many ecommerce businesses actually use a welcome series of emails. The first email might just be a hello, the second one could offer relevant information about the store, and the third usually contains a discount code.
3. A story
Even though new and potential customers sign up for your newsletter, it doesn't always mean that they have a full understanding of your brand.
Happily, a welcome email is the perfect place to tell your brand's story.
In addition, the way you define your brand identity in your welcome email should make your store's unique selling proposition clear.
4. Value
When someone signs up for an email marketing newsletter, they want to get something out of it right from the start.
That means your welcome email should deliver something valuable to your new subscribers. Otherwise, they will think that these emails will just clog up their inbox and might even unsubscribe.
The most common way to offer value in a welcome email is to include a discount code for new customers.
Many companies use discounts as an incentive to entice people to sign up for their list.
However, some companies offer valuable information in their welcome email, whether that takes the form of free guides or blog posts that were originally published on their website.
7 tips on writing welcome emails
We've collected 7 tips on how to write your welcome emails. They can also be applied to all your marketing emails, but using them for welcome emails is of paramount importance.
Pro tip #1: Don't phone in your email subject lines
An email subject line is the first part of your email that people will see. It has a huge effect on whether or not subscribers will open the email.
If you have a bland subject line like, "Welcome New Customer," all of the great work you've done in the email body—won't be effective.
On the other hand, a unique subject line makes people want to open the welcome email right away and see what's inside.


Pro tip #2: Use colorful language
Throughout the entire welcome email, from subject line to farewell, a good copy should feature fun and approachable language.
You shouldn't be engaging with new subscribers in a formal manner. This could feel cold and offsetting for the recipient. Instead, treat your welcome email as the first step in your new friendship.
Pro tip #3: Include eye-catching images
Text is important, but it would be a mistake to send a welcome email with just words. Images can be just as effective in accomplishing the goals of welcome emails.
For example, a well-chosen photo can help people come to an understanding of exactly what your online store is all about.
Email templates usually include many slots for images, so make sure to use them.
Pro tip #4: Great design on both mobile and desktop
Keep in mind that welcome messages will likely be viewed on both desktop computers and smartphones. This means that it's important to design your welcome email for both devices.
If someone viewing your welcome email has to zoom and pan all over the place, you aren't off to a great start.
Pro tip #5: Send the email immediately
Research has shown that 74% of people expect the welcome email to arrive immediately after they subscribe.
It's particularly important to send your welcome emails quickly when they contain a discount code. Shoppers might already have a purchase in mind that they want to use the code for.
Pro tip #6: Choose your welcome email template carefully
You can find welcome email templates from many websites and email marketing providers. Free templates will often get the job done, but some online stores might want to spring for a custom welcome email template.
Whichever one you choose, make sure the template resonates with both your welcome message and your brand.
Pro tip #7: Keep it short
Nobody wants to spend 15 (or even 5) minutes reading the first email of your welcome series. Keeping it short shows respect for your customer's time.
Benefits of welcome emails in ecommerce
An online store can expect to gain several benefits from sending out a great welcome email. New subscribers are happy to engage with your brand because they're looking forward to getting a welcome email.
Welcome emails have a 91.43% open rate—according to data from 2018. It's 42% higher than the average email (any email that's not a welcome email) from an online store.
The fact that you can expect the vast majority of new subscribers to open your email gives you a great opportunity to showcase your brand, products, and unique selling point. When you take advantage of that sustained attention, consumers will see reasons to engage with your brand.
In the long run, welcome emails generate 33% more brand engagement than other types of email marketing.
They also have very high click-through rates. And that leads to perhaps the most telling of all welcome email statistics: they generate 320% more revenue than other types of email.
The 11 best welcome emails we found
Here's our list of the best welcome email examples we've come across. We hope you can find some inspiration that gets you started on your own welcome email.
We've also asked some email marketing experts to give us their opinions on these email examples. Read their advice below.
1. LARQ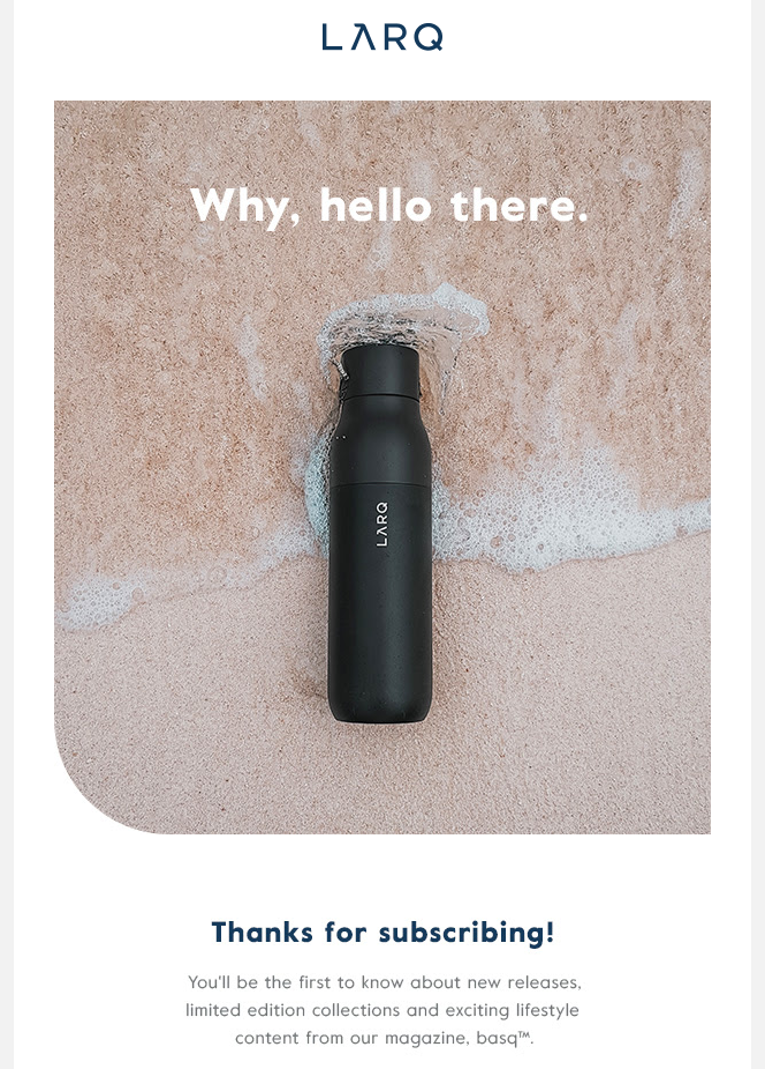 This welcome email example from LARQ perfectly illustrates the power of an image to define a brand. The photograph of a jet black bottle being covered by a wave establishes the brand as adventurous, outdoorsy, yet still stylish.
It also shows new subscribers what they can expect to see in the future.
2. Rituals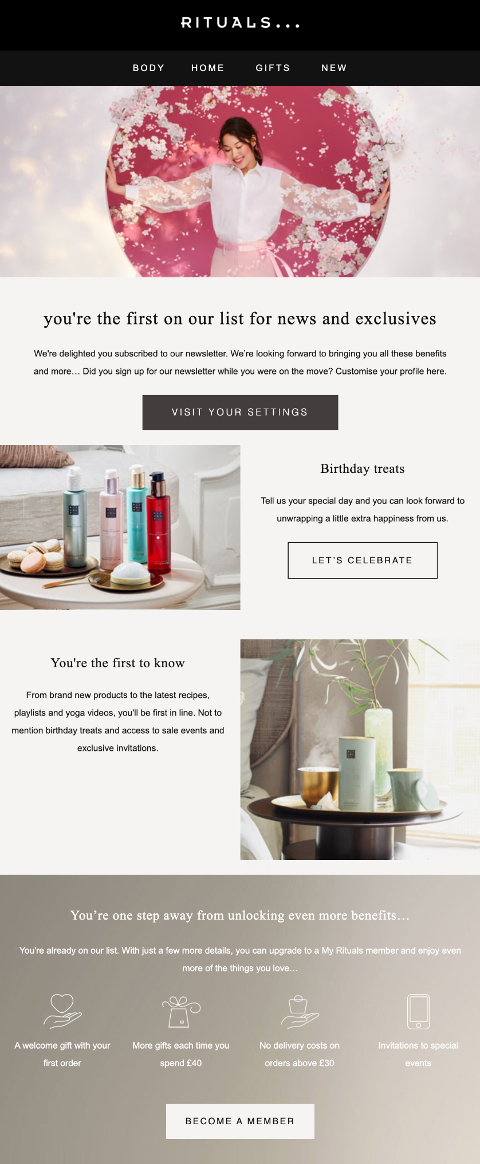 Rituals' welcome email is a great example of conveying tons of information with relatively little text.
After introducing some of the benefits of being a subscriber, they use a list with icons to explain their membership.
3. Curology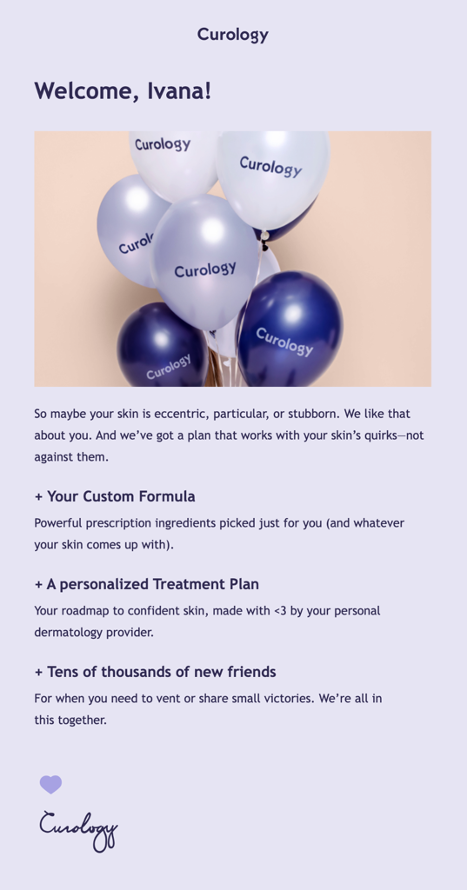 Curology's beautiful welcome email is all about using color and design. They wanted to bring a calm spa experience to their reader.
It's evident that email design can help sell products through emotion.
4. Gymshark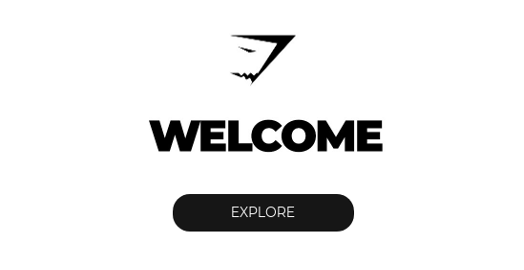 Gymshark uses a simple design that makes clicking their "Explore" call-to-action seem like the natural next step. Getting people to landing pages is a great outcome for a welcome email.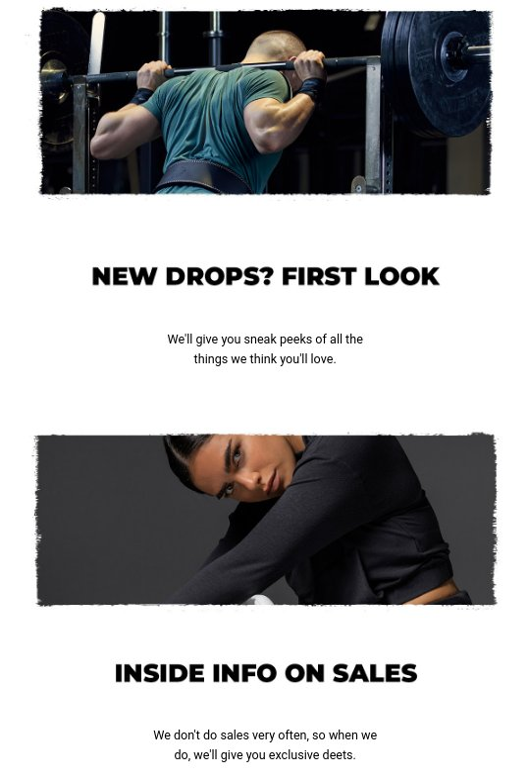 When the reader scrolls further down, this welcome email example pairs engaging photographs with previews of what's to come.
5. Hush Puppies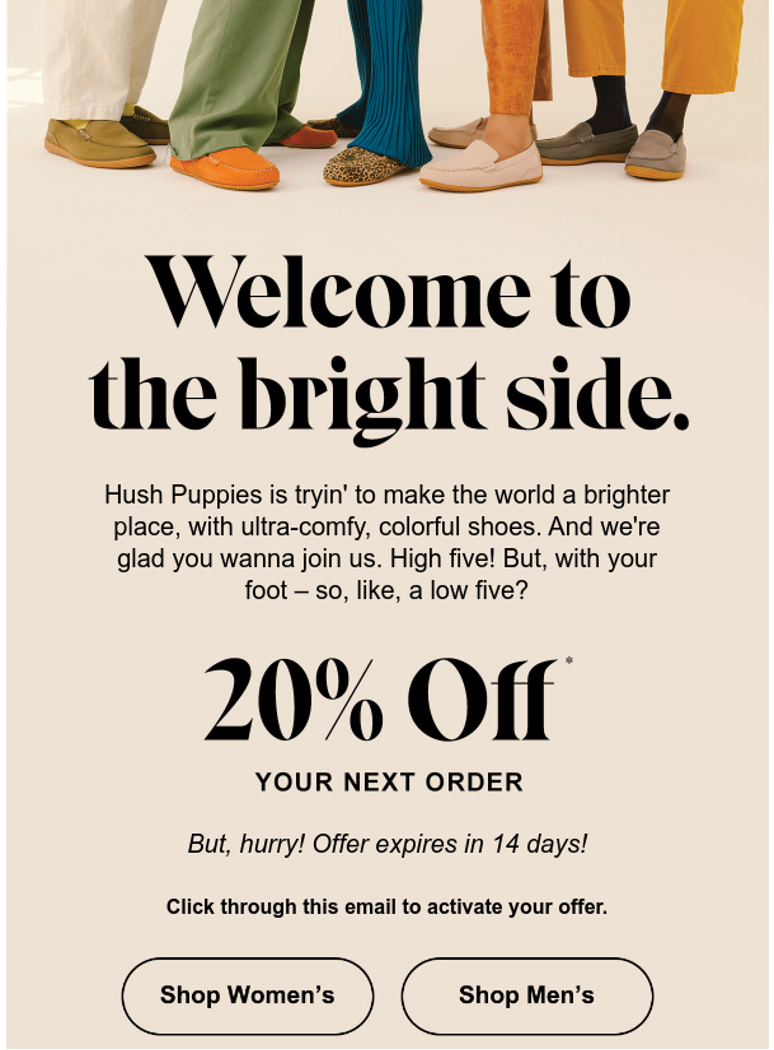 Hush Puppies' welcome email is a prime example of how to use a good email design to get consumers to focus on what's important.
The two take-home messages are "Welcome" and "20% Off," which are made clear by the large and distinctive font.
The photo centered on just the shoes is another nice touch—Hush Puppies are slippers, what more do they need to show?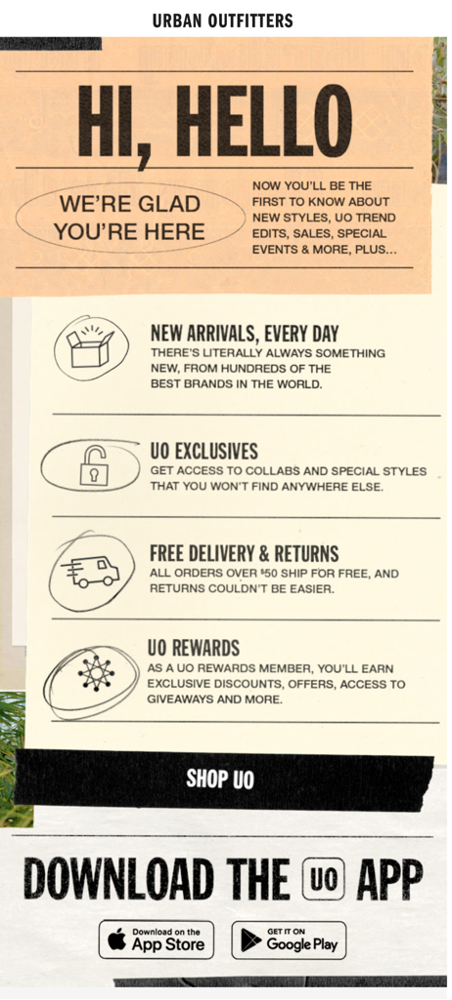 Urban Outfitters' unique email design is not something you often find in your inbox.
There's a great flow from how they welcome new subscribers to highlighting the benefits, and finally—promoting their app.
7. Lunya

This welcome email example from Lunya succeeds at communicating a few different messages simultaneously.
The greatest emphasis is on their $20 off deal, but the company makes sure to include other information as well—like. product recommendations or the option to sign up for texts.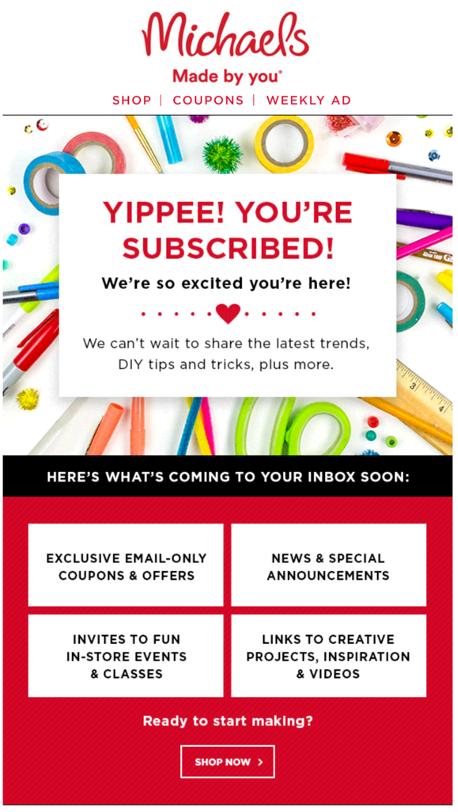 Michaels welcome email is exceedingly friendly and shows the excitement they feel about new subscribers. A few heart emojis can go a long way.
They also let you know what you can expect in your inbox in an easy-to-digest way.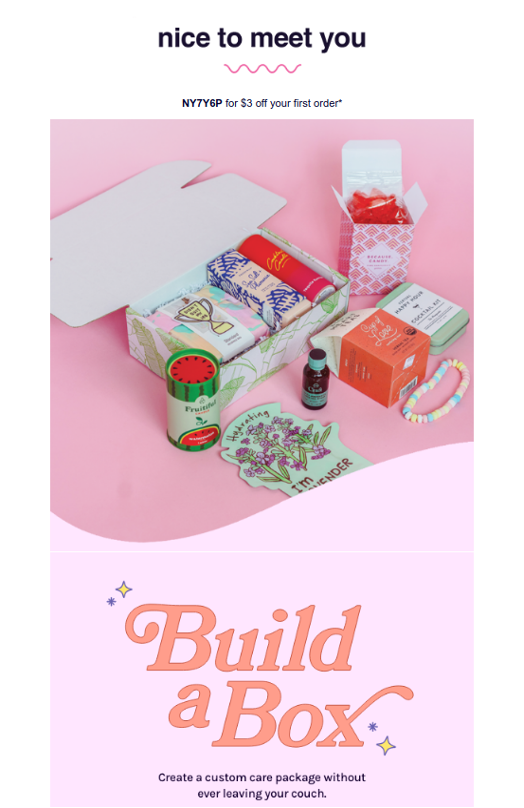 Check out how active this welcome email from Happy Box is. It invites the subscriber to "build a box" while making it seem like a fun and rewarding activity with the large image.
It also gives you an extra incentive with their $3 off coupon code right at the top of the email.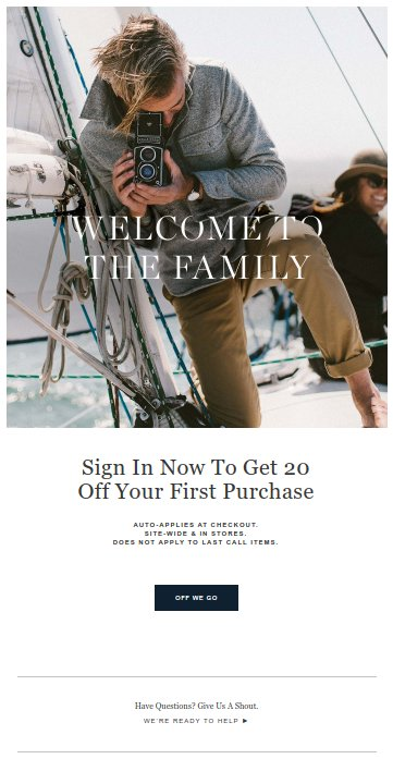 Taylor Stitch knows how to make a welcome email stand out. Here, everything stems from an exceptional photograph that reinforces the "Welcome to the Family" message.
It really seems like you're out on that sailboat with a well-dressed relative taking a photo of you.

New subscribers are usually not that familiar with your brand yet, and they're not sure which products are the best.
Lush's welcome email does a great job of suggesting where to get started.
Welcome emails can take several different approaches to introduce your brand to your new email subscribers. Some of them just say hi and others recommend products—but all of them try to cultivate positive emotions for the recipient (namely feeling welcomed and valued).
As you're creating welcome emails for your online store, try to stay authentic to your image, and what's unique about your brand will come across.
We hope these 11 examples and expert tips will inspire your own welcome emails. Let us know what changes you made and how your A/B tests turned out in the comments below!