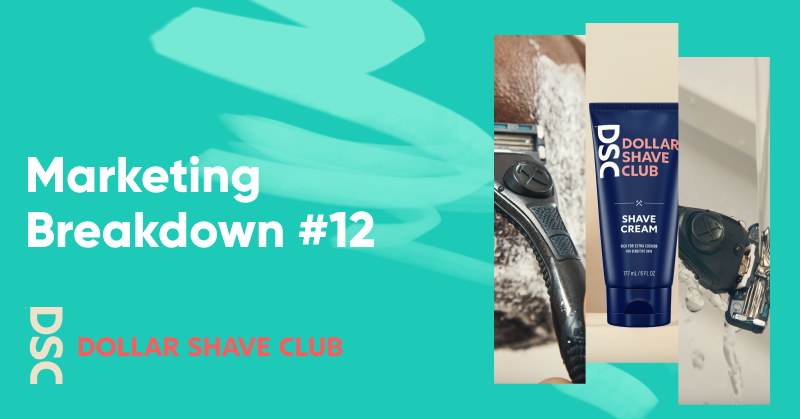 Launched in 2012, Dollar Shave Club's subscription razor service quickly disrupted the men's grooming products industry. Their innovative launch video, strong content marketing campaigns, and direct-to-consumer business model enabled Dollar Shave Club to capture a large market share in just a few years. They were so successful that Unilever bought the company in a billion-dollar cash acquisition.
But how did it all happen?
Michael Dubin, founder of Dollar Shave Club, was tired of paying too much for razors every month—not to mention the inconvenience of always going to the store to pick them up. And that's exactly what sparked his big idea: why not send high-quality razors to consumers for a low monthly fee?
To get his idea out there, he created a viral video to introduce Dollar Shave Club to the world. The Dollar Shave Club marketing team followed up that initial success with some great strategies over the years.
Let's take a closer look at the marketing game plan that Dollar Shave Club used to become a billion-dollar company!
Everything started with the famous Dollar Shave Club video:
The video features Michael walking around a warehouse and explaining the main ideas behind Dollar Shave Club. It's a really funny video, with an informal tone that speaks to its target audience while clearly communicating the problems it solves and the product benefits. The most memorable line: "our blades are f***ing great."
Although the video cost just $4,500 to make and took only a day to shoot, it went viral and established the Dollar Shave Club brand in one fell swoop.
When it launched on March 6th, 2012, the DSC website crashed almost immediately. The next day when it was back up, they had 12,000 new subscribers for their $1 per month subscription razor service.
Within just a few days, 3 million people had watched. The video racked up 4.75 million views in the first 3 months and has over 27 million views to this day.
The video was a huge part of DSC's success, but obviously one great video is not enough to achieve a billion-dollar valuation. So what else did Dollar Shave Club do right to accomplish massive growth?
Let's take a look!
1. Use a subscription model
The idea for a subscription-based razor company came to CEO Michael Dubin when thought about the unpleasant experience of shopping for razors. They were too expensive, they were hidden in stores behind locked cases, and you had to rebuy them constantly.
So he began with a plan to ship high-quality razors to customers' homes for a dollar each month. The value proposition was simple: a cheap shave with quality equipment and the convenience of razors delivered to your doorstep.
The first shipment would include a branded razor or set that cost between 3-9 dollars (depending on the quality of the razor), as well as the first set of stainless steel blades. Then, more blades would simply show up each month, right on cue.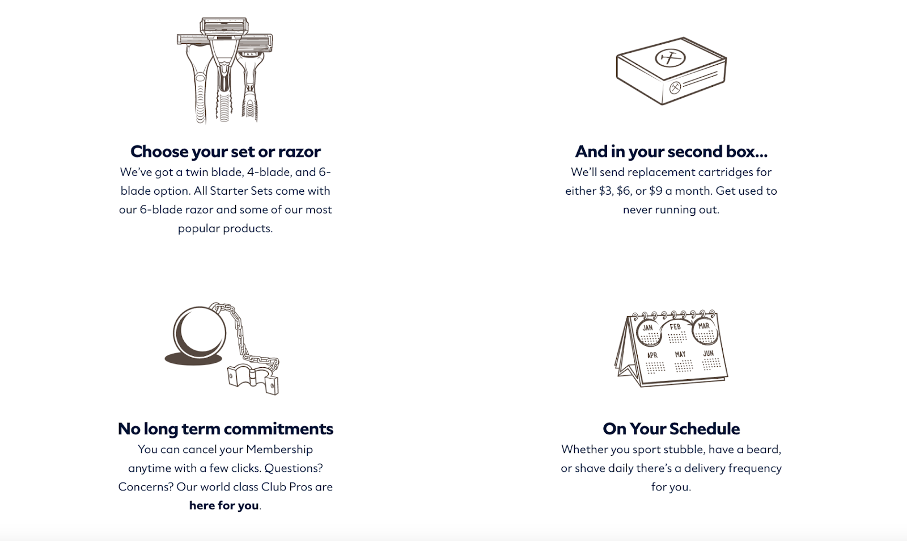 This business model made it possible to provide cheaper razors for consumers, since competitors like Gillette had to deal with the higher costs of retail distribution.
Offering a subscription model in their space was a smart strategy that allowed Dollar Shave Club to take over more than a third of the razor market.
A subscription model is incredibly convenient for consumers, helping them avoid trips to the store and eliminating the need to reorder their products every month. It's a great model for direct-to-consumer brands that want to prioritize loyalty and lifetime customer value. You'll keep more customers by offering subscriptions, meaning you don't have to constantly win new ones.
2. Be consistent with your brand voice
Dollar Shave Club established their witty brand voice in the first video, and it didn't end there. They've continued creating humorous content, even after the Unilever acquisition.
"We're fortunate enough that Unilever bothers to leave us alone in terms of how they've positioned it. We're obviously doing something right, it's so good to have that trust coming from them to continue doing what we've been doing as we've enjoyed some success. They are letting us do our thing," said Matt Knapp, the brand's executive creative director.
Although no other video went as viral as the first one, they've stayed consistent with their messaging. Dollar Shave Club is always trying to make its target audience laugh while communicating the product's benefits.
Check out how easy it is to form an idea of their brand identity from looking at just a couple of their other Youtube videos:
Their video marketing uses a combination of absurdity and average people with imperfect bodies. They bring out the humor in relatable aspects of everyday life.
And they use the same brand voice on Instagram: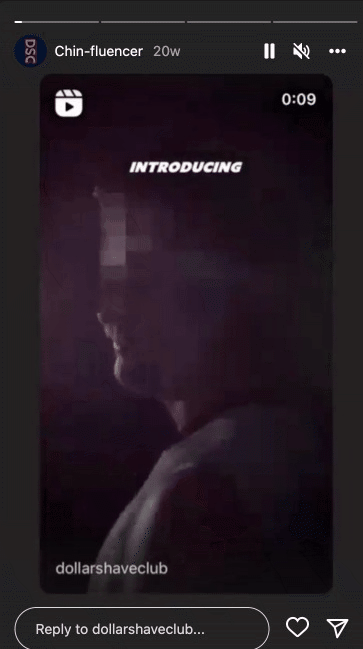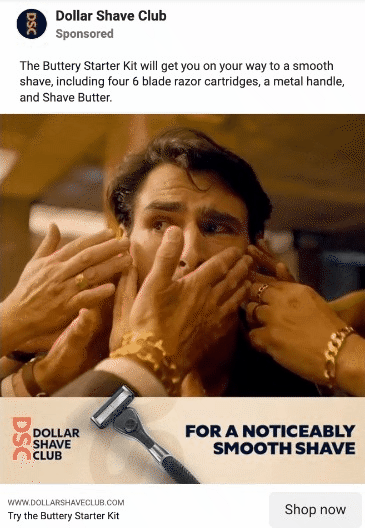 3. Focus on ranking on Google
In addition to their video content, Dollar Shave Club does a great job at content marketing and SEO.
They have a blog called "Dollar Shave Club Original Content," which covers everything their potential customers might search for.
Looking at Ahrefs, you can see that their blog draws tons of search traffic.

You'll also notice that their witty, no-BS brand voice is reflected in the content they publish.
They rank for more than 80,000 keywords that are spread all the way across the sales funnel. That includes:
bottom of the funnel ("dollar shave club" and "dollar shave club razors")

middle of the funnel ("shave butter")

top of the funnel ("do you exfoliate before or after shaving")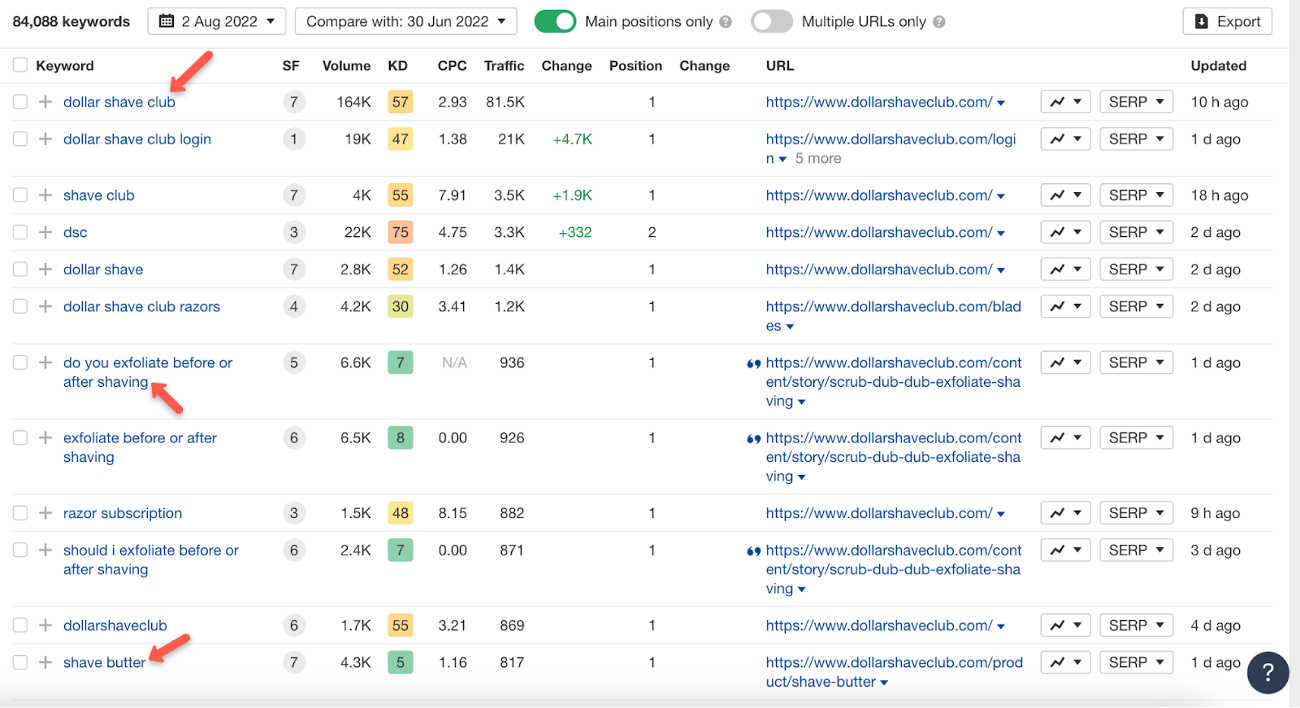 In their articles, they link to product and category pages whenever possible.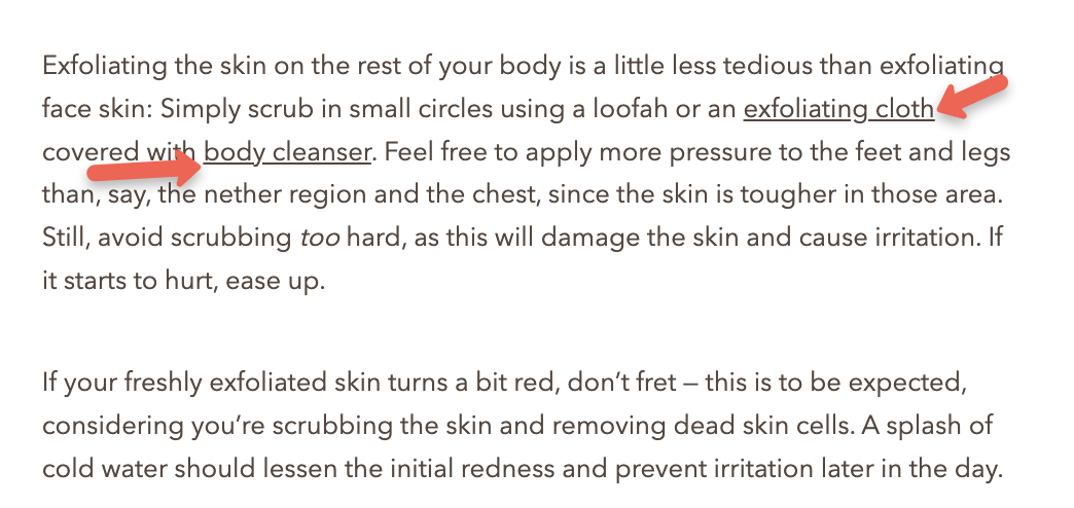 They also have a "Shameless Plug" banner that functions as a CTA for all their articles. It's another perfect example of effective content that's consistent with their brand identity.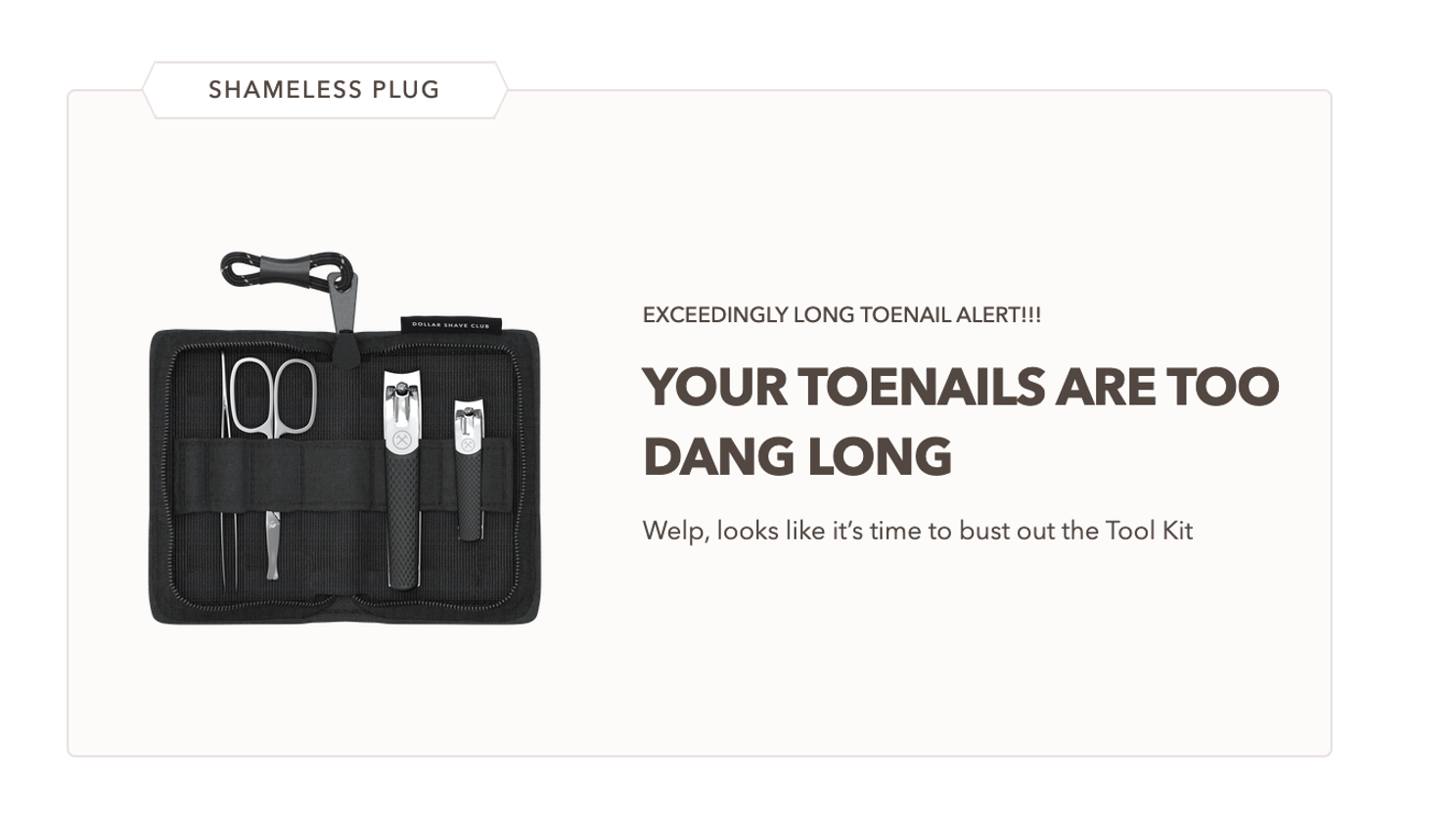 To keep up with trends, they also launched a podcast called "I Learned A Thing In The Bathroom" in 2020. The gimmick is that they teach listeners about an intriguing topic in the time it takes to shave.
4. Provide a fun, user-friendly website experience
The Dollar Shave Club website has two main ingredients that make it great:
It's fun, and

It helps users find the perfect products.
Let's start with the second one.
Dollar Shave Club's website heavily promotes their quiz, which helps customers find the right shaving solutions for them. It's promoted with two(!) CTAs above the fold on their homepage.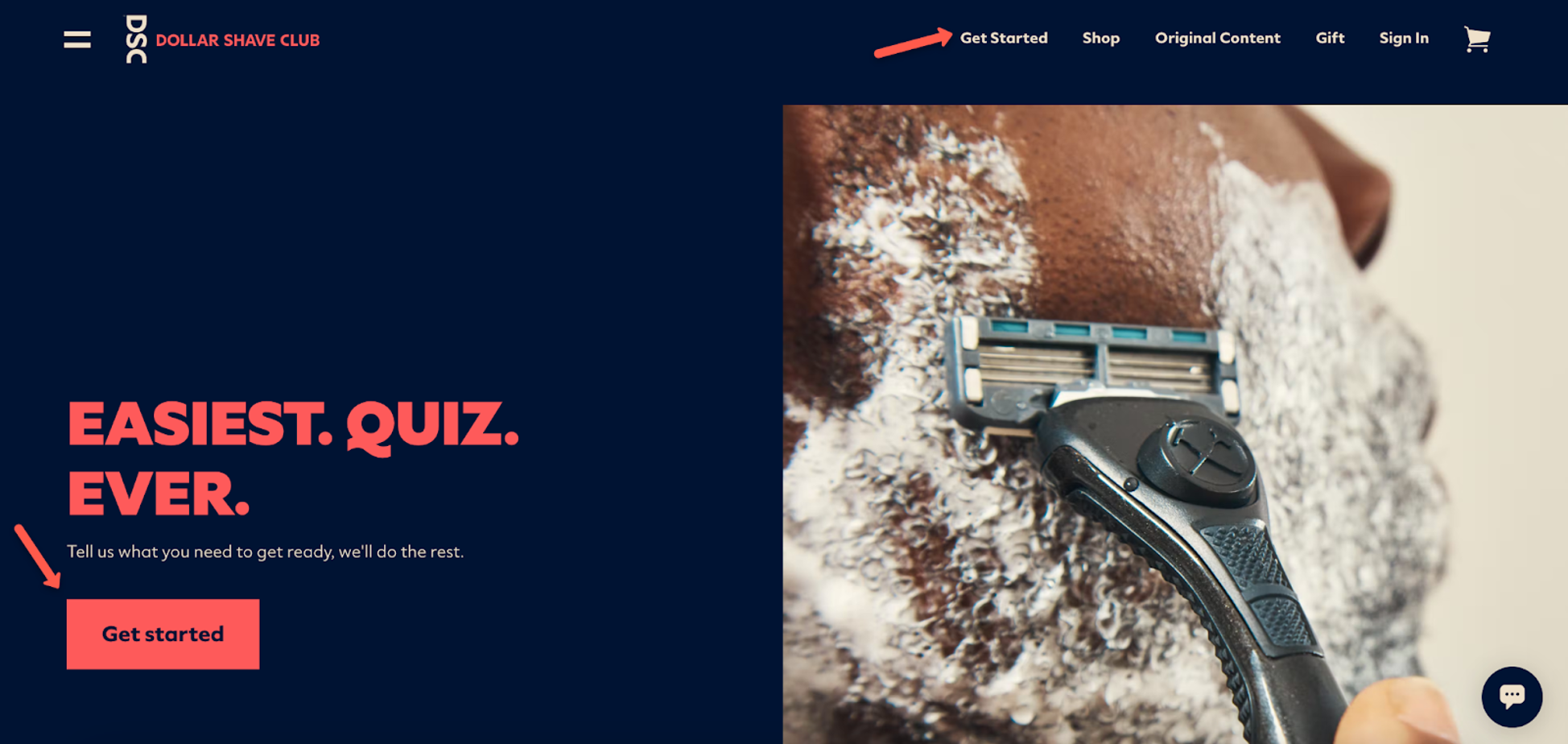 They promise that completing their quiz will help them "customize a box of products just for you!"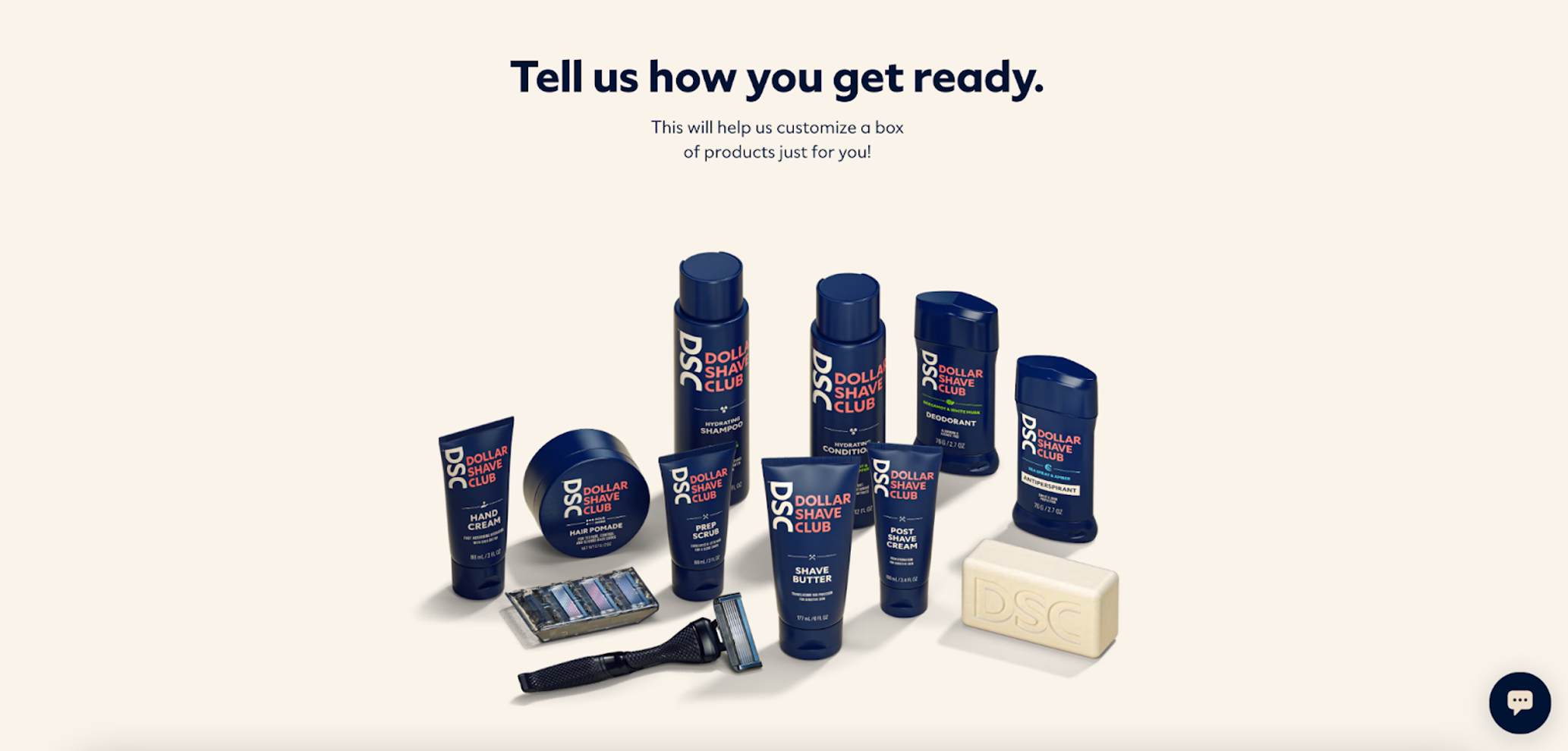 You need to answer a few simple questions, like the one below: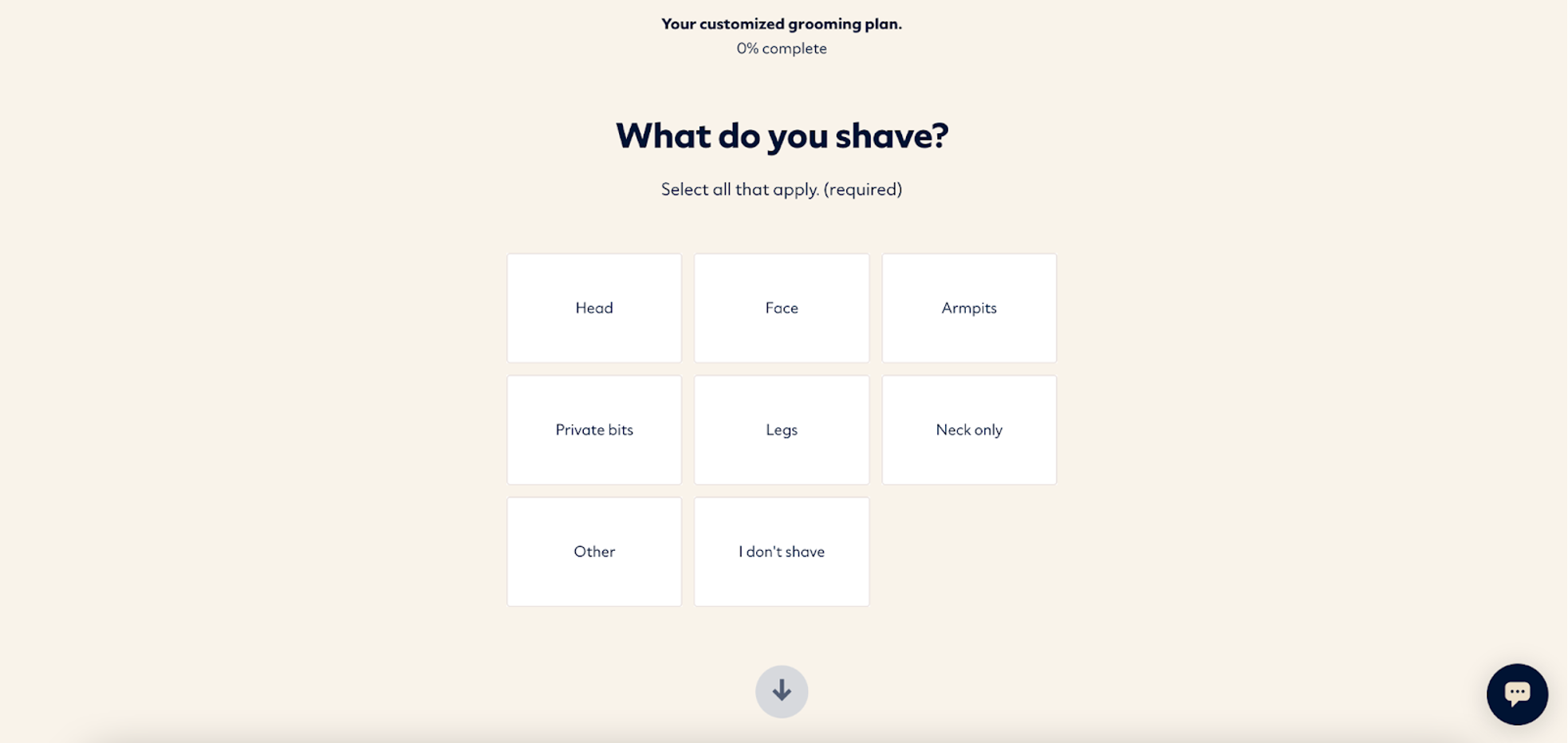 Then you'll get your personalized product bundle: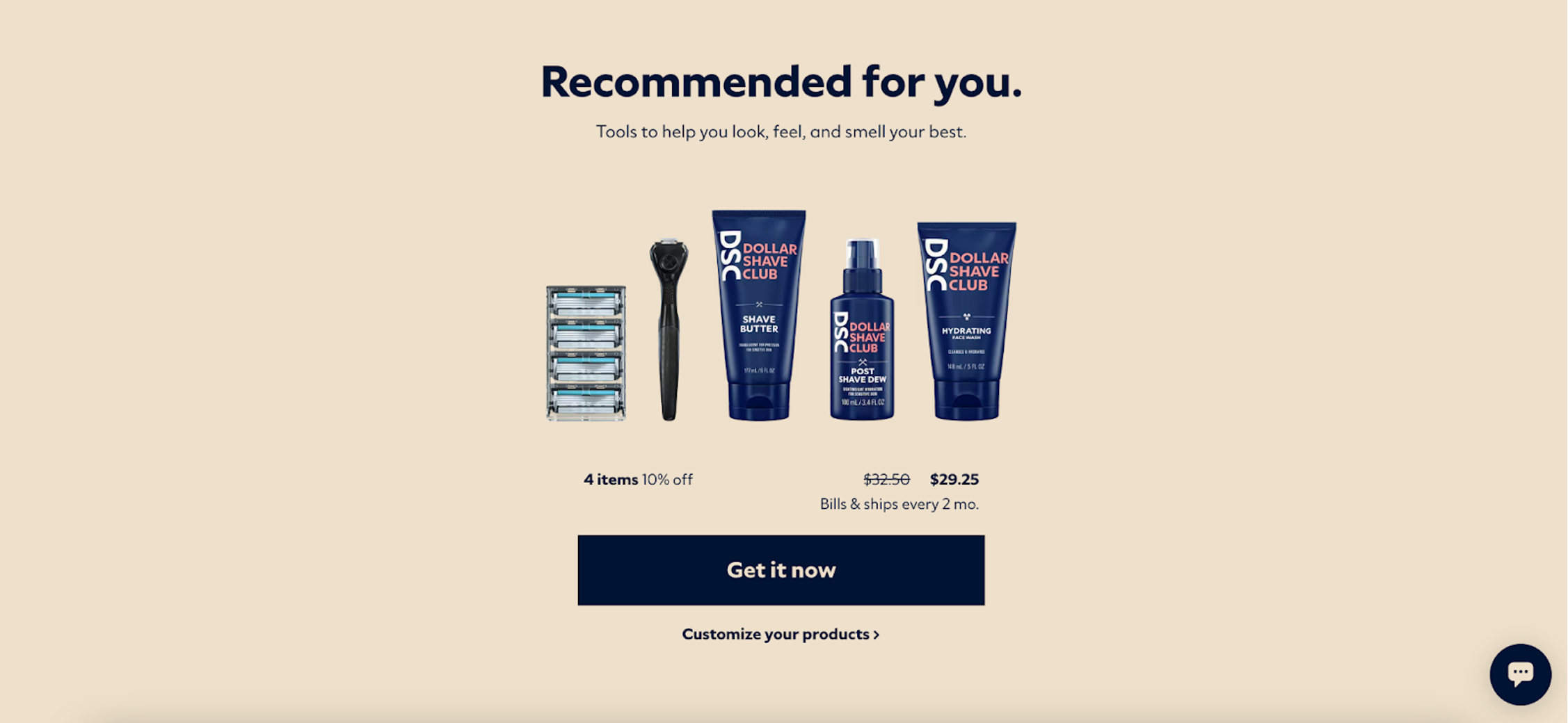 Once you get your product recommendations, you can immediately add them to your cart or customize your bundle.
A quiz like this represents a lot of value for Dollar Shave Club's customers because it helps narrow down the large, potentially confusing inventory. A consumer might not know the difference between "Post Shave Cream" and "Post Shave Dew," but the quiz recommends the right one for each individual.
(You can create a quiz just easily with a conversational popup template from OptiMonk.)
There are also comparison pages that help customers choose the right products. Check out how clearly they compare their products, benefits, prices, and other relevant factors.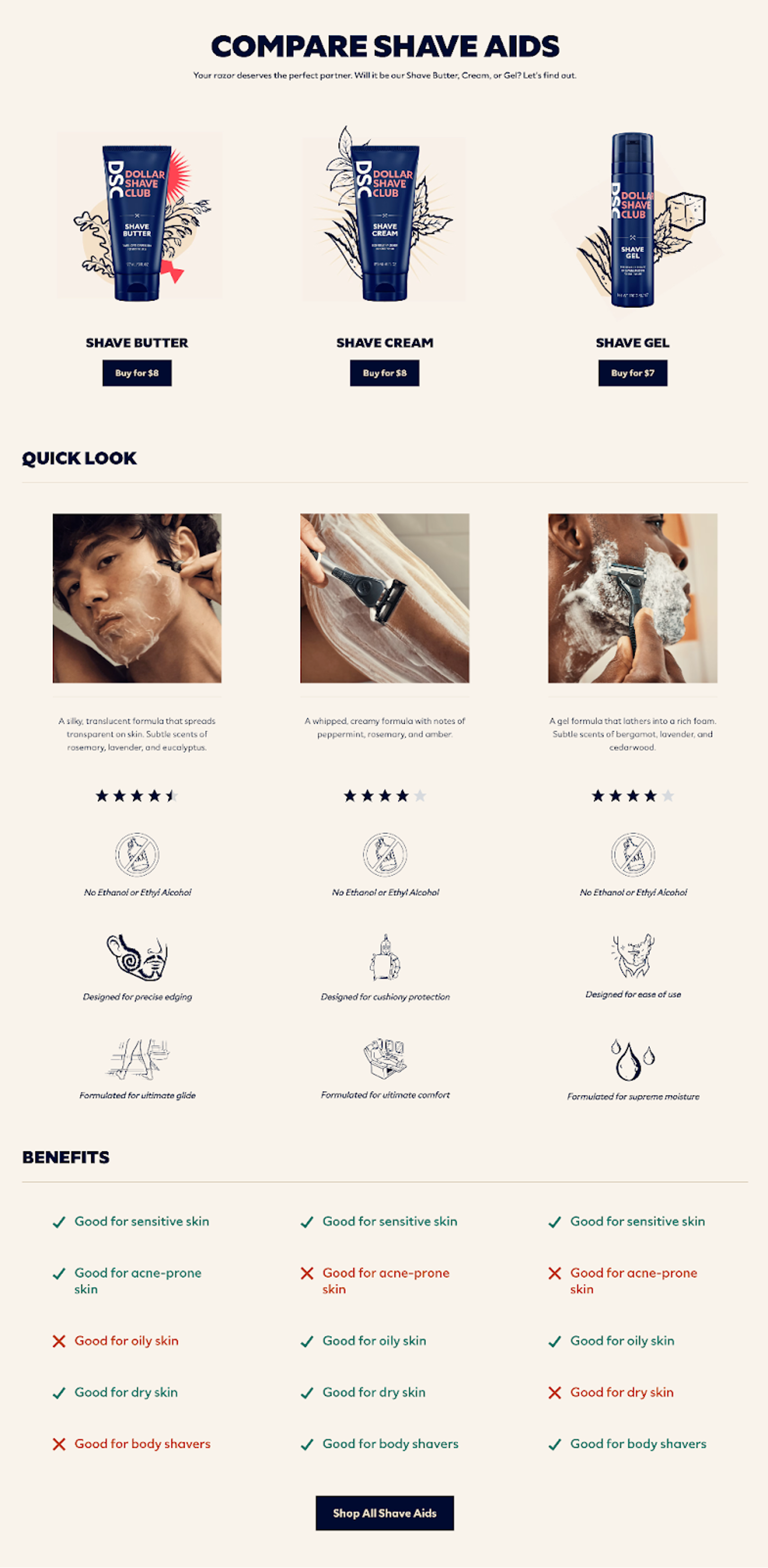 Dollar Shave Club also clearly highlights all the benefits of their products and services on their website.

Moving on, let's check out how they make their website fun.
Their "Relationship Saver" bundle is one great example of this: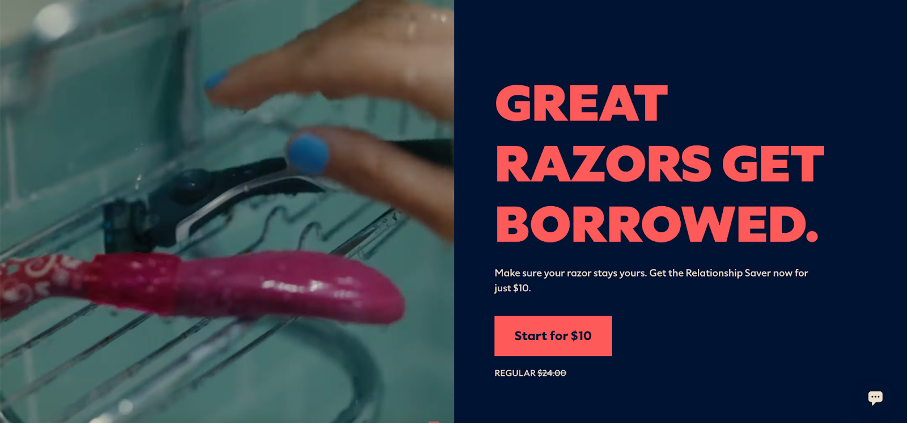 It's playful, it's witty, and it works. By infusing the website with elements like this, the entire experience becomes more fun.
Check out the "Still scrolling? Try this button" section. It's another great example of Dollar Shave Club's knack for keeping things light and fun:

5. Go omnichannel at the right time
Although Dollar Shave Club was hugely successful online, they decided to move into retail last year. They reached a tipping point when they felt they couldn't grow their customer base online anymore. After all, many people still prefer grabbing razors at brick-and-mortar stores.
In 2021, the brand's products landed on shelves at Target and Walmart.
"We're poised for omnichannel growth in 2021… I'm hopeful that we'll be able to, in the next year or two, turn our guns toward omnichannel international," said Michael Dubin shortly before making his exit from Dollar Shave Club.
Many brands get by online by doing what everyone else does. But that was never the case with Dollar Shave Club, who focused on telling stories in their own way from day one. Few brands have been able to achieve as much as Dollar Shave Club in so little time, largely because they try to capture market share through tactics that aren't consistent with their identity.
Why not learn from Dollar Shave Club's success and highlight the unique capabilities of your brand and products, rather than following the mainstream?
What do you think of Dollar Shave Club's road to success? Do you know any other companies who've achieved rapid growth while remaining true to their identity?
Let us know in the comments!