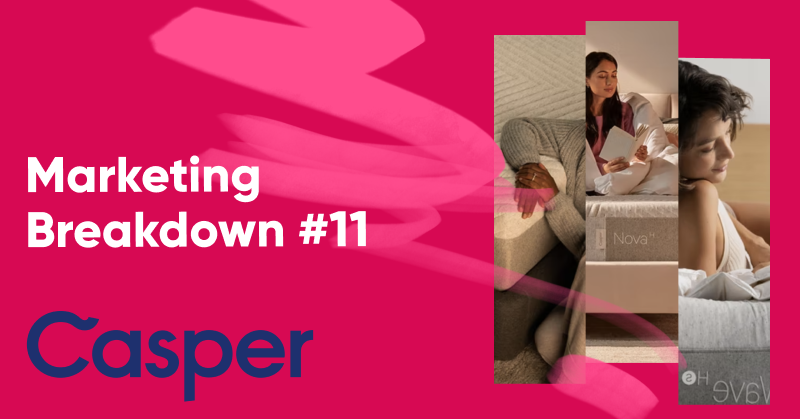 Launched in 2014, Casper quickly disrupted the mattress industry and, just five years later, achieved a $1.1 billion valuation.
Pretty impressive, right?
The combination of innovative foam mattress products and a smart content marketing strategy helped Casper rapidly make a name for themselves and cement their place in the mattress space.
At the beginning, nobody expected an ecommerce mattress store to succeed… after all, don't consumers usually want to try out a mattress before shelling out for it?
But that didn't stop Casper's marketing team. They tapped into their customers' pain points and managed to convince millions of consumers that ordering a foam mattress in a box was easier than going to a brick-and-mortar store.
Their marketing strategy succeeded at getting potential customers to trust that they'd love a mattress they'd never touched when it arrived on their doorstep.
In this breakdown, we'll analyze how the direct-to-consumer brand was able to build unprecedented trust and convince people to purchase mattresses online.
Before we get into the details, a quick side note: starting in 2018, the brand opened several brick-and-mortar stores, so they're not an entirely online-based business anymore. But they still sell mattresses online, and the majority of their growth was accomplished via their online business.
Now let's go over the marketing strategy they used to achieve massive success!
1. Nail your content marketing
Casper knew that in order to acquire customers, they'd have to build trust in their new brand. That's why they launched The Casper Blog.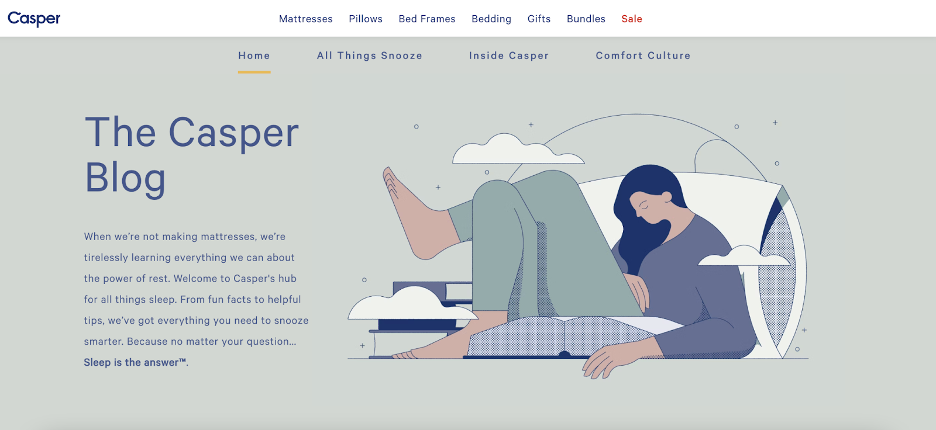 Casper's blog focused on answering any questions that customers might have about buying a new mattress.
Whether you're interested in how to get the perfect rest, mattress sizes and comparison guides, or a complete guide on how to choose your mattress, Casper has content to fill your needs.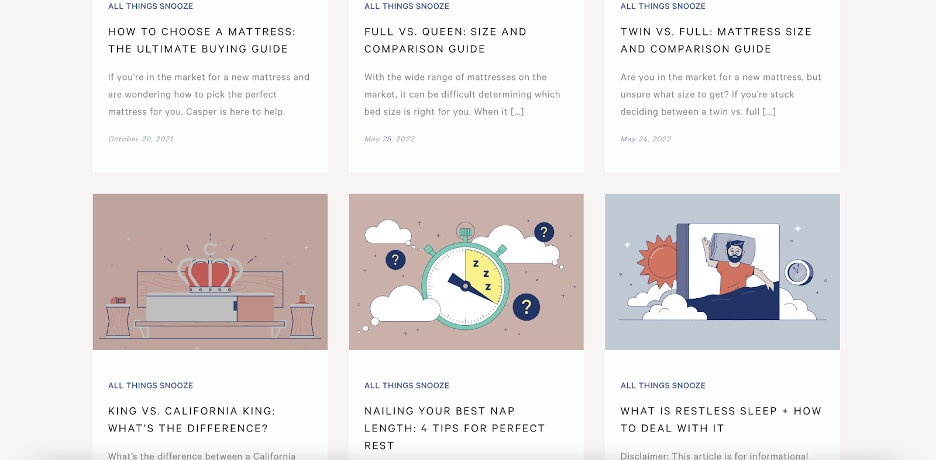 Having such a well-rounded content marketing strategy meant that they covered topics of interest for visitors at every stage of the buyer's journey.
They rank well on search engines even for top-of-funnel content. This is because their content marketers focus on general keywords, like "mattress bed bugs" or "how to get blood out of sheets". By hitting search terms used by people who aren't actively looking to purchase a new mattress (but probably will be soon), they're casting a wide net.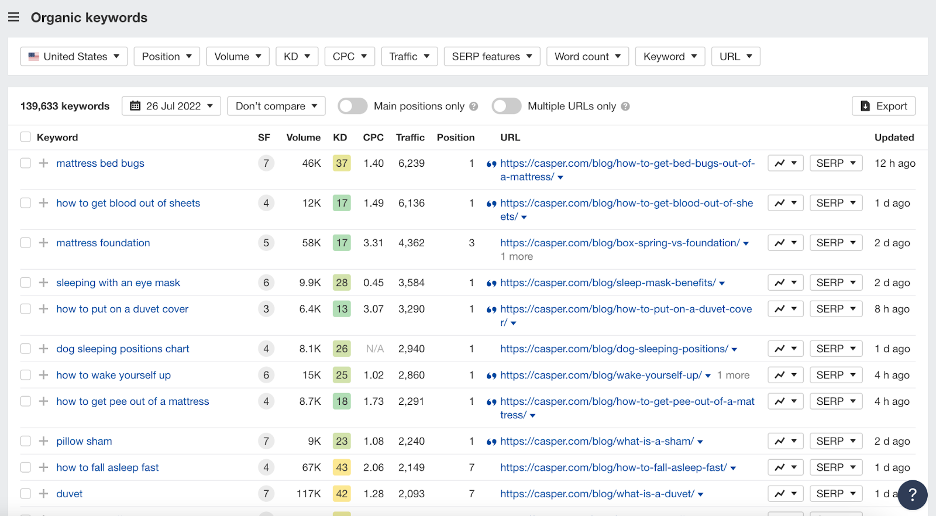 Once a consumer decides to purchase a mattress, there are lots of middle-of-funnel articles to make their buying decision easier.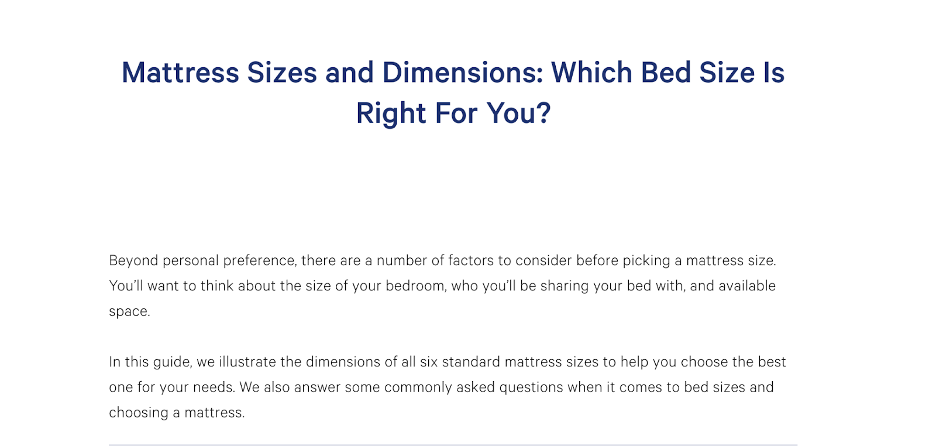 For example, this Mattress Size Comparison Guide blog post draws the most traffic of any page on their whole site! It gets even more visits than their homepage.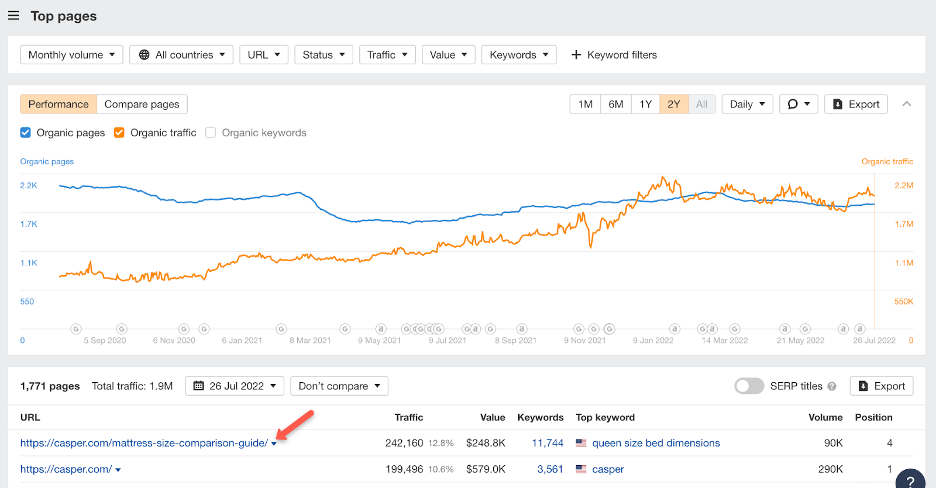 Bottom-of-funnel keywords, like "casper mattress," have an impressive 220K monthly search volume:

Overall, the effort the brand put into optimizing their content marketing blog posts paid off in terms of search traffic. The Casper Blog ranks for a whopping 171K organic keywords (and ranks in the top 3 for 16.6K keywords). Their monthly organic traffic from search engines is around 1.1M, according to Ahrefs.

Like Casper, you should create content that covers your audiences' needs, all the way from the top of the funnel to the bottom.
However, a good content marketing strategy doesn't end when a customer reaches your website. The content that visitors see once they arrive has to lead to sales.
Casper makes sure to get conversions from this organic traffic by putting lots of CTAs in the articles, as well as links that redirect visitors to product or category pages.
Here are some examples of how they get potential customers from their blog to the pages where they can actually buy mattresses.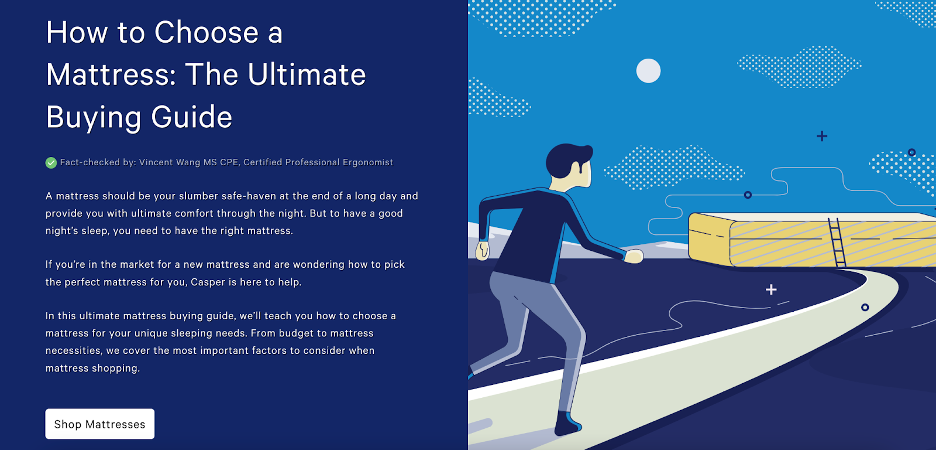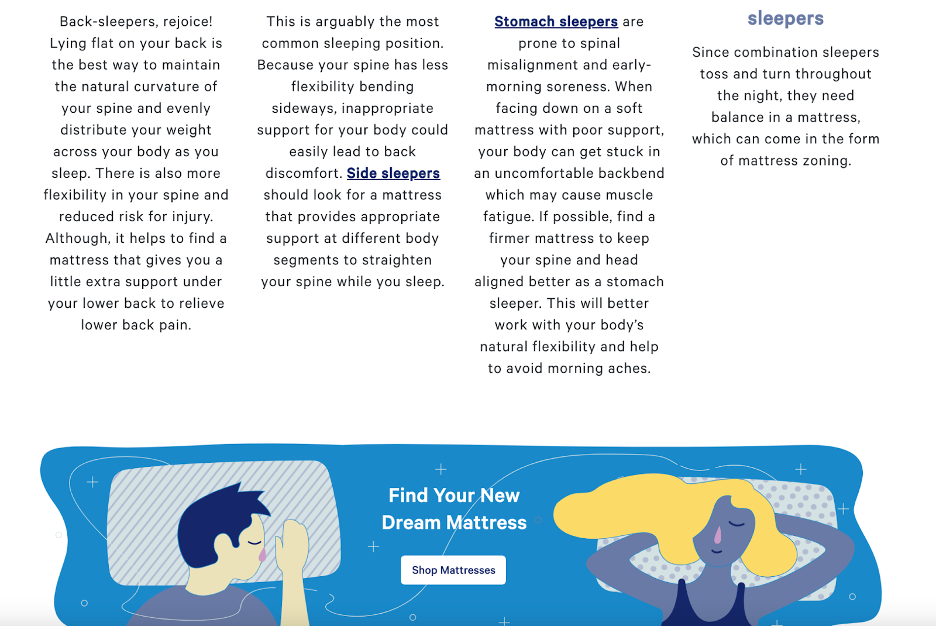 2. Use social proof to build trust
Casper uses lots of social proof on their website to build trust with visitors.
This starts on their homepage, where they highlight positive reviews from existing customers:

Casper even has a landing page where they display all the reviews they've ever received.
The fact that Casper hasn't edited or cherry-picked these reviews makes this page even more persuasive. It's easy for shoppers to find the bad reviews (with an option to filter reviews by stars), which shows the company has nothing to hide.

Obviously, they have many more 5-star reviews than 1-star reviews.
Their transparency doesn't end with showing bad reviews: they're also open about the reasons that the customer testimonials were written. You'll see "This user was entered into a sweepstake for writing a review" under some reviews.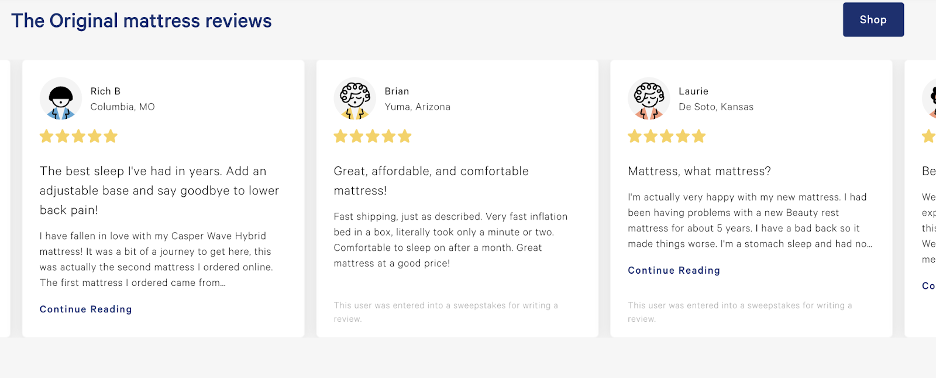 They also showcase the awards they've won through the years and what magazines like People have said about the brand: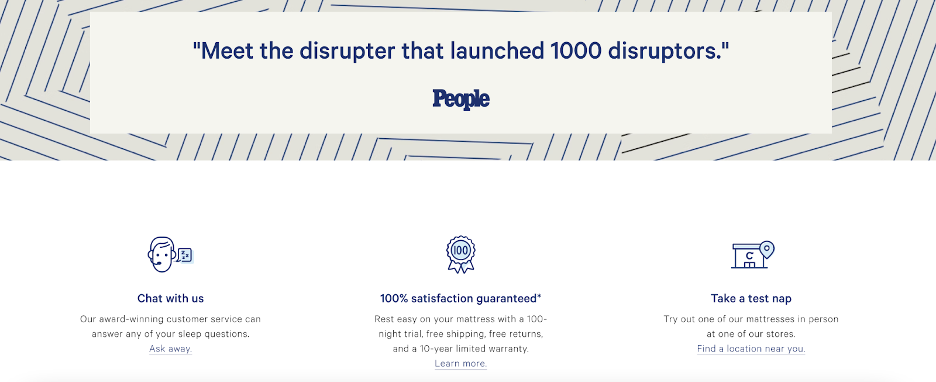 3. Provide an unbeatable guarantee
Casper offers a 100-night risk-free trial for all new customers. This is a big selling point, and they make sure you can't miss it by highlighting it at the very top of each page using a sticky bar:

They even have a dedicated landing page that gets into the details of how to get a full refund if you don't like the mattress.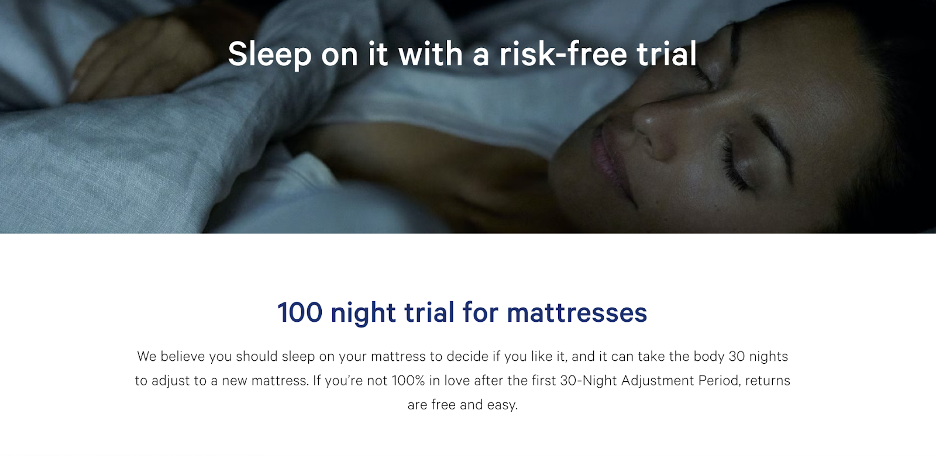 This guarantee definitely helped Casper establish themselves in the industry and ease people's fears about buying a mattress online. Casper has a lot of confidence in their products, and they're willing to put their money where their mouth is.
A guarantee like this can definitely boost sales.
4. Use referral marketing
Casper also offers a referral marketing program to increase word-of-mouth sales.
92% of consumers around the world said they trust word-of-mouth more than all other forms of advertising, and Casper knows that. The mattress company incentivizes their customers to refer a friend by offering a $100 Amazon gift card for every successful referral, as well as 20% off for the person they refer.
Since Casper's customers genuinely love their mattresses (as all those five-star reviews show), it's not hard to convince them to recommend the product to their friends and family.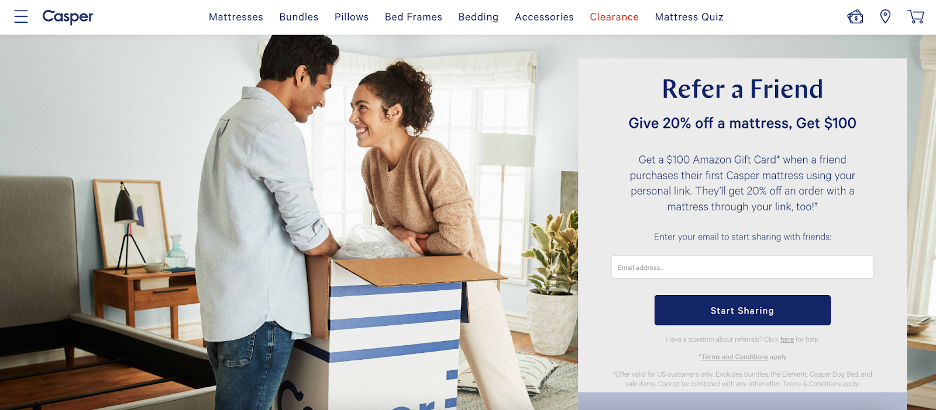 5. Provide a great purchase experience
Mattresses are a big ticket item, and consumers usually take their time and do plenty of research before making a purchase. Since people most likely keep mattresses for around a decade and spend a significant amount of money, they want to be sure they're getting the perfect one.
This means the customer journey is a lot longer than it is for lower-value items like t-shirts or food items. Casper does a great job of helping consumers through every step of that journey.
Let's start with their Mattress Quiz, which asks 6 questions: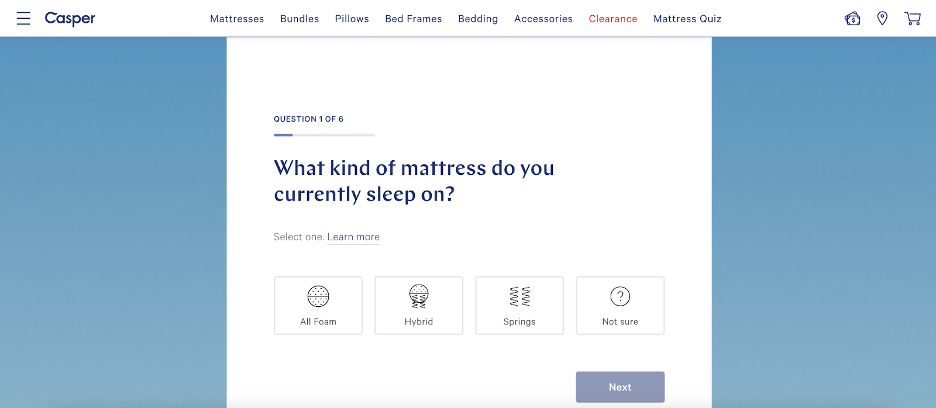 At the end of the quiz, they show your perfect mattress based on your answers. They even explain why it's perfect for you and let you easily add it to your cart. Or you can click on the product name to see all the details on the product page.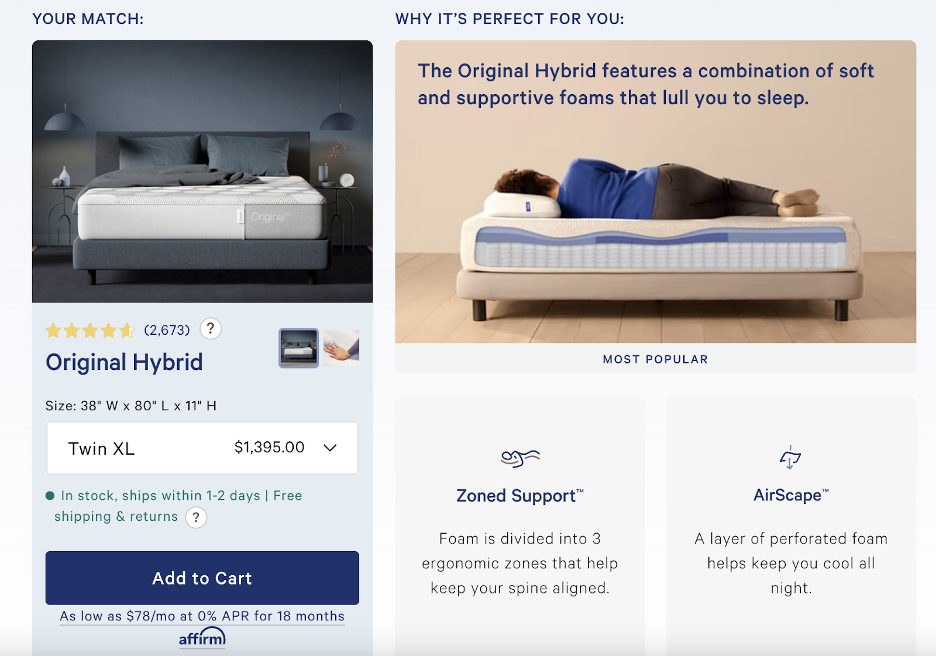 If you decide to click through to the product page, you'll find many convincing elements like thousands of reviews, the free shipping & return guarantee, and the option to try it out in a store near you if you're unsure:

If you have questions, you don't necessarily have to go to a store, you can just call their "friendly Sleep Specialists" to get answers.

All of these little details help the direct-to-consumer brand compete with other players in the sleep industry. Customers typically have questions when they're buying a mattress, so it makes sense to get them the answers they need—whether that's through detailed product pages or a team of on-call Sleep Specialists.
6. Grow your sales with email marketing
Casper's email marketing strategy is pretty famous. If you've ever searched for cart abandonment email examples, you've probably found at least one from Casper. Here's one of their classics, with a memorable headline: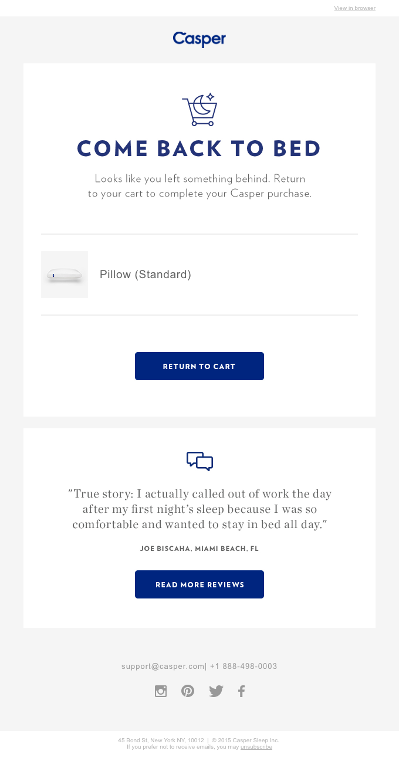 But Casper doesn't just focus on cart abandonment emails, they stay in touch with potential customers all the way through the buyer's journey. Furthermore, they personalize their email marketing content as much as possible, ensuring that their messaging is highly relevant to each customer.
Check out this promotional email to people who missed their Black Friday sale: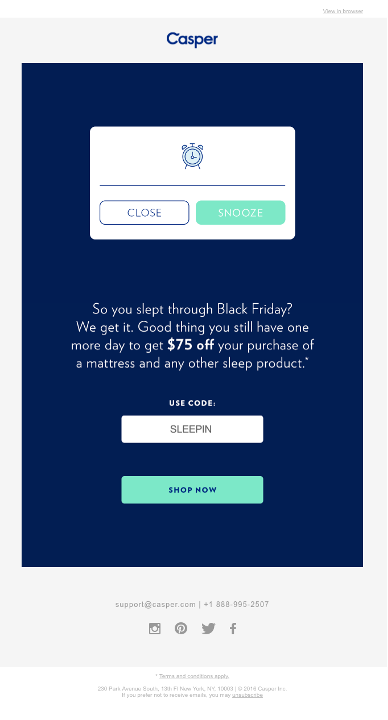 If you're wondering how they received all the amazing feedback that they can use as social proof, check out this email that asks for a review from customers who bought a mattress: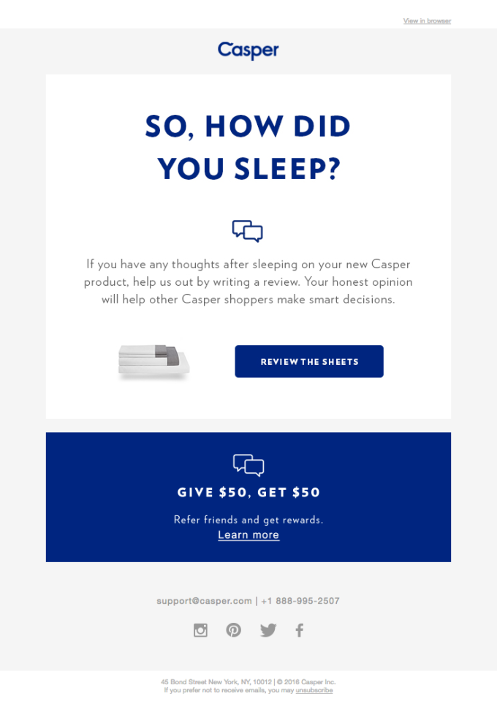 For more detailed feedback, they occasionally send out surveys along with an incentive for completing them:
Each of these marketing emails is precisely targeted at a segment of customers who are at a specific point in the ecommerce funnel. They send promotional emails to contacts who haven't yet made a purchase, and surveys to those who have already bought a mattress.
The marketing strategy we've detailed above has managed to position Casper as a leader in the mattress industry and a household name. It's rare for an ecommerce site to create such a visible shift in an entire industry, but when it happens, it often leads to billion-dollar valuations.
You can take advantage of Casper's marketing strategy even if you're a smaller company pursuing a smaller market. That's because all ecommerce companies are dealing with the same issues as Casper: the need to build trust in products that a customer has never seen or touched.
Whether you level up your content marketing in order to capture more search traffic, take better advantage of positive customer testimonials, or sell more products via email, you can take a cue from the Casper marketing strategy!