New Conversational Popups that triple conversion rates, new seasonal templates, improved cart-based targeting, and emojis to spice up your popups.
But that's not all! Big changes that make popup editing faster and more convenient are on their way in the refreshed editor.
Here's what we've been working on:
💬 Brand New Conversational Popups to 3X your Conversion Rate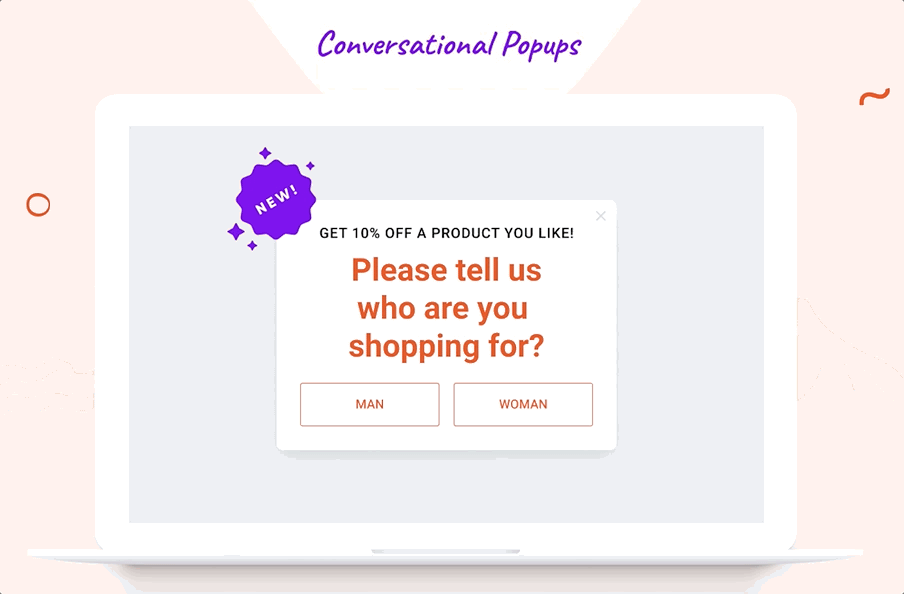 OptiMonk's new Conversational Popup is an interactive way to collect contact information and data about an individual customer's preferences.
Compared to traditional popups, Conversational Popups are much closer to the natural flow of communication. They're like a short conversation between a customer and a shop assistant.
Our Conversational Popups have three interconnected stages:
They start with a relationship-building question,
capture contact and valuable user data based on that interest, and
show personalized recommendations to increase sales.
Why Should You Use Conversational Popups?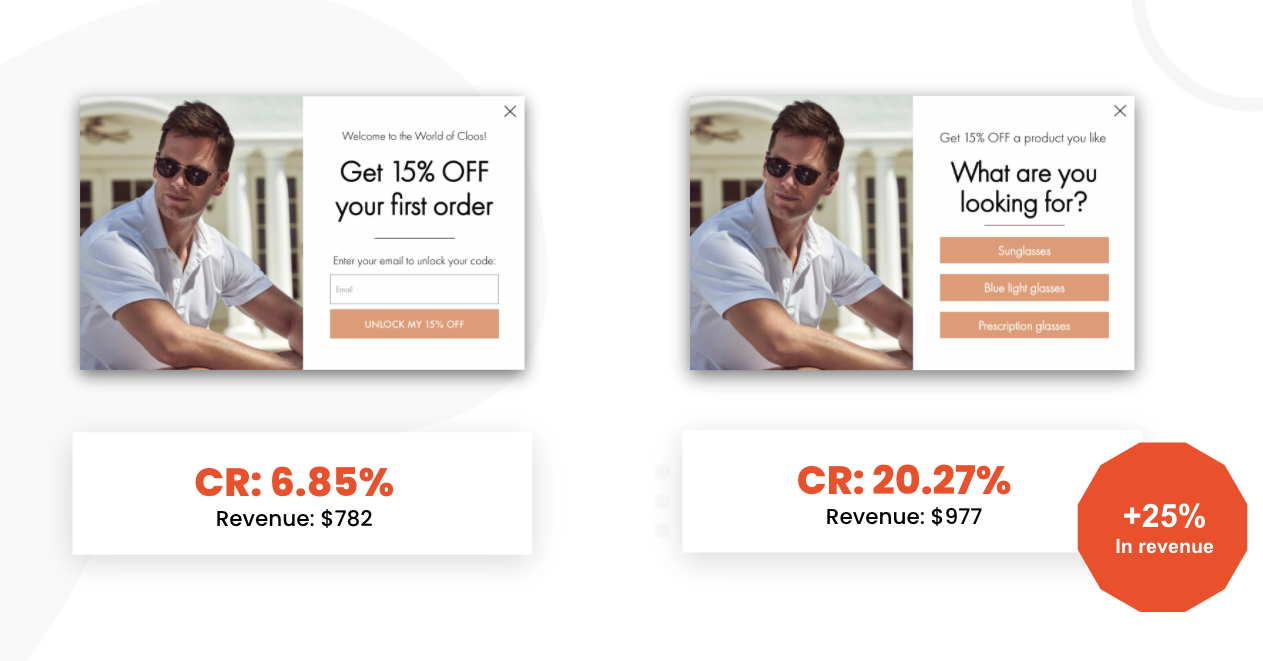 In testing, Conversational Popups are vastly outperforming general popups when it comes to capturing contact information.
Here are some highlights:
➡️ 15-25% of visitors answer the question
➡️ 40-60% of those who answer opt-in to email communication
➡️ 10-30% of those who enter their email purchase a recommended product
🤗 Create yours in minutes by using our free templates.
👩‍💻 Click here to watch our recorded webinar for more information.
🤑 New Cyber Monday templates
The biggest sales events of the year – Black Friday, Cyber Monday, and Christmas – are just around the corner. This period sees a tremendous increase in website visitors who are eager to buy.
We've launched a couple of brand new Cyber Monday templates just in time for the sales season.
These free popup templates can help you make the most of it by:
building your list so your limited deals reach out to more people
decreasing cart abandonment by offering discount coupons
guiding your visitors, making sure they don't miss your hottest deals
reminding them to use their coupon code
Try the new Cyber Monday templates and create your campaign in minutes.
If you are looking for Black Friday templates, click here.
🛒 Improved cart-based targeting
With the "Cart rules" targeting rule, you can target visitors based on their product(s) or the product value in their cart. This is especially useful for:
reaching returning visitors who left the site without finishing the purchase in their previous session

showing personalized product recommendations by offering relevant products or promotions

decreasing your cart abandonment rate
What's changed?
Previously, you needed to enter each product ID manually. We thought that could get a little tedious.
Thanks to this new improvement, now OptiMonk can read your product catalog, so you can simply click on the desired product on a visual interface. This makes it much easier to set up your rule.
Please note, that the product catalog works in Shopify stores.
(If you are not a Shopify user you have to insert a special JavaScript code into the source code of your site, in order to set up targeting, based on cart contents and value.
Please find more details about the settings here.)
How to set up a cart rule?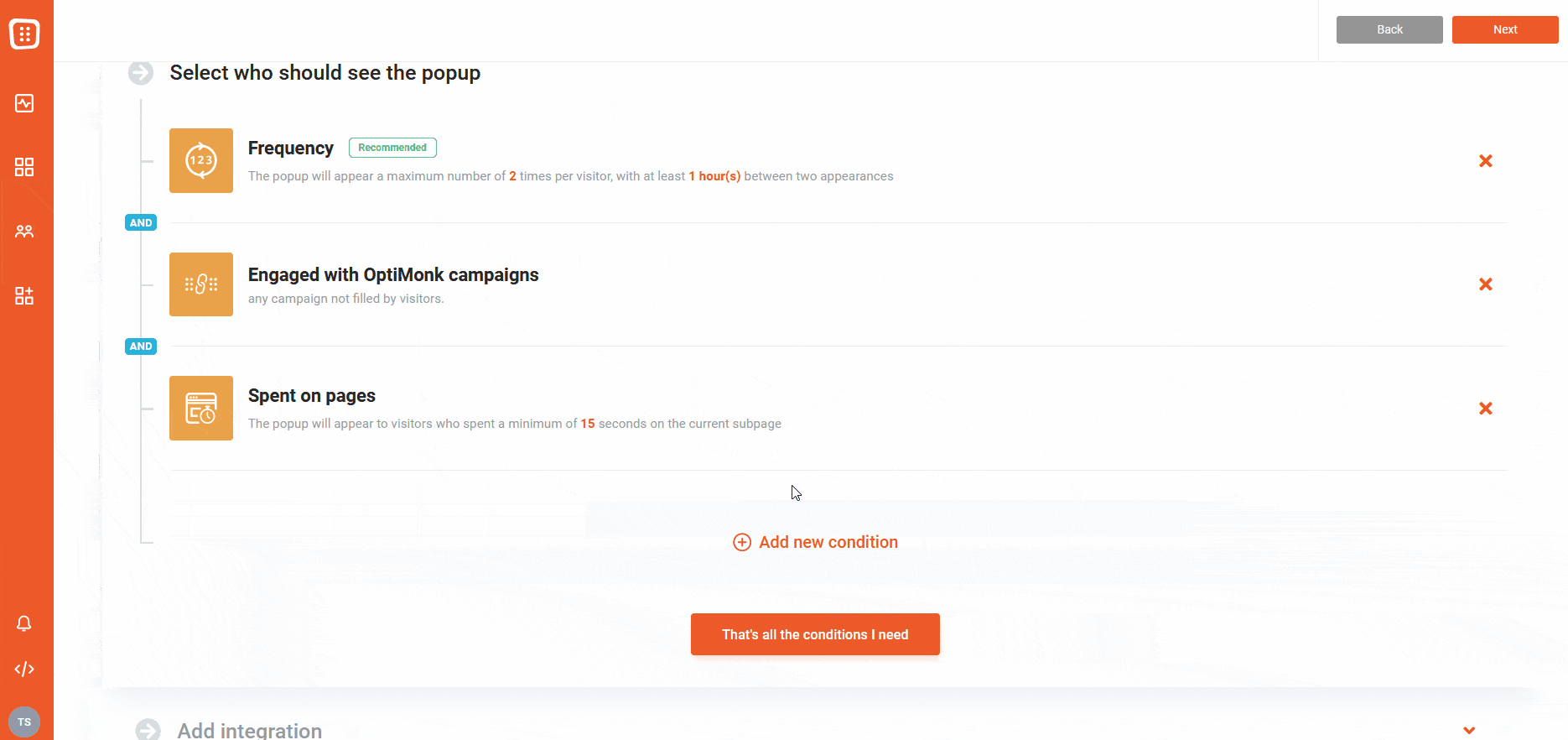 In the Campaign settings page, select "Cart rules" and choose when your message should appear.
For example:
Visitors will see your campaign if any of the following products are in the cart. (Then select the desired products from your catalog.)
Visitors will see your campaign if the cart value is greater than 100.
You can also set rules based on the total number of products, product types, or use exclusions – like "none of the following products".
Previously set Cart rules are not affected:
If you have used this rule previously with product id-s and it is still active in your campaign, you will still see the same user interface and nothing will change.
If you would like to use the new Cart rules, you can delete this rule from your campaign and add the rule again.
Emojis are now available in the OptiMonk text editor. Spice up your headlines, call-to-actions, and any other text elements including lists. Just click on a text element and select the emoji option from the left corner of the text menu.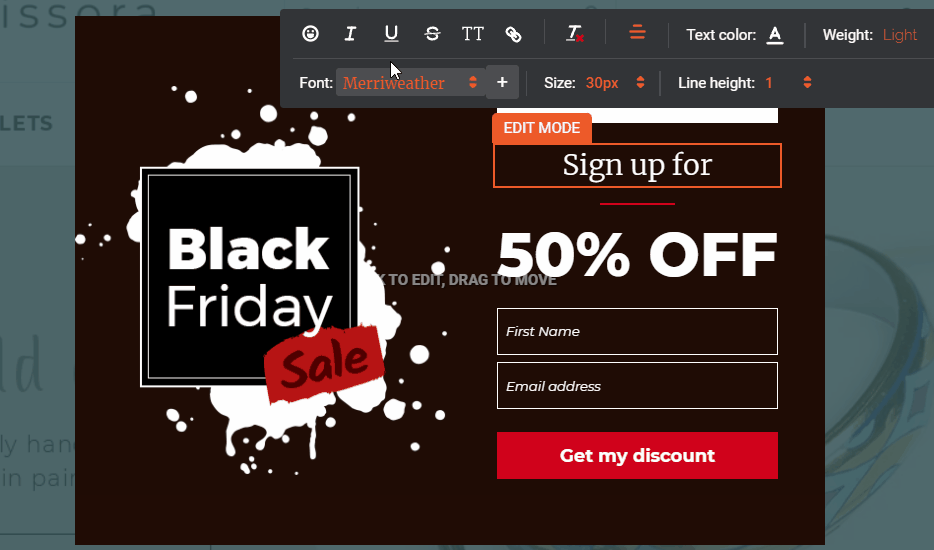 Why should you use it?
Emojis are a fun way for e-commerce businesses to stand out from the crowd. Not only do they make your messages easier to understand and more emotional, but they also boost your conversion rate. You can also use them to shorten headlines and other text elements.
How do you use emojis? Well, it's an art. But here are some tips:
Use 🔥 for hot deals

Halloween promotions shouldn't go out without a 🎃 or a 👻

What about emojis for Black Friday Deals? Here are a few: 🤑 🛍️ 🛒 🎁 🏴 🏪 🏃

Add a💡 to highlight something useful

Celebrating something? Start your headline with 🥳

Use a 🎄 to make your Christmas Deals stand out

Switch out the word "love" with ❤️ in your Valentine's Day campaign
🔜 Coming soon: Refreshed Editor 🥁
We are working around the clock to make editing your popups even simpler.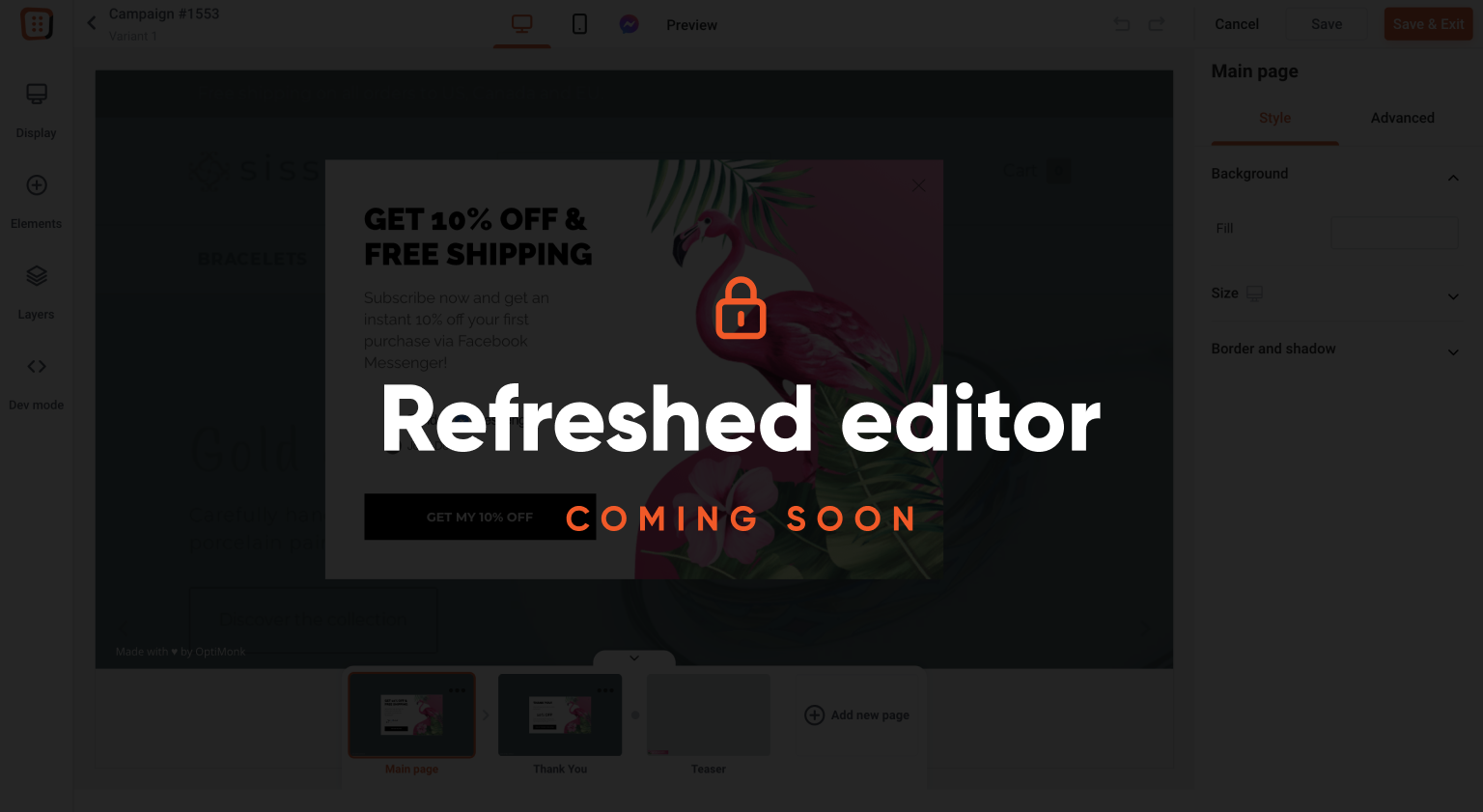 Here's a sneak peek of some features we're working on:
New menu (on the left) for the global settings of the popup (like position, transition, color palette, website overlay). Here you can add new layers and elements.

New menu on the right-hand side for faster layer and element customization

The preview menu at the bottom of your screen makes navigating between pages easier.
Interested in trying the refreshed editor? Click here. (You'll be able to switch back to the current versions whenever you like.)
We are currently recruiting volunteers to join our VIP Research Group where you can :
be one step ahead of your competitors as all new features will be turned on in your account first
get VIP help from OptiMonk's experts setting up the new features in your account and boosting your campaigns 
provide feedback and influence our product roadmap.
Interested? Click here to learn more.
We hope you like our new features. Please give them a try and don't hesitate to let us know what you think in the comment section. Create a free account or log in, and just get started!