It's a consumer-driven world now. And the digital landscape of business has never been more competitive. With so many businesses selling similar products and services, beating the competition means that a company must stand out in some way.  Providing excellent customer service is the best way to stand out.
Marketers understand this. They know that consumers are not interested in advertisements and hard sales. They know that consumers demand the following:
They want their problems solved, large or small (e.g., an entirely new IT system for their business (large) or a solution for running out of disposable razors, which is small in the grand scheme of things.) If a business will show how it can solve a problem, a consumer will have an interest.
Consumers also want to know who they are doing business with. This is why marketers spend time posting content about the company and the people in it. They also publish information related to the company's involvement in the community, its support of causes, and other items that can have an emotional/psychological appeal.
Consumers want trustful relationships with companies. What helps this along, of course, is that a business not only shows the value of its product or service but also delivers what it promises and personalizes its communications and messaging.
What marketers are not in charge of is customer service. That is usually reserved for a separate department, even though much of what consumers expect is connected to customer relations/service.
How Important is Customer Services?
We have all had the experience of sitting on "hold" while we wait for a customer service agent to answer a question about our bill, to resolve an issue we have, etc. It is a bad consumer experience, and we may even take our business elsewhere next time, if we have a choice.
Lots of other consumers agree with us. In fact, in a Microsoft study, 67% stated the customer service was "very important" and 60% said they have ceased doing business with a company because of a bad service experience. A few different insights from this study include the following:
Good online customer service is more important to millennials than to older generations. (68% and 55% respectively)
68% of millennials and younger say that their customer service expectations grow even higher year by year.
Given these figures, one way a business can stand out from its competitors is by providing amazing customer service. It breeds good relationships and loyalty.
So, let's take a look at what consumers do expect from customer service experiences and how you can meet those expectations.
What Does Amazing Customer Service Look Like?
Here are some elements of customer service that will bring and keep customers at your doorstep.
It Must Provide Options
Consumers come in a wide variety. And depending on the demographics of your customer base, you need to provide options for them to get questions answers and issues resolved.
Traditionally, the most used forms of customer service have been via email and telephone. And many still prefer this. More recently, though, there are options for using an online support portal or live chat or webinar software, or even social media or some kind of interactive voice response. And, of course, there is always the in-store visit if that is physically an option.
Here is where demographics come in:
Younger generations often use a company's social media channel, especially Facebook, to ask questions, raise issues or express their dissatisfaction. And they do want public responses. This means that must have a social monitoring tool in place – one that provides an alert any time your company is mentioned on the web – so that you can access that comments and address it immediately. Here's an example from the clothing retailer, ModCloth: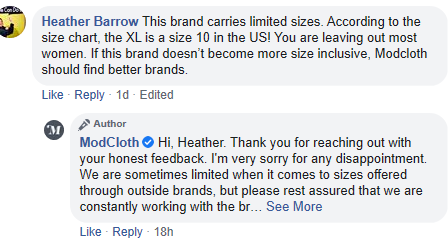 Heather complains about the size limitations of a specific brand. ModCloth can't make its supplier carry more sizes, but it can sympathize with Heather and tell her that they are working with brands to expand their size options. Heather feels that her voice has been heard – a good experience.
Look at your demographic and be certain that you have the options they want. Younger generations will use social media and live chat more than their elders.
It Must Be Fast
Consumers are busy and impatient. And they know they have lots of options for products or services they seek. While website customer service portals and live chat have certainly helped to speed up the process, there are times when a customer needs a live agent.
According to a recent survey, customers begin to get irritated after five minutes waiting for a response by phone or live chat. A 2017 survey found that 66% of customers want to be served within two minutes – that's a tall order indeed for a busy inbound call center.
More recently (2019), Drift published this chart showing how many are willing to wait five minutes for assistance: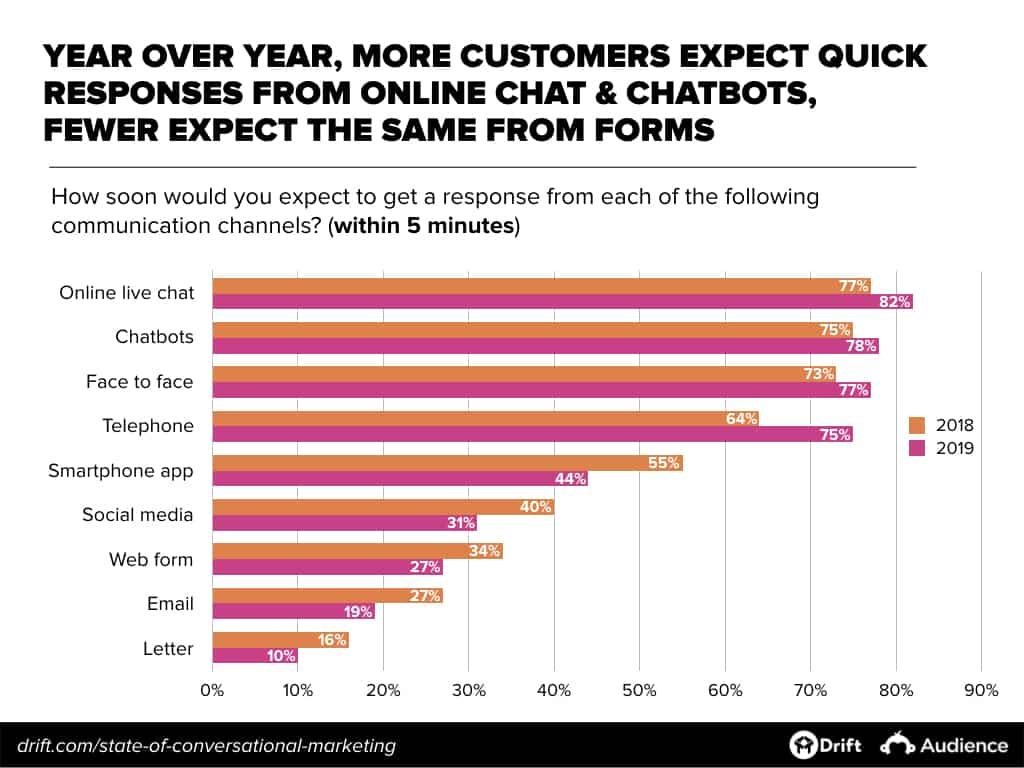 You can assuage some of the frustration by routing calls to the right department as quickly as possible and by actually telling people how long their wait time may be. You can also offer the option for them to leave their phone number and be called back when their "turn" comes up.
You need to monitor average wait-time on chat and phone, as well as the dis-connects you have – this indicates upset customers. Biting the budget bullet and customer support call center services adding more agents or outsourcing to customer support call center services may be necessary. Another necessary step should be using Walkme alternatives and similar solutions that make onboarding positive and deliver a positive customer experience.
It Must be Personalized
No customer wants to be forced to tell the same story to more than one agent. This means that you must have tools in place that have a customer's entire history on a single screen that can be accessed, no matter who the agent or department is. Check out services like User.com that can supply you with the tools you need to get this done. When any agent can speak to the customer by name and summarize parts of his customer service history, he feels that he is a person, not just a nameless customer.
It Must Be Proactive
We have all received surveys to provide feedback on our experiences after a customer service interaction. Again, this makes us feel that we are important to that business. This can be done in one of two ways:
During the phone call, a customer can be asked to take an immediate survey after the experience is finished to comment on level of service
Even if a customer opts not to complete a survey, there is the emotional reaction that the company does care about them and their experience.
Here is the other key factor in this survey stuff. If a customer does take the time to complete a survey, be certain to provide a follow-up "thank-you" that says their opinions are important and can help you improve. Customers want to feel that they have been heard.
While customer feedback surveys are a valuable tool, it is important to note that cold calling can also play a significant role in gathering feedback. After a customer service interaction, a follow-up cold call can be made to solicit feedback directly from the customer. Cold calling tips, in this context, become a proactive method to gather valuable feedback. 
Surveys must be carefully designed if you are going to get the feedback you want. You may want to consider using an outside professional to craft your survey questions based on the information you want. Several professional content writing services, such as Trust My Paper and Grab My Essay, have specific departments dedicated to such tasks, as do a number of other tools and companies.
It Must Provide Initial Online Options
Many will begin their customer service journey online. While this is more common among younger consumers, those 55 and older have come to look for some customer service help on a company's website. What's more, many of them are using mobile devices to do this.
To accommodate these needs, be certain that your customer service portal is mobile responsive. And, based upon accumulated data from previous customer interactions, make sure you have an FAQ link with a search feature, for quick access. Tim Jordan, Customer Service Director for Studicus, puts it this way: "We have always had a telephone center for customer service. Then, we added live chat. But one of the most used links on our website is the FAQ.  We continue to monitor the types of questions and issues that our customers have and continue to update that link. This saves our customers so much time and actually reduces our live agent budget."
Customer service is nothing to ever place on the "back burner." It is a critical element for business success, and your company is no exception. Consumers demand to be served well or they will find someone else who does that. If you take these five factors into account and continue to enhance and improve your customer experience, you will both gain new customers and keep those you currently have.