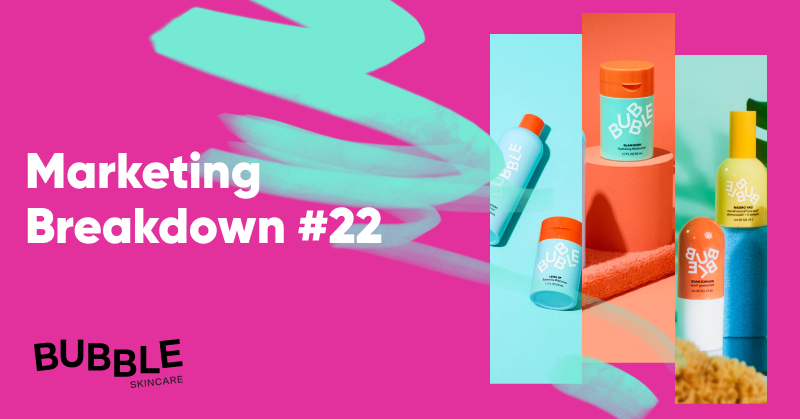 Have you heard about Bubble Skincare? Launched in 2020, this DTC brand is making waves in the skincare industry with its effective products formulated for teenagers.
The best part? Their prices are incredibly reasonable. Ranging from only $13 for their Bounce Bank Balancing Toner Mist to $20 for their Overnight Hydrating Sleep Mask, Bubble Skincare is disrupting the skincare industry and making it accessible to all.
In this article, we'll delve into the secret to Bubble Skincare's success and explore how they're shaking up the industry. From their intense market research strategies to their dedication to customer satisfaction, we'll uncover the winning formula behind this rising star in the skincare world.
So get ready for an insightful read and some actionable takeaways for your ecommerce business!
Step 1: Do market research
Bubble Skincare Founder Shai Eisenman recognized that teenagers were still using old-school brands like Neutrogena, Clean & Clear, and Mario Badescu, which are quite different from what today's teens actually want and need.
That was the beginning of Bubble Skincare's quest to create something better. You can see this reflected on the website's homepage as a main value proposition.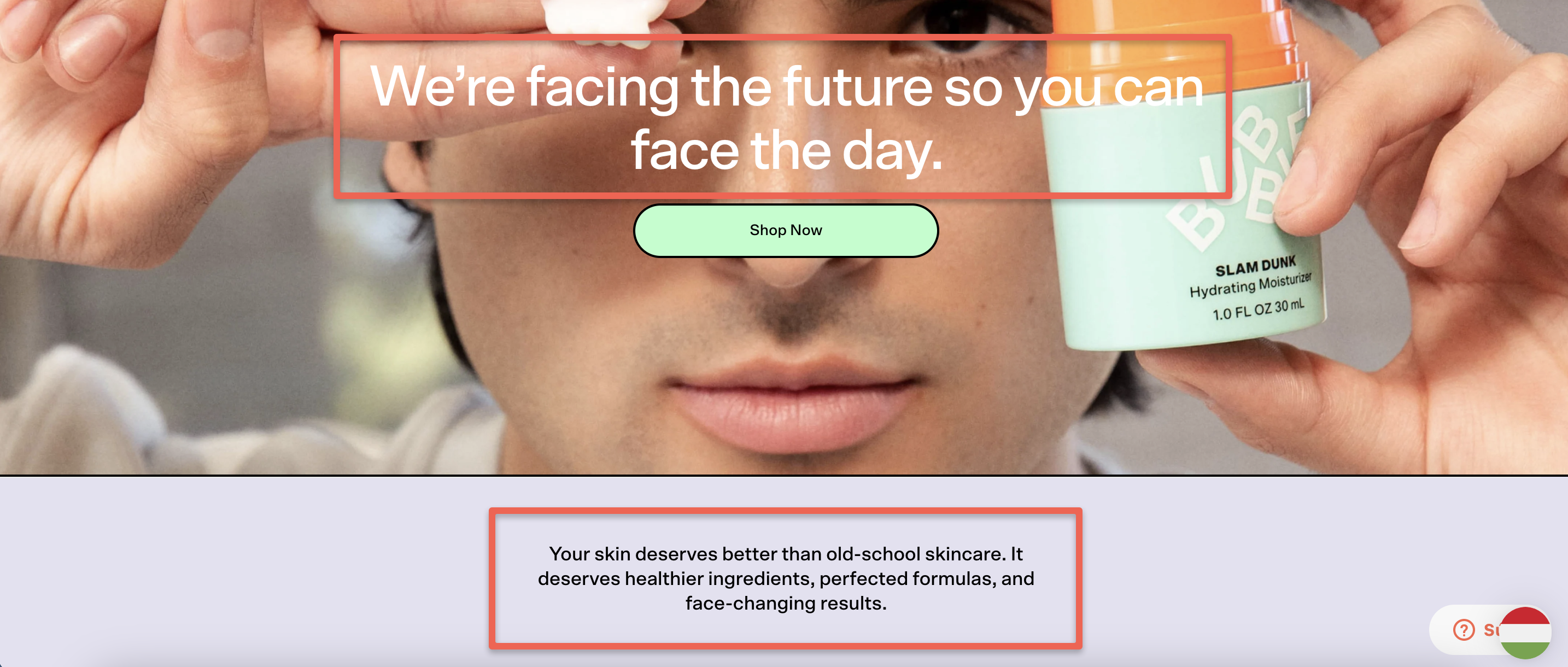 Bubble Skincare prioritized market research and getting to know its target audience. They talked to teenagers to find out what was important to them and conducted lots of focus groups to get feedback directly from their customers.
Eisenman said in a podcast, "the only way to really make this brand right for them is to involve them in the conversation and get them to tell us what they really think and how they really feel. And if something sucks, we want them to tell us. So, research was rooted in everything we've done."
Their research led them to some interesting insights:
Packaging design is top of mind for Gen Z consumers. They look for products that not only work, but are also aesthetically pleasing: they want to post them. This is why Bubble Skincare's products come in cute, colorful packaging that encourages social media sharing.

No brand spoke to the values of Gen Z, and Bubble Skincare saw an opportunity to fill that gap. They wanted to create a brand that aligned with Gen Z's values of inclusivity, sustainability, and transparency. By doing this, they were able to connect with their target audience and stand out in a saturated market.

Price is also an essential factor for teens who have limited budgets to spend on skincare. Bubble Skincare offers affordable prices without sacrificing quality, making it accessible to more people.
Bubble Skincare's approach to market research was crucial to its success. By involving Gen Z in the conversation, they created a brand that really resonates.
Step 2: Be where your audience is
Once Bubble Skincare had identified its target audience and what they were looking for in a skincare brand, it was time to be present where their audience was. And with Gen Z as the audience, that meant being active on social media platforms.
Before launching their products, Bubble had already built a significant following on Instagram with 31,000 followers.
They were aware that among their target audience, Instagram was one of the most widely used social media platforms, and they capitalized on this by building a significant online presence there.
To help promote their brand, they also collaborated with brand ambassadors and influencers.
One of their most notable partnerships was with Madison Pettis, the actor who starred in Netflix's "He's All That." She has a following of 4.4 million on Instagram, making her an ideal partner for Bubble.
But Instagram wasn't the only platform they focused on. They also recognized the power of TikTok and partnered with influencers who had a strong following there.
One of these influencers was Hyram Yarbro, a famous skincare blogger with over 6.1 million followers on TikTok. By being active on these platforms, Bubble was able to connect with its target audience and create a community around its brand.
But being present where your audience is doesn't just mean being active on social media. It also means understanding where your audience prefers to shop.
When Bubble first launched, they were direct-to-consumer only. However, they soon discovered that:
58% of Gen Zers shop for skincare at big-box retailers, and

only 20% shop for skincare online.
This insight led Bubble to start selling its products in retail stores. They launched with a Walmart exclusive in 2021, which was followed by CVS and Ulta stores.

By being available where its audience prefers to shop, Bubble was able to reach even more people and further establish its brand in the skincare industry.
Step 3: Build a community
Knowing your customers and being present where they are is not enough to disrupt the skincare market. Your brand needs to develop a community, and Bubble Skincare did just that.
But how did they do it?
Well, they didn't rely solely on one-off focus groups. Instead, they built a robust community of teens with whom they communicate regularly.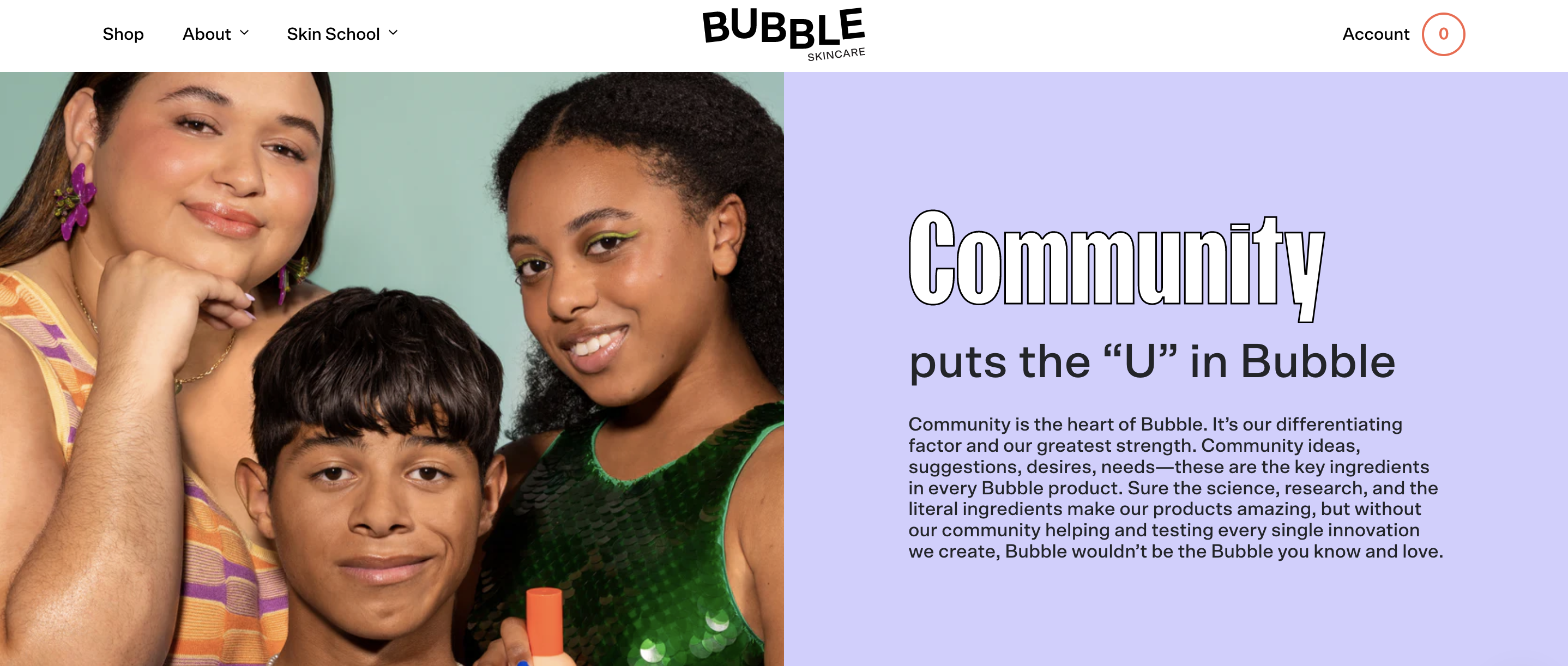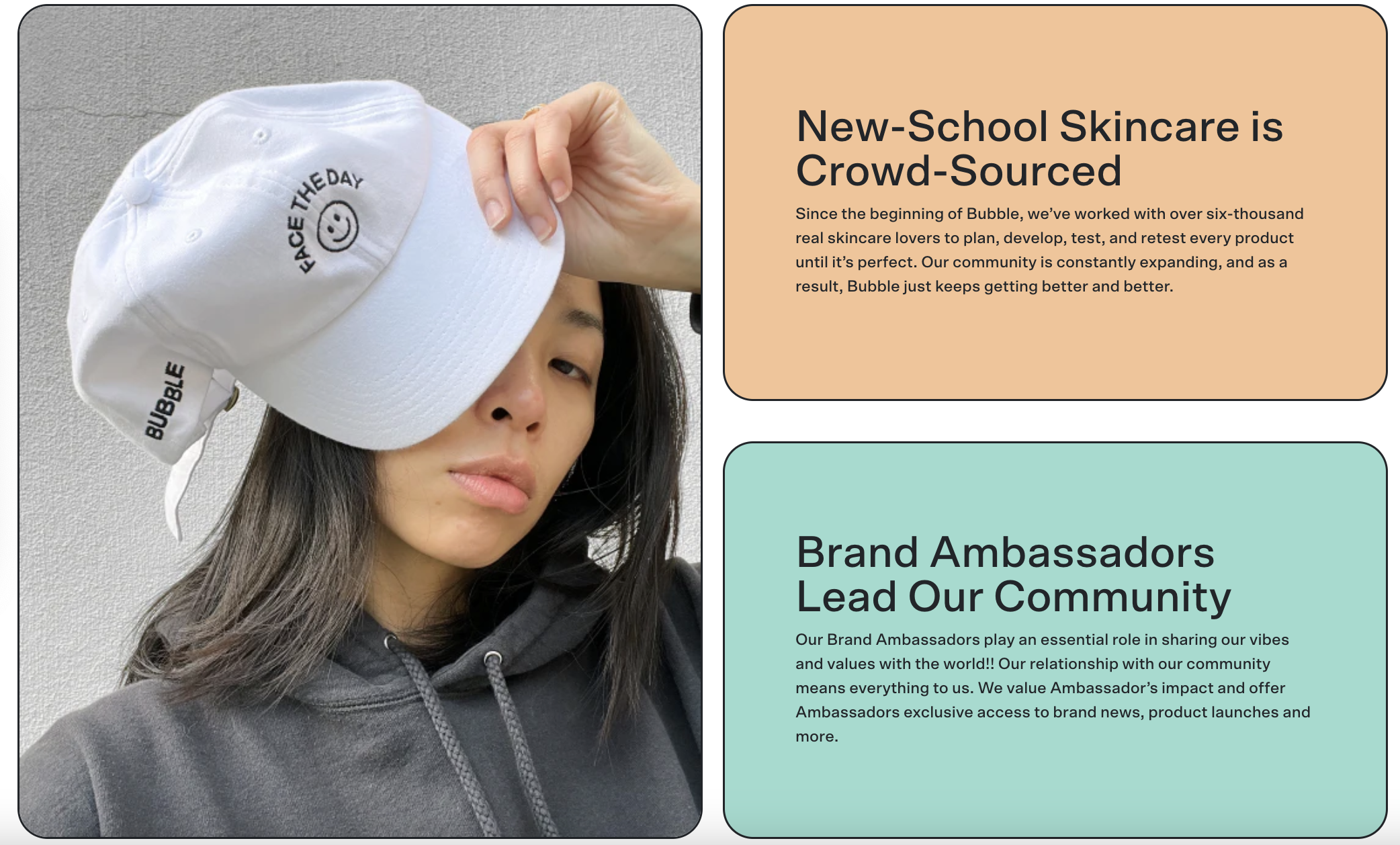 The community is an essential part of the brand, helping with everything from packaging to the talent they work with.
When it comes to big decisions like choosing between different directions for new products, the company sends the options to the community to get their input.
According to Eisenman, "They're the decision-makers. I don't think for a second that we know best. They know best, and we listen to them in every possible aspect."
That's why they have at least 50 community members testing their products before they approve them. Formula samples are sent to a select group of community members, and the product must receive positive feedback of over 90% in order to be approved. This level of engagement and commitment to their community sets Bubble Skincare apart from the competition.
The brand's approach is to cater to its audience, ensuring that its products are indeed something the community is happy with. On many occasions they've moved away from a particular formulation simply because the community members didn't like it as much as they thought they would!
The community is valuable to both the brand and the participants, who have a chance to air their views, be heard, and feel like they're a part of something bigger.
It may seem like a challenging task to create a community like Bubble Skincare's, but the effort is worthwhile.
Involve your audience in a conversation, request their feedback, and give them plenty of respect. Ensure they know they're more than just a customer—they're a vital element of your brand.
Step 4: Educate your audience
In an industry where misinformation and fear-mongering abound, Bubble Skincare has taken a different approach. They've created a platform called Skin School, which is designed to educate consumers about skincare in a non-pushy way.
Skin School, which can be accessed through a tab on the Bubble Skincare website, offers consumers:
quizzes,

guides,

definitions,

detailed explanations,

and more.
It's a platform that empowers consumers to understand their skin (and all the ingredients out there) without feeling overwhelmed.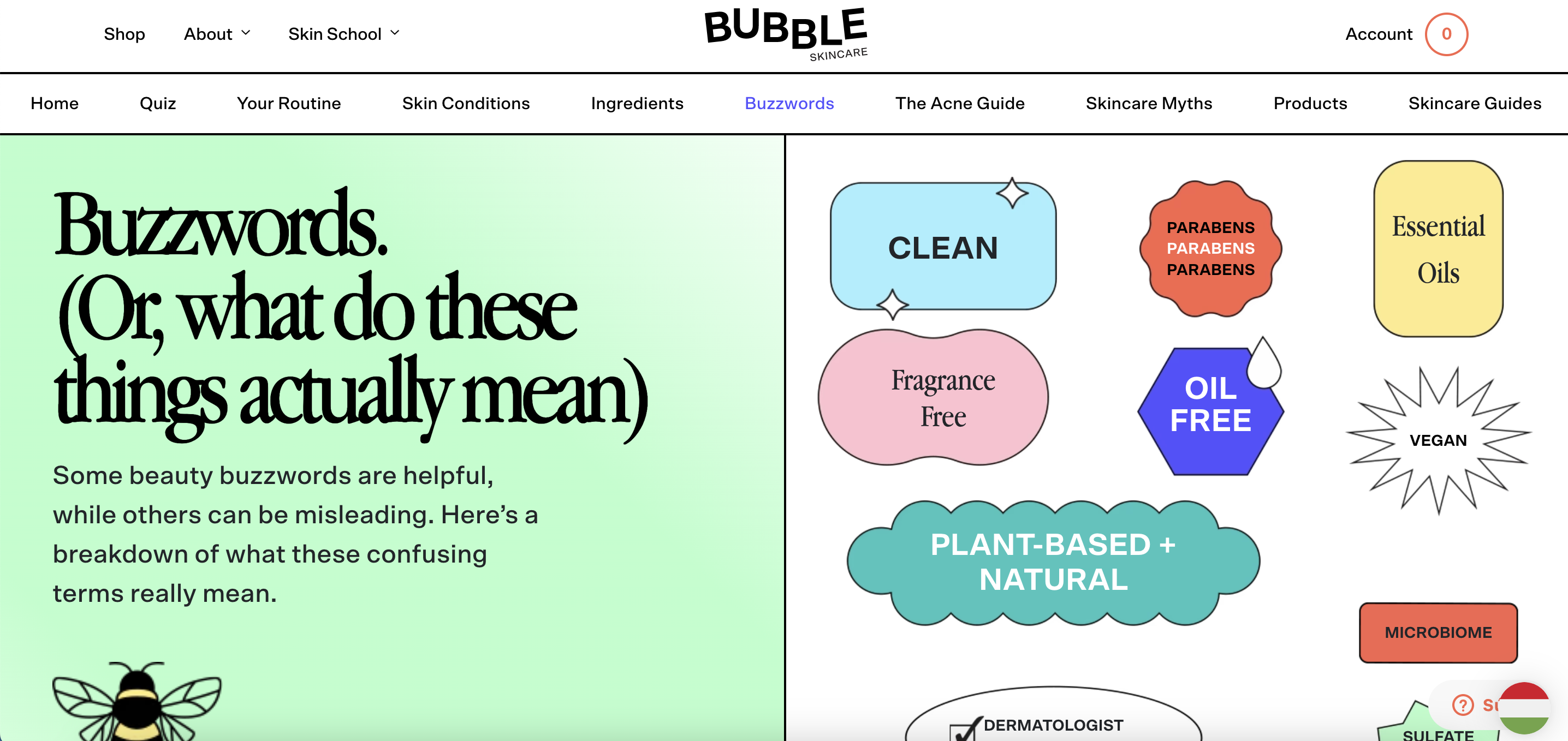 "We realized how much misinformation and how much fear-mongering there is in the beauty industry," said Shai Eisenman. By taking all the questions that teens in their community have asked, Bubble Skincare created an educational platform that people can turn to for answers.
But what makes Bubble Skincare's approach so different?
They educate people without trying to sell anything. All information found on the Skin School section of the website is completely neutral and unbiased.
"Our goal isn't to push our products. Our goal is to help you become a very educated consumer that asks the right questions," explained Eisenman.
This focus has helped them create a much more genuine, authentic connection with their community and consumers.
Their Skin School quiz, for example, doesn't require email signup at all.
At the end of the quiz, you won't get Bubble Skincare products as recommendations from the brand (as you'd typically see on other skincare brands' websites). Instead, you'll get general information and tips on ingredients to look for… no matter what brand you purchase.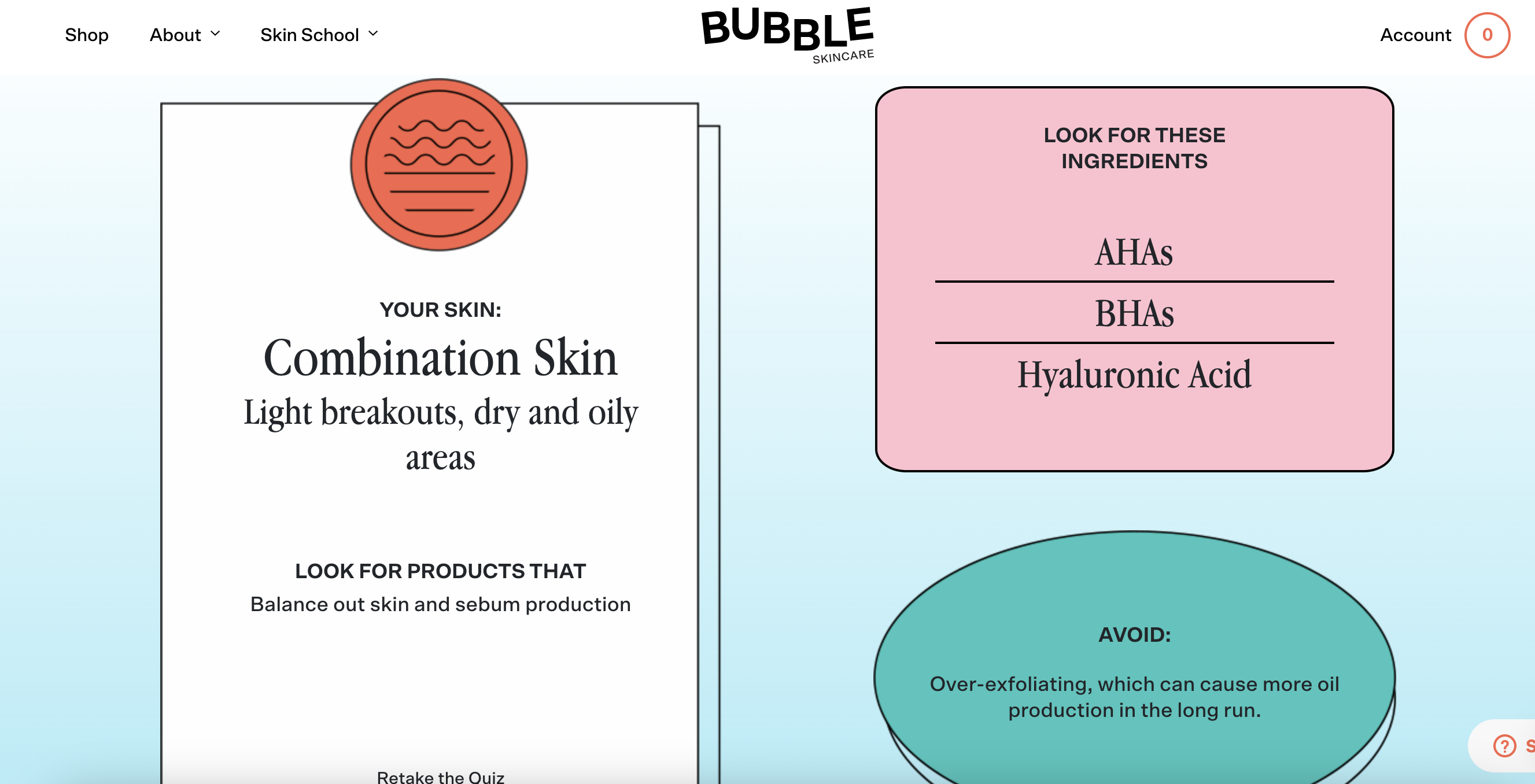 Bubble Skincare's approach to education has been a game-changer in the industry.
They're empowering customers to make knowledgeable decisions about their skincare by taking a stand against misinformation. Their goal is to create a community of educated, empowered individuals who know what's good for their skin.
So whether you're a skincare brand or any other business, educating your audience should be a key part of your strategy.
Step 5: Provide a great user experience on the website
The brand has succeeded in increasing conversions while creating a strong connection with its young audience by implementing several key strategies.
Let's take a look!
5.1. Personalized messages for international visitors
Bubble Skincare has an international audience, so they include a clear message for international visitors right on their homepage.
This sidebar includes key information international visitors might want to know, like duties and taxes.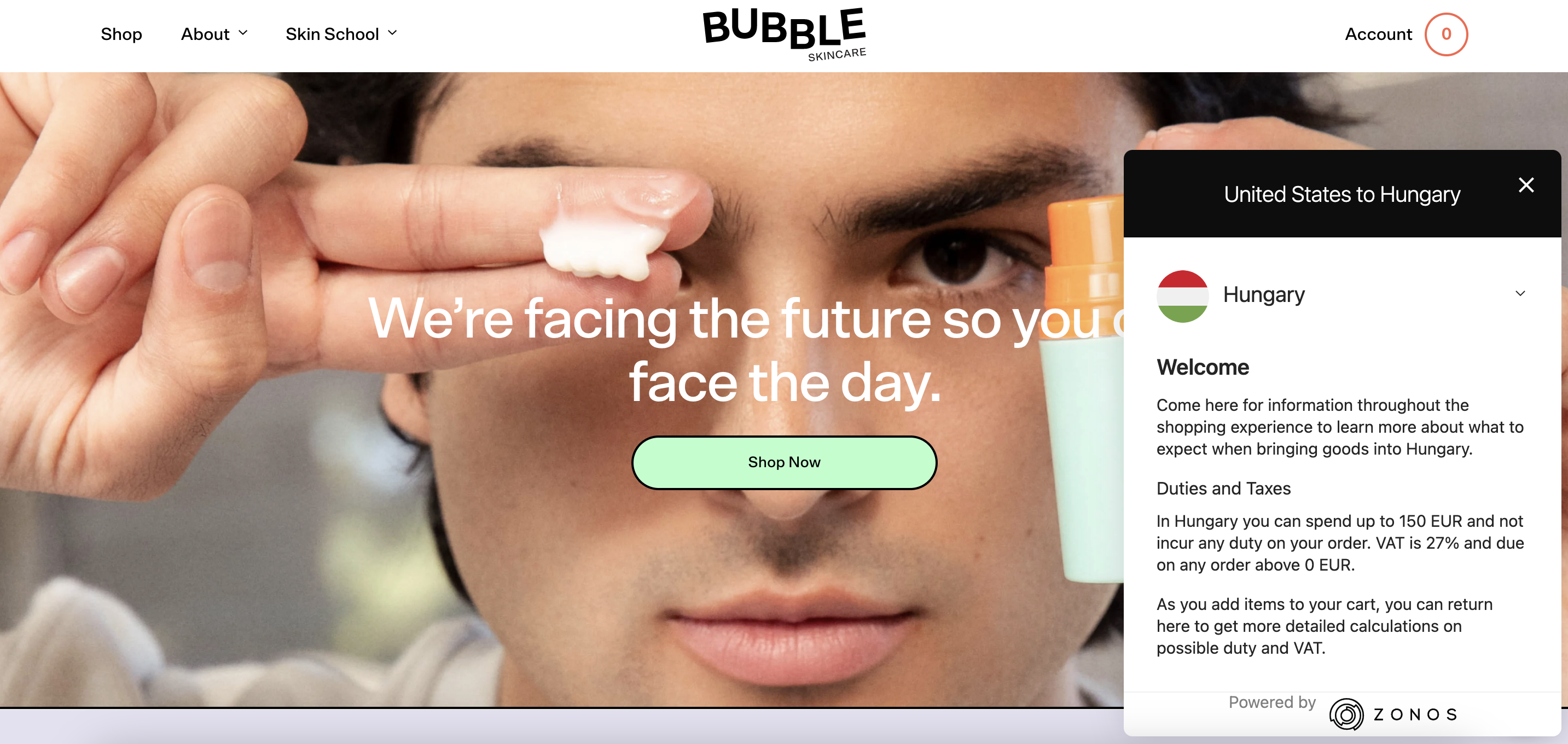 Visitors from abroad will sometimes leave your website if they can't quickly find out whether you ship to their country or what the shipping costs will be. Adding a message like this one will help keep them on your site and increase your conversion rates.
5.2. 10% off for new visitors
Another way Bubble Skincare increases conversions is by offering a 10% off coupon for new visitors in exchange for an email and SMS signup.
It's difficult to miss this offer because it pops up on the homepage. By providing this incentive, the company not only encourages conversions but also enables the brand to nurture customer relationships in the future.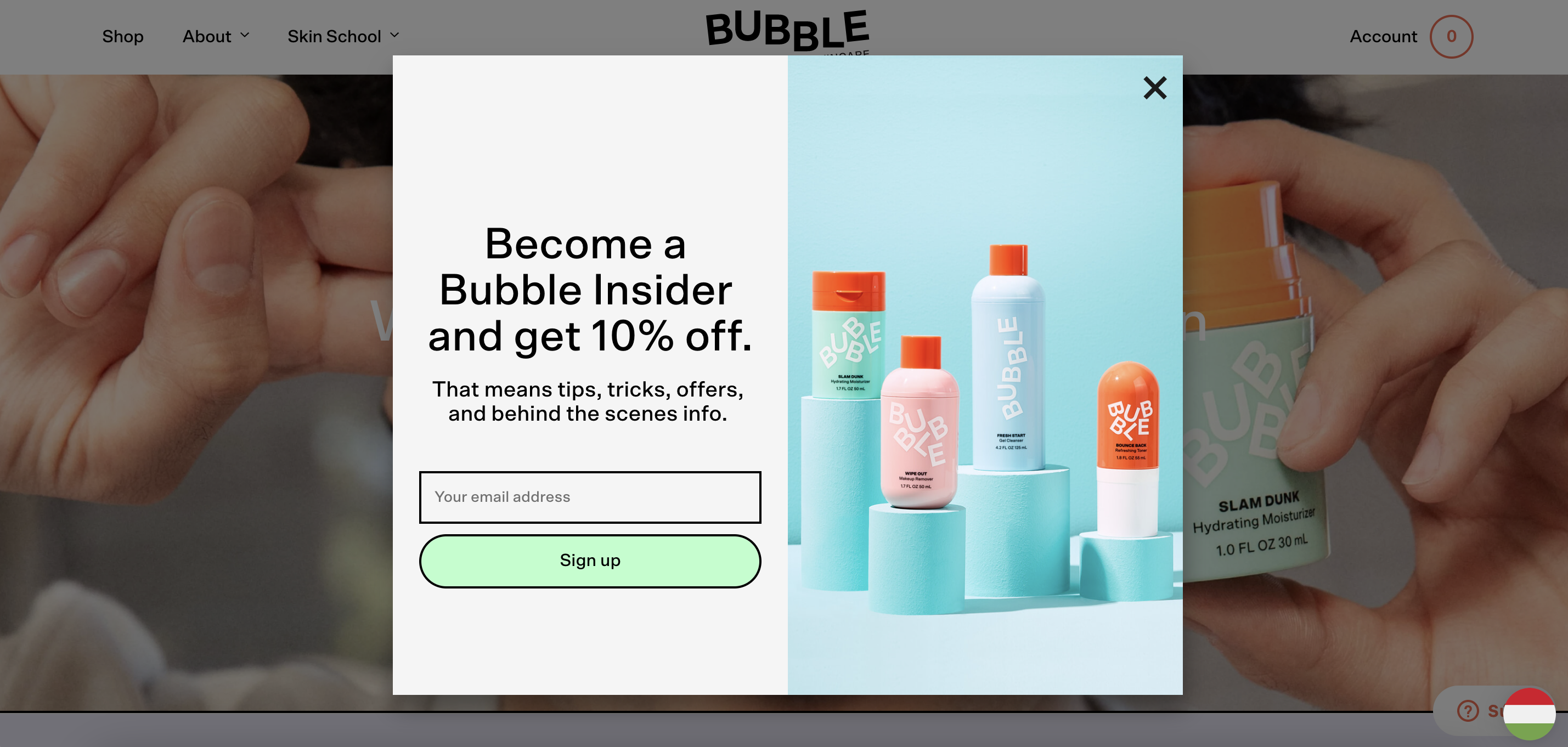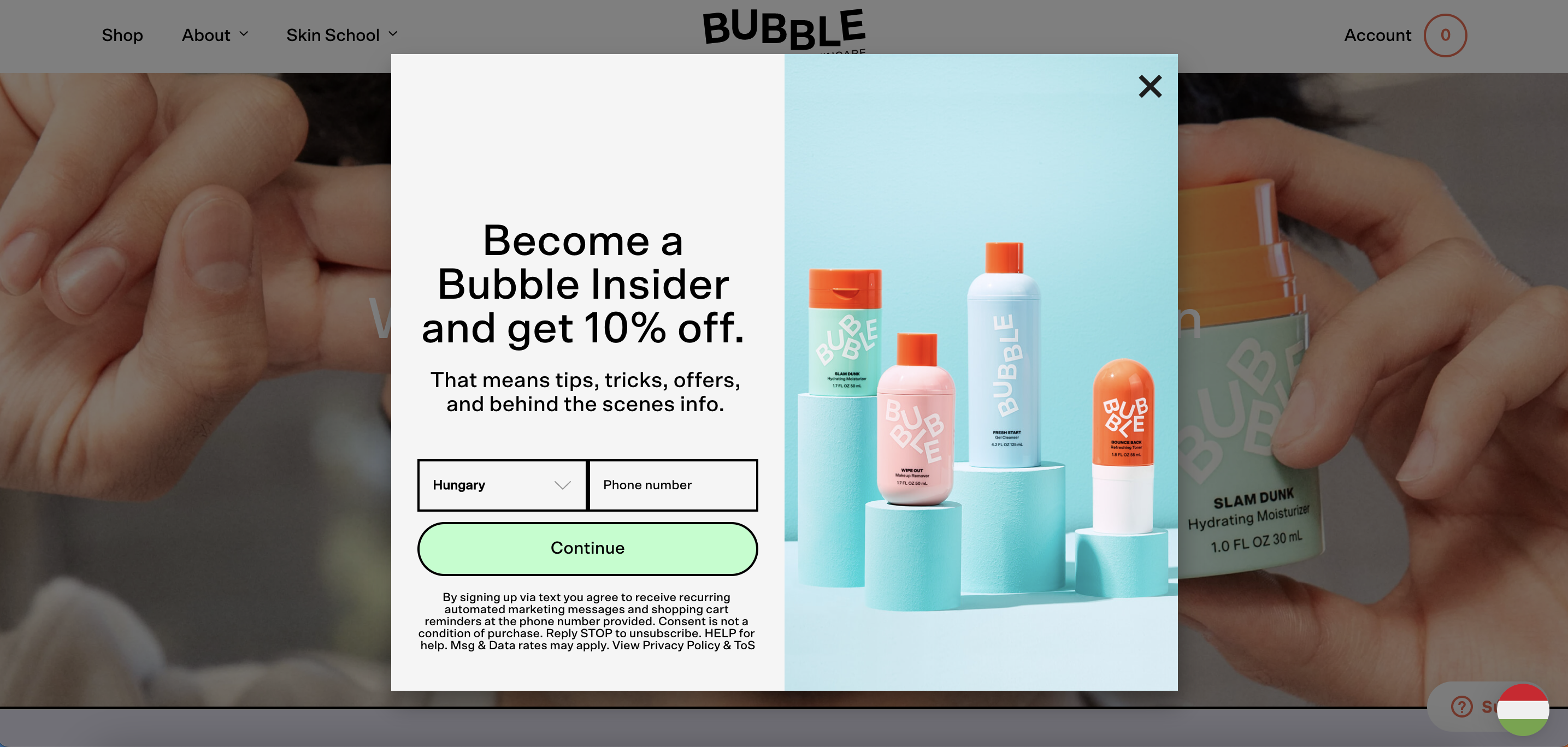 If you'd like to set up a similar popup that collects email addresses and phone numbers at the same time, try one of these templates below:
5.3. Product recommendations
The brand's website also helps teenage customers find the right products by offering product recommendations.
Teens who might be unsure about where to begin their skincare journey can quickly surf the website and discover items that cater to their particular needs.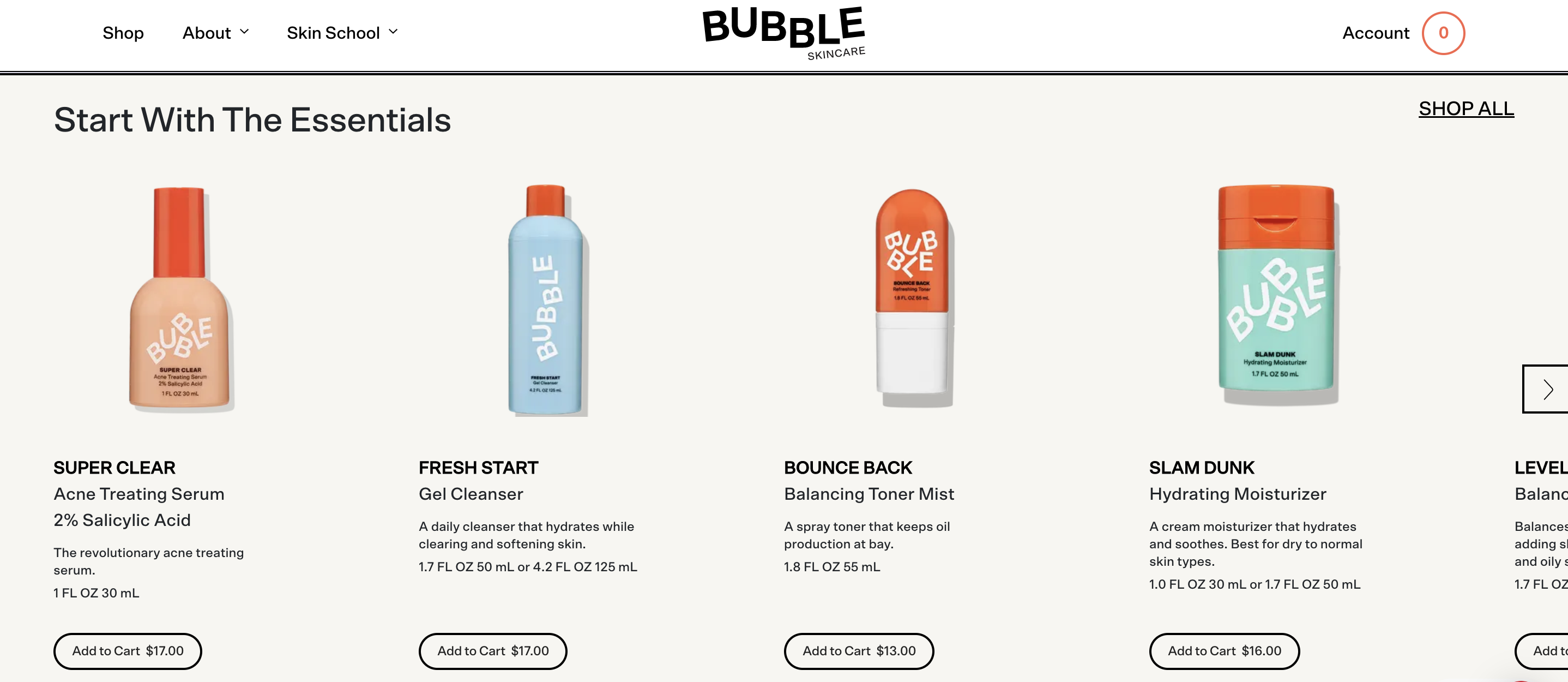 To make it even simpler for their consumers to choose the right products, Bubble Skincare also offers bundles. This eliminates the guesswork: teens can buy confidently, knowing the items have been carefully chosen to complement one another.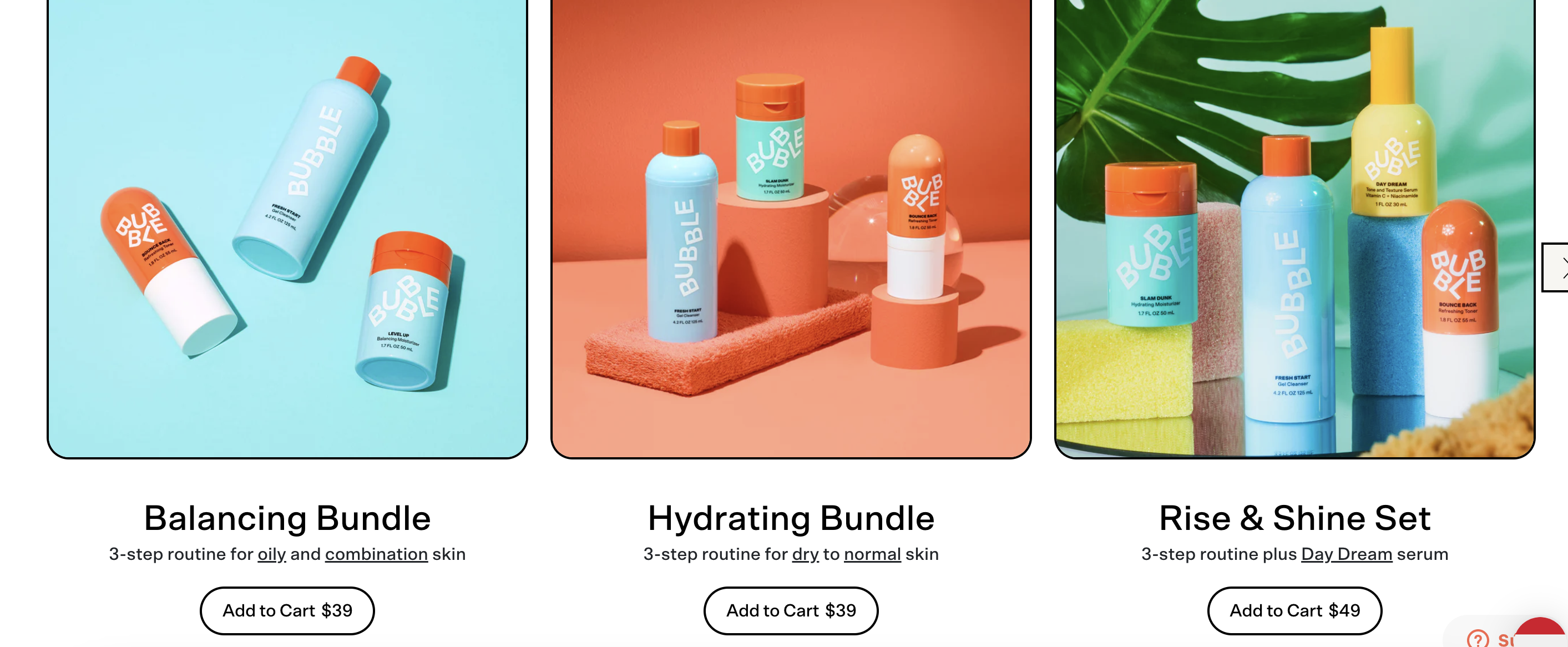 The product pages on Bubble Skincare's website also help customers build a skincare routine. The company provides instructions on how to use each product as well as advice on how to incorporate it into their daily routines.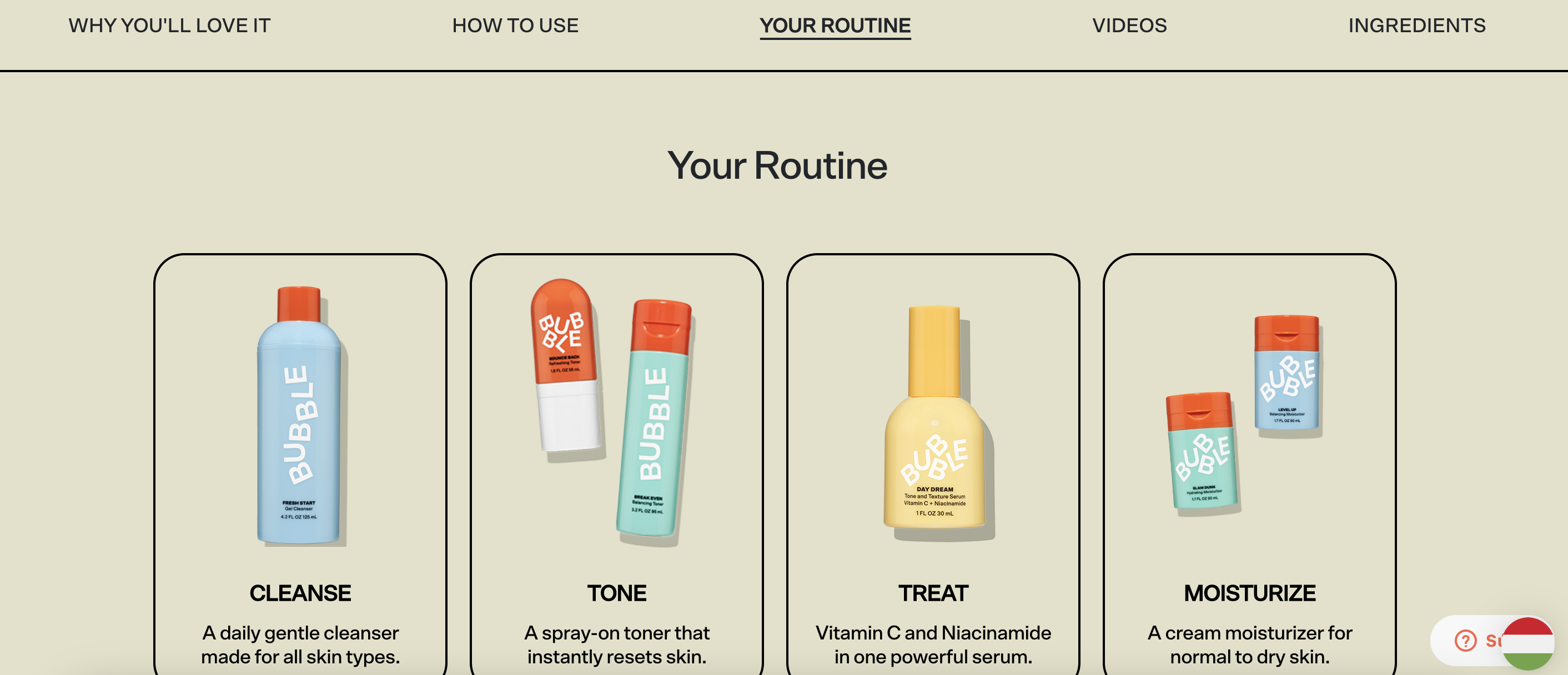 Bubble Skincare is an amazing example of a new brand entering a crowded space and quickly making waves. Their community-first approach and clear focus on understanding their target audience (and delivering what they want and need) have enabled them to disrupt an entire industry.
As an entrepreneur looking to grow your ecommerce store, there are valuable lessons to be learned from Bubble Skincare's journey. From conducting intense market research to building a community and providing a great user experience on your website, there are a lot of takeaways you can apply!
So take a page from Bubble Skincare's book and start disrupting your industry with innovative ideas and strategies. Who knows, you may just be the next big success story!