Each and every customer who makes a purchase on your ecommerce site has taken a journey. They've gone from being unaware of your brand to seeing you as a potential solution to their problems, and then finally to buying your product.
But what about those who haven't purchased?
Research suggests that only 3-4% of ecommerce visitors actually make a purchase.
Building a watertight ecommerce sales funnel can help you raise that conversion rate and make the most of your incoming traffic. Popups are an essential part of online business, and (when they're good) they make the customer journey smoother.
In this article, we'll show you how to use popups to move customers through the stages of awareness.
Read on!
What is the ecommerce sales funnel?
An ecommerce sales funnel is a way of thinking about the customer journey that users of your site experience.
Prospective customers start out at the widest part of the funnel, as traffic flows in from organic Google searches or paid ads, and fewer and fewer people proceed to the next stage of the journey—that's why it's called a "funnel."
If we think about the psychological state of a visitor while shopping, we can see that they start out unaware that they have a problem.
Then, they realize they have a problem, and learn that there are products out there that can solve their problem (this is where your digital marketing team comes in).
More systematically, here are the stages of awareness that online shoppers go through on their way to making a purchase.
Problem unaware

: They're unaware that they have a problem or that you can solve their problem, so they don't know where to start.

Problem aware

: They know that they have a problem or desire, but they either don't know how to fix it or aren't sure where to get their needs met.

Solution aware

: They know there's a solution, but they can't decide which product is the best fix.

Product aware

: They know there's a solution to their problem and are aware of the best products for the job, but they can't narrow down which product would be the best choice.

Most aware

: They have found the right product to solve their problem—they're just waiting for a good offer to make a purchase.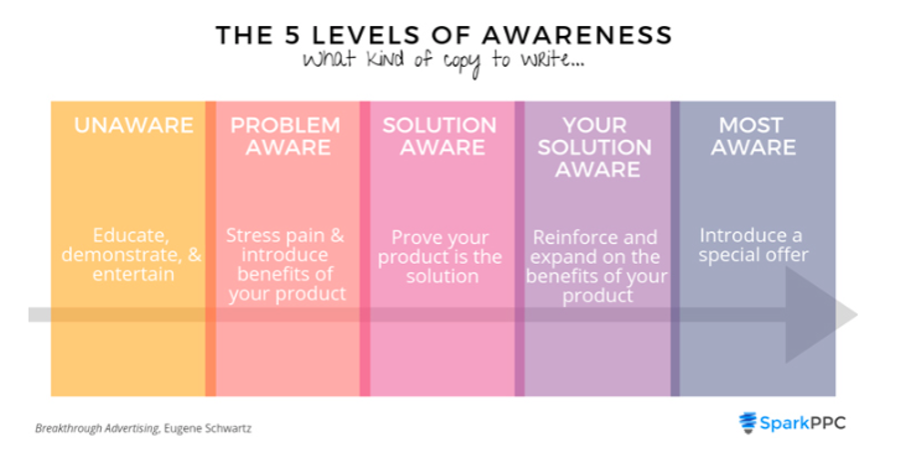 It's also important to think about the lifetime value of a customer, because after a customer has made a purchase, they can re-enter your conversion funnel as they think about making a second purchase.
Loyal customers are the most profitable segment of an ecommerce business since it's so much less expensive to motivate existing customers to make another purchase than to bring in new traffic.
How to optimize your funnel?
As we've seen, only a small portion of visitors make it all the way through your conversion funnel. Optimizing your ecommerce sales funnel is the best way to raise your conversion rate and ensure that more of your traffic becomes customers.
The goal is to stop as many visitors as possible from "leaking" out of your funnel at each stage. You can do this by easing the transition from each awareness stage to the next.
Here's an example:
A website has a nice landing page, but it's difficult to find and navigate to different product categories. Customers will start to become aware of the brand and the types of solutions it offers, but won't be able to find the products they need and proceed to the "most aware stage." They get frustrated and end up leaving before they progress through the funnel.
The solution? Make it as easy as possible for website visitors to find what they need and progress to the next awareness stage.
In the example above, that might involve a popup that recommends popular products or introduces the categories you have available.
You need to discover which stage of your funnel is losing the most potential customers. And to do that, you're going to need data.
Using data to optimize your funnel
By looking at where your site visitors begin and end their browsing, you can figure out which awareness stage of the customer journey they are at.
If a visit begins and ends on your landing page, that visitor was aware of their problem (since they were shopping for a solution) but never became aware of the solutions that your brand offers.
A visitor who exited your site after viewing your product pages reached the "product aware" stage, but didn't make it to the most aware stage, meaning they didn't actively consider making a purchase.
Google Analytics allows you to access all sorts of data, including which organic and paid channels generate your traffic and which pages users bounce from. You can use this data to create a customer journey map that tracks where customers are leaking out from your ecommerce funnel.
Once you've figured out where potential customers tend to exit your sales funnel, you should prioritize those areas, easing the transition from one awareness stage to the next.
Popup strategies for each step of the conversion funnel
Now that we've gone over what a sales funnel is and how to optimize one, it's time to take a look at some practical solutions to common issues that cause customers to exit a conversion funnel.
Many of the templates we're going to show below are almost ready to go on your site. After just a bit of editing, you'll be ready to start saving conversions!
1. Problem aware
At this early stage of the buying journey, visitors aren't usually ready to select a product and make a purchase. That's because they're still learning about their problem and exploring possible solutions.
You have two goals here:
Help them learn more about their problem by providing information or other educational content

Sign them up for a list so that you can stay in touch
Use case 1: Content upgrade/lead magnet popups
You can accomplish both these goals at the same time by using a content upgrade/lead magnet popup, which offers an extra resource (like an ebook, newsletter, or podcast) to blog readers in exchange for their email address.
Offering high-quality content is a great way to convince users to enter their contact information.
Here's a great example of a content marketing-focused popup from 2xEcommerce that promotes the informational value of their newsletter.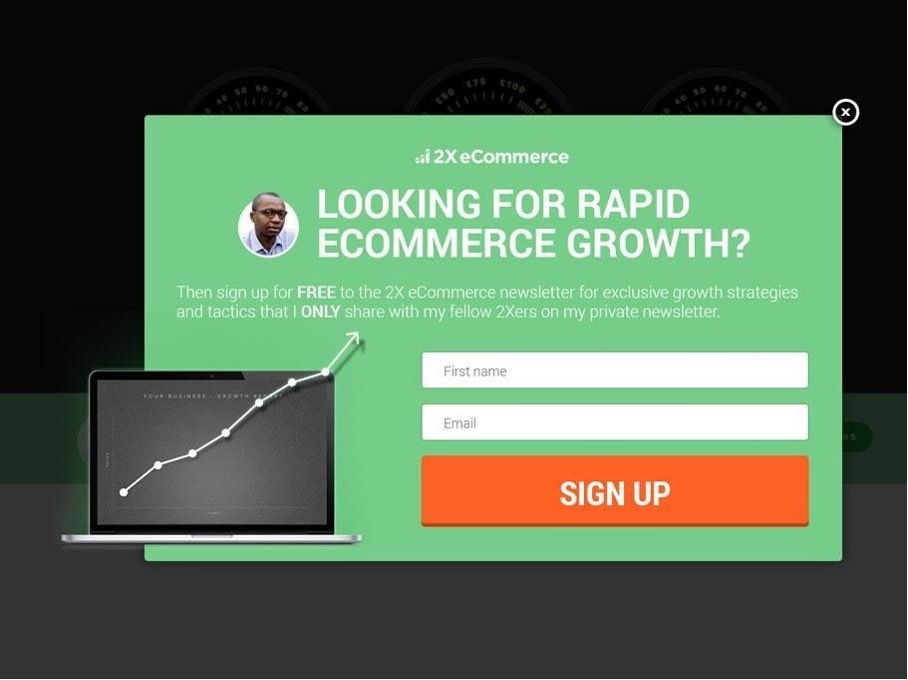 Use case 2: Newsletter popups
You can also use a variety of classic email-gathering popups, which either simply ask for an email address or offer a discount or store credit in exchange for an email address.
Here are some examples of newsletter popup templates:
When it comes to boosting email subscriptions, OptiMonk also offers several gamified popup templates, which have higher conversion rates than classic email popups.
Take a look at this example:
Use case 3: Quizzes
Quizzes are another trendy way of introducing early-funnel visitors to a brand and its products.
That's because the opportunity to answer a few questions and learn something about yourself works really well for this segment of customers: they're trying to learn about the products that can solve their problems.
Many successful companies use the quiz approach for their online stores. Here's an example from Sephora: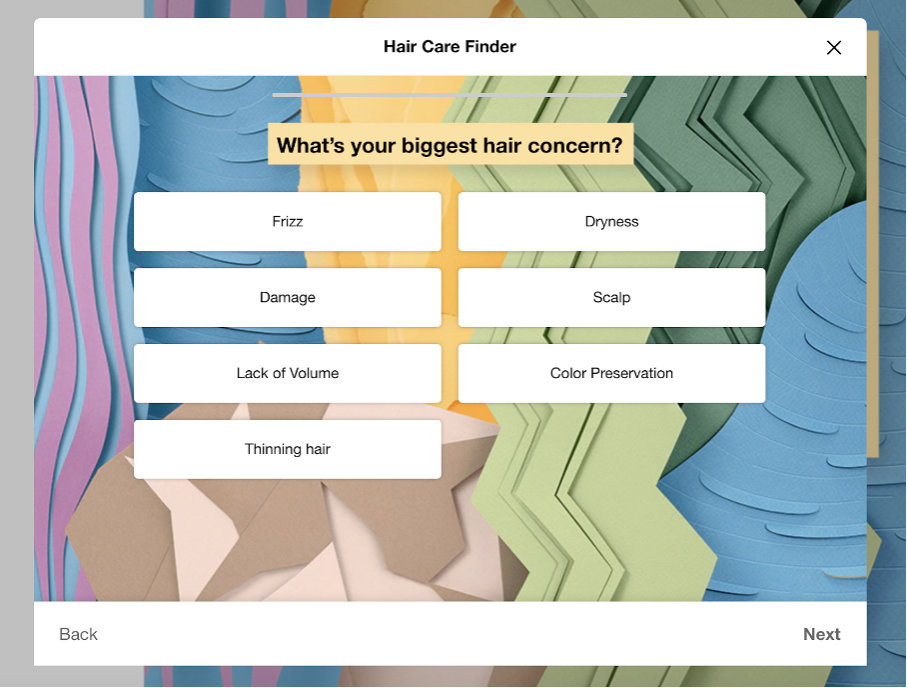 At the end of a quiz, users will get recommendations for products that help them with the specific problems entered as answers on the quiz.
Not only do quiz popups help visitors become aware of specific products that might solve their problems, but they also deliver valuable zero-party data. You can use these customer preferences in your marketing efforts further down the funnel.
Here are some examples of OptiMonk's conversational popups that can be used as quizzes:
2. Solution aware
Once potential customers have gotten to the solution aware stage, they're beginning to actively look for products that will solve their problems (that's why this is also called the consideration stage).
Your goal is to get them browsing through your category and product pages, finding products that they really like.
At this stage, your popups should be directing customers towards the products they might be interested in.
Use case 1: Recommend best-selling products
One way of getting your site visitors onto product pages is by recommending your best-selling or most popular products.
The more relevant the recommendations, the better these popups will convert. For example, you can use a customer's responses on a quiz to deliver personalized recommendations, or you can recommend products from the specific category they're browsing.
Here are some incredibly effective templates for recommending products to a relevant audience:
Use case 2: Social proof
Social proof is very important for consumers because it is user-generated content, rather than a message put out by the company. When a paying customer has something nice to say about your brand, potential customers take notice and will think of your products as more trustworthy.
You can use popups to highlight social proof like positive reviews and word of mouth from your social media pages. Here's a great example: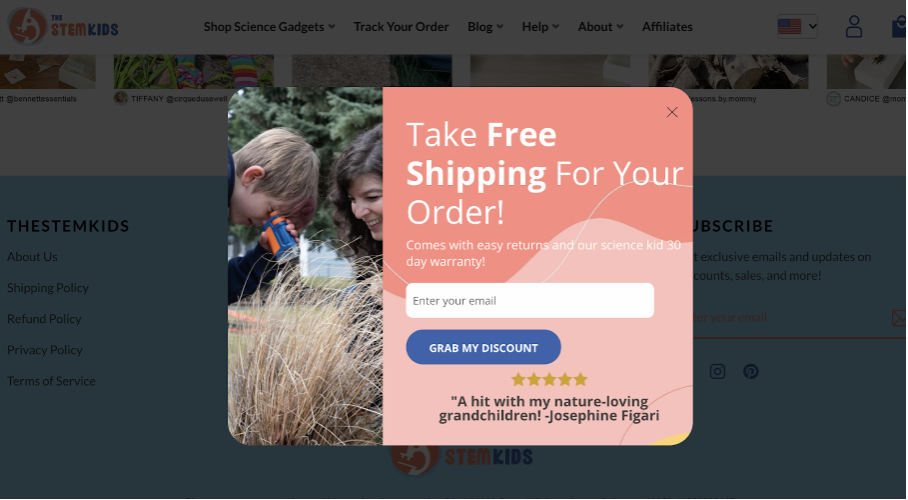 Use case 3: Promote your sales
Special offers and store-wide sales can help motivate new customers to spend time looking for a product they like and want to buy.
When an online store is having a great limited-time sale, visitors are likely to look for something to buy just so that they don't miss out on the savings. Seasonal sales are particularly good for this purpose, since they have a natural end date.
Check out these great promotional popups for ecommerce websites:
3. Your solution aware
Once users have reached the "your solution aware" stage, they're actively considering specific products in your store and may even have put a few into their cart.
This is where you want to move customers beyond just considering these products, and towards forming an intention to buy.
Use case 1: Product page abandoners
We'll get into cart abandonment popups in the next stage, but first, we'll go over another important late sales funnel segment that receives less attention: product page abandoners.
These users have made it from your landing page to your category pages and finally to your product pages, but have decided to leave the site without putting anything into their cart.
You can offer discounts to this segment of users to incentivize them to make a purchase.
Here's an example of a product page abandoner popup from Kiss My Keto, which they personalized according to the particular product a user was looking at: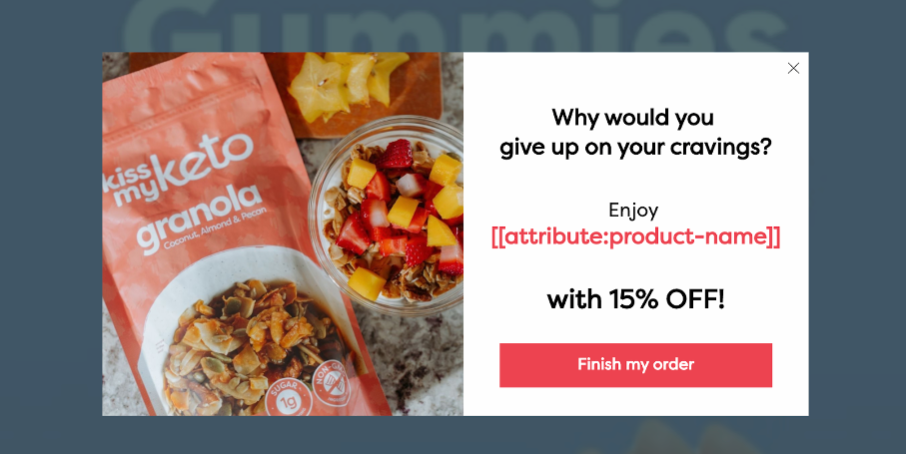 Here's a template that you can use for product page abandoners:
You can also ask customers why they decided not to make a purchase, like in the template below. This helps customers feel like you're listening to them, and it will give you valuable data on how to improve your ecommerce website.
Use case 2: Recommend related products
This stage of the sales funnel is also a great time to use popups for upselling and cross-selling, which will help increase your store's average order value.
To create popups for upselling and cross-selling, you'll need to use "cart rules" (there's a step-by-step guide here) to customize product recommendation popups like the one below.
4. Most aware
Your most aware customers are those that have put items in their cart and proceeded to the checkout page, or those that are existing customers returning to make another purchase.
It's (almost) all about closing at this stage. Some customers just need a final push to convince them to make a purchase now rather than later. However, you shouldn't be overly aggressive in pursuing sales, since this will lower the number of repeat customers you're able to retain.
Since a loyal customer who makes many repeat purchases is very valuable for an ecommerce business, your marketing strategy should never rely too heavily on one-off purchases.
Use case 1: Cart abandonment popups
Cart abandonment popups appear when visitors with items in their cart are about to close the page. A discount shown at this stage can be just the final push a visitor needs to complete their purchase.
We also recommend showing a countdown clock, like in the examples and templates below, which will increase the sense of urgency.
Cart abandonment popups tend to get more conversions than other types of popups precisely because these visitors are so close to the end of the ecommerce conversion funnel.
Here's a great example from Obvi: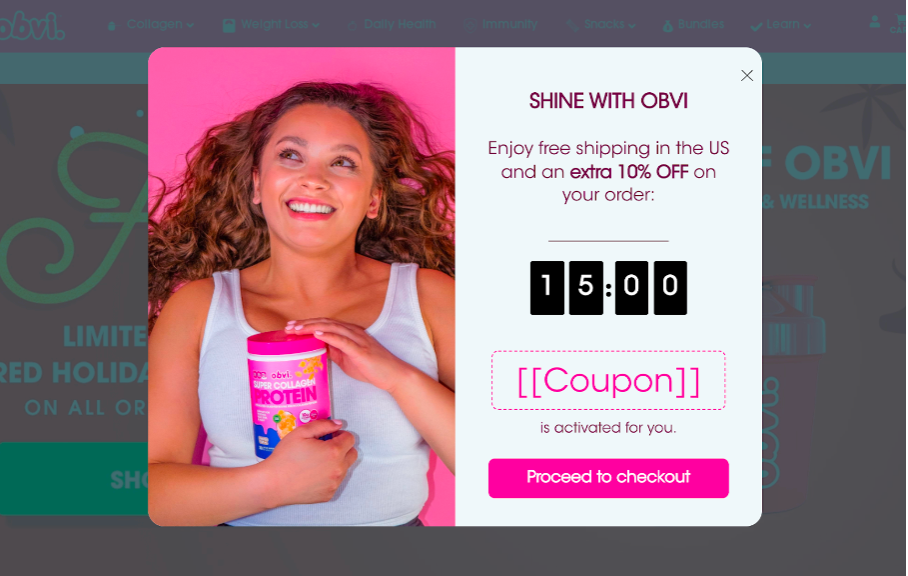 And here are some templates that you can start using right away:
Use case 2: Surveys
At this stage, you can use a "Why didn't you make a purchase?" survey, like in the last stage, but you can also collect data from customers who have just made a purchase. Once again, your customers will be happy that you're asking for their opinion.
These surveys are a great way to build your brand reputation through encouraging online reviews and social media posts—which you can even use in future social proof popups!
Use case 3: Next purchase discounts
Another option for post-purchase customers (which are at what we sometimes call the retention stage) is the next-purchase discount.
A discount gives people an incentive to reenter your sales funnel and become loyal customers.
The template below actually does three things:
Thanks a customer for their purchase

Offers a discount

Asks for feedback
There you have it! Strategies for each stage of your ecommerce conversion funnel that make it easy to solve any problems you might have with moving customers from being unaware of your brand to making a purchase (and then becoming repeat customers).
When you have a well-optimized sales funnel, you can raise the average conversion rate of your store. Rather than spending lots of money on advertising, using popups to smooth out your buyer's journey will lead to more happy customers and more sales and revenue for you.
Once you know which awareness stage is the leakiest part of your sales funnel, you can start using the relevant use cases to improve your conversion rates.
If you want some help with that process, check out the OptiMonk Wizard which helps to generate a personalized popup strategy for your sales funnel!