Email newsletters from ecommerce brands are often ignored by subscribers. In fact, they often land in a spam or promotions folder—just look at the number of unopened emails in your own mailbox!
Nowadays, most ecommerce stores take advantage of email marketing. As a result, all those newsletters pile up in subscribers' inboxes.
And who has time to read them, especially if they're filled with boring, predictable content?
In this article, we'll show you how your newsletters can stand out by infusing some subtle humor into them.
By making your emails funny, you'll differentiate your store from other ecommerce stores and positively influence buyer decisions.
7 examples of funny emails
To understand how to artfully add humor to emails, let's start with some successful examples of funny emails.
The examples below were able to tickle subscribers' funny bones and played an important part in an overall strategy to build an engaged subscriber list and gain high-quality leads.
1. Barkbox
Barkbox is an ecommerce store selling toys and treats for dogs.
In their promotional emails, they use a humorous tone and funny visuals featuring pets—who doesn't love cute animals and cute stuff?
Funny pet visuals are certainly one of the safest ways to include humor, so you could consider trying it in your own email marketing campaigns (even if you're not selling dog products).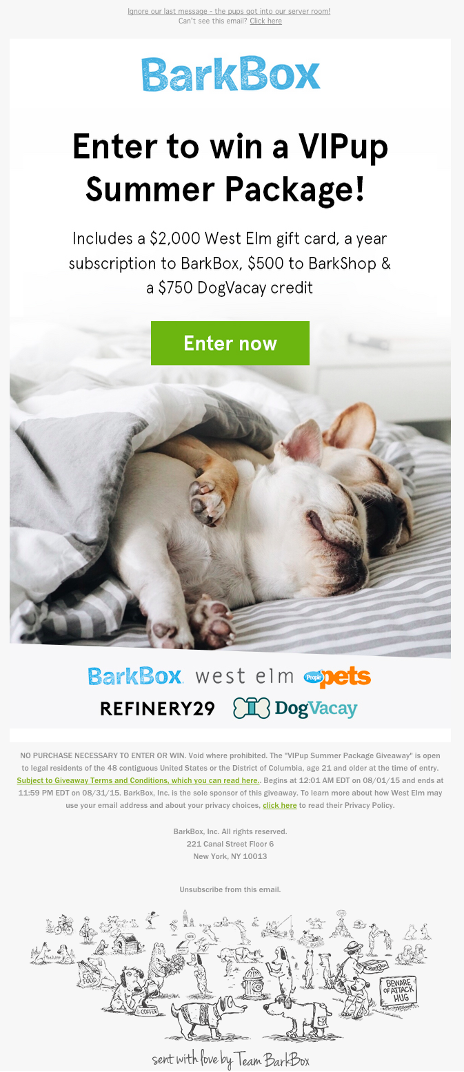 2. Casper
Casper calls themselves "the sleep company," and they're revolutionizing the industry by selling a range of sleep products like beds and pillows. They also use subtle humor in their email marketing campaigns.
A few jokes they use often actually come from their real customers, like in the example below.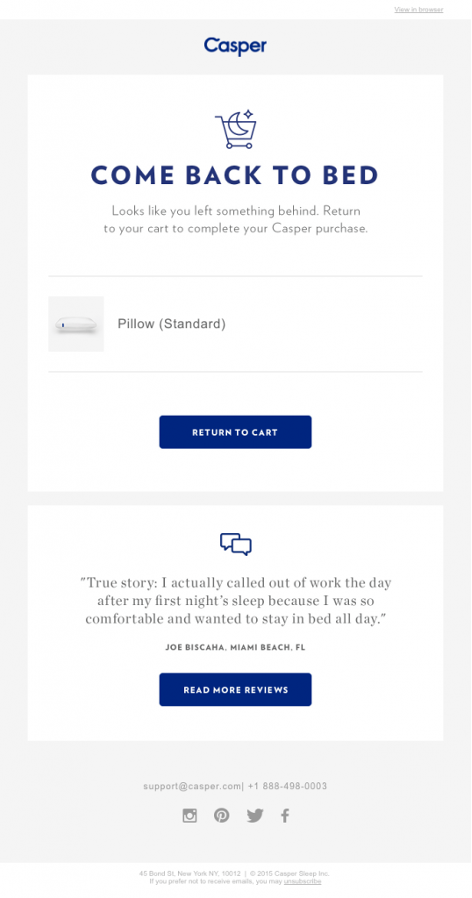 Casper proves that humor can be infused even in the emails you might expect to be more straightforward or formal, like a cart abandonment or order confirmation email.
In this case, they use a funny customer testimonial that also communicates the benefits customers can expect by choosing Casper's products.
3. Quip
Quip is an ecommerce company selling electronic brushes. They stand out in a competitive space by offering a great product page experience and attractive product design.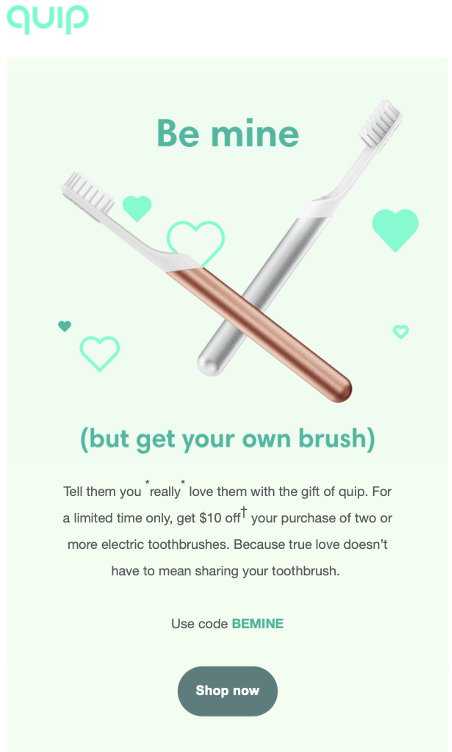 They typically weave humor into some of their seasonal campaigns.
For example, in their Valentine's Day campaign, Quip encourages people to give a brush as a present to their second half.
Let's face it—a toothbrush is not a sexy present for Valentine's Day, but by adding humor to their newsletter, Quip surprises readers and gets them to consider gifting one!
4. Poo~Pourri
Poo~Pourri is a company that produces natural odor eliminators. They sell deodorants, air fresheners, fabric fresheners, and their most famous product: bathroom sprays.
Unlike the companies we've seen so far, Poo~Pourri takes a braver approach to use humor.
In one of their promotional campaigns, they use a Star Wars theme to attract attention to their limited-time discount.
In their copy, they use a few clever references to the dirty business they're in.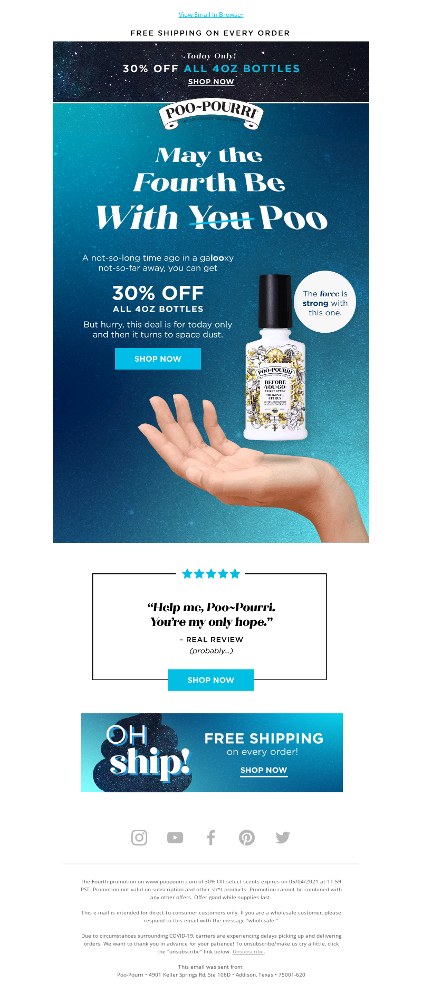 5. The Farmer's Dog
The Farmer's Dog is a pet food company that makes high-quality products that are healthier for dogs than the majority of products available today.
In one of their campaigns, they mention kibble—a type of pet food—and compare it to junk emails.
By doing this, they're cleverly calling out the bad quality of most dog food and offering a better alternative—their products that contain more natural, sustainable ingredients than kibble… with an additional discount offer.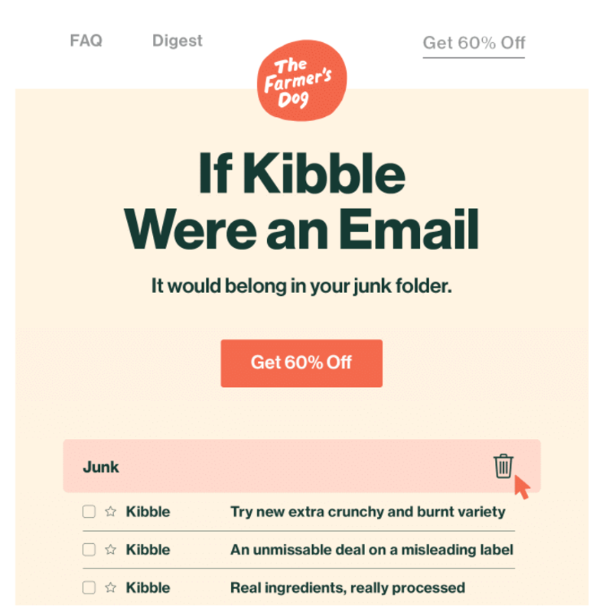 6. Blue Apron
Blue Apron is an ecommerce subscription business that delivers food kits with recipes and all the ingredients needed to make the meals.
Blue Apron's reactivation email is an excellent example of a seasonal campaign. They sent it to inactive users and subscribers during Halloween, offering a coupon worth $40.
They use humor related to October 31, and keep it fun.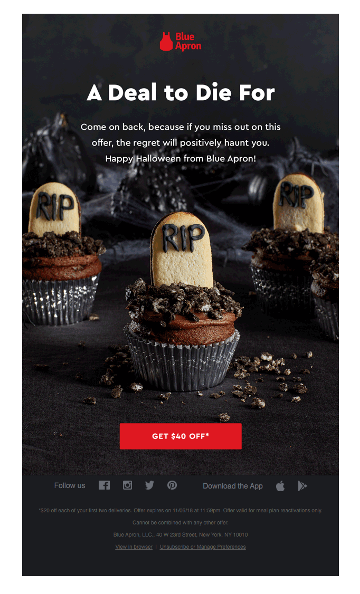 7. Harry's
Harry's is a men's shaving and grooming company that uses natural ingredients to produce their items.
In their email body copy, they integrate quirky humor and old-fashioned "moms' wisdom" about washing your face.
The campaign's subject line, "Mom told you to wash your face. Find out why…" generates interest, and quirky copy keeps readers engaged.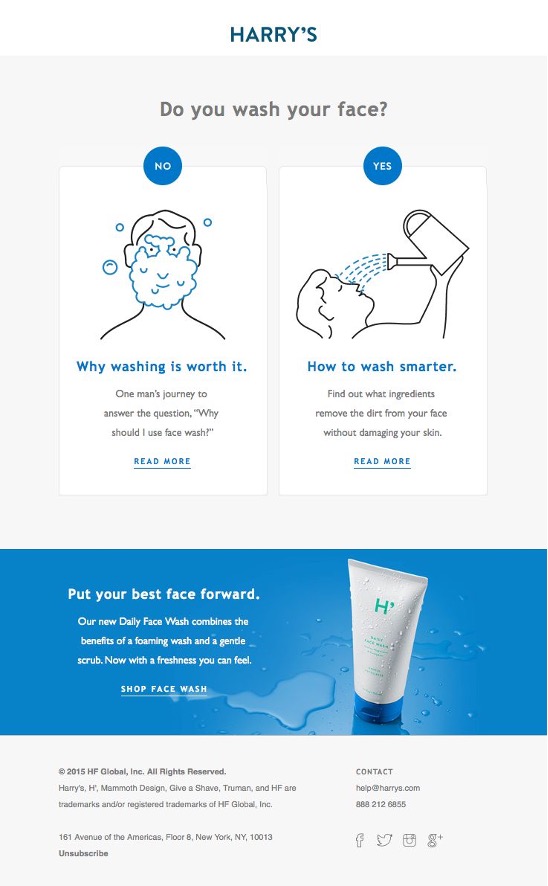 They also use funny images and a small quiz to direct users to their website.
They're targeting two personas—men who already know about correct hygiene, and those who are novices.
A guide to using humor in your emails
We've reviewed some funny email examples and discussed what makes them successful.
Now, let's summarize the key points about using humorous copy and tracking the success of such campaigns the right way!
1. Decide if humor is appropriate
While using humor in email marketing is a natural choice in some niches, it's often considered a risky tactic in others.
For example, imagine you're promoting the services of a business intelligence company and you decide to create an email marketing campaign featuring funny dogs.
Your audience might not be able to take you (or your product) seriously. That's why this brave, daring approach might actually backfire.
Weigh the pros and cons of using humor in your email campaigns, and figure out whether your audience will be receptive.
Quick tip: it's usually wise to avoid political jokes, as your subscriber list probably includes people with different political views.
2. Test the response of your audience
Your customer personas can react differently to your funny emails and humorous tone.
It's difficult to judge whether your audience will find your jokes funny until your subscribers actually read them.
So instead of diving in with those big, brave ideas, start small!
"Select small segments of subscriber lists and test how different groups react to your experiment," says Craig Anderson, Founder of Express Dentist.
When measuring the success of your experiment, focus on the metrics such as new and recurring sales, not vanity metrics like clicks or opens.
3. Integrate humor in different email types
Any ecommerce email can be funny—a welcome email, an abandonment email, a seasonal campaign, or a promotional email.
You just need to find a clever way to use humor in each of them.
If you're strapped for ideas, scan your social media for funny comments from customers or look for punchy client reviews.
4. Make it relevant to your business
Every ecommerce business niche is different. Copying successful jokes from other businesses won't always work.
To get your subscribers to take action, you have to be original.
"Make a brainstorming session and write down the topics that are specific to your niche and can be interesting for your subscribers," says Jonathan Ben Zvi, CEO of All Forward.
Just take the "kibble" reference from the campaign of The Farmer's Dog as an example—this word is very specific, and relates to their target audience.
There should be plenty of similar examples for your own business!
5. Find someone funny to write content
Writing funny content is not easy.
And using bad jokes can result in a damaged reputation—imagine how you'll feel if your subscribers start criticizing your jokes on their social media. Not good!
To avoid this, it's often best to hire someone with the talent and copywriting skills to write engaging email marketing campaigns.
It's worth adding this expense to your marketing budget and accounting for it when calculating the campaign's ROI.
The investment will pay for itself with a higher open rate and growing sales.
Humor can be a great way to connect with your audience in your email newsletters.
It can also help you stand out from the hundreds of other boring newsletters that ecommerce brands regularly send to their subscribers.
While it's true that humor is not appropriate for every ecommerce brand, most can find a way to include it tastefully.
Remember to start by defining the topics that are relevant for your business, and find funny ways to weave them into your emails. Good luck!