Are you struggling with converting your subscribers into buyers? You're sending regular newsletters, but somehow cannot persuade your subscribers to complete that order and buy from you?
If your answers are yes, read our case study below where you can find out how two shoe stores, ZooShoo and their sub-store, Yru collected subscribers to persuade them to place that order right away.
Results
After starting to use on-site messages, in just 2 months, ZooShoo saw a 7.35% increase in revenue. Achieving similar results within such a short period is a nice accomplishment. Not to mention that in one of their stores, they collected 56,090 subscribers with their lead generation campaign back in 2016. But this was just the beginning. With their recent popup, they collected no less than 3,866 subscribers in only 7 weeks.
Statistics
+ 7.35% increase in revenue
+ 56,090 subscribers within 1 single Mobile campaign
+ 3,866 subscribers in 7 weeks
Since 2011, ZooShoo has helped women connect with their inner shoe cravings. Now serving more than 50 countries around the world, ZooShoo is rapidly expanding into a worldwide destination for those seeking to feed their customers' fashion appetites.
Through innovative ecommerce marketing techniques, hand-picked styles, and creatively curated content – ZooShoo has become a premiere powerhouse for women's shoes.
ZooShoo brings its buyers the newest and latest in footwear and fashion. Their style collection includes a variety of shoes, pumps, heels, wedges, boots, sandals, dresses, and tops.
Yru is a similar store selling shoes managed by ZooShoo. Yru was created to create and its designs are inspired by freedom & individuality. Their motto is: "reach for the galaxy, it's not as far as it seems".
As an ecommerce store owner, you have to face it that nowadays, when all your competitors are trying to find and figure out the best marketing techniques to get more sales, it's very difficult to keep visitors on your site.
Especially if you don't pay attention to directly communicating with them.
And by direct communication, I don't mean the newsletters that you send out to them once or twice a week, of course….
I mean that you really have to take their hands and talk to them when they are on the site and ready to buy from you.
If you don't show them the right message at the right time about your best deals, they will just simply move forward to the next store. This might sound like a cliche, but if you really wanna get those magic numbers, you have to go back to the basics: step 1 – effective, direct, on-site communication.
After many years of offering discounts and coupon codes on their site, ZooShoo decided to try out OptiMonk on both zooshoo.com and yru.life.
The reason why they started to use on-site messages was that although they communicated discounts and coupons on the site, these just weren't attention catching enough. Visitors just checked out the products but left without buying anything.
After starting to use popups, the conversion of those who subscribed via popups proved to be higher than of those who skipped the offer or haven't seen the popup…
The question is, as always, how is that possible?!
Let's take a closer look at what on-site messages ZooShoo and Yru used to convert their visitors into customers and how did they use them.
Before we check the lead generation popups used by ZooShoo, let's see a few misconceptions that we often hear from ecommerce store owners:
I don't communicate discounts because that will hurt my business.
Discounts only work if I communicate huge ones so I'd prefer not to communicate any at all.
I don't have to offer anything in exchange for my visitors' email addresses, they will subscribe anyway to get the best deals from me.
I don't like popups, I have my own offers placed all over the store to guide my visitors, isn't that enough? I don't want to annoy them with additional messages.
If you, agree with any of the above points, take a look at ZooShoo's coupon campaigns and you'll surely change your mind by the end of this study.
Some common campaign properties:
They are 2in1 lead generation and coupon campaigns
They all offer small discounts (VALUE) in exchange for a subscription
They all support the browsing experience by showing the right message, to the right visitor at the right time
Templates and campaign settings
Although the very same popup was created for PC as well, the mobile version converted way better than the PC one. This might be because the majority of the site's visitors are browsing from mobile.
Nowadays, when the majority of traffic arrives from mobile, it is essential that we optimize our site or ecommerce store for mobile as well and try to save as many abandoning visitors as we can.
That's why Yru decided to create a separate lead generation campaign for mobile as well.
The campaign was shown once to New visitors after browsing the site for at least 10 seconds and opened at least 2 pages: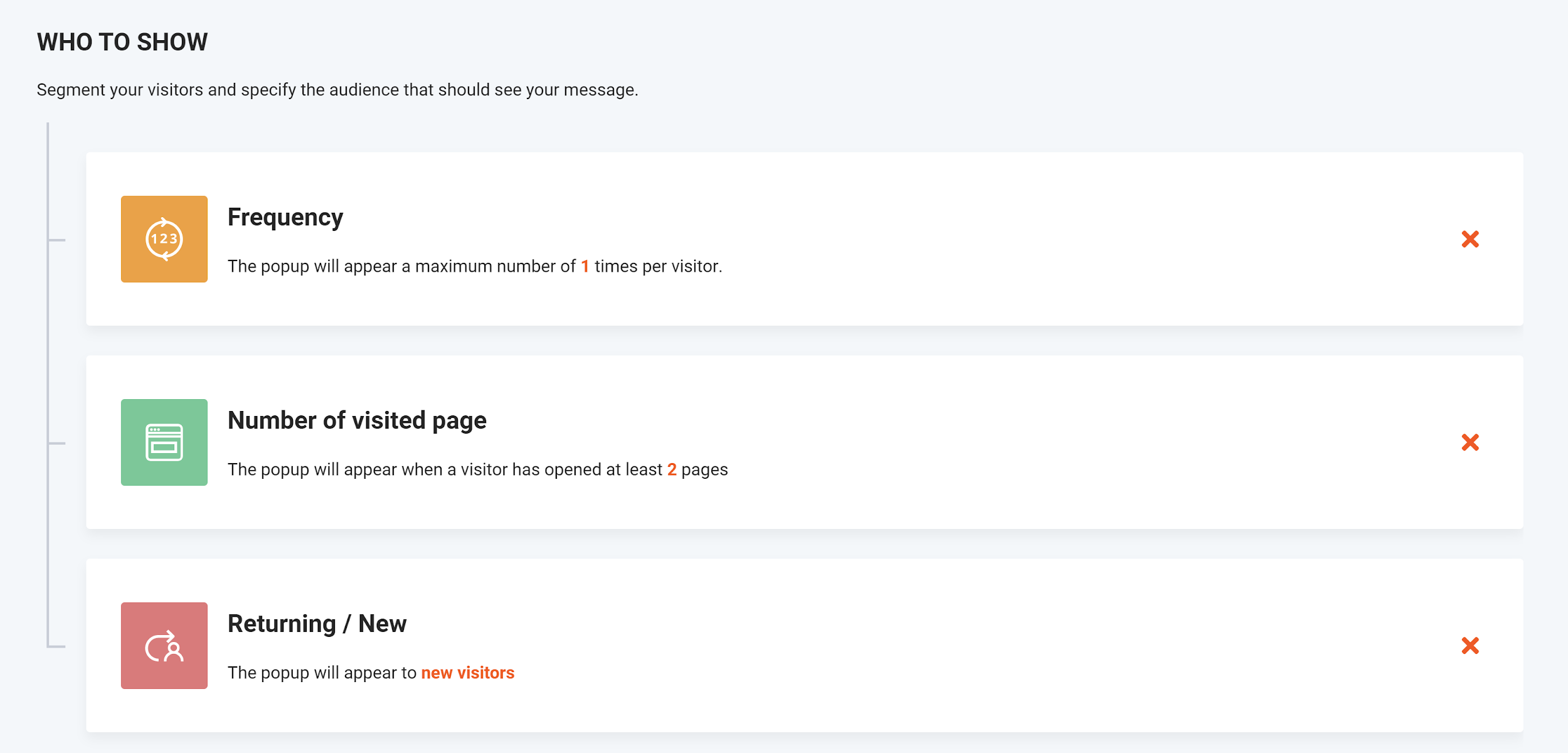 After the subscription was made, the email address was forwarded right through to the MailChimp list. This way, they could send out the instructions about the coupon code from MailChimp right away.
With this campaign, Yru managed to collect 56,090 subscribers since the campaign was activated back in 2016, which is a really nice number 🙂
(Although Yru used the timed setting on Mobile, exit-intent is something that has also become available recently with OptiMonk on Mobile as well. Check out the details here.)
Campaign 2: Coupon campaign with A/B testing on zoosho.com
In spite of the fact that Zooshoo runs several lead generation campaigns in parallel, they always try to renew the campaigns from time to time. With their latest lead generation campaign that they launched recently, they managed to collect no less than 3,866 subscribers in only 7 weeks!
Can you believe that?
Let's see how did they set up the campaign to bring such outstanding results 🙂
First of all, they used A/B testing to measure the effectiveness of the campaign and to find out which variant works well in case of their audience (you can read more about A/B testing here)
During A/B testing, the following elements were tested:
Version A):
page 1: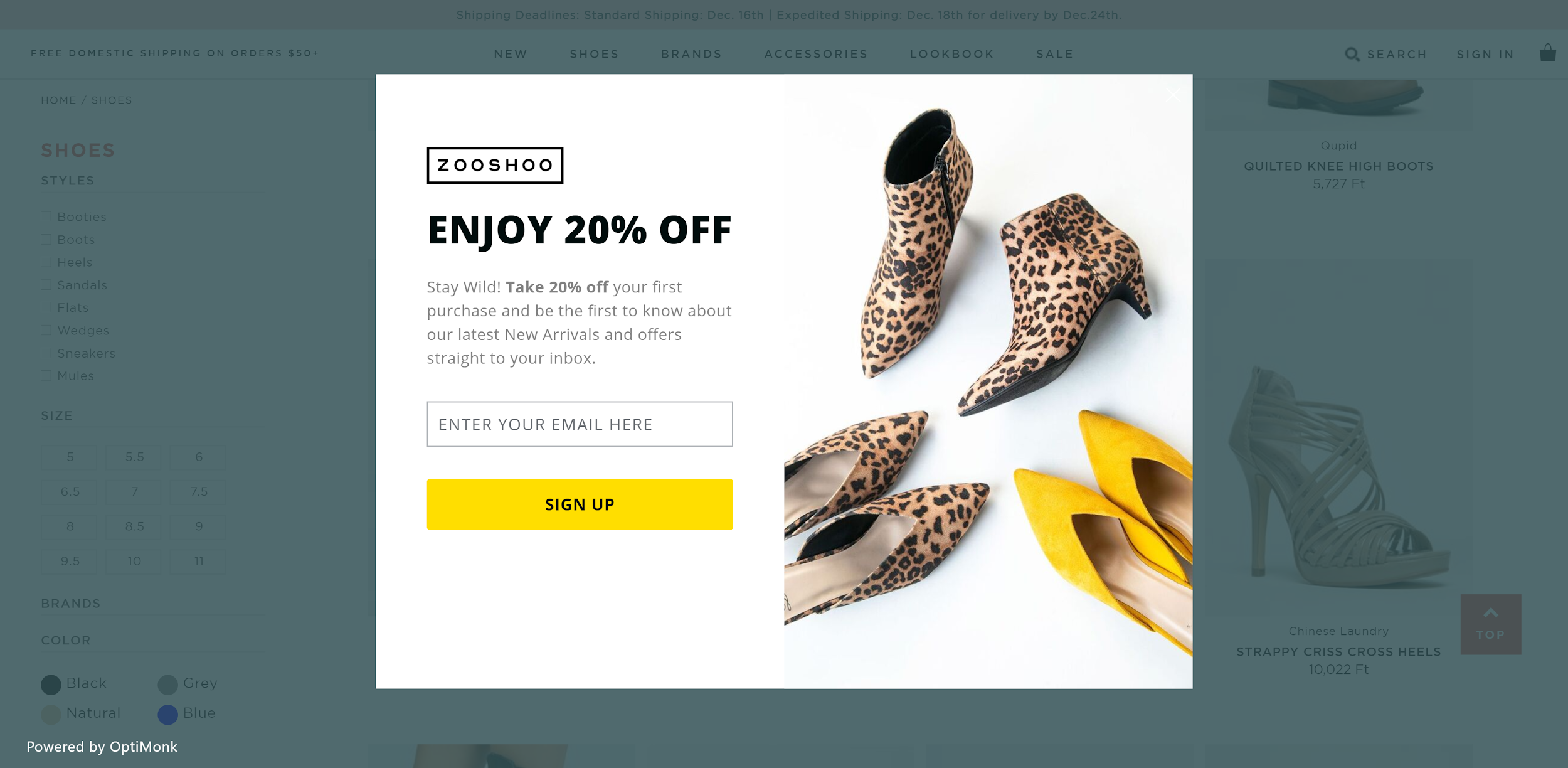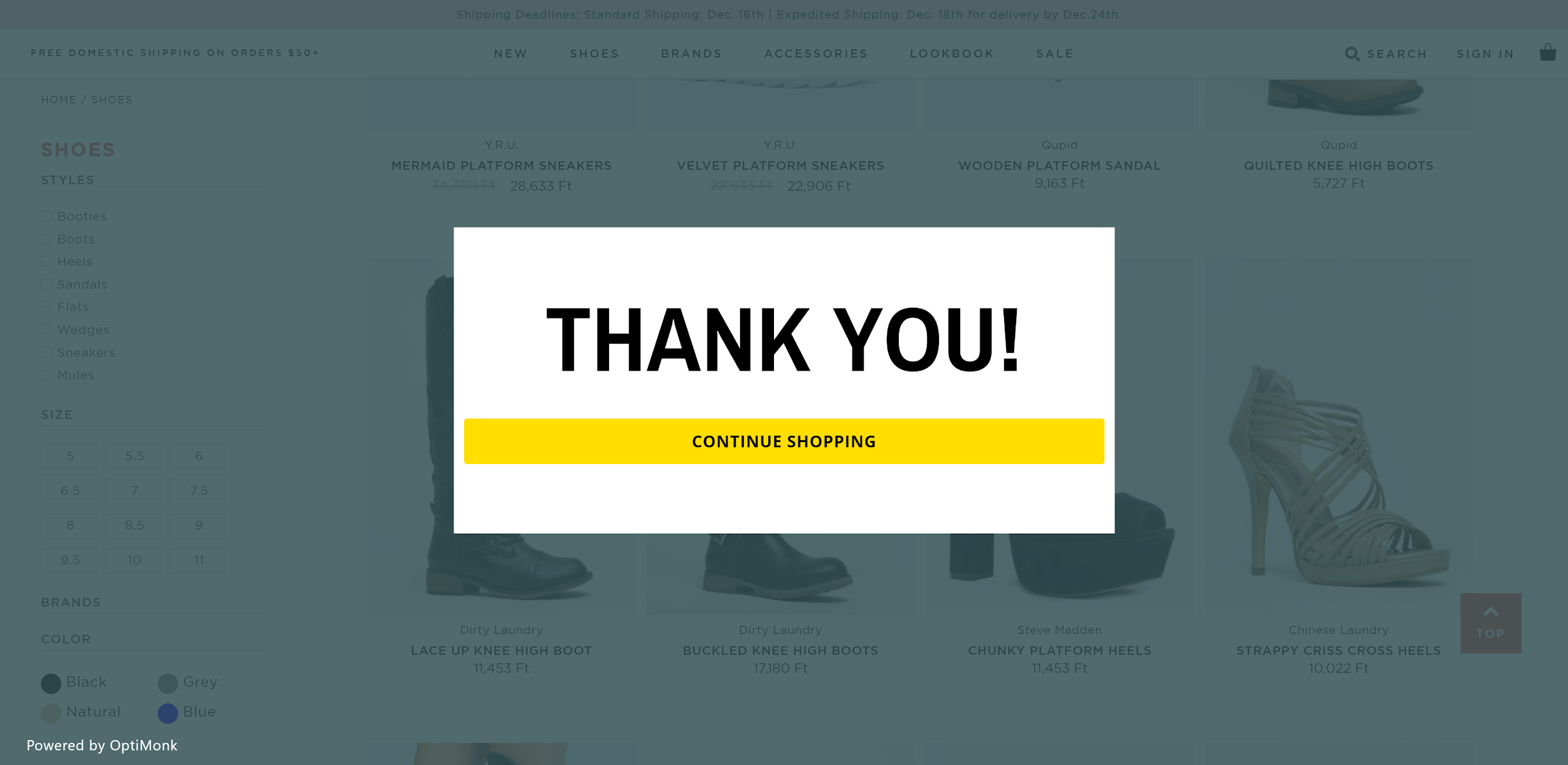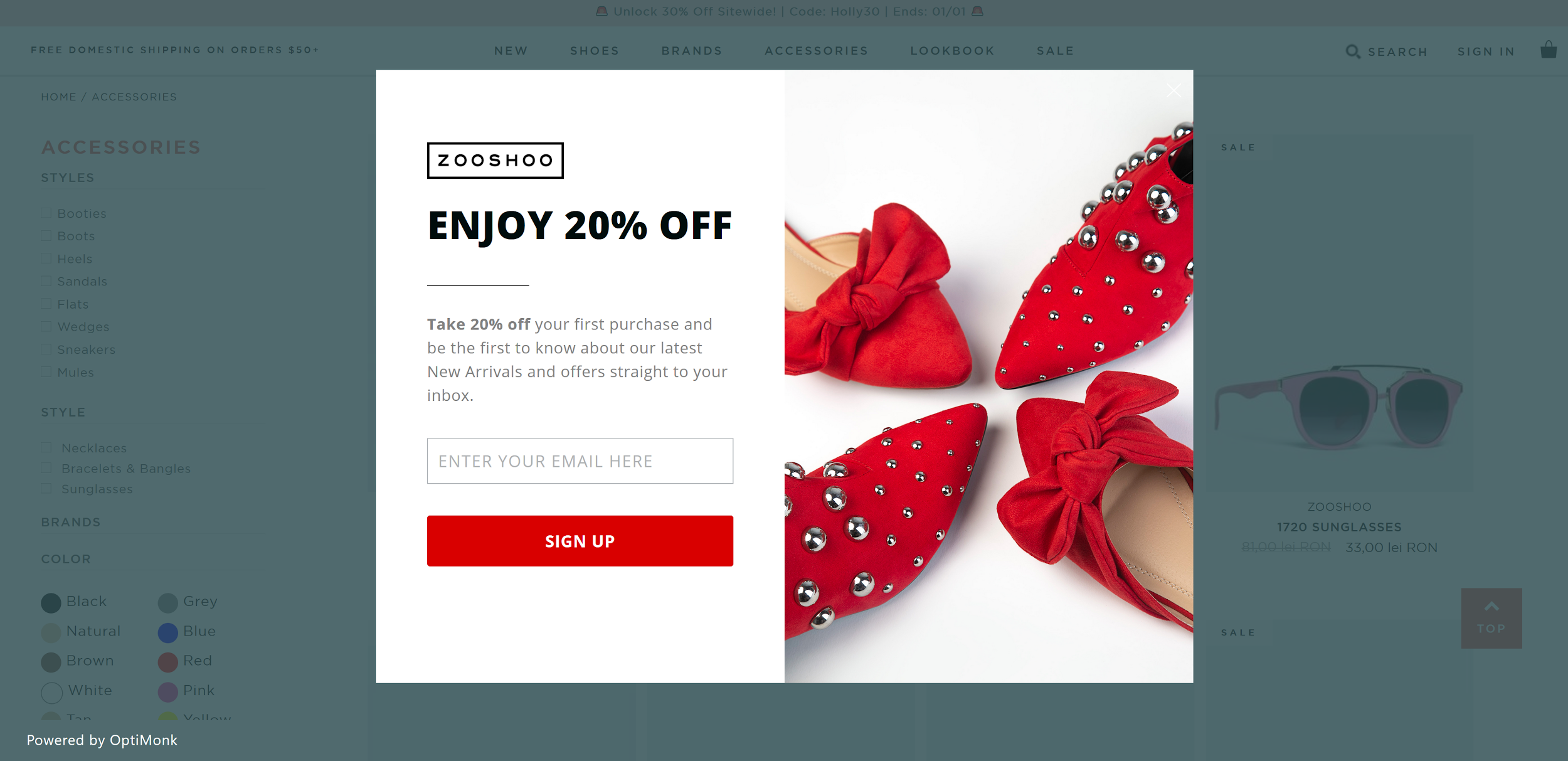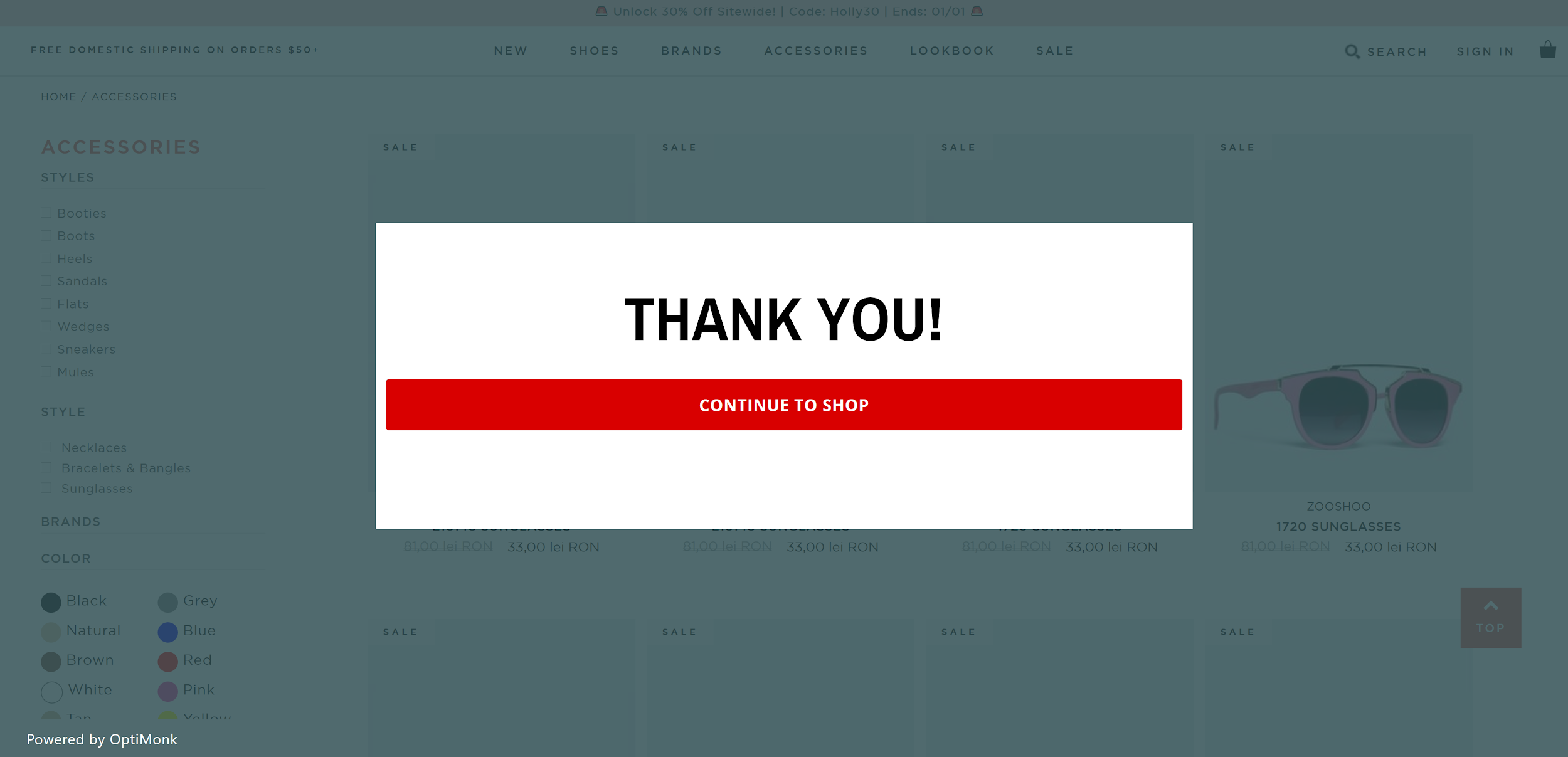 The campaign was shown to New visitors arriving from PC and mobile, with the following settings:
It was set up to appear on exit-intent and after spending 2 seconds in the store and on one of the subpages. It would appear 2 times/visitor with at least 1 hour between the appearances: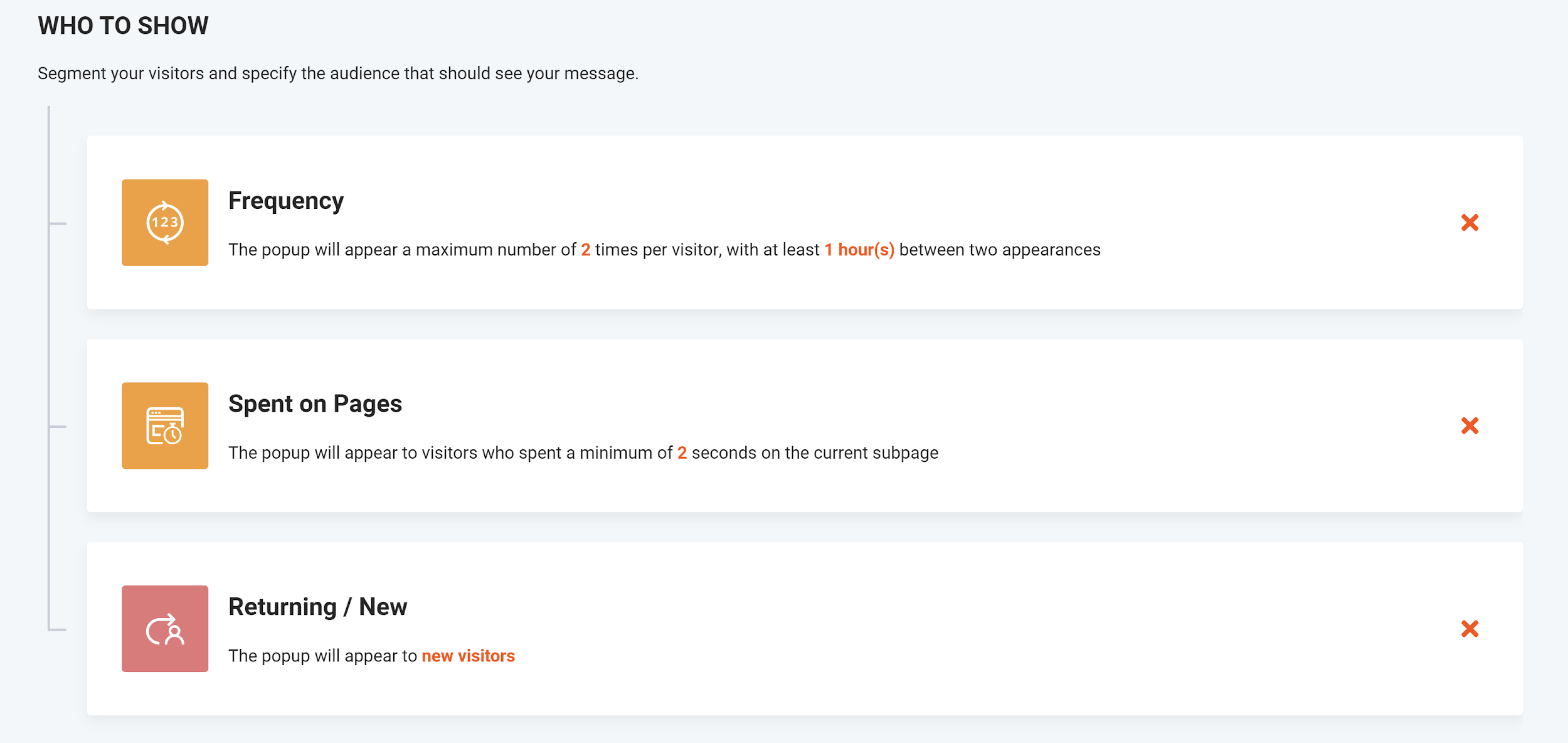 The email addresses were sent straight away to Klaviyo.
As you can see, no special segmentation settings were used in this campaign. This doesn't mean that no special segmentation is needed, on the contrary!
There were some campaigns (ie: used for cart abandonment) where special settings were needed. However, in these campaigns, the main idea was to catch the attention and provide some value to new visitors so that they become customers and repeat buyers in the future.
This way, ZooShoo could connect with their first visitors easily and by providing a minimal discount made a positive first impression. This increased the desire of new visitors to place an order in exchange for the discount offered.
The campaigns used by ZooShoo and Yru prove that it's not enough to communicate discounts on your ecommerce store. You have to communicate those real-time by taking our visitors' hands and guiding them.
As you can see, the amount of discount that you communicate to your visitors doesn't really matter. In the eyes of your visitors, the intention will be the same: that of providing value.
Therefore, providing a minimal discount can also persuade your visitors to order that one product from you.
ZooShoo's and Yru's campaigns prove this idea even more, given that since using popups, they managed to achieve a 7.35% revenue increase, collecting no less than 56,090 subscribers within 1 single Mobile campaign and 3,866 subscribers in only 7 weeks!
If you as well would like to achieve such great results, why no try OptiMonk? You can easily create a free account. Or if you already have an account, just sign in.