Despite all the efforts of ecommerce stores to increase their revenue and customer satisfaction, an increase in sales is often followed by a frustrating phenomenon: an increase in the number of returns.
The return rate for the entire retail industry – including offline and online retailers – is about 8%. However, carefully thinking about your return policy is even more urgent for ecommerce stores because the return rates are higher online.
How much higher are return rates for online retailers? According to Invesp, 30% of all products ordered online are returned. It's a shocking truth that nearly one third of products bought online will be returned.
Product returns cannot be eliminated entirely. However, you can do your best to prevent returns by using detailed product descriptions, lifelike product images, accurate specifications and data for your products, and by making sure your products live up to what you promised in your marketing.
Knowing that you will have some returns, you should make the most of the process and use it as an opportunity to retain customers, rather than lose them due to a difficult return policy or process. Create a return policy that's informative, engaging and easy to understand. Make the return process easy, and buyers who return an item are more likely to come back to your store and make a purchase again.
This article will provide you insights into the psychology of product returns, how to limit your returns, plus 10 actionable tips to create an effective return policy that improves customer satisfaction and ultimately boosts your revenue.
What are sales returns and allowances?
A sales return occurs when a buyer sends a product back to a seller for a partial or full refund.
An allowance is a retroactive discount a customer receives when they contact a company about a minor but noticeable defect with its product.
Both sales returns and allowances are subtracted from a company's gross sales to calculate net sales.
Why you should pay attention to returns?
While returns have an impact on your bottom line, the way you present your return policy also has an impact on your ability to make sales. Online shoppers are more cautious when it comes to ordering an item. An overly-complex return policy can discourage them from buying, but – at the same time – an easy and friendly return policy can increase your chances of making a sale.
When buyers aren't satisfied with the product delivered, they may have questions about the product or the return process. A good bit of your effort should be spent on making sure the most frequently asked questions are addressed in your product description and return policy.
Here are some further statistics and trends gathered by Invesp which show why product returns should be an important part of your ecommerce strategy:
30% of all products ordered online are returned as compared to 8.89% in offline shops
92% of consumers will buy something again if the returns are easy
67% of shoppers check the returns page before making a purchase
62% of shoppers are more likely to shop online if they can return an item in-store
27% of shoppers would purchase an item that costs more than $1000 when free returns are offered
Return rates may also vary by the types of products you sell. According to Deloitte's research, some retail categories, such as department stores, hard goods and home improvement have higher return rates, more than 11%. However, other products, such as beauty products, are returned less often.
Here are the average return rates by retail category: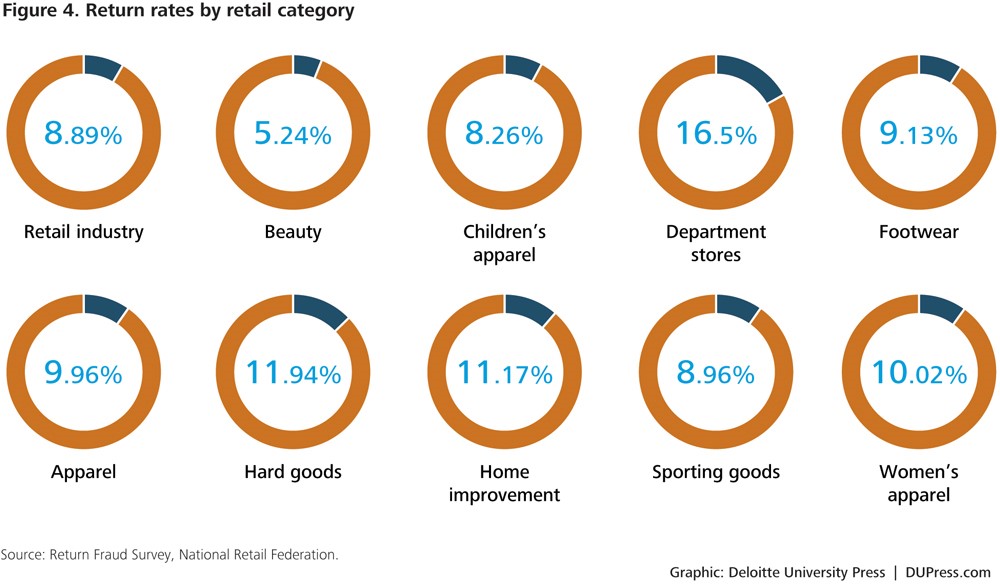 Most common reasons for returns
When it comes to buying online, visitors are unable to try out a product, touch it, hold it or smell it. Receiving a product that doesn't meet a customer's expectations is the number one reason for product returns. Having clear photos and a good product description are important to give your customers the best chance of "experiencing" your product before they buy it. Let's take a look at the other reasons customers return items and what you can do about it.
Here are the 10 most common reasons customers return items according to Chargeback:
Incorrect product or size ordered
Product no longer needed
Product did not match description on website or in catalog
Product did not meet customer's expectations
Company shipped wrong product or size
Customer unfamiliar with retail interface
Customer unfamiliar with product
Purchased during holiday season
Wardrobing (when a buyer purchases an item and uses it for a one-time purpose with the intent of returning it after the fact)
Deliberate fraud
Understanding why customers return products is the first step to understanding how you can limit returns and what strategy is best for your store. Your own experience will tell you which of these reasons is the most common for your store. If you're not sure, use a customer survey to learn why your customers return items.
10 tips to optimize your return policy and process
Well-crafted product descriptions and a clear return policy can go a long way towards limiting returns. Having a carefully designed return policy also implies that you stand behind your products and helps build trust in your customers.
This study shows that customers' purchases increased by 58-357% after receiving free shipping on returned items. In addition, the majority of shoppers – 79% – want free shipping on returns.
Free shipping on returns is only one technique to make your return process better. When it comes to returns, you should focus on each aspect of the returns process to reduce your overall return rate. Let's take a look at some more ways you can reduce returns, streamline the process, and boost your customer satisfaction and revenue.
Your job starts at the very beginning: the design and content of your website. There are a number of things you can do to decrease your return rate before you even touch your return policy:
Use detailed product descriptions
Enhance the quality of your product images
Use size guides for clothing and other items that require an exact fit
Show specifications and compatibility for technology products and other items that are used as components or with other products
Provide use-cases or case-studies to show how to use your products most effectively
Include product reviews
Be honest, especially about any known variations in product quality
Offer real-time customer service options such as online chat
Create an FAQ based on common inquiries you receive about your products
Overall, your goal is to clearly convey the information about your product as well as any relevant details, and provide an opportunity for buyers to ask questions, and find the answers they need before they buy.
Of course your return policy itself has a big impact on returns. It's also a great opportunity to differentiate yourself from your competitors. Consider your return policy as part of an effort to provide an outstanding customer service experience for your customers from beginning to end.
In other words, start by making your visitors clearly aware of your returns policy and finish by meeting the conditions promised with a smooth process that makes it easy for a customer to return an item. Remember, returns are inevitable, that won't change. What you can change is how you deal with returns, and the results can give you a leg up on your competition.
Let's take a look at 10 tips you can use to optimize your return policy and process:
1. Highlight your return policy and warranty
Your customers should never have to search for a long time to find a specific product or relevant information in your store. As part of a well-structured store, your return policy should also be easy to locate from any page on your site, including checkout and cart pages.
It's helpful to display a link to your return policy in a clearly visible place on your site, for instance, in the header or on a banner at the top of your site. Be sure to include a link in the footer, many online shoppers will also look for it there in your "Info" or "FAQ" section.
Flipkart.com knows that highlighting their return policy increases trust in their customers and persuades them to buy, ultimately leading to more sales and revenue. They clearly present their return policy in the footer, in a dedicated line and the bottom menu as well – on every page.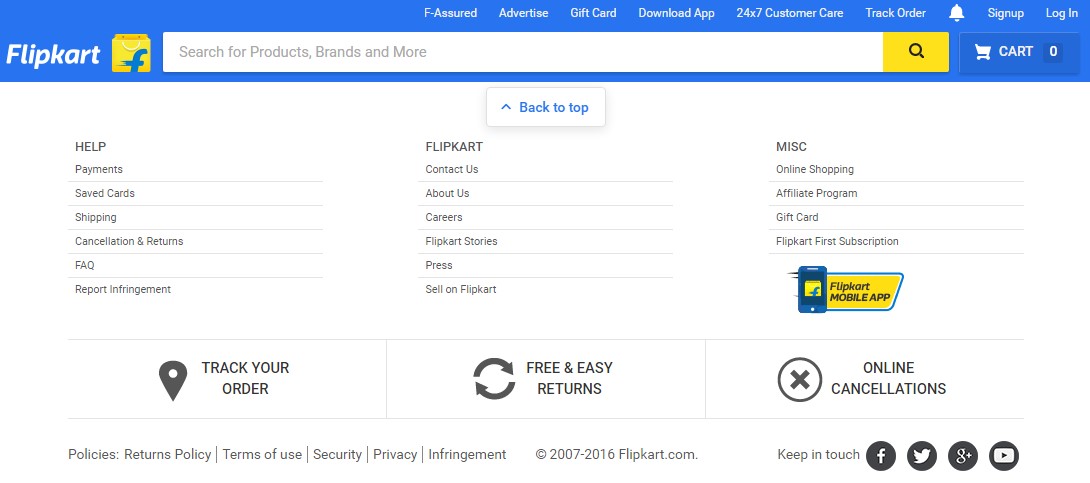 They also highlight their easy return process on their product pages: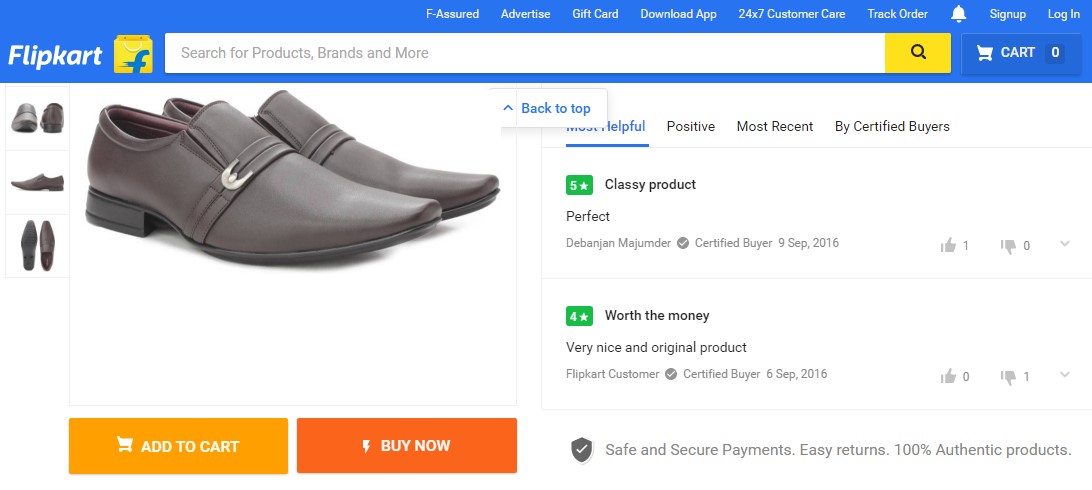 2. Keep it unique
To improve your ranking in search results and to differentiate yourself from your competition, you want all the content on your ecommerce site to be unique – especially your product descriptions.
When it comes to your return policy, you should also avoid a "one-size-fits-all" approach. Customize your return policy for your business, the products you carry and your target audience. It should contain all the relevant information regarding buying and using your products.
Here's an example from Bed Bath & Beyond which provides their customers with a several-page long, comprehensive return policy. They've divided their "Easy Returns" page into four main sections to make it easy to find the details related to their customers' most common concerns.
3. Use simple language without using any "scary" phrases
Your return policy should be as easy to understand as a product description. Your goal is to ensure your buyers are satisfied with their experience, even when they're not fully happy with the product and return it.
Follow these tips to keep your return policy smart and simple:
Don't use "legalese" or hard to understand phrases
Use keywords to help your customers understand the process and find information that's relevant to them
Repeat your promises
Avoid using "scary" phrases like "unless", "only if" or "you must"
Zappos uses plain English to describe their shipping and return policy. By highlighting the most important phrases – the keywords – it's easy to understand their entire returns process in a glance.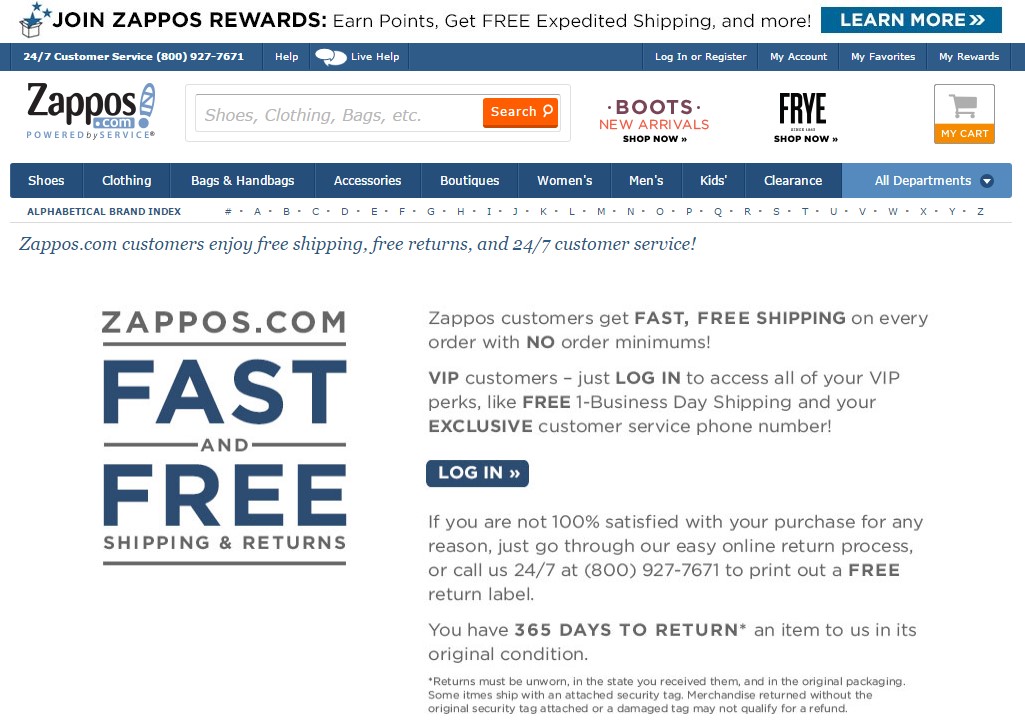 They also provide further details and help their customers by explaining the steps of returning a package in an attractive design which is given as much attention as a product page:
4. Set clear expectations
Your customers want to know what they can expect when they return an item. Will they get their money back? Or, will they get another product in exchange? This choice is up to you and depends on the nature of your business. Find what works best for your target audience.
As part of keeping your return process easy and understandable, set the right expectations for your clients as well. Clarify what they will receive in return – a refund or a replacement product, who pays for shipping costs and how long the return process will take.
Nordstrom clearly sets expectations in their return policy:

5. Keep your customers informed about the status of their return
Providing continuous updates about the status of a return increases trust and provides a sense of relief to your customers by making the process more transparent. When you provide the status of a return, you also have an opportunity to deepen your relationship with your customer by cross-selling and upselling additional products.
Amazon gives their customers an interface to manage and monitor returns. Customers can easily print a return label and check the status of their recent returns.

6. Provide a longer return period than what is required by law
Providing a longer return period than the legal minimum, increases confidence in your customers. It shows that you stand behind your products and you believe that they deliver real value for your customers. This increases your chances of making a sale, especially for high ticket items.
Products bought from REI can be returned for any reason, at any time, within 1 full year of purchase, ensuring "100% Satisfaction Guaranteed" for their customers.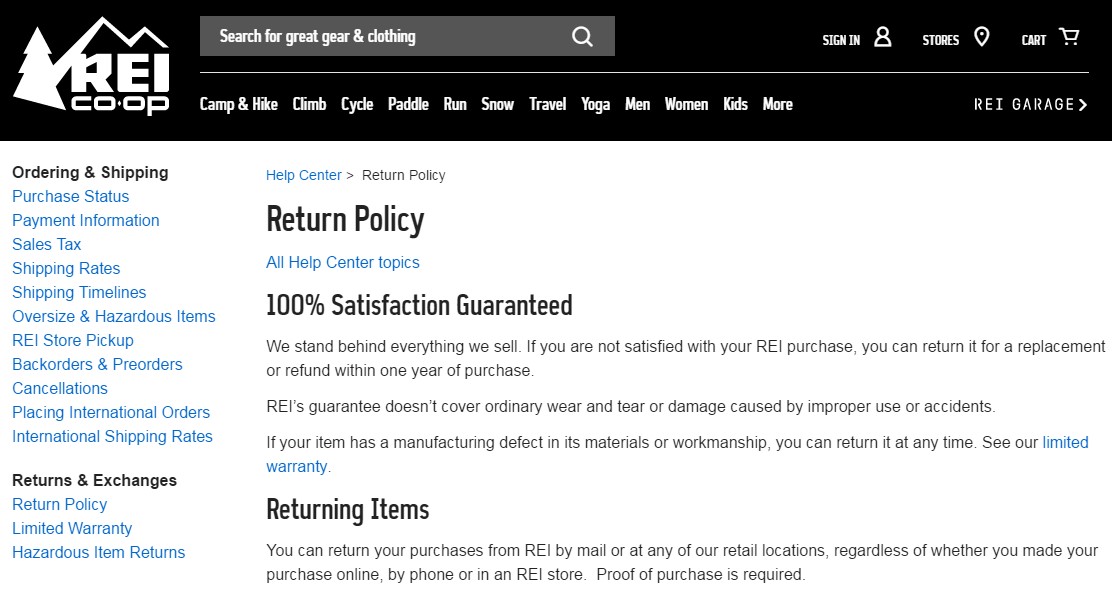 7. Offer a return label right in the box or make it easy to print one
According to a report by UPS on returns and customer experience, 52% of customers expect a return label right in the box. Surprisingly, only 14% of major online retailers provide a prepaid return label in the box, while 35% of don't provide a label at all.
Your industry can also play a role in whether to include a return label. Retailers of apparel, footwear, and other items where size is key should provide a prepaid label in the box. Instead of providing a label right in the box, some online retailers provide a method for printing return labels, such as the Amazon interface for returns.
Here's another great example from BestBuy who has a detailed and easy-to-follow returns process. In addition, they also provide a prepaid return label. Customers only need to put the prepaid return label on the package and take it to an authorized UPS drop-off location.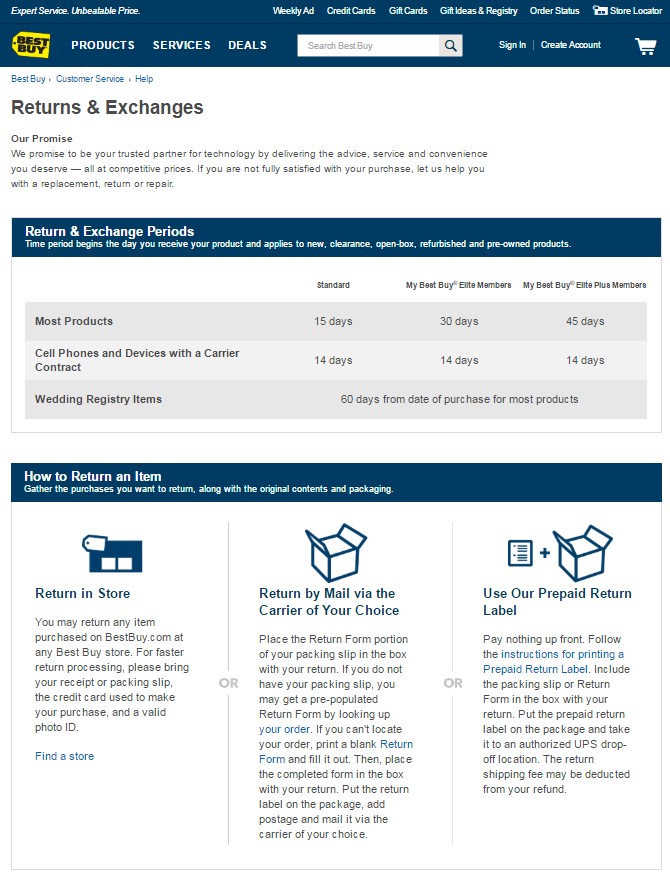 8. Automate your returns management system
Many online stores jump the gun by asking customers to contact them via email when it comes to product returns. This can lead to lost information, misunderstanding, and – consequently – a prolonged returns process.
Instead of using email, it's better to ask your buyers to sign in to their account where they can check their previous orders, create and track their return. By using a simple return form and user-friendly menu items, it should only take customers a few clicks to return an item. Most importantly the process is automated, saving time and effort for your customer service staff, and making the whole process less time-consuming for your customers.
Let's take a look at Target. Like Amazon, they have a dedicated return management system for their customers. They make it simple to start, track and complete a return.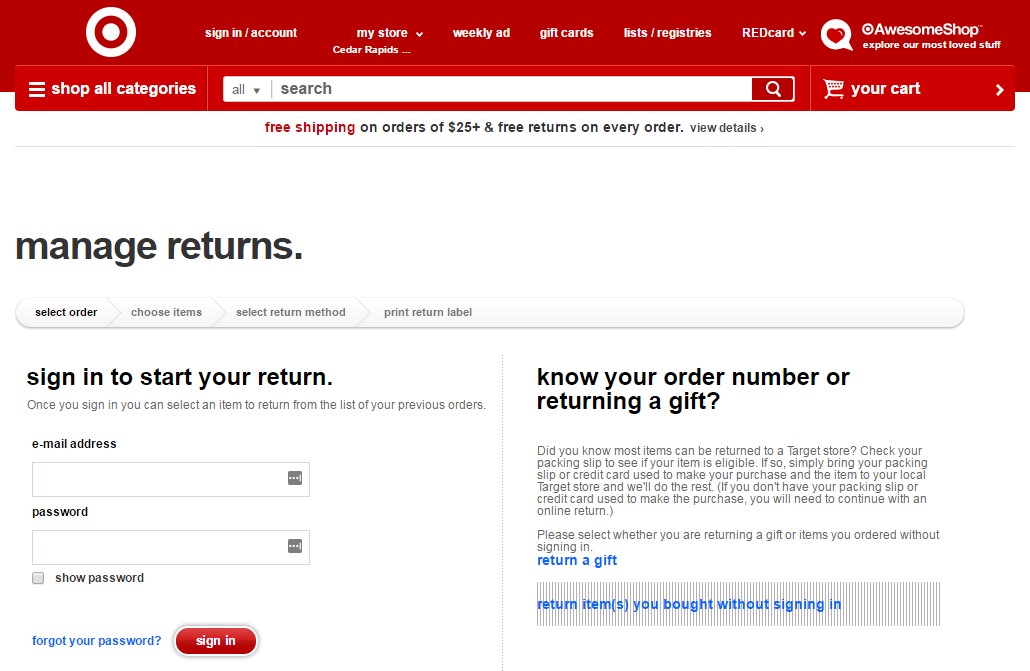 9. Provide a sample to save the hassle and expense of returning
Your returns policy is a good place to highlight any warranty or guarantee, and it's also a great place to promote a sample or smaller items that customers can buy to experience your product before making a big purchase.
This is especially helpful to avoid the hassle and expense of returning expensive items. You can also make this solution profitable by charging a small amount for the samples you provide. At the least, be sure you consider shipping and handling costs to decide whether this solution will work for your store.
On their "Returns and Warranties" page, ProteinCo encourages visitors to try their products before buying with a "Sample Before You Buy Offer". The offer has a lower price and shipping is free. In addition, ProteinCo provides a "100% Satisfaction Guarantee" to demonstrate they stand behind their products.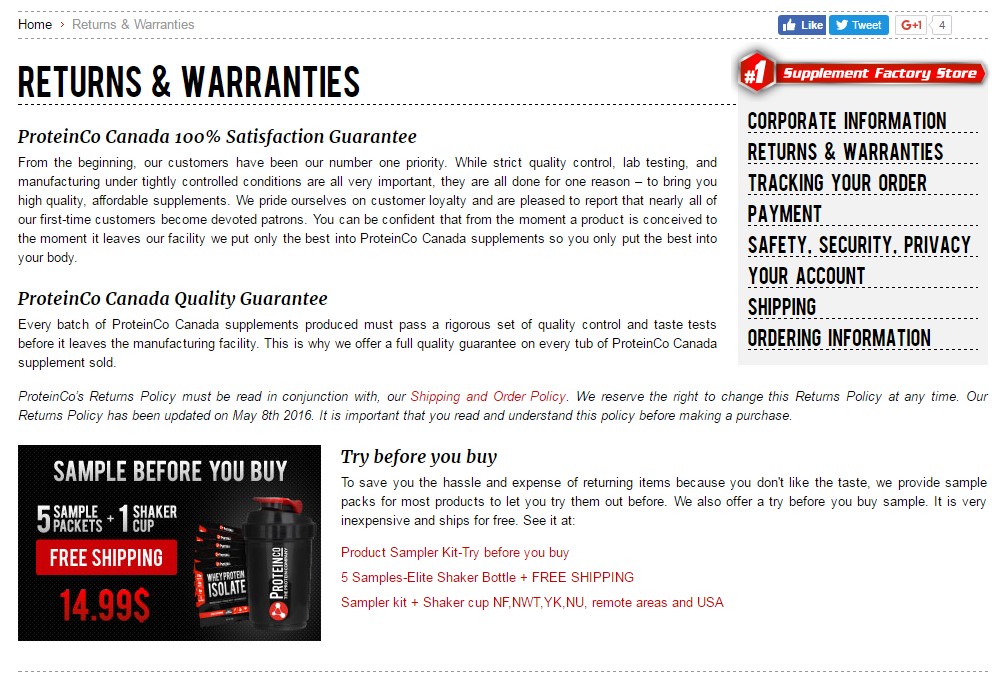 10. Use customer surveys, feedback and product reviews to optimize your return process
You can always learn a lot from your customers. Knowing the most common reasons they return an item not only helps you optimize your return process, but you can also help you improve the overall performance of your store.
In their return process, Lazada.com provides a drop-down menu to select the reason for return, and they also allow customers to leave a comment. By gathering a more detailed description from customers who are returning items, they can determine which parts of the buying process need to be improved.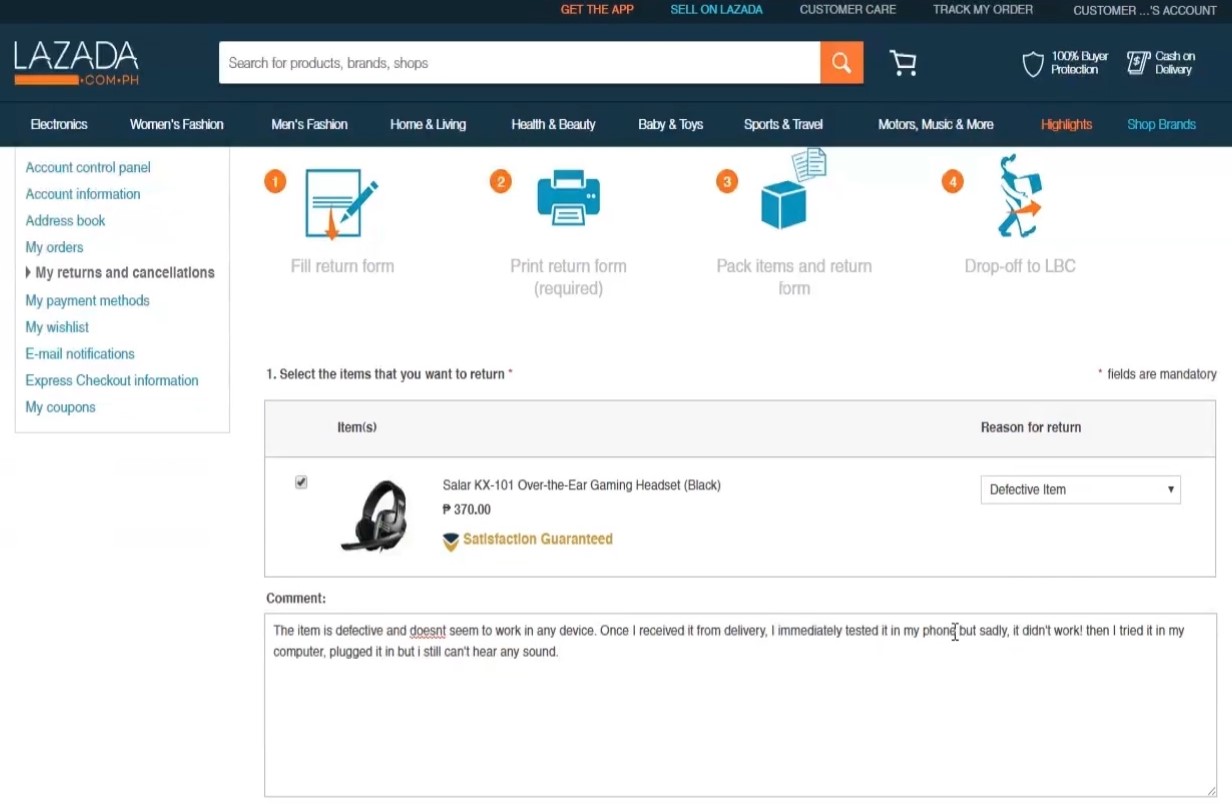 How to record sales returns and allowances?
Recording sales returns
The process for recording sales returns on an income statement involves reversing the revenue and associated cost of goods sold from the original sale. 
To begin, you need to debit the sales returns and allowances account by the amount of revenue generated by the initial sale. This effectively reduces the revenue amount. Next, you will credit either the accounts receivable or cash account by the same figure, reflecting the return of funds to the buyer.
For example, let's say a customer purchased a product for $250 but later returned it. In this case, you would debit the return and allowances account by $250 to reduce the revenue, and then credit $250 to either the accounts receivable or cash account to reflect the return of the buyer's payment.
By completing this process, you accurately record the sales return on the income statement, showing the reduction in revenue and corresponding adjustment in the accounts receivable or cash.
Recording sales allowances
The process for recording sales allowances on an income statement involves accounting for adjustments made to the revenue generated from sales transactions. When a customer is granted a sales allowance by a company, such as a discount for early payment or a partial refund for a defective product, certain steps are followed to properly record this transaction.
Firstly, the refund amount provided to the customer is debited to the company's returns and allowances account. This account acts as a separate ledger to record any returns, allowances, or discounts given to customers. By debiting this account, it reflects a decrease in the company's revenue and serves as an offset to the original sale.
Secondly, the allowance granted to the customer is credited to the company's accounts receivable. This adjustment reflects a reduction in the amount owed by the customer for the goods or services purchased. By crediting the accounts receivable, the income statement accurately reflects the revised balance owed by the customer after considering the sales allowance.
Overall, the process involves debiting the returns and allowances account to recognize the refund given to the customer and crediting the accounts receivable to account for the reduction in the customer's outstanding balance. These adjustments ensure that the income statement reflects the actual revenue generated by the company after accounting for sales allowances.
To reduce the number of returns to your store, make sure it is well-structured and the information is easy to find, including your return policy which should be highlighted on every page. You should also check that product descriptions, photos and specifications are clear and provide all relevant information a customer needs to make a purchase decision.
Once you've clearly presented your products and where to find your return policy, the next step is to make your return policy itself easy to understand. In the examples we provided, you'll see that no return policy is completely the same. Your return policy should be unique, based on your industry, products and target market, and used as a way to differentiate yourself from your competition. For example: do they offer 90-day returns? Offer 180-days.
Your return policy should be in plain English and the process itself should also be simple. Make it easy with a return label right in the box, or use a system that allows customers to print a return label right from their account on your store.
Keep your clients informed about the status of any returns throughout the process. Automating your return process will reduce the burden on your staff and increase customer confidence. Longer return periods and product samples can also help you build trust and confidence in your customers. By gathering feedback from your customers on their experience and using the tips above, returns to your online store can be an opportunity to grow your revenue and increase customer satisfaction.
(Note: Have you heard of OptiMonk? It's a powerful onsite messaging solution that helps you convert up to 15% of abandoning visitors to sales and leads. Give it a try – click here to create a free account now.)