If there's a "universal need" of all ecommerce site owners, it would simply be acquiring more customers. However, driving new sales is not the only way of increasing revenues and profit. Nay, nay!
You can also boost your revenue by increasing your average transaction value – the average amount a customer spends on your site.
New customers usually come with more work and costs. For this reason, almost all online stores use some form of upselling, cross-selling and down-selling to increase their revenue. It's not surprising, considering these techniques increase cart value, overall revenue and conversion rates, as well as improve the overall user experience on your site – when used correctly.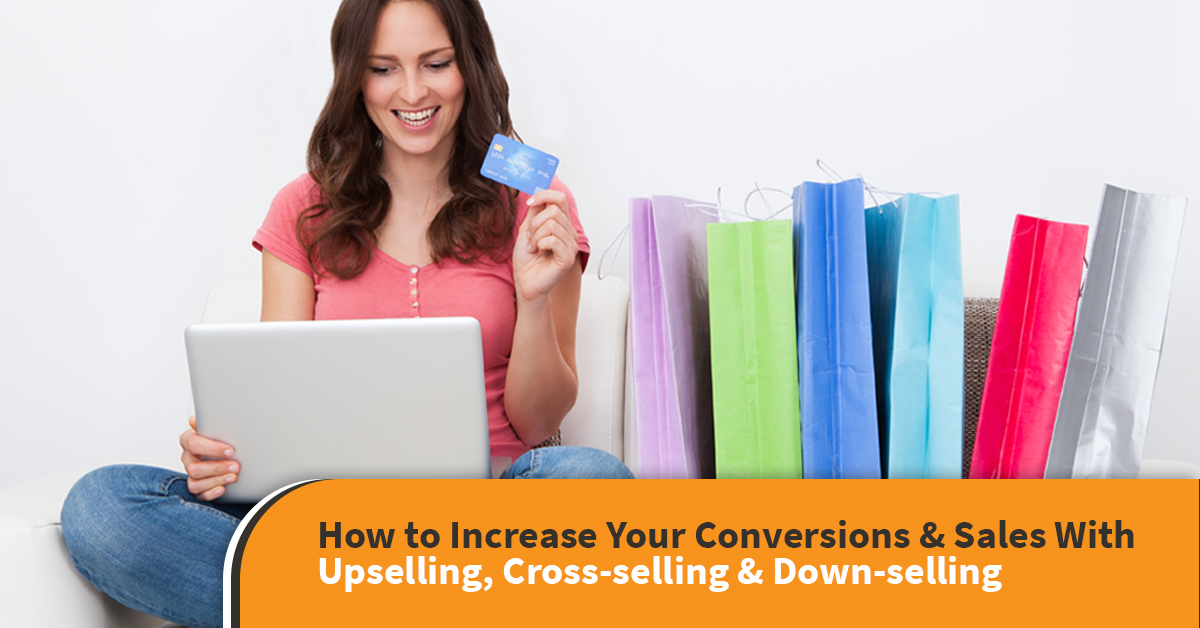 Your goal with cross-selling and upselling while not forgetting down-selling is to always provide your visitors with the most relevant product offers in a particular situation based on the information you have available. To borrow a metaphor from the world of offline commerce, these techniques are like "experienced salespeople" who are personally familiar with their customers and always able to offer the right products in any situation.
Your product range and target audience will have a big impact on the type of product offers you use, and also determine which approach works best for your store.
In this article, I'm going to introduce the most effective upselling, cross-selling and down-selling techniques including dozens of real examples. First, let's take a look at each of these sales techniques and how to take advantage of them.
What is the difference between upselling, cross-selling and down-selling?
All these techniques are designed to help you to increase your sales and help your business grow. Let's take a brief look at each method.


What is Upselling?
Up-selling is a sales and marketing technique where you convince a customer to purchase a more expensive item. In addition to promoting more expensive products to your customers, upselling usually involves promoting more profitable services, product bundles or package deals.
For instance, if it seems that a customer is going to buy an entry-level mobile phone, you can upsell to them by promoting an upgrade to a mid-range or premium mobile phone.


What is Cross-selling?
Cross-selling is another way of increasing your sales by suggesting an additional product to a customer. The goal here is to make sure that the additional product or service being offered to your customer increases the value they get from your store.
For example, if a customer is about to buy a mobile phone, you can offer a complementary product or service. You could offer them a memory card, a phone case, or a protection plan – something that helps them get more out of their phone – and also results in a more profitable sale.


What is down-selling?
Although online stores often look for ways to sell more expensive products and add-ons, offering customers less-expensive items can also increase profits in many cases. That's where down-selling comes into play.
Down-selling is the opposite of up-selling. It can be effectively used when a customer is trying to back out of a purchase. At this point, you need to adapt your offer to the customer's budget and provide a better (that is, cheaper) price for another item that has similar features to the original item. This approach will give you a better chance to be accepted, and selling something is always better than nothing.
Here's another example with mobile phones. If a customer can't afford a premium mobile phone, you can recommend a less-expensive alternative, such as last year's model.
Here's a graphic of the mobile phone examples to help illustrate the difference between upselling, cross-selling and down-selling:

How do upselling, cross-selling and down-selling benefit ecommerce stores?
The most profitable ecommerce sites combine upselling, cross-selling and down-selling to find the best way to maximize their profits with each customer.
Let's take a look at how these techniques can benefit your store. To get the best results, you should find a combination of all three that works for your products and customers.
How do upselling, cross-selling and down-selling benefit ecommerce stores?

Increases conversion rate, revenue and average transaction value

Upselling

Results in better profit margin

Improves customer satisfaction rates

Cross-selling

Increases customer equity

Helps differentiate your brand from your competitors

Enhances customer loyalty and engagement

Down-selling

Builds brand loyalty (if a customer cannot afford a premium product)

Helps you access more clients with varying budgets

Allows you to make a sale even if the customer didn't intend to make a purchase at the time
How can I implement these techniques in my store?
After taking a look at the benefits of upselling, cross-selling and down-selling, let's dive into the most effective ways you can use them to increase the average transaction value in your store.
We're going to present the techniques separately, but you'll see that there's a very thin line separating the three approaches, and they are used together in many cases. Referring back to our mobile phone example, you could offer additional accessories and offer a less-expensive model on the product page of a premium mobile phone.
When it comes to implementing these techniques on your site, you can use your homepage, product pages, and your cart page to promote products and offers. Some of this depends on the approach you choose. In general, you can use upselling, cross-selling and down-selling on your:
Homepage – Your homepage is the main page of your store. Product recommendations here are like shop window displays in brick and mortar stores. Most visitors arrive at your homepage from direct traffic and don't have a specific aim. Your primary goal should be to inform them about current deals, special offers and promotions, and provide the most complete picture of your range of products.
Product pages – A product page contains detailed information about a specific product. Visitors browsing these pages are typically more engaged, with a specific interest or need. To boost sales here, you should recommend relevant, related products.
Cart page – To increase the transaction value on your cart page, you should offer supplementary products which are closely related to the products in your customer's cart, or package-deals with complementary products.
Okay, let's take a look at some of the best examples of using upselling, cross-selling and down-selling to boost ecommerce sales.
Upselling
Let's take it from the top and look at the most effective ways to encourage customers to purchase a more expensive product.
1. Featured products
Upselling through featured products goes beyond typical promotion and highlights products based on subjective criteria that you define. Because you define the criteria or rules for which products are displayed, upselling this way can be effective for online stores that sell many similar products. It's also useful for ecommerce sites that are just launching and customer browsing history isn't available yet.
Here's an example from CellCasesUSA.com where they promote featured products on their homepage, right below the main slider.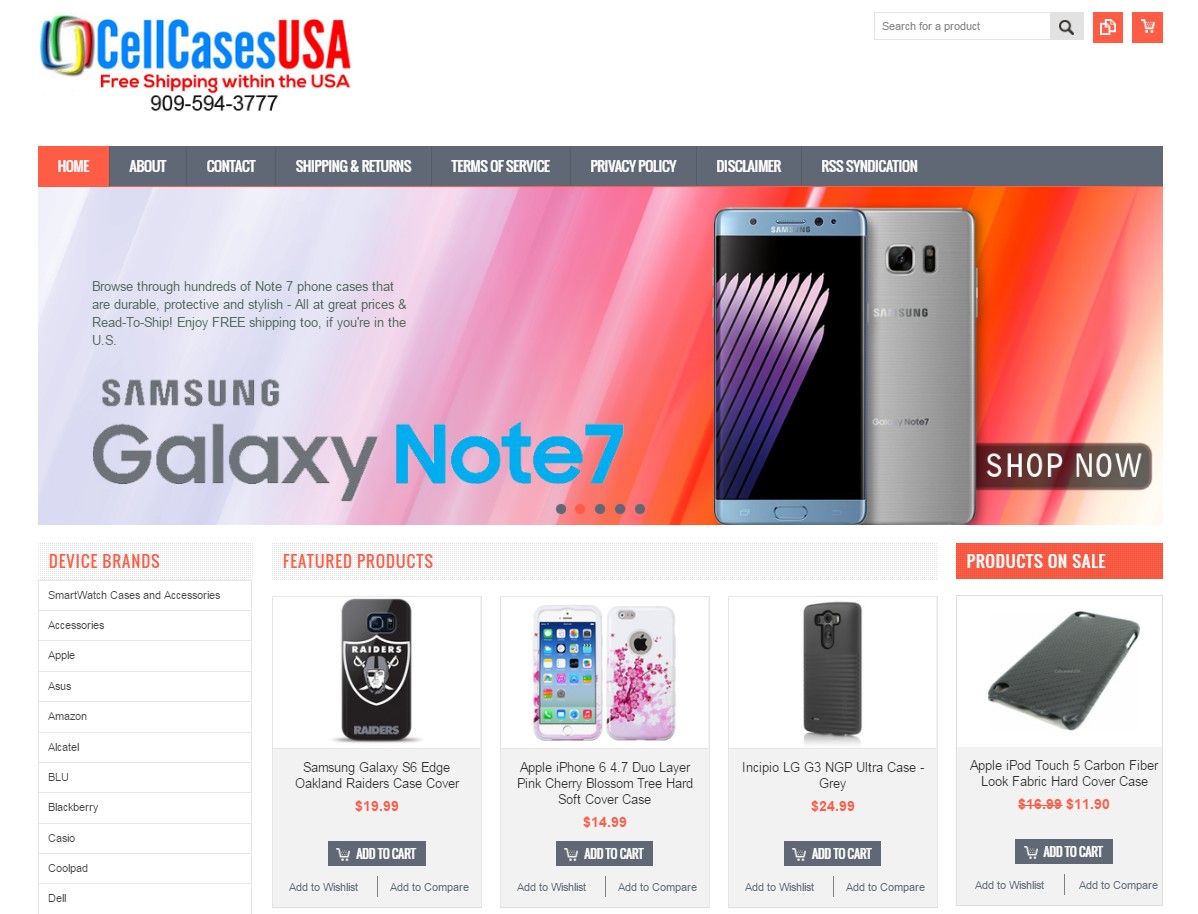 You can also use featured products for upselling on category pages, such as this example from CafePress.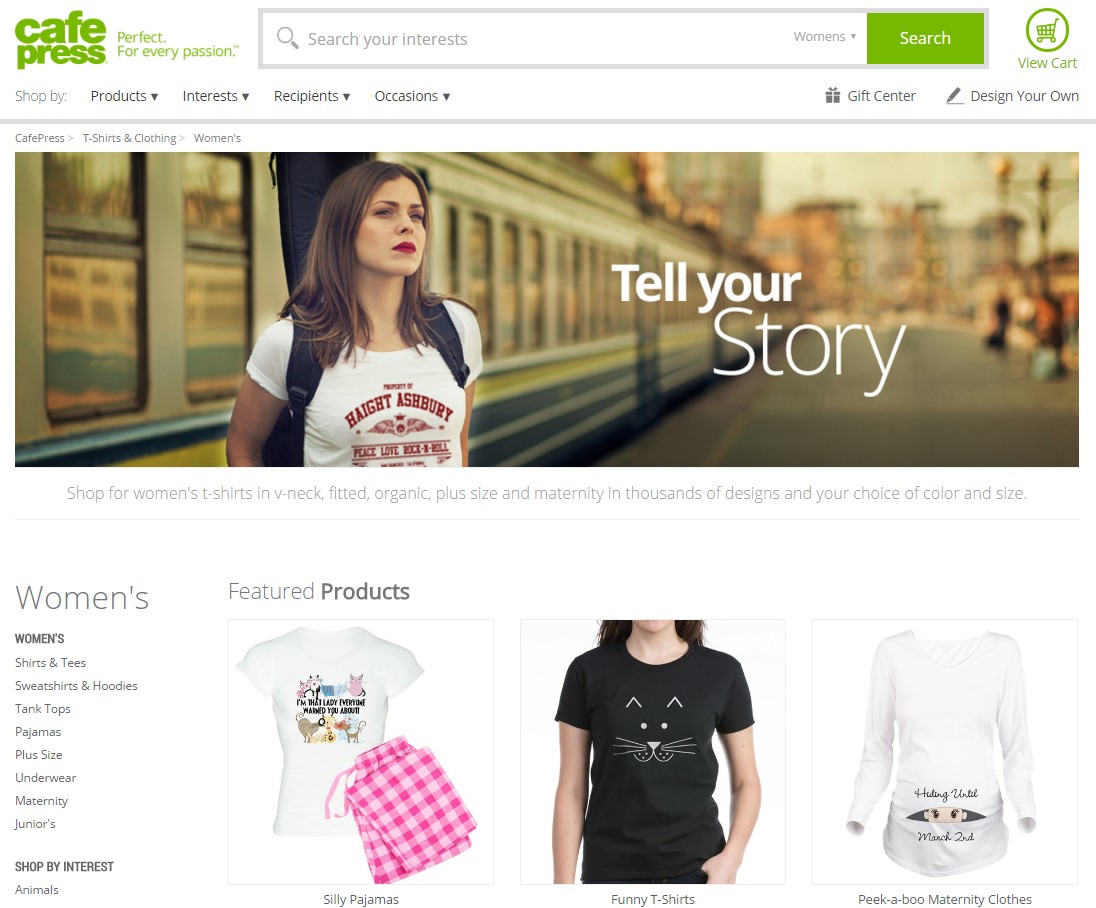 ---
2. New arrivals
Promoting new products is a variation of upselling with featured products, and is one of the most frequently used methods. Indeed, it can be really profitable – when new arrivals are newsworthy. A lot of this depends on your target audience and the nature of your products. For instance, while promoting new arrivals is vital for fashion sites, promoting best-sellers or seasonal products may be more beneficial for DIY stores.
Check out Sephora's homepage which puts a big emphasis on promoting new arrivals. There's a "Quick Link" in the left menu to products which have "Just Arrived", and their main banner also highlights new arrivals.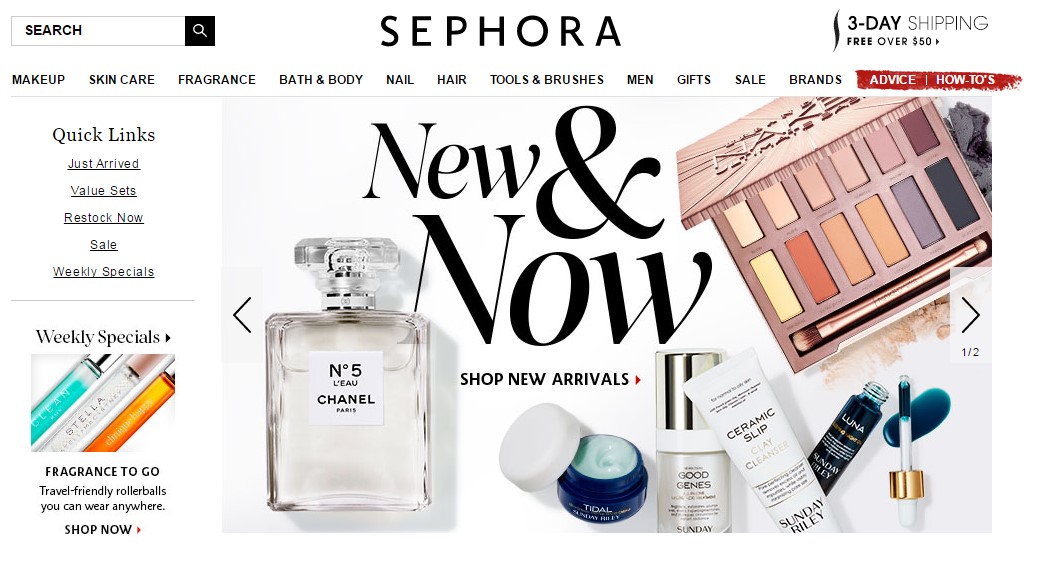 In addition, a "Just Arrived" module is also displayed further down the page.

---
3. Seasonal offers
Another variation on upselling with featured products is highlighting seasonal products on your home page. One thing you should keep in mind: clearly categorize your products by season to take advantage of this approach.
You can make this approach even more effective by offering a promotion on seasonal products. Here's an example from KAY.com, the jewelry store. Their main banner promotes "It's engagement season", and they offer 20% off all bridal jewelry.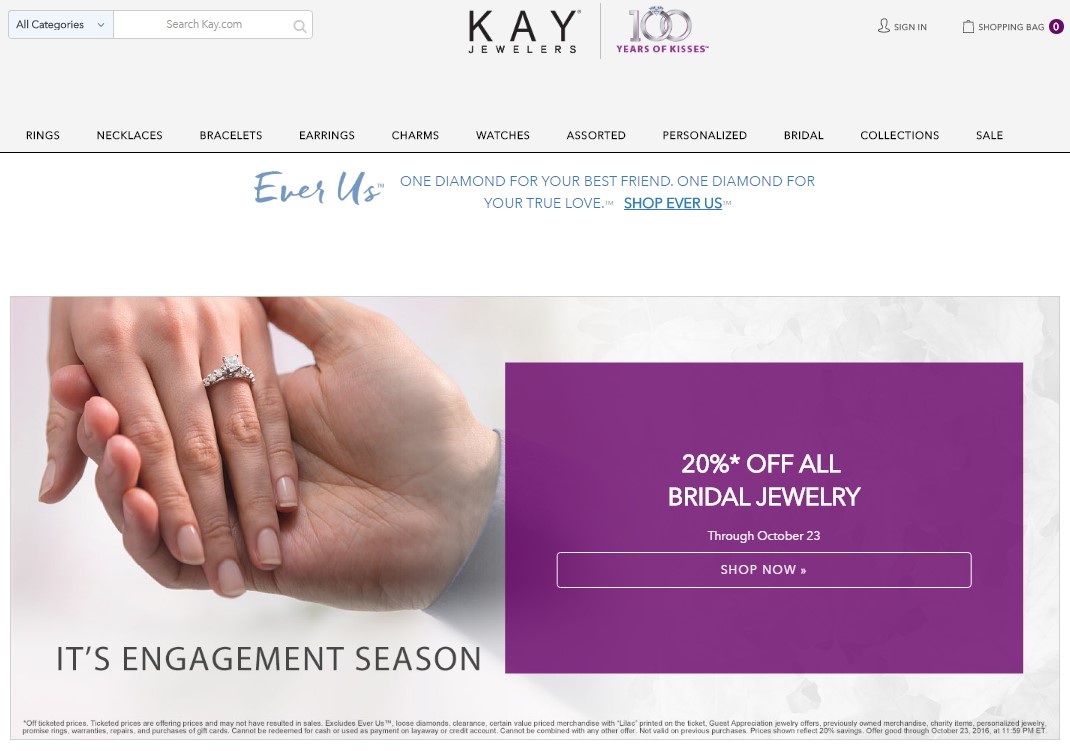 An even better example is HealthAid, which uses more typical seasons of the year for their promotions. They clearly display a "Seasonal Products" module on their homepage, including "Allergy Support" for Spring and Summer and "Winter Protection" for the Winter Season.

---
4. Daily offers
Daily offers are great way to upsell and grab the attention of returning visitors. Daily offers are also an effective way of upselling featured products because they increase the sense of urgency and add a sense of exclusivity when the product is "limited" or available "for one day only".
When creating daily offers, it's worth reviewing your sales data to ensure you select the most profitable items and choose the best time to feature them as the "product of the day".
Flipkart uses a "Deals of the day" module on their homepage, and adds a countdown timer to further increase the sense of urgency:

Here's another great example of upselling through daily offers by Speedo. After adding an item to the cart, a popup appears promoting the exclusive offer of the day. This is also a good example of cross-selling.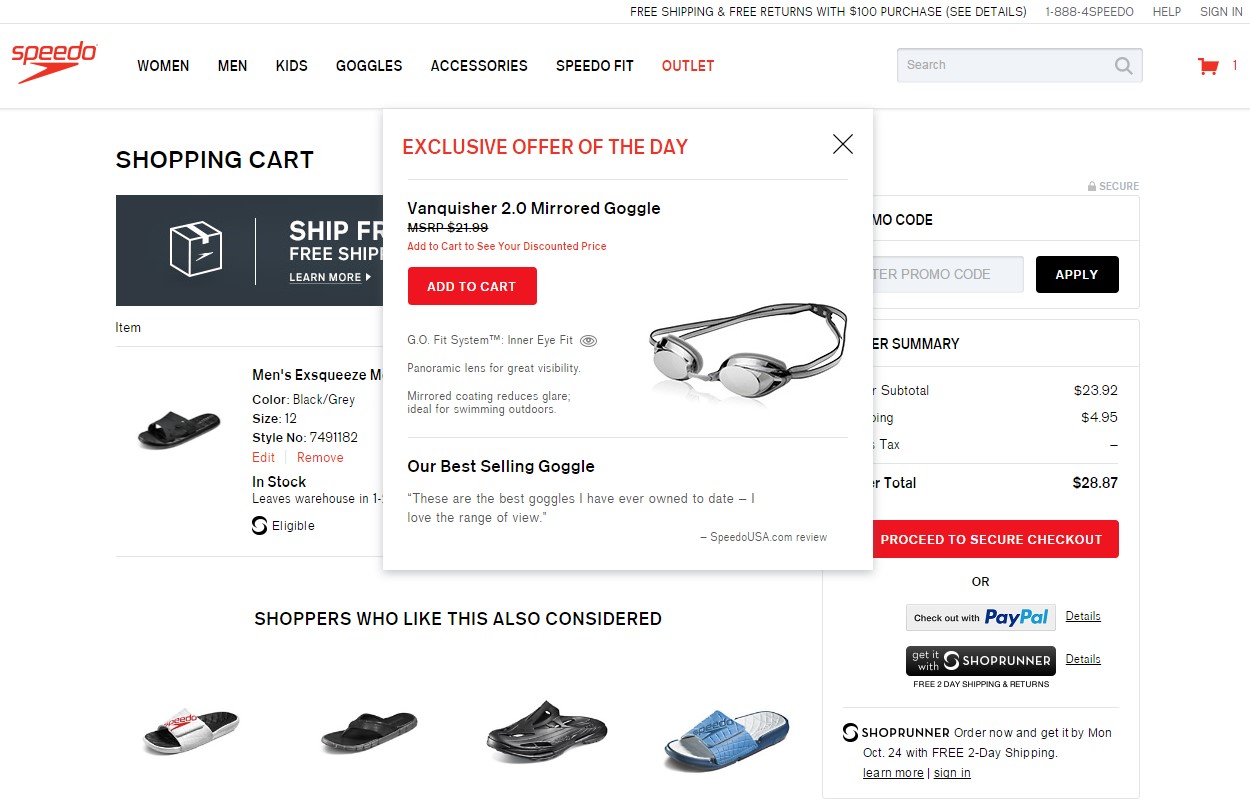 ---
5. Bestsellers
Upselling your most popular products and deals is a simple and really effective way to boost your average transaction value and increase the stability of the revenue from your online store.
Beyond the number of times a product is sold, also look at page visits and clicks to determine which products are the most popular in your store.
Here's an example from BestBuy where they promote their best-selling items on their home page.

SwimOutlet takes an elegant approach and makes their upselling approach more relevant to buyers by labeling their module "Products Trending This Week".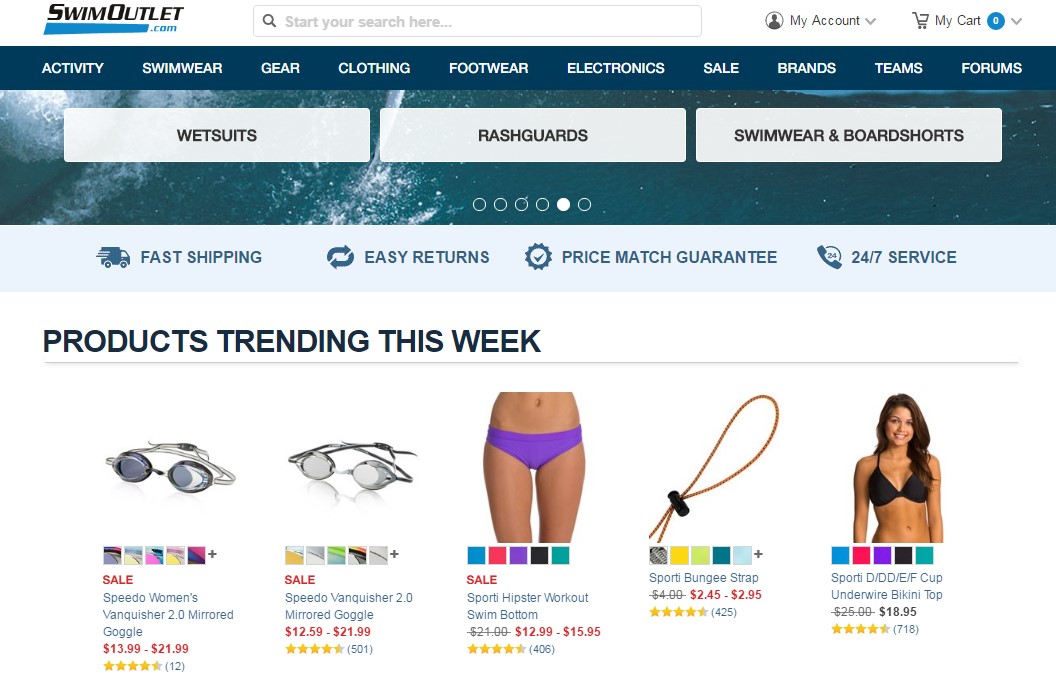 Your cart page is also a great place to highlight your most popular products. L.A. Girl promotes trending items on their cart page – which is also a great example of cross-selling.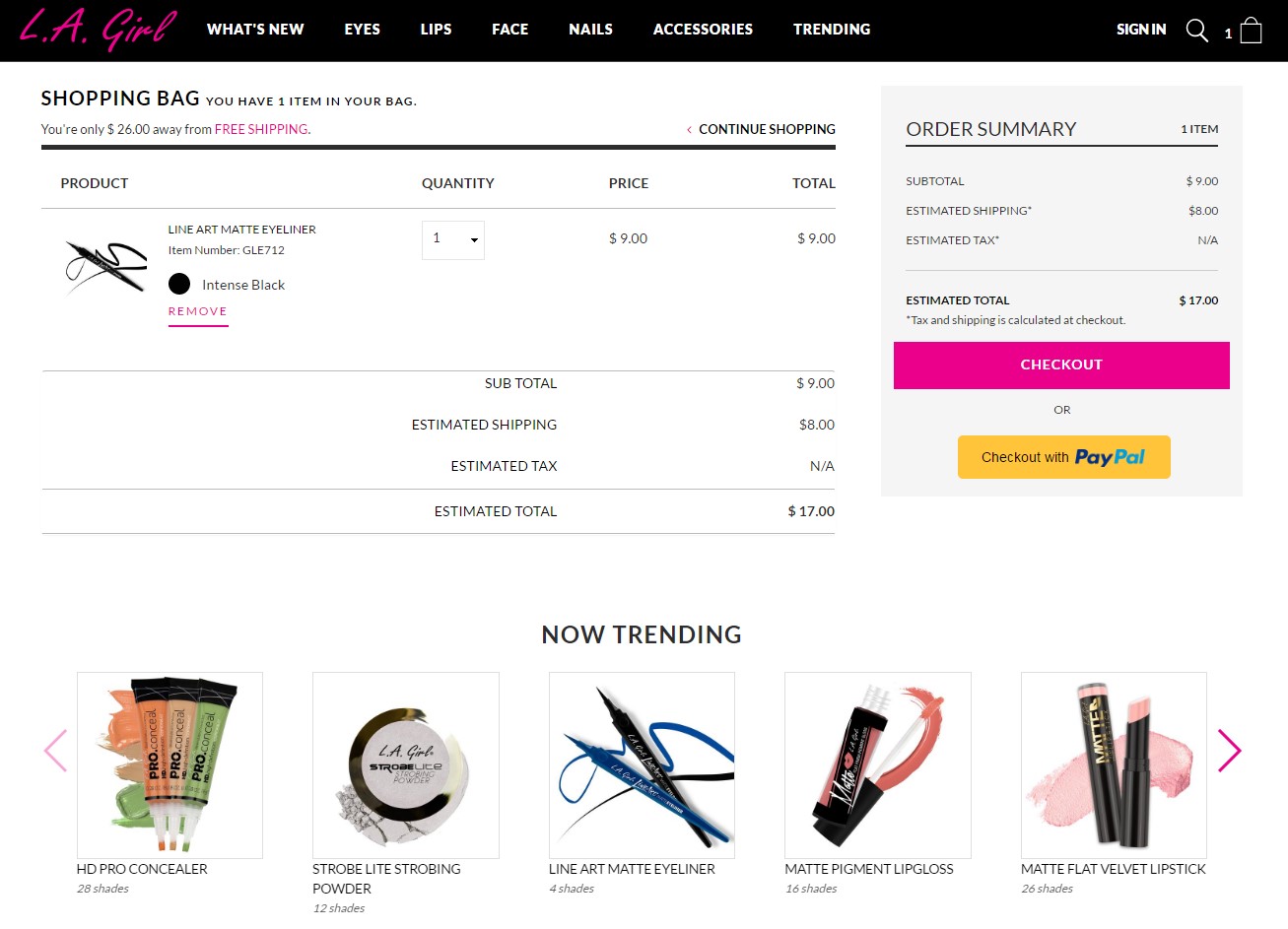 ---
6. Similar products
Another great way of upselling based on subjective criteria is to promote similar products. This solution, typically used on product pages, doesn't require any special personalization, you only need to recommend similar items.
Here's an example from Booking.com where they use a sidebar to display properties which are similar to the accommodation currently being viewed.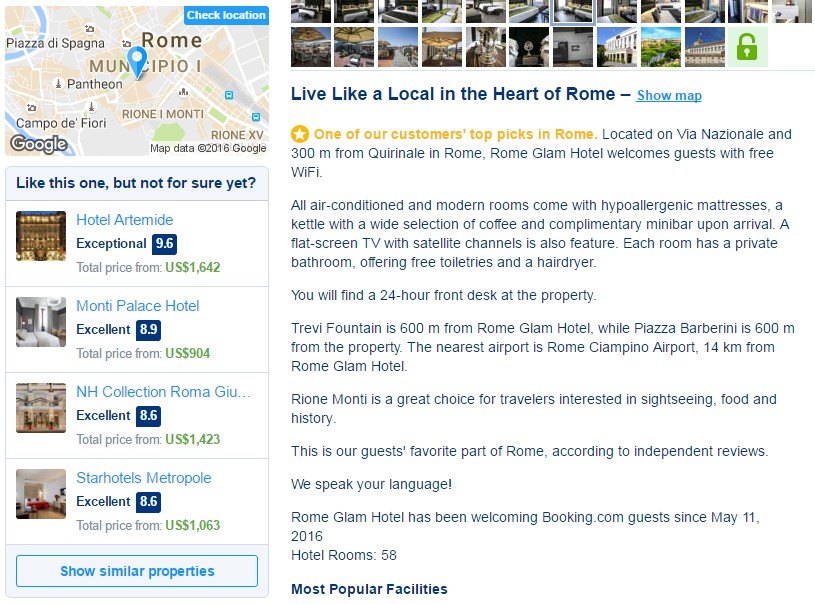 You can get creative with the labeling for "similar products" modules to make them more eye-catching and unique. LuckyScent.com uses a polite sentence to introduce similar products on their site.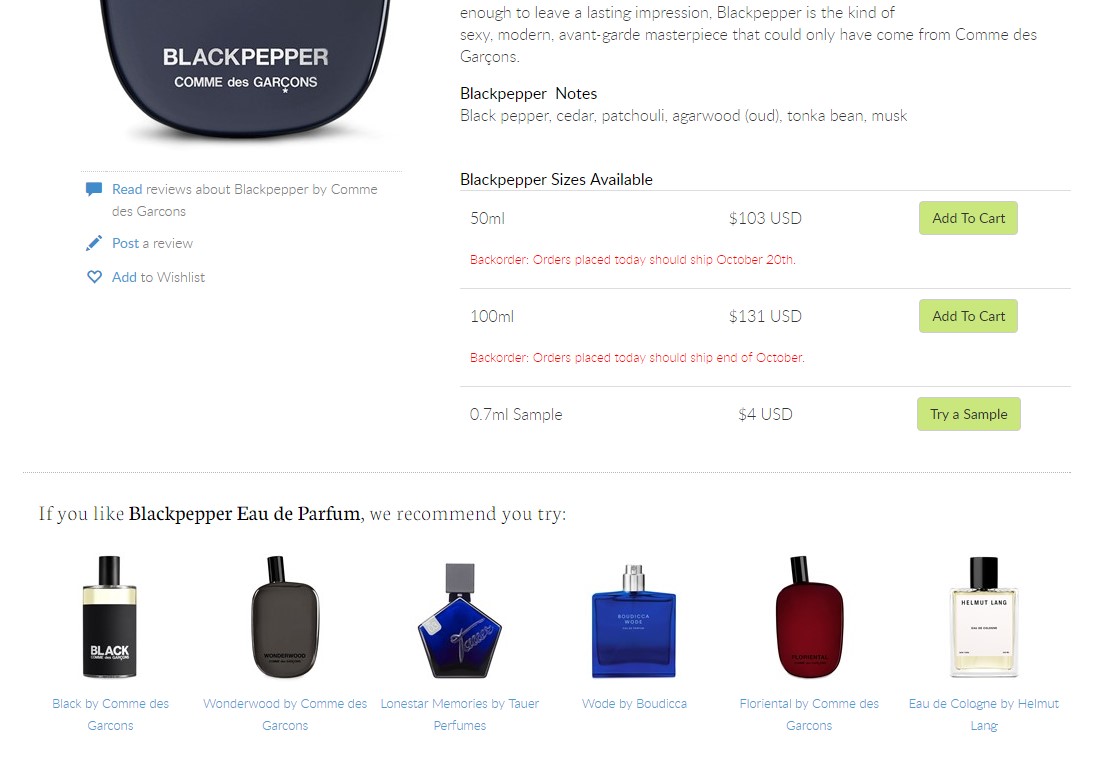 ---
7. Products other customers have viewed
When you don't have browsing history for a particular visitor, you can use the browsing history of other visitors to feature products for upselling. Promoting similar products that were viewed by other customers is one of the most effective types of product recommendation.
Check out Walmart's approach, where they use products viewed by other customers in a module on their product pages.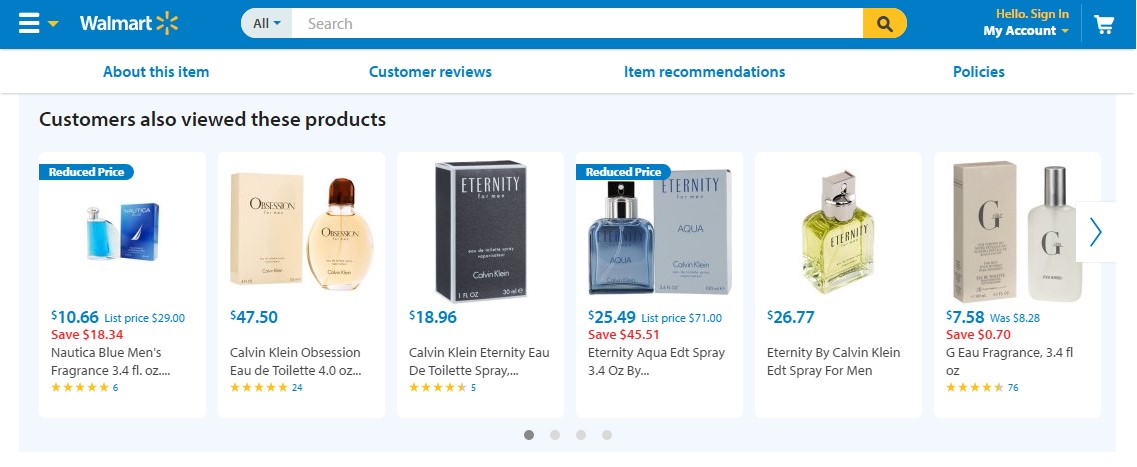 ---
8. Products with customer reviews
Customer reviews can play an important role in a product's popularity. If you feel – based on your product range – that customer reviews are significant, this can be a great way to determine which products to upsell.
Like products which other customers have viewed, featuring products with reviews can increase buyer confidence. Ultimately, customer reviews can convince visitors to purchase a more expensive product that is recommended by other customers or receives higher ratings.
HomeDepot provides a good example of upselling products with customer reviews. On their product pages, you can find a "Customers Also Compared These …Tools" section that contains similar items which are highly-rated by other customers.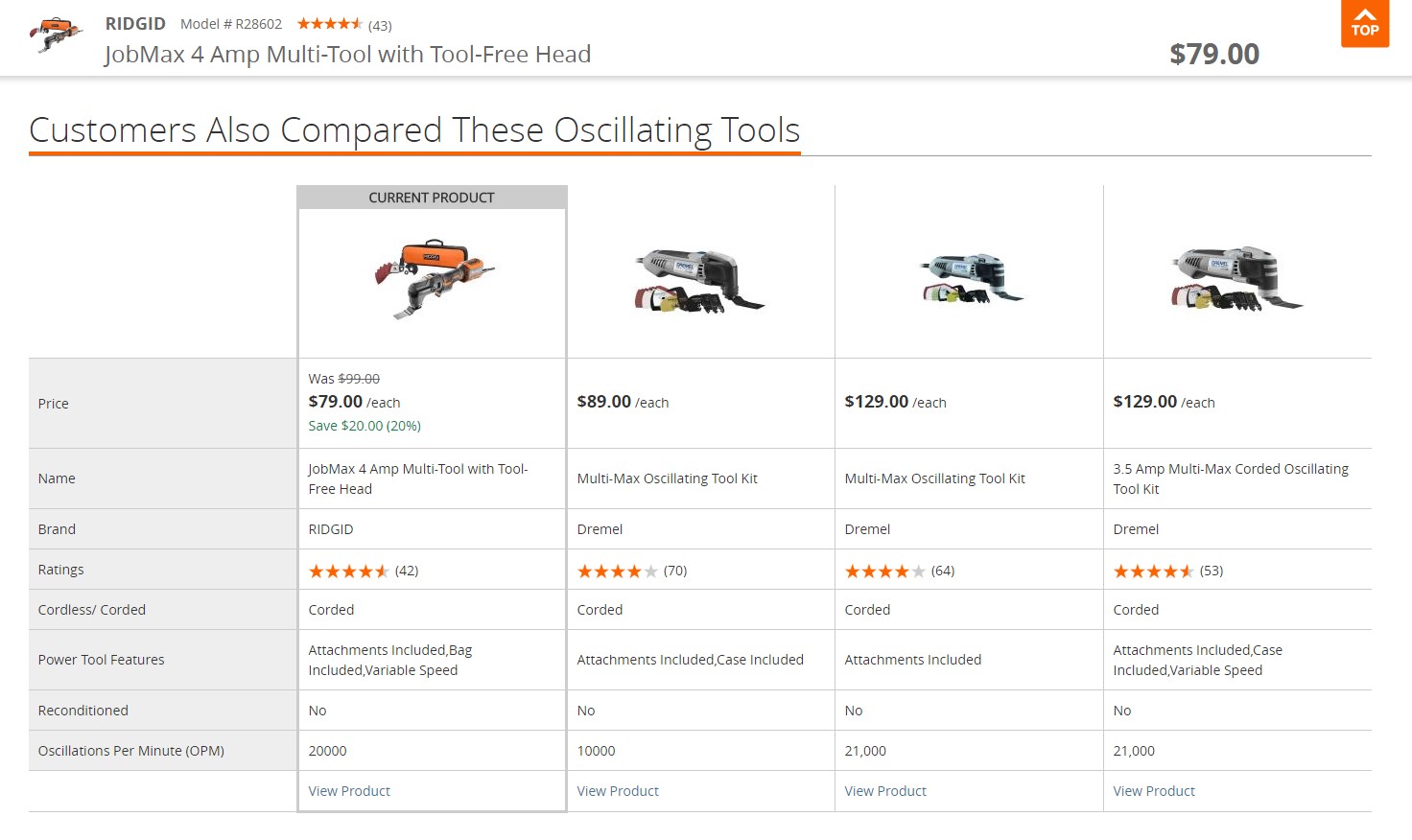 ---
9. Recommend products in a "mini cart"
"Mini carts" are a great location to feature products for upselling. A mini cart provides an easy-to-access view of cart contents. Like popup forms and other notifications, a mini cart doesn't require the visitor to navigate to another page, such as your dedicated cart or checkout page. This makes it a great place to feature additional products for upselling. Here's a great example from Lancome which recommends products purchased by other customers in a sidebar of the mini cart.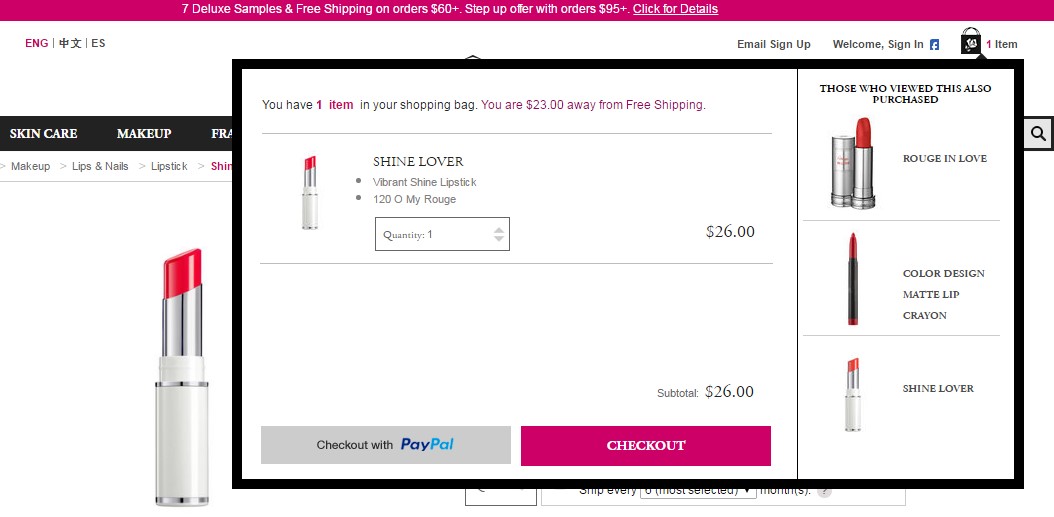 ---
10. Offer an upgrade
The overall goal of upselling is to encourage your customers to make a larger purchase. When a visitor is about to buy something, often only a small step is needed to encourage them to buy a bigger and more expensive version of the product.
Many ecommerce site owners take advantage of this fact by featuring upgraded versions of products when they upsell. Product upgrades can be used across a wide range of products – you'd be surprised! It often only takes a moment to think of the possibilities. Reviewing sales data for repeat buyers can also help you identify opportunities for upgrades.
Proflowers provides a good example using product upgrades to upsell. More than offering a bigger bouquet, they also suggest more expensive vases suitable for the selected flower.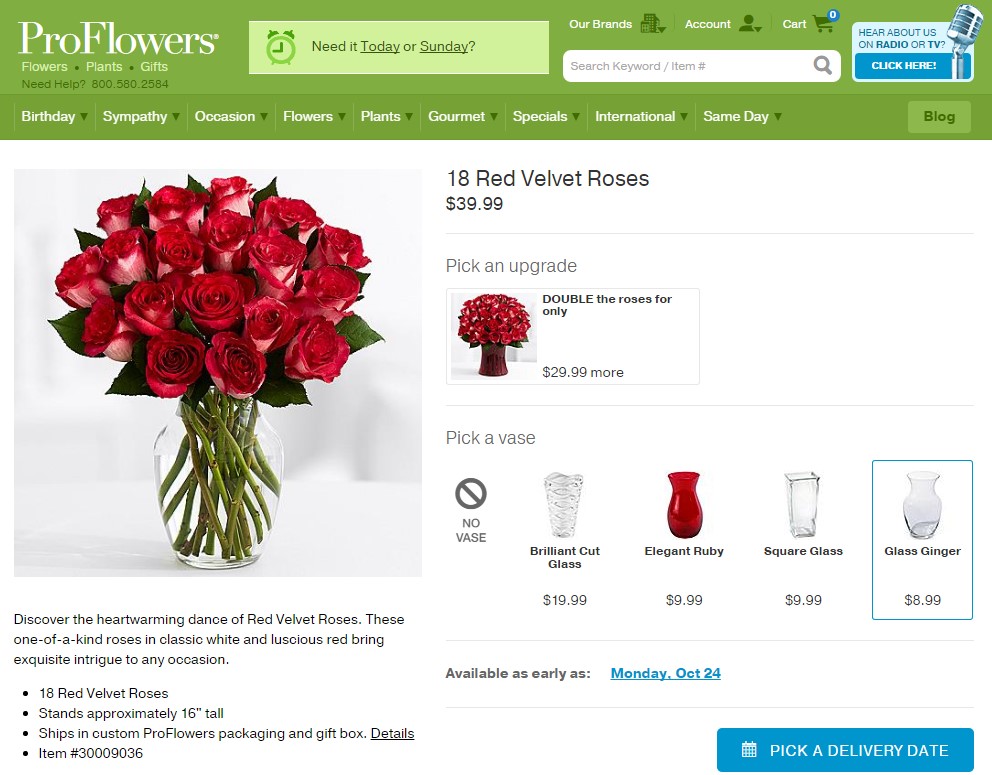 ---
11. Package deals
While package deals are most commonly associated with cross-selling, they can also be used for upselling. By providing a package discount, you can motivate your customers to add more valuable items to their cart.
Here's an example from Fragrance Outlet where they promote a gift set package on their homepage.

Here's another fragrance store, Fragrance.com, where they use package deals for upselling on their product pages as well.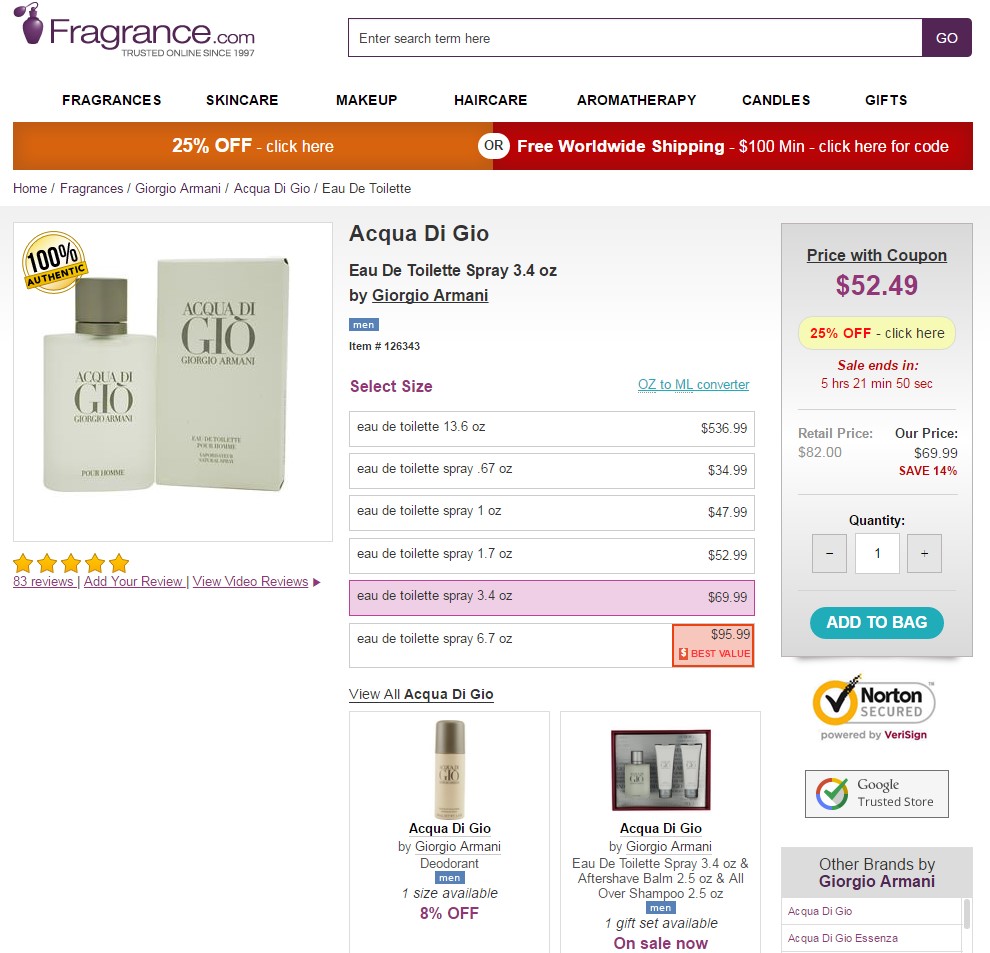 ---
12. Provide free shipping above a predefined amount
High shipping costs is the number one reason for cart abandonment. For this reason, free shipping is a powerful incentive for buyers to complete checkout. You can also use free shipping above a predefined amount to encourage customers to purchase a more expensive product.
At CoffeeForLess.com, when a product is added to the cart, they notify their customers how much more they need to purchase to receive free shipping.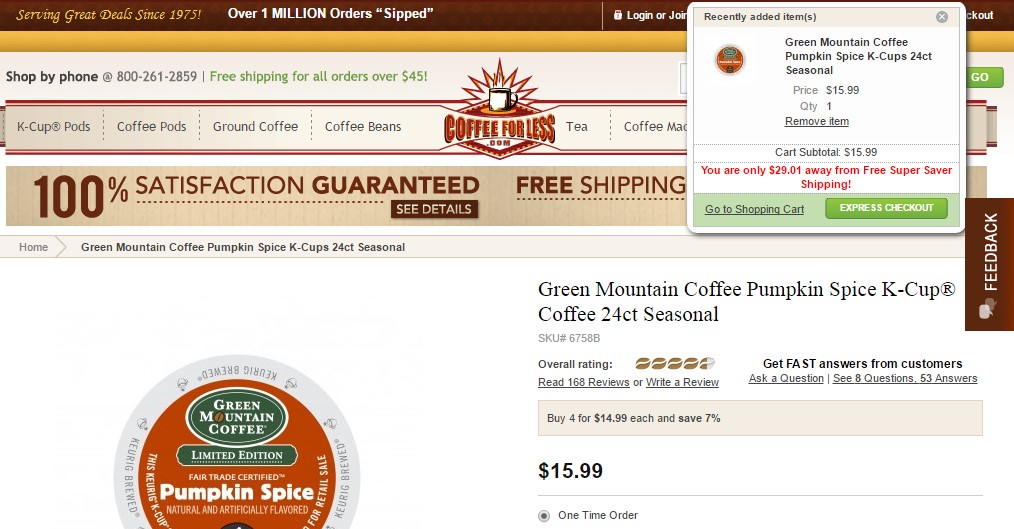 ---
13. Gift wrapping
While upselling your gift wrapping services may not provide a huge increase in revenue, it can increase customer satisfaction and help boost your average transaction value.
During checkout at Nordstrom you can choose to add a free gift message, or upgrade to a gift box for $5 or a gift kit for $2.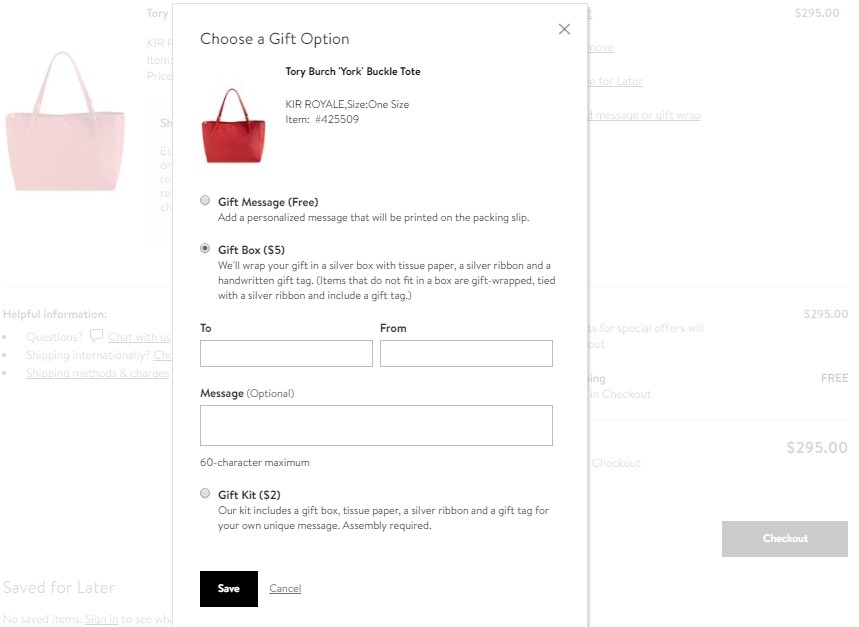 ---
14. Personalized offers based on customer history
The above examples use subjective criteria that you define to determine which products to feature when upselling to your customers. When you have customer browsing history to determine which products to feature, you can create even more personalized and effective offers to upsell your customers.
For instance, you can highlight recently viewed products on your homepage, category pages, and product pages. By using your visitors' unique browsing history, you can offer them the most relevant items.
Amazon is especially effective at using browsing history to display relevant products for upselling their customers. On their homepage, they display a wide range of product recommendations, and they also display "Your Recently Viewed Items and Featured Recommendations" based on browsing history and subjective criteria defined by Amazon.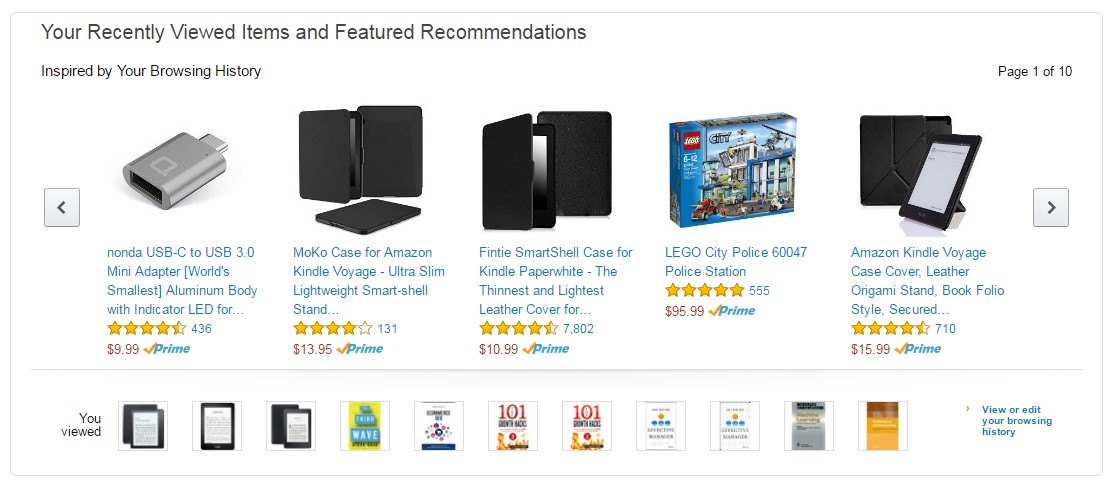 Cross-selling
Now that we've reviewed some of the best techniques for upselling, let's take a look at cross-selling. We'll see that many of the same approaches to selling more expensive products and upgrades can also be used to sell complementary and supplementary products which increase overall transaction value.
Okay, let's take a look at 10 more awesome sales techniques you can use in your store!
---
15. Supplementary products
Recommending supplementary products is a great way to cross-sell when you don't have customer browsing history. You can implement this across several product categories by offering functionally-related items. When you look at your product range, you'll see that it's often easy to implement this solution.
Wayfair cross-sells on their site by offering supplementary products "You might also need…".
This approach to cross-selling can be more effective if you group supplementary products in a package deal with a special offer like DigitalRev does on their product pages.