Newsletter popups are an essential ingredient for the success of any online store. The more leads you can add to your email list, the more potential customers you'll reach with each seasonal sale, promotion, or coupon code. And there's no better way to stay in touch with your loyal customers than an email newsletter!
If you have a Shopify store, it's incredibly easy to set up a newsletter popup and start collecting email addresses.
In this article, we'll explore how to use OptiMonk's powerful popup builder to create beautiful email popups (with equally stunning conversion rates).
What is a newsletter popup?
Newsletter popups are one of the most popular types of popups. Their purpose is to convince visitors to become newsletter subscribers by entering their email in a form field.
There are multiple ways of converting visitors into subscribers. Often, the popup provides visitors with an incentive to sign up, like a discount code or early access to new products. Other stores choose to offer free ebooks or other useful resources in exchange for email addresses.
The average conversion rate of newsletter popups is between 5.10% and 7.65%, depending on the offer.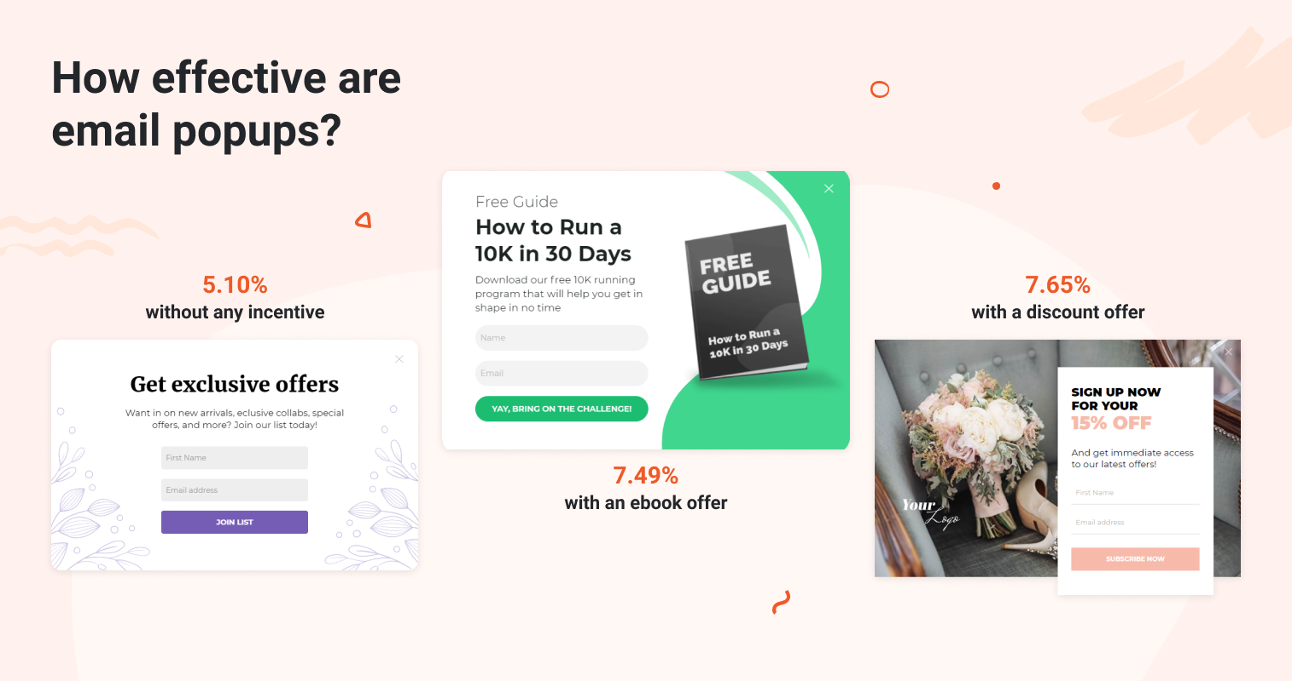 Why should you use a newsletter popup?
Using newsletter popups can bring several benefits to your ecommerce store. Here are some of the most important ones:
There's simply

no better way

to build your newsletter list

You'll gain subscribers who are truly interested in your brand

You can deliver personalized content and offers for different segments of visitors

Newsletter popups cut through any distractions and get visitors to focus on your offer

You get a second chance to convert visitors, especially if you use exit intent as a trigger
How to set up a Shopify newsletter popup to collect email addresses?
It's not hard to create popups that encourage visitors to become subscribers when you have the right tool.
With OptiMonk's popup software, you can build stunning popups for your Shopify store in just five steps. Let's take a look at what those are:
Step 1: Plan your offer
Customers expect to get something in return for completing an email signup form. As we discussed, you can use different types of offers for your newsletter popup.
So the first step to creating an email capture popup campaign is deciding what you're going to offer visitors.
If you want to use a discount code, will it be a percentage or a dollar amount? What kind of offer will be most attractive to your target audience? When answering these questions, you're looking for a convincing reason for a potential customer to respond to your newsletter popup.
Here's an example of a great newsletter popup from The Oodie.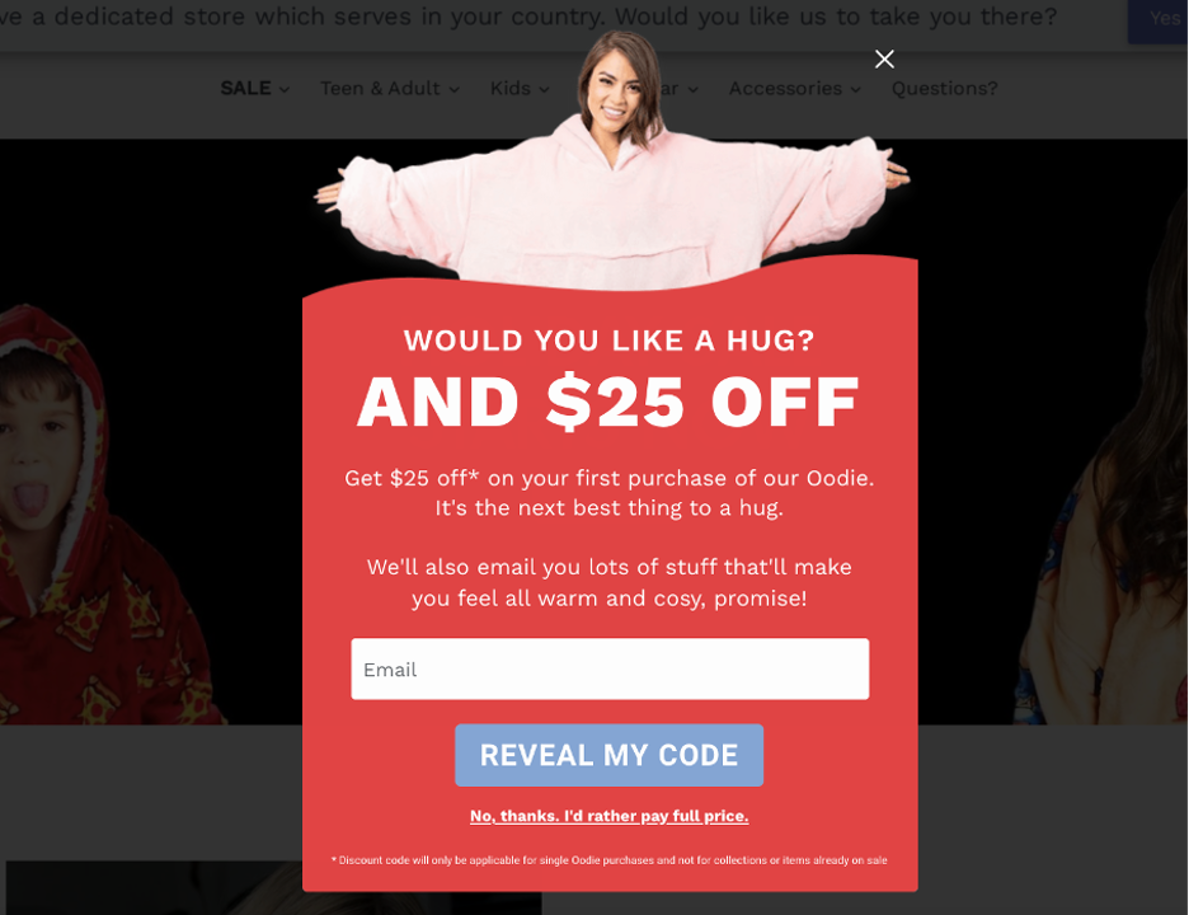 Step 2: Design your newsletter popup
Once you've figured out your offer, it's time to create your newsletter popup!
If you have the time and resources, you can always design your popup from scratch. But if you're short on time or don't have an in-house designer, you can use a pre-built template to create your newsletter popup.
The OptiMonk Template Library contains more than 300 templates that you can filter by goal and message type. Here are just a few of the templates for newsletter popups that we have available:
Once you've found the perfect template for your Shopify store, you can easily customize it with OptiMonk's intuitive drag & drop editor. No coding knowledge required!
Recommended reading: Ultimate Guide to Best Popup Design: Popup Examples & Best Practices
Step 3: Set your triggering and targeting options
OptiMonk has a wide variety of triggering and targeting options. The optimal settings for your campaign depend on your offer and your target audience.
Let's go over triggering first, which determines when your popup will appear.
If you'd like to convince visitors who are about to leave your page without buying to subscribe to your newsletter, you'll want to use an exit intent popup.
If you're creating a welcome popup, you might want to use a time-based trigger (after X seconds). We recommend triggering welcome popups after 5-10 seconds to allow visitors to take in your main web page content before seeing your offer.
But you have lots of other triggering options in OptiMonk: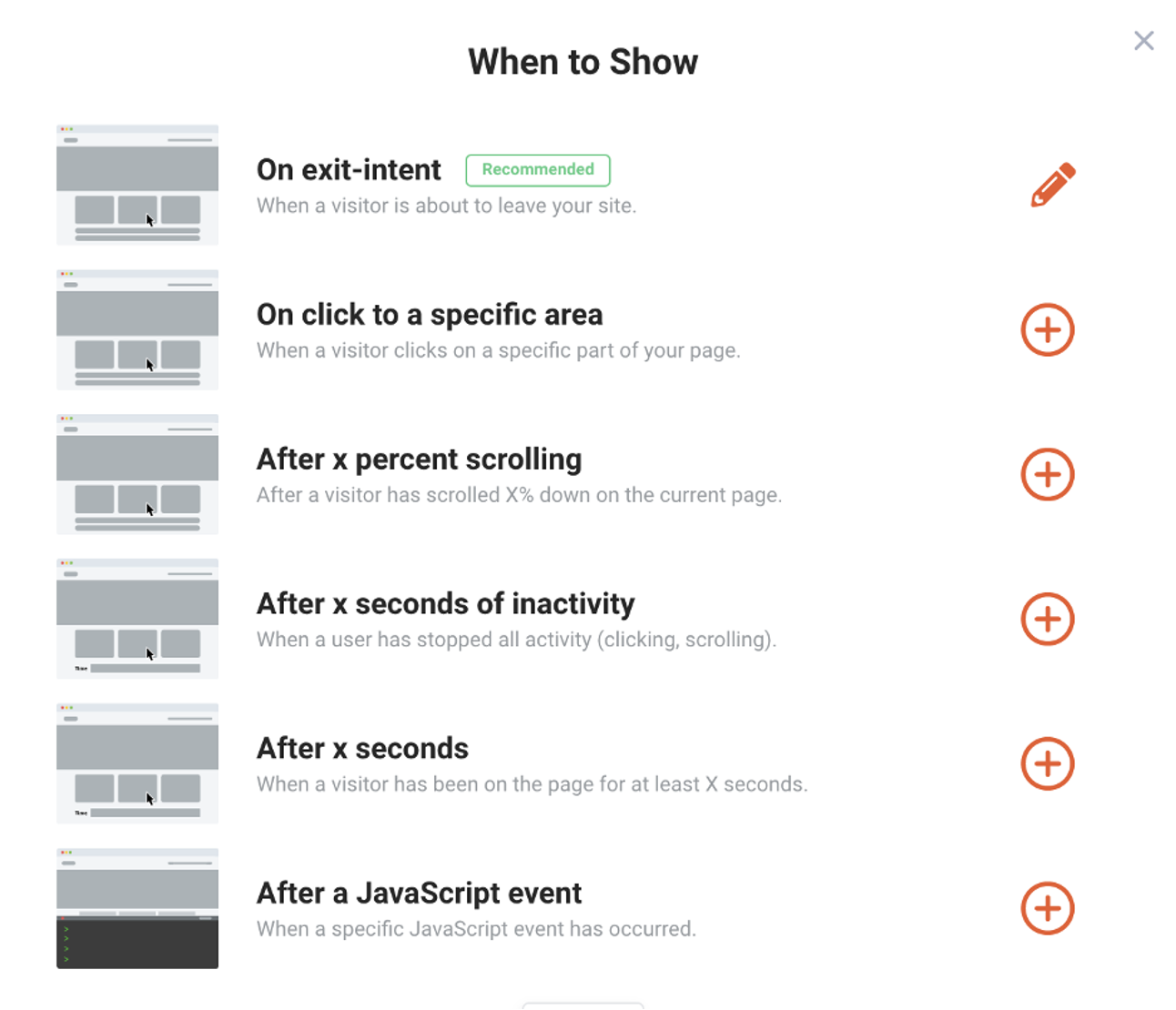 After you set up the trigger, it's time to set your targeting rules, which determine who will see your popup.
You shouldn't show the same message to each visitor, and targeting options help you to create different popup campaigns for different visitor segments.
For instance, you can target potential customers who are almost ready to make a purchase with a great coupon code, but offer a useful content upgrade (like an ebook) to early-funnel visitors who aren't quite ready to make a purchase yet.
Using OptiMonk, you can target people based on many factors, including:
Returning vs. new visitors

Traffic source

Country

Subscribers vs. non-subscribers

Cart content

URL(s) visited
Recommended reading: Top 9 Ecommerce Segments & How to Help Them With Popups
Step 4: Connect your newsletter popup to your email marketing tool
Integrating your OptiMonk account with your email marketing software is a critical step when it comes to running successful newsletter popup campaigns.
By connecting the popup with your email marketing tool, all the details you collect will be automatically sent over.
OptiMonk seamlessly integrates with some of today's most popular email service providers, including Klaviyo, Mailchimp, ActiveCampaign, GetResponse, and more.
Check out all OptiMonk's integrations here!
Step 5: Activate your newsletter popup
When you're ready to make your campaign live, all you need to do is activate it!
You can either launch your email popup campaign immediately or schedule it for the future. You can either launch your email popup campaign immediately or schedule it for the future. Once that's done, you're all set!

There you have it: all the steps you need to follow to set up a great Shopify newsletter popup!
Given the benefits of email popups, setting up a lead generation campaign is a no-brainer for your online business. Not only can you add to your email marketing list, but you'll also be combating cart abandonment at the same time.
Why not sign up for an OptiMonk account today? All the functionalities you need for a great email popup campaign are available on our free plan—no credit card required!
If you'd like to do a little more research about popups, check out these articles: