Did you know that 20-70% of website visitors will provide their contact details when 'good popups' are used? By avoiding some common popup mistakes, and sticking to pop up best practices you can produce 'good popups'.
Good popups don't annoy your visitors. They are well-designed and thoughtfully implemented, with relevant content, and appear on a page with information that is relevant to that page. A website with a pleasant popup converts better than one with a crappy pop-up.
In this article I'm going to present the most common popup mistakes that should be avoided in order to improve your visitors' experience; and ultimately, generate more leads, sales and signups on your site.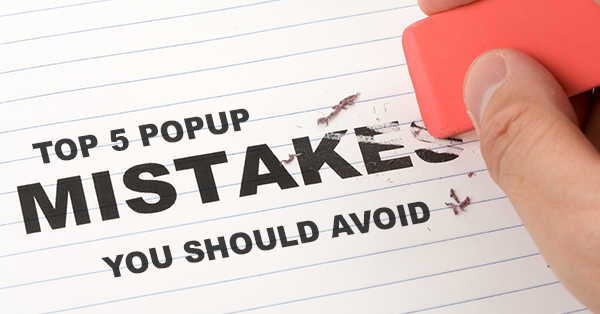 The overuse of traditional entry popups (that appear when you open a website and contain frustrating advertisements) is a big annoyance for most Internet users.
I'm sure you've already closed many annoying popups while browsing the web: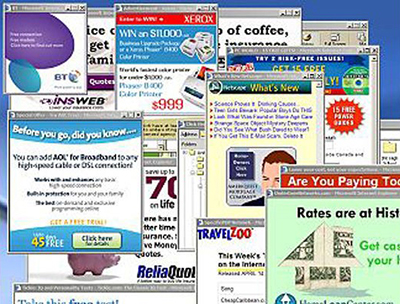 However, by using popups in the right way, you can easily make an impact on your visitors – without annoying them.
When your popup is poorly designed and it can't be customized, it encourages visitors to close the popup as soon as possible. Fortunately, nowadays there are more advanced solutions that can provide measurable improvements to the conversion rate of your website using 'good popups'.
What's a 'good popup'? A good popup:
Appears when it's the least disturbing (not when a visitor is entering!)
Is relevant to your visitors and the page they are viewing (the visitor is interested in its content)
Provides a sufficiently attractive offer (a discount itself can be less motivating than a free giveaway for you, but it can be the opposite for an other company ¬ test to see what works best for your visitors)
Doesn't appear too often to a particular visitor
Increases the time spent on site
Boosts your conversions
Although many of us, as visitors to websites, usually say 'We don't like popups', when good popups are used, 20-70% of website visitors will provide their contact details. That's why it's worth taking the time to see which special offers work best to persuade your visitors to sign up to your email list. Capturing contact details in a way that doesn't annoy your visitors allows you to reach out to them immediately via email or make them returning visitors by marketing to them over time.
As a matter of fact, you'll find that a growing number of online marketing experts are using these advanced tools for creating good popups on their official websites: they use the popups not only as part of their marketing campaigns but also use them as an integral part of their website for traffic direction, lead generation, and e-commerce purposes.
Here's an example from Digitalmarketer.com, an online community with more than 450,000 members, where marketers, growth hackers, entrepreneurs, and small business owners come to get ideas on driving more traffic to their site, increasing conversion rates, and boosting social engagement. They use the following Generic 'Toolbox' lead magnet to gather more subscribers: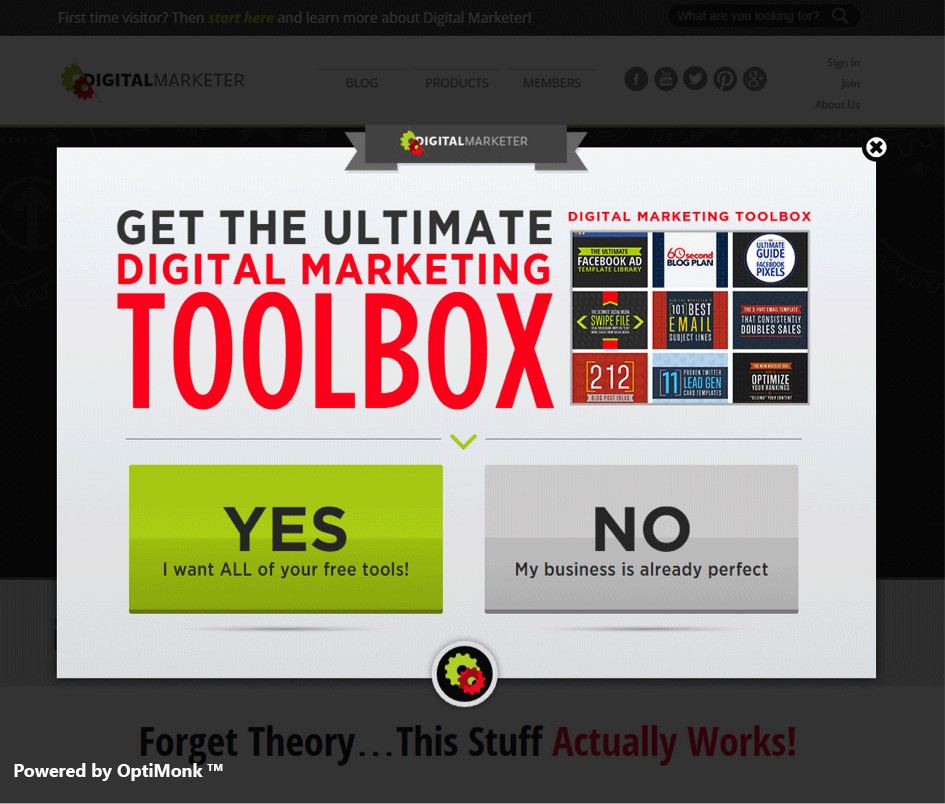 Here's another example from Unbounce, a landing page platform: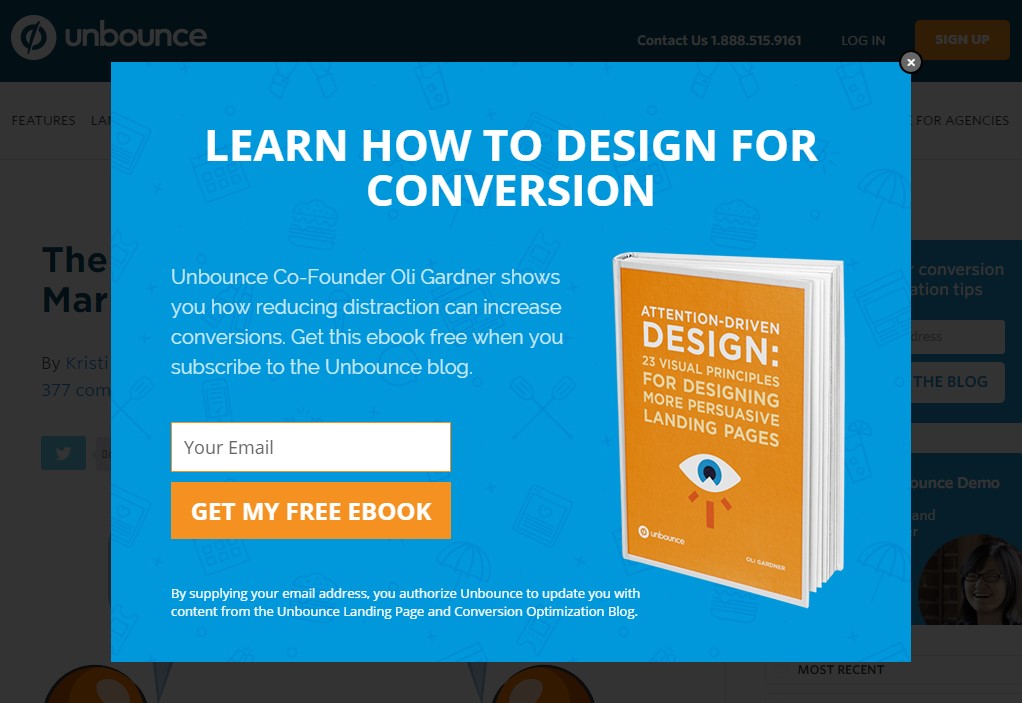 In addition, Neil Patel, who is an entrepreneur, investor, digital marketing influencer, and founder of KISSmetrics, Crazy Egg, QuickSprout, uses the latest exit-intent popup technology on his websites as well. Exit-intent popups are designed to appear right as a visitor is leaving your site, instead of right when they arrive: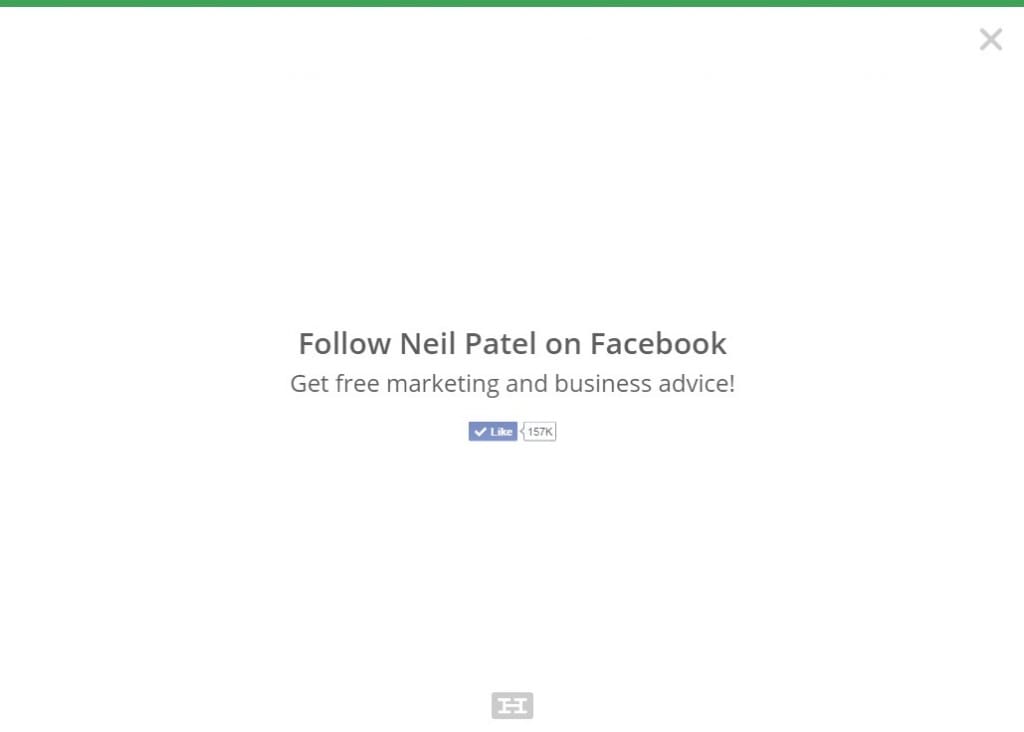 Those are a few examples to show you how top digital marketers are using good popups on their sites. Now let's take a look at the mistakes that should be avoided in order to improve your visitors' experience; and ultimately, generate more leads, sales and signups on your site.
#1 Mistake: Triggering your popups too soon or too late
Timing is one of the cornerstones of using good popups. It's the most crucial aspect to get the results you want.
If your popups appear too soon, they will be annoying and disturbing, because they will interrupt your visitors. If your popups display too late, you can lose a lot of new subscribers.
So what's the best timing? 5 seconds? 10 seconds? Or even 30 seconds?
In fact, it's really difficult to generalize because the popup should only be triggered when a visitor has sufficiently understood your website. This is the key to determining the best timing – and it varies site by site.
In order to specify the perfect time when your popup should be triggered, first you need to take a look at the average time spent on your website in your analytics. Best practices show that setting the timing to 60% of the average time spent on site can be an effective timing.
It's also worth taking the suggestion of Unbounce into consideration: they say that the delay should be 60 seconds. According to Unbounce, if your visitors have spent 60 seconds browsing your website, they have already shown an adequate amount of engagement and presumably they understand the main message of your site – and 60 seconds isn't so much time that you lose a lot of potential subscribers.
As discussed above, Digitalmarketer.com is one of the online marketing experts who uses popups to great success. Take a look at their case study, which shows how to set triggering efficiently. They didn't want to seem like that overzealous person you meet at a networking event who tells you WAY too much information WAY too fast, so they opted to trigger their offer after a visitor had spent at least 15 seconds on the site.

As a result of their exit-intent campaigns and efficient use of good popups, in total, they generated 2,638 leads from traffic that was exiting their website.
#2 Mistake: Communicating irrelevant content
Imagine that your visitor is at the end of the buying process right now and ready to pay for the items in their cart, but unexpectedly they try to leave your site. In this case, this might not be the right place and time to offer a free ebook. Wouldn't you agree?
However, if someone is only reading your blog, and never shows any indication of making a purchase, it makes sense to promote a coupon to this visitor when they are about to leave your site, right?
The point is, you can't communicate the same message to visitors in different stages of the buying process. It's better to push your sales messages (including free shipping offers, discounts, etc.) to visitors in more advanced stages (those who are already considering buying a solution for their needs), and promote your free giveaways (or even sign up for a free trial) to early-stage visitors.
In addition, you need to be mindful that you display your popups only on relevant pages. Here's a simple example: if you have an online store where you sell electronic equipment, and you provide a free case for each tablet, you shouldn't promote this offer on the product pages of washing machines. You should set this offer to only appear on tablet-related pages.
Here's a great case study that gives you an insight into Smart Marketer's popup campaigns. (Smart Marketer is an information hub for do-it-yourself entrepreneurs. Its founder and creative director is Ezra Firestone, who is also a partner in BOOM! by Cindy Joseph and the company's head of digital marketing.)
Smart Marketer displays different campaigns based on engagement: they communicate different offers to hot visitors and to those who are less likely to buy.
They decided to offer an instant 10% off coupon to the hottest visitors. The efficiency of the message and the accuracy of the targeting are proven by the fact that almost 40% of visitors said 'YES' to this offer.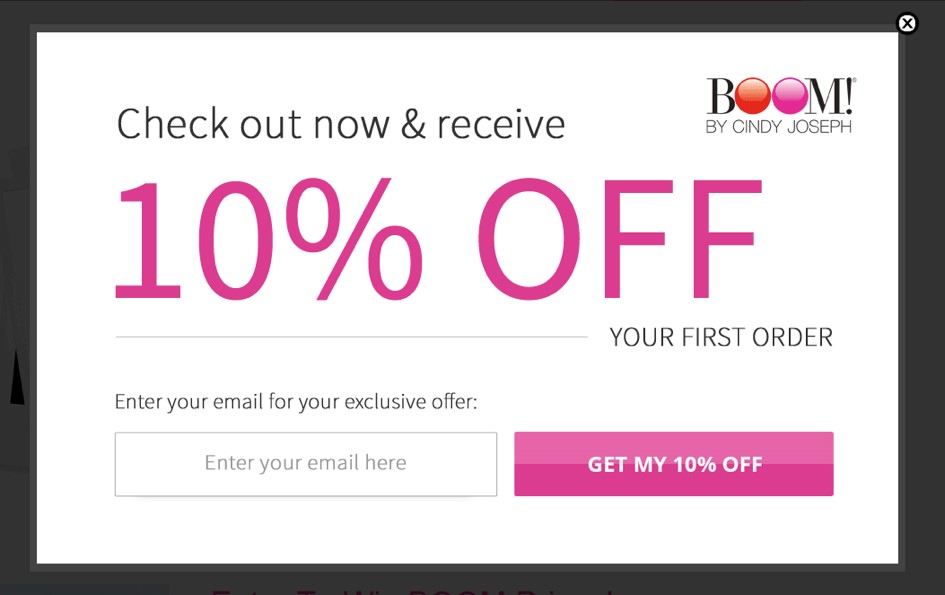 To leverage early-stage visitors they decided to offer a free ebook to visitors who showed less engagement: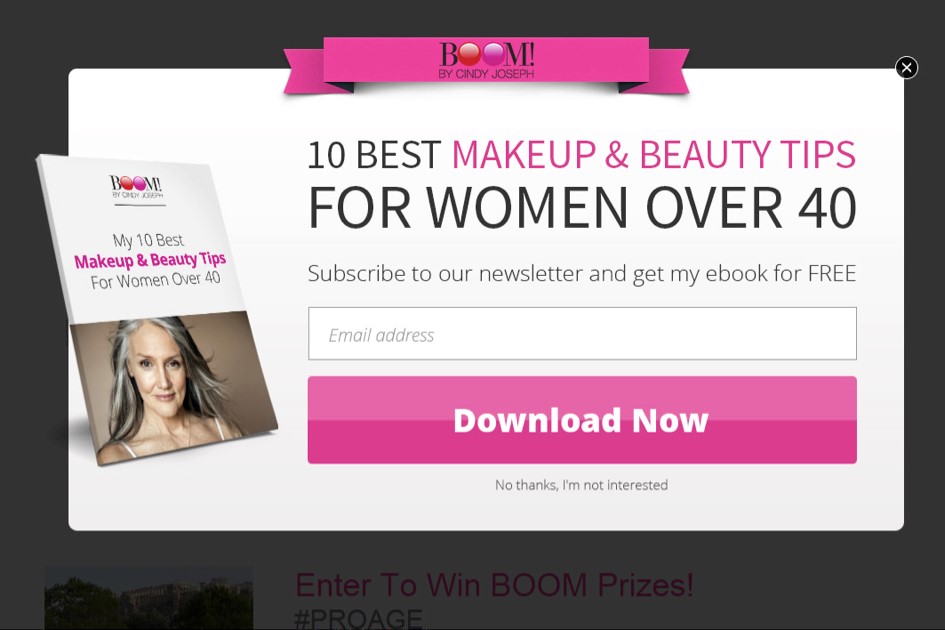 By using good ecommerce popups with exit-intent technology, Smart Marketer was able to increase sales, subscriptions and site engagement. The campaigns led to an 18% percent increase in revenue and 8,997 additional leads, in one month!
#3 Mistake: Requesting too much information in the popup
The nature of your business determines which information you should request from potential subscribers in your popup. But in general, it can be said that the less information you ask for, the more visitors will opt in.
At the same time, requesting more information (including e.g. gender, first name, age, etc.) allows you to send more customized messages and offers to your subscribers.
For one-step popups, where the form can be found on the first popup ¬ whether it is an exit-intent popup, time-based or scroll-based overlay ¬ typical best practice is to request only the email address.
For multi-step popups, when the visitor only clicks on the first page (e.g. YES/NO popup), you can ask for more information. Here's why: after the first popup raises your visitors' interest, they're more likely to provide their contact details (e.g. first name, last name, company name, telephone number, etc.) when you place more input fields on the second page. But it's very important to use at most four input fields – more fields will reduce your chances for conversion.
Let me show you a pretty good example from ZooShoo, an Internet retailer that provides the latest footwear and fashion. As you can see below, ZooShoo only requests the visitors' email address. The form can be found right there on the front page: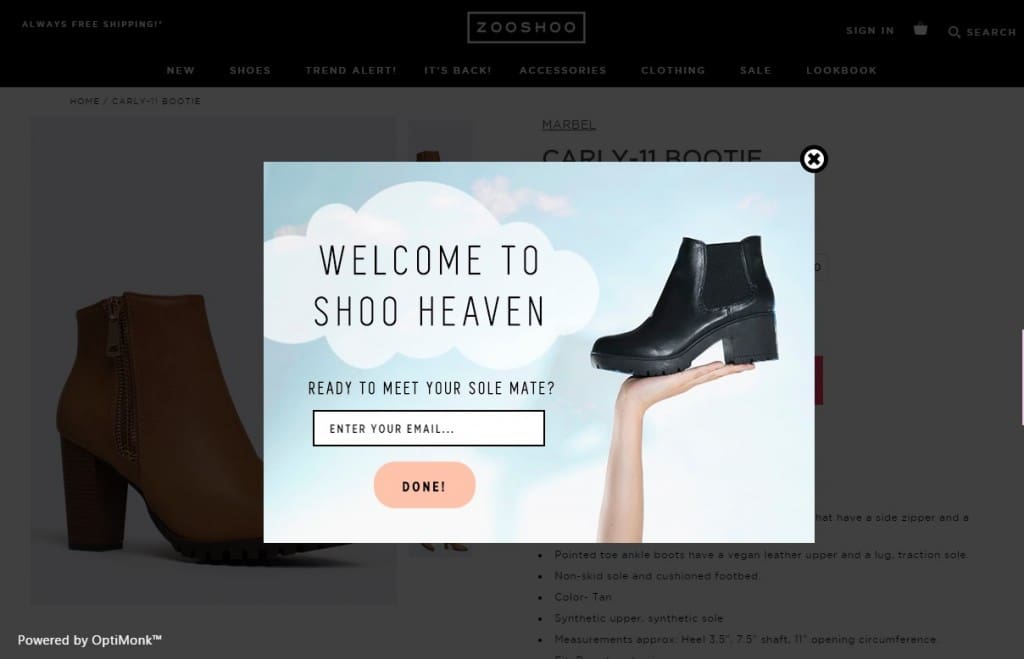 Here's a completely different example from the digital marketing agency, Nexa. Instead of asking their visitors to subscribe, the first popup of their multi-page campaign is intended to filter those visitors who are really interested in the offer: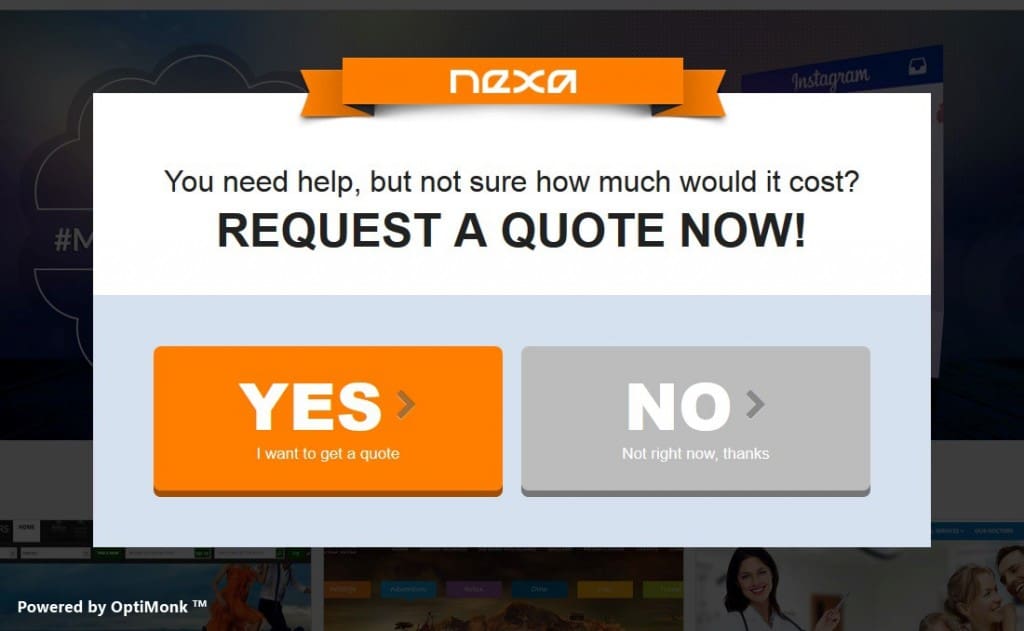 After clicking on 'YES', it's more likely they will sign up on the second page. As the visitors are more engaged now, Nexa uses the maximum recommended number of four input fields on the second page: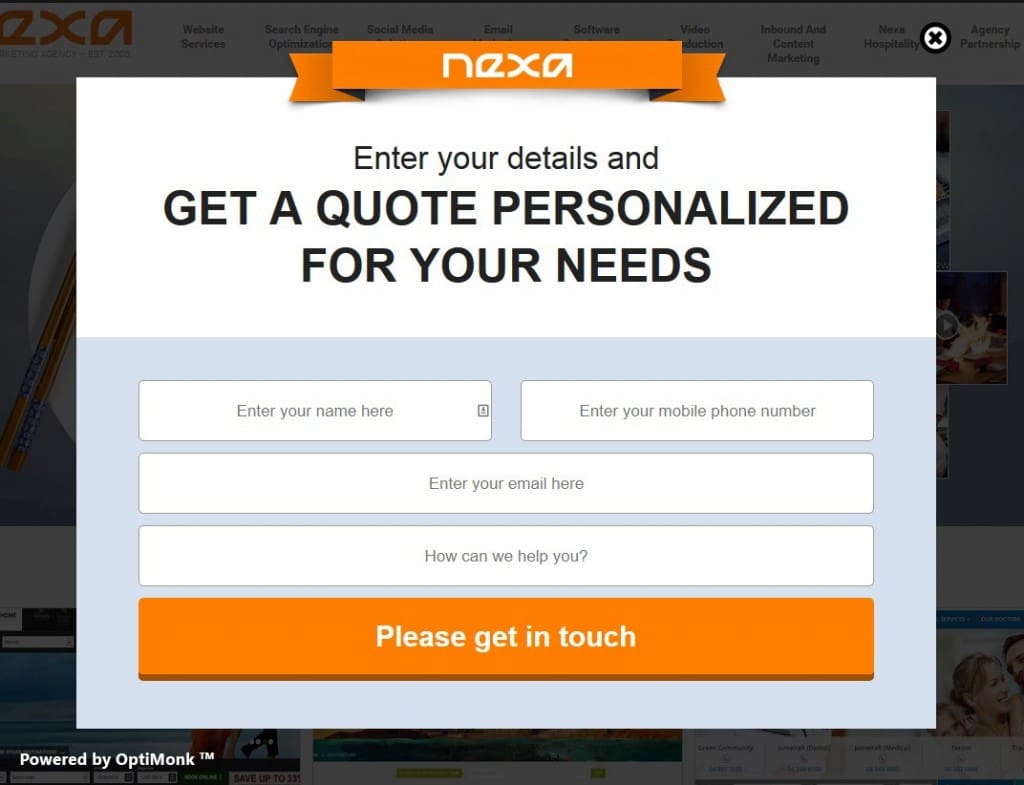 #4 Mistake: Providing a bad offer in your popup
If you don't have a good offer, it doesn't matter how beautiful your popup is, it won't be persuasive enough to get your visitors to subscribe. Your offer must be unique, relevant and exciting for your visitors, and most importantly, sufficiently valuable to for them to provide their information in exchange.
When selecting the best offer, please note that if someone didn't take the hook of the bait already presented on your website, then the same giveaways won't be exciting enough in a popup as well. To achieve higher results, try to create exclusive offers to be presented in your popups, most importantly, that aren't available elsewhere on your site.
At the very least, don't repeat the offer promoted on your main page banner. If it didn't work once, it won't work twice. That's a sure way to annoy visitors and reduce the conversion rate of your ecommerce popups.
Here are some actionable giveaways that can be used to persuade your visitors to sign up:
Discount, coupon: It can be provided in percent, or you can display the exact amount that can be saved due this offer.
Free stuff: Offering free ebooks still results in really high conversions. In addition, free shipping is another great way to convince your abandoning visitors.
Exclusive offers by email: Offering unique offers only to visitors who have signed up for your newsletter can really supercharge your subscription rate.
Contest: Connecting the newsletter subscription to a contest, is another way you can immediately boost your subscriber list.
Last, but not least, pay particular attention to the USP (Unique Selling Proposition) of all your popups. It's very important to focus on only one offer in a popup.
Let me show you an example from CoffeeForLess.com, a coffee retailer that specializes in coffee beans and gourmet coffee. They design exclusive offers for their subscribers and promote their 'email-only deals' in their exit-intent popup to gather more signups.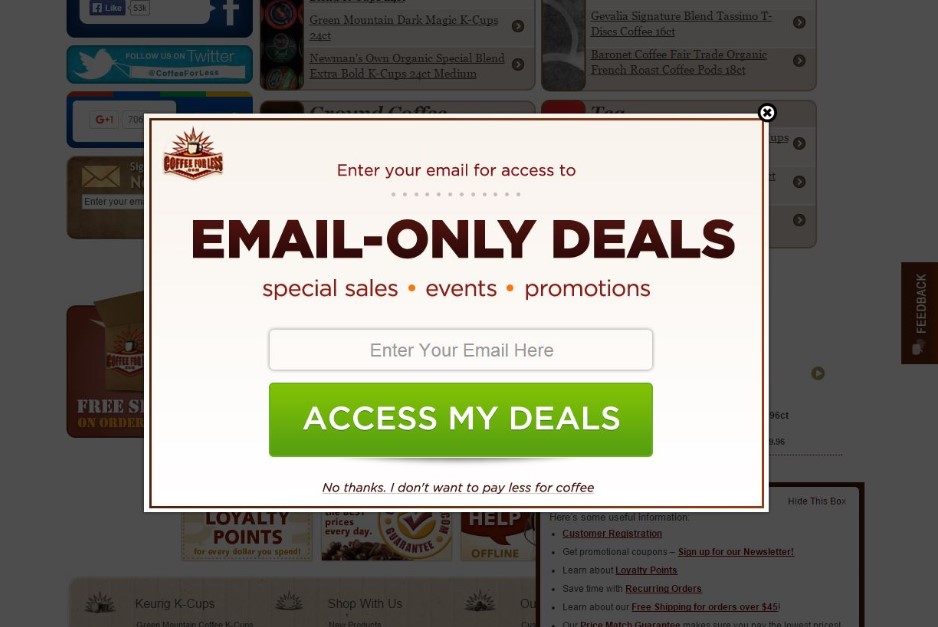 #5 Mistake: Presenting awful popups
In fact, awful looking popups have awful conversion rates.
Your popups must be designed to fit with the style of your website. Each popup should appear as an integral part your site. As if it's not a popup, but instead another 'layer' to your site.
Don't place too much text in your popups, because distraction also kills conversions. Always keep in mind: 'Less Is More'.
To improve user experience, make it absolutely clear how to close the popup. Best practices show that the delay of the close button shouldn't be more than 3 seconds – after 3 seconds it becomes very annoying.
The example of BobShop, an online store that sells cycling clothing and bike accessories, demonstrates an awesome and unique popup design. As it can be seen below, BobShop's custom popup is minimalist, yet meaningful. At first sight, visitors might think that this isn't a popop at all, simply a unique feature to the site.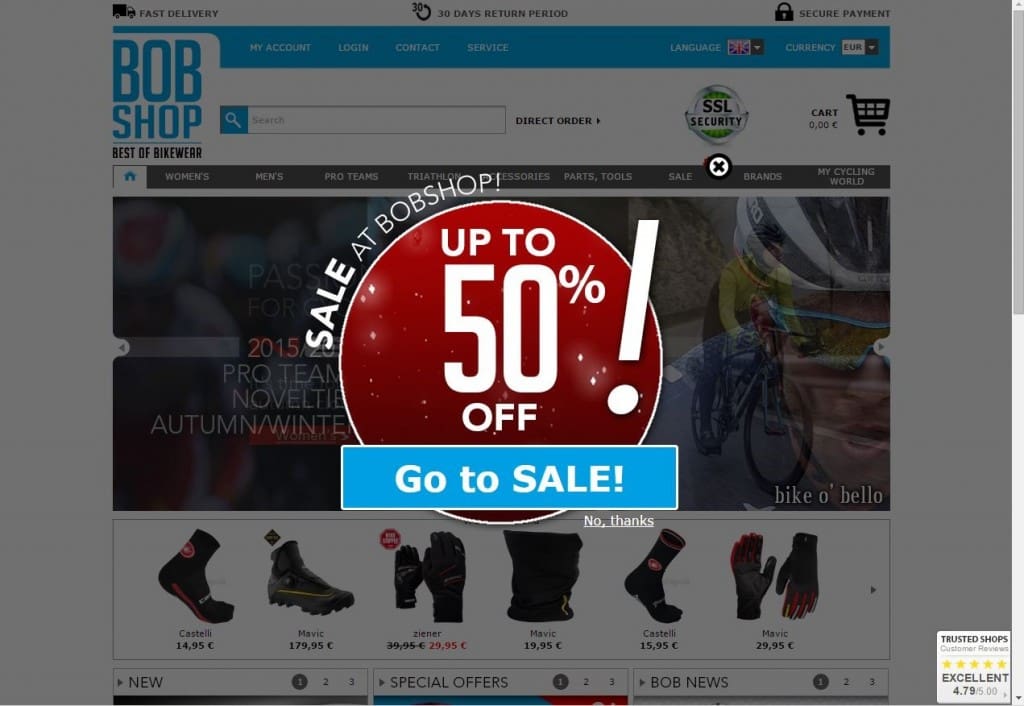 Conclusion
By avoiding the mistakes above, you can produce 'good popups'. Good popups don't annoy your visitors. They are well timed, with relevant content, and appear on a page with information that is relevant to that page. Many of the problems with popups that cause people to complain have to do with ugly, poorly timed, and irrelevant popups.
As we've seen, well-known digital marketers, and many ecommerce sites show how to use advanced solutions to create good popups that show up at the right time and with the right message. By avoiding the five mistakes above, you'll be well on your way to creating good popups that bring you great results!
(Note: Have you heard of OptiMonk? It's a powerful onsite messaging solution that helps you convert up to 15% of abandoning visitors to sales and leads. Give it a try – click here to create a free account.)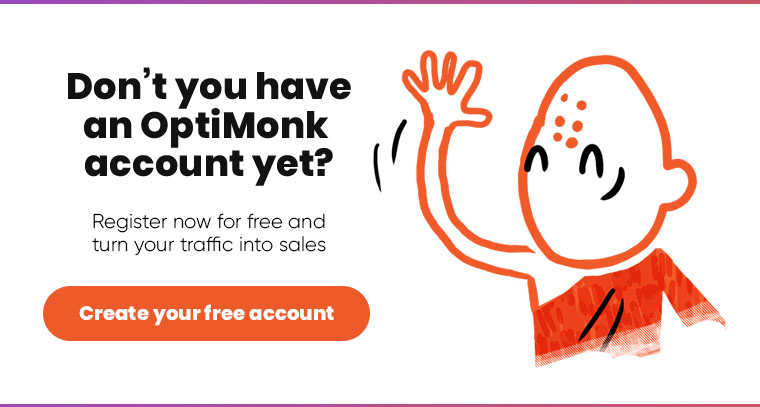 Which mistake do you think people make most often when creating bad popups?
What strategy will you use to create good popups for your site? Leave a comment below and let us know!