Supporting 5K+ websites world wide in their growth
A more polite way
to increase revenue
True passion has made OptiMonk the human-centric marketing tool
We combined our strengths in marketing, sales and IT to create a system that serves both our merchants' and their customers' needs – without annoying visitors or ruining the user experience.
Get full control over your buyers' journey
and turn them into leads or customers
Capture more subscribers
Most visitors aren't ready to buy – make them sign up to your mail list and turn them into sales later.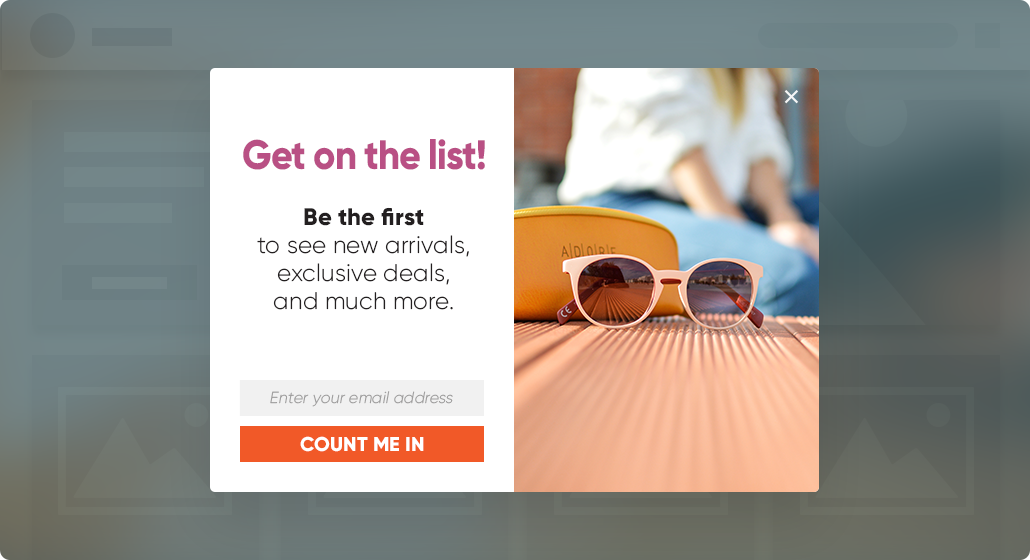 Reduce cart abandonment
Increase cart value
Promote special offers
Collect feedback
Social engagement
Treat your visitors as humans
No visitors are alike - Personalize your communication
to make them feel you speak directly to them
The right message
Create customized popups, interstitials, bars or notifications for your visitors based on their specific goals, needs, and stage in the buying process.
Powerful drag&drop editor
30+ beautiful templates
Custom form fields
Fully mobile optimized
The right people
Target your visitors based on their behavior, traffic source or even items in their cart - display the most relevant offer to every single visitor.
Check visitor background
Page-level targeting
Time-based targeting
Link your campaigns
The right moment
Monitor the behavior of each visitor and auto-trigger your message exactly when they try to abandon your site or take another action.
Exit-intent detection
Timed-display control
Scoll & click monitoring
Mobile triggers
Connect to Shopify easily
Integrating to your Shopify store and
all major marketing software is as easy as pie
Thousands of online businesses trust
OptiMonk to boost their sales
The year when our
passion has started
Countries' users
trust OptiMonk
Active users are
growing with us
Why our users
recommend OptiMonk
"1,876 visitors used their coupon - generating $148,297 in extra revenue. That's 18.2% of total revenue! And on top of immediate revenue growth, OptiMonk allowed BoomByCindyJoseph.com to gain 8,997 new subscribers within a month."
"We have been using OptiMonk on our site since 2015. We have no campaign where we do not use the possibilities of on-site messages. We can show a popup to every visitor that improves the visitor experience or supports the purchase decision."
"I've checked several on-site message providers. After signing up to their trial version, I compared their features, pricing, support, etc. As I remember, OptiMonk was not the cheapest service, however, its solutions and its customer service are far the best. It's incomparable."
Special Offer for Smart Marketers
If you sign up to OptiMonk, and subscribe to any package,
you'll get 2 extra months for free!
1) Create a free account (start by entering your email below)
2) Subscribe to any plan and send us an email (support@optimonk.com) to let us know you request the special offer
3) We'll activate 2 extra months for you
Forever free plan ● Easy setup ● No credit card required