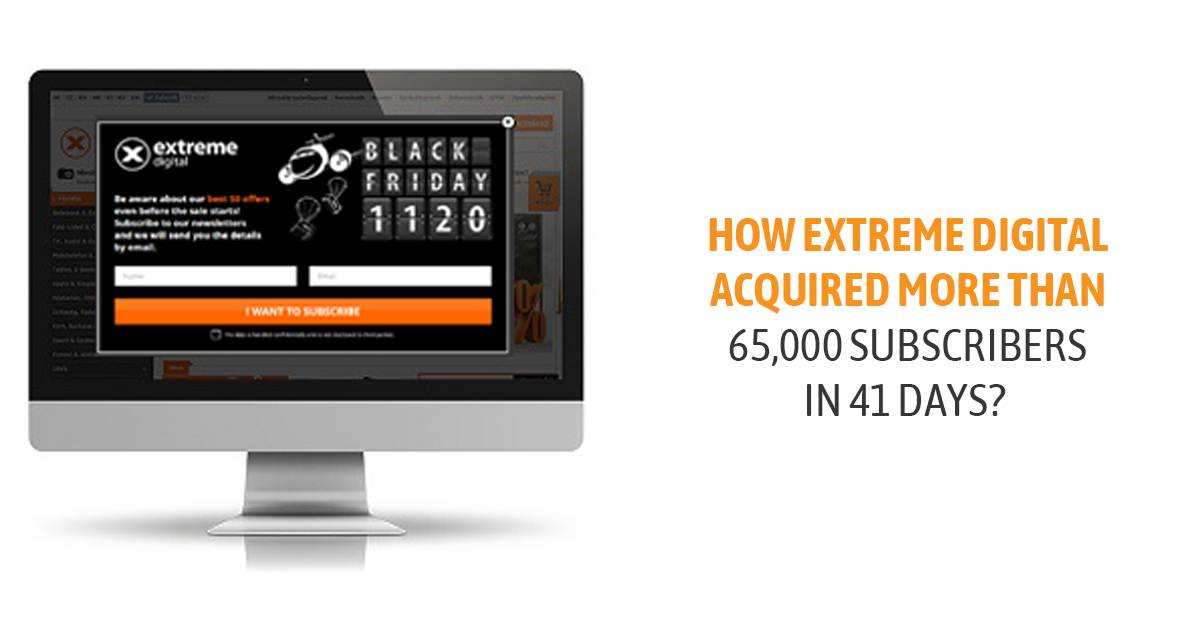 Extreme Digital is an ecommerce store that was established in 2001. In the beginning, they sold only digital cameras, but later increased their selection of products. Today they are selling every kind of product – from computer equipment to office furniture – and it has become Hungary's market leading ecommerce store.
Moreover, it is not only a sales leader in its category but according to the sales data for the online marketing in 2014, Extreme Digital has the highest traffic among the Hungarian online stores. In recent years, they have thrived internationally opening online stores in Slovakia, Czech Republic, Romania, Slovenia, and Bulgaria.
In this case study, we will show you how Extreme Digital got more than 65,000 subscribers in 41 days.
Introduction
It doesn't matter how good your store is, or how comprehensive your product range is, most of your first time visitors will leave your website without buying anything. Why? The majority of the visitors are not ready to buy during the first visit.
Therefore, you have to do everything possible to get their email address at the very least, before they leave the website. In this way, you still have a chance to convert them into customers by communicating your best offers in the future.
Extreme Digital had a newsletter subscription module on their website that was promoting a sweepstake. The formula was simple: the visitor subscribes to the newsletter and in exchange they can take part in the sweepstake.
Unfortunately, this solution was not successful for them: their conversion rate was only 0.02%. This meant that from 10,000 visitors only two visitors are going to be added to the newsletter list.
The challenge
So the challenge was given: they needed to grow this excessively low subscription rate while not diverting the attention from the primary goal: the selling.
Based on the analysis of the website and the visitors, they found the following two reasons behind the low conversion rate:
#1 Wrongly placed and timed promotion
The newsletter promotion module is in a extremely secluded place and it appeared below the fold. The chance that the visitor would notice this advertisement among all the other offers was very slight.
#2 Irrelevant advertisements
The other important reason for the low subscription rate was that the offer was too general and not well-targeted, so every visitor would see the same advertisement. Also, most of the visitors were not interested in the sweepstake, this was a particular problem for those that arrived to the website with a specific purchase goal (e.g. to buy a notebook).
Taking the above problems into consideration, they started to look for a better solution. That's how they found OptiMonk.
Solution
We created OptiMonk exactly for the problems mentioned above. For the first problem (wrongly placed and timed promotion) our exit intent popups provide a perfect solution, because everyone will notice popups that cover the complete screen.
It appears only when the visitor would leave the site without subscribing (or buying), so it minimizes the annoying factor of the popups.
For the second problem (irrelevant advertisement) the solution was a little bit more complicated. But luckily, by using OptiMonk, they could display a customized and the most relevant offer to everyone.
For this purpose, we need to categorize and classify the visitors according to their available information (create personas). There is a lot of information about the particular customers. Here are some examples:
We knew what they were interested in – if someone visits a product page that is promoting a laptop, we can assume that they are interested in laptops.
We know if someone is a new or a returning visitor.
We know where did the visitor come from to our site – for example from Facebook, Google engine search or they arrived from a newsletter.
Using these details we could make more relevant offers for the visitors.
Technically, it works exactly in the same way as remarketing. We use the information about our visitors, so we can show them an offer that would be more interesting to them than a regular advertisement.
We could have the best offer in the world, but if it doesn't reach the right customer at the right time, it will be worthless.
Based on this they set up numerous campaigns with the help of OptiMonk. Today we'll show 4 of them:
Campaign – "Sweepstake" offer for those who are not interested yet

Campaign – Dynamic "product discount" offer for new visitors
Campaign – "Black Friday notification" offer
Campaign – Christmas offer for new visitors
Now let's take a closer look at the campaigns and the results…
Campaign 1: "Sweepstake" offer for those who are not interested yet
First, they boosted their "general" offer (sweepstakes), and they planted it into an exit intent popup. Previously we mentioned that having a relevant and well-targeted offer is not enough, it is also important where the visitor will encounter this offer. If the visitor cannot notice it on our website, then there is no chance for the subscription.
Accordingly, it is expedient to communicate the sweepstakes which is used for a conventional subscription collection in a popup form as well.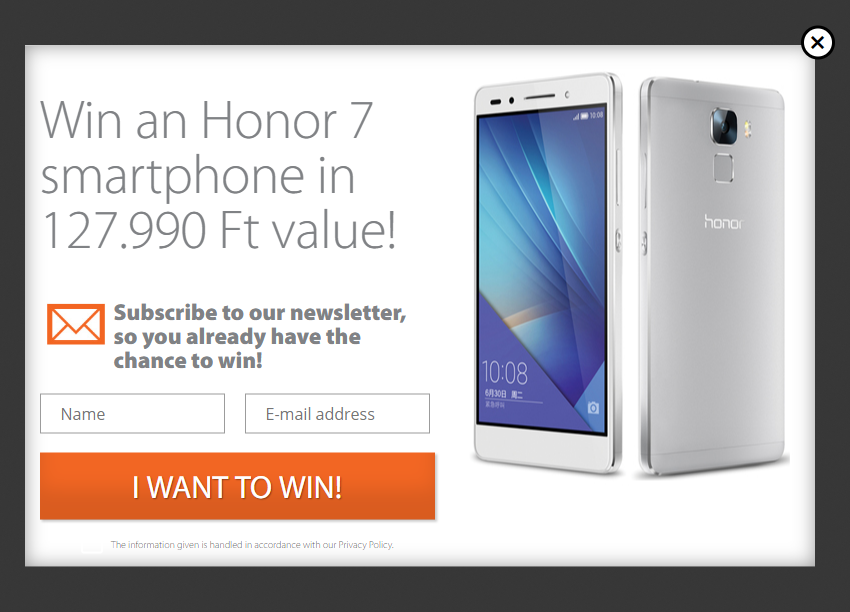 In the campaign settings, the Extreme Digital team took into consideration more viewpoints. First, they wanted this campaign to appear for those only who will not see other – more relevant – offers. If we know something specific about someone, and thereby we can give a more relevant offer, we rather show these offers instead of a general offer.
Furthermore, they did not want the popup to appear for someone who arrived from a Facebook campaign. The reason is that from the social sites the visitors are being directed to a landing page, and they did not want to divert the attention with something else from the special offer of the landing page after the redirection.
At the same time, they did not want to disturb those visitors with the popup, who have already subscribed. Therefore, they needed to exclude those, who have already subscribed for one of the previous campaigns: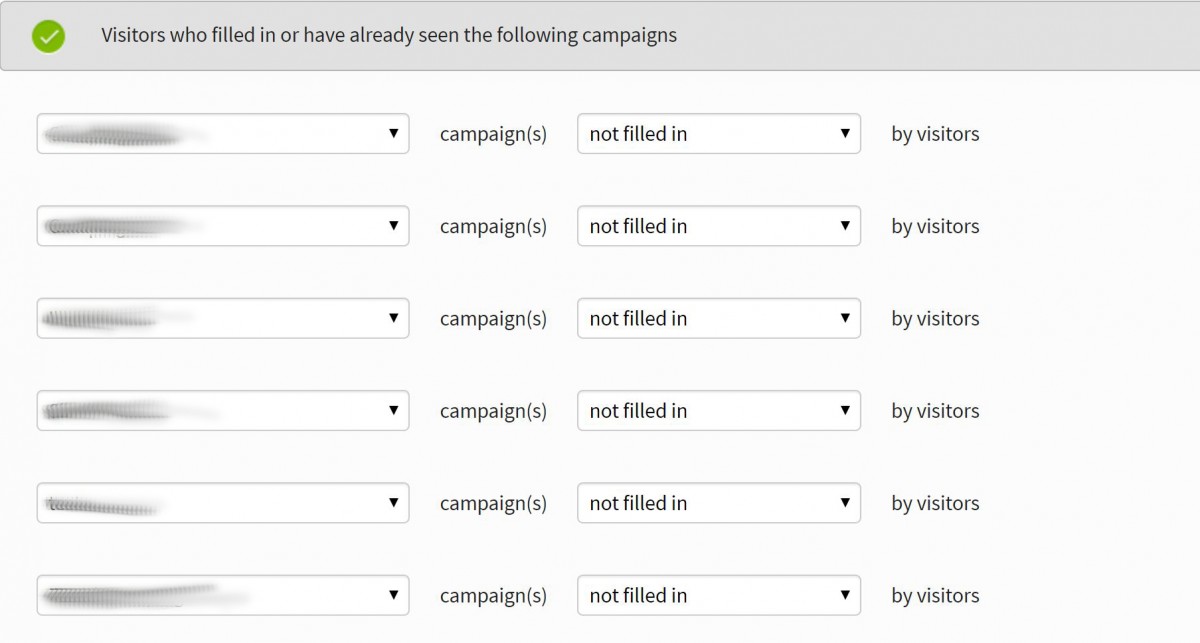 When visitors arrive at the store, they usually start to search for the sought product. This can easily lead to leaving the browser with the cursor. That is not an appropriate reason for a popup appearance, because the visitor is not even trying to leave the page.
On the other hand, that is not good either if a campaign appears for a visitor when he has no idea about what can that exact website give him. For this reason that is expedient to give some time to the visitor to get to know the content.
Extreme Digital set it for 10 seconds. That is enough to exclude the two cases above.
It can happen that someone opens a website, and when he sees that he is not on the appropriate page, he starts to move to the direction of the exit button.
Most of the time, these visitors are not interested at all about what can you offer, and they are checking that by mistake (this can be their mistake or the cause of the incorrect advertisements). Since these kind of visitors are not the part of the targeted group, it is unnecessary to show them any kind of campaigns.
For this option, we can use the "Visitors who opened at least X number of pages" condition, with which we can set that at least how many pages a visitor needs to open and see in order to let the popup appear.

Extreme Digital has set 3 pages, assuring that the campaign will appear only for those meaningful visitors, who have shown some kind of interest already (so they have the shopping intent) with that they have seen these pages already.
Result:
The previous 0.02% subscription rate has been increased to 2.3 %. This 115 times growth in the conversion means that the campaign brought more than 7,000 subscribers during the first 14 days, which is a pretty good result compared to a general offer. This number is more than a conventional subscription module could produce in 4 months.
(Note: Would you like to learn more about using popups?Click here to download our free eBook with over 100 pages of tips and best practices for engaging and re-engaging your customers with onsite retargeting to boost the revenue on your site.)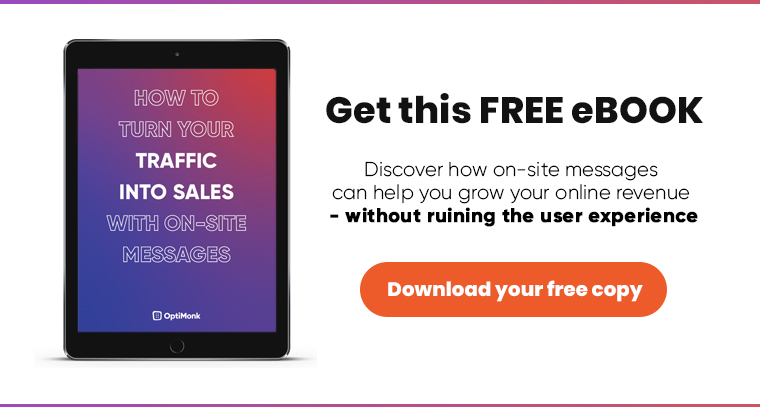 Campaign 2: Dynamic "product discount" offer for new visitors
As we have mentioned above, the majority of the new visitors do not want to purchase yet. However, this does not mean that they are not interested in the products.
For this reason, Extreme Digital set the following exit-intent popup for those first visitors, who are interested in some products, but neither a meaningful purchase nor a subscription has been collected yet: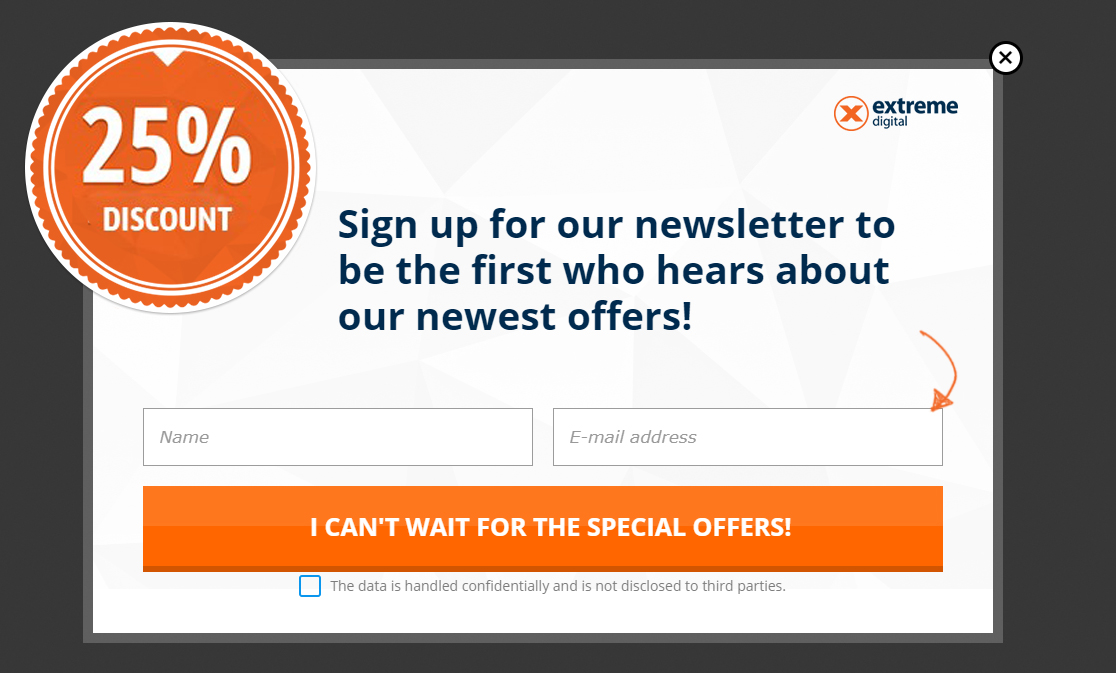 They opted for a two-step solution instead of the traditional one-step popup form because the previous campaigns have verified that these two-step solutions have a higher subscription rate.
The campaign was set up so that when the visitor surfed within the smartphone category, the discount was related to smartphones. But when they were checking laptops, they offered a discount on the accessories for the notebook.
(Note: Campaigns have been set up for these two categories because based on analytical data, these pages have higher traffic than average, but have a lower conversion rate than average, so they hoped for improvement in these details using a well-targeted and appropriately set campaign.)
They sorted it out with an option, called "dynamic replacement of popup texts". The essence of this is to change any variable based on the popup text. So we can show our targeted messages to the visitors by using only one popup. Consequently, we do not need to create different popups for each group for our targeted audience. We can display fully personalized information in popups that will catch the visitor's eye more.
Result:
The campaign had a 10% conversion rate, so every 10th visitor who saw the popup has subscribed to the newsletter! This meant that within 7 days more than 900 subscribers were collected just from the notebook or smartphone category.
Campaign 3: "Black Friday notification" offer
Extreme Digital held its first Black Friday in 2014, which resulted in a huge achievement: They had 600,000 visitors during one day, who purchased items for 700 million HUF, which lead them to save 204 million HUF. Seeing this, they expected even more interest in 2015. It was, therefore, reasonable to set up an OptiMonk campaign a week before Black Friday, as the increased number of visitors was an excellent opportunity for newsletter subscribers.
The exit-intent popup was the following: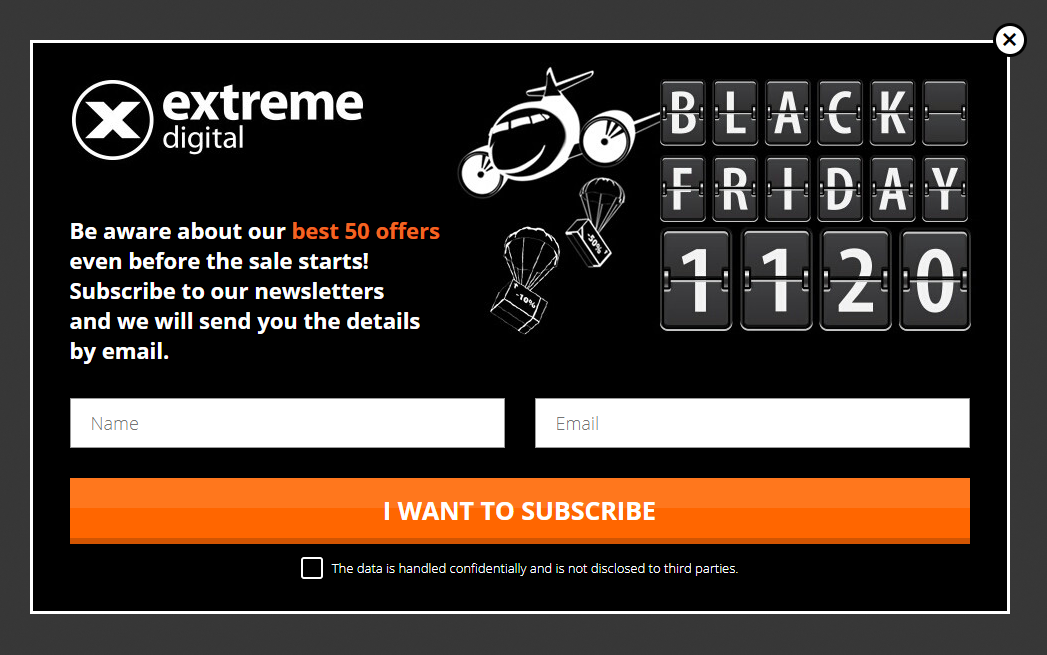 The bait is the promise that subscribers will be the first to know about Friday's sales. In that case, that was enough because the success of the previous year (and its real product sales) provided a sufficient basis for visitors to feel it is worth to subscribe to the newsletters.
Result:
Almost unbelievable, over six days the group of the visitors who were showing interest grew over 50,000 in their list with an 11% subscription rate. This is an outstanding achievement, as it usually converts 4-6% of such a subscription popup.
Campaign 4: Christmas offer for new visitors
Being well targeted is not only important for OptiMonk campaigns, but also in newsletters sent to the subscribers who have been collected this way. For this reason, Extreme Digital has campaigned during the Holiday season, segmenting new visitors by gender during the subscription.
Unlike the majority of the campaigns, this appeared at the arrival time to the page instead of the exit intent: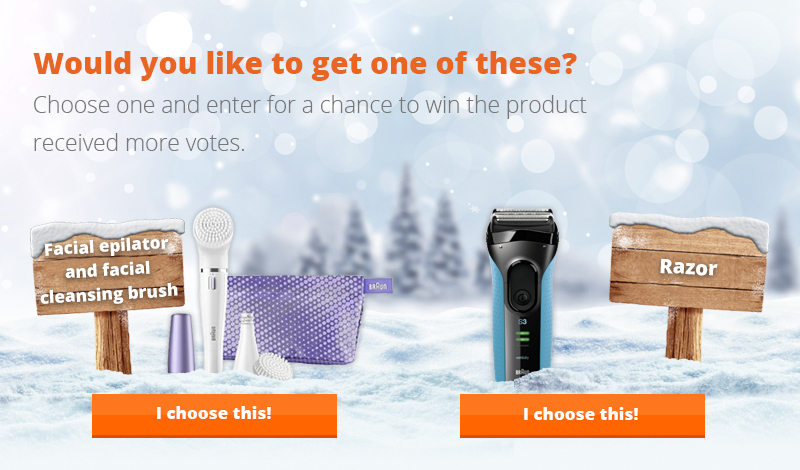 By selecting one of these options, the visitors technically told them what gender they belonged to and from that time it became possible to communicate separately in the Christmas newsletters with women and men.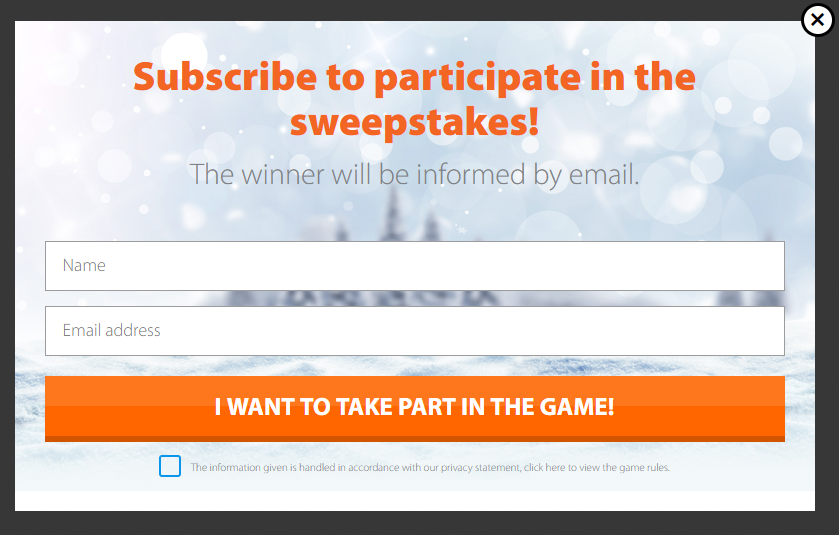 Result:
In 14 days, they collected nearly 7,000 subscribers and they were also aware of the genders. But what is even more impressive is the creativity of this campaign implementation.
All results
By adding the results of the above 4 campaigns, we can see that with OptiMonk the Extreme Digital ecommerce store has been richer with more than 65,000 newsletter subscribers in 41 days.
In addition, if we dig a little deeper into statistics, we see that visitors who completed an OptiMonk campaign:
saw more pages (the average page viewed per one visitor is 61% higher)
spent more time in the webshop (the average time spent is 18% higher)
they were shopping in a bigger ratio (the Ecommerce Conversion Rate is 6.5% higher)
than others, who did not do the same.
In total, Extreme Digital collected nearly 75,000 interested visitors in 4 months (the campaigns were not running all the time during this period).
This is approximately 13 times the value of that they would have earned if OptiMonk was not installed.
The results speak for themselves. If you want to learn more, create a free OptiMonk account in order to see the results with your own eyes.