Seasonal marketing works brilliantly if you can tap into customers' buying tendencies. But not all seasons work the same way—summer marketing is a different beast entirely.
Summer campaigns often produce underwhelming results because the people brands are trying to reach are actually trying to disconnect and stay off their devices to enjoy the great weather. To get through to this distracted, less-engaged audience, you'll need to start with a solid strategy.
The success of your email campaigns in June, July, and August really depends on your summer email subject lines. If your subject line isn't compelling enough, your email won't get opened. It's as simple as that.
Here are some numbers that may convince you to reevaluate your summer email subject lines:
That last statistic is particularly interesting because a summer sale lets you get creative and cater to your customers' more adventurous side.
If you're struggling with summer emails, we're here to help. We'll go over the tips, tricks, strategies, and examples behind winning summer email subject lines.
Let's dive in!
What makes summer email marketing campaigns unique?
Summer is all about fun activities, but unless you sell outdoor gear or beachwear, you'll most likely experience a dip in sales.
Successful businesses make the most out of summer through:
Careful planning:

You may not be able to eliminate the summer slump entirely, but you can weather it more easily and keep your business cash flow healthy.

Running summer sales:

This is a great way to clear out old inventory and make room for stock to meet customers' needs during more sales-heavy months and the higher-volume winter holidays.

A deep understanding of their customers:

In summer, people are looking for specific things. Only a few brands are able to crack the code of summer email marketing to fully take advantage of this.
Because so many brands get summer marketing wrong, it becomes a "winner takes all" season. Brands that know how to write click-worthy summer subject lines often enjoy huge profits.
5 tips for writing winning summer email subject lines
Subject lines may seem simple and straightforward when you're reading them, but the picture is completely different on the other side.
Marketers and copywriters analyze buying patterns and emotional triggers, sift through tons of successful samples, and check pop culture events to carefully craft those few words that will decide the fate of their email campaigns. It's no easy task!
Here's a crash course on what you'll need to do for a successful summer email subject line:
1. Keep it short
Subject lines have a very short space to trigger a response—you can't waste it.
It's always a good idea to keep your subject line under 60 characters, but for summer, you want to go even shorter: think 40-50 characters. In terms of words, try keeping it between 3-8 words.
2. Use personalization
Personalized subject lines have a 26% higher chance of getting opened, and using segmentation in your email campaigns can increase email revenue by 760%.
If you're selling summer dresses, mention the recipient's name and the dress combinations they might need for that upcoming summer trip. Use birthdays and anniversaries for new offers, and don't forget to send cart abandonment emails. The goal is to show customers that your emails are worth opening, and delivering personalized emails will help you get there.
However, personalization won't do much good if the recipient doesn't receive your emails! People often abandon email addresses or forget to check old inboxes. In both cases, you're mailing to inactive accounts, which will hurt your engagement and deliverability rates.
Make sure you're emailing to active accounts, especially in summer when your targets have a lot more going on. You can use an email verifier tool to quickly check your email list and keep it up to date.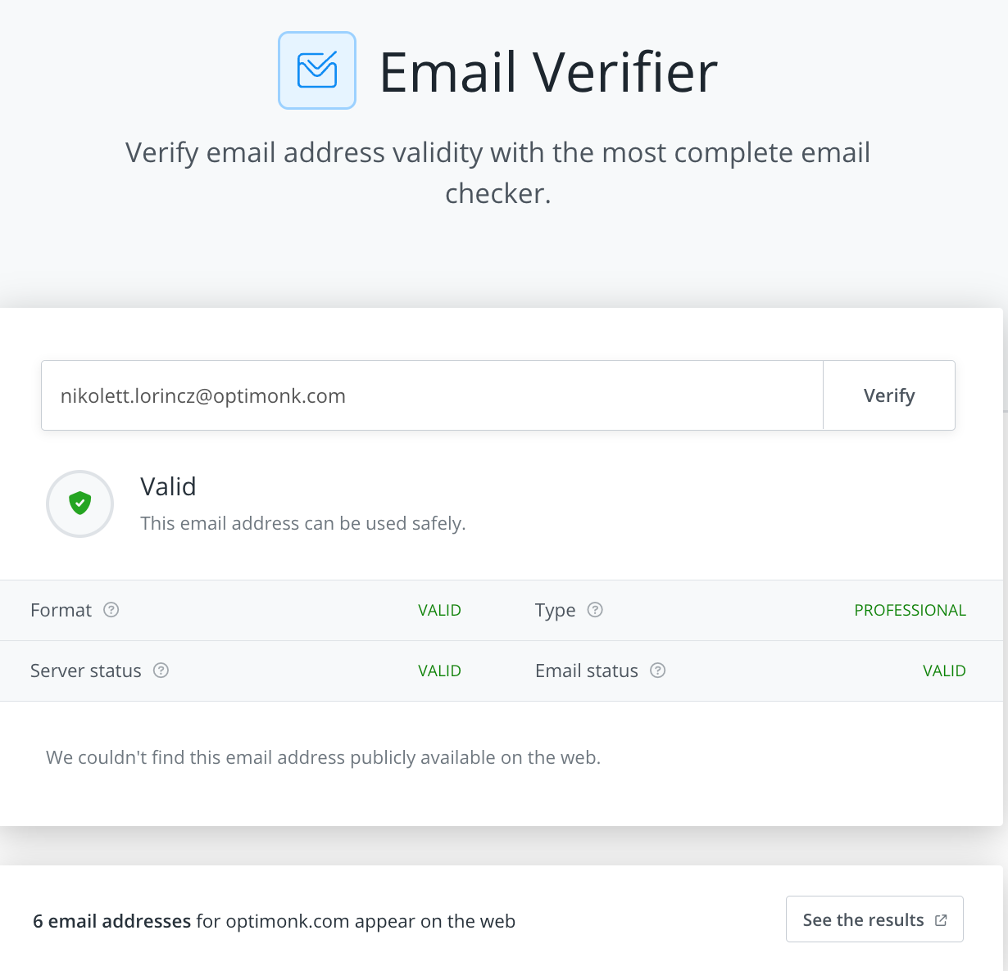 3. Don't use clickbait subject lines
The job of a subject line is to compel readers to open the email. Consequently, a lot of marketers make it as clickbaity as possible. But "grey hat" tactics like these have consequences.
When you manipulate people with sensational subject lines, they feel betrayed and end up marking you as spam. Spam counts impact deliverability rates, which can eventually render your campaigns ineffective.
4. Stop the inbox scroll by standing out
Summer email subject lines should capitalize on the laid-back summer vibes. People want fun, so that's what you should aim to deliver.
Whether emojis belong in a subject line is a hotly debated topic, but the one time of year that they work flawlessly is in summer. And it's not just emojis… numbers in your summer email subject lines can increase your open rate by 45%.
Experiment with wordplays, questions, and puns to deliver some fun and curiosity to boring inboxes. Go with the flow of the season and find ways to incorporate what people love most: the sun, the beach, summery foods, etc.
5. Be mobile-friendly
Did you know that 36.6% of emails are opened on mobile?
In the summertime, this stat becomes even more important because people are likely just glancing at their inboxes while traveling or relaxing by the beach—you have to work hard to capture their interest!
It's important to think about the mobile UI of emails to generate maximum sales. Keep your subject line between 1-6 words, include fun visuals, and use the preheader box to elaborate on the subject line. The preheader box gives you some extra space to entice people to open your email, so use it wisely.
Summer holidays to tweak your emails
A successful seasonal campaign requires a fleshed-out calendar. Here are the major events you can include in your summer emails:
Flag Day (June 14th)

Father's Day (3rd Sunday of June)

Juneteenth (June 19th)

Summer Solstice (June 21st)

Canada Day (July 1st)

Independence Day/4th of July

Labor Day (1st Monday of September)
Social media-driven events can run parallel to national holidays.
Some of the most popular ones in the summer months include Pride Month, National Selfie Day, Social Media Day, National Picnic/Grilling Month, French Fry Day, World Emoji Day, Parents' Day, Friendship Day, National Golf Month, Family Fun Month, National S'mores Day, Senior Citizens Day, Women's Equality Day, National Yoga Awareness Month, Better Breakfast Month, and National dog Week.
Find the events that are relevant for your audience and use email subject lines to stay top of mind. However, remember that some of the events have serious histories behind them, so do your research before using events in your summer campaigns!
7 examples of summer subject lines and why they work
What's better than going through some successful summer email subject lines to see how brands are marketing their products?
Here are 10 winning examples that you can take inspiration from:
1. Watermelon, Sugar, Hiii to 30% OFF 🍉 🌊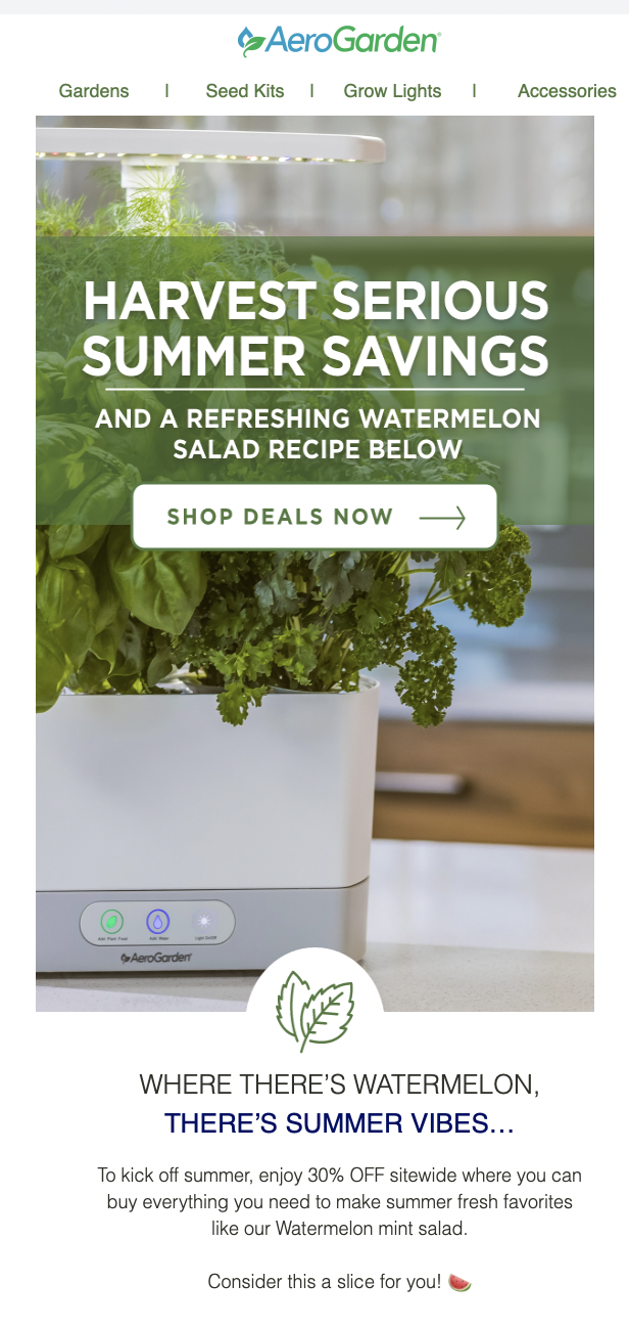 AeroGarden mixes 3 great things in their summer email subject line: It plays with the popular Harry Styles song, it uses the right summer emojis, and it includes the value for the recipient (30% off). It's also short and sweet.
After users open the email thanks to that awesome subject line, they'll find an on-brand body copy and microcopy UX that just screams summer.
2. Your Summer Forecast ☀️

Summer is a great time to validate your customers' goals and aspirations. If you can help them visualize their best selves this summer, they'll definitely remember you.
Athletic Greens uses this philosophy to give customers a reason to think about their products in the summer.
3. Start dreaming about summer ☀️

Some brands, like Airbnb, start their summer email campaigns very early. If you're in the travel sector, you should follow suit and start getting your audience pumped for summer with plenty of time to spare. Just like Athletic Greens, Airbnb helps people visualize their summer and they're able to plug their services in a very compelling way. Their subject line is sharp and kicks off an email sequence that aims to seal the deal by the time summer hits.
4. Your Highway 101 road trip atlas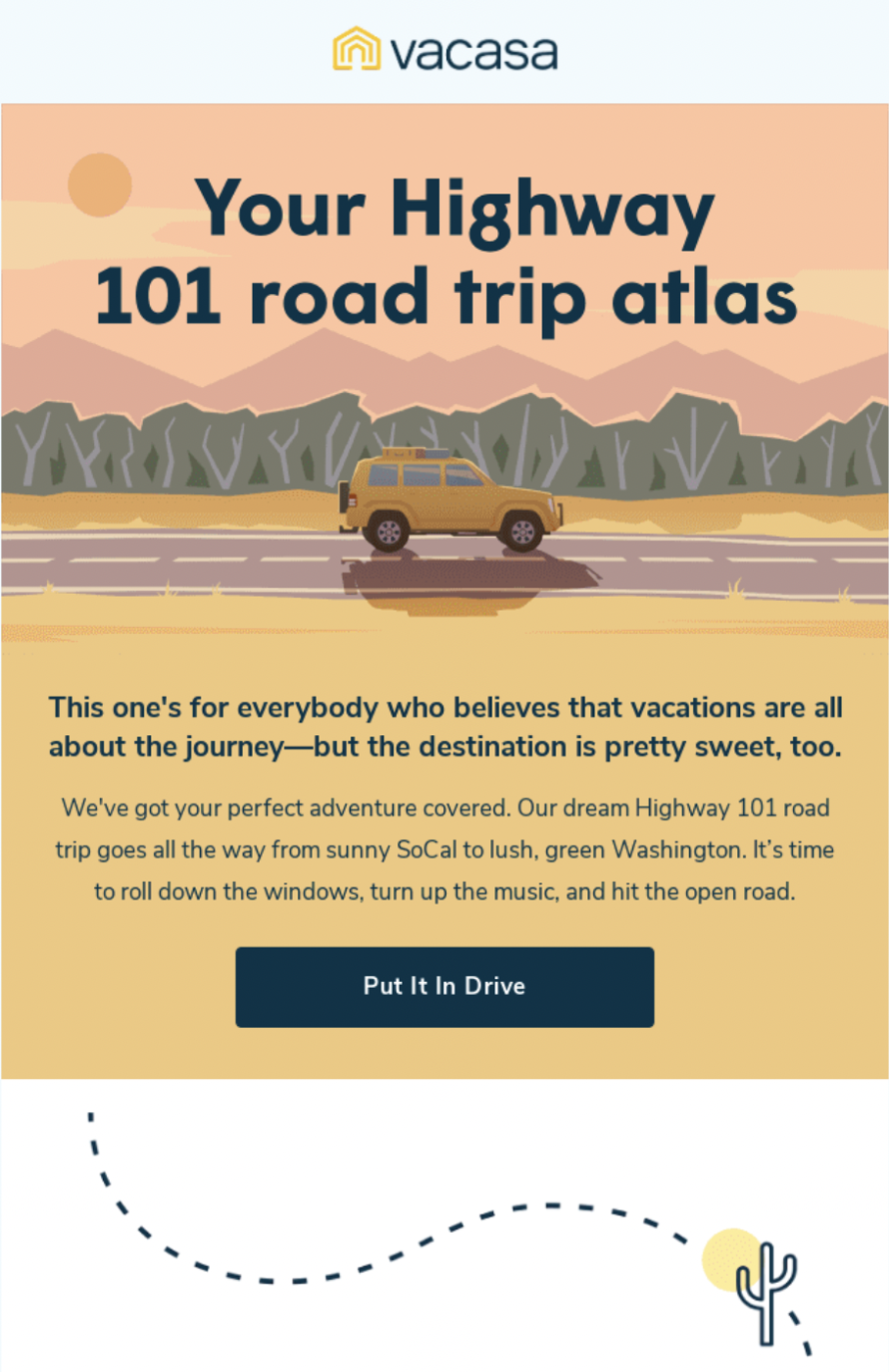 Summer email subject lines have to focus on helping consumers make the most of their summer instead of simply selling a product or service. Vacation rental company Vacasa understood the assignment.
The subject line was timely, relevant, and led to an email that's full of free value. They manage to get customers daydreaming about the trips they might take and the experiences they might have this summer… all with a simple email.
5. The one with the dad jokes.

Seasonal events are a big part of summer marketing campaigns and Father's Day in June is as big as it gets. It's a major summer event for families, which makes it a big deal for brands as well.
This Father's Day email from Tuft & Needle is one of the most charming newsletters you'll read all summer. Right from the subject line to the CTA in the body copy, the email is full of heart, honesty, and humor. If you're going with an incredibly personal tone this summer, this is a blueprint you can follow.
6. Healthy Tips For Summer BBQs 🍔 🍗 🍺

Despite being a fitness brand, TB12 is not against the idea of people indulging in barbeques… it simply helps them do it smarter. The company uses an impactful summer email subject line that's loaded with value. It fits customers' needs, offers perfectly-timed help, and positions TB12 as the go-to solution for health-conscious customers.
7. Hot weekend, hotter gear, cool savings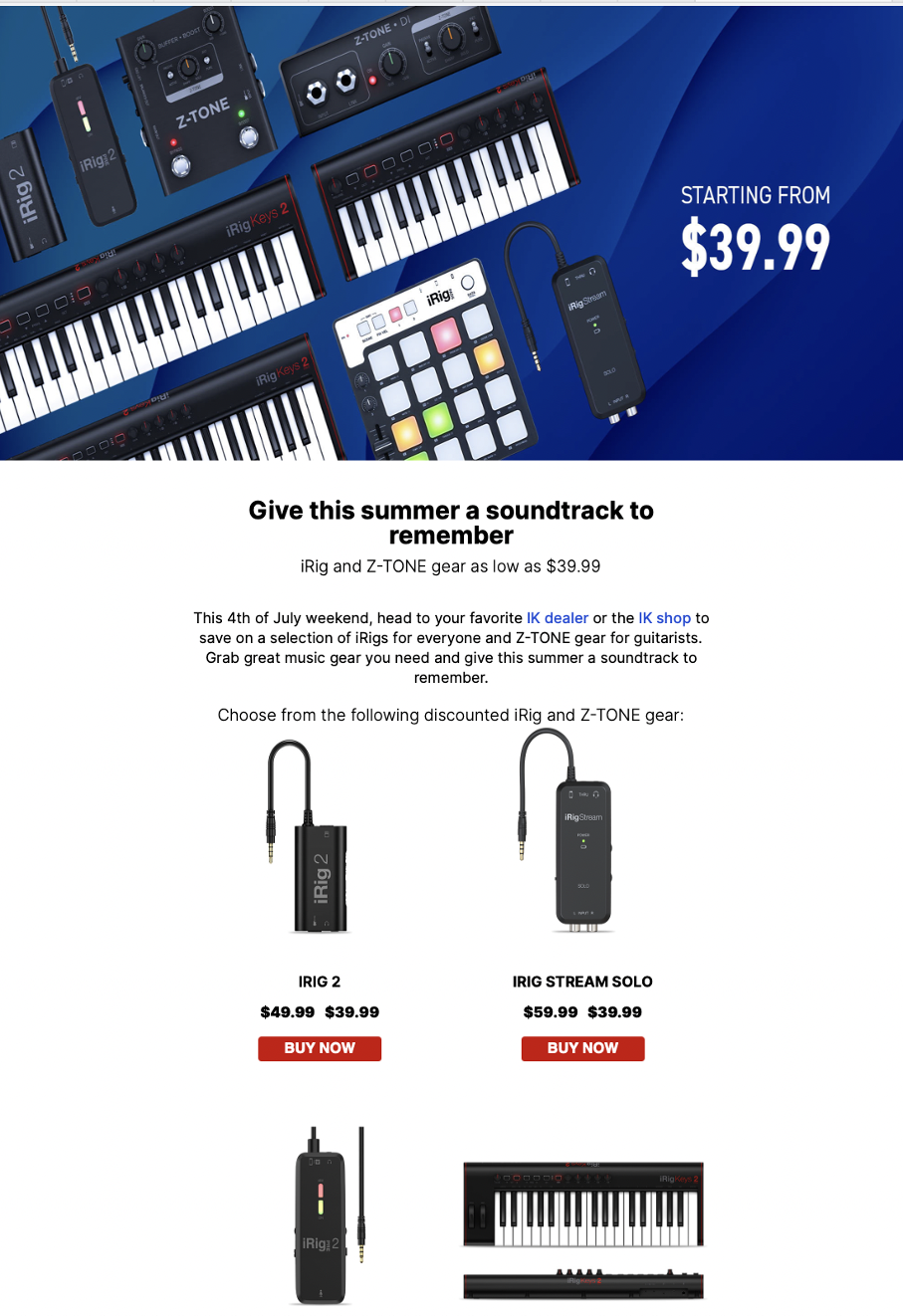 3 summer email themes you can experiment with
You know how to craft amazing summer email subject lines, you know how big brands market themselves in summer. Now it's time to put your ideas into practice. But hold on! First, check out these 3 smart approaches you can take with your campaign:
1. Summer FOMO
Everyone wants to go somewhere or do something in summer. That's why the fear of missing out is so strong at this time of the year. Don't ignore FOMO because the scarcity mindset can open up wallets pretty quickly. Tap into the FOMO by using a subject line that shows how exclusive your offers are!
2. End of Summer
Holidays feel so special because they're around for a very short time. Summer is no different. Limited-time summer deals work nicely at the end of summer, and you can use that urgency in your subject line to sell more in a short time.
3. Cliches are cool (mostly)
As you might have noticed, great summer email subject lines often experiment with quirky wording and emojis in summer. On top of that, dad jokes and pop culture references get their moments in the spotlight. Cliches (which you'd typically want to avoid) often work surprisingly well in summer—just remember not to overdo it.
Bonus: 20 summer email subject lines to inspire you
Before you start crafting summer email subject lines of your own, here are a few more examples for you to take a look at. You can use them as inspiration and make your own version using a paraphrase generator:
Your new summer shorts are inside

Is your hair ready for the heat?

50 shades of summer dresses 👗

Summer's here, with 20% discounts across skincare range

Cleaning tips hotter than summer ☀️

We know what you wore last summer

Head to the beach this weekend 🏖️🌊

FYI: summer sale is STILL going on!

Get your front porch ready this summer

Go FOURTH with up to 65% off 🔥

New summer, new you. Sale starts TONIGHT

Ideas to make your old man's day

Summer's hot, you can be hotter. New shades dropping today

Going back to school never felt better! Weekend sale ON

Great summer clearance sale is here! Sweep EVERYTHING

THIS JUST IN: summer's going nowhere

Independent day sale + summer savings

Back to school SALE +summer essential at 40%

End summer in style

Summer slump? Cheer up with ice-creams
Summer can be a tricky time for businesses that don't have an email marketing strategy in place. If you know your audience, these email subject line tricks will help you achieve great open rates and conversion rates without trying too hard.
Analyze how big brands are tweaking their summer email subject lines according to events and don't forget to focus on the mobile formats. If you follow the advice in this article, you'll be on track for a blockbuster summer!