Spending all the time, money, and effort that it takes to create a website, and then watching it fail to convert is a horrible feeling. If you're in this situation, you're probably looking for solutions to unlock the full potential of your site.
In this article, we'll explore 10 effective strategies that can help you convert website visitors into loyal customers.
From optimizing your headlines to implementing website personalization, each of these tactics will shore up your sales funnel and boost your bottom line.
Let's dive in!
How does your conversion rate affect your business?
A website's conversion rate is a key metric of how well it's functioning.
Let's break down a few of the most important ways your conversion rate affects your business:
Revenue:

A higher conversion rate means that more potential customers are making purchases.

Customer acquisition cost: High conversion rates mean you're gaining results from your incoming leads more efficiently, so your customer acquisition cost will decrease.
Return on investment (ROI):

High conversion rates also mean that your marketing investments are more effective at generating leads and sales. This means you're achieving a higher ROI on your marketing spend.

Customer loyalty:

There's a strong link between high-converting websites and excellent user experience. The same goes for customer loyalty. Happy customers are far more likely to return to your site, make repeat purchases, and refer their friends and family to your business.
When you gain a better understanding of how important your conversion rate is to the health of both your marketing funnel and your business as a whole, you can start to prioritize optimizing your website for more conversions.
As we'll see in the next section, making the necessary adjustments isn't difficult, and it can have a beneficial effect on the entire customer journey.
10 effective strategies for website conversion rate optimization
Here are ten of the best strategies for optimizing your website conversions.
1. Personalize your message based on location
You can improve your international visitors' user experience and conversion rate by welcoming them with a personalized message.
Mentioning the name of a user's country can create a memorable experience and make them feel seen and valued.
Here is an example from Kiss My Keto. This is what a generic welcome popup looks like…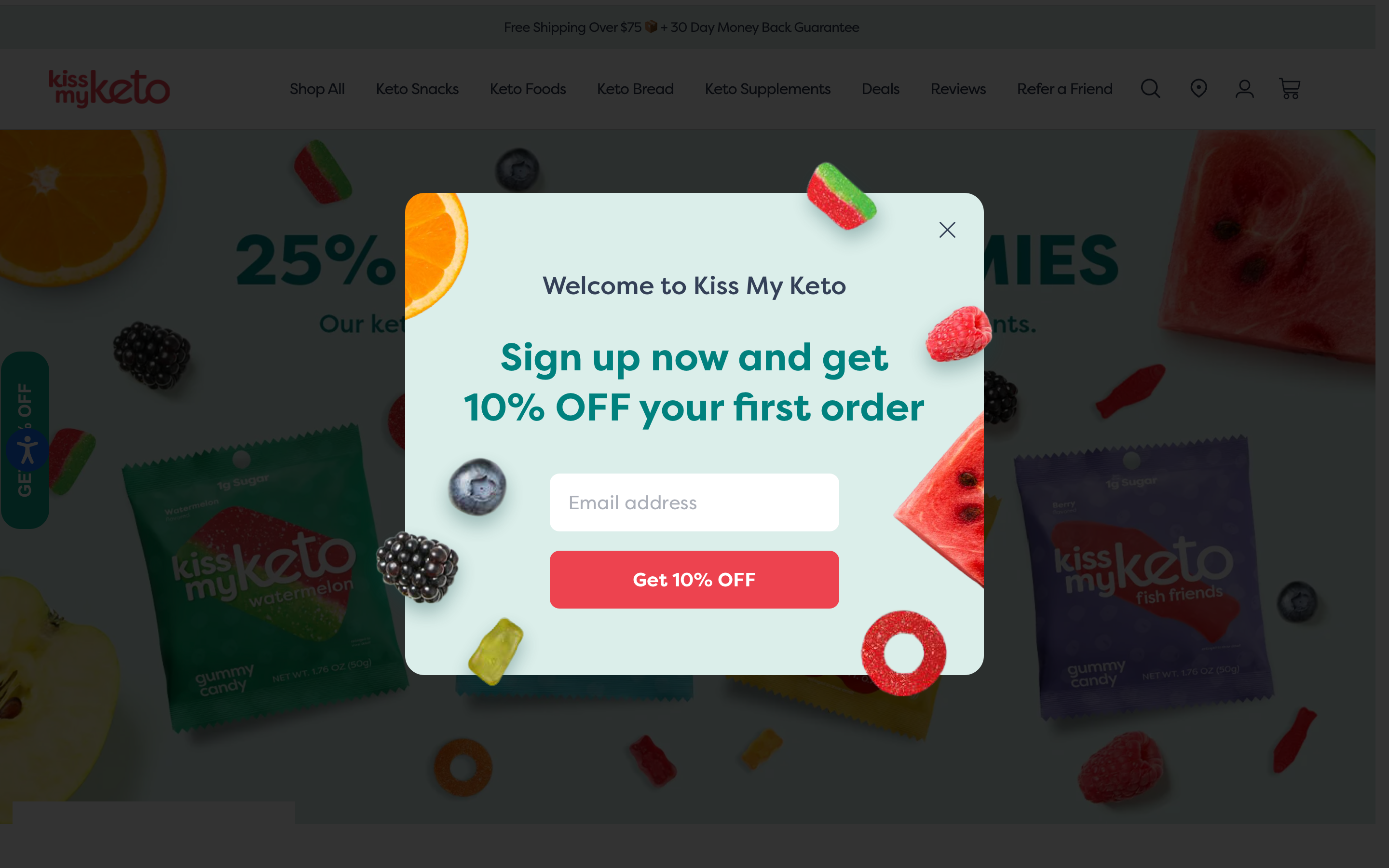 …and this is what a geo-specific popup looks like: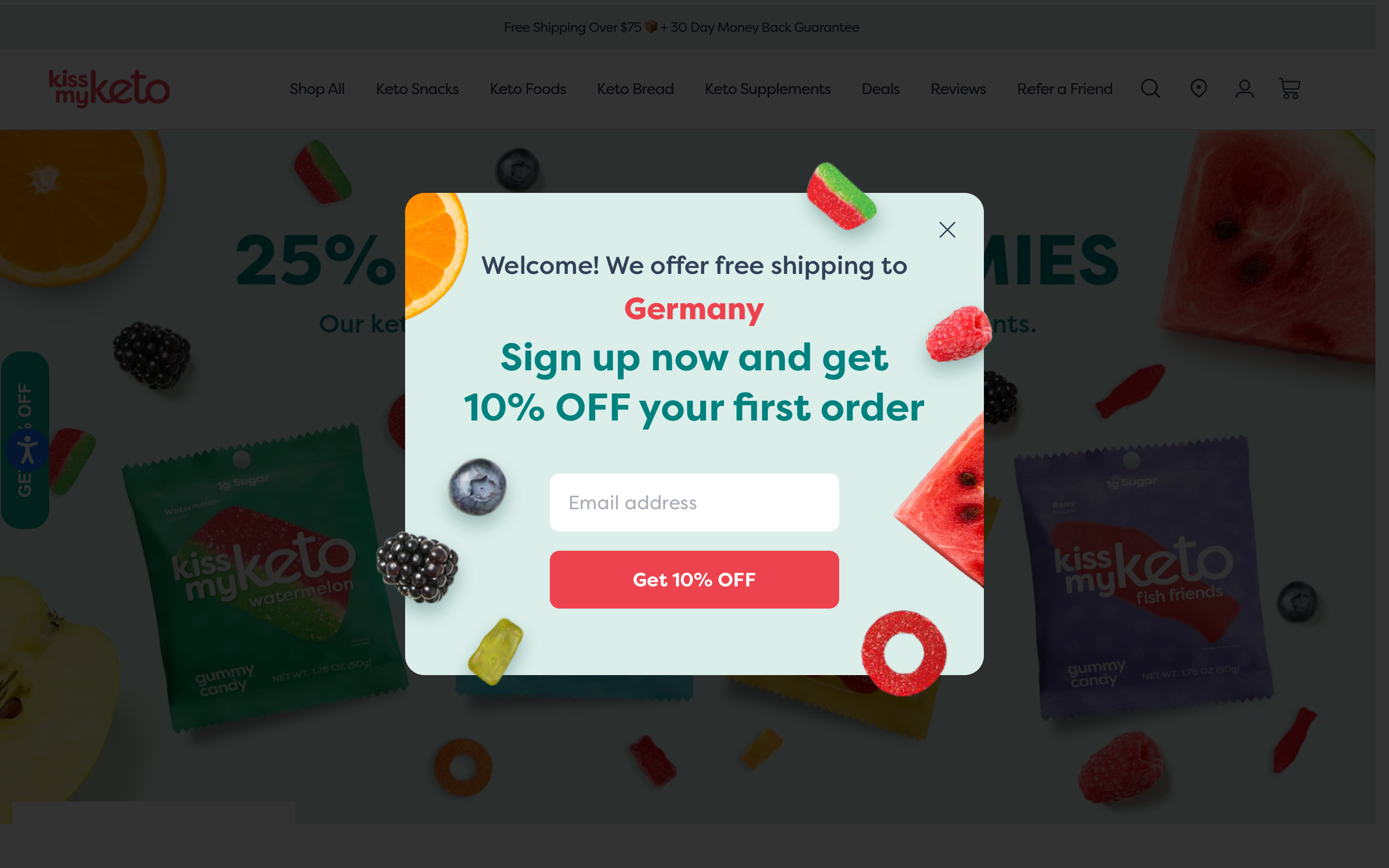 With OptiMonk's Smart Tags feature, personalizing your message for each visitor is easy and happens automatically. In fact, it's so easy to set up that you won't have to involve a developer!
2. Personalize your homepage for returning customers
Delivering a personalized experience to returning visitors encourages them to become repeat customers.
You should use all the data you have about them to boost conversions, including greeting them by name and presenting tailored recommendations. These welcoming gestures can foster a stronger connection to your brand and drive repeat purchases.
In the example below from MindfulSouls, you can see this strategy at play.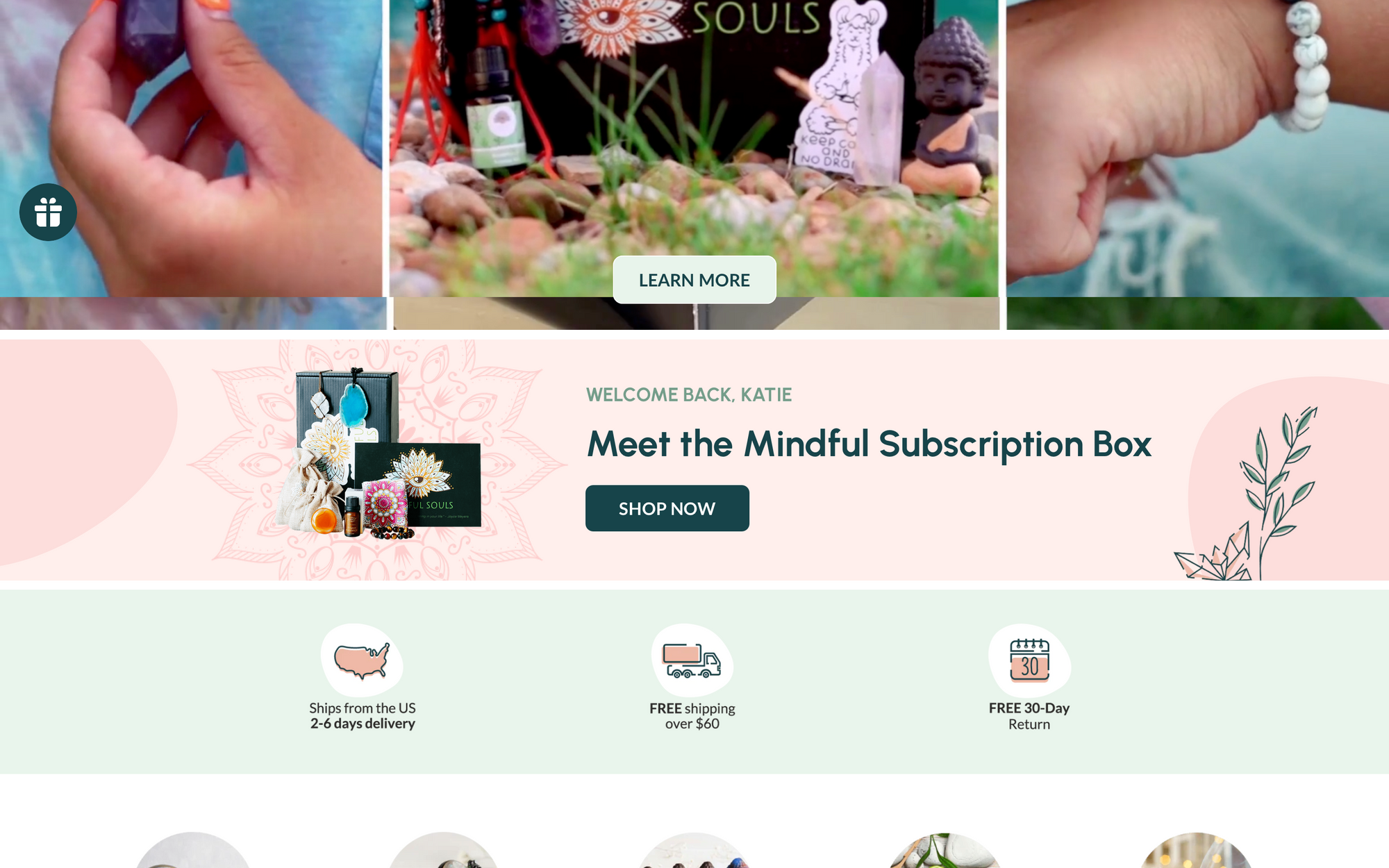 3. Help returning visitors continue where they left off
Another attention-grabbing way to enhance the user experience for returning users is by showing them the products they were previously viewing as personalized recommendations.
By allowing them to easily pick up where they left off, you'll be making the customer journey more seamless and efficient. And that means implementing this strategy can significantly improve the chances of a successful conversion.
Vegetology uses a sidemessage to show their customers the products they viewed on their last visit.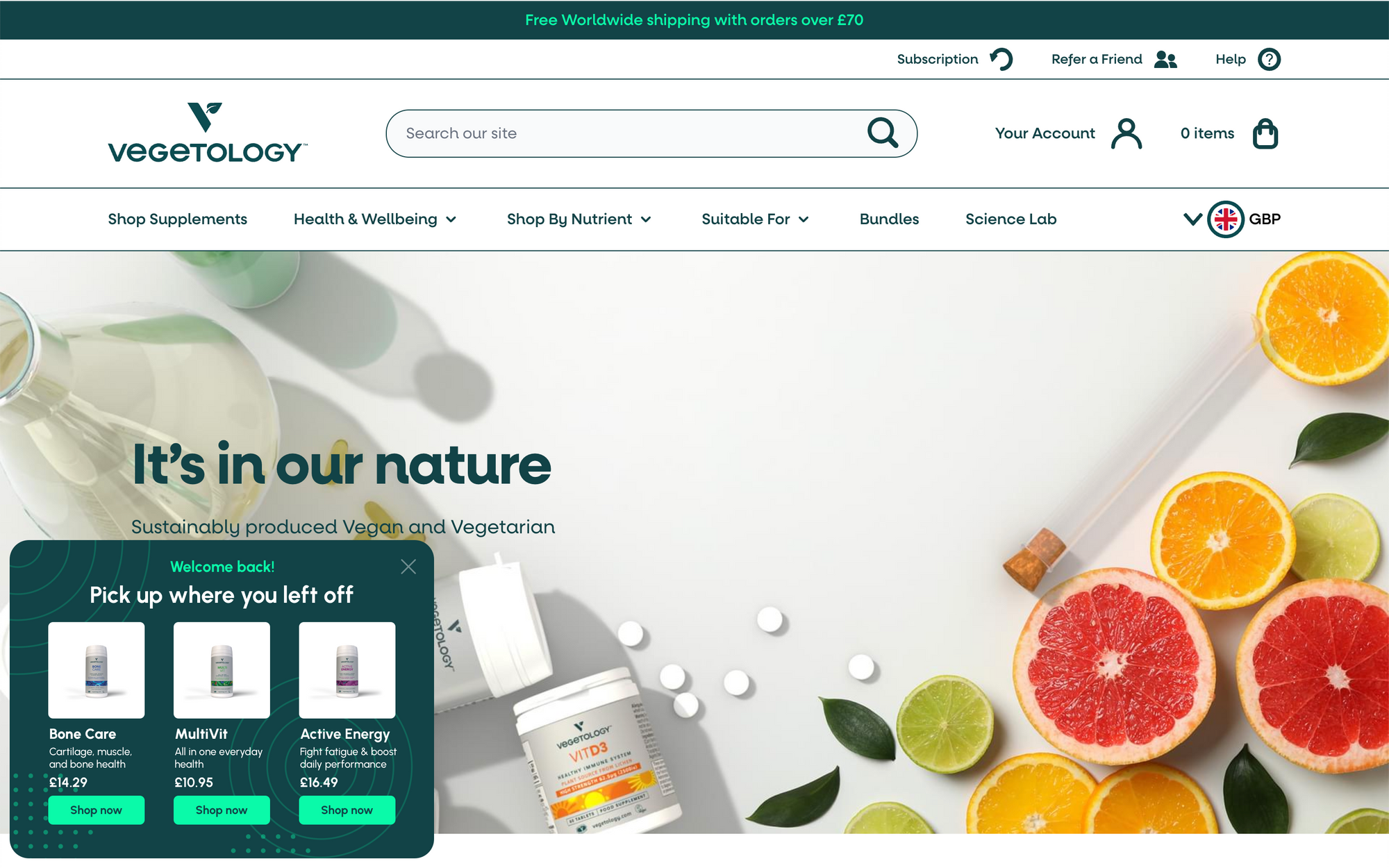 Try these templates to welcome returning visitors back to your store:
4. A/B test landing page headlines
A/B testing is a crucial step of any digital marketing strategy. When it comes to improving the conversion rate of your landing pages, you should test out multiple versions of your value proposition to find the right one.
Having a clearly-defined unique selling proposition that resonates with your target audience is a crucial part of the conversion process. By A/B testing different value propositions, you can identify the most effective headlines and make data-backed decisions.
Here's Blendjet testing out two different versions of their value proposition on their landing page.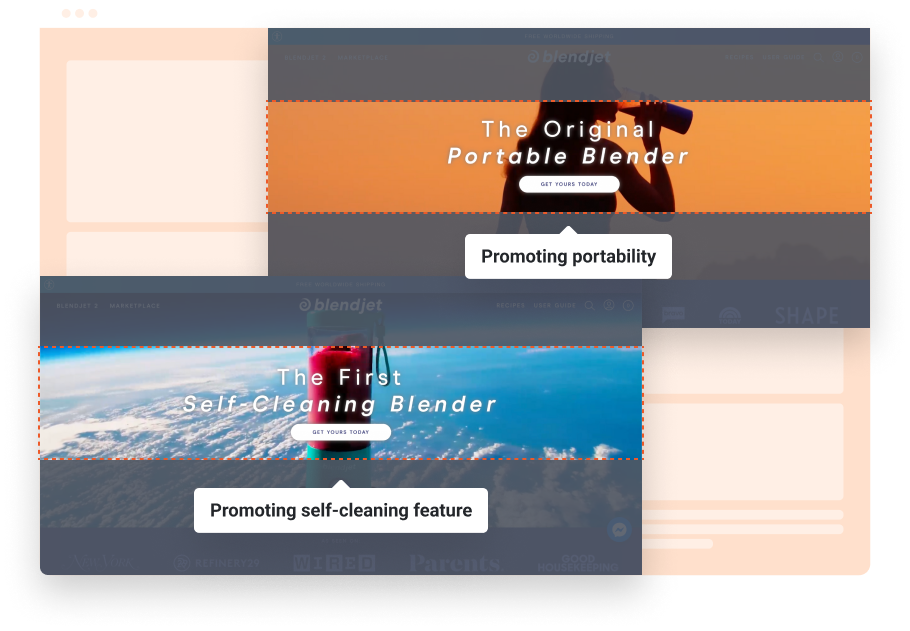 5. Create a sense of urgency
One popular marketing strategy for boosting conversion rates is using limited-time discounts.
Offering deals that are only available for a certain period creates a sense of urgency that encourages your users to buy now rather than later.
Adding a countdown timer to your campaigns is a highly-effective way of increasing urgency and generating more conversions.
Here's a great example of this optimization strategy using OptiMonk's embedded content: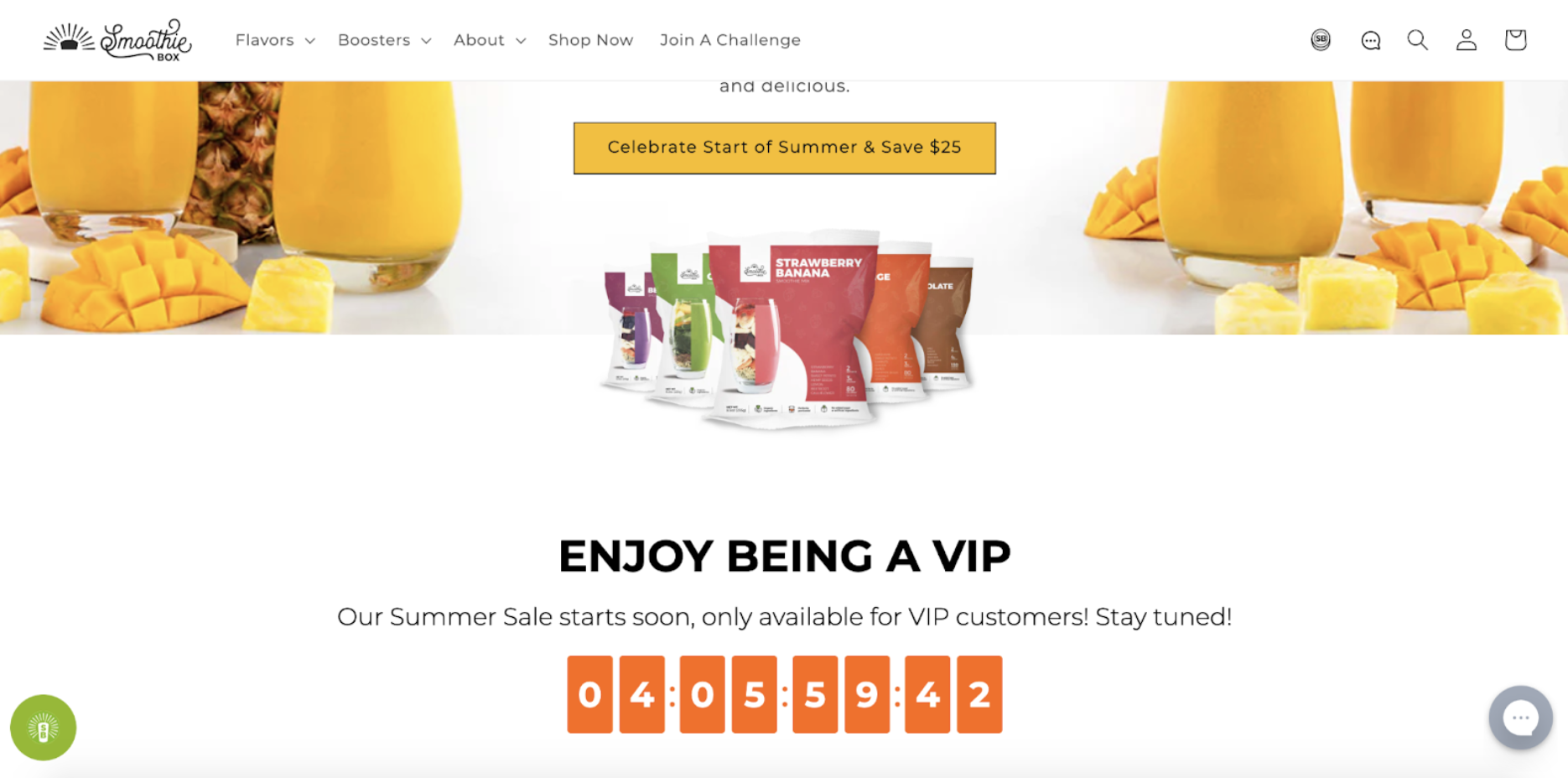 Want to increase urgency? You can get started with one of these templates:
6. Use social proof
In ecommerce, it's especially important for your new customers to see social proof because they probably haven't seen your products in real life. When real customers attest to the quality and durability of your products, it addresses many natural concerns that people have before making a first purchase.
You can increase conversions by showing customer testimonials, case studies, trust badges, or product reviews. Using positive comments from your social media pages is also a good idea.
In the example below from American Eagle Outfitters, you can see a customer review on a product page:
Here's a great example of this optimization strategy: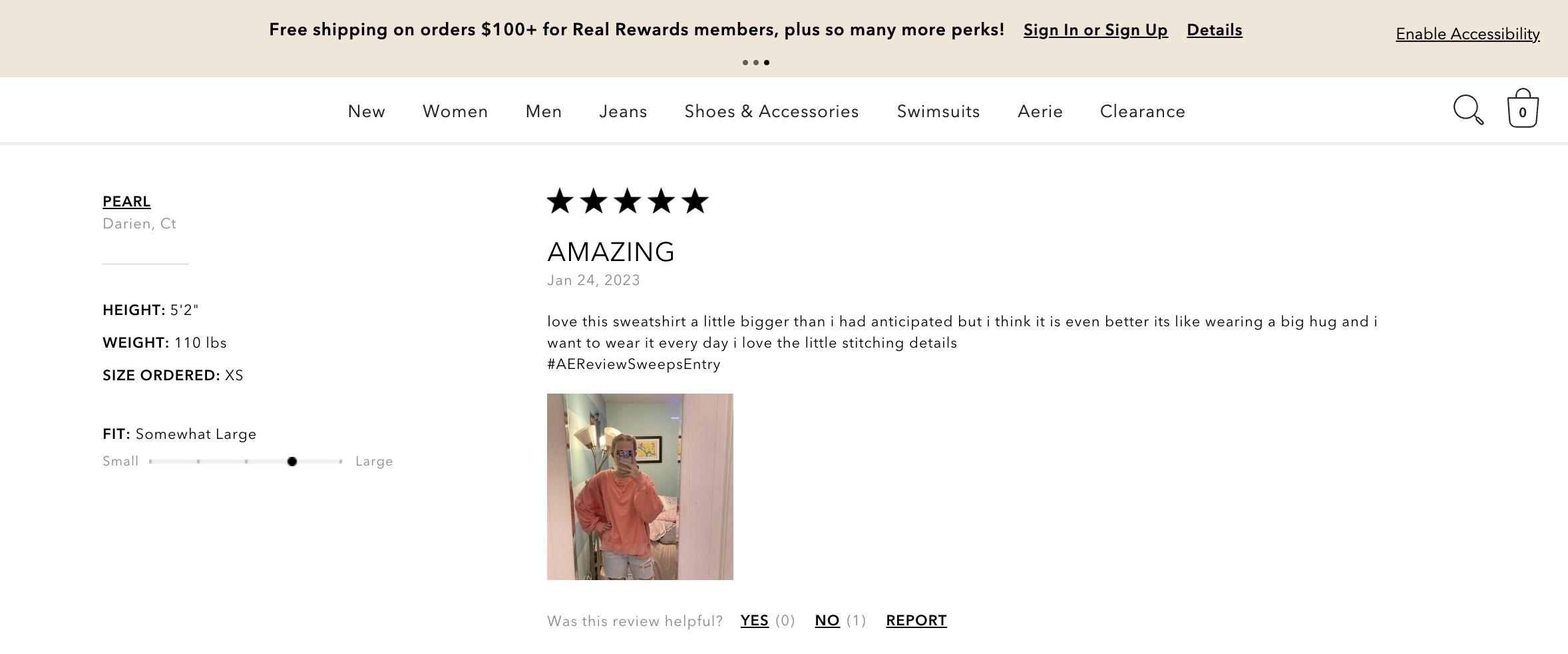 7. Improve your website with customer feedback
Asking for feedback from your users is a great way to understand where you need to make improvements to your site.
And when you make it convenient for them to share their thoughts or entice them with an incentive, like credit card rewards, they're more likely to help you out!
8. Speed up your page
Not only does improving your page speed lead to a better user experience and more conversions, but it also helps you rise in the ranks of search engines. Google and other search platforms analyze load speeds of the pages they index and prioritize pages that load quickly.
Use PageSpeed Insights by Google to check your own page speed.
9. Make your website mobile friendly
Today, mobile devices are so important to people's everyday routines that not optimizing your marketing strategy for mobile users is a serious error.
Make sure that your ecommerce site is mobile friendly by ensuring that it's easy to browse, and that the images and content are optimized.
10. Improve navigation
One reason for low conversion rates is that customers aren't sure how to navigate your site. If people are confused about what the next step they should take is, they may get frustrated and simply. Make sure your site is simple, clean, and easy to navigate.
5 best conversion marketing tools to grow your business
Now that you have some effective tactics, let's look at the tools you can use to implement them! Start by checking out the 5 tools below, which can help you convert more leads into paying customers.
1. OptiMonk: the best website personalization tool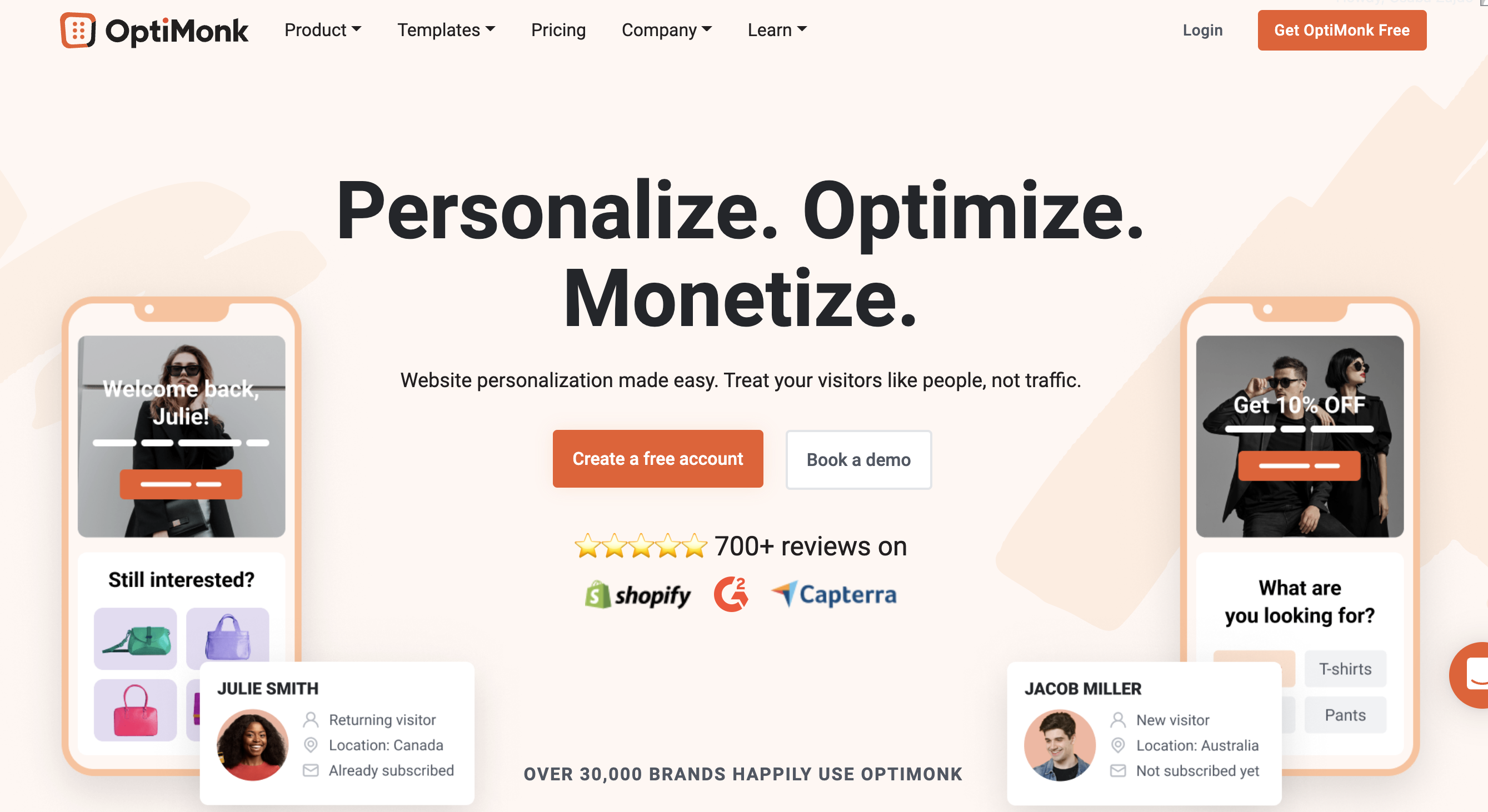 OptiMonk is a comprehensive personalization tool that offers a wide range of features to enhance your visitors' user experience and increase conversion rates.
It enables ecommerce sites to adapt every page of their website to each individual user. By segmenting users into groups that share common interests and preferences, you can send personalized messages and ensure that everyone sees relevant content.
Key feature #1: Dynamic content
OptiMonk offers a campaign type called Dynamic Content that enables direct editing of website content— no developer involvement necessary!
With dynamic content, you can deliver customized messages to diverse audiences on a single page, rather than creating multiple landing pages for various offers. You can actually tailor the headlines (and any other text element) on your landing page to match individual users' interests, location, and/or behavior. And best of all, the content will adjust dynamically depending on who's viewing it.
Watch this video to learn more about Dynamic Content:

Key feature #2: Experiments
Tracking the performance of your campaigns is an essential part of website optimization.
OptiMonk's Experiments feature allows you to conduct advanced testing. By going beyond basic A/B testing, this feature gives you the flexibility to experiment with multiple variations of your campaigns.
Key feature #3: Smart Tags
Smart Tags allow you to deliver a sophisticated level of personalization to all your incoming leads. You can use specific Visitor Properties, like geolocation and whether it's their first visit, to personalize the browsing experience.
Smart Tags allow you to modify the text in popups and embedded content according to real-time data about your customers, which gives the impression that you're speaking to them on a one-to-one level.
Additional benefits:
The drag-and-drop editor simplifies the process of designing campaigns.

You can place embedded content with an intuitive point-and-click tool.

Use audience insights to determine the best segments to target with personalized messages.

Advanced campaign analytics reveal crucial revenue attribution information about your campaigns.

Take advantage of a variety of overlays, such as popups, side messages, sticky bars, and full screens, to display content.
Create a free OptiMonk account now!
2. Optimizely: the best A/B testing tool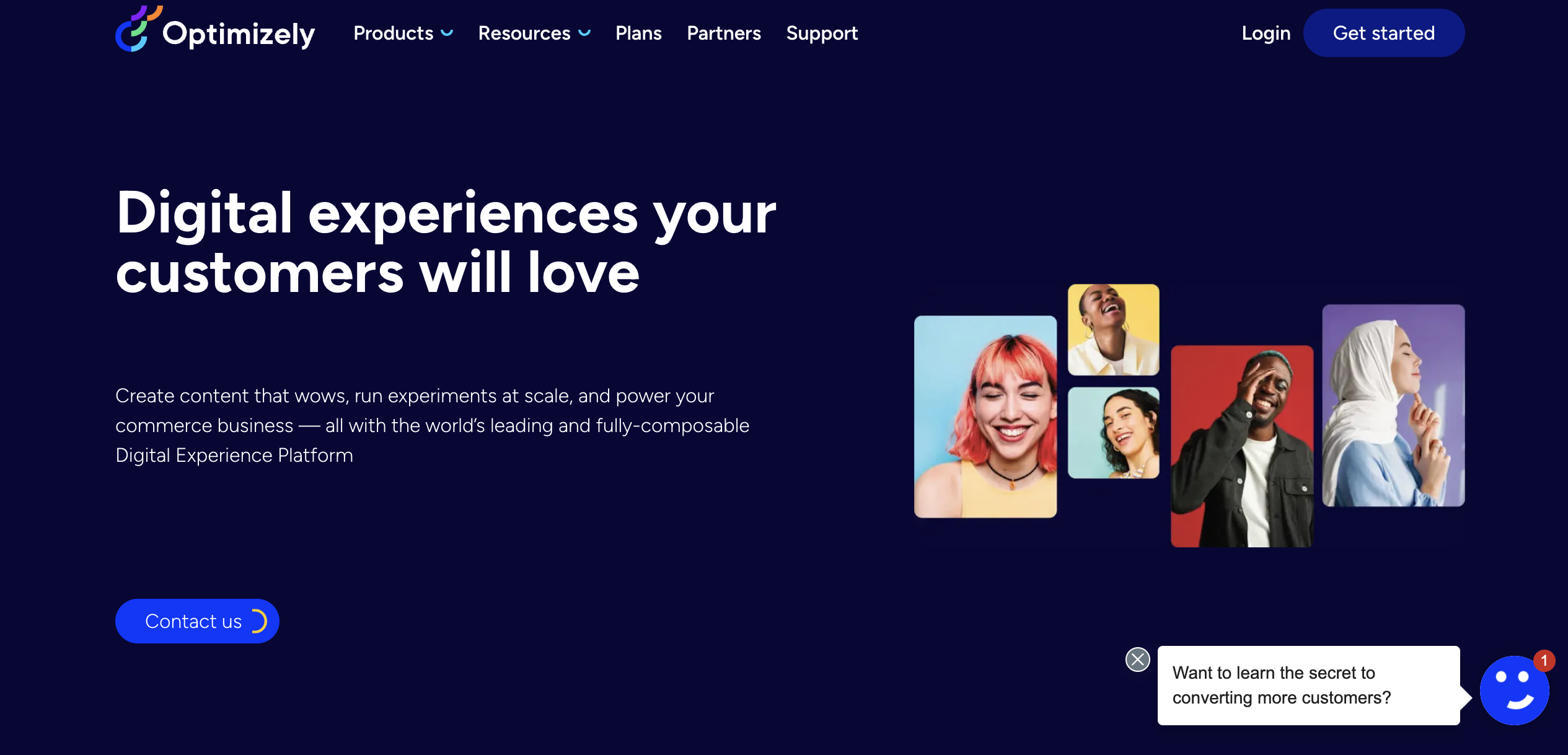 As an A/B testing tool, Optimizely provides businesses with the means to optimize their websites and achieve maximum performance.
Optimizely's user-friendly interface and robust features allow you to design, launch, and analyze campaigns with very little effort. Then, once the data comes in, you can use their powerful analytics and optimization capabilities to optimize your conversion funnel.
3. Hotjar: the best heatmap & session recording tool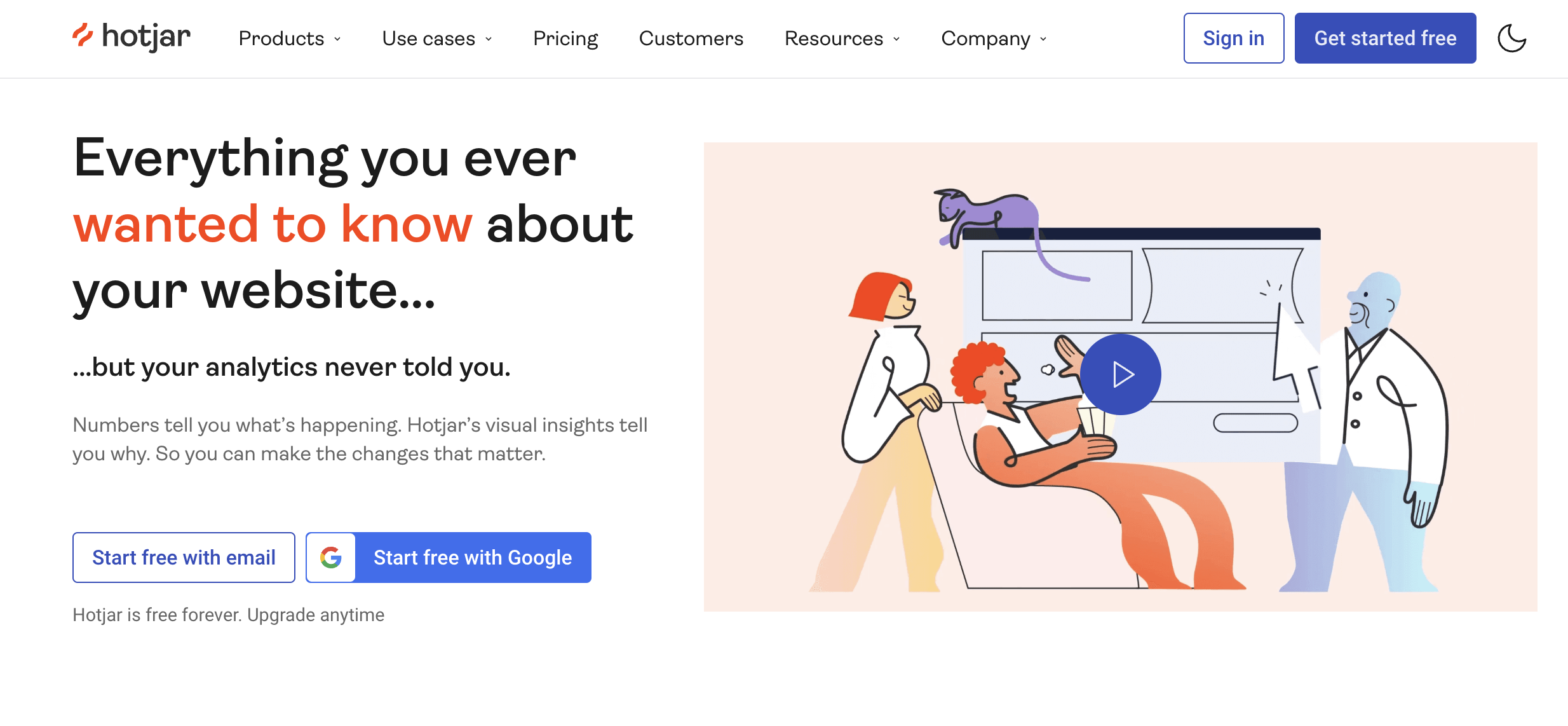 Hotjar is a tool that creates heatmaps and session recordings for ecommerce businesses, allowing them to gain valuable insights into site performance and user behavior.
With Hotjar, a business can track all the aspects of user interaction with their site: every click, scroll, and action.
4. HubSpot: the best marketing automation tool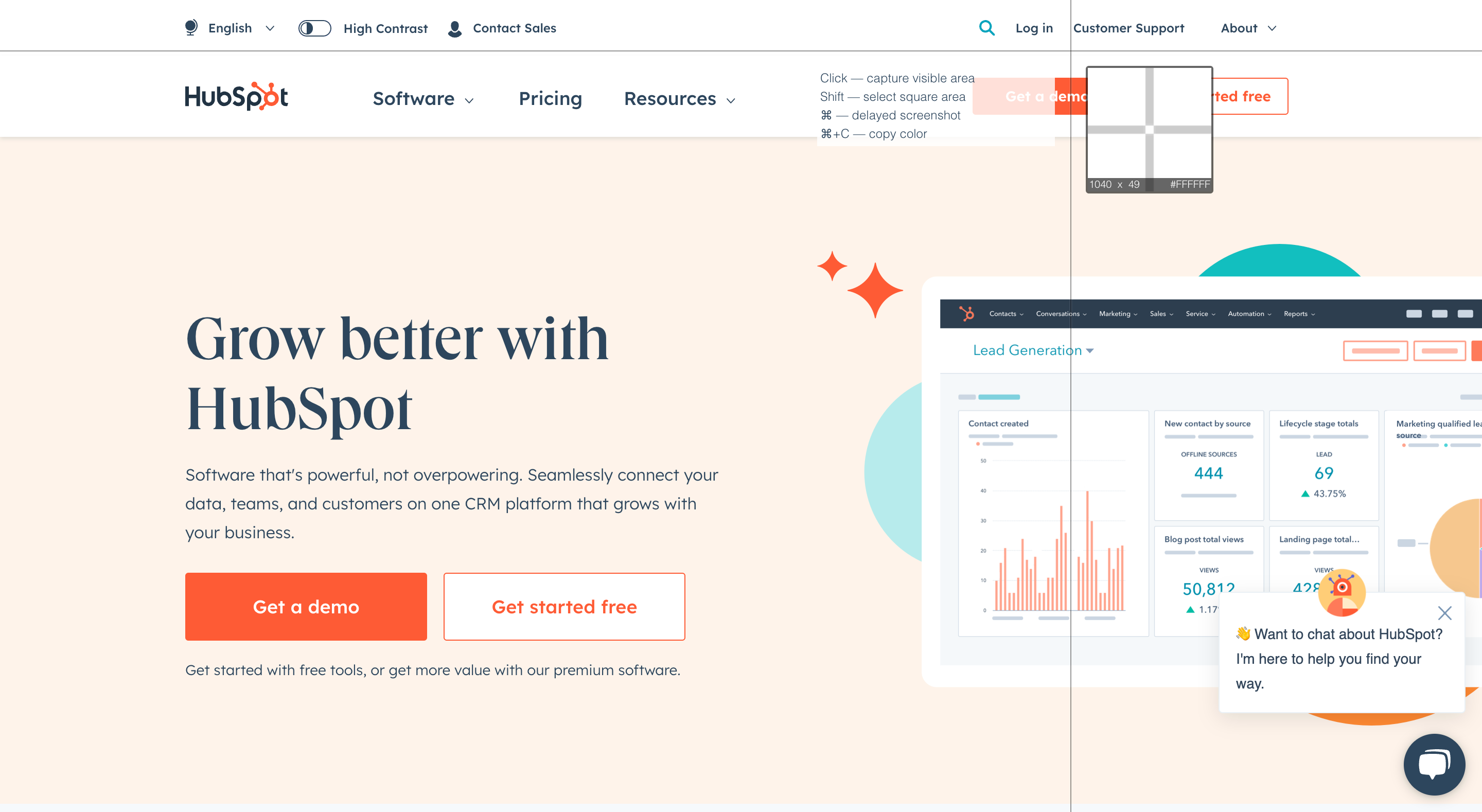 Hubspot is a powerful tool that allows you to automate almost every aspect of your digital marketing, from website personalization to email marketing. It can also take a lot of the pressure off both your sales team and customer service team.
HubSpot has dedicated tools that can help you convert leads and close customers, including tools for website building and optimization, lead capture, lead nurturing, and analytics.
5. Unbounce: the best landing page builder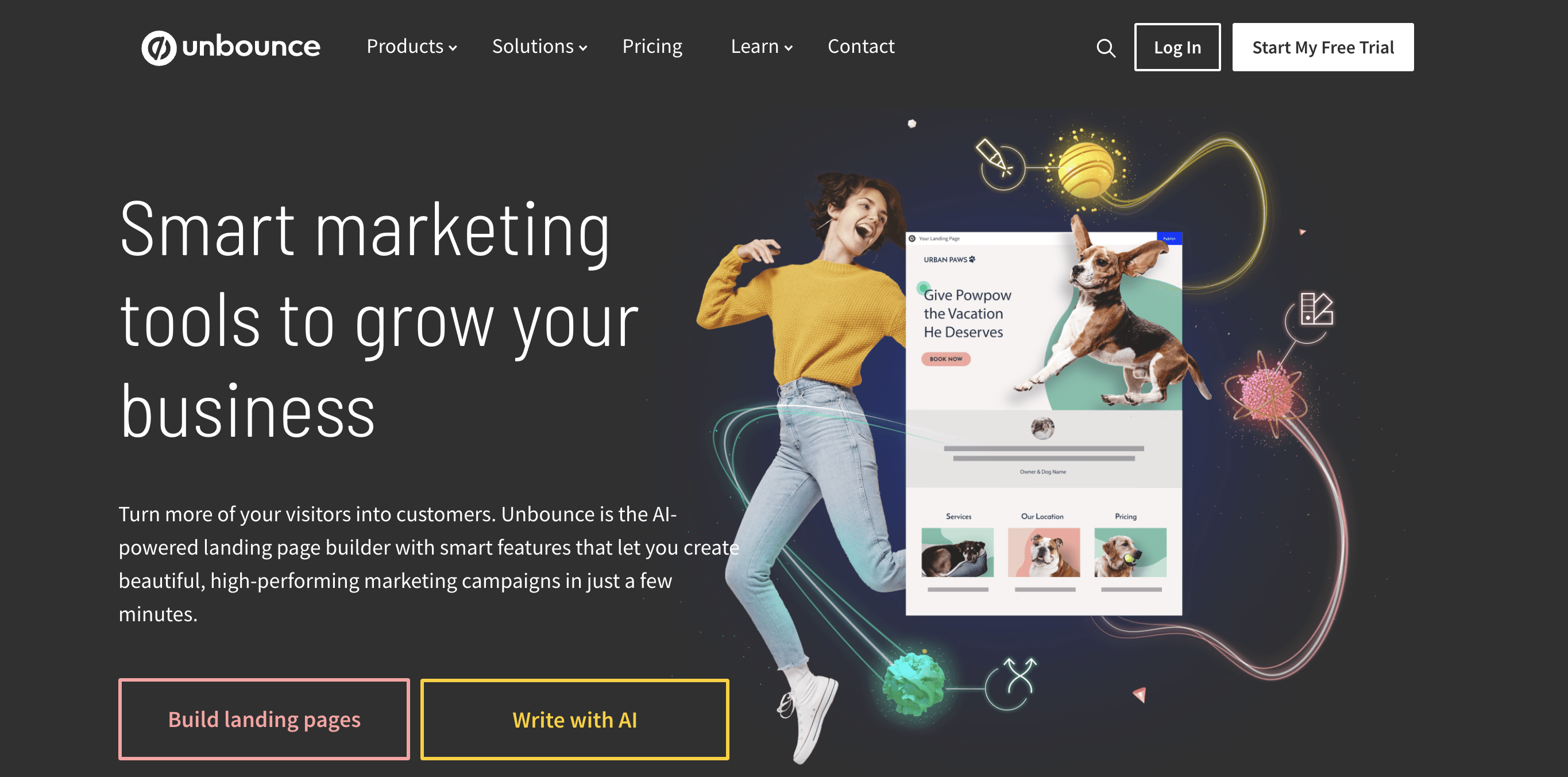 Unbounce is a popular landing page creation tool that's well known for its ease of use. Conversion marketing is easy when you can make effective landing pages without ever needing to write a line of code!
Unbounce has an intuitive drag-and-drop interface, as well as features that can help you optimize your landing pages and generate more leads and sales.
How to build a website conversion marketing strategy in 7 steps
Now, let's break down the process of building a conversion marketing strategy for your website.
Step #1: Define your target audience
The first step is to understand who your potential customers are and develop an ideal customer profile. You'll want to figure out what motivates your ideal customer, as well as what their pain points are and the best way(s) to communicate with them.
For instance, if your target audience is men and women over 65, you won't want to use internet slang in your messaging. If you're serving a younger generation, on the other hand, you probably will.
Step #2: Set your conversion goals
Another essential part of your conversion marketing strategy is knowing what goals you're going to pursue. Sure, you could simply say you want to make more sales, but there are several other goals you could have, like increasing your average order value, increasing the number of website visitors, or improving customer loyalty. Often, one of these goals will be equally important for an ecommerce site.
Step #3: Optimize your website for conversions
After you set your goals, you'll want to take steps to improve conversions at relevant junctures of your sales journey. You should go over the tips above and apply those that make a difference to your goal. For example, you can use time-limited discounts to boost your lead generation efforts.
Step #4: Focus on your data
Once you start implementing your conversion marketing solutions, you should start using analytics tools like Google Analytics and OptiMonk's analytics system to evaluate your results.
These tools can reveal where your audience is coming from and how well they're converting, which brings us to the next step…
Step #5: Choose the right channel
Your data will have clearly shown you which digital marketing channels your target audience is coming from. You should focus on the channels that are sending you traffic that converts very well. For instance, if customers coming from your social media platforms have a much higher average order value than other channels, you should send them targeted messages when they land on your website.
Step #6: Create quality content
As an ecommerce business, you should always be developing content that engages, educates, and builds trust within your target audience. Great content like an ebook, a guide, or video series will eventually lead to conversions.
Step #7: Continue testing and iterating
Similarly, you should continuously test and iterate your conversion marketing strategies. Although you might be happy with one of your conversion marketing solutions, there's always a chance that you could improve it even more.
Conversion rate optimization is all about using analytics and conversion tracking tools to monitor the success of your campaigns and make data-driven improvements.
What is an example of a website conversion strategy?
A website conversion strategy is a plan that an ecommerce business uses to increase the percentage of users that complete a desired action.
Since there are many different types of conversions in digital marketing, the specific tactics you use in your strategy will differ based on your goals. If you're trying to boost your email marketing list, your strategy might include offering a free ebook in exchange for email signups. On the other hand, your conversion strategy for increasing sales might be offering time-limited discounts.
What is a good website conversion rate?
There's no single threshold for a "good" website conversion rate. This is because expectations for how many conversions you should be generating will depend on several factors, including:
the size of business

the industry

the target audience

the desired action
Generally speaking, a conversion rate between 2 and 3% is average, while rates above 5% are outstanding.
Hopefully, you've found some ideas in this article to add to your conversion optimization strategy! By implementing the tactics we've covered and using the tools recommended above, your marketing team will be able to take your conversion marketing strategy to the next level.
Personalizing your website is one of the most impactful conversion-boosting steps you can take. Sign up for a free OptiMonk account today to start growing your sales and conversions!