We're sure you've already heard about the EU's regulation, the General Data Protection Regulation (GDPR). But do your popups comply with GDPR?
What is the GDPR and how does it impact popups?
GDPR is a regulation that was introduced in 2018. It's aimed at enhancing data protection and privacy for all individuals within the European Union. It applies not only to the European Union but to any business that controls the data of EU citizens.
One of the main points of GDPR is that it has specific rules about enabling your contacts to specify exactly what they want to receive from you. You can assume that people want to be contacted, but they need to confirm that this is the case. Also, in the context of pop-ups and US data protection laws, businesses operating in the United States must consider regulations such as the Children's Online Privacy Protection Act (COPPA) and state-level data breach notification laws.
You need to include a checkbox under some of your forms that they can tick if they want to opt-in to newsletters or other further correspondence. The only exception is when the primary purpose of your form is to subscribe to newsletter. In this case, you don't need a checkbox.
But if you promote an eBook, it's not enough to include a link to your Privacy & Policy page and then subscribe to your newsletter. A pre-ticked box is also no longer acceptable. Subscriptions need to be confirmed by clear affirmative action, like ticking the checkbox.
How OptiMonk complies with GDPR?
As a popup user, we know you need detailed information on how popup solutions are working towards GDPR compliance. We're happy to let you know that OptiMonk is the first on-site messaging tool to be GDPR-compliant.
Thanks to the Drag & Drop editor, you can easily add as many checkboxes to your popup as you wish.
If you'd like to add a checkbox for your Privacy Policy, and another one for your newsletter subscription, you can create both checkboxes easily.
First, you should drag and drop a "checkbox" element to your popup: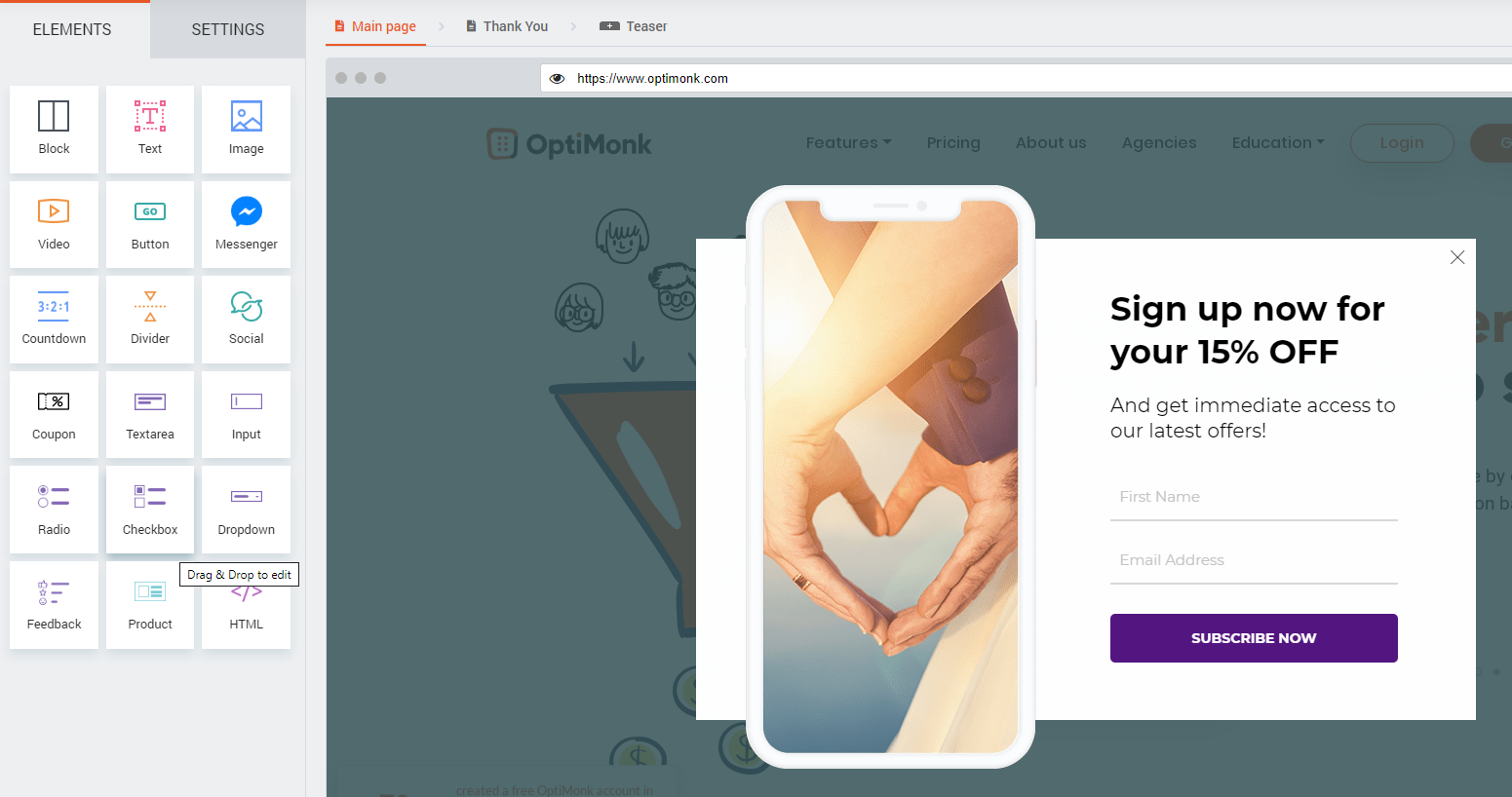 It will look like this by default: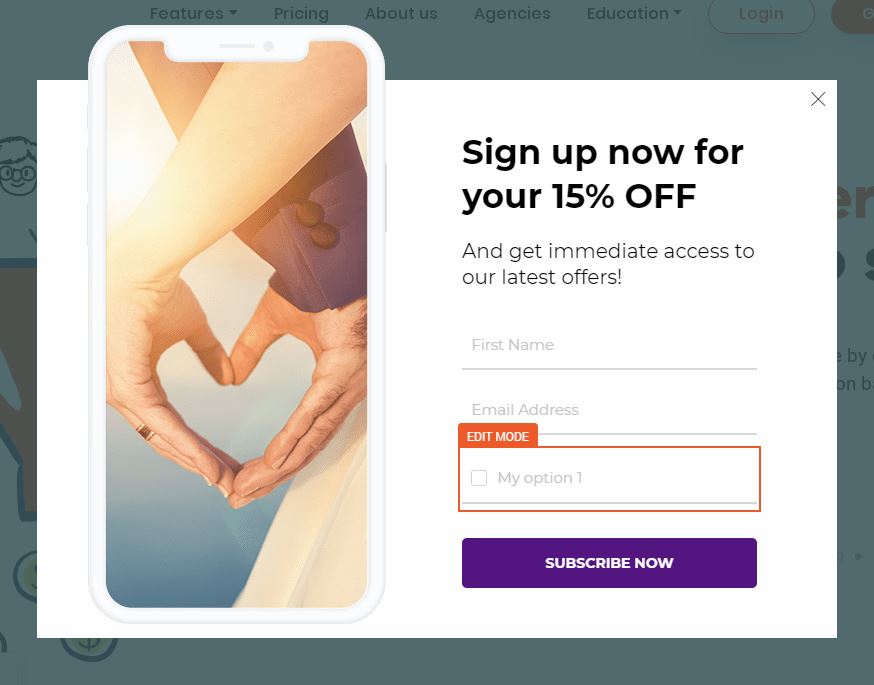 When it's done, edit your checkbox on the left side. Turn on the "Required" field, name the option and you can make it as a link as well. When someone wants to read the Privacy Policy, they can just simply click on the text and they will be able to jump to that page.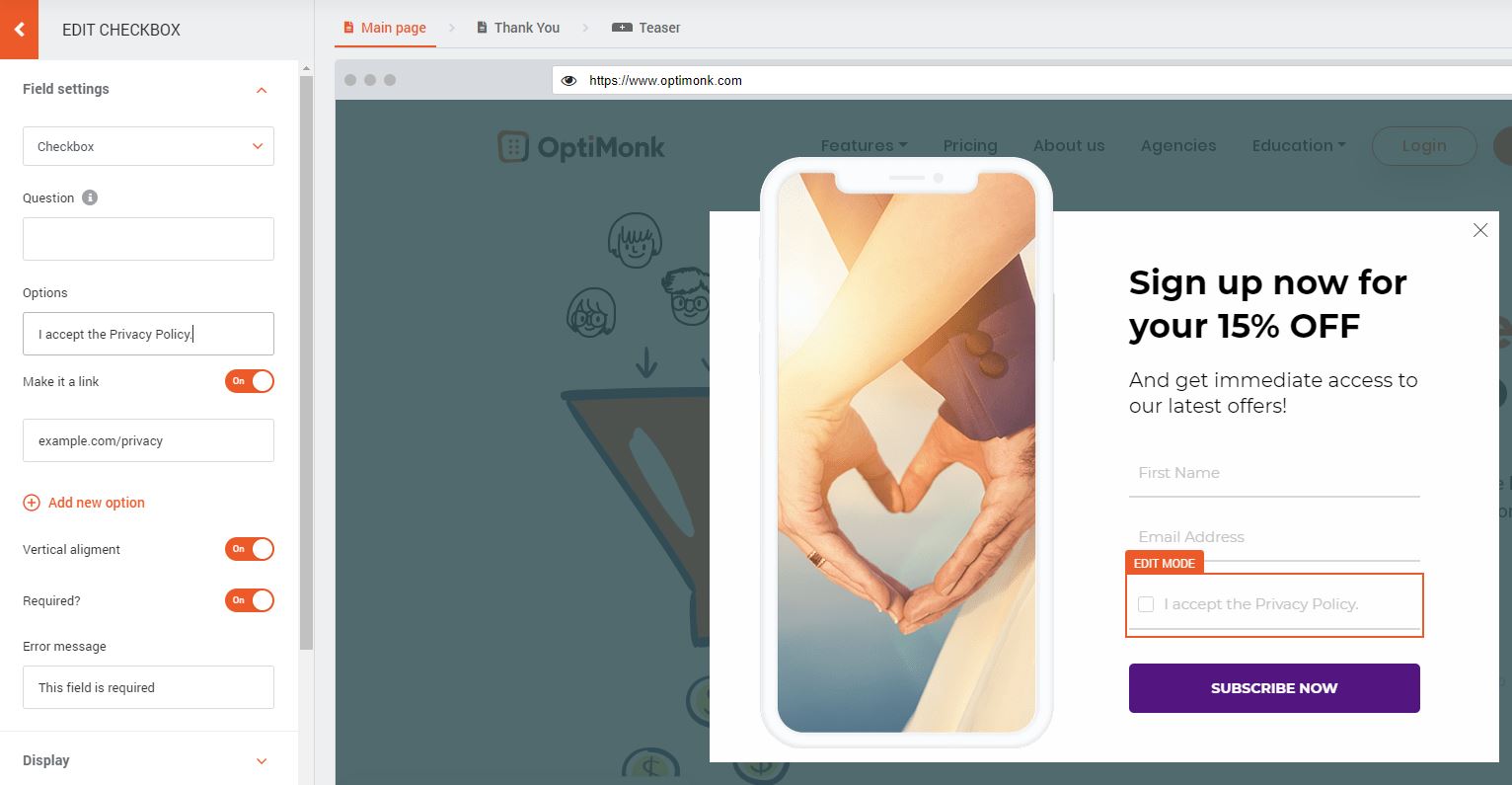 With this feature, you can use OptiMonk's popups without any stress or fear. It's 100% GDPR compliant.
GDPR is a big change, but don't forget the aim of it is to enhance data protection and privacy for all individuals within the European Union – which is something we all need to care about.
OptiMonk was the first popup tool vendor to realize the importance of being GDPR compliant. Just don't forget to drag and drop the checkbox on your popups!