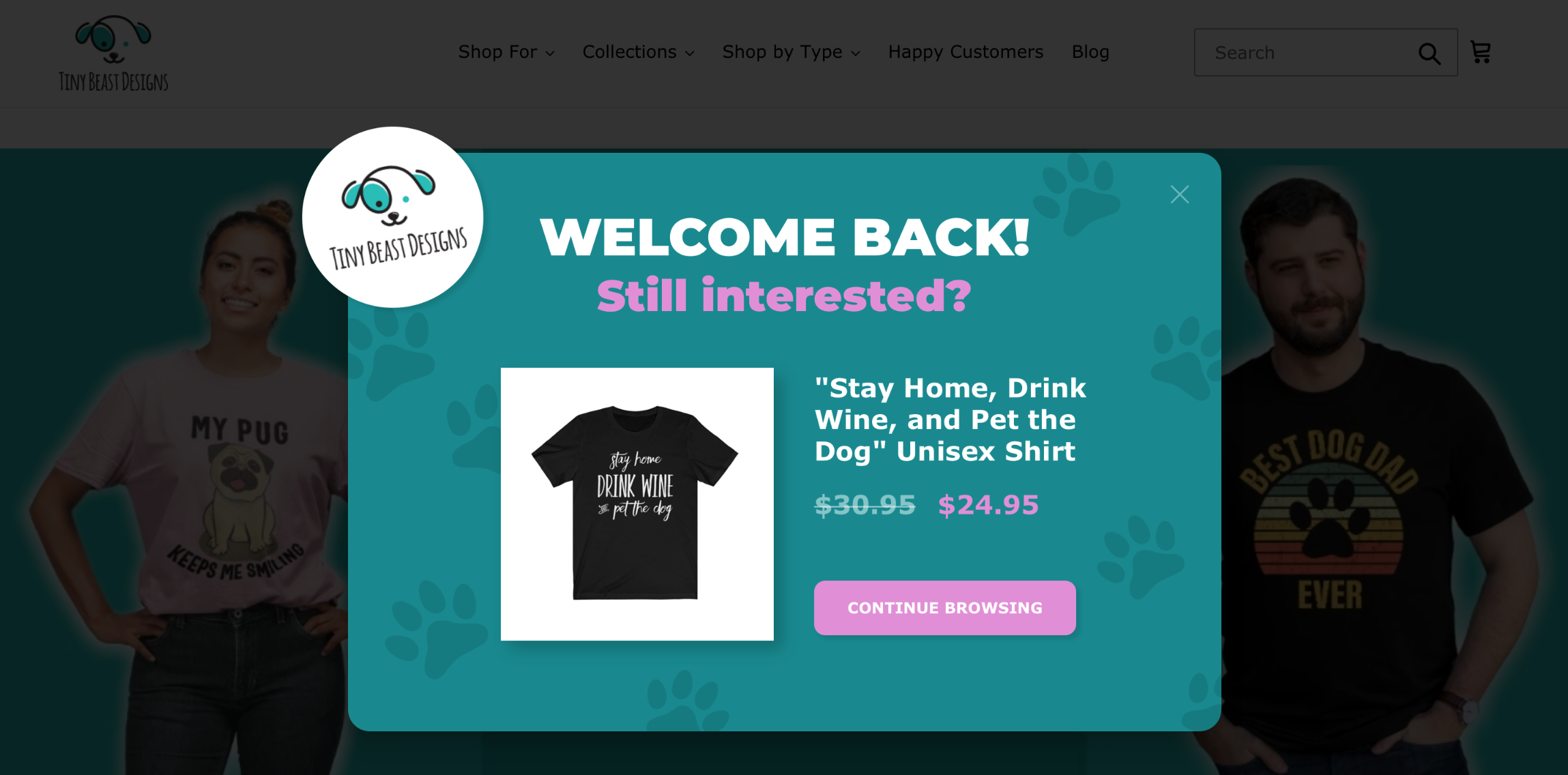 We took personalization to a whole new level for Shopify users. Meet our two new recommendation logics: Most Popular and Recently Viewed Products. OptiMonk tracks your visitors' behavior on your website and recommends products based on it.
Renewed Editor Navigation
We listened to your feedback and made our editor much easier to use. From now on you can find the settings of each elements in three main sections: General, Style and Advanced, so you only need to worry about the relevant options. We also made the most popular features easier to access. There is also a new "Layout" tab, where you can find, edit or add new elements faster.
Survey Element
We got feedbacks, that the "Radio button" feature was confusing, because it was packed with too many options. That's why we simplified it by separating it to more options. From now on, you'll find a "Survey" button under the elements. We also removed the "Question" functionality, and now we show Feedback, Radio, Checkbox and of course Survey. Now it's your turn, go ahead, ask anything from your visitors!

💡Pro tip: Ask your visitors' preferences in with the Survey element; for instance what kind of products are they interested in. Redirect them to relevant landing pages based on their answers.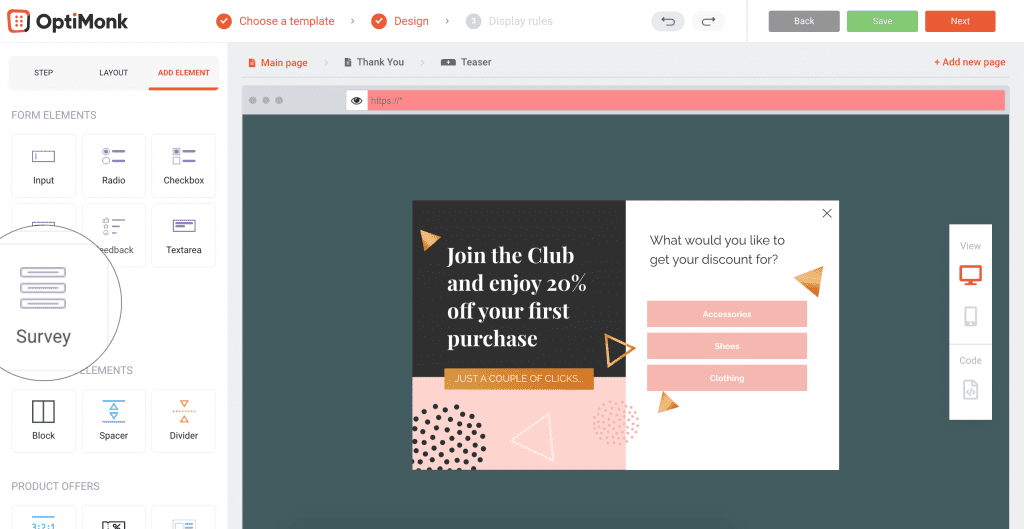 Drag

& Change Campaign Width


We introduced a super easy way to change the width of a campaign or column. Just click on the edge and drag where you prefer it to be. You can enjoy this also in our mobile preview.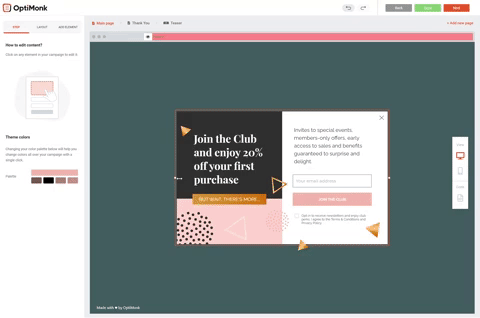 Optimized Background Image Handling
We made the background image handling easier: it's easier to see when an image mode is selected and also clearer when an image can be changed.
Image Sync on Mobile


Did you know you can add different background image for the desktop and mobile versions of a campaign? It's possible you did not, that's why we made image handling more intuitive. Now it's easier to see when you have a different image for the mobile version of a campaign.
Saving in the Editor
Nobody likes to be interrupted, especially during an OptiMonk campaign creation. It just happens. That's why we made it a bit less painful. Whenever you're about to leave an edited campaign, you have the option to "Save", "Discard" or "Cancel".
Coupon Locking


Previously it was possible, that a coupon was given to a visitor, and after a long stay on the webshop, he or she couldn't use it anymore. We changed coupon management in a way, that from now on the visitors loose the coupon only when they leave the site.
Renewed Mailjet Integration


From now on, our MailJet integration supports custom field binding.

Wow, you are really interested in details. Here is even more!

😉

We fixed the following bugs:


Product component button background bug
Payment error of undefined bug
Mailjet tag listing bug
Coupon auto-redeem bug
Teaser background bug
Upgrade modal bug
Scratch card component preview bug
Dynamic Text Replacement bug
Color picker bug
Button redirect URL validation bug
Email validation bug
Mandatory VAT number bug
Checkbox label scope bug
We hope you like our updates!