Online businesses thrive or fade away based on their search engine rankings. That's why SEO marketers are all about finding an edge when optimizing content. 
Recently, there's been a lot of hype surrounding the potential of artificial intelligence (AI) to revolutionize countless industries, and content marketing is no exception. AI can help generate blog ideas, research niche topics, build internal links, and identify high-ranking keywords… all of which can improve your SEO efforts and boost organic traffic.
In this article, we'll introduce AI's role in SEO strategies, show you how to use AI SEO to enhance your ecommerce business, and explore helpful AI-powered SEO software. 
Let's get right into it!
Artificial Intelligence (AI) refers to a group of technologies that use computers to simulate human intelligence on particular tasks.
Some of these technologies include machine learning, natural language processing, computer vision, and robotics. 
AI can be used for tasks like content optimization, voice search optimization, driver assistance, and many others. Understanding how to use AI effectively depends on the particular application and context at hand.
Artificial intelligence technologies get their power from analyzing vast amounts of data, which allows them to recognize patterns and predict what humans would do, write, or say in a particular situation. This allows AI technology to automate repetitive processes in a way that's sensitive to changing circumstances.
AI SEO is exactly what it sounds like: the integration of artificial intelligence technologies and techniques into the process of creating search engine-optimized content.
In the past few years, several AI SEO tools have been created to help businesses:
conduct keyword research, 

optimize website content, and

track SEO performance. 
Traditionally, running an SEO strategy has involved a lot of manual processes and human analysis, but now you can climb up search rankings and generate organic traffic using the assistance of automated artificial intelligence algorithms.
Since AI SEO tools can analyze vast amounts of data at a rapid pace, you'll stay ahead of the curve.
5 ways to use AI in search engine optimization to improve your ecommerce store
As we've seen, AI-based SEO tools can be used for keyword research, content optimization, link building, and many other tasks.
In this section, we'll go over how to use ChatGPT, a free AI-powered chatbot that answers user queries, to improve your SEO optimization outcomes.
1. Keyword research
Keyword research is often one of the most time-consuming parts of search engine optimization. It also takes a fair bit of creativity to figure out what the relevant keywords for your content will be.
AI tools like ChatGPT can expedite the process, enabling you to discover new keywords more efficiently than a traditional keyword research tool.
As you can see below, all you have to do is enter a prompt that contains the primary target keyword and ChatGPT will generate a list of long-tail keywords for you, including valuable low competition keywords that can enhance your ad campaign strategy.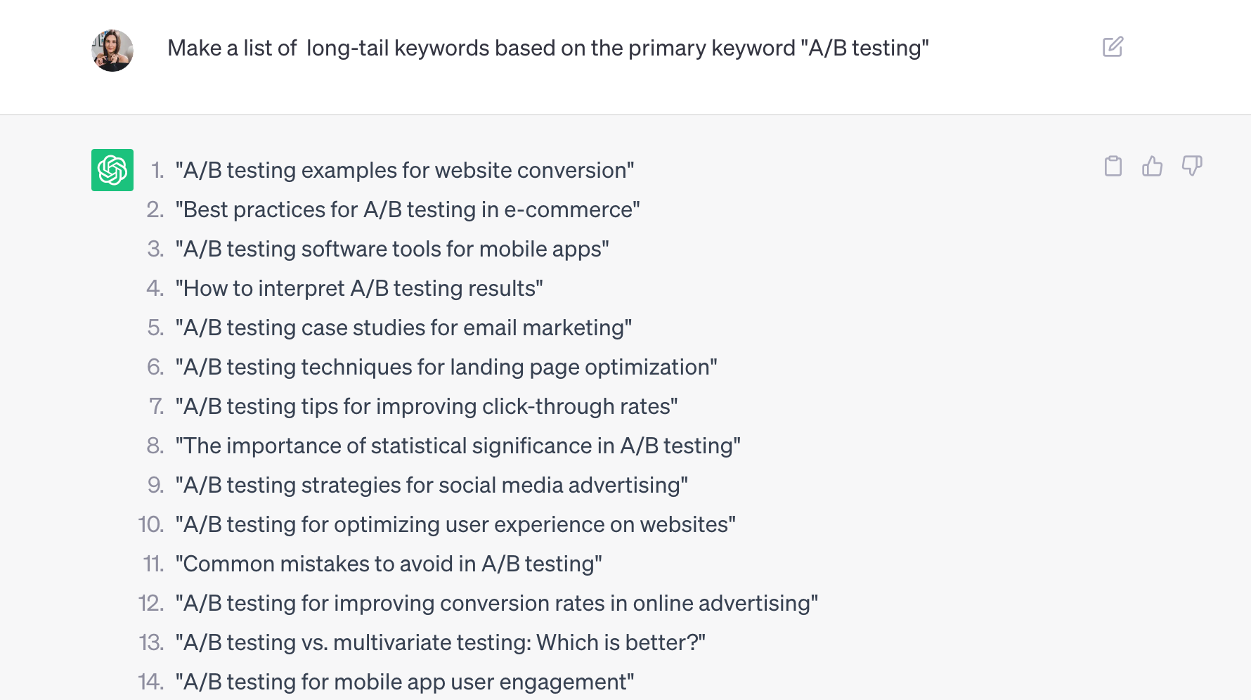 2. Content creation
Increasingly, AI tools are being used to assist with content creation. Although there are a number of dedicated AI-powered SEO content creation tools out there, you can use ChatGPT to create content as well.
Not only can you utilize ChatGTP to create blog posts, emails, and social media content with ease, but you can also generate content ideas using the software.
Since ChatGPT stats is so versatile, you can tailor the output to your target audience and the specific platforms you're using to publish your content, such as Instagram or LinkedIn. 
And if your content strategy calls for you to write in a certain tone, whether that's professional or humorous, you can ask ChatGPT to generate high-quality content that sounds just like what you need.
In the example below, we asked ChatGPT to write an introduction to a blog post about A/B testing.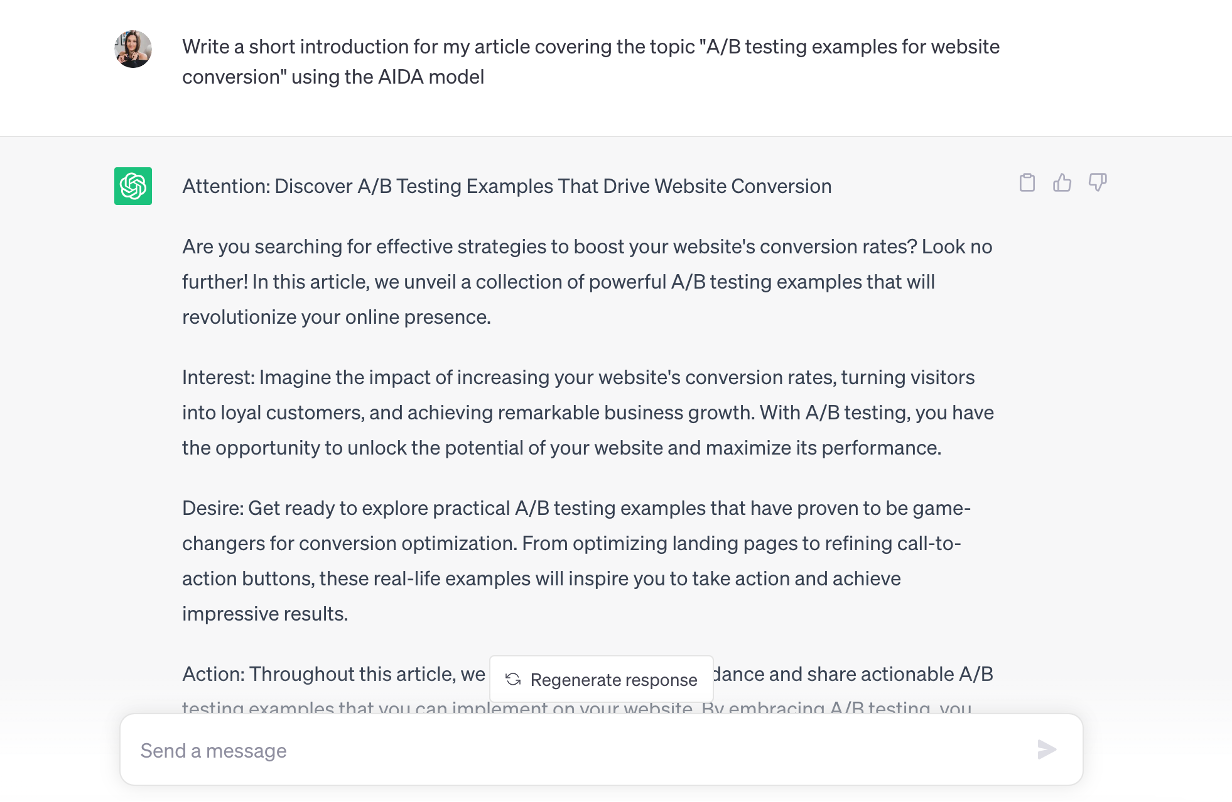 3. Generating meta titles/descriptions
If you want your content to rank well on search engines, you have to ensure that your meta titles and meta descriptions are on point. AI can help you get the right keyword usage in your meta descriptions and boost your website's SEO as a result.
Here's a prompt and answer from ChatGPT that resulted in a meta description for the article about A/B testing.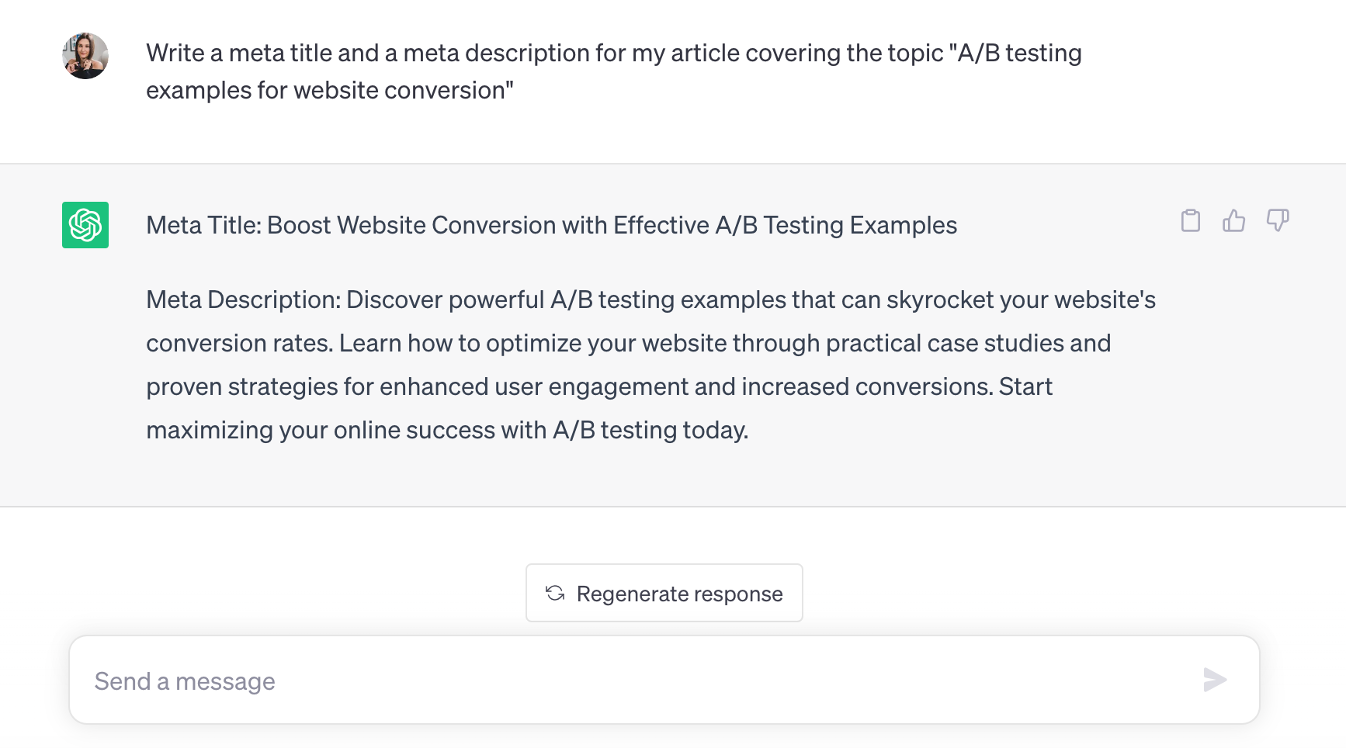 4. FAQ creation
Another one of the SEO tasks that you can outsource to AI-powered tools is creating FAQs for your blog posts. 
Answering the right questions in the FAQ section can help you tap into user intent and get people the information they're looking for.
Once you get ChatGPT to come up with a list of questions about a topic, like below, you can also ask it to create content that answers each of the questions you want to use.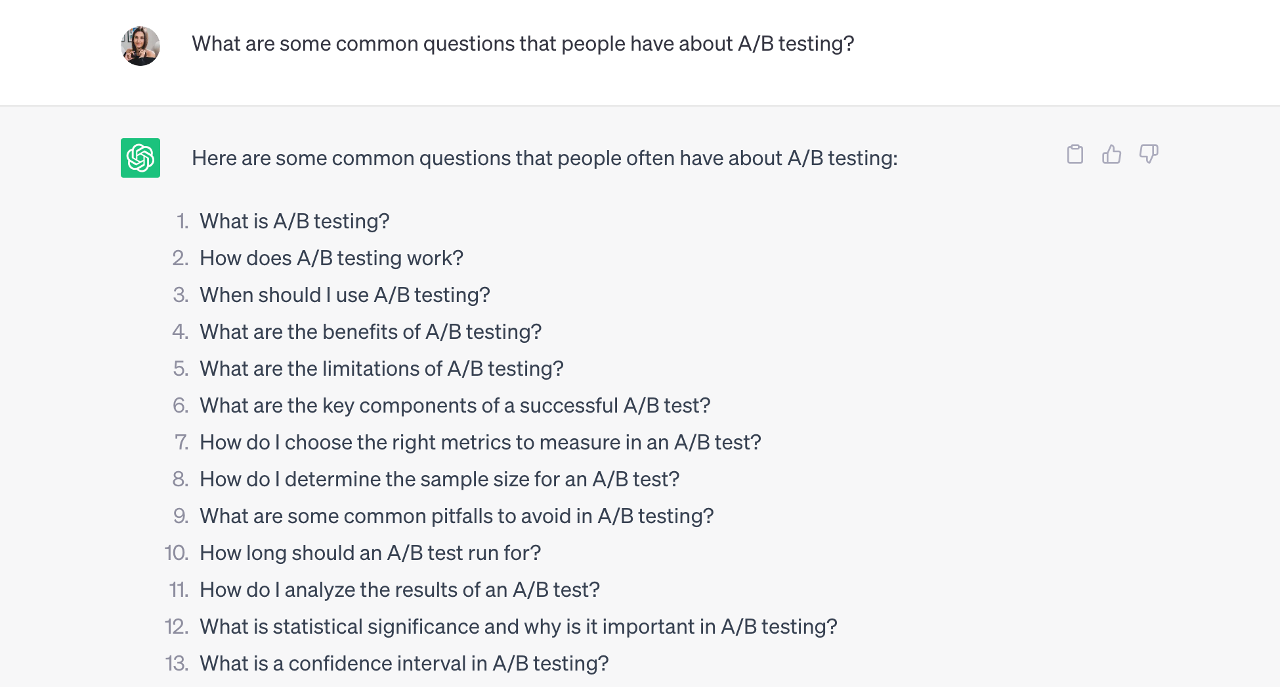 5. Spelling/grammar checks
The final way that you can use ChatGPT as an AI SEO tool is for proofreading. 
Whenever you put content out there, it's important to make sure everything is spelled correctly and you have no grammatical mistakes. Just one or two embarrassing errors can lead you to lose all credibility with your readers.
All you have to do is type "Correct the typos in this text:" and then copy and paste your content into ChatGPT. You can also use other AI tools like Grammarly.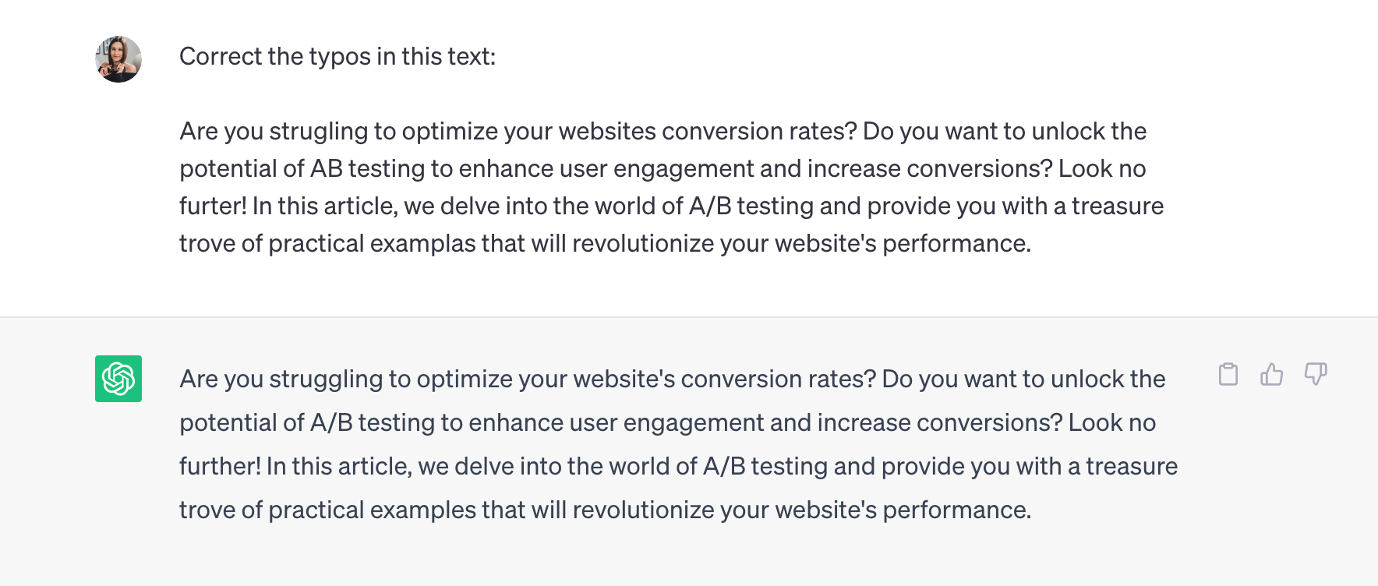 The 4 best AI SEO tools to use in 2023
In our examples, we used ChatGPT because it's free and readily available. We wanted to show that you can use AI for SEO without spending any money. 
However, there are a lot of other AI SEO tools that have been specifically designed to help you implement the SEO strategies that will land you on the first page of search engines.
Let's take a look at the four best AI SEO tools on the market right now.
1. Surfer SEO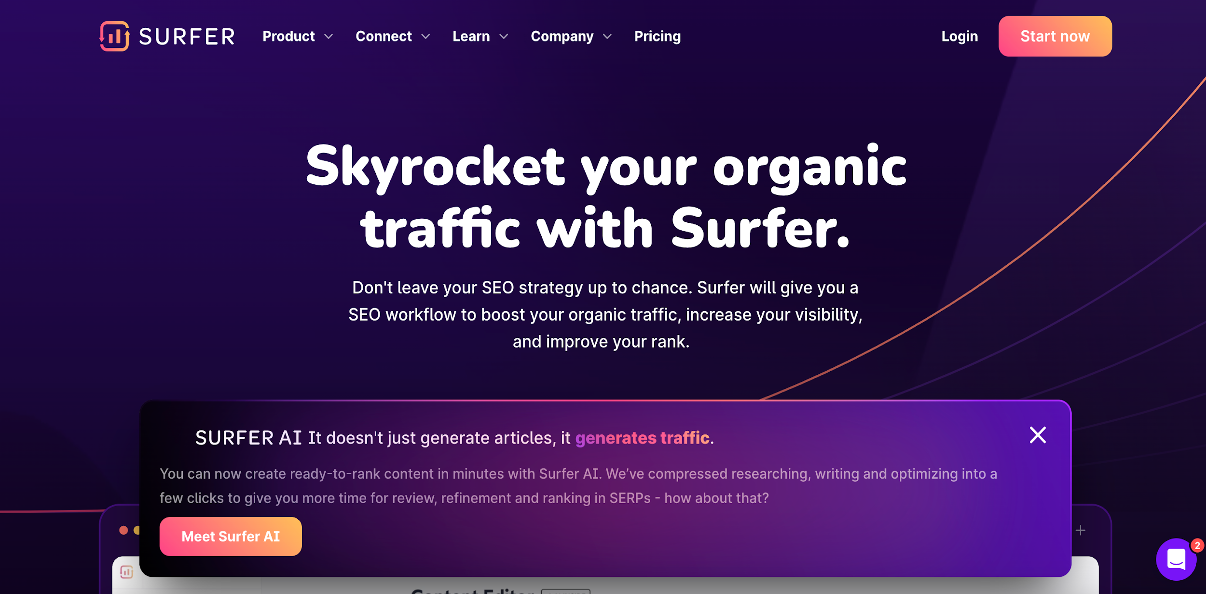 Surfer SEO is an SEO content editor that's been at the leading edge of the SEO game for many years now.
Their NLP feature helps marketers quickly generate SEO keywords that they can use in their articles, and now they're rolling out content creation tools that use AI.
2. Scalenut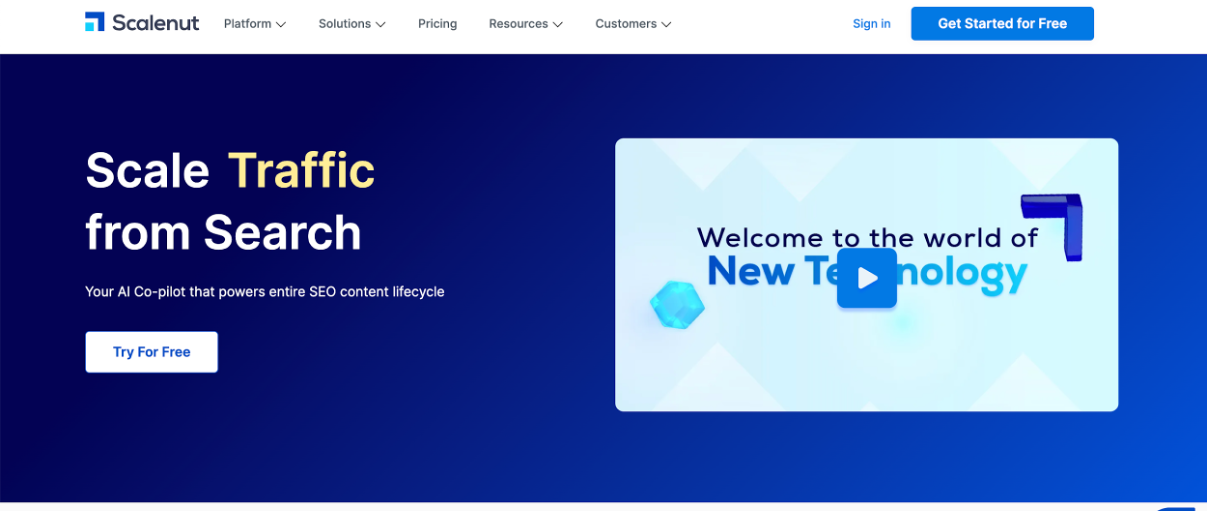 Scalenut helps you gain valuable insights about SEO and traffic using the power of AI. Not only can Scalenut analyze search volume data to help you come up with content ideas, but it can also automate the content creation process with its Cruise Mode blog writer.
3. Semrush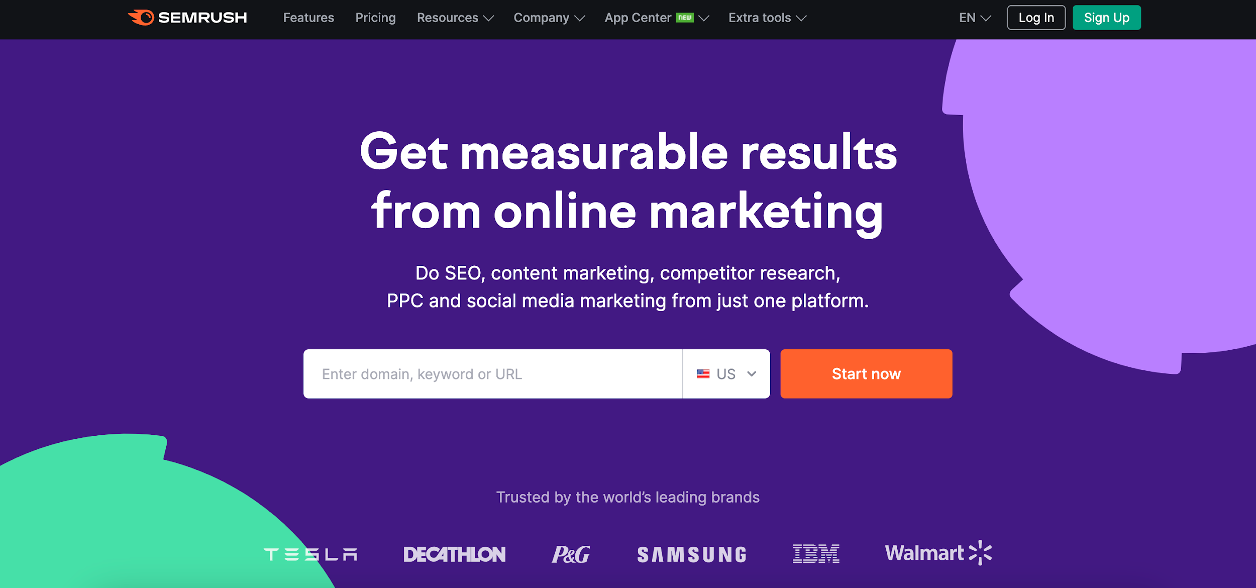 SEMRush is an established SEO tool that specializes in on-page SEO, competitor analysis, and internal linking. You can use SEMRush to create SEO content briefs, and their AI-powered Rephraser tool helps adapt your content to different marketing channels.
4. Alli AI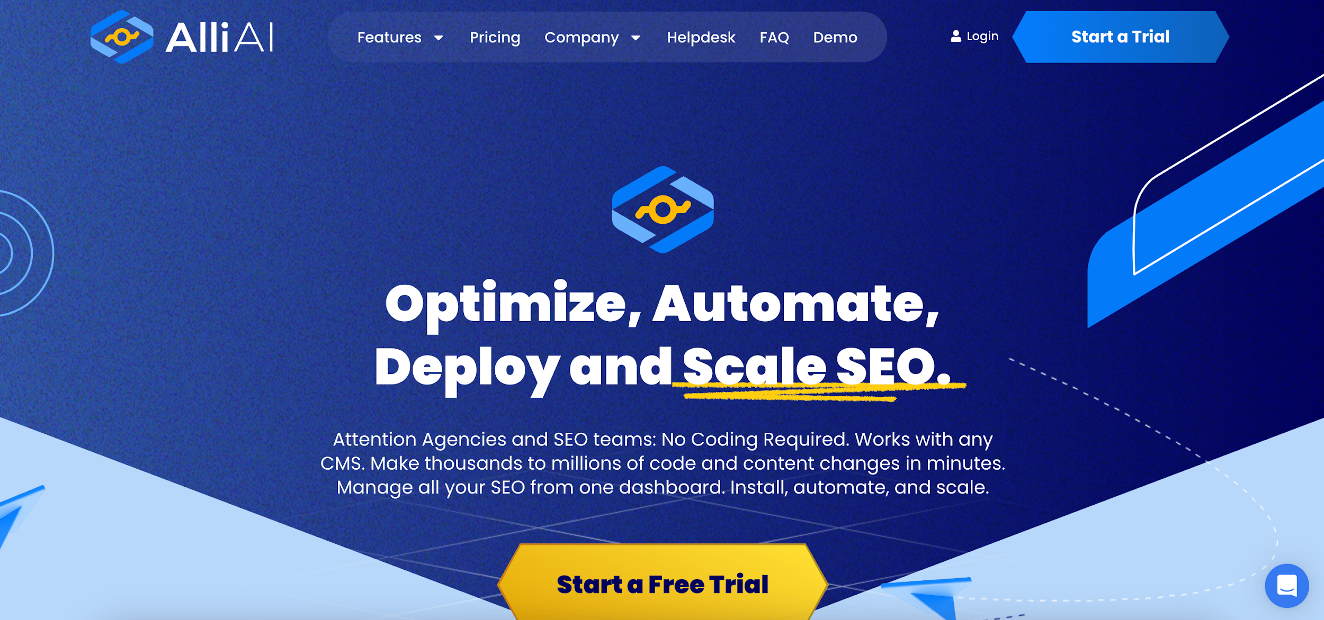 Alli AI is an AI SEO tool that helps businesses implement site-wide optimization rules and create optimized content in seconds. This AI tool can even optimize non-text on-page elements by optimizing the code that's running your web pages.
How search engines treat AI-generated content
In general, Google and other search engines don't oppose AI-generated content, which means you won't be penalized for using AI SEO tools to create optimized content.
As long as your content demonstrates E-E-A-T (Experience, Expertise, Authoritativeness, and Trustworthiness) and includes relevant internal links and keywords, you'll be able to rank really well. 
Since Google's algorithms prioritize natural-sounding content, you just need to check all your AI SEO content to ensure it sounds human.
Finally, Google doesn't require publishers to label AI-generated content, which means that you can use your byline on any blog posts that you use AI for.
We hope that this article has given you some inspiration to embrace AI tools for SEO. No matter what your SEO strategy is, AI tools can make it easier and faster to implement. 
And that means you can say goodbye to many of the time-consuming tasks that you're used to doing when it comes to content creation. And good riddance!