Tired of the 'age equals beauty and value' bind women were thrown into, late model Cindy Joseph set out to create the first pro-age skincare and cosmetics company: BOOM!.
She recruited ecommerce expert Ezra Firestone to help launch her brand. Five years later? Their traffic had increased tenfold. But the duo struggled to turn this traffic into customers. To help address this, they looked for a popup tool and found OptiMonk.
As a result, they achieved an 18.2% increase in revenue and generated 8,997 additional leads.
8,997
additional leads in one month
25,6%
increase in average session duration
14.1%
increase in the number of pages viewed by visitors
Scouted by Dolce and Gabbana after she'd ditched dyeing her silver hair, Cindy Joseph stepped into the world of modelling decades after the average model hits the catwalk.
This gave Cindy a hyper-awareness of the overfocus on youth within the beauty industry. It inspired her to set up a cosmetic and skincare line for women beyond their early twenties.
BOOM! by Cindy Joseph is the first pro-age cosmetic line for women of every generation.
Cindy explained her inspiration to author Alyson Walsh: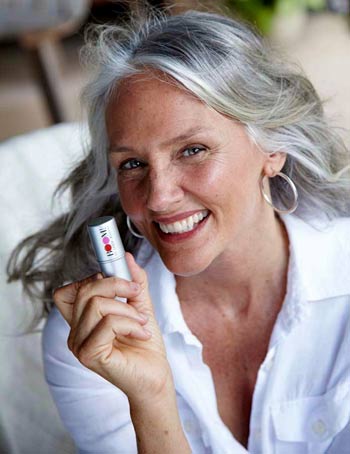 "My Pro-Age campaign is about saying 'enough already.' I'm just telling the truth about women, beauty, and age. Women are judged heavily on looks. When you're young and beautiful, you have value—and somehow, we lose value as we age—that's total make-believe. Matriarchs of families are highly respected. We need to see beauty all the way through life."
This was the brand many older women had been waiting for: one that was pro-age and pro them.
BOOM! resonated especially well with the women from the Baby Boomer generation and their frustrations around the beauty industry.
Now, let's take a closer look at their marketing.
Low conversion rates for their primary funnel
Despite the brand's loyal following, the BOOM! team hit issues with their primary funnel for BoomByCindyJoseph.com.
They directed traffic to a "pre-sell engagement page" entitled '5 Makeup Tips for Older Women.'
It served up content to address their target audience's biggest concerns: applying flattering makeup over the age of 60.
They then presented products in the BOOM! line as the solution.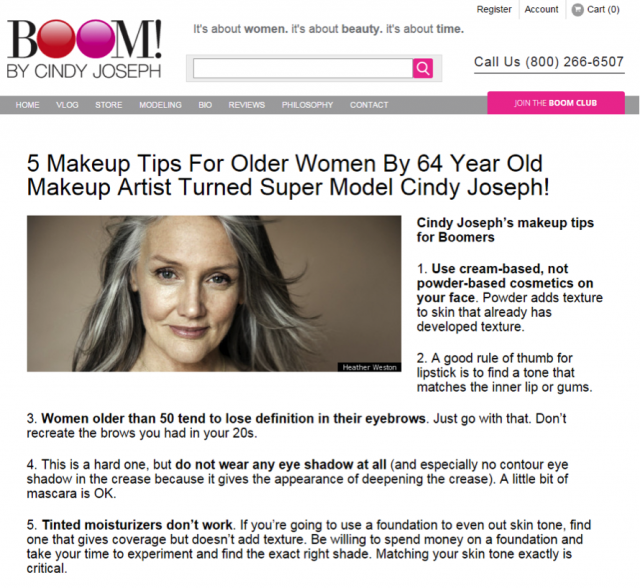 Despite how well-thought-out the page was, it suffered from low conversion rates.
99.5% of visitors left their page without buying or subscribing.
The biggest issue? Most of their traffic was cold traffic: visitors interacting with the brand for the first time.
So, the BOOM! team wanted to find out how to optimize their page in order to turn cold traffic into customers. It was no easy task.

They tried several marketing techniques with varying degrees of success.
But what they really wanted was an opt-in that wouldn't distract from the main goal of the page—nudging visitors to make a purchase.
That's when they discovered OptiMonk.
Displaying targeted popups based on a visitor's behavior is a good way to draw visitors along the buyer's journey.
If the first message doesn't hit, brands can always roll out a second one. And that's exactly what BOOM! did. Take a look!
A multi-step popup campaign to boost conversion rates
To begin with, BOOM! targeted abandoning visitors with an exit-intent popup that showcased an appealing secondary offer.
The popup asked visitors to join the "BOOM Club." By signing up for the newsletter, visitors received exciting updates, exclusive content, and discounts.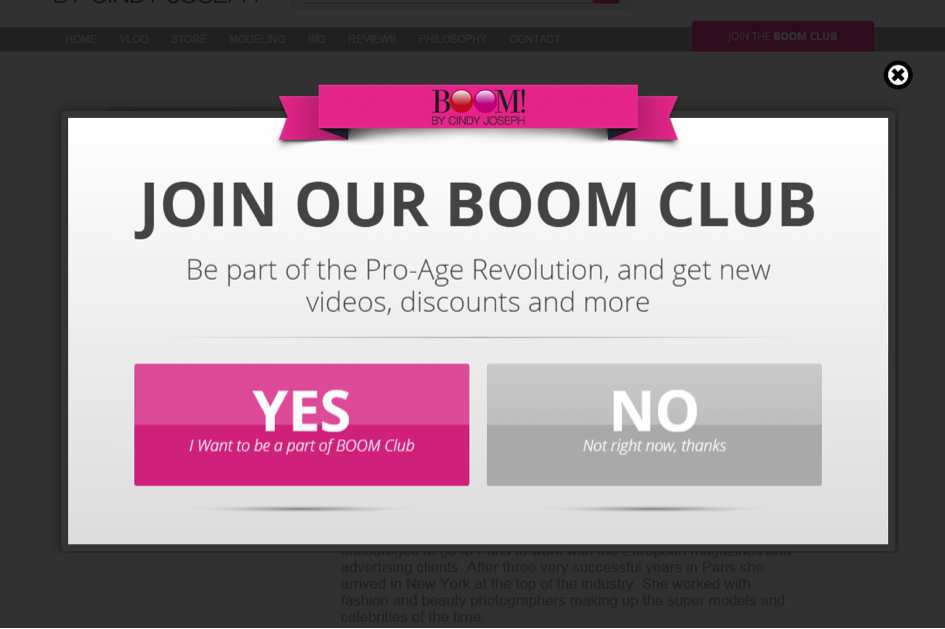 Visitors were able to subscribe through a three-step popup. Here's the second page: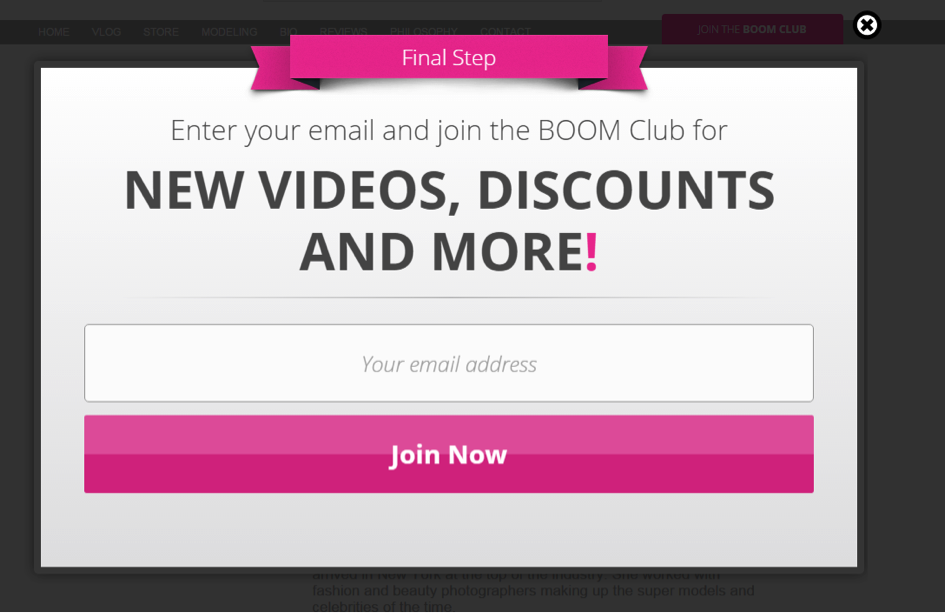 Once a visitor provided their email address, BOOM! directed them to a product page with a third popup: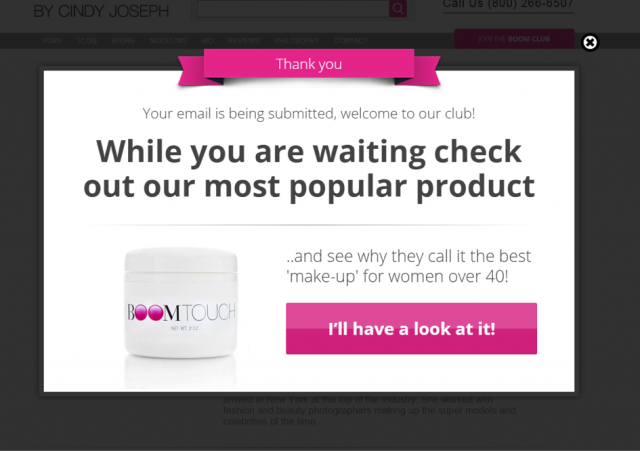 BOOM! conversion rates began to skyrocket immediately after they began using these popups on their site.
The opt-in rate for visitors who also explored the "Bio" or "Philosophy" pages was really high—almost 20%.
In contrast⸺some people weren't as receptive. For those who didn't show any deeper interest, the opt-in rate was only 3.5%—still a big improvement over the less-than-1% starting point.
Want to boost your own subscribers with a multi-step campaign? Start with this template:
Promoting an ebook to target visitors with low engagement
BOOM! also wanted to entice visitors who didn't want to engage with content, buy, or subscribe.
The OptiMonk team suggested improving their original message by offering a lead magnet.
BOOM decided to create an ebook focusing on makeup tips for women over 40. And they promoted it on this popup: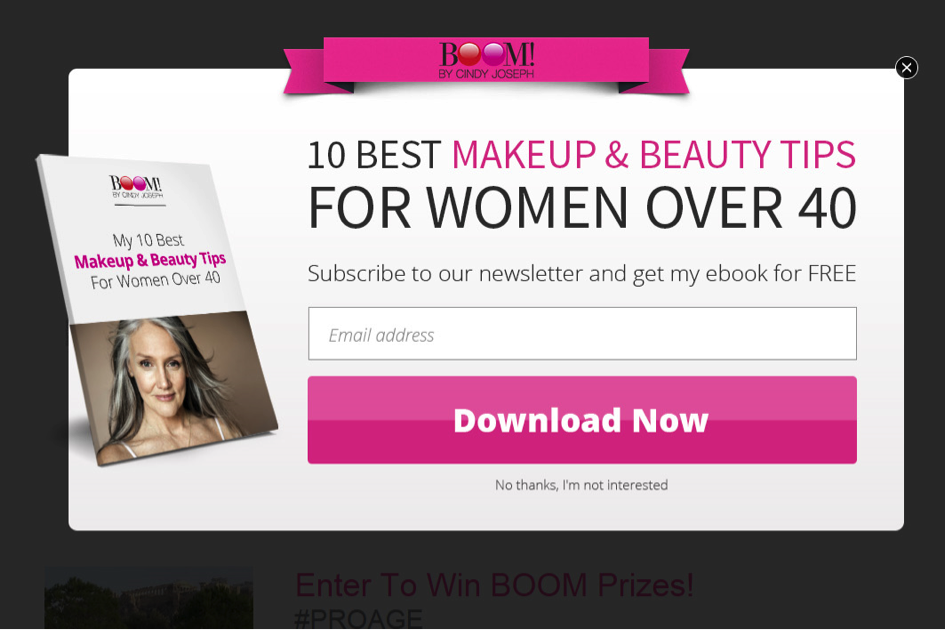 By offering a more tangible incentive, this message was even more successful at attracting sign-ups!
Use this template to promote your own lead magnet:
Promoting a discount for hot visitors
In addition, BOOM! also set up a campaign to encourage their best prospects to complete their purchase immediately.
They offered an instant 10% off coupon to the hottest visitors. These are people who are interested in BOOM's products or are about to abandon their cart.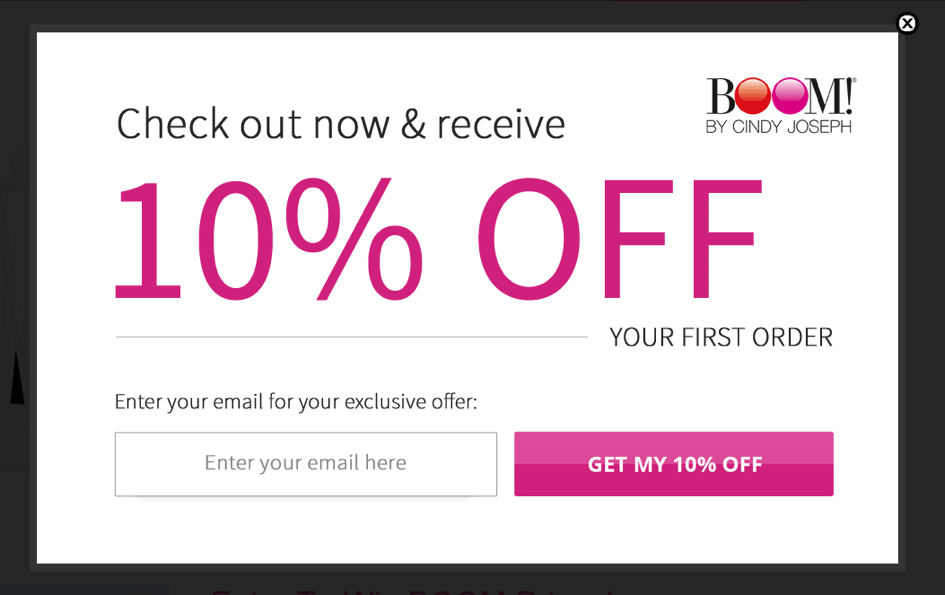 In the following month, almost 40% of hot visitors said "YES" to this offer —thanks to the enticing message and accurate targeting.
Check out the graph to see these conversion rate statistics for the month in action:

Get the perfect template for when your visitors are about to leave your site:
The BOOM! team was amazed by the results.
Over the period of 30 days, BOOM had 1,023,649 new visitors on the website. And the OptiMonk popups appeared in 212,874 cases. So the percentage of the popup appearance was 20.79%.

From all new visitors, BoomByCindyJoseph.com generated $812,258 in revenue:

And 1,876 visitors used their coupon from the OptiMonk popup, which generated $148,297 in extra revenue. That's 18.2% of the total revenue!

Since only visitors who exited the funnel without buying received this offer, there was an 18% immediate growth in revenue for BoomByCindyJoseph.com.
And on top of it, BOOM! also gained 8,997 new subscribers within a month!
The team also created new content and special offers via email to motivate their newly-captured leads to convert.
So, BoomByCindyJoseph.com is also looking forward to the potential for long-term revenue growth.
Beyond the increase in sales and subscriptions, they were amped to see improvements in visitor behavior: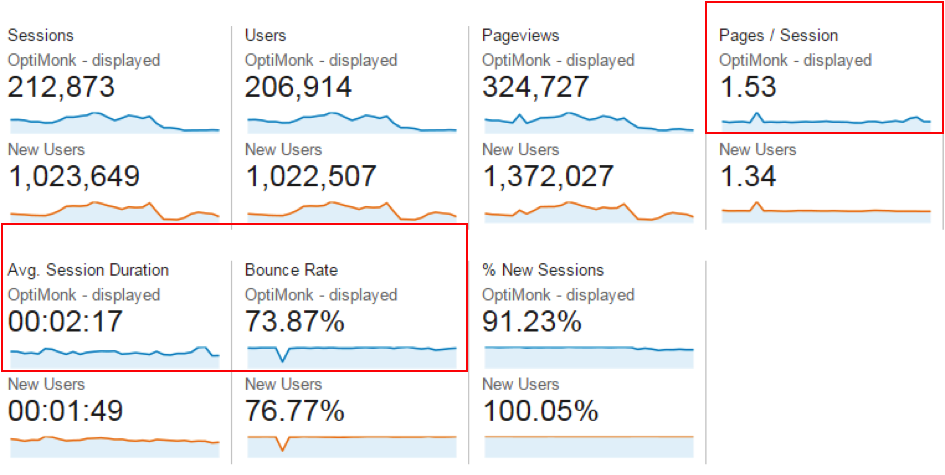 For visitors who interacted with the popups, the average session duration increased by 25.6%. Moreover, the number of pages viewed increased by 14.1%.
And the numbers are even more impressive for visitors who said "YES" to any offer: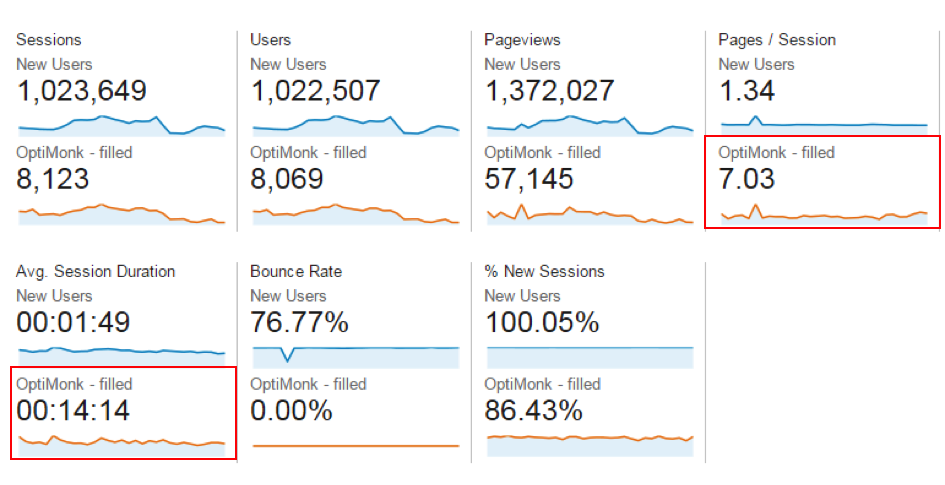 1.06% of the visitors who viewed a popup converted—which is 70.9% more than the average rate for new visitors.
And of the visitors who said "YES" to any offer, 19.39% purchased—almost every fifth subscriber.
Would you like similar results? Create a free OptiMonk account and stop losing customers today!