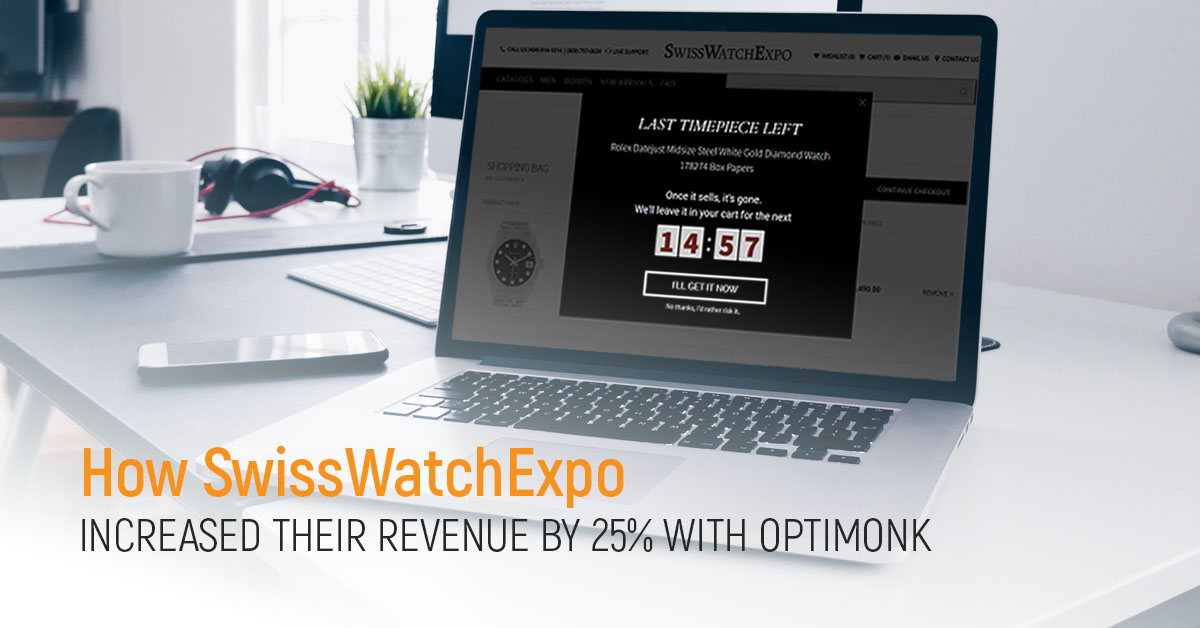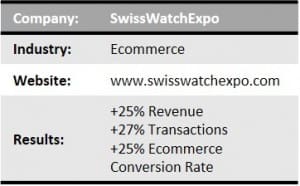 According to the STATE OF INBOUND research report, 64% of companies searched for "Generating traffic and leads", making it the most frequent search term for businesses. Additionally, 40% are also searching for how to maintain or prove their ROI (Return on Investment) from all the marketing activities they are running.
Website owners face many of the same issues. Having web visitors fill their carts and then abandon them, or not converting a visit to a sale is stressful. Ideally, these visitors will become customers. However, most will need further encouragement or engagement to take those final steps. One popular solution that works well when implemented properly is Onsite Retargeting.
With Onsite Retargeting, you can start to set some of your worries aside. Onsite Retargeting allows you to re-engage visitors while they are on your site and to offer them an incentive, such as a coupon code for purchasing within the next hour or an email capture form, to encourage a purchase or other action. It can also help you capture information that you can use to increase your conversions, transactions and sales. While it won't necessarily help you generate additional traffic, it can help you make the most of the traffic and leads you currently have.
In this case study, we will show you how an ecommerce store increased their revenue by 25% while using OptiMonk. The popup overlay, which encouraged action on two distinct pages, was viewed by 59% of visitors and resulted in an increase in the company's conversion rate as well as their transactions, which saw a 27% bump with OptiMonk in a 3-month timespan.
Meet SwissWatchExpo

SwissWatchExpo is an online store selling a wide variety of watches. Launched as a brick and mortar shop in Atlanta in 2009, this family business has grown to be one of the largest e-retailers of authentic, pre-owned luxury watches in the world. Their passion for beautiful Swiss timepieces and unparalleled customer service has driven lots of traffic to their website. Each web visitor is valued, and the team wanted to ensure that more of their web visitors left the site as happy customers.
Challenges
In January 2017, SwissWatchExpo launched a new website and chose OptiMonk for their onsite retargeting campaigns.
The company already had a high volume of web traffic thanks to their marketing efforts. Unfortunately, some visitors were stopping by and then leaving without taking any actions on their site. SwissWatchExpo recognized these missed sale opportunities and wanted to capture their users' details when they tried to leave the site in an attempt to re-engage them or otherwise entice them to complete their purchase. For those individuals who later returned to the website, SwissWatchExpo knew such visitors needed to be guided and re-engaged on the site so they could eliminate their Paralysis of Choice and make decisions faster.
When SwissWatchExpo was growing their mailing list, they found OptiMonk to be the perfect tool for the job. When it came time to figure out the best way to implement Online Retargeting to re-engage visitors and decrease cart abandonment, they once again turned to OptiMonk.
When SwissWatchExpo was growing their mailing list, they found OptiMonk to be the perfect tool for the job.
Click To Tweet
Solution
Cart Abandonment: Re-engage to encourage a transaction
In order to increase their number of transactions, SwissWatchExpo started re-engaging their audience by offering $100 off and free shipping for those who were trying to abandon their cart.
There are many ways of communicating such a captivating offer to a buyer. SwissWatchExpo used a timer to push their visitors to complete the checkout process within a time span of 15 minutes and clearly stated the offer would expire if the visitor delayed. Once a visitor was compelled to take the offer, they would only see the coupon code by clicking the "GET MY $100 OFF" button, which was set as a call to action. When they clicked this button, they were shown another popup that featured the coupon code they could enter at checkout.
The following is the initial popup: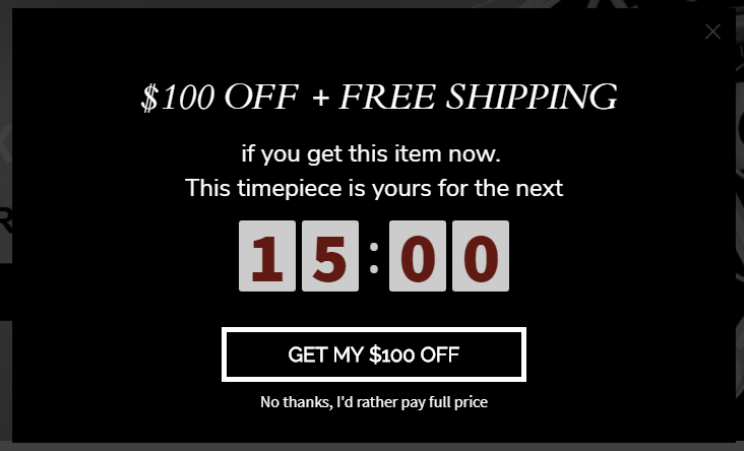 You will notice that while there is an option to accept the offer, those who wish to decline must hit the "No thanks, I'd rather pay full price" link below the BUTTON and are forced to make a decision to either pay full price later or take the $100 OFF now. This is a very strategic way to engage an emotional response by encouraging the visitor to compare the offer to the full price.
After clicking GET MY $100 OFF, another popup is displayed showing the coupon code: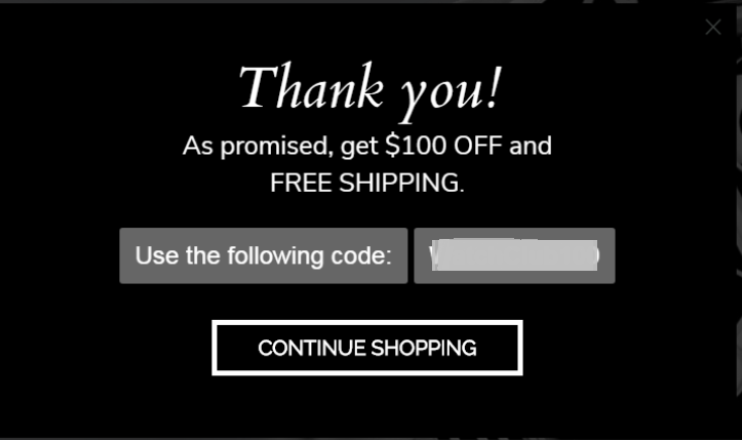 At this point, the visitor has a choice. They can continue shopping or they can checkout immediately since the offer lasts only 15 minutes. In most cases, visitors will checkout to avoid missing this offer.
Understanding which message encourages a response:
All too frequently, store owners think that displaying only one message on a popup will be appealing to their audience. They fail to consider various options or try different messages, leading to a lack of results. A lot of money is spent on ads to drive traffic. However, if a data-driven approach isn't implemented to convert those leads, results are not guaranteed.
SwissWatchExpo wanted to know for certain what would engage their audience best. They didn't assume that they already knew. Rather, they decided to A/B test the messages on their popups to find the most appealing message.
The following three versions were created:
Version 1: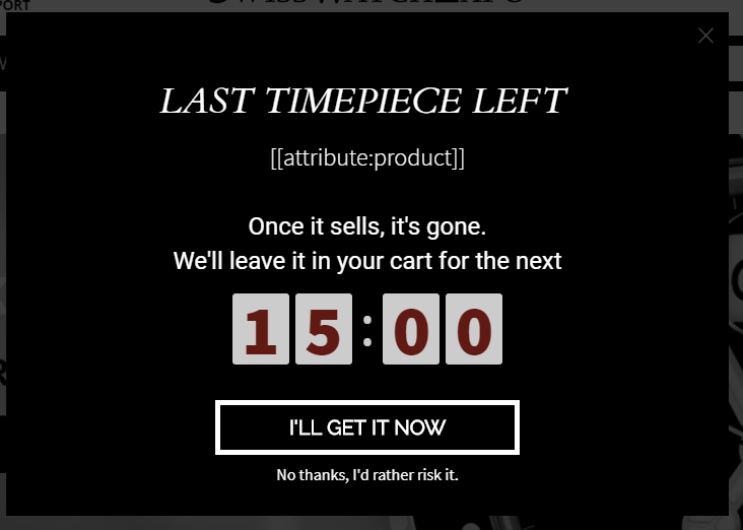 In this popup, you can see that SwissWatchExpo wanted to let their audience know that a certain product on their site was the last one.
To display the product, they used a system called Dynamic Text Replacement (DTR) so that a visitor trying to leave the site at this point would be notified about the product and given 15 minutes to check out. They were able to increase conversions 17% with this popup.
Version 2: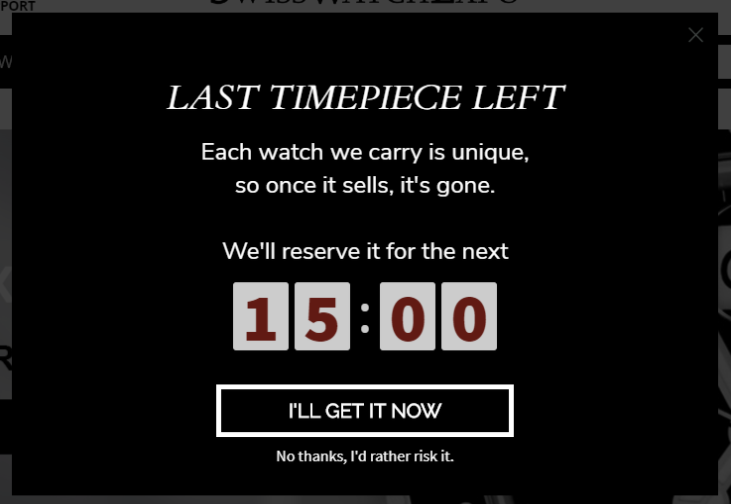 Looking at this popup, you can see the resemblance to the previous one. However, in this popup, Dynamic Text Replacement is not used. Instead, the popup is offering a message for all the products in their store.
Version 3: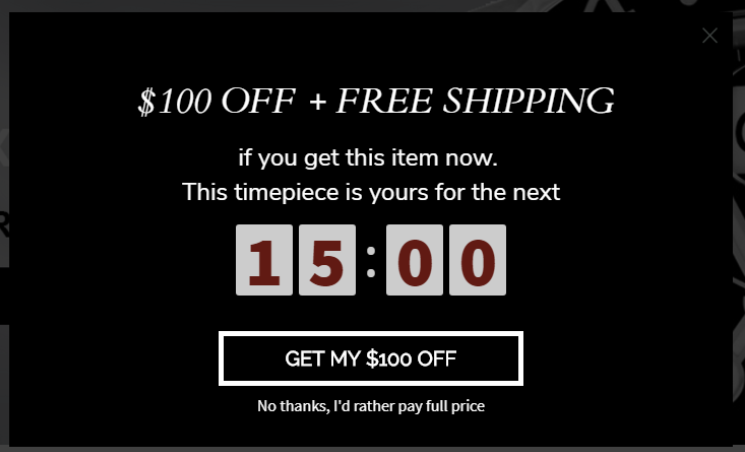 This popup offering the aforementioned discount recorded the highest results with a conversion rate of 28% and was ultimately used on the website after testing.
Settings: Optimization of the popup
While a relevant message is one of the most important components of creating an actionable popup, equal if not more attention should be put on segmentation and targeting.
Here we are going to look at how SwissWatchExpo targeted and segmented their audience in order to market to them appropriately.
First, let's look at how they targeted PC users:

SwissWatchExpo wanted to target PC users when they tried to leave their site by either dragging the mouse towards the "X" button to close the browser or anywhere along the tabs at the top of the browser. By focusing on users attempting to leave the site, they could attempt to change those visitors minds and convert them to a sale.
How they targeted mobile users:
To avoid distracting visitors once they have arrived on a specific page, SwissWatchExpo decided to use time triggering to have a popup display 7 seconds after a visitor landed on a particular page. This message was shown to all mobile users to encourage them to continue browsing or share their information.
Popup occurrences:

SwissWatchExpo knows it is important not to affect user experience by displaying too many ads to visitors on their website. Because of this, they decided to display the popup only once to every visitor. This helps avoid annoying visitors and interrupting them while they are browsing the site.
Selecting a page to display the popup:

A popup can be displayed on all pages of a site, but as you can see here, SwissWatchExpo knew which pages they wanted to make their offer valid on. As mentioned earlier, they wanted to increase the number of their transactions, which would increase their revenue. To do that, they decided to display the popup on their "shopping cart" and "customer-information" pages. The pages on which they chose to display their popup were clearly in line with their ultimate goals.
To monitor the performance of their campaign — which is essential for determining ROI — all the statistics were forwarded to their Google Analytics account:

Using this Google Analytics integration allowed them to measure their campaigns and the revenue they gained from the campaign, which is especially important for ecommerce stores who are optimizing their marketing campaigns or running A/B testing.
Results
SwissWatchExpo's cart abandonment campaign with OptiMonk, which featured an Onsite Re-targeting popup on their cart and customer information pages, successfully increased revenue by 25% in a span of 3 months.
A/B testing and segmentation proved essential for crafting a persuasive, time-sensitive message that increased conversion. This helped the company increase their total number of online transactions by 27% as compared to the previous year during the same period.
Summary
It's amazing what a website owner can achieve in a short period of time with an Onsite Retargeting campaign. SwissWatchExpo achieved incredible results while working strategically to re-engage their audience. Using A/B testing to understand what would engage their audience best, along with segmentation to target specific visitors while not annoying others, they were able to eliminate paralysis of choice for their customers in the checkout process and encourage them to complete their purchase.
Testimonial:
"I chose OptiMonk for our onsite remarketing due to their flexibility and the ability to do dynamic text. We are a top retailer of luxury watches such as Rolex, Cartier, Omega and Breitling; with an average sale value of over $5,000. Our customers are very particular so I am extremely careful before making any changes to my website. With OptiMonk, I was confident that the user experience would be improved."
– Eugene Tutunikov, CEO SwissWatchExpo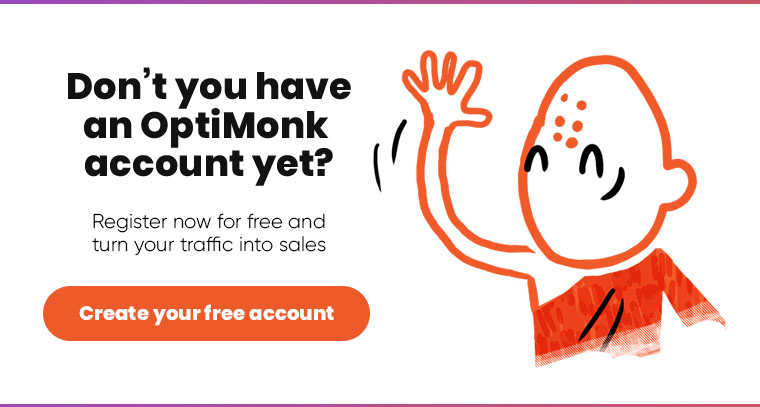 Would you like similar results?
Create a free OptiMonk account and see the results for yourself. Stop losing customers today!