In the ever-evolving landscape of ecommerce, conversion optimization stands out as the cornerstone of a thriving online business. But it can be difficult to get started…how do you find the right conversion optimization strategies and brainstorm dozens of new ideas?
That's exactly why we created this guide that takes you on a CRO journey through four strategic steps, each inspired by the impressive achievements of Crown & Paw.
From growing your email list while enhancing segmentation to maximizing coupon redemption and boosting sales, this guide unravels the intricacies of Crown & Paw's success. And you'll see that all four strategies are easy to set up and require no coding knowledge.
Let's get started!
Step 1: Grow your email list faster & segment it at the same time
Struggling with low email popup conversion rates? Would you like to collect more information about your subscribers but you're worried that it will decrease your conversion rate even more?
We get it—this is one of the top challenges for ecommerce store owners.
Luckily, Crown & Paw found a solution: the secret was a simple mindset switch.
Fun fact: Did you know that 55% of pet owners regularly engage in heart-to-heart conversations with their four-legged companions? 48% even go so far as to share secrets with their pets that they wouldn't dare whisper to another soul!
Why did we share this fun fact?
Cause the more you know about your customers (their habits, dreams, fears, etc.), the more successful your marketing will be. And this is true for your popups as well.
So what was the mindset switch about? Think about popups as a good conversation starter.
And the secret to a good conversation?
An engaging opener.
Letting the other party speak.
Mutual benefit.
Here's how to use that for your email popups.
First, tempt your visitors with a discount that's too good to resist, plus the promise of personalized product recommendations. Like a good conversation starter.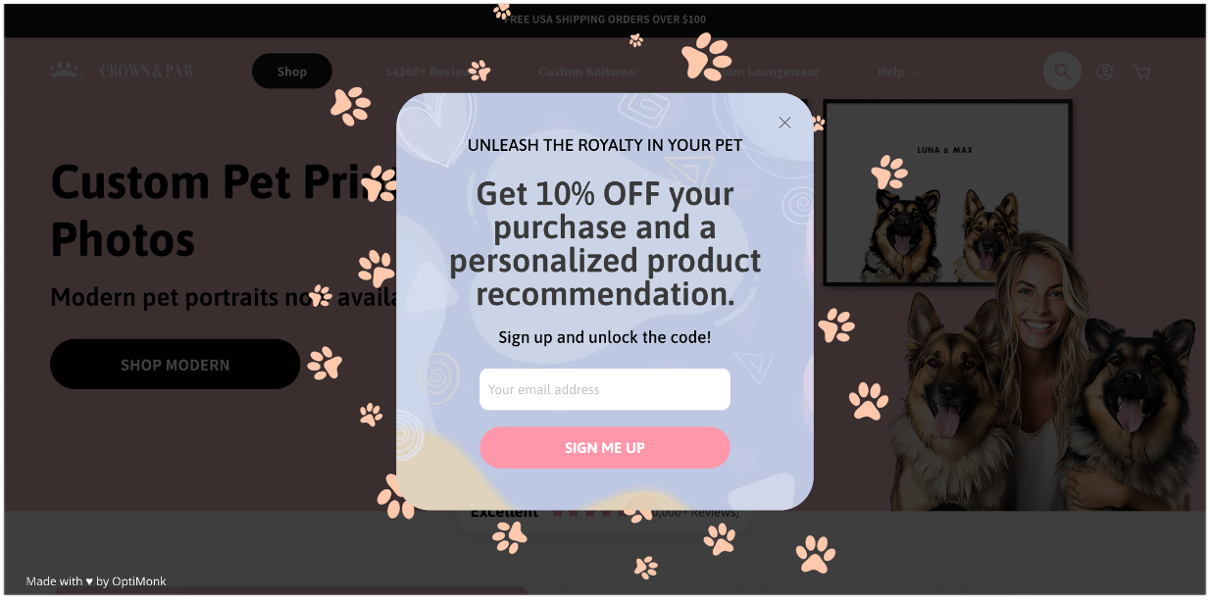 While they grab that 10% off, ask a few simple questions to learn about their interests and preferences. As simple as it is, let them talk.
Here are the questions that Crown & Paw asked: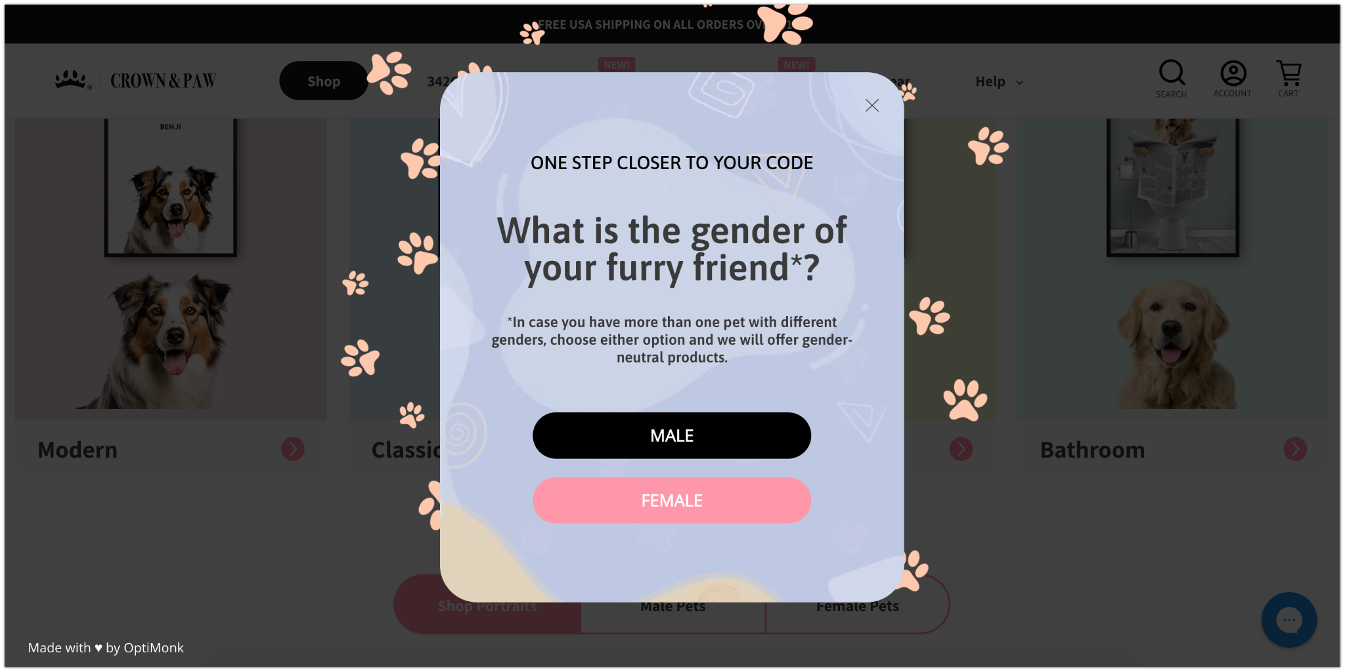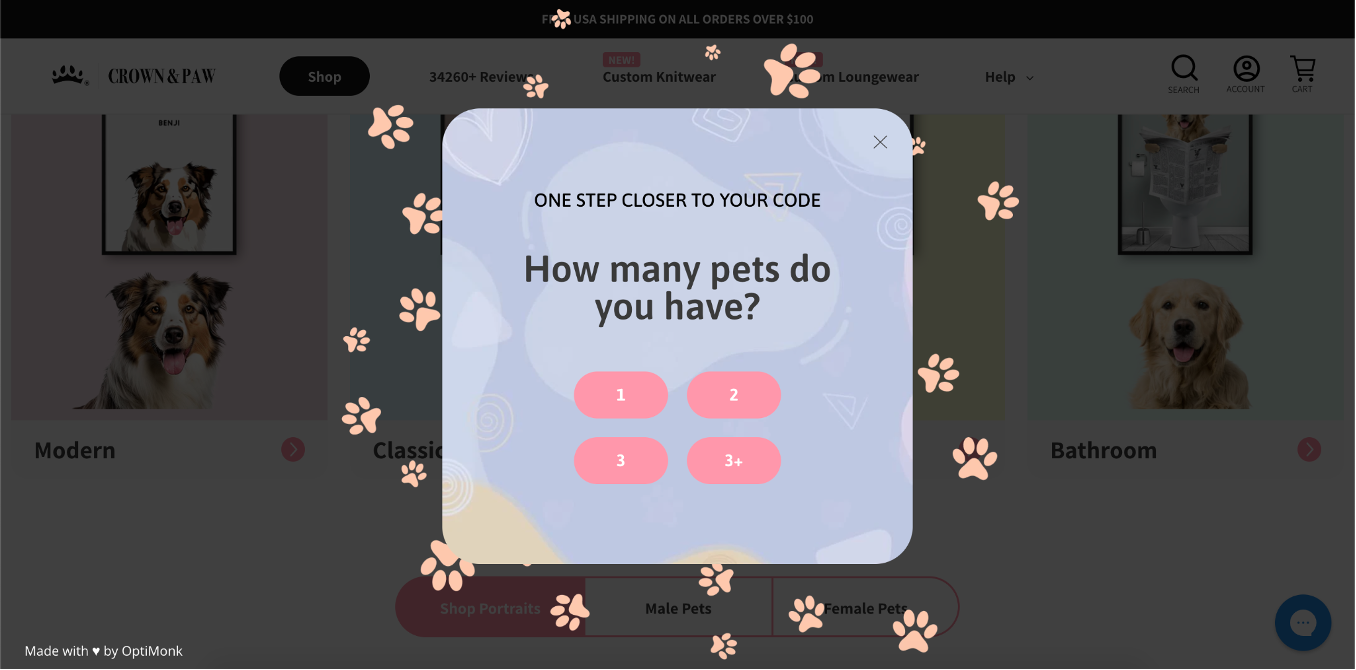 At this point, nearly all of your subscribers (95%+) will answer your questions without hesitating, since they're already engaged. But if someone decides not to answer your questions, you'll still have their email address, which means your conversion rate won't decrease!
For those 95% who answer your questions, you can show the final step.
Armed with the insight you collected, you can not only segment your email list, but also recommend relevant products right here in the third step of the popup while displaying the discount code.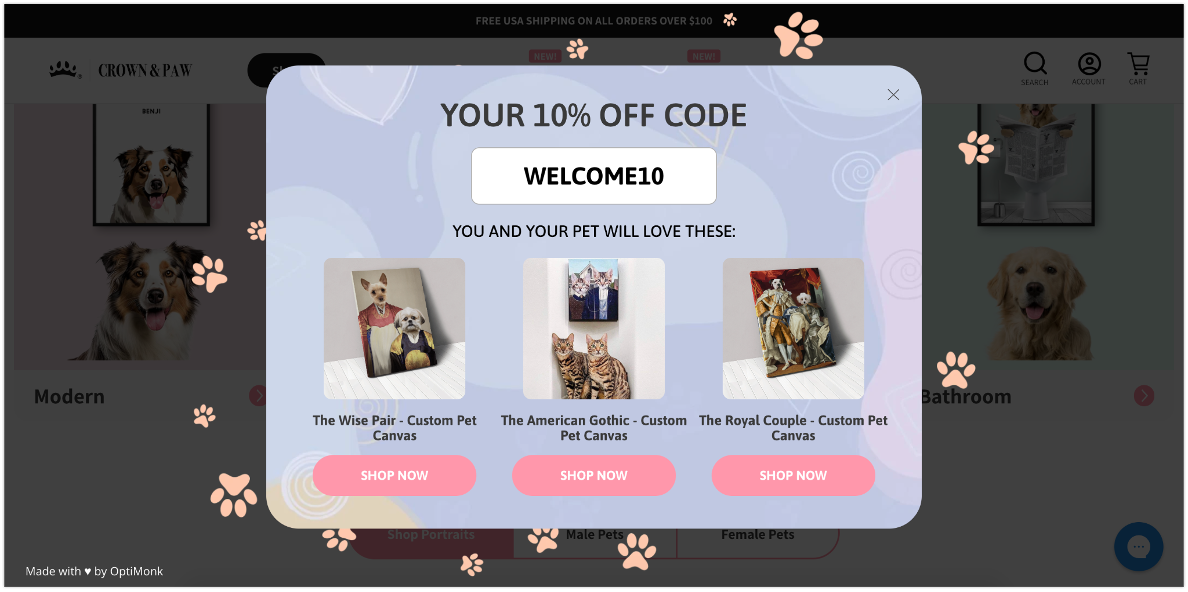 🔥 Extra conversion booster tip from Crown & Paw: Reveal the discount code only after your audience engages with the segmentation questions.
Crown & Paw's popup had a 4.03% conversion rate, which was a 2.5X increase compared to the simple Klaviyo email popup they used before.
Step 2: Maximize coupon redemption & grow sales
Does your audience eagerly subscribe to your newsletter in exchange for exclusive coupons, but those coupon codes often go to waste?
You're not alone.
Most ecommerce store owners struggle with the same challenge: your email list grows with unengaged subscribers and your sales remain restrained.
The allure of discount popups might draw your visitors in, but the story shouldn't end there.
The solution lies in the art of following up. Use a dynamic, persistent sticky bar that helps to keep the coupon code fresh in your customer's mind. It's a gentle nudge that prompts action.
Check out Crown & Paw's coupon code reminder sticky bar: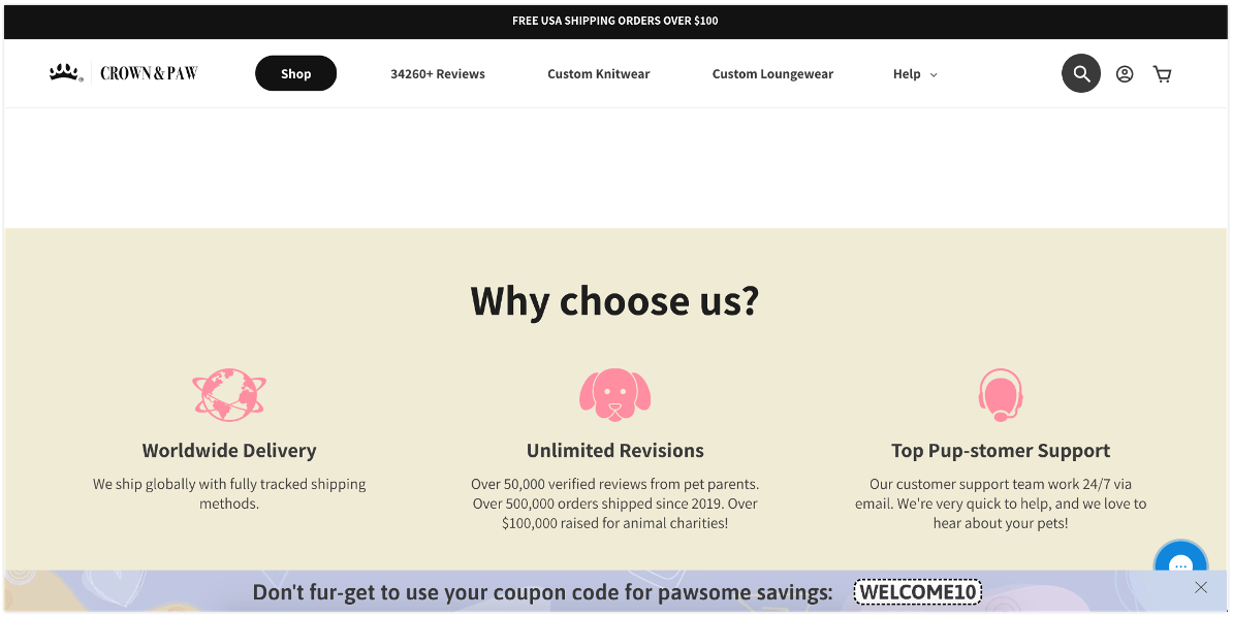 🔥 Extra conversion booster tip from Crown & Paw: Be creative with your copy and craft a message that captures attention. See how Crown and Paw used cute wordplay "fur-get" and "pawsome"?
This simple strategy resulted in a 38% increase in orders for Crown & Paw, so it's definitely worth giving it a try.
You can easily set it up with OptiMonk so the message is only displayed to people who've already subscribed through your email popup and have an active coupon code.
Step 3: Increase average order value
Don't let your potential buyers run away because of unexpected shipping costs. Communicate your free shipping threshold in a prominent place to decrease your cart abandonment rate and increase your average order value at the same time.
How? With a Dynamic Free Shipping Bar: a simple yet powerful visual cue that tells your visitors about the reward awaiting them. It's a psychological push that invites customers to explore just a tad more, nudging their carts to a higher value.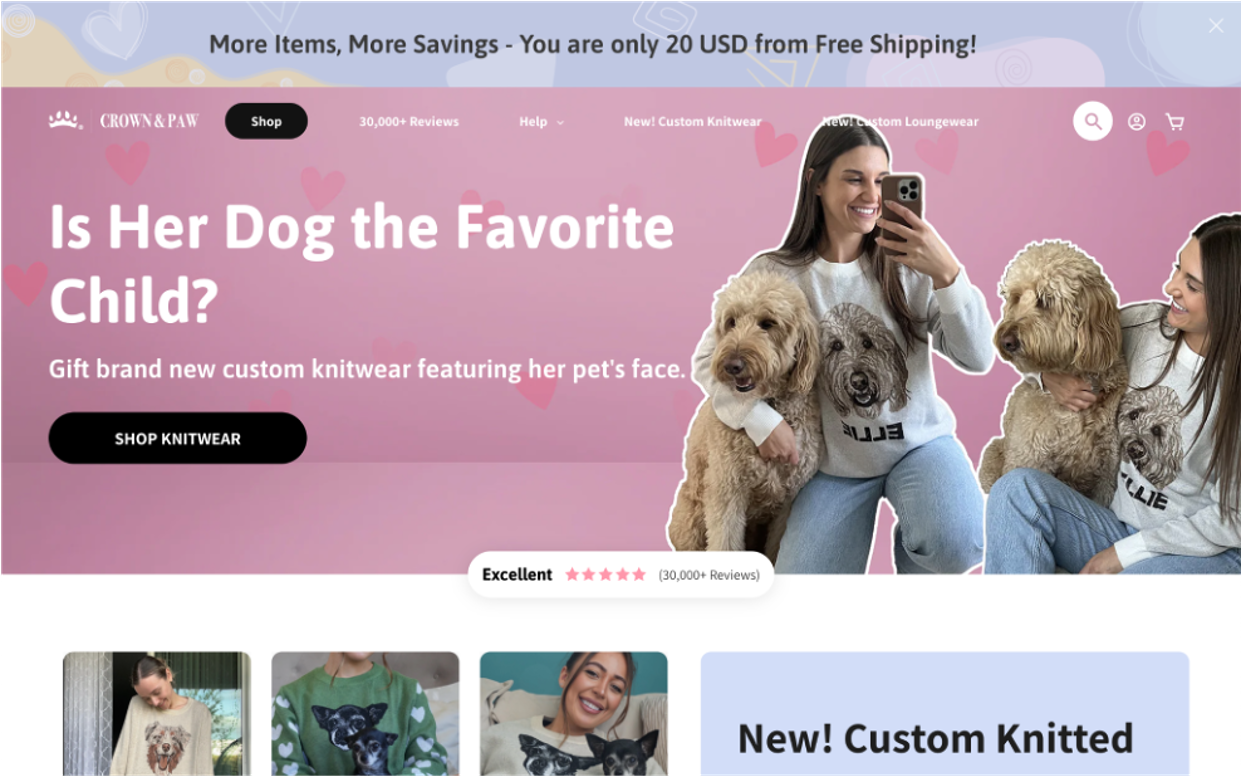 🔥 Extra conversion booster tip from Crown & Paw: Set up your Dynamic Free Shipping Bar easily with OptiMonk Smart Tags. You can automatically display how much extra your visitors need to spend to get free shipping, and it updates every time they add a new item to their cart.
The results? A 7% increase in the number of orders and a 10% increase in overall revenue.
Step 4: Improve the conversion rate of your homepage
Low homepage conversions keep you up at night?
Crown & Paw decided to try A/B testing: they experimented with four different headlines that speak directly to their target audience's hearts:
Original:

Is Her Dog the Favorite Child?

Variant A:

Fur real, your pet deserves a crown.

Variant B:

Paw-some portraits for your furry friends!

Variant C:

From paw to portrait – the perfect gift for pet lovers!
No more guesswork, no more crossing your fingers and hoping for the best. You put your headlines to the ultimate test and your homepage evolves not through intuition, but through cold, hard numbers that spell out success.
🔥 Extra conversion booster tip from Crown & Paw: Use OptiMonk's Smart Headline Generator to come up with headline ideas. No more brainstorming blocks!
A/B testing is the ultimate strategy to boost your homepage conversion rates. This A/B test resulted in a 16% increase in orders for Crown & Paw.
In this guide, we've explored four pivotal steps to optimize your conversion rates following Crown & Paw's example. The CRO process doesn't need to be daunting or complex—in fact, every strategy outlined here is easy to set up with OptiMonk, and you don't need any advanced coding skills!
From Segmentational Popup and Discount Reminder to Dynamic Shipping Bar and Homepage A/B Test, these tactics serve as your roadmap to thriving in the ecommerce space.
Remember, the lessons shared here are not theoretical… they're inspired by real-world achievements. That means that when you implement these strategies, you're not experimenting in the dark, you're following in the footsteps of Crown & Paw.
So let Crown & Paw's example be your guiding light as you write the next chapter of your ecommerce success story.