Safety and security are paramount to online shoppers in 2022. A recent study shows that 44% of them are most concerned about bank card fraud during the major shopping seasons.
That's a vital lesson for all online sellers who are setting up an ecommerce store for the first time. While there are a number of challenges that lie ahead—including what to sell and how to get your store seen—choosing the right online payment methods also needs to be a top priority.
According to another statistic, 44% of customers will abandon a purchase if they don't see their preferred online payment method. This demonstrates how crucial it is to offer the payment methods that are used by your customers—and to ensure those payment methods are safe, secure, and reliable.
Today, we'll be taking a look at what you need to understand when choosing your ecommerce payment methods. By the end of the article, you'll be in a better position to decide which ones to go with, and how to beef up their security as much as possible.
Let's get started!
1. Understand the parties involved in an online transaction
There's often a lot of confusion among first-time ecommerce business owners when it comes to how exactly to process online payments.
You may have heard of merchants, payment gateways, and payment processors, but what you might not know is exactly how they work together to process a transaction.
Let's quickly break each one down.
1.1. Merchant
A merchant is the online business that accepts a payment from an online shopper. Merchants send transaction information to payment gateways for authorization and then to the processors for settlement.
1.2. Payment gateway
An ecommerce payment gateway represents the "gate" your customers' money must go through before the payment process can continue.
A payment gateway is essentially a transaction service that enables your store to process credit and debit card payments, safely capturing payment details and sending you an approved or a declined message. If the payment is declined, you can cancel the transaction or ask the customer to provide a different type of payment.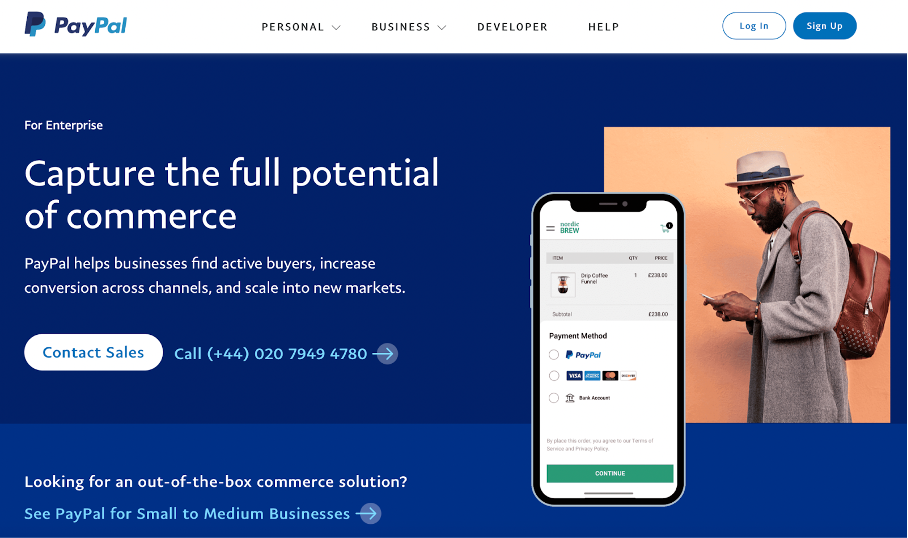 Top 5 payment gateways
1. PayPal
Arguably the most recognizable payment gateway in the world, PayPal is used in many different countries and makes it super easy for ecommerce stores to accept payments.
Because PayPal is so widely recognized, using it will help to build trust and familiarity with your customers.
Key features include live support and fraud protection.
2. WePay
A bit of a rising star in the payment gateways world, WePay is known for handling more—shall we say—complicated payment requests, like crowdfunding campaigns.
However, it can also be used in ecommerce, and there's a helpful support center.
3. Stripe
Stripe was built with ecommerce in mind, and this alone has helped make it one of the most popular payment gateways with customers and merchants alike.
It's modern, easy to use, and comes with high levels of security.
What's more, it's also really easy to set up for merchants, and offers one-click checkouts.
4. Amazon Payments
You'll need to team up with Amazon in order to use Amazon Payments, but one significant advantage this payment gateway has is that Amazon is the world's most recognizable and trusted marketplace.
It's highly likely that your customers already shop with Amazon, which means that—on top of using a gateway they trust with their credit and debit card—they'll be able to use their existing login information. This improves ease of use and convenience.
5. 2Checkout
2Checkout is a customizable gateway that lets you test out the purchase experience before your checkout goes live.
This means you get to tweak a few things so that your purchase process is as seamless as possible.
Plus, 2Checkout lets you embed credit card processing on your site.
1.3. Payment processor
While a payment gateway approves or declines payment, the payment processor is the one that processes the payment after an online purchase.
It works as the link between the customer, the online seller, the acquiring bank, the issuing bank, and the payment gateway to exchange funds. While some processors don't handle the whole payment process, many do.
More than 50% of shoppers will stop a purchase if the checkout process is too slow, and almost 60% will stop a purchase if the checkout process is too complicated. Both speed and ease of use relate to the user experience—and that's a crucial factor for the success of your multivendor eCommerce platform.
If your payment gateway or payment processing takes too long to approve, decline, or process a payment, a customer might be inclined to take their business elsewhere.
The speed at which your payment gateways and processors handle payments is critical. You need to choose a processor that offers near-instant transactions—the whole process shouldn't take longer than a few seconds.
If possible, go with cloud transfer which enables quicker processing times.
It's also a smart idea to offer guest checkout options (as opposed to requiring them to register an account with you) as this can reduce friction during the checkout process and decrease cart abandonment rates.
You can further reduce cart abandonment rates by using a payment processor that lets you remove unnecessary fields from the payment form.
It's fundamental that the payment gateway and processor you choose fulfill all the PCI compliance requirements.
This means that they must use firewalls, protect cardholder data, encrypt transmitted data, use anti-virus software, and restrict data access, among other things.
In short, by being PCI compliant, your ecommerce payment methods and your store are safe and secure to use, and this goes a long way toward building trust with your customers. It will also significantly reduce your risk of a data breach.
Some payment processors come with PCI compliance tools, and some even offer assistance to you, the online seller. Keep a lookout for these factors when choosing your online payment methods.

Cybersecurity is quite important in 2022: in fact, the number of data breaches in Q4 2021 surpassed the total data breaches in the whole of 2020, according to Fortune.
Now more than ever, online stores need to reassure their customers that they've done their due diligence and put safety and security measures in place to protect their payment information.
To that end, adding SSL certificates is a smart idea, as it will help to put a customer at ease and build trust between your online store and the end-user.
When choosing your payment methods, look for SSL encryption and extra security features like anti-DDoS and 3-D Secure, which help keep private information safe.
Not all ecommerce payment gateways and processors make a commitment to exemplary customer support. Good support really matters for your customers, and depending on the demographics of the audience, you'll want to provide options that will suit their needs.
Younger customers might like to have customer support through social media channels or chatbots 24/7, and older customers prefer support by telephone. In any case, you need to ensure there's personalized customer support to resolve your customers' issues as quickly as possible.
Customers want you to understand their concerns and show them you care. This helps build trust, and it's especially crucial at those moments that can make or break a conversion, like the checkout process.
To show them you "get" them, you could offer several payment methods, plus free shipping. You'll want to clearly display your refund policy, too, as this can improve the quality of the customer relationship.
When choosing your ecommerce payment methods, it's a good idea to check whether 24/7 customer support is available. Many payment providers limit their customer service to emails and tickets, which means finding a provider that goes above and beyond the call of duty will help your store to stand out.
Before making your decision, you can ask the provider about their hours of assistance, which methods of contact are available, and what their average response time is.
5. Reliability and reputation
According to PPRO, reputation matters a lot when it comes to payment gateways, with brand recognition going a long way in helping you build trust among your customers.
The obvious option is to go with the most recognizable names like PayPal and Amazon Pay. However, not all your customers will use the same payment method, which means it's important that you take a look at your analytics to see which of the popular gateways will work best for your customers.
You can poll your customers to see which online payment methods they prefer, or conduct a survey asking them to rate specific payment gateways, especially in terms of trust and familiarity.
To further verify overall reputation and reliability, you can check to see which payment methods your competition uses and read consumer reviews.
Reliability is important, too. Customers need a reliable payment process that helps them get from "add to basket" to "your order is complete," as seamlessly as possible. If there are too many bumps in the road, or if the payment method turns out to be unreliable, your conversions could suffer as a result.
One thing to look for is whether there are any technical issues: does the website crash at the moment of payment? If so, how often?
Speed, which we looked at earlier, is another crucial issue, as is using the correct currency. While safety and security are important, too many payment security checks can slow things down, and ultimately frustrate the customer. You're aiming for fast, reliable service.
Safest online payment methods
A little earlier, we took a look at the top 3 payment gateways available to online merchants right now. In this final section, let's assess the safest online payment methods your customers can use.
1. Debit card
Debit cards are familiar to your customers, who trust them and see them as one of the safest payment methods out there.
When a customer pays with their debit card, the money is taken directly from their bank account. There are a great many variations of debit cards from student debit cards to tourist debit cards.
2. Credit cards
Credit cards are another hugely popular payment method with online shoppers. They come with advanced fraud protection measures and, unlike debit cards, they're not technically tied to a customer's bank account or money here is a wide range of credit cards available depending on the purpose. For example, it is smart to choose a revvi credit card or virtual card if your e-commerce business is at its infant stage.
What's more, if a customer disputes a transaction, their card issue can freeze the payment.
3. Payment apps
Circling back to our list of the best payment gateways, it's highly likely that your customers will have payment apps installed on their mobile devices.
These apps include PayPal and Apple Pay, and they come with multiple security features like fingerprint recognition and two-factor authentication.
For instance, before a customer can process a payment with PayPal, the app sends a code to their mobile device, which they must then enter to confirm their identity.
There's a lot to consider when choosing payment methods for your online store.
Where are your shoppers from? Do you need a payment method that caters to international audiences?
You'll also want to check for customization options (does the payment processor let you create guest checkouts, set up recurring billing, and add "buy now" buttons to your website?), integration with third-party shopping carts (can the payment processor automatically calculate shipping costs for you?), and in-app payments.
The latter is one of the most relevant trends in 2022, with in-app payments offering more convenience to the end-user, more flexibility, and heightened security.
You've got lots of options, including recognizable names like PayPal, but whatever you decide, make sure that the payment method fulfills all your requirements—and the requirements of your customers.