Shipping costs are, simply put, one of the largest obstacles to online sales. On the flip side, free shipping is one of the most powerful incentives for customers to shop online.
There are a million stats that support the importance of free shipping, but here's a particularly striking one: 9 out of 10 consumers view free shipping as the biggest incentive for shopping online!
And free shipping not only motivates customers to make a purchase… it also encourages customers to spend more. INVESP reports that the average order value jumps 30% when free shipping is offered.
However, there's no use in providing free shipping if nobody knows about your offer. A free shipping bar is a great solution for informing your customers about the shipping costs for their orders.
If you're looking for the best free shipping bar app for your Shopify store, you're in the right place. We've collected the best of the best based on the reviews and features.
Let's get started!
What's the best free shipping bar app for Shopify?
There's no magic bullet when it comes to choosing a free shipping bar for your Shopify store. Depending on your budget and the unique needs of your online store, one or more of the free shipping bar apps below might work best for you.
1. OptiMonk popups & free shipping bars
OptiMonk is an all-in-one CRO toolset that provides sticky bars, popups, website personalization, and A/B testing. It is built for ecommerce marketers and agencies looking for quick and affordable solutions to boost the performance of their marketing activities.
OptiMonk's conversion tool comes with many options, and one of them is an advanced free shipping bar.
You can inform visitors about your free shipping offer using a traditional announcement bar, or you can create dynamic free shipping bars that count down to your free shipping threshold as your customers add items to their cart.
Main feature #1: Dynamic Free Shipping Bar
Create dynamic free shipping bars by using OptiMonk's Cart Value Countdown Smart Tag feature and show visitors how much more they have to spend to unlock free shipping.
This will encourage customers to spend more and your average order value will increase.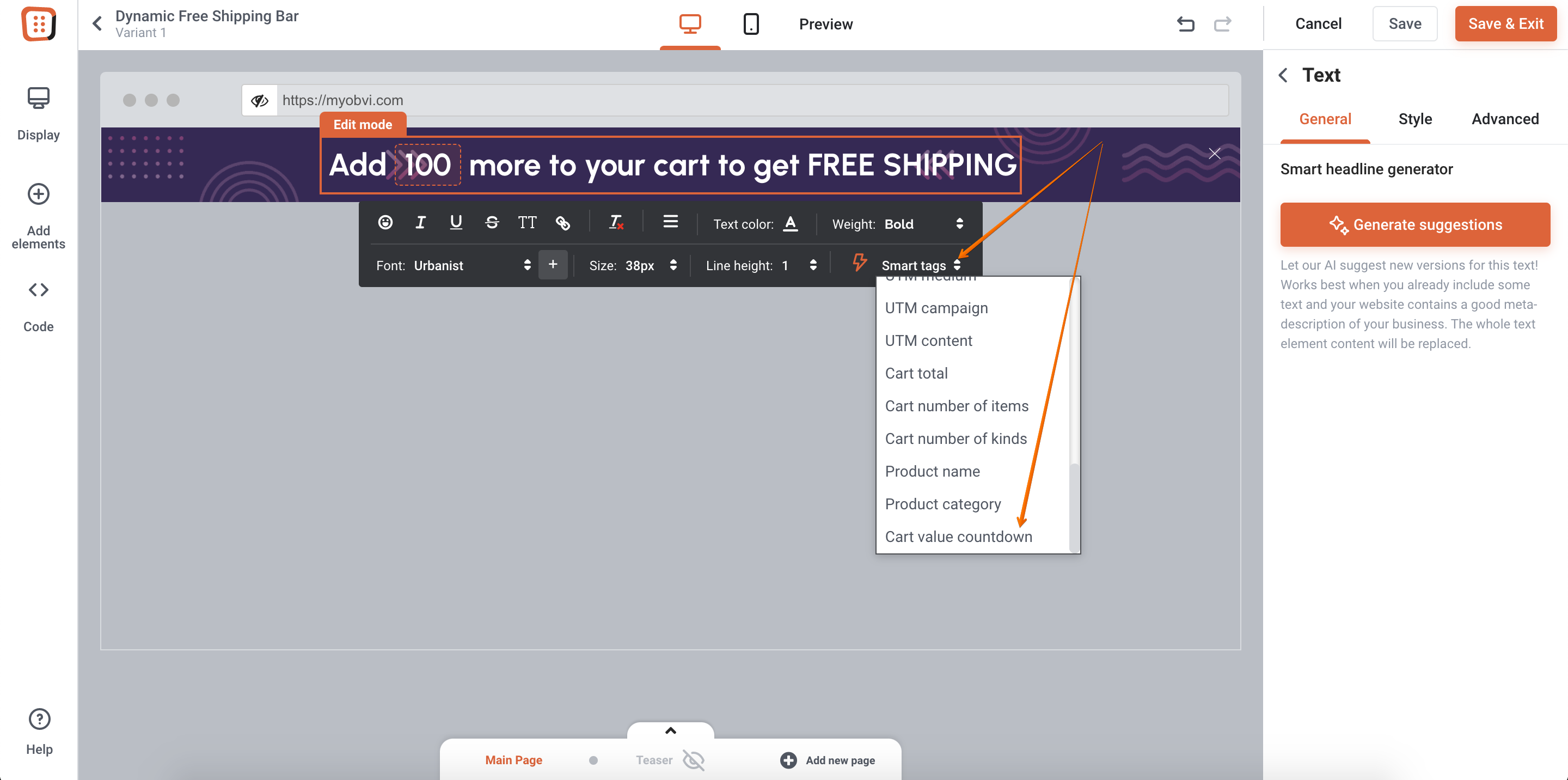 Main feature #2: Mobile-friendly campaigns
Create free shipping bars that look as good on mobile devices as they do on desktop.
All pre-built free shipping bar templates are 100% responsive and look great on all devices. But you can also adjust the look of your free shipping offers by device type or hide certain elements on mobile.
Main feature #3: Advanced targeting options
Take advantage of advanced targeting options based on location, visited pages, time spent on site, and based on many ecommerce-related data points like cart content, cart value, product pages, etc.
Main feature #4: Easy editing options
Customize templates to match the look and feel of your site using OptiMonk's drag-and-drop editor. You can also add any extra element to your free shipping bar, like countdown timers, images, coupons, and more.
Other features:
When you sign up for OptiMonk, you also

get access to other message types

like popups, side messages, sticky bars,

embedded content, and dynamic content.
Get access to over 300 ready-to-use templates for different use cases (and seasons, since there are curated holiday themes available).

Use OptiMonk's software to

display dynamic product recommendations

to your visitors.

Segment your target audience

using Shopify-specific targeting options.

Boost sales by optimizing your messaging with

A/B testing

.

Use our AI-powered Smart Headline Generator and come up with catchy headlines quickly.

Access

analytics & insights

(including assisted revenue).

Get in touch with OptiMonk's

dedicated support team

.
Pricing: Free plan, or from $39/month.
2. Hextom free shipping bar
Hextom Free shipping bar is a dedicated Shopify app that does just one thing: allow you to create a free shipping bar for your online store.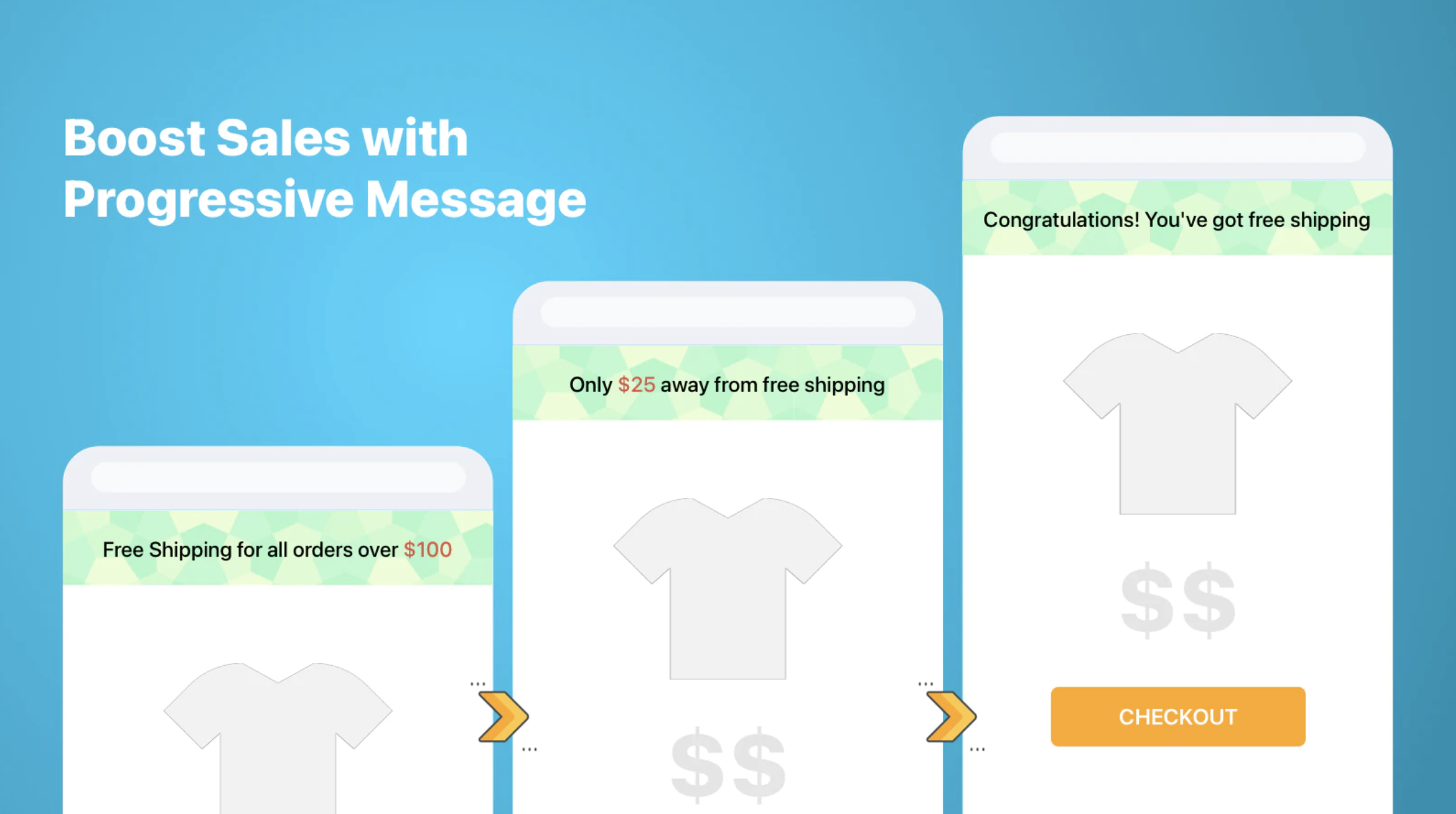 Main features:
Show progressive messages when customers put more items in their shopping carts.

Show different offers to shoppers in different countries with geotargeting.

Use currency detection to ensure your shipping deals are shown in the correct currency.

Customize everything on the bar to fit your store style.
Pricing: Free plan, or from $9.99/month
3. Care Cart sales popup & free shipping bar
Care Cart is a great free shipping bar app for creating a sense of urgency, since you have the option to use your announcement bar to display the remaining stock of popular products.
You can also use a timer to inform visitors about time-limited free shipping campaigns.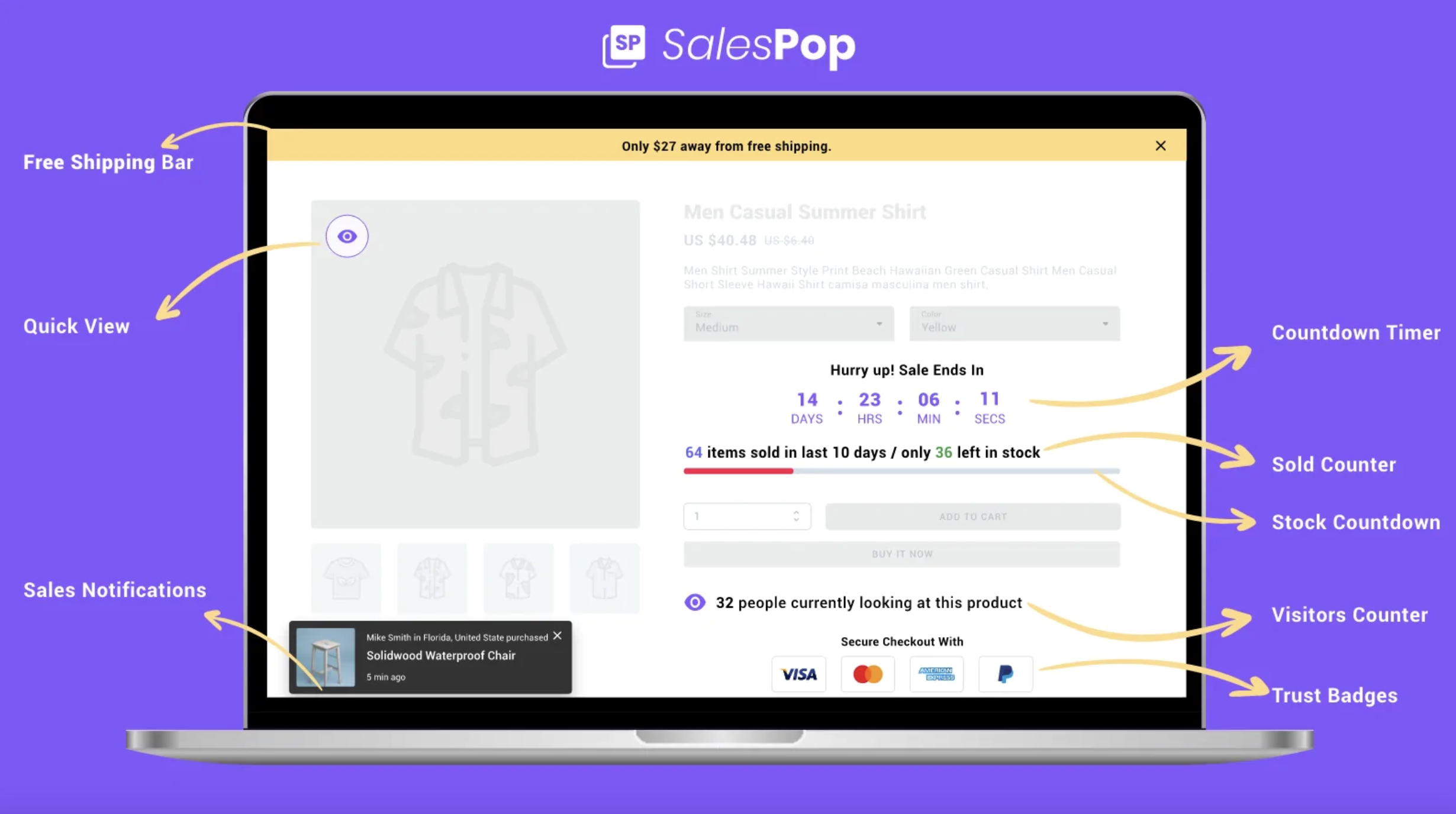 Main features:
Create great-looking free shipping bars.

Show notifications when a product has been sold.

Use a stock countdown bar to increase sales.

Add a countdown timer element to any free shipping bar.
Pricing: Free, or from $4.99/month.
4. Conversion Bear free shipping bar
Conversion Bear allows you to create several different free shipping offers depending on a user's location and the contents of their cart. Setting different cart goals can result in more sales and a higher average order value.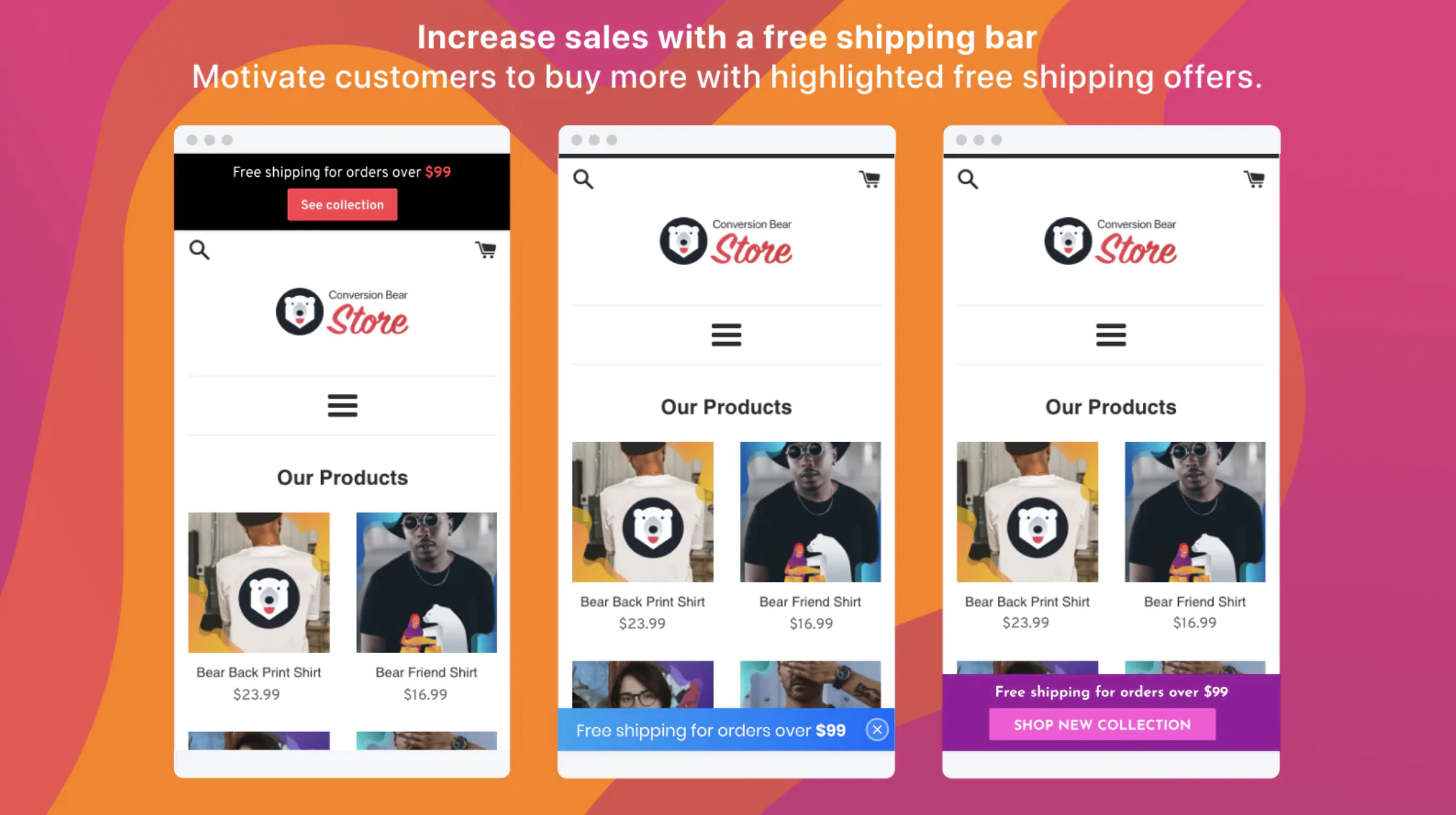 Main features:
Increase sales with a free shipping bar.

Choose between several design layouts for your free shipping bar.

Use geotargeting and convert currency.

Easily set up your free shipping bar (it takes 5 minutes at most).
Pricing: Free.
5. AVASHIP: Order tracking & free shipping bar
AVASHIP's Shopify app does two things: helps you create a free shipping bar to display your shipping deals, and allows your customers to track their orders online with its order tracking feature.
If you don't already have this functionality in your online business, AVASHIP could be a great option for you.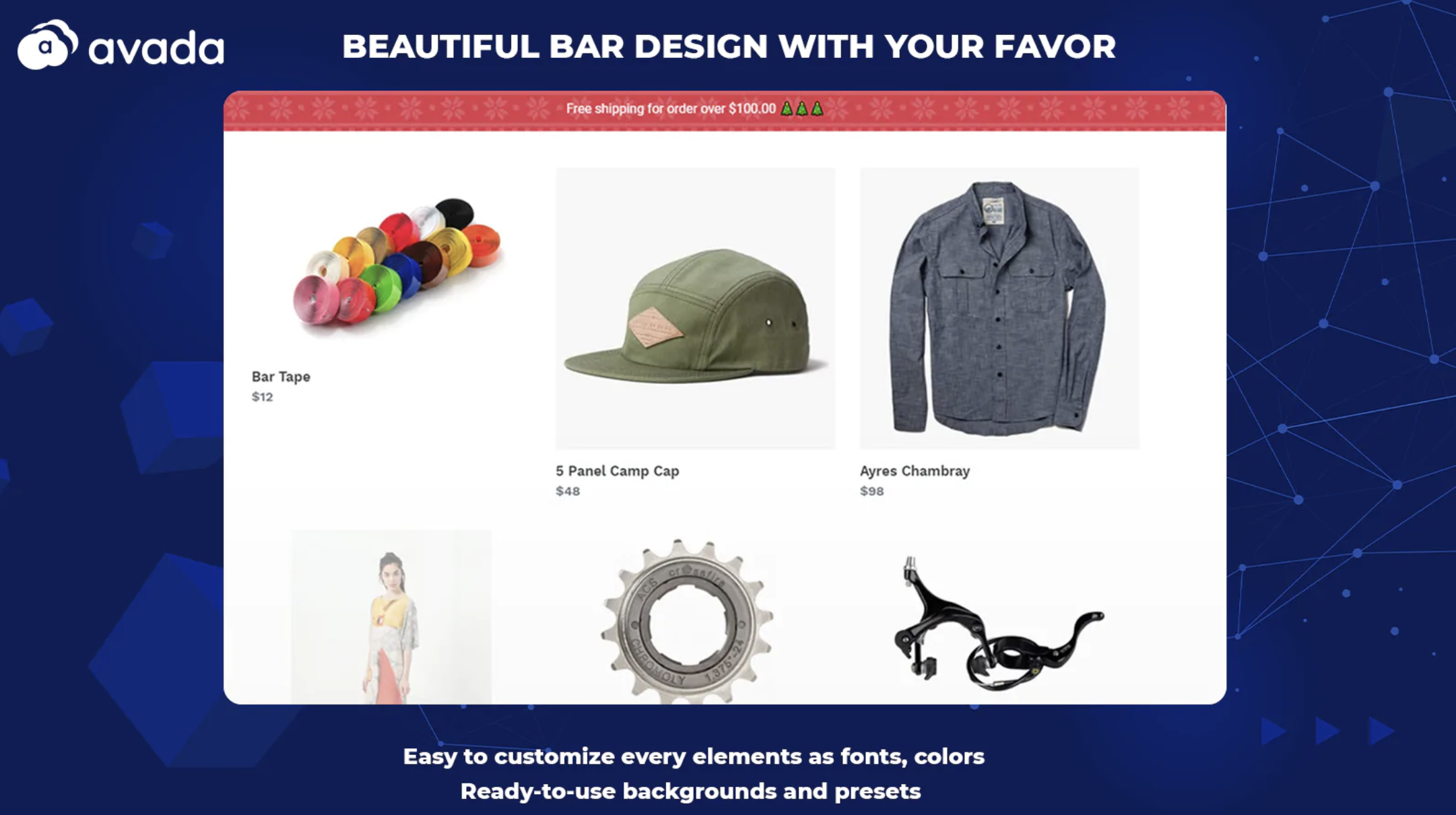 Main features:
Show a progressive message that encourages online shoppers to reach your free shipping goal.

Customize templates for your welcome bar, promotion bar, or free shipping bar.

Target countries, devices, and pages to perfectly match your sales message to specific customer segments.
Other features:
Create an order tracking page where customers can get updates on their orders.

Send an automatic delivery email notification to customers when their order has shipped.

Manage shipments.
Pricing: Free.
6. SpurIT UAB free shipping & hello bar
Ready to level up your customer engagement? Try SputIT's notification bar and free shipping bar, which makes your free shipping offer clear and visible. Grab customers' attention with interesting copy and emojis, and motivate them with a progressive message.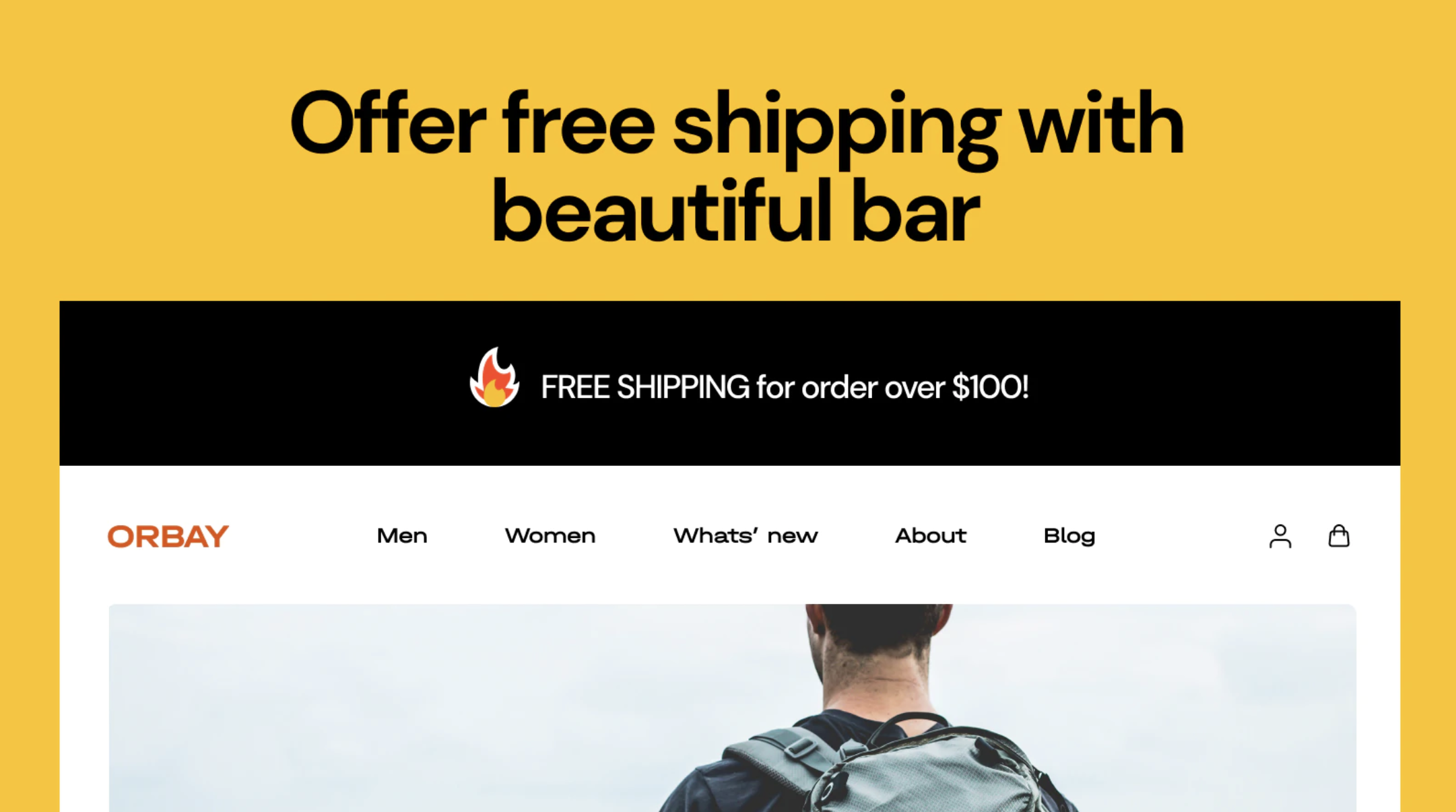 Main features:
Choose exactly when your free shipping bar is displayed, and for how long.

Set up conditions to show different bars to different visitors.

Create an unlimited number of offers.

Mobile-friendly design looks great on phones and tablets.
Pricing: From $8.95/month.
7. FireApps sales box & free shipping bar
The free shipping bar from FireApps is part of a Shopify app that also allows you to include a shipping calculator and delivery time estimator on your website.
By automatically tracking customers' locations, the FireApps free shipping bar will display correct shipping information in the correct currency. This cuts down on the amount of work you need to do.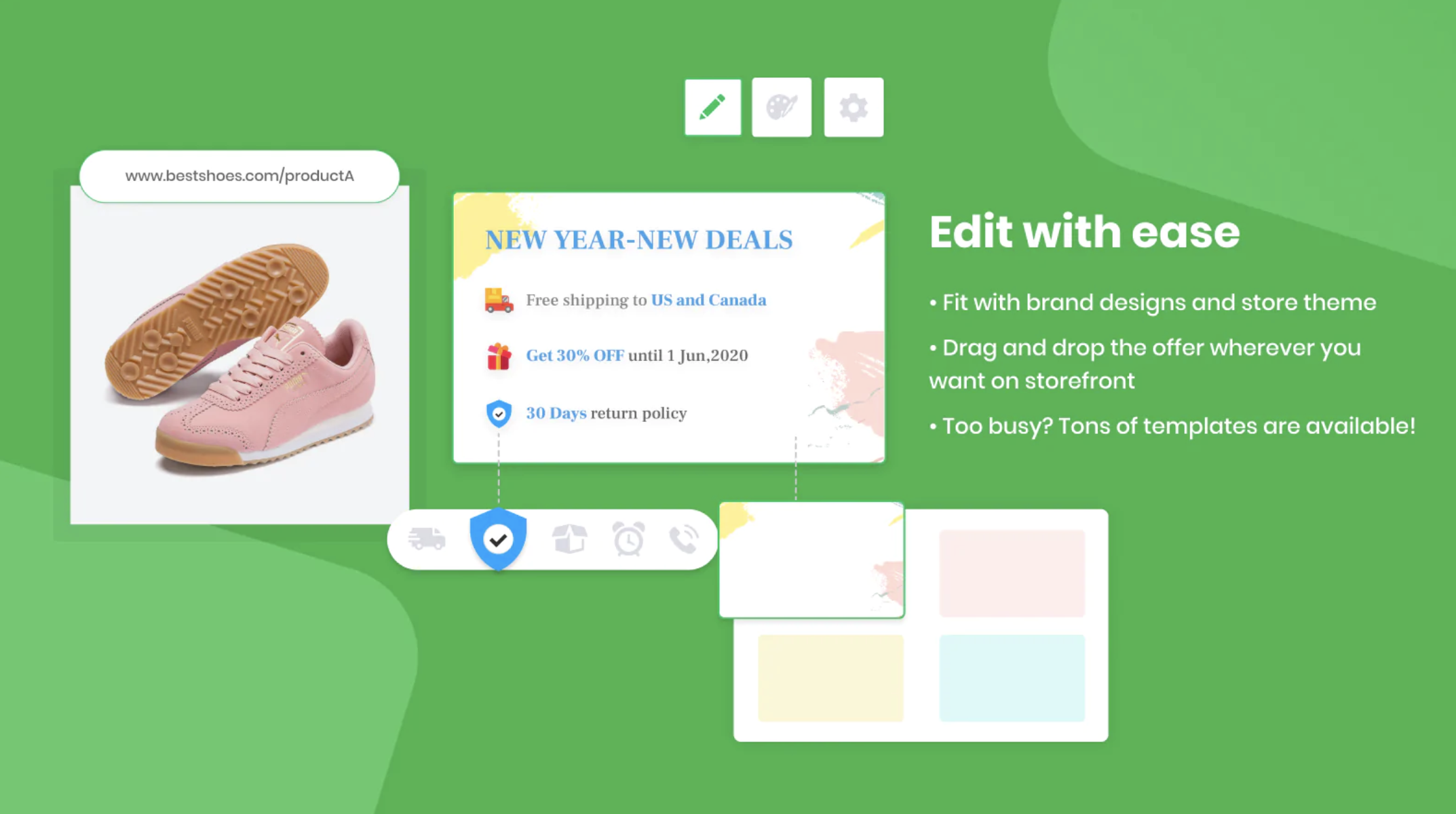 Main features:
Localize your free shipping offers with geo-targeting and currency detection.

Schedule offers to run time-limited free shipping campaigns.
Pricing: $19/month.
Hopefully, this list of free shipping bar apps has given you some ideas for new apps to use on your ecommerce site. One thing is certain: displaying shipping bars will ensure that your visitors are aware of your free shipping offers, making it more likely they'll complete an order.
Have you tried any of the Shopify apps on this list? Let us know about your experience in the comments!
And if you've never used a free shipping bar on your site, why not get started today by creating a free OptiMonk account?