Ten years after their debut, we'll have to wave goodbye to Google Optimize and Optimize 360. Why? Google has just announced that the services will no longer be available after September 30, 2023.
If you're testing and optimizing your website with Google Optimize's paid, enhanced version, you're undoubtedly devastated and searching for a substitute with all of Optimize 360's capabilities… or maybe even a superior solution that provides more functions.
In this article, you'll discover the best alternatives and learn how to choose one with the features that best support your business goals— without busting your marketing budget.
Ready? Let's dive in!
How to choose a Google Optimize 360 alternative?
It's time to go back to the drawing board and see this for what it is: an opportunity to rethink features that weren't available in Google Optimize 360 that you wished were there. As you look for alternatives to Optimize 360, give yourself the objective of finding a better option for less.
If you've used Optimize 360 to run more sophisticated testing for your company and don't think there's any tool that could outperform that, here's a four-step guide to finding an alternative that will get the job done:
Step 1: Note down the pros of Optimize 360
Which features did you love the most about Optimize 360? For example: unlimited multivariate testing, data-driven heat maps, or Google Analytics audience integration.
Taking note of the pros of Google Optimize will give you a sense of what you'll want to look for in other services.
Step 2: List the cons of Optimize 360
Imagine what Optimize 360 would look like if it had everything you wanted and jot down what's missing. For example, maybe you wish it could integrate with other tools, offer better conversion optimization, have more advanced targeting options, or cost less.
As you're outlining the cons, you'll start to see how searching for another solution with additional features could make your tests and experiments more seamless and precise.
Step 3: Use your pro/con lists to compare alternatives and shortlist a few
This step will be straightforward if you've already done the first two steps. Basically, this is the part where you bring the first two steps together to determine what your ideal tool would look like.
After that, you can check out Optimize 360 alternatives through the lens of the detailed preferences you've noted, which will allow you to identify the tools that meet those requirements or come very close.
To make your job easier, this article lists the best Optimize 360 alternatives for 2023. Have a look and choose the ones that align with your preferences to compare!
Step 4: Test them out
At the end of Step 3, you should have a shortlist of 2-3 tools you're interested in. You'll need to put them to the test as soon as you can to get firsthand experience and evaluate their ease of use, accuracy, and email support.
Many of the tools listed below offer a free plan or trial version. While limited, these free trials should be more than enough to get a feel for the tool before you buy!
Top 10 Optimize 360 alternatives
Ready to find a great Optimize 360 alternative? Jump start your search with this curated list of the ten best picks for 2023 and beyond.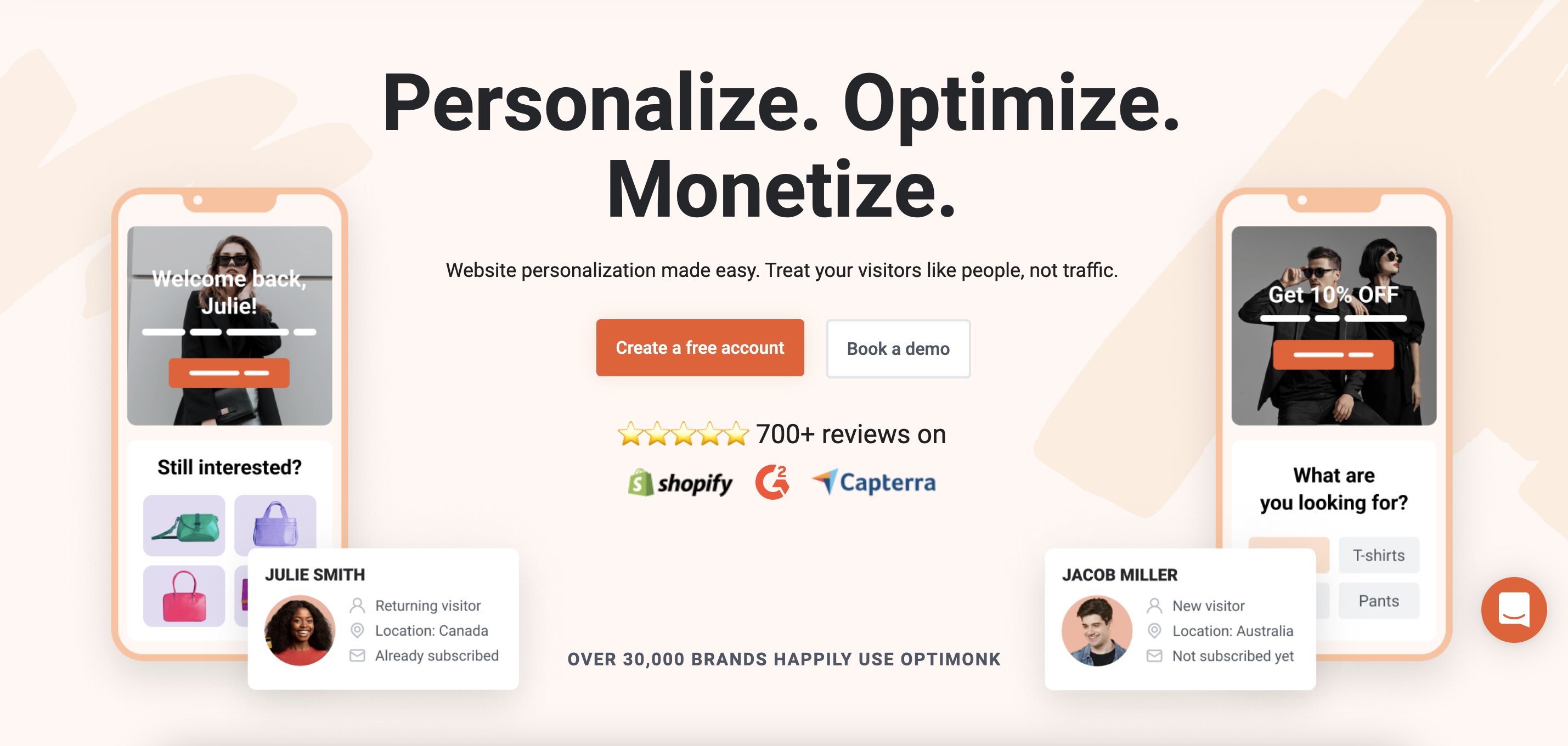 OptiMonk's comprehensive website personalization platform is an excellent alternative to Optimize 360. It aids marketing optimization by quickly creating personalized shopping experiences, thus maximizing website conversions and the ability to win more customers for life.
OptiMonk requires no technical knowledge and takes less than 5 minutes to set up. It also connects easily with the other tools you already use in your business.
Key feature #1: Point & click placement
You can easily place embedded content on your website with zero hassles and zero coding knowledge.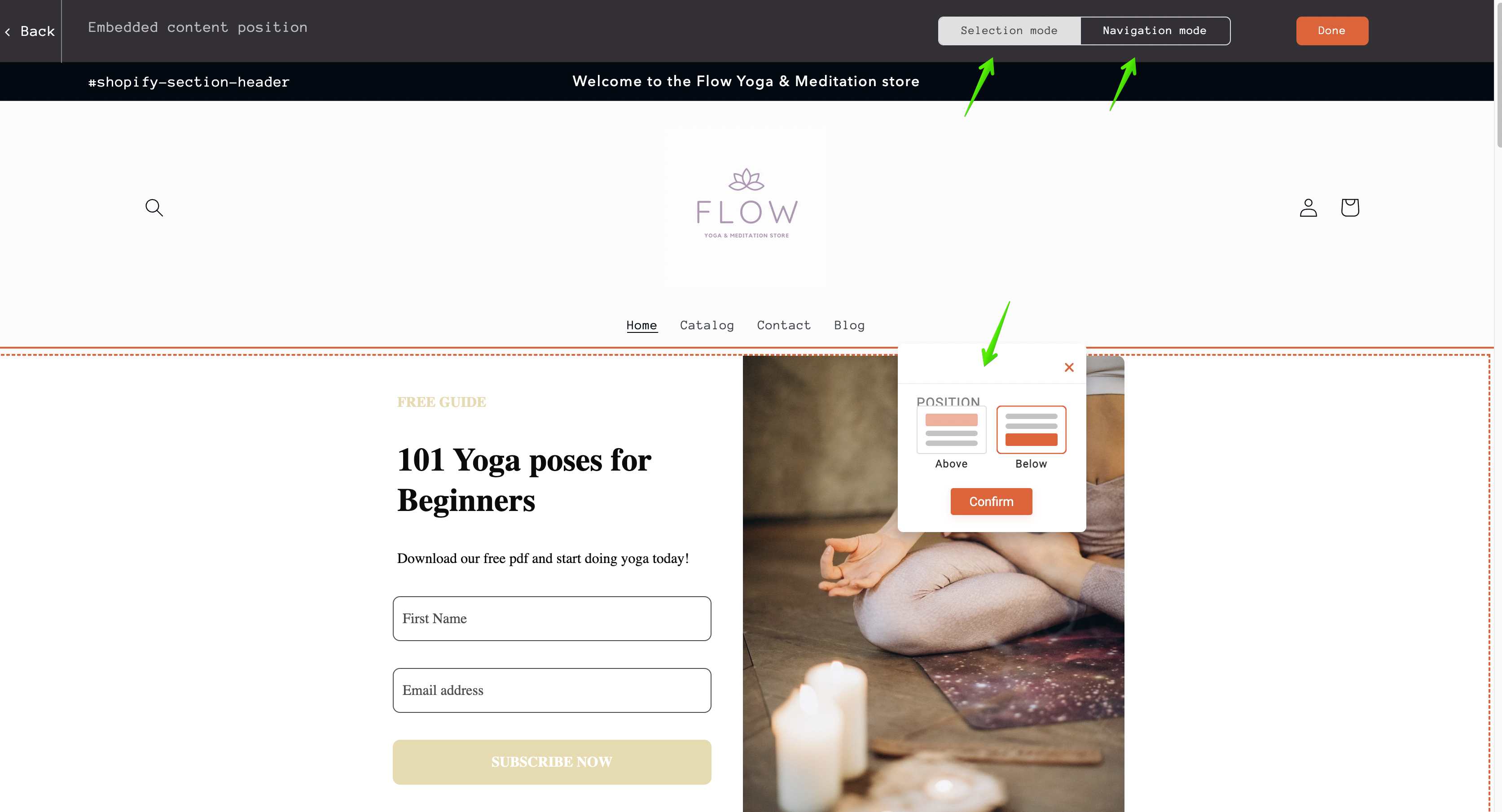 If you're interested, you can read more about OptiMonk's Point & click placement feature here.
Key feature #2: Experiments
Run more sophisticated testing to decide which tactics perform best on your website. Experiments give you a super simple yet very powerful way to run advanced tests on your campaigns without requiring any tech skills.
Key feature #3: Smart Tags
Include hyper-personalized content in your messages using any first- and zero-party visitor data you have.
Key feature #4: Segments
In addition to providing you with specific recommendations for predefined segments, you can create and save your custom targeting settings and access them quickly for future campaigns.
Additional benefits:
Product recommendations:

Deliver product recommendations that are personalized on an individual level.

Dynamic content:

Make your content more compelling with headlines and messages that address your visitor directly.

Flicker-free delivery:

Personalized content loads incredibly fast thanks to a complete rewrite of code that maximizes user experience.

Smart headline generator:

Create catchy campaign headlines that are proven to drive conversions by dropping only a few keywords into the generator.

300+ ready-to-use templates:

Use our embedded content templates or overlay templates like popups, side messages, sticky bars, lucky wheels, and more.
Pricing: Free plan available, or from $39/month.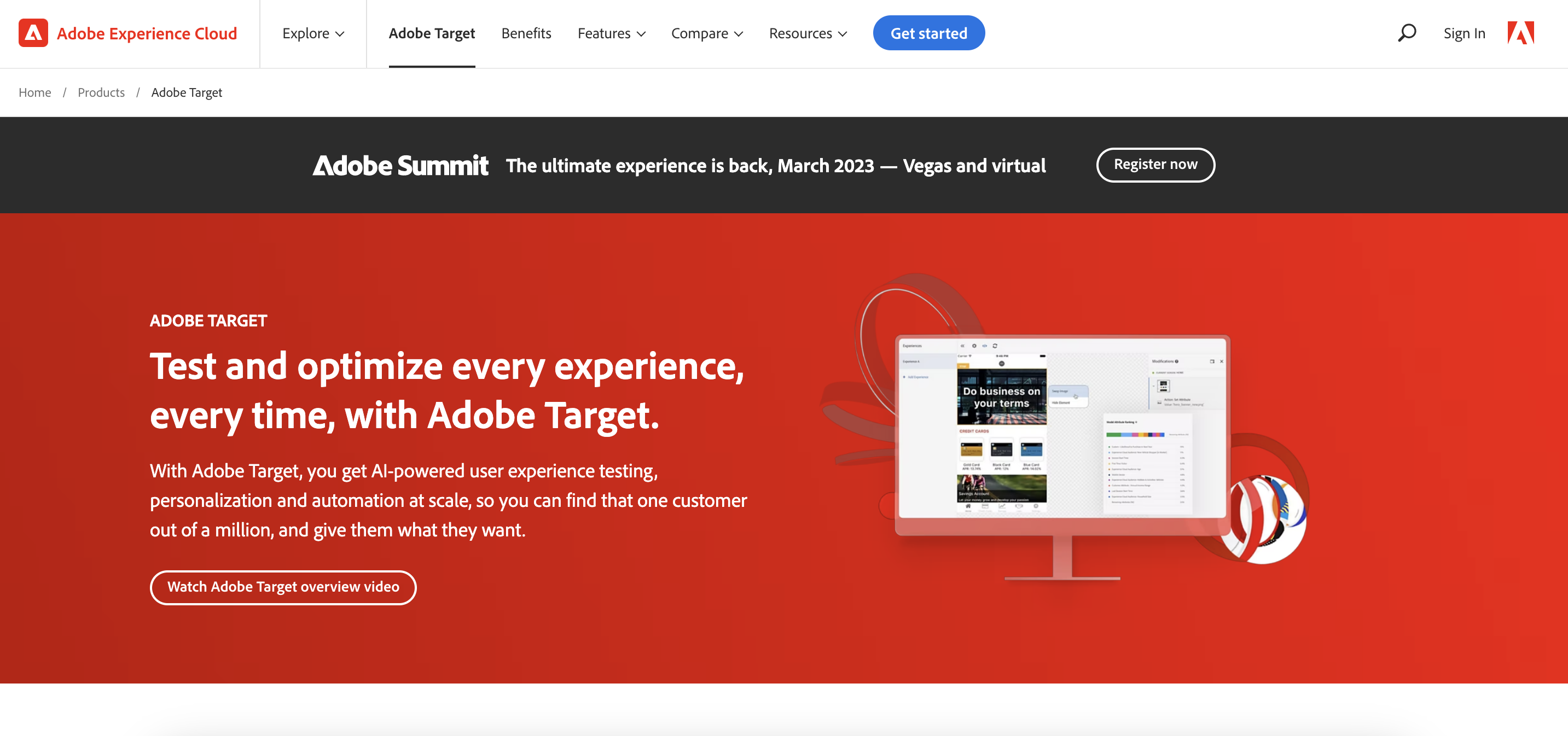 Adobe Target is a content testing, personalization, and automation solution for businesses that helps you maximize revenue on your website, mobile sites, apps, social media, and other digital channels.
It uses A/B and multivariate tests to quickly find and launch the best combinations of offers and layouts to attract customers.
Main features:
AI-powered automation:

You can give every customer a truly personalized experience.

A/B and multivariate tests:

Learn the most effective combination of content, layouts, UX, and more for your websites and other digital properties.
Pricing: Quotation-based pricing.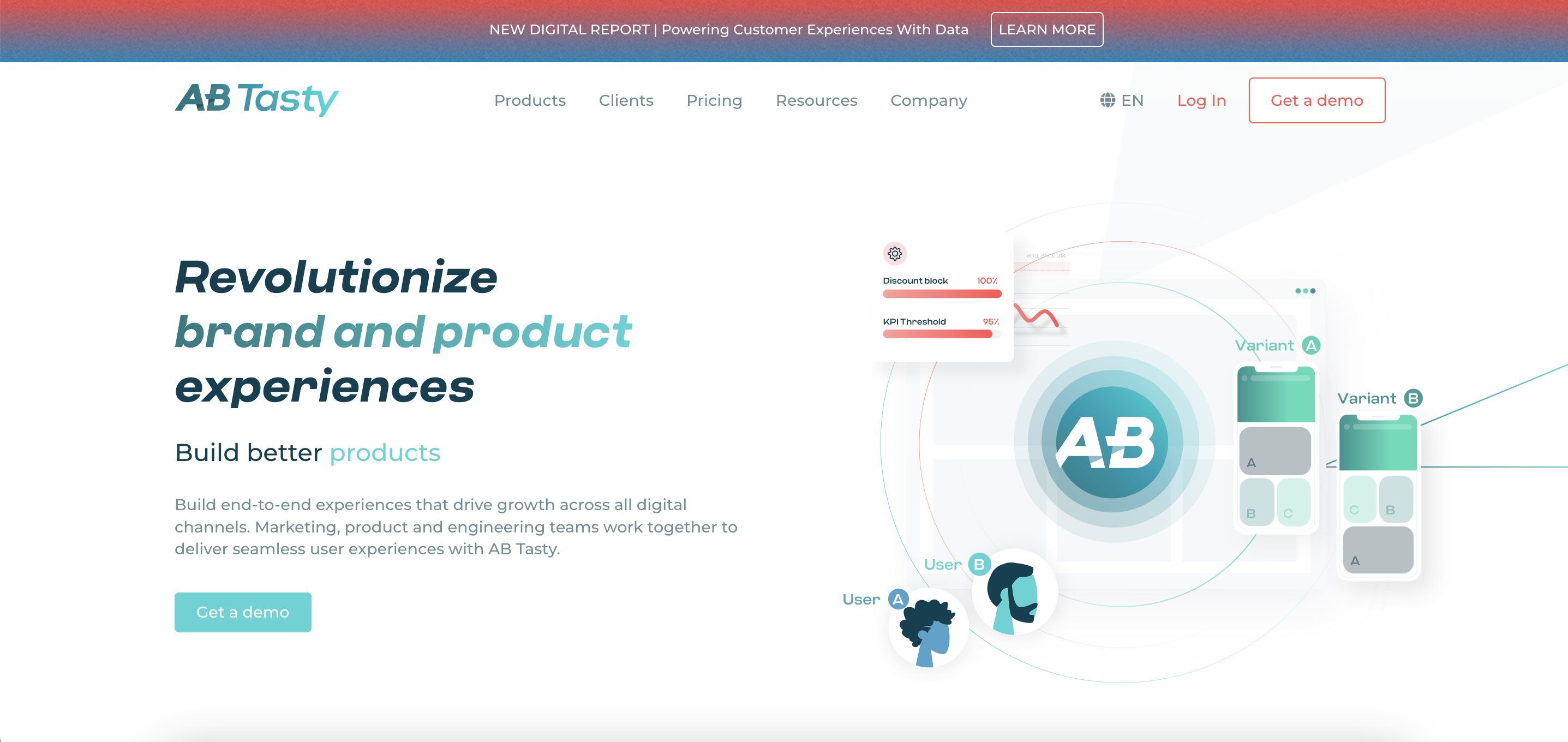 A/B Tasty is a SaaS-based application that enables you to optimize your website and increase customer interaction rate through A/B testing, user engagement, and personalization.
It's easy to use and loaded with features including user insights, experiments, marketing campaigns, personalization, mobile app solutions, and more.
Main features:
Optimize experiences on every device: Optimize across all devices, from desktop to mobile app to connected devices.
Personas: Select from any criteria to identify user segments.
Dynamic allocation: When activated, enables Flagship to identify the "winning" configuration and display that version to your defined target segment.
Pricing: Quotation-based.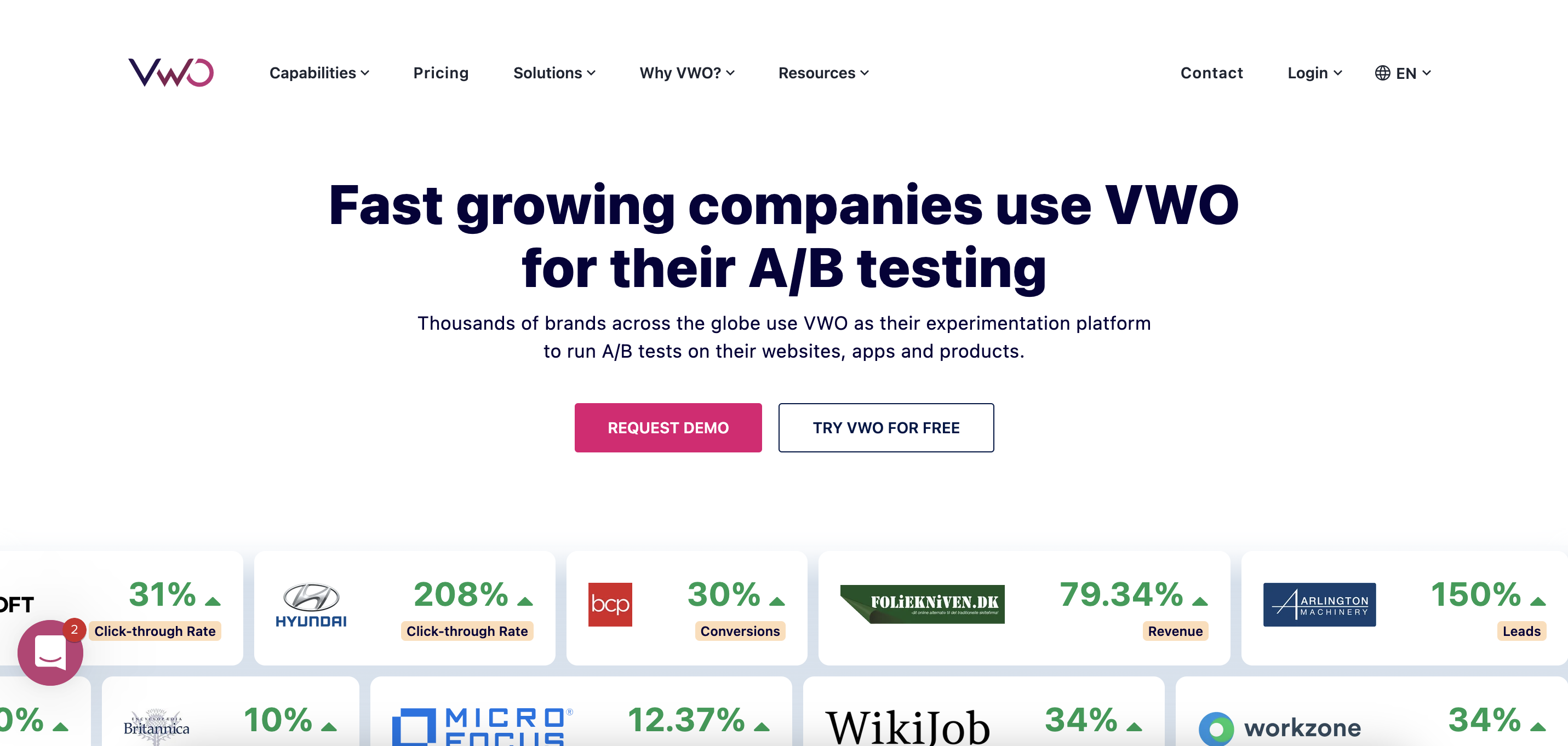 VWO Testing is an A/B testing platform that not only helps you optimize web pages, but also mobile apps as well. That makes it a great fit for companies that pursue a mobile-first strategy.
You can use the software to test all the calls-to-action, layouts, and design elements you need to fully optimize your mobile app, ensuring that you deliver the best possible product and customer experience.
Main features:
Visual editor:

Edit any element (text, images, shapes, background, etc.) on your webpage or landing pages with their user-friendly editor. You also have the option to use dynamic text to personalize your user experience on mobile or desktop.

Heatmaps and recordings:

Use these vital tools to understand exactly how visitors are interacting with your webpage. Learn the reasons for their behavior and why they like some variations more than others.

Chrome extension:

Using their Chrome extension, you can add any of your ideas to the central repository with just one click.
Pricing: Quotation-based pricing. Free trial available.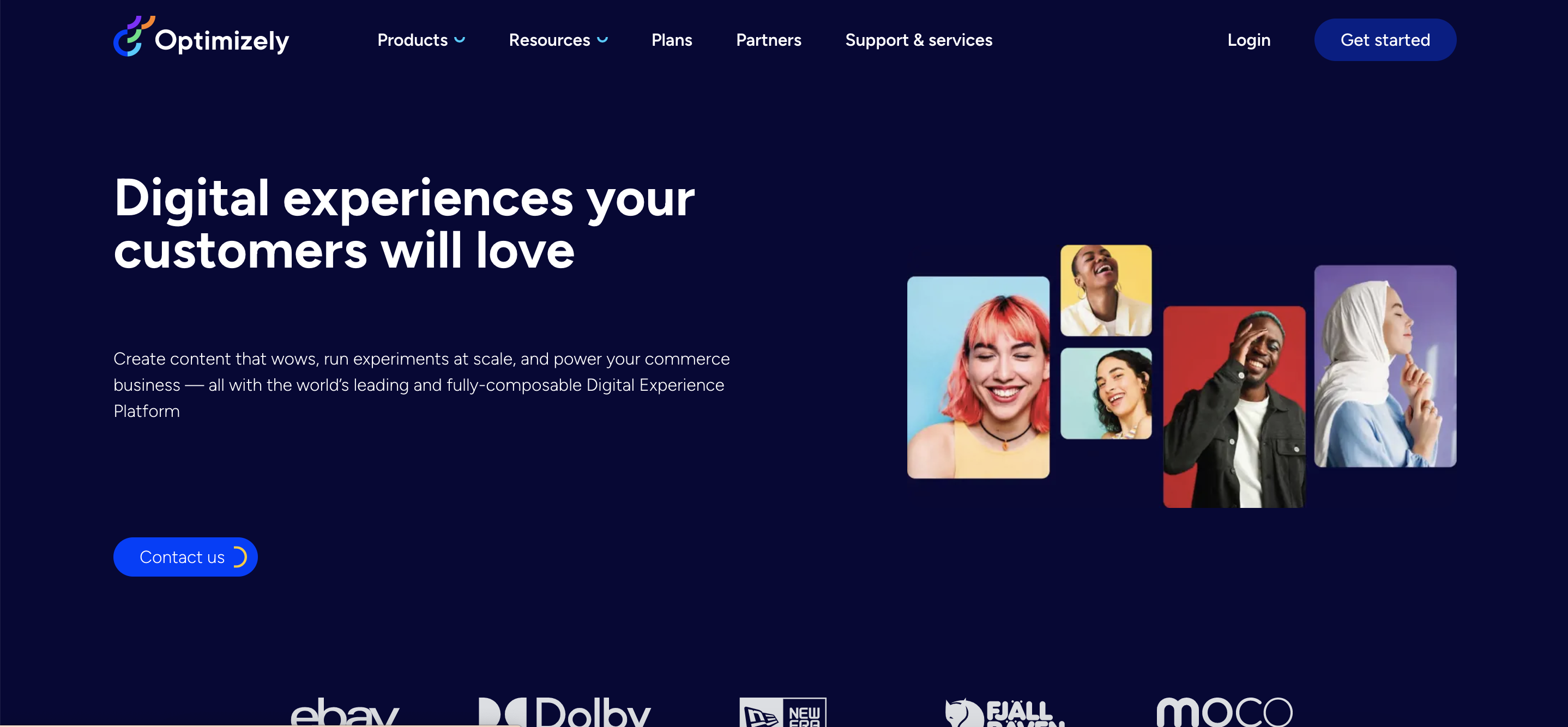 Optimizely is another experimentation platform that enables you to perform continuous experimentation across various websites, mobile apps, and connected devices.
It provides features for A/B testing, web experimentation, personalization, and recommendations.
Main features:
Visual editor:

Empower your team to collaborate with the easy-to-use visual editor to get things up and running (without using developer time).

Targeting & personalization:

Deliver targeted messaging, personalized offers, and recommend the most relevant content for your users.

Advanced experiment types:

This enterprise-level solution lets you use features like exclusion groups so you can safely run multiple experiments on the same page.
Pricing: Quotation-based pricing.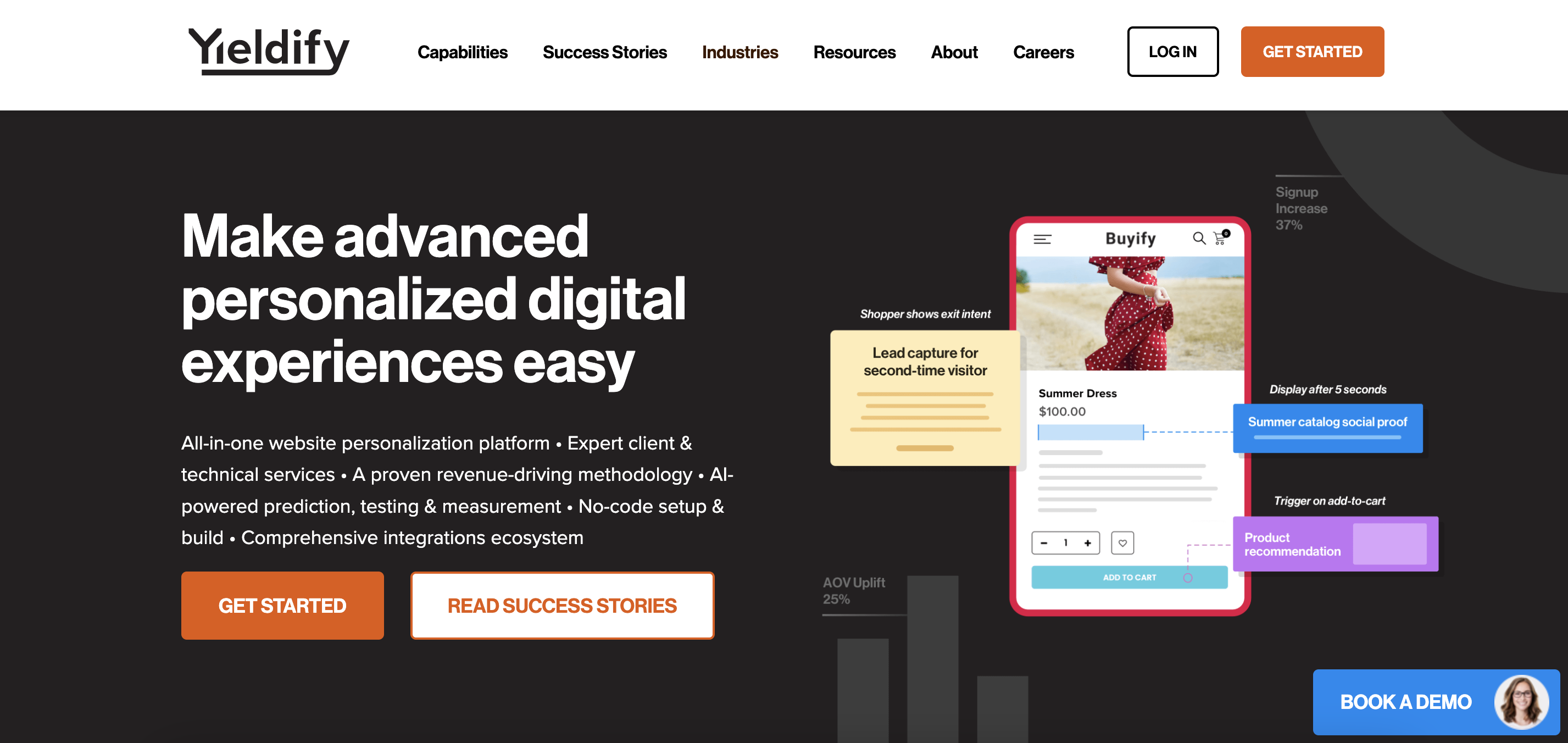 Yieldify is a customer journey optimization platform that brings personalization to the entire customer journey.
You can easily create target segments and deliver distinct user journeys for each segment using dynamic content.
Main features:
AI-powered testing & measurement:

Benchmark your performance against companies like yours and predict winning variants within weeks.

No-code setup:

Thanks to a fuss-free dashboard, an easy-to-use builder, and a single point of contact, forget waiting in your developer's queue.
Pricing: Quotation-based pricing.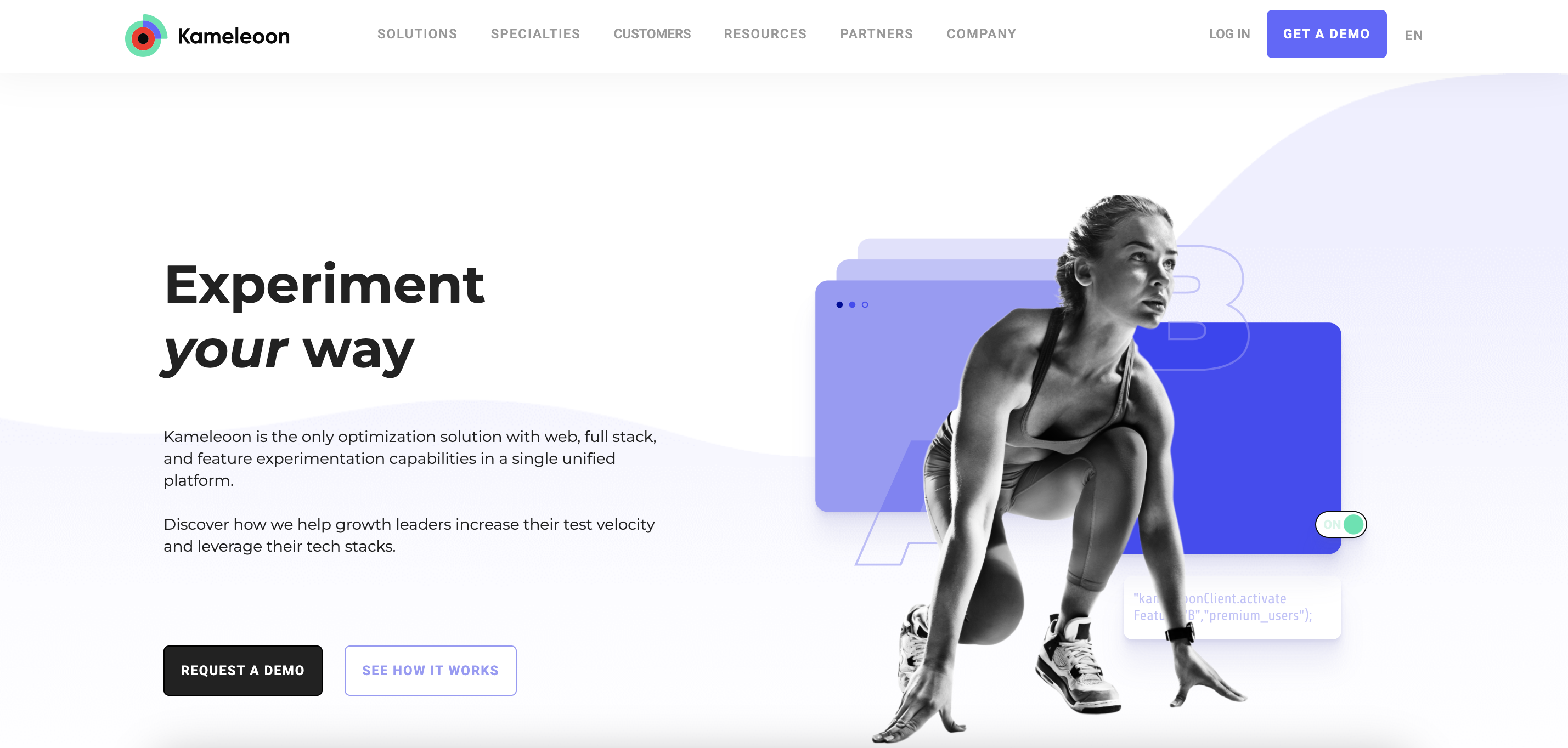 Kameleoon is an A/B testing and web personalization platform that helps you improve your online user experience, boost your conversion rate, and increase revenue.
Kameleoon comes loaded with a powerful AI engine that monitors visitor behavior, discovers correlations among visitors, and identifies conversion opportunities as they arrive.
Main features:
AI-powered personalization:

Use AI to predict when, where, and who will respond to a personalized experience with Kameleoon Conversion Score.

Developer-friendly code editor:

The Kameleoon code editor enables developers to create more complex experiments directly using JavaScript and CSS.

Dynamic traffic allocation:

Manually allocate traffic to a variant or let Kameleoon's system automatically push traffic to winning variants before the end of the test.
Pricing: Quotation-based pricing.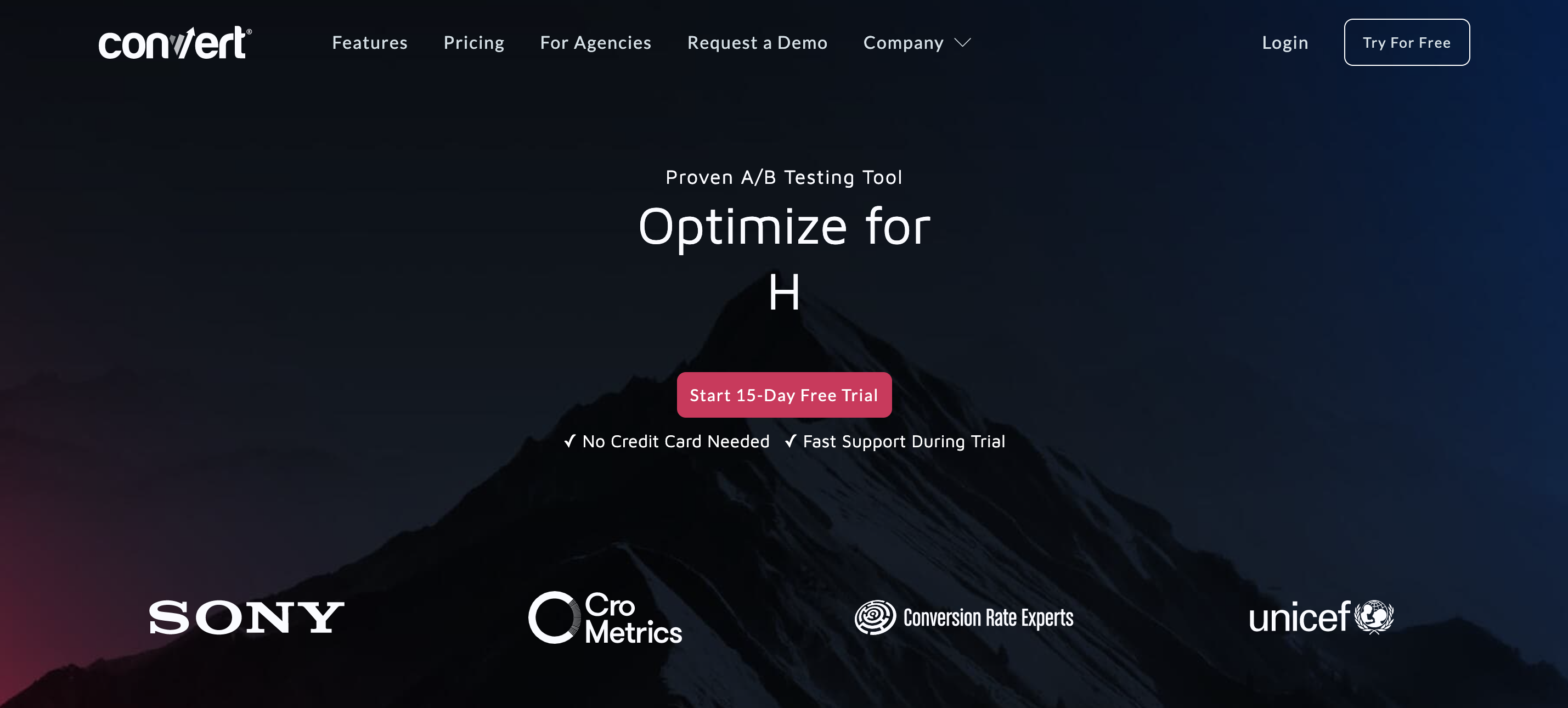 Convert Experiences is an A/B testing tool that also offers personalization that's fast and flicker free.
The platform offers reliable code and error checks, and it reports findings immediately.
Main features:
Your choice of editors:

Besides the Visual Editor, they also have a Code Editor.

Audience targeting engine:

Use dozens of presets for popular audience segments based on location, language, device, time of day, and more.

Limitless testing:

Your account lets you set up unlimited projects, work with unlimited sub-domains, and create unlimited variants.
Pricing: Starts from $99/month. Free trial available.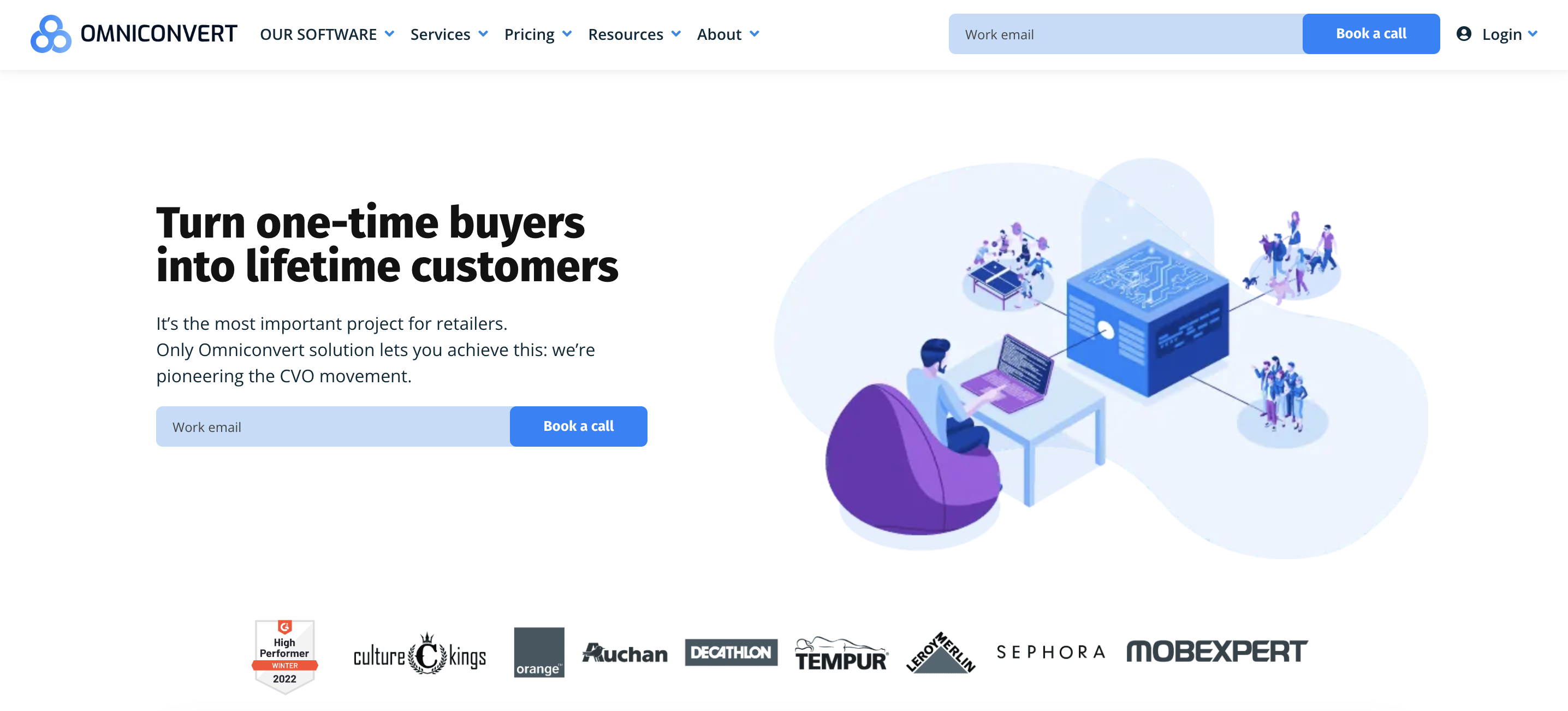 Omniconvert is a conversion optimization tool that empowers users to improve the ROI of their campaigns.
With their customizable website overlays like popups and banners, you can reach the right audience with targeted messages.
Main features:
Advanced segmentation:

Create segments using user data.

Experiment debugger:

Discover why your tests and experiments aren't displaying properly.

100+ overlay templates:

Including exit-intent popups you can use to target visitors that would have been lost otherwise.
Pricing: Starting from $320/month. Free trial available.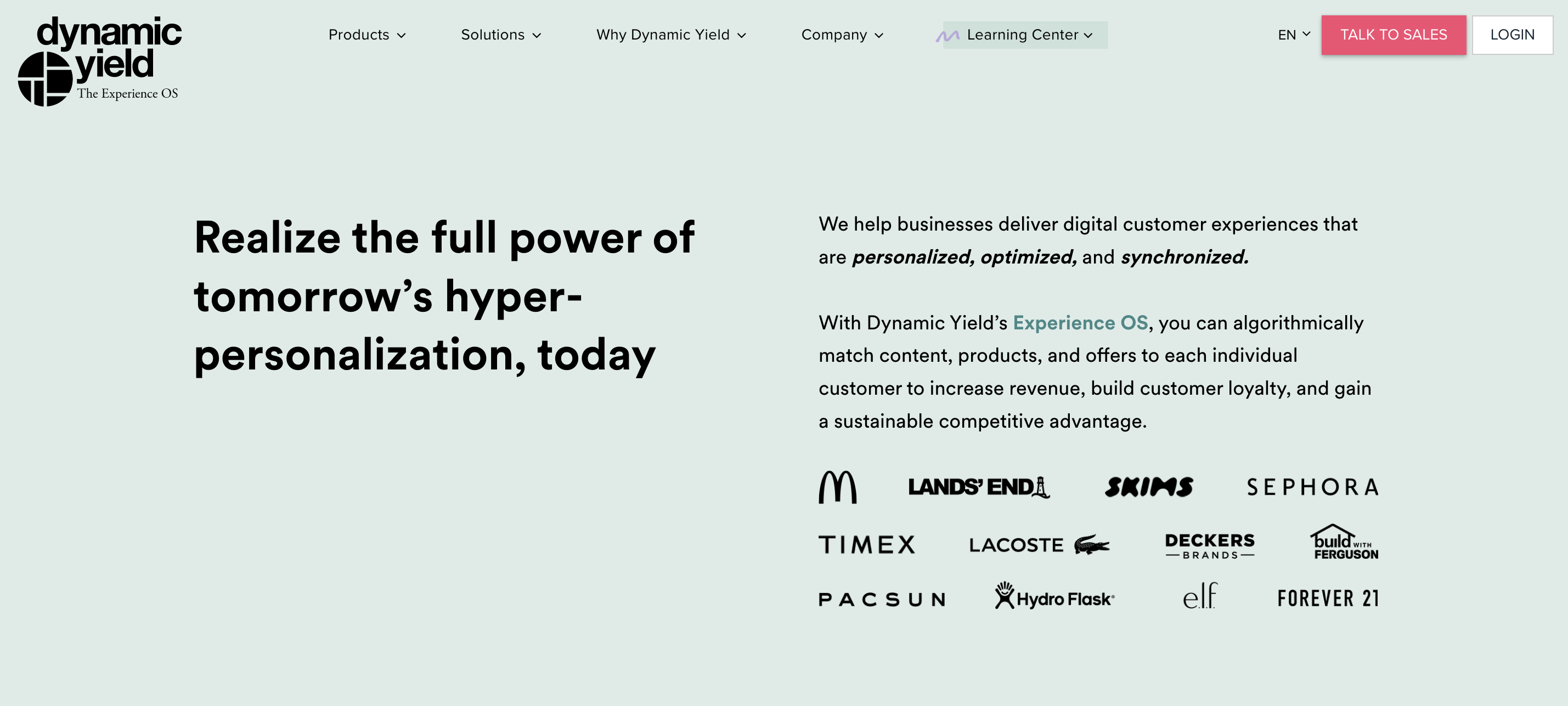 Dynamic Yield is a platform that helps deliver digital customer experiences that are personalized, optimized, and synchronized.
With Dynamic Yield's Experience OS, the algorithm matches content, products, and offers to each customer to help you increase revenue, build customer loyalty, and gain a sustainable competitive advantage.
Main features:
Audience management:

Unify customer data from all digital touchpoints to power your customer experience optimization program.

Recommendations:

Use deep learning to deliver hyper-personalized content and product recommendations.

Email personalization:

Hyper-personalize your email marketing messages with dynamic content.
Pricing: Quotation-based pricing.
Moving from one software to another can be daunting, especially when you've invested a significant amount of time honing your skills and are reluctant to start over. However, your continued success depends on how you respond to changes and challenges like the sunsetting of Optimize 360.
In this article, we've covered 10 great solutions that deliver similar or even better features than Optimize 360 to meet your company's needs. Now go ahead and pick the most suitable one for your ecommerce business!