Whether you run a large or small-scale business, in 2023, personalized marketing is key. If your visitors are regularly leaving your site without making a purchase, then it's high time you adopted effective personalization tactics.
Studies have proven over and over again that personalization can skyrocket conversion rates, which means that your marketing efforts are incomplete without it. 
In this article, you'll learn from top brands and their successful personalization strategies. Get ready to revolutionize your marketing and give your sales a serious boost!
Why is personalized marketing a must-have strategy in 2023?
Imagine you're having a birthday party. Your friends might bring you gifts that they know you'll like, or maybe they'll make you your favorite cake. They do this because they know you well and they want to make you feel special.
But how would you feel if you received a bunch of non-personal gifts that could have been given to anyone? Pretty disappointed, right?
It's the same with your customers—they expect brands to provide personalized experiences that make them feel valued and understood.
If a website fails to provide a personalized experience, customers may feel like the brand hasn't bothered to consider their interests.
When you personalize your website for visitors by using the information you know about them, you're not only improving their on-site experience, you're also making them feel like you really understand them and care about their interests.
Personalized experiences go way beyond personalized subject lines and personalized email marketing. Nowadays, ecommerce personalization statistics show that consumers expect brands to provide personally relevant branded content and individualized email campaign messaging based on their purchase history and preferences.
By creating a documented personalization strategy that's aligned with customer experience, businesses can increase their conversion rates and revenue while also decreasing their customer acquisition costs.
Personalization efforts can also involve providing personalized service to customers, ensuring they feel valued and appreciated. It's not just about increasing sales, but also building long-lasting relationships with customers.
All these things can help you create a competitive advantage that sets you apart.
Personalization statistics
Recent research indicates that personalization is a vital factor in driving customer engagement and loyalty:
Now, let's dive into some real-world examples of brands that have nailed personalization and explore the tangible results of getting it right.
Real personalization results of ecommerce stores
You'd be surprised what personalization can do to your bottom line! Here are some case studies that show the power of personalization in real businesses:
1. Kiss My Keto decreased their cart abandonment rate by 20%
Kiss My Keto is an online store that offers a variety of low-carb and high-fat products for people who follow a ketogenic diet. However, the team noticed that many visitors were leaving the website without making a purchase. 
To tackle this issue, Kiss My Keto implemented a series of campaigns that targeted visitors who were browsing the website but didn't add items to their carts and visitors that abandoned their carts before completing a purchase.
The first campaign was a discount popup that appeared on exit intent for visitors who browsed the product pages without adding anything to their cart: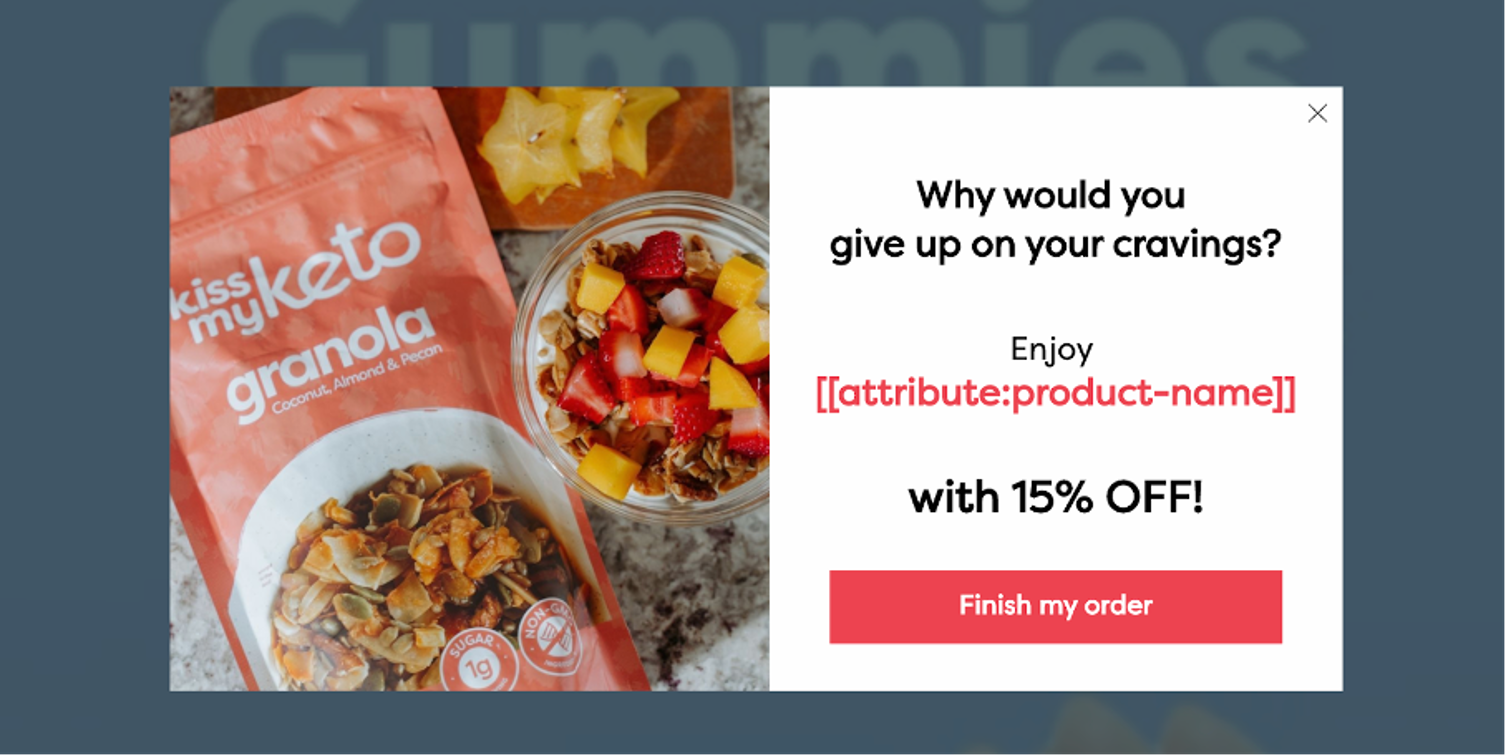 The campaign offered a 15% discount and used the product name the visitor was browsing to personalize the copy, making the popup feel much more relevant. 
The popup was presented in multiple steps: they only asked for an email address on the second page, and the coupon code was displayed on the third page. 
This campaign had an 8.67% conversion rate.
To save cart abandoners, the team also launched a cart abandonment popup that targeted visitors who had a high level of engagement but needed a final push to complete their purchase: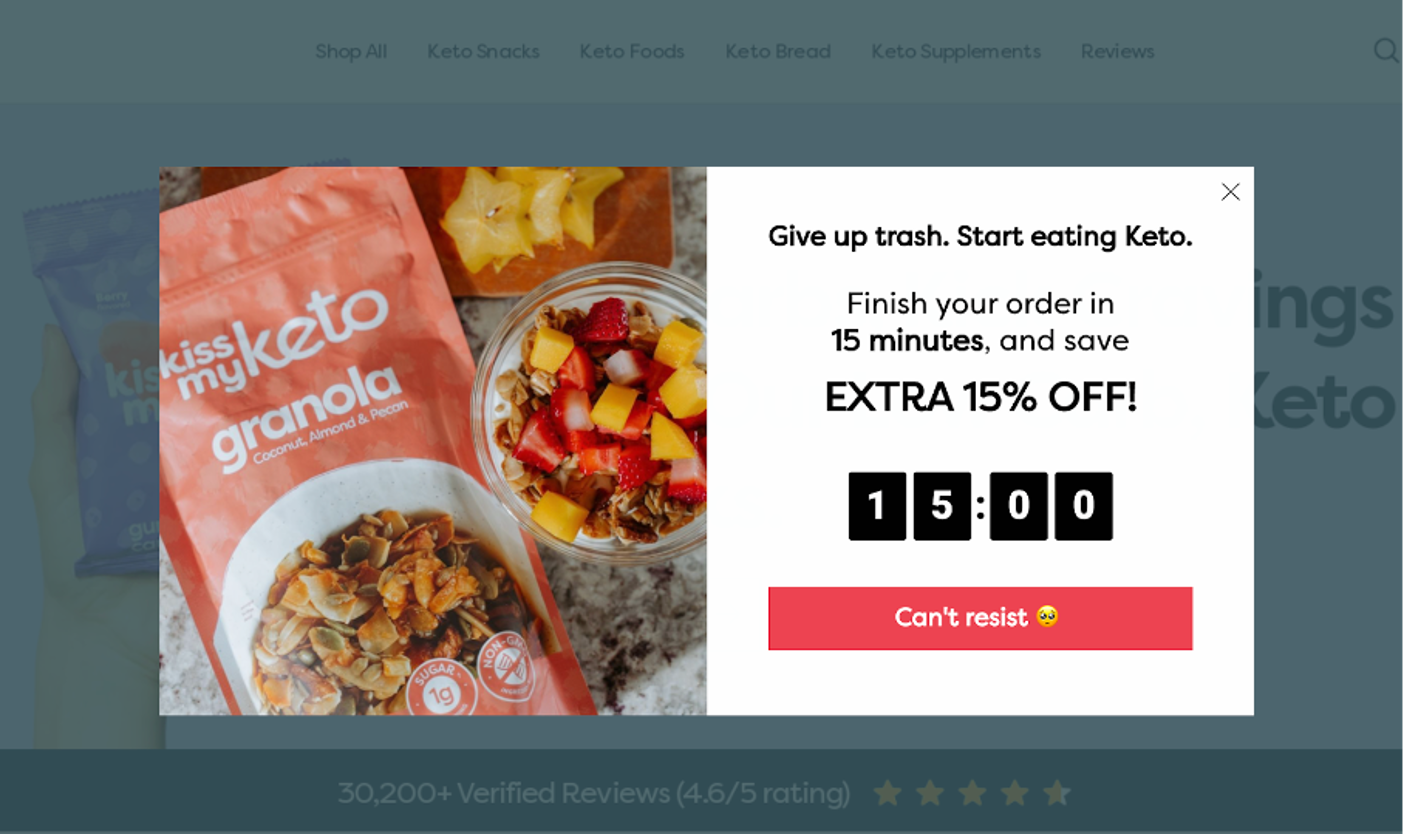 The team sent abandoning visitors a final 15% off and used a countdown timer to increase the fear of missing out (FOMO). The campaign was a huge success, with an impressive 15.05% conversion rate.
Finally, they launched a coupon code reminder campaign. This campaign was a useful reminder for visitors to use their discounts: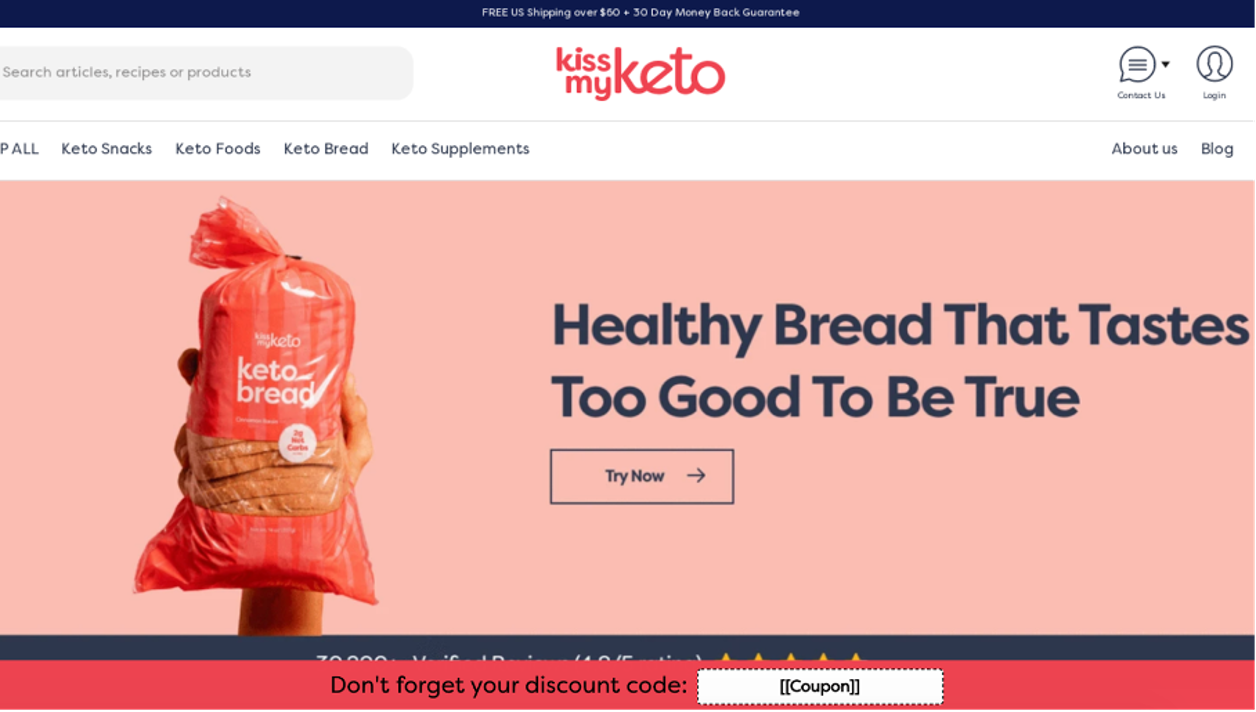 Together, these campaigns decreased Kiss My Keto's cart abandonment rate by 20%. 
The success of these examples from the Kiss My Keto team proves that targeted, relevant campaigns can significantly impact a website's conversion rate.
2. Vegetology doubled their signup conversion rate and increased their ecommerce conversion rate by 21%
Vegetology, a DTC brand, was struggling to improve its website's conversion rate. They decided to work with the OptiMonk team to optimize their website and personalize the customer journey. 
By implementing various campaigns, Vegetology was able to double its signup conversion rate and increase its ecommerce conversion rate by 21%.
The OptiMonk team focused on improving Vegetology's newsletter sign-up message: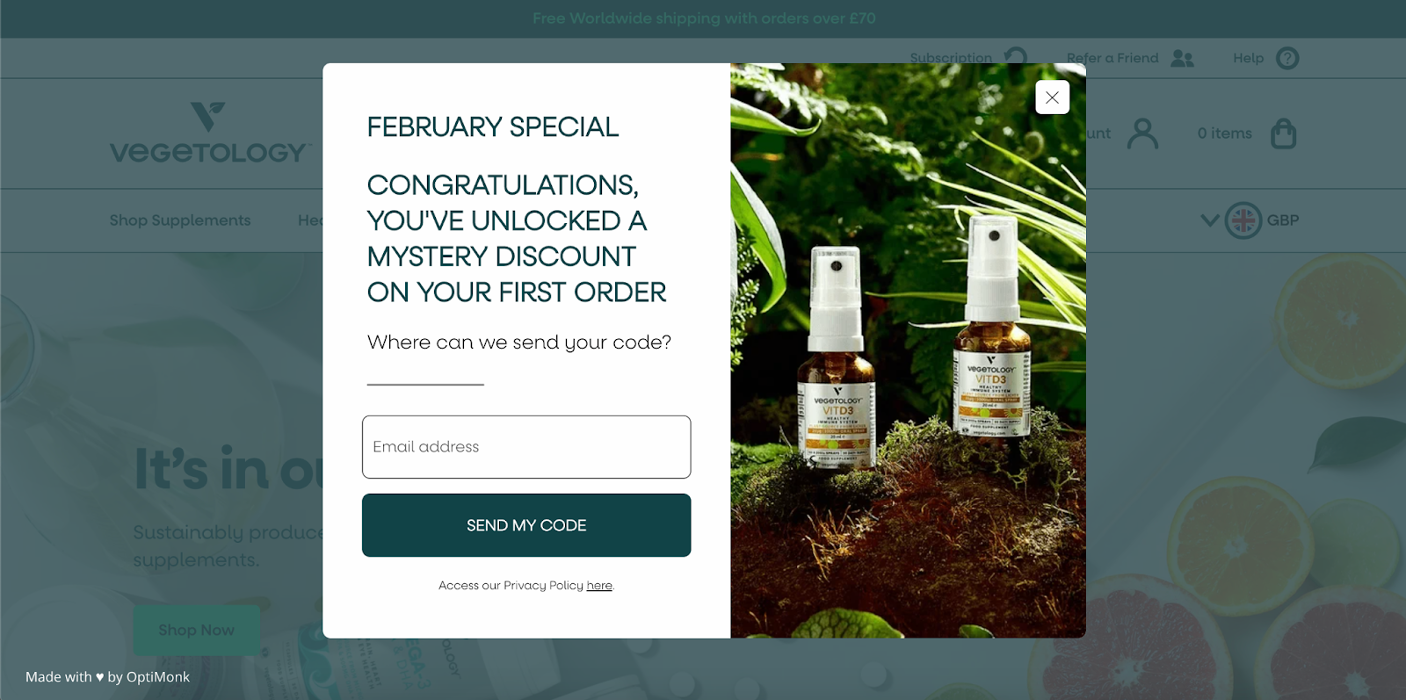 They promoted a "mystery discount" instead of the generic 10% discount, which added an element of excitement to the offer. They also used OptiMonk's Current Month Smart Tag feature ("February Special") to add some urgency to the offer. 
This resulted in a 13.8% signup rate and a 21% increase in their ecommerce conversion rate.
The OptiMonk team also created a personalized welcome message for returning visitors. This message promoted a new product bundle with a special discount, and it had a14.59% click-through rate: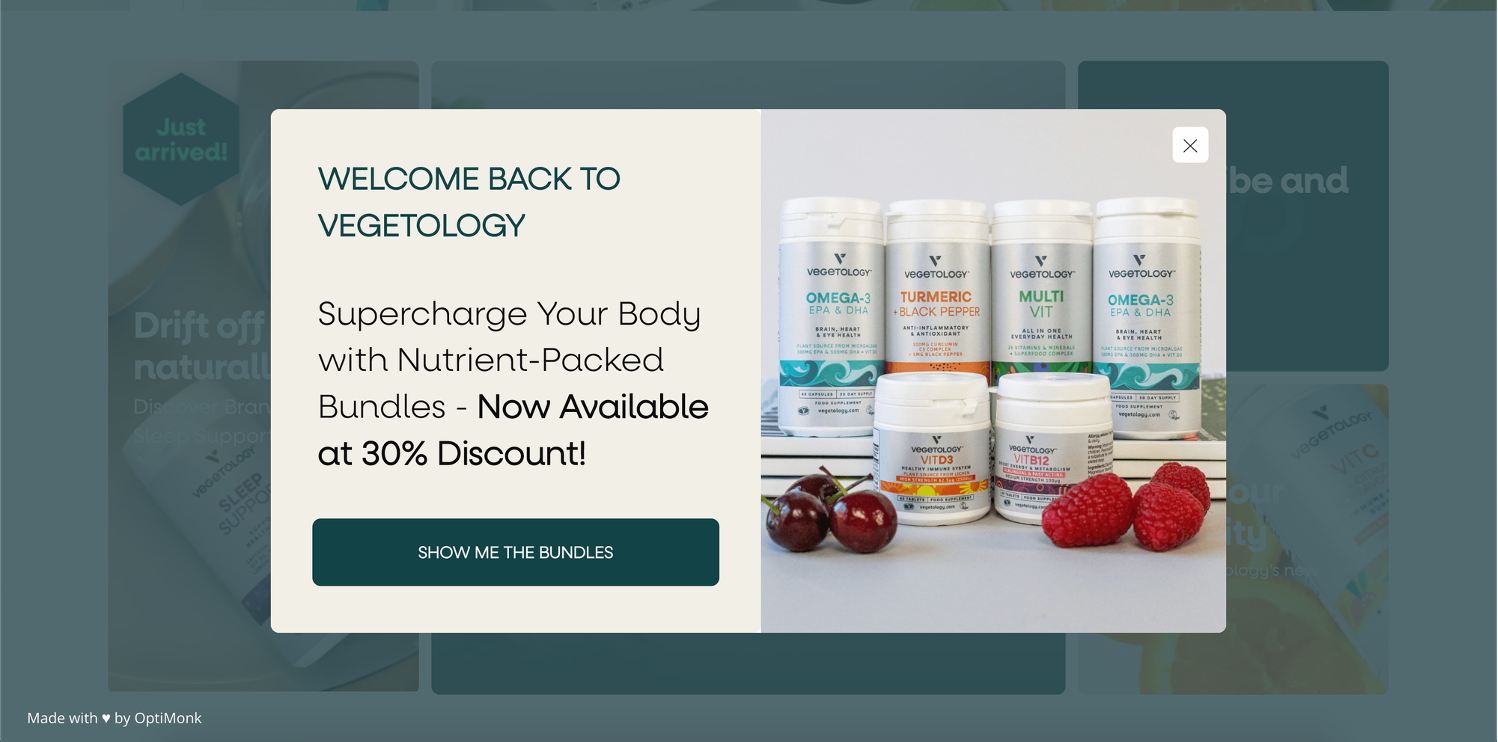 By creating a personalized experience for returning visitors, Vegetology was able to achieve a significant increase in engagement and sales.
3. Modelesdebusinessplan increased organic conversions by 64%
Modèles de business plan is an online platform that provides business and financial plan templates for over 300 industries. 
The company's primary source of customer acquisition is through organic traffic that arrives on their blog, which contains almost 3,000 posts covering various industries. However, it was a challenge to convert the traffic into paying customers since their target audience is incredibly diverse.
To solve this problem, Modèles de business plan teamed up with OptiMonk to create personalized campaigns for their visitors: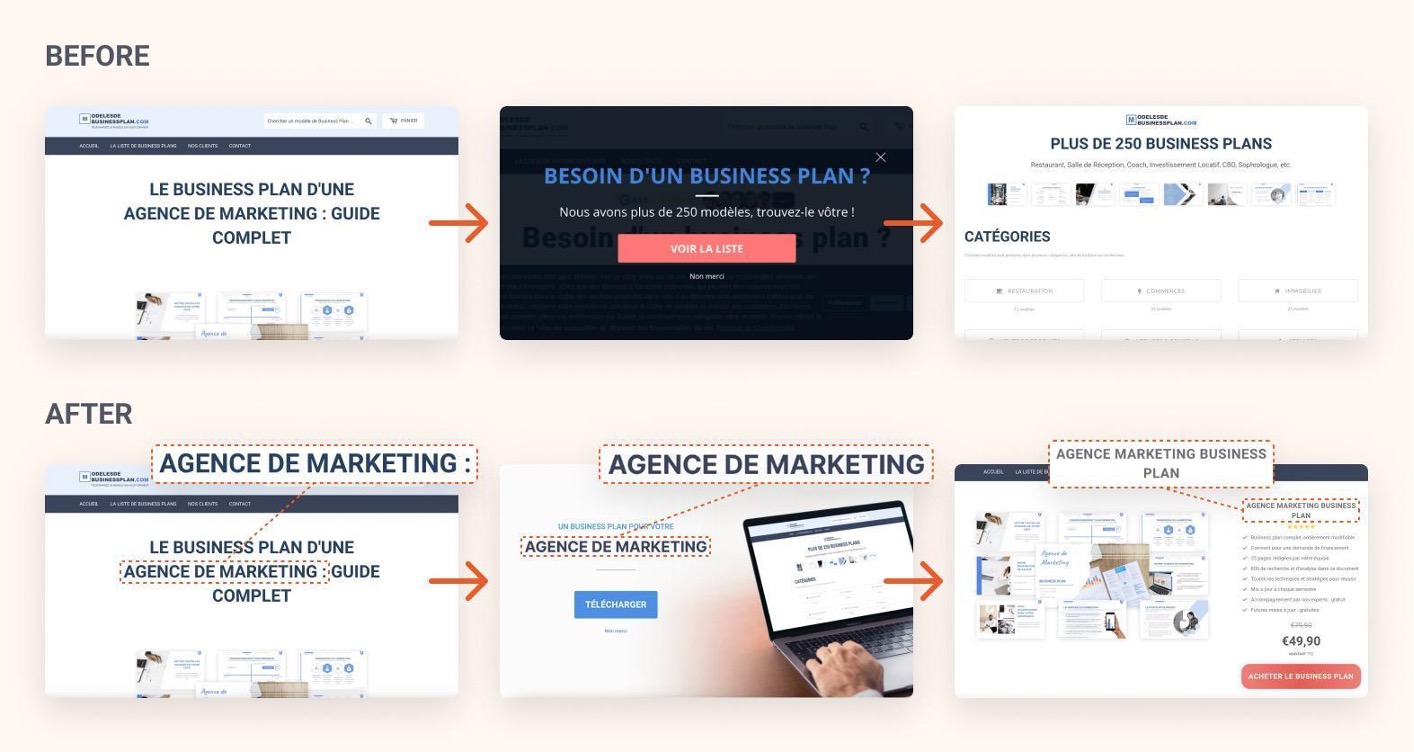 OptiMonk utilized the Custom Variables and Smart Tags features to create personalized messages for every visitor based on the article they were reading. 
These personalized campaigns were designed to help visitors find the most relevant business plan templates and make a purchase. By personalizing the messages and tailoring them to each visitor's interests, Modèles de business plan significantly increased its organic conversion rate. 
The campaign resulted in a 14.46% click-through rate, which was a 64% increase compared to the non-personalized version.
By implementing personalization strategies, ecommerce stores have the potential to achieve jaw-dropping results. The case studies we've explored in this article demonstrate the power of personalization for increasing conversions, improving customer experiences, and driving revenue growth.
Now it's up to you to take action and apply these insights to your business. Where do you start? Simple: start by creating a free OptiMonk account, and then experiment with personalized messaging and offers that speak to their unique needs!