Most ecommerce businesses struggle with shopping cart abandonment—and we're going to tell you how to fight it using exit-intent popups.
The average cart abandonment rate across industries is 66.5%. But you can lower that with popups. You just need to capture your visitors' attention before they leave your site. Want to learn how?
We've included 13 of our favorite cart abandonment popup examples as inspiration, with tips to further optimize each popup. And as a bonus, we included a few ready-to-use templates.
Let's get to it.
Table of contents
Would you like to create amazing and catchy headlines that make your popups irresistible? Grab our 50 Headline Popup Examples swipe file and get inspired!
13 awesome abandoned cart popup examples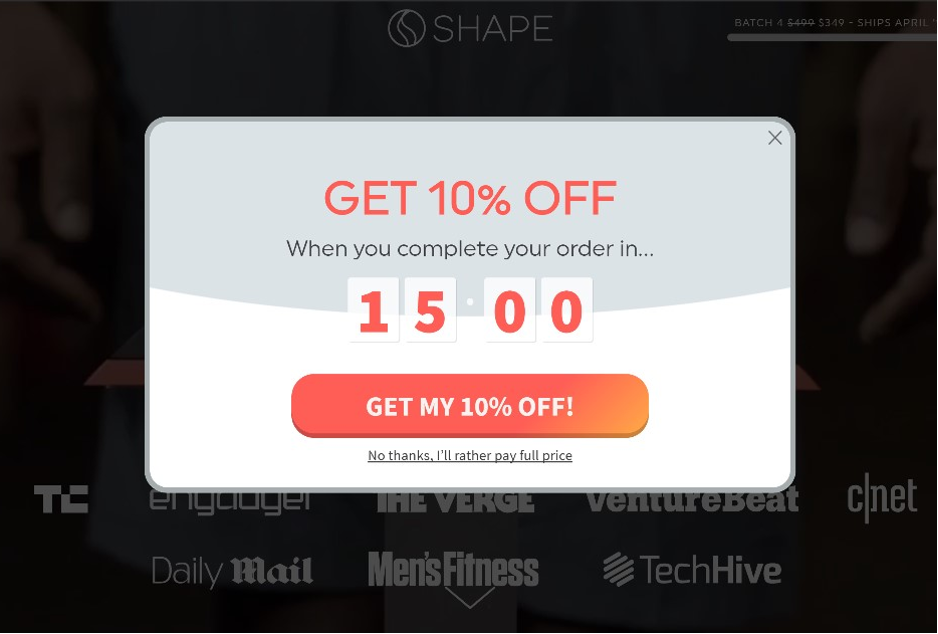 What we love:
The countdown timer creates a sense of

urgency

to motivate customers to spend money. They're more likely to convert when they see that their discount is valid for a limited time only.

This popup uses warm colors for the value proposition, timer, and call-to-action (CTA) button. This is a great contrast to their website colors because it draws even more attention to the discount.

The opt-out link says: "No thanks. I'll rather pay full price." This subtle message tells the visitor they're turning down a discount when they close the

exit-intent popup

. Most customers don't want to decline a deal—so this can increase conversions.
Tips for further optimization:
Run A/B tests on different CTA texts, like "Complete my purchase" or "Go to my cart" and see which version customers prefer.

Adding a brand logo would make this cart abandonment campaign look even more official.
2. Promote 10% off | Eyelovethesun.com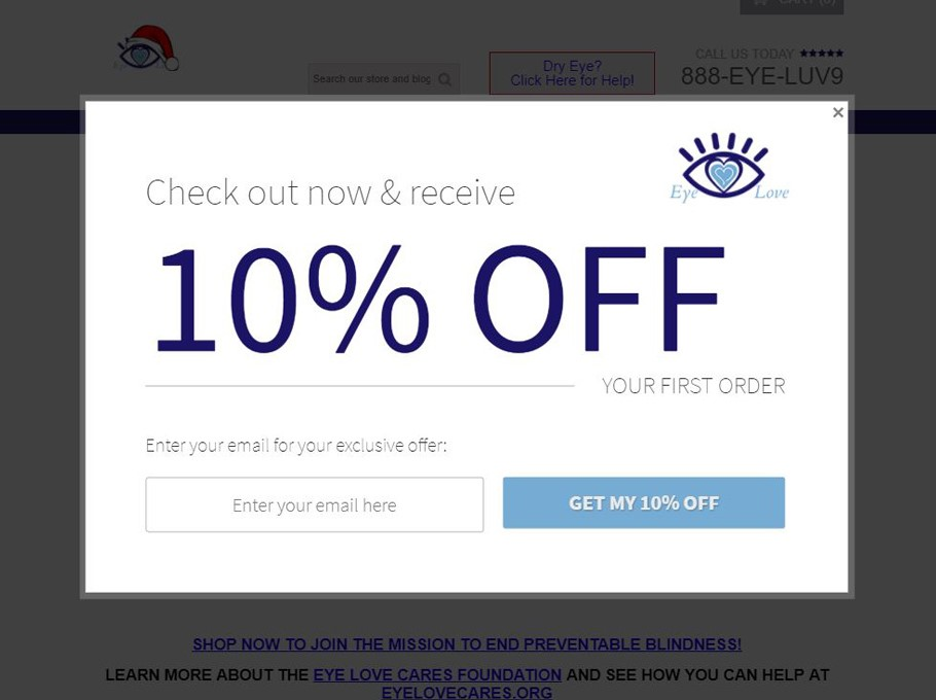 What we love:
The minimalist design makes the popup easy-to-read. A visitor knows exactly what you're offering when the message appears.

This exit intent popup also captures email addresses, so you can grow your list while recovering abandoned shopping carts.
Tips for further optimization:
3. Highlight free shipping and 10% off | Threedropsoflife.com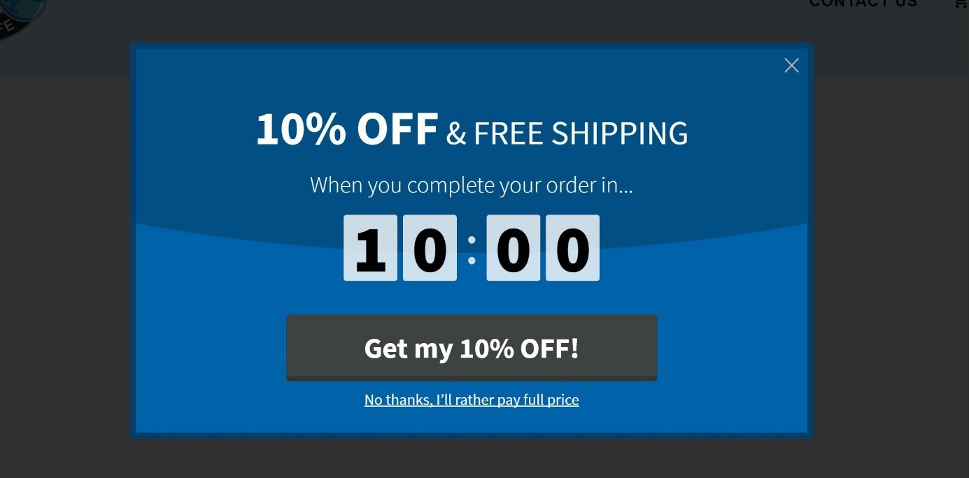 What we love:
The countdown timer is a great sales motivator for on-the-fence shoppers.

Making the discount text bolder and larger draws more attention toward the value proposition.

Free shipping is another great way to encourage your visitors to convert.
Tips for further optimization:
The headline uses two different font sizes. This is a good opportunity to run an A/B test to see whether visitors prefer the current headline or a heading that uses the same font.

Giving the button a brighter color would make the CTA more noticeable.
4. Remind abandoning visitors about their bag | Scarlettos.com.au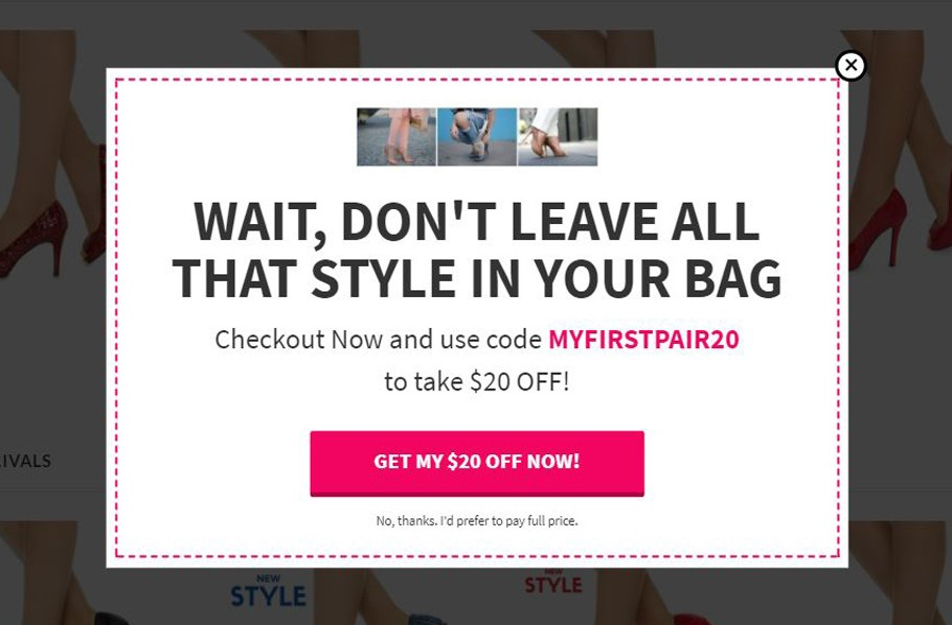 What we love:
The headline is friendly and adopts a conversational tone. This is great for building a connection with visitors.

The bright color of the CTA button immediately grabs your attention when you look at the popup.
Tips for further optimization:
Save the coupon code for the next page of the popup—after they've clicked the CTA. That way, you can track how many visitors converted. And you can even add a field on page one to capture their email address.

The headline is bigger than the actual offer. There should be more emphasis on the $20 discount.
5. Give a significant discount | Swisswatchexpo.com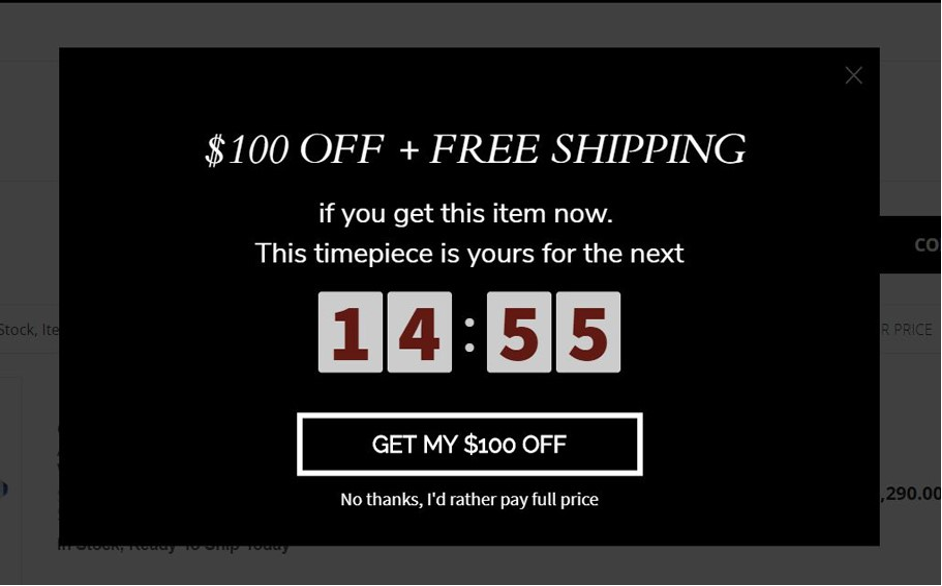 What we love:
It's a simple, easy-to-read exit-intent popup. There aren't any distracting images cluttering the message. Visitors immediately see your offer by glancing at the popup.

The countdown timer really stands out. The color and size of the timer make it hard to miss.

Offering $100 off a product is a surefire way to capture your visitor's attention and strengthen your customer loyalty.
Tips for further optimization:
With a cart abandonment popup like this, less is more. The two lines of text above the countdown timer can distract the reader. They're also unnecessary since the timer already conveys that message.

Consider running an A/B test on a popup with the colors inverted. Use a white background and black text, then see which version visitors prefer.
6. Display a discount code for cart abandoners | Zooshoo.com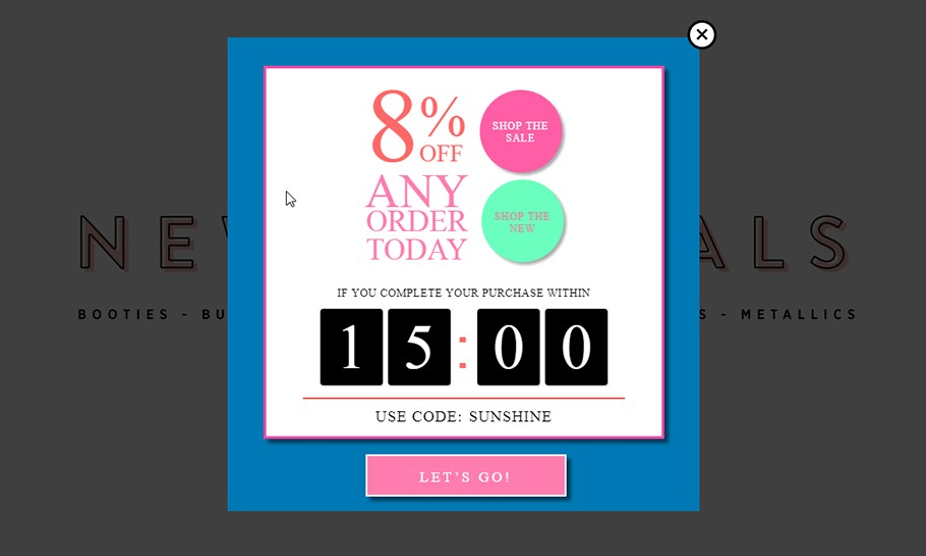 What we love:
It has a unique design. The shapes and bright colors make the popup memorable. This helps with brand recognition.

The discount applies to all products in the store, not just the items the visitor left in their cart. This can motivate cart abandoners to

buy even more items

, which can

increase the store's average order value

.
Tips for further optimization:
This exit intent popup should have a field to collect email subscribers. Visitors enter their email and click the CTA, then see the promo code on the second page of the popup.

The color of the countdown timer doesn't work well with the rest of the popup. Try running an A/B test using brighter colors for the timer, then choose the variant that performs the best.
7. Offer an instant discount | Gourmetbasket.com.au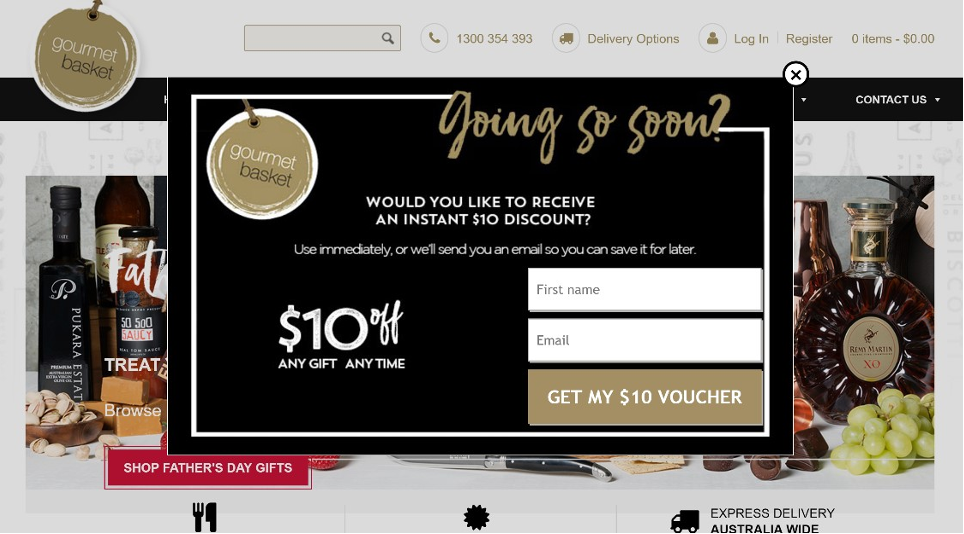 What we love:
The popup color and design perfectly match the website's theme.

Going so soon? The heading has a friendly and conversational tone that speaks directly to the visitor. This makes the shop feel more welcoming.
Tips for further optimization:
There's a lot of empty space around the value proposition. The text for "$10 off any gift, any time" would look better if it were larger.

Some text is hard-to-read. You'll want your exit popups to be scannable. Larger text is better.
8. Highlight a discount and free shipping | Prospectorknives.com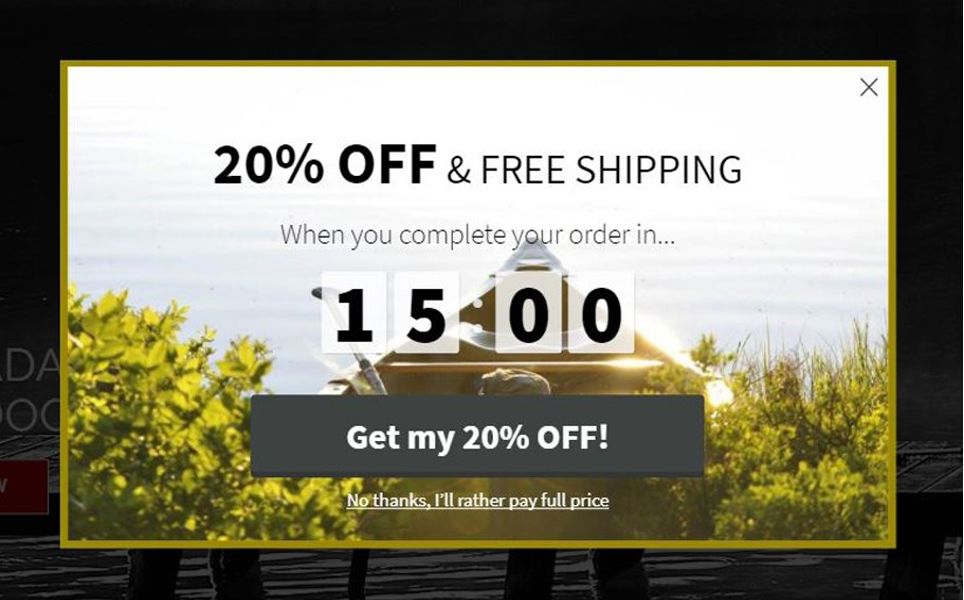 What we love:
20% off the purchase and free shipping is an offer most customers won't turn down. This is really useful for increasing conversions.

The background image looks great and matches the outdoors theme associated with the brand.
Tips for further optimization:
The call-to-action button color doesn't stand out. That makes it easy for visitors to overlook the value proposition. A brighter color CTA button would be good here.

Some of the text is difficult to read—and customers tend to ignore exit-intent popups when they aren't scannable.
9. Recover cart abandoners by giving a special offer | Mmawarehouse.com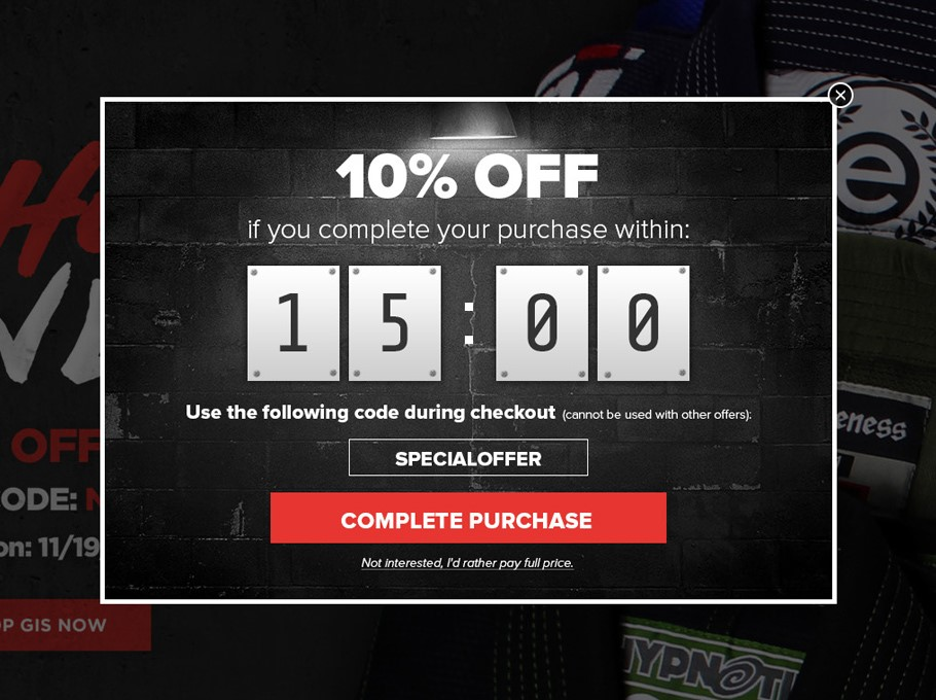 What we love:
It has an unforgettable design. The background image and colors match the website perfectly.

The font used for the countdown timer is an excellent touch. It looks like the scoring cards used in MMA matches—and that really makes this popup look even more official.

The red CTA button immediately attracts the visitor's attention. There's no way you can miss it!
Tips for further optimization:
If you want to maximize your conversions, you shouldn't have the coupon code on the first page of the popup. This makes it harder to track how many conversions you're getting because of the popup.

An email opt-in would work really well on the first page. Once the visitor subscribes, they'll go to the second page to get their discount code.
10. Offer a free upgrade to priority mail | Bullets2bandages.org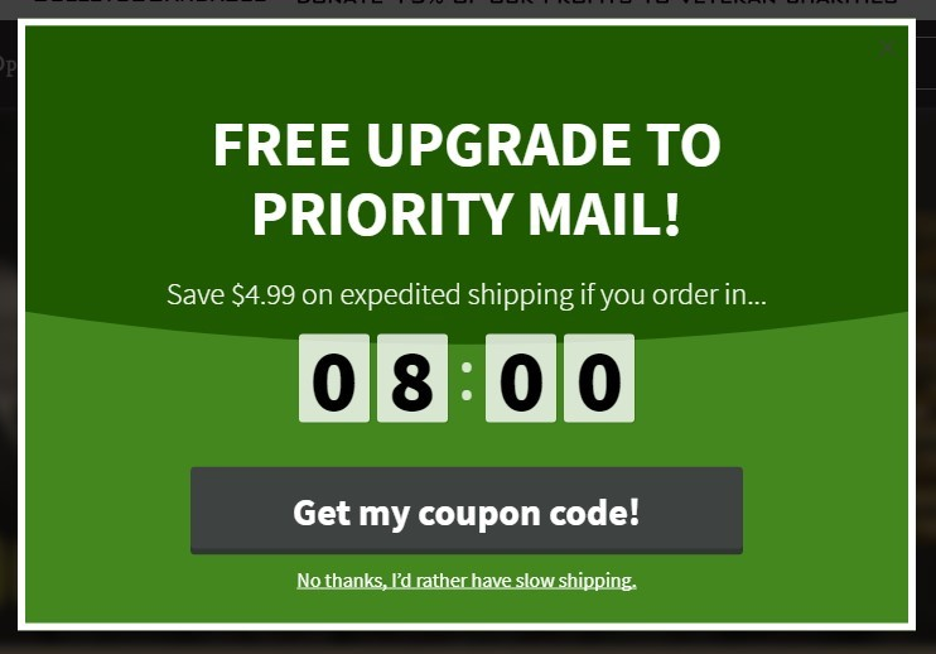 What we love:
Good value proposition. There are loads of website popup examples where companies offer free shipping, but this one is more memorable. They upgrade customers to expedited free shipping.

The "No thanks" opt-out at the bottom of the popup is great too. It draws attention to a problem that all online shoppers hate: slow shipping.
Tips for further optimization:
Adding a brand logo or an image related to their offer would be a good idea.

Run A/B tests on different headlines that are shorter and to the point, like "Expedite your shipping" or "Free priority shipping."
11. Use a simple cart abandonment popup | Boombycindyjoseph.com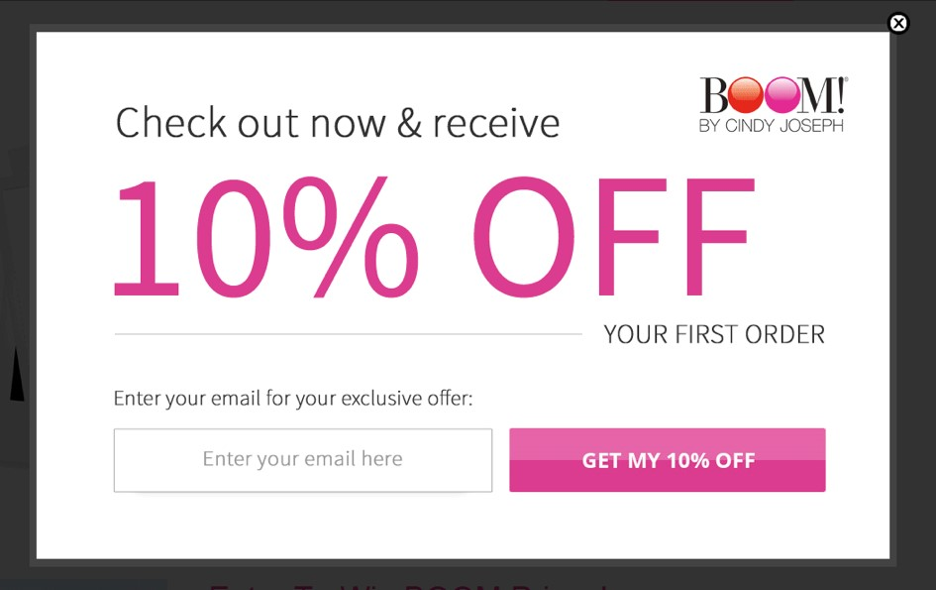 What we love:
The minimalist design looks good and gets the point across. There's no mistaking what they're offering customers who convert. The first thing you notice is the "10% off" in all caps.

The brand logo on the top-right corner is also a nice touch. It looks great with the color scheme and helps make the checkout popup look even more professional.

The CTA button does an excellent job of capturing the visitor's attention. Not only is it brightly colored—but it's also strategically placed on the right corner of the popup. This means your eyes go straight to the CTA after looking at the value proposition.
Tips for further optimization:
Removing the "Enter your email for your exclusive offer" line doesn't affect the message the popup is conveying. Run an A/B test with that line removed and see which popup variant performs better.

The popup item uses urgency ("check out now") but doesn't have a timed deal. Consider a headline without urgency, such as "Get 10% off on your first order."
12. Use a unique design | Rawwcosmetics.com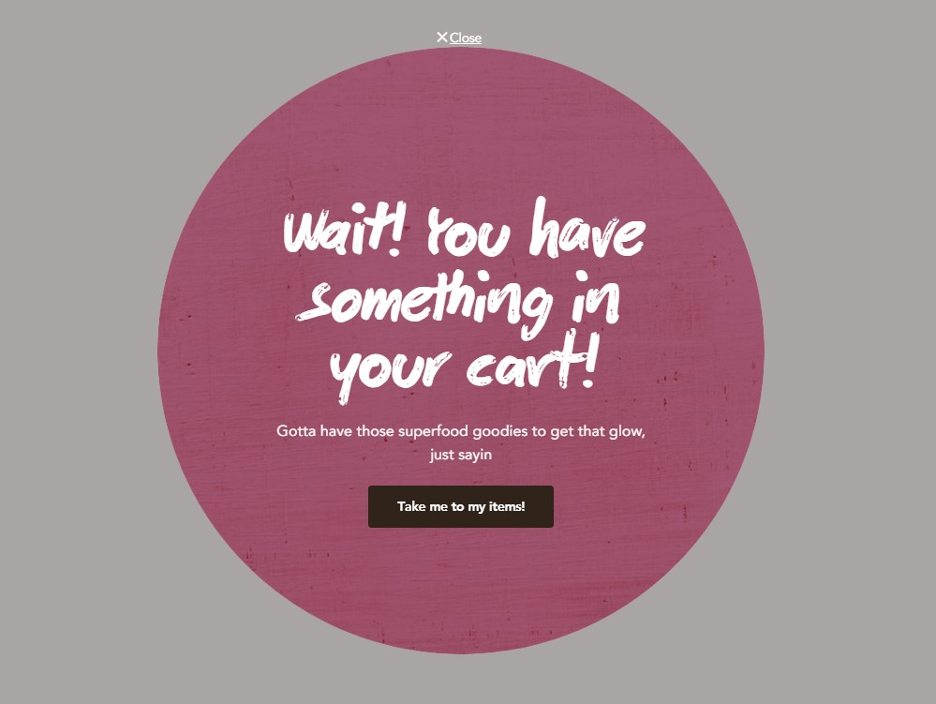 What we love:
The font and color scheme look fantastic, and its unorthodox shape means that visitors won't ignore this popup when they see it.

The "Gotta have those superfood goodies…" sentence is fun and friendly. It's full of personality, and customers love that.

The imperative "Wait! You have something in your cart!" immediately reminds visitors that they haven't completed their order yet.
Tips for further optimization:
The subheading and the CTA button copy are a little small. It's part of this popup's style, but they'd be easier to read if they were bold.

There's no incentive for visitors to complete their checkout. Consider making a second cart abandonment popup with an offer like 10% off or free shipping.
13. Use a fullscreen popup | Gnomeangel.com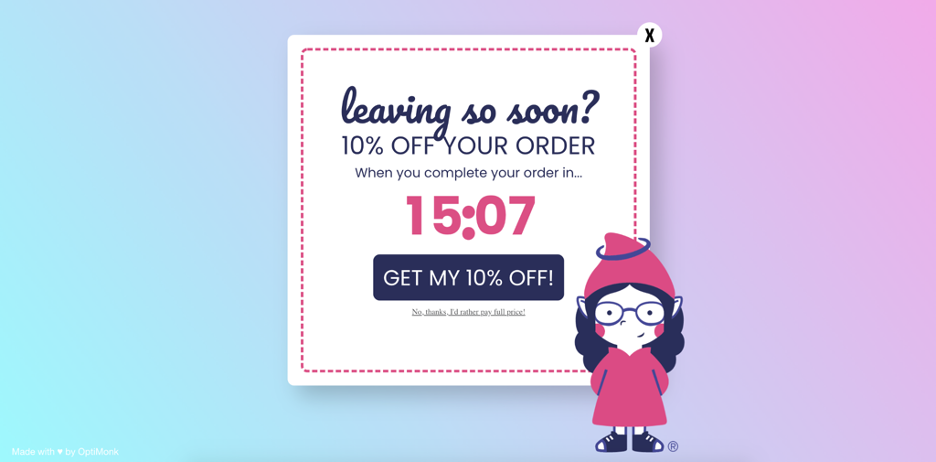 5 tips for turning an annoying checkout popup into an effective abandoned cart saver
Looking for some best practices to create a high-converting checkout popup? Here are 5 tips for recovering more carts.
You can use them to create your first abandoned cart popup or optimize an existing popup on your site.
1. Use exit-intent to target people right before they abandon
Exit-intent popups don't disrupt your visitors while they're browsing your site. Instead, you can message them right before they leave. This means you get one more chance to convert your visitor before they bounce from your site.
And many shoppers do convert when you give them a reason to. This leads us to the second tip.
2. Offer a discount or free shipping to help visitors make their decision
You can recover nearly 20% of abandoned carts by offering a deal to customers who complete their orders.
Sometimes visitors need a little extra incentive to complete their purchase. Giving them a discount or free shipping might be just enough to motivate them to finish their order.
Now, let's look at the best way to offer discounts so you don't lose money.
3. Use cart rules to offer discounts based on the cart value
Offering discounts is an effective way to increase sales. But offering a discount to every visitor who abandons a cart will cut your profits. Prevent this by only giving discounts to visitors with expensive cart values.
You can use OptiMonk's cart rules feature to target visitors based on the value of their cart.
Pretend the average person spends $50 on your site. You can use the cart rules feature to target users with carts worth $75 or more with discounts.
You can also create a separate cart abandonment popup for visitors who spend less money. Give them a different offer—like free shipping or product samples.
Want to learn how to use the cart rules setting? We've got a step-by-step guide to help you get started.
4. Use urgency to increase sales
Urgency is an excellent way to get customers to finish their orders. When they realize their deal is only available for a limited time, they're more likely to take action. You can use urgency to recover abandoned carts by adding a countdown timer to your popup.
5. Capture email addresses with your popups
Your cart abandonment popup is the perfect opportunity to capture email addresses from your visitors.
Have visitors enter their email addresses in the popup. After they convert, you can give them a discount code to use on their next purchase. This code can be automatically sent to them using an email platform. Or you can have OptiMonk generate a code on the second page of your popup.
Once you have their email address, you can send them cart abandonment emails to remind them to complete their purchase.
Using these tips will help you create a checkout popup that really converts.
For even more tips, check out this video:
Recover lost sales on your website
People abandon carts for several reasons.
Some customers change their minds at the last minute. Others get distracted and forget to finalize their order.
Adding a cart abandonment popup to your site lets you offer those visitors a deal or discount before they leave empty-handed.
OptiMonk users have reduced their cart abandonment by as much as 31% after adding an abandoned cart popup to their site.
If cart abandonments are cutting into your profits, you can use OptiMonk. Visit our Inspiration Library and choose from one of the many free cart abandonment templates. Once you find a template you like, you can import it into your site in a matter of minutes. Then you can start recovering more carts from visitors leaving your store.