Today, customers expect more out of their interactions with online brands. They don't want to waste time wading through lots of generic content… instead, they expect to see relevant, personalized content that's selected just for them.
And this is especially true in the B2B industry.
That's why we've collected the best B2B website personalization tools on the market. These software options will help you wow your new and existing customers with content that's tailored just for them.
Let's dive in!
Why is website personalization essential in B2B?
Just a few years ago, only big-budget companies had the resources and technical know-how to make website personalization work.
Now, thanks to more and more accessible web personalization tools, businesses of any size can take advantage of the power of personalization. And many of them have already started to create personalized content.
Website personalization has become so common that most visitors expect to see personalized content when opening up a website. In fact, 72% of consumers say they only engage with personalized messaging.
Personalization makes the user's experience of shopping online simpler and more convenient.
It's also profitable for companies, because an easier path through the buyer journey leads to more conversions and more repeat customers (70% of consumers say a company's understanding of their personal needs influences their loyalty).
As both inflation and acquisition costs rise, it's even more important to focus on maximizing the benefit you're getting from every bit of incoming traffic. That means making sure as few people as possible leak out of your sales funnel while increasing customer loyalty at the same time.
Website personalization tools are essential for accomplishing both these goals in 2023 and beyond.
The 8 best B2B website personalization tools
There are lots of tools on the market that can help automate your website personalization efforts. So here's a round-up of the 8 best website personalization tools for a B2B business.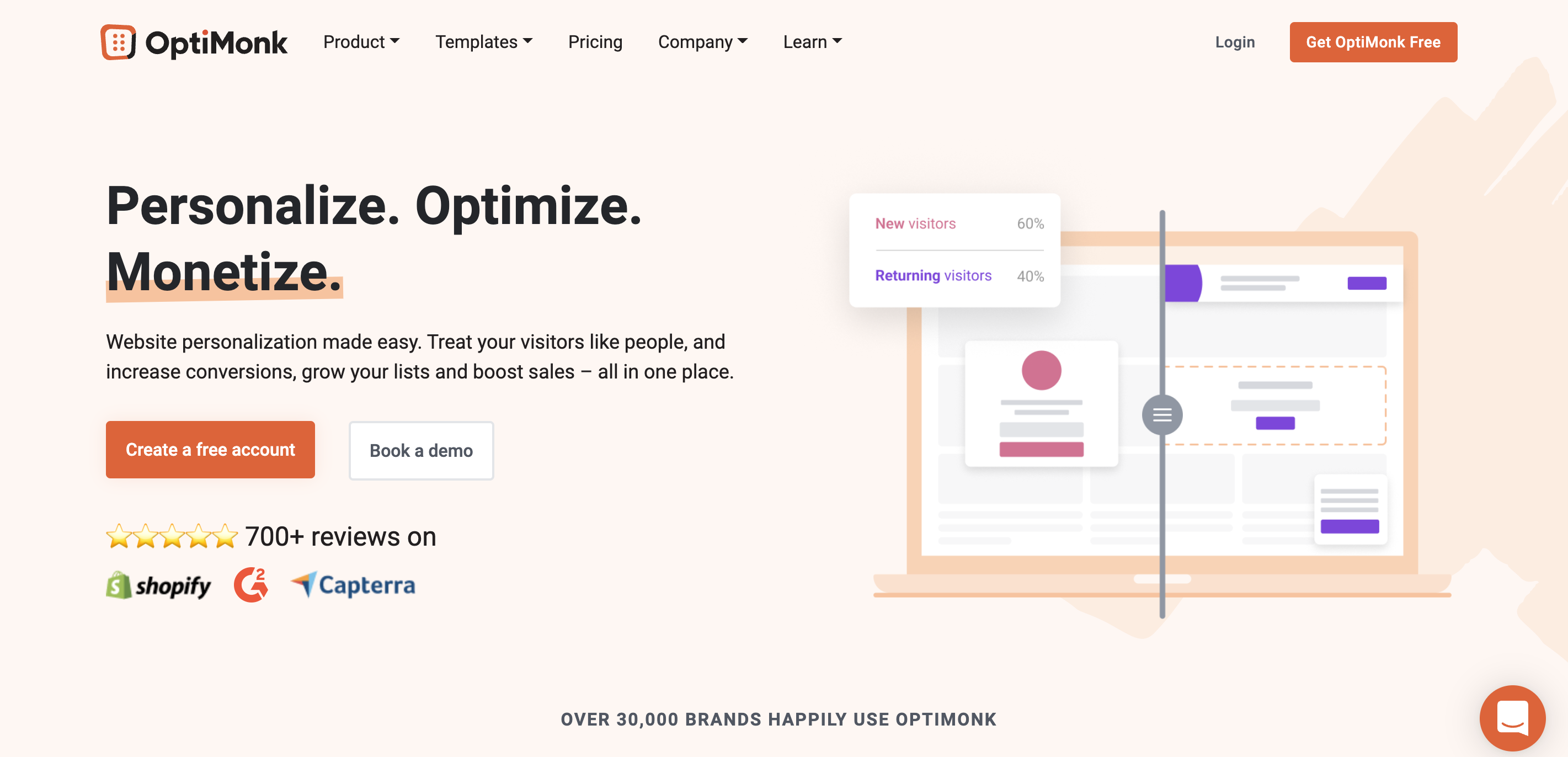 OptiMonk is an all-in-one CRO toolset that provides popups, website personalization, and A/B testing.
Thanks to its advanced personalization tool, it's capable of identifying the right audience for your campaigns, creating branded messages, and then helping you optimize those campaigns.
With OptiMonk, showing fully personalized messages won't compromise your load time or cause flickering.
Key feature #1: Dynamic content
With OptiMonk's dynamic content feature, you can personalize any element on your site. Best of all, it's so easy to use that there's no need to involve developers!
Key feature #2: Segments
Our Segments feature saves you time and effort by getting rid of the need to define your targeting rules again and again. With Segments, you can create custom targeting settings for your buyer personas, and then access them quickly for future campaigns.
Key feature #3: Personalized product recommendations
It only takes a few clicks to set up OptiMonk's personalized product recommendations. These on-site messages are sure to boost engagement rates and increase revenue.
Additional benefits:
No-code editor lets you easily design your campaigns

Point & click placement of embedded content

Audience recommendations to help you target the right segments

A/B testing and experiments to optimize your campaigns

Campaign analytics & true revenue measurement

Smart tags that help you take advantage of the first- and zero-party customer data you've collected

Overlays like popups, side messages, sticky bars, or full screens
Price:
You can start with a free account today.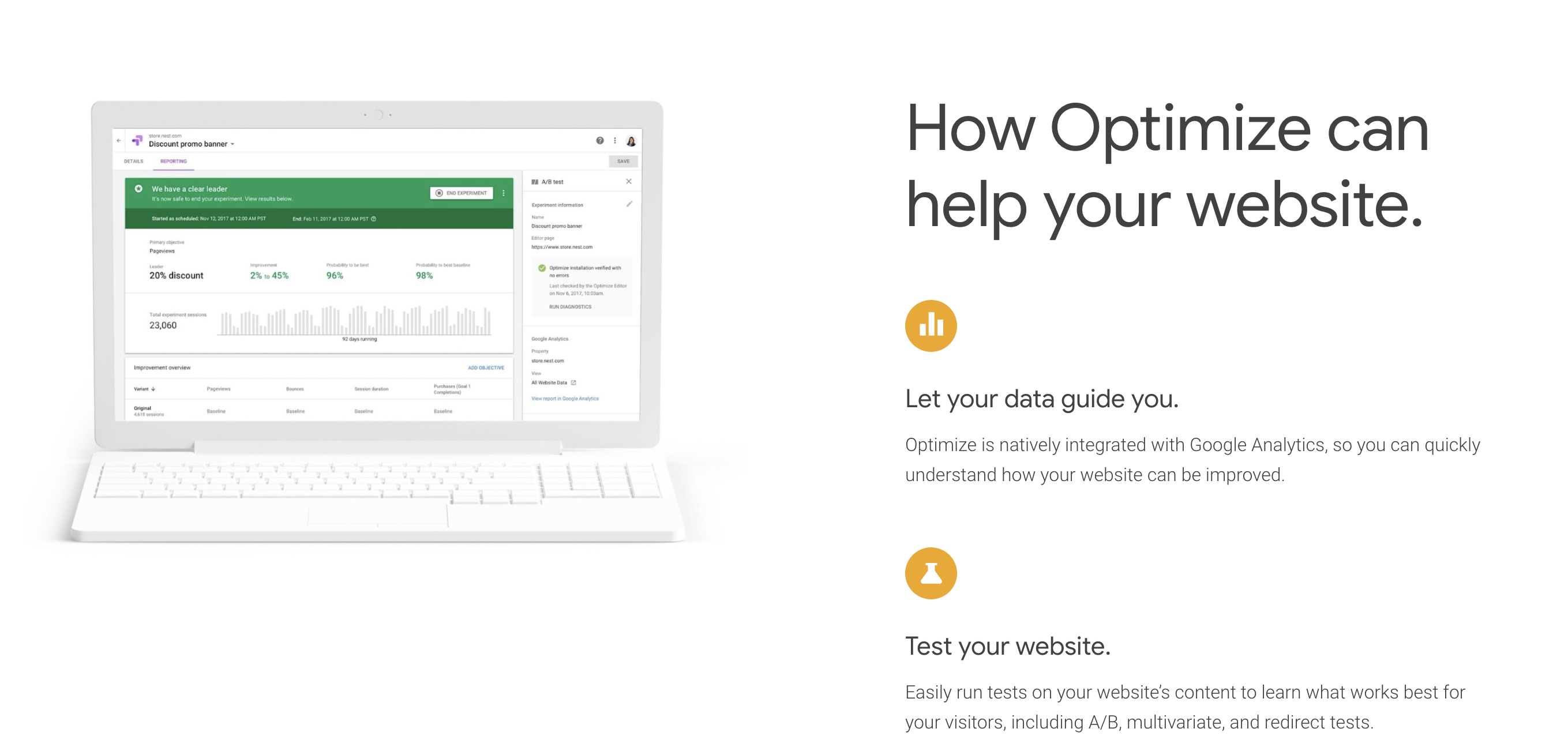 Google Optimize is an A/B testing and conversion optimization tool that can help you with website personalization. It's free to use and allows you to test many variations of your site.
Since Optimize integrates with Google's other tools, like Analytics, you can get data-backed insights into your website.
Price:
The basic Optimize platform is free to use. The more advanced Optimize 360 is also available for enterprises.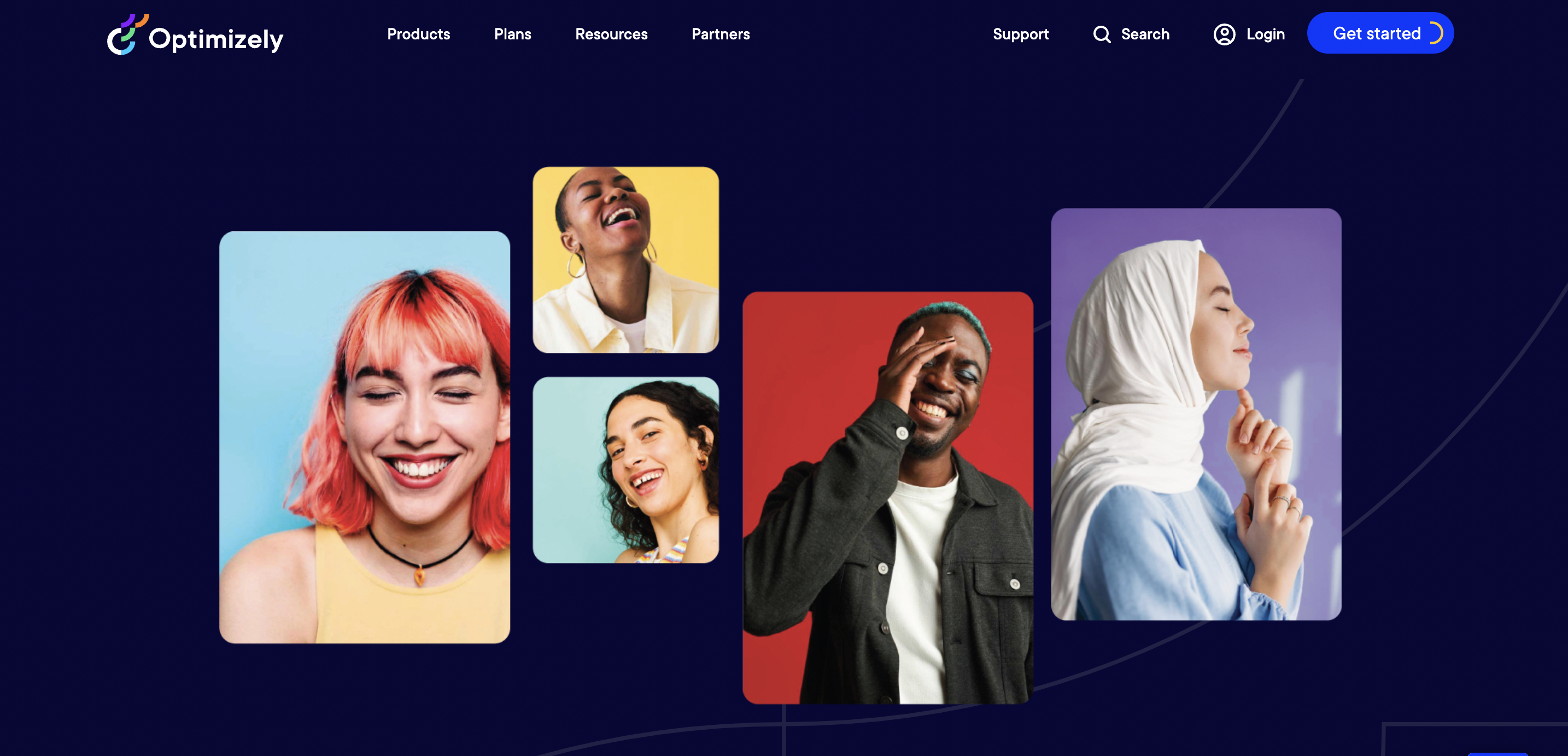 Optimizely is a popular website personalization tool. Their Digital Experience Platform helps brands generate web traffic through engagement and content sharing.
Optimizely isn't a cheap solution, which makes it more suitable for larger brands.
Price:
Available upon request. Their plans are always custom-made by their sales team.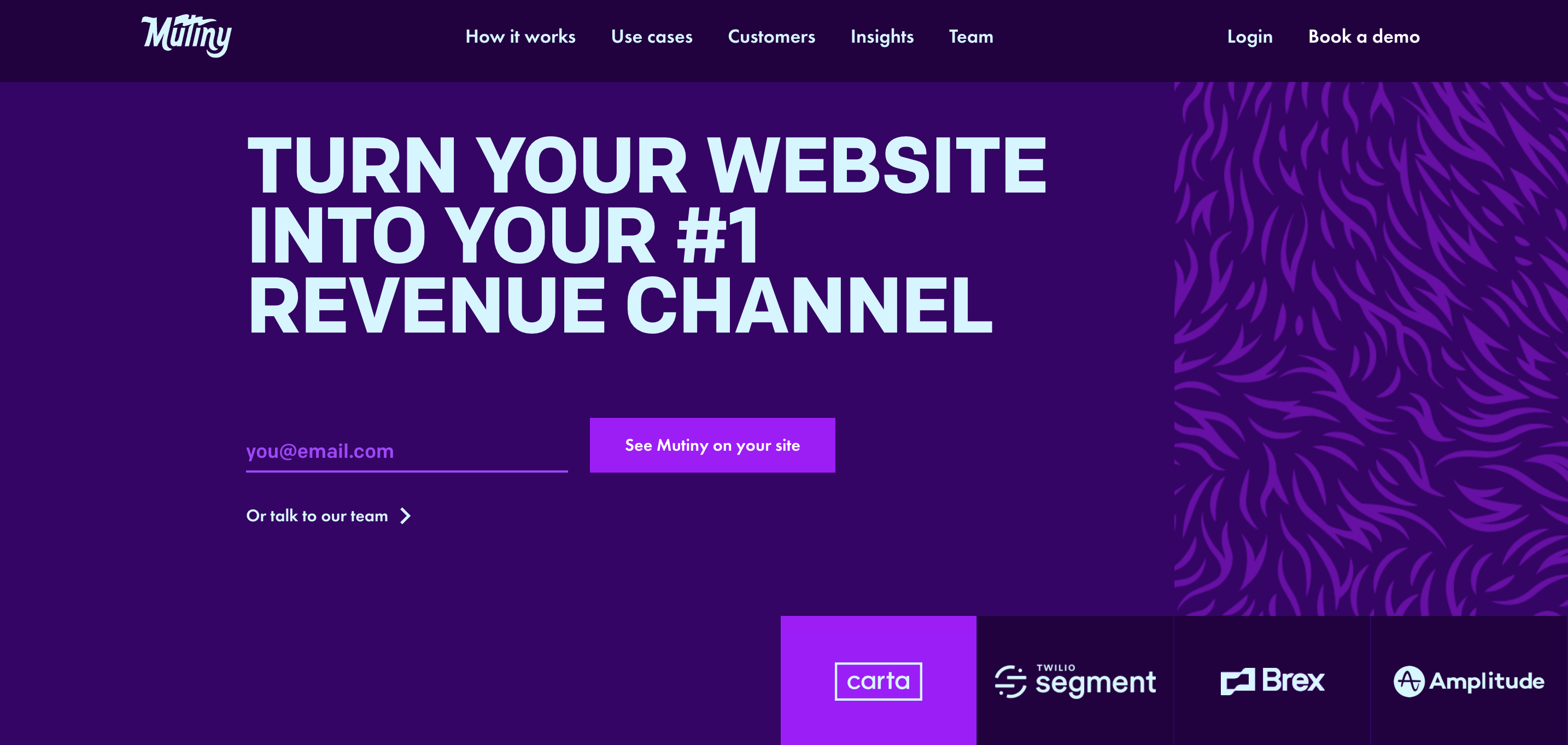 With Mutiny, you can personalize your website without needing to do any coding whatsoever. This website personalization tool helps you to identify visitors, collect data, and provide a personalized experience.
The built-in editor makes creating personalized content and marketing campaigns easy.
Mutiny integrates well with most tools (like Google Analytics, Salesforce, and Clearbit).
Price:
Upon request. Pricing isn't available on the official site.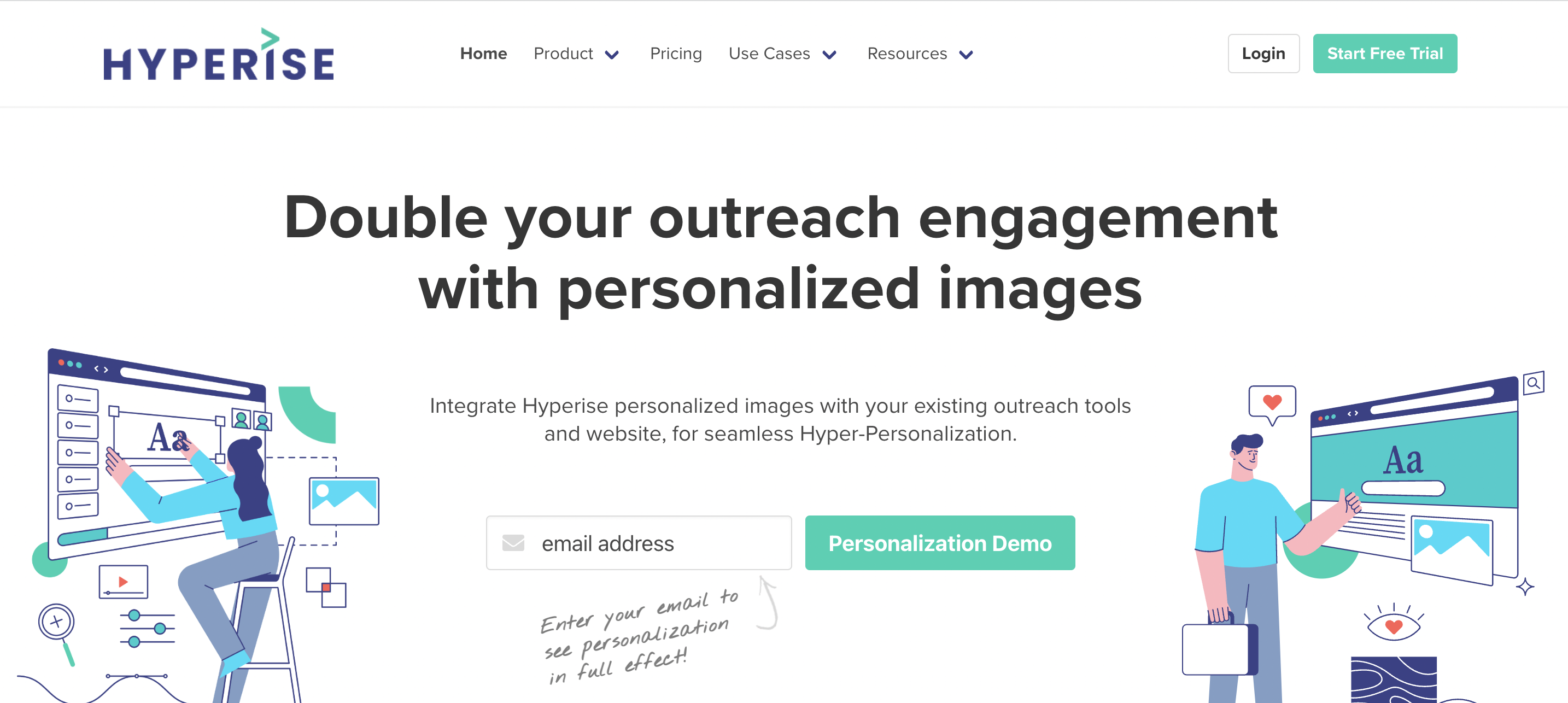 Hyperise is a great tool for personalizing images or videos. If certain customer segments will respond better to different versions of an image or video, Hyperise can help you target them. This tool doesn't require any coding to set up.
Hyperise can't quite give marketers an all-in-one personalization solution because it doesn't collect any data. However, you can integrate it with your platforms for sending emails and LinkedIn messages, as well as your chatbots.
Price:
Plans start at $99/month. A 14-day trial is available.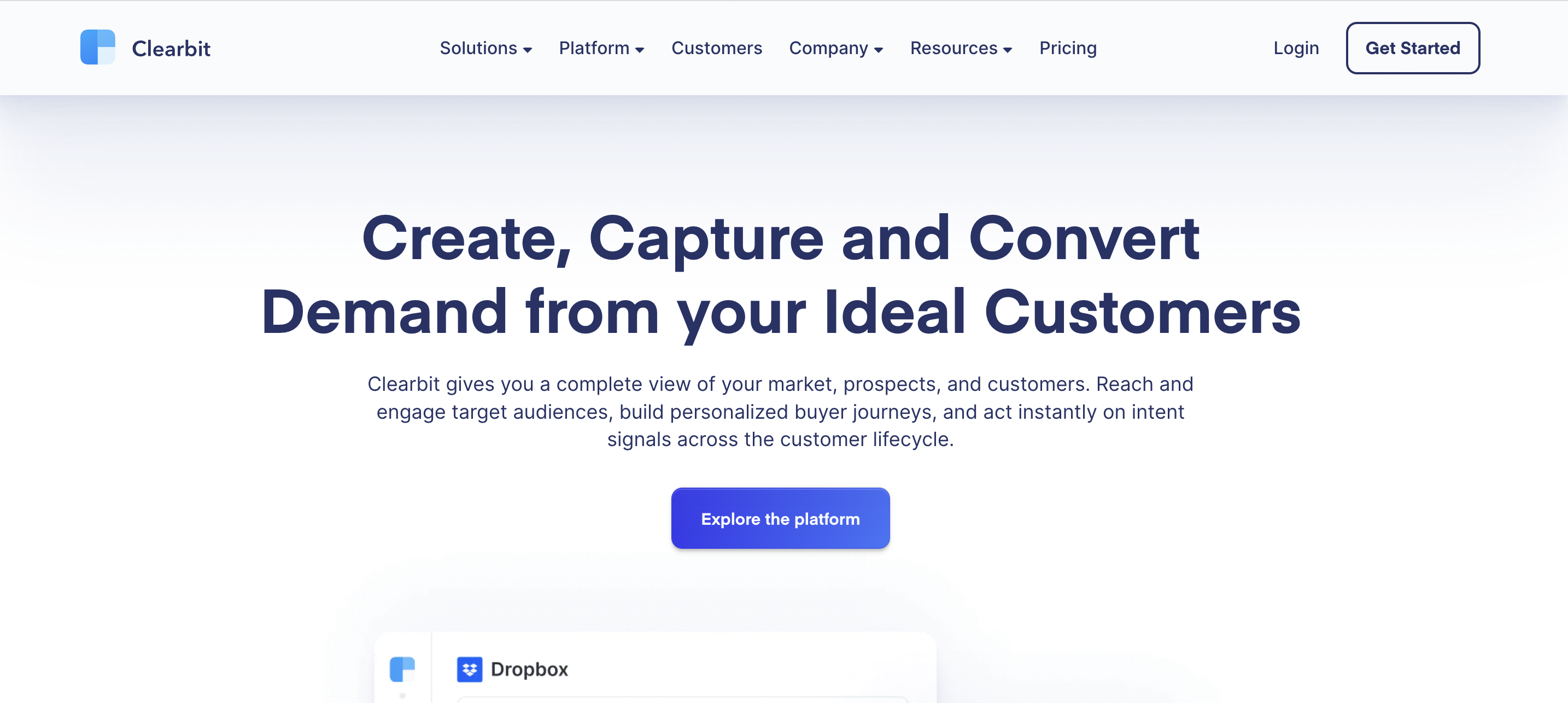 Clearbit is one of the best tools for gathering information about companies. Personalization works based on the data you collect, so the more you have, the better your personalized experiences will be.
Using Clearbit, you can see what actions your leads are taking and which products they're focusing on. Uniquely, Clearbit's data enrichment uses in-house tech and doesn't rely on third-party data providers.
Price:
Clearbit uses custom pricing, so you'll have to get in touch with them for pricing plans.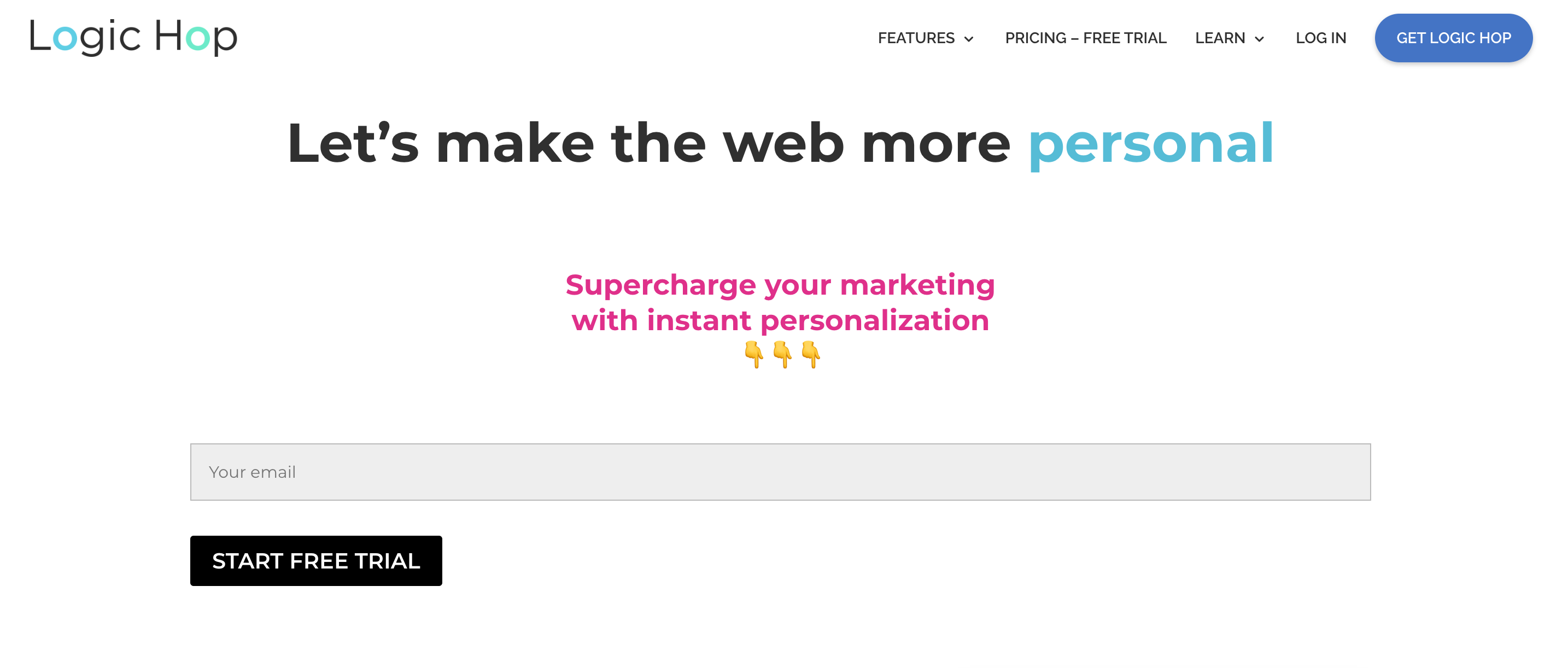 LogicHop is a personalization plugin that integrates with most CRM systems, including WordPress, Elementor, Divi, Beaver Builder, and Gutenberg. You can create dynamic content for your site and personalize copy, buttons, banners, and images.
Price:
LogicHop's Basic License starts at $199, but they provide a free trial.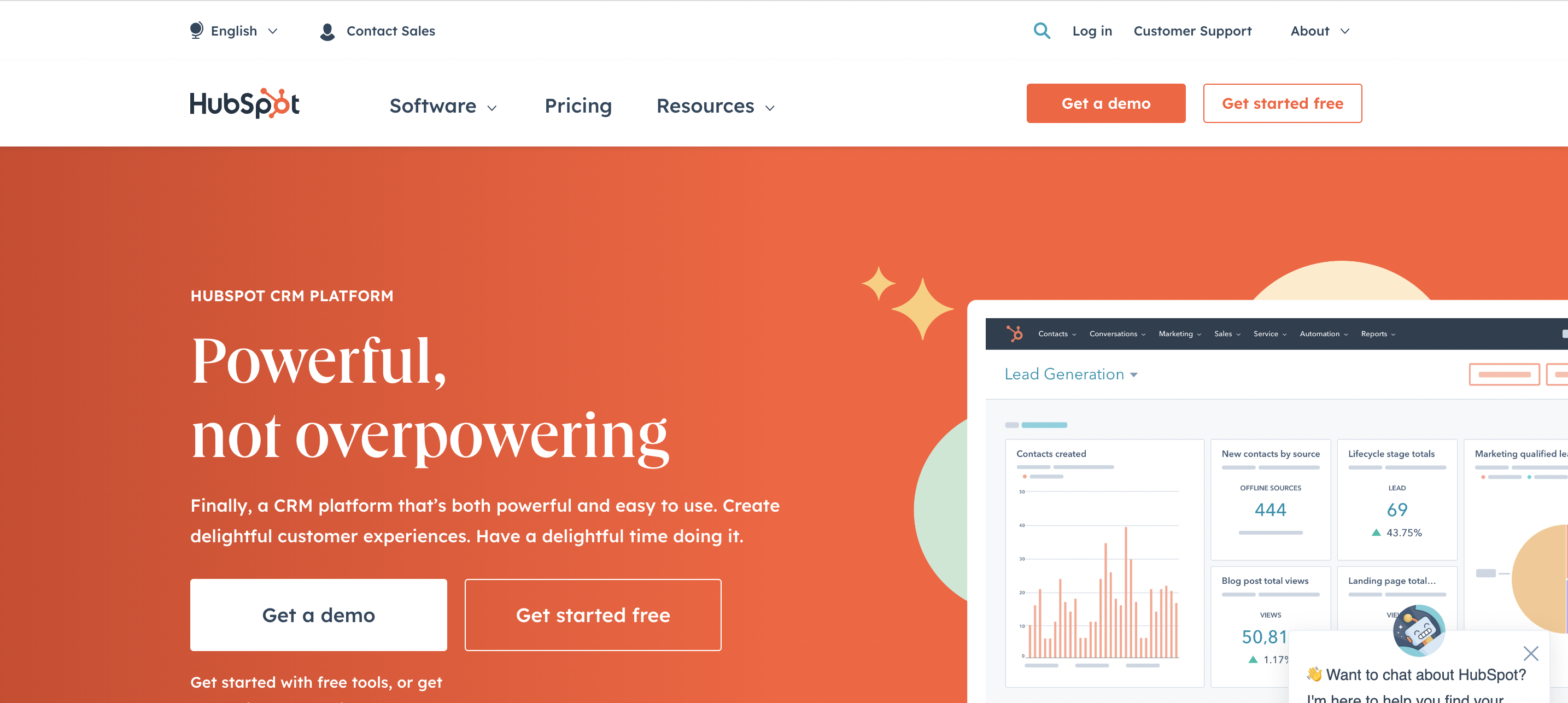 Last but not least, we have HubSpot, which is a feature-rich content management system. Website personalization is one of those many features.
With HubSpot, you can show content to your new website visitors based on interests, the visitor's location, their device, or the referral source. For returning visitors, you can show even more specifically personalized content using all the data you've collected.
Price:
Professional plans start at €8,880/year.
3 steps of B2B website personalization
Each of these B2B website personalization tools can play an important role in adapting your website content to each individual visitor.
As soon as you start using them to optimize conversion rates, you'll see a much greater response to your calls-to-action and find many more loyal customers.
Before we sign off though, it's worth taking a minute to briefly discuss the steps you'll need to take to implement website personalization.
1. Find the right audience
Website personalization starts with splitting up your overall target audience into smaller customer segments. All the users in each of these segments should share something in common that you can use to create personalized content for them.
For example, one segment could be all of your customers who live in a certain country. Then, you could share country-specific shipping information with them and be confident that they'll find the information relevant.
There are several ways you can find out more about your target audience in order to split them into segments:
Check out Google Analytics:

This will give you a good idea of how website visitors tend to flow through your site.

Ask them directly:

Many website personalization tools allow you to ask your visitors direct questions using side messages and popups.

Use heat maps and mouse-tracking software:

Use heat maps (or mouse-tracking software like Hotjar) to see whether different groups of customers gravitate to different areas of your webpage.

Ask your customer support department:

The team members who speak directly with your customers often have the best insights. What are their pain points and complaints? Are there different complaints for different customer segments?
2. Set the right personalized content
Once you've found the customer segments that are interacting with your company, it's time to create personalized experiences for each of them.
For instance, if you know that many of your clients are from a certain industry, create relevant content for that industry.
It's also essential to find the right format for your personalized marketing messages when you're communicating with your visitors. You don't want to overwhelm them with too many messages of the same type. Use various formats, including side messages, sticky bars, popups, and full screens to deliver a personalized experience.
3. Measure & optimize
Once your website personalization is up and running, you can start to gather data which will allow you to measure your success and optimize your strategy.
Decide on which KPIs you'll use to measure success, and then keep track of them using tools like Google Analytics. If you want to get more nuanced data about your website personalization, you can use a dedicated personalization tool like OptiMonk.
B2B website personalization can be extremely useful all throughout the sales funnel. Whether you're looking to improve your digital advertising, lead generation, or real-time personalization on your website, there's a tool that can help.
Investing in a powerful tool like OptiMonk to boost your website personalization efforts is a no-brainer, since you'll be able to generate more revenue from the same amount of traffic. And that's not all… the extra convenience that comes from a personalized experience will increase your retention rates, meaning you'll have more repeat customers.
If you'd like to give OptiMonk's easy-to-use website personalization tool a try, sign up for a free account below!