Google has just dropped a bombshell on the ecommerce world with its announcement that Google Optimize and Optimize 360 will no longer be available after September 30, 2023.
These tools are hugely popular with marketers who've gotten used to using them to test and optimize the performance and user experience of their sites, so many are sad about the news: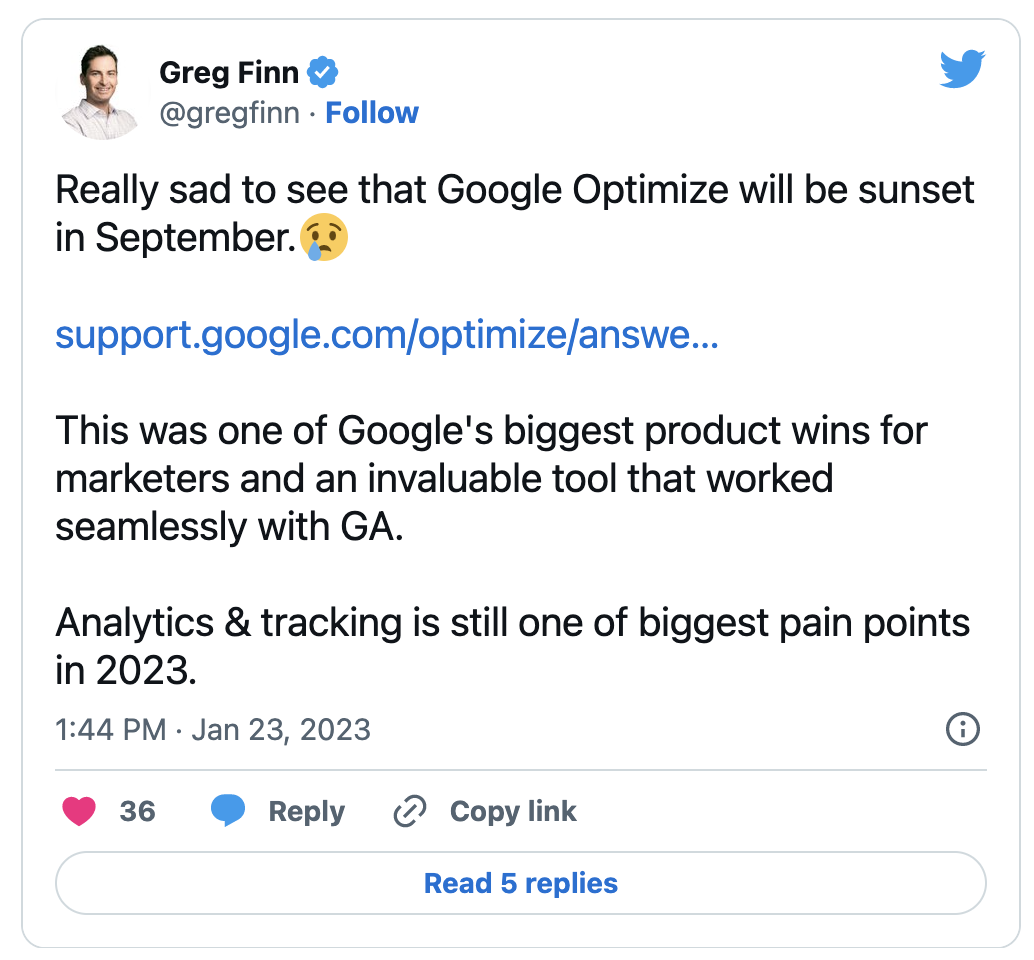 If you're one of the marketers that has relied on Google Optimize or Optimize 360 to test your website, you'll need to find an alternative solution that has the same (or better) functionality.
In this article, we'll look into the 10 best alternatives to Google Optimize so that you can keep your website experience in tip-top shape, even after Google sunsets these popular services.
Let's get started!
How to choose a Google Optimize alternative?
Testing out your new webpages and marketing campaigns is essential for ensuring that you're getting the best possible results. When you're thinking about what you'll use to replace Google Optimize, you should think about the kinds of tests you usually run and the features you'll need.
Step 1: Take note of the features you love in Google Optimize
Google Optimize has an impressive number of features that marketers have loved because of their power and ease of use. Even beginners could quickly understand how to use the service and start running experiments to improve the website experience.
The visual website optimizer allowed users to quickly and easily create variants using the "What See Is What You Get" (WYSIWYG) editor.
Then, you could use the simple integration with Google Analytics to confidently choose which one led to the best digital experiences for your customers.
Step 2: List the features you thought were missing from Google Optimize
Although Google Optimize was a great tool, it wasn't perfect. That's part of why Google chose to discontinue the service, as they write in their announcement, "though a longstanding product, [Optimize] does not have many of the features and services that our customers request and need for experimentation testing."
There are many powerful features that were never available on Google Optimize (including tests of longer-term marketing outcomes and website personalization), some of which we'll explore in our list of the best alternatives.
There were also other issues with the free service, like:
A limit on the number of tests you could run at once

Problems with detecting flicker upon website loading

A lack of customer support
As you start thinking about a tool to replace Google Optimize, keep in mind that this is the perfect opportunity to upgrade to features you might have missed out on. Make a list of the most important features you want your testing tool to have.
Step 3: Make a list of your desired features and use it to evaluate your options
Once you know which Google Optimize features you want to keep using and which new features you'd like to access, take a look at our list of alternatives below to find the best testing software for your needs.
For example, you might want to find a tool that does a great job of measuring certain key performance indicators (KPIs) like conversion rate or sales. Stores that use website personalization might want to A/B test the results of their advanced targeting of different customer segments.
Ideally, you'll find a tool that has all or most of the features you need.
Step 4: Test them out
If you're interested in more than one tool on this list, it's a good idea to test them out to see which one works best for you.
Some of the experiment software we've listed offers a free plan or a free trial, so you can try before you buy.
Since A/B testing and experimentation are so important for optimizing your website experience, you'll want to make sure that you pick a tool that does everything you need.
Top 10 Google Optimize alternatives
Here's our list of the 10 best alternatives to Google Optimize. These are all solid options for replacing the service and continuing to run experiments on your site. Some of these will deliver better results than others for different online stores based on the unique needs of each business.
Let's get started with…
OptiMonk is an all-in-one CRO toolset that provides popups, website personalization, and A/B testing. It is built for ecommerce marketers and agencies looking for quick and affordable solutions to boost the performance of their campaigns and landing pages.
OptiMonk's AI-powered features (i.e. Smart A/B testing and Smart Personalizer) make it a great alternative to Google Optimize.
OptiMonk AI takes less than 5 minutes to set up and doesn't require any technical knowledge to use.
Key feature #1: Smart A/B Testing
Forget time-consuming A/B testing. This feature simplifies what has traditionally been a complex and time-consuming process. A/B testing becomes effortless, thanks to fully automated, AI-assisted A/B testing.
You can seamlessly run multiple A/B tests in parallel on any section of your website. The best part? You decide what to test, but the AI does the heavy lifting, executing them automatically.
It's a game-changer for marketers looking to optimize their web presence with data-driven insights.
Learn more about Smart A/B Testing.
Key feature #2: Smart Personalizer
Personalize your landing pages for each and every visitor with the Smart Personalizer feature. You can tailor any headline, description, or text based on the interest of your visitor – 100% automatically.
Imagine the power of having your landing page messaging perfectly aligned with your Google Ads campaigns automatically. With this capability, OptiMonk AI not only enhances relevancy but also supercharges conversions, delivering results that truly matter to your bottom line.
Learn more about Smart Personalizer.
Key feature #3: Point & click placement
You can place any new element on your website using a hassle-free point & click system that doesn't require any coding knowledge. You can use the same system to create multiple variants of your webpage in no time at all.
You'll be able to choose between using embedded content and other message types like popups, side messages, and sticky bars. Using A/B testing, you might find that the same message on a sticky bar has a much higher conversion rate than an embedded version.
Read more about OptiMonk's Point & click placement feature here.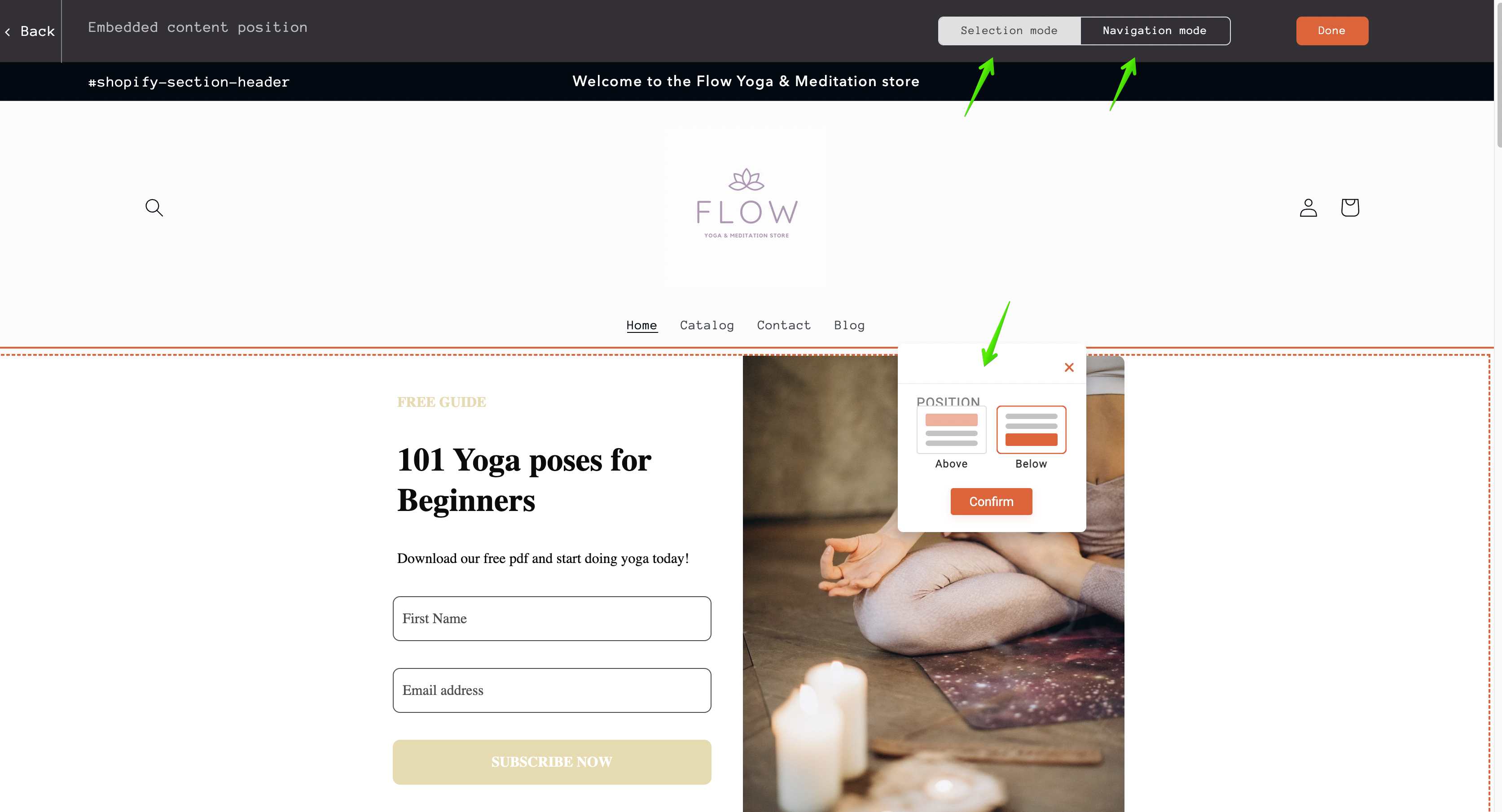 Key feature #4: Smart Tags
Smart tags allow you to include hyper-personalized, one-to-one content in your messages by using any first- and zero-party data or visitor property that you have. These personalized digital experiences can drive growth by helping you increase your conversion rate.
Once you've found a piece of data that makes a big difference to the customer experience, save it as a Smart Tag to use again and again.
Key feature #5: Segments
OptiMonk helps you unlock the full potential of your website personalization by providing you with specific recommendations for predefined customer segments you should target.
Alternatively, you can take the reins when it comes to segmentation by creating and saving custom targeting settings. You can then access them quickly to use in future campaigns.
Additional benefits:
Product recommendations:

Deliver product recommendations that are personalized on an individual level.

Dynamic content:

Boost your content's relevance by changing headlines and calls-to-action so that they address each visitor directly. 

Flicker-free delivery:

Any personalized content you create will load incredibly quickly thanks to cutting-edge OptiMonk code that maximizes the user experience.

Smart headline generator:

Create catchy campaign headlines that are proven to drive conversions by dropping just a few keywords into the generator.

300+ ready-to-use templates:

Use our embedded content templates or overlay templates like popups, side messages, sticky bars, lucky wheels, and more. 
Pricing: Free plan available, or from $39/month.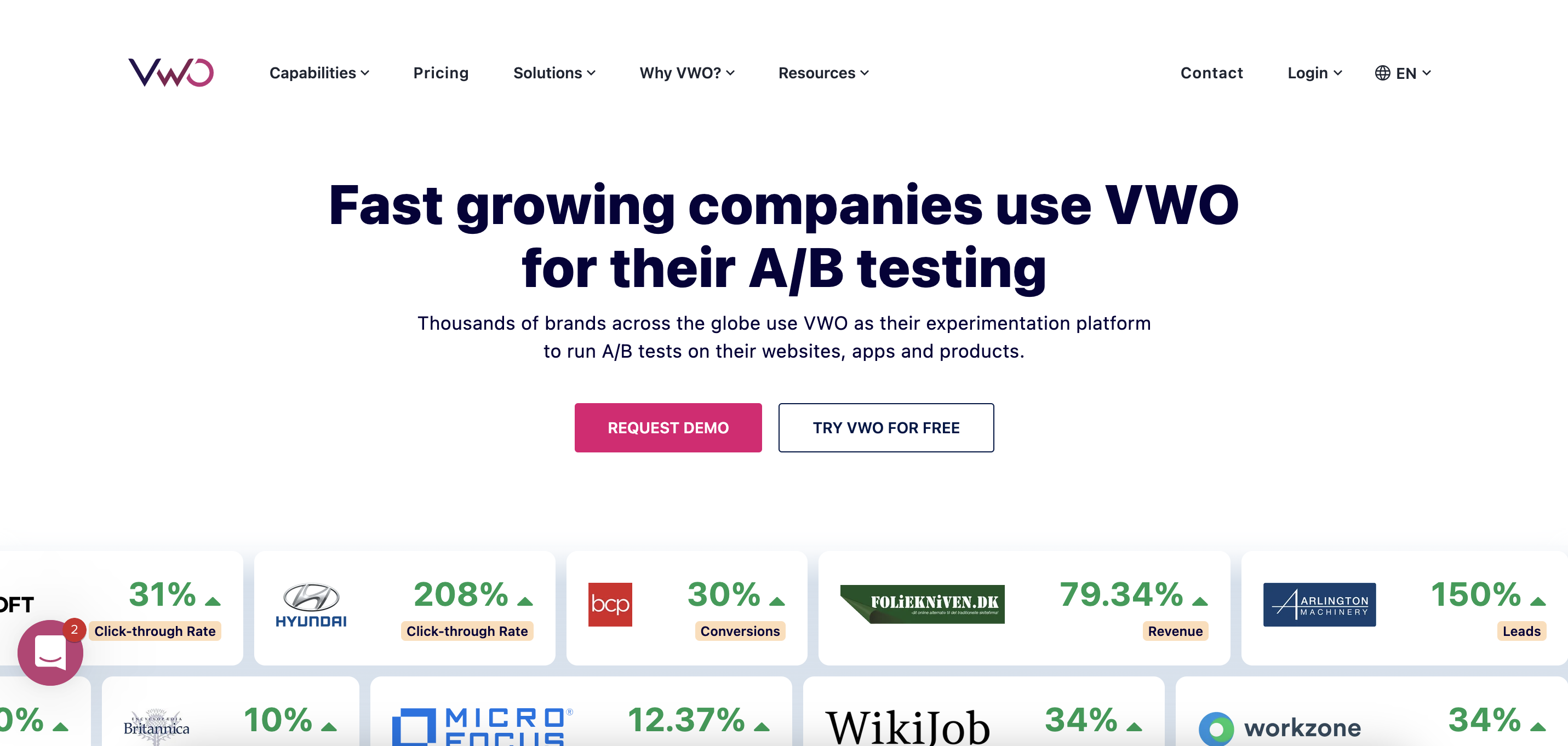 VWO Testing is an A/B testing platform that not only helps you optimize web pages, but also mobile apps as well. That makes it a great fit for companies that pursue a mobile-first strategy.
You can use the software to test all the calls-to-action, layouts, and design elements you need to fully optimize your mobile app, ensuring that you deliver the best possible product and customer experience. 
Main features:
Visual editor:

Edit any element (text, images, shapes, background, etc.) on your webpage or landing pages with their user-friendly editor. You also have the option to use dynamic text to personalize your user experience on mobile or desktop.

Heatmaps and recordings:

Use these vital tools to understand exactly how visitors are interacting with your webpage. Learn the reasons for their behavior and why they like some variations more than others.

Chrome extension:

Using their Chrome extension, you can add any of your ideas to the central repository with just one click.
Pricing: Quotation-based pricing. Free trial available.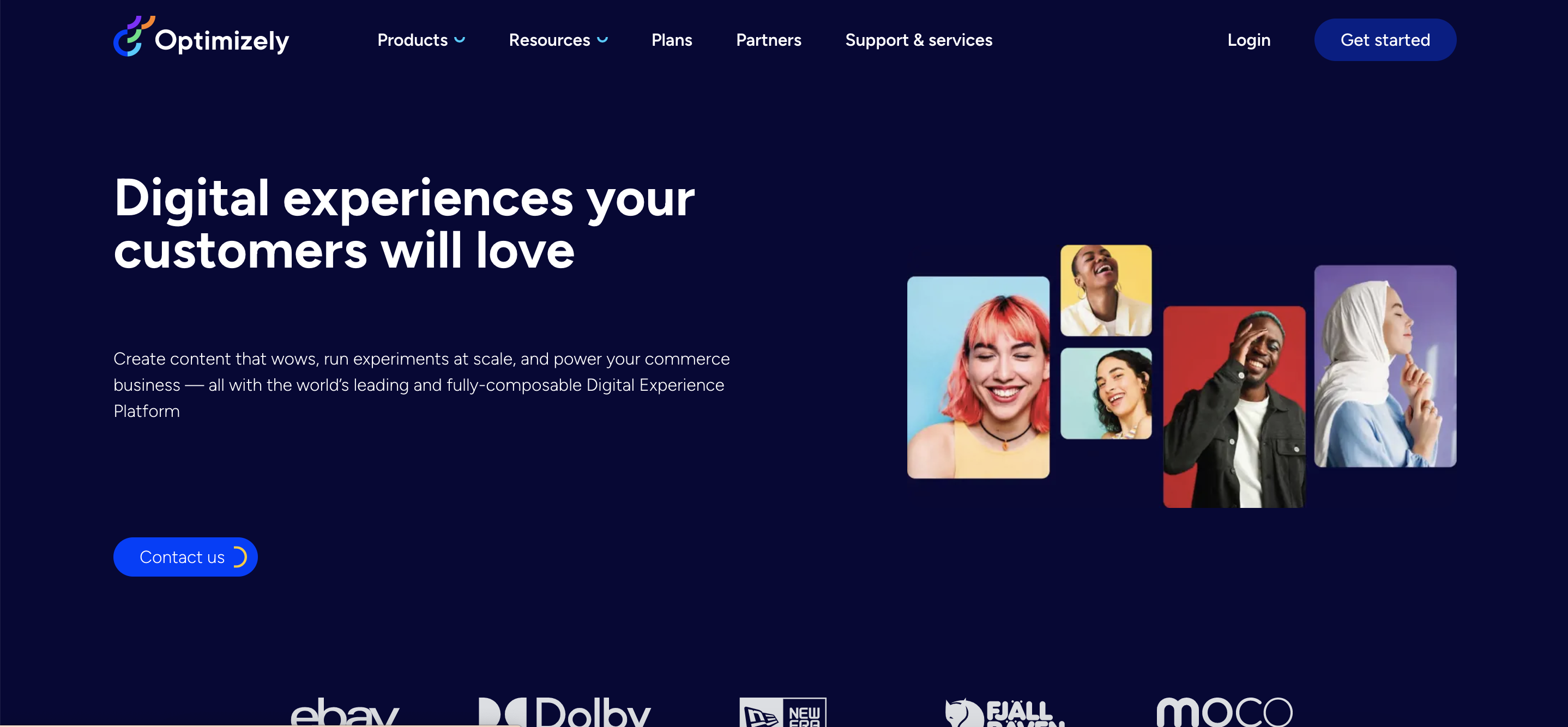 Optimizely is another experimentation platform with the capability to help you perform continuous experimentation and optimize your ecommerce operation across websites, mobile apps, and connected devices. 
The software provides features for A/B testing, web experimentation, personalization, and recommendations. 
Main features:
Visual editor:

The easy-to-use visual editor enables your team to collaborate with each other as you get your experiments up and running.

Targeting & personalization:

Deliver targeted messages to show the most relevant content to your users, as well as personalized offers and recommendations.

Advanced experiment types:

The enterprise-level software allows you to use advanced features like exclusion groups, which helps you safely run multiple experiments on the same page.
Pricing: Quotation-based pricing.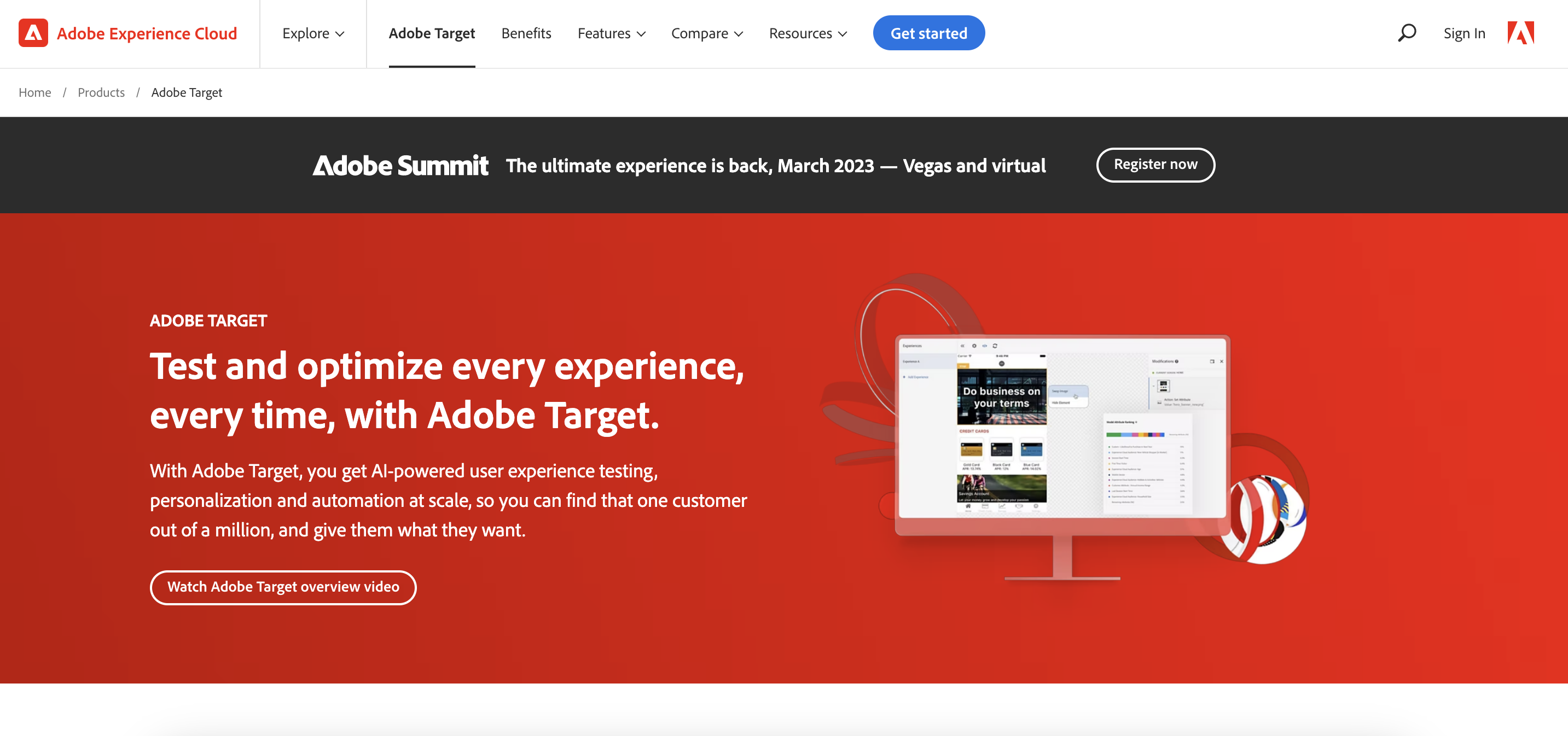 Adobe Target provides content testing, personalization, and automation solutions for businesses, helping you generate more revenue across your presence on web and mobile sites, apps, social media, and other digital channels.
Using A/B and multivariate tests, Adobe Target makes it possible to quickly understand and implement the best combinations of offers and messages to attract customers. 
Main features:
AI-powered automation:

Deliver unique digital experiences for each and every customer.

A/B and multivariate tests:

Learn the most effective combination of content, layouts, UX design, and more through your websites and other digital properties.

Integrations:

With Adobe Marketing Cloud and other Adobe services
Pricing: Quotation-based pricing.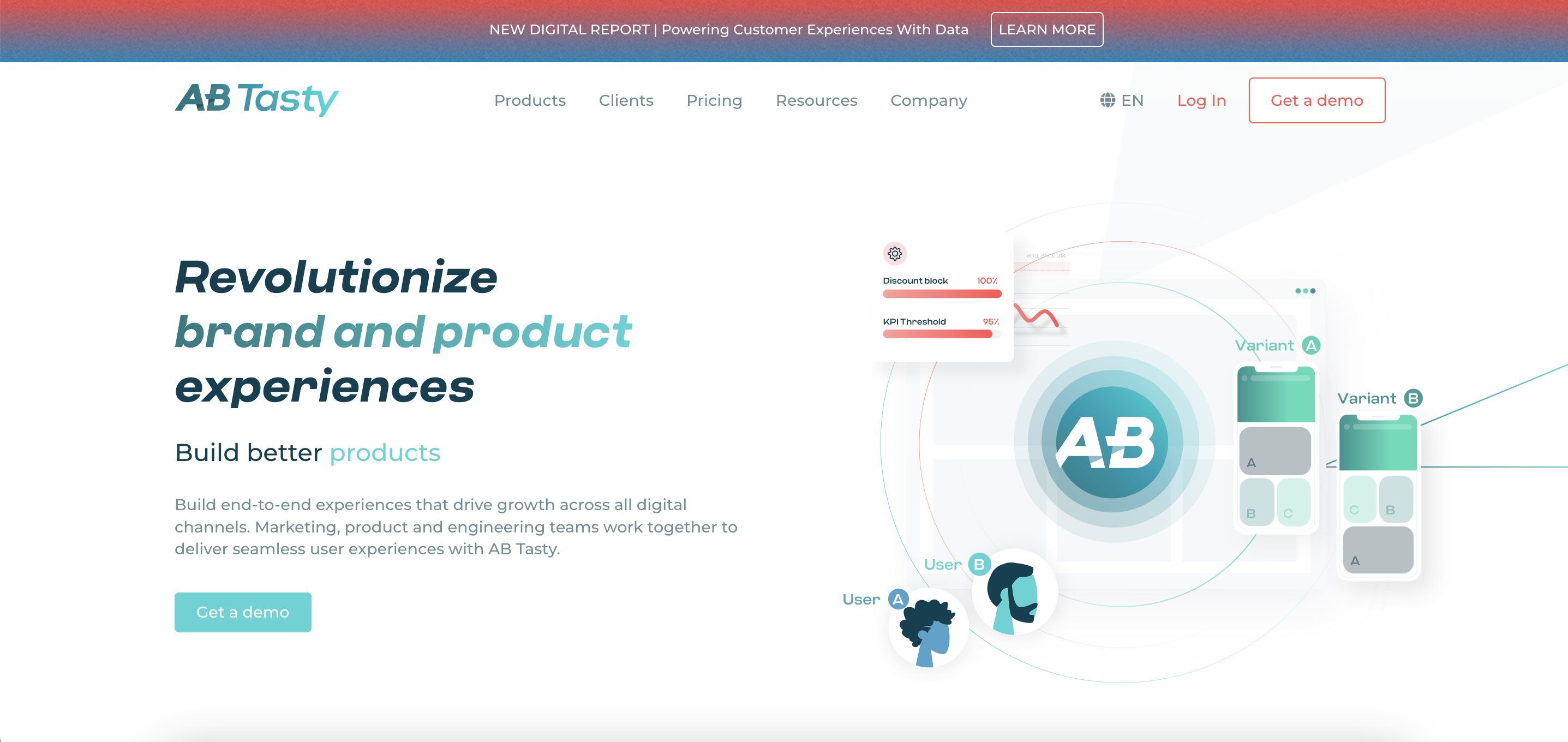 A/B Tasty is a SaaS solution you can use to optimize your website and boost customer engagement through its A/B testing, user engagement, and personalization features. 
The tool is not only easy to use, but also comes loaded with advanced features such as user insights, experiments, personalization, and mobile app solutions.
Main features:
Multi-device support:

Optimize your marketing campaigns across all devices, including desktops and mobile apps.

Personas:

Identify and select any criteria to create custom user segments.

Dynamic allocation:

The Flagship system automatically identifies the "winning" configuration of your website and messaging. Then, it displays that version to everyone in the defined target segment. 
Pricing: Quotation-based pricing.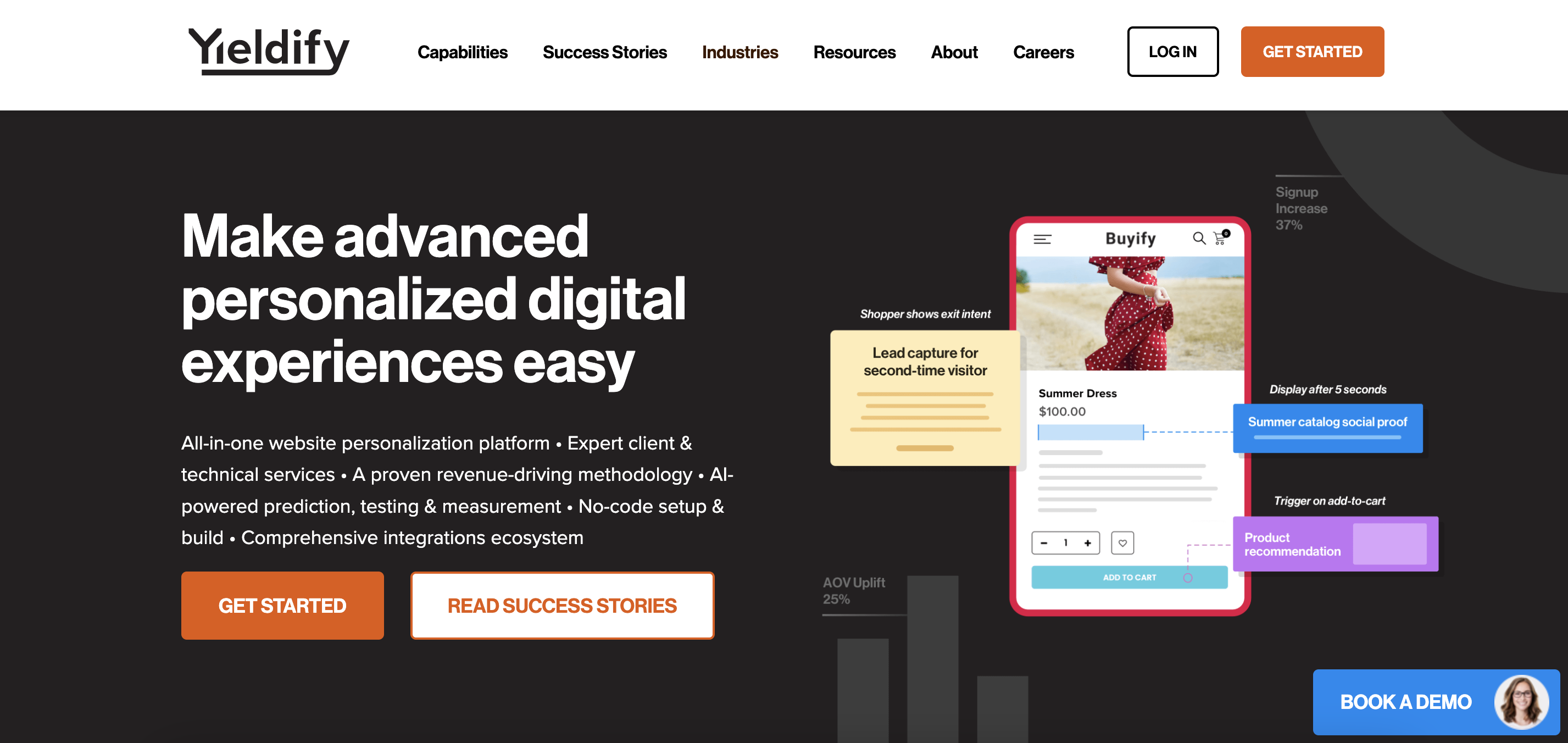 Yieldify is a customer journey optimization platform that's capable of providing personalized customer experiences throughout the entire customer journey. 
You can easily create target segments that will experience different user journeys as they interact with your brand using dynamic content.
Main features:
AI-powered testing & measurement:

Accurately predict which tests will win (based on past results) within weeks, and compare your performance on important KPIs to your competitors.

No-code setup:

The well-designed dashboard, an easy-to-use builder, and a single point of contact means that you won't have to involve developers in creating your personalized customer journey.
Pricing: Quotation-based pricing.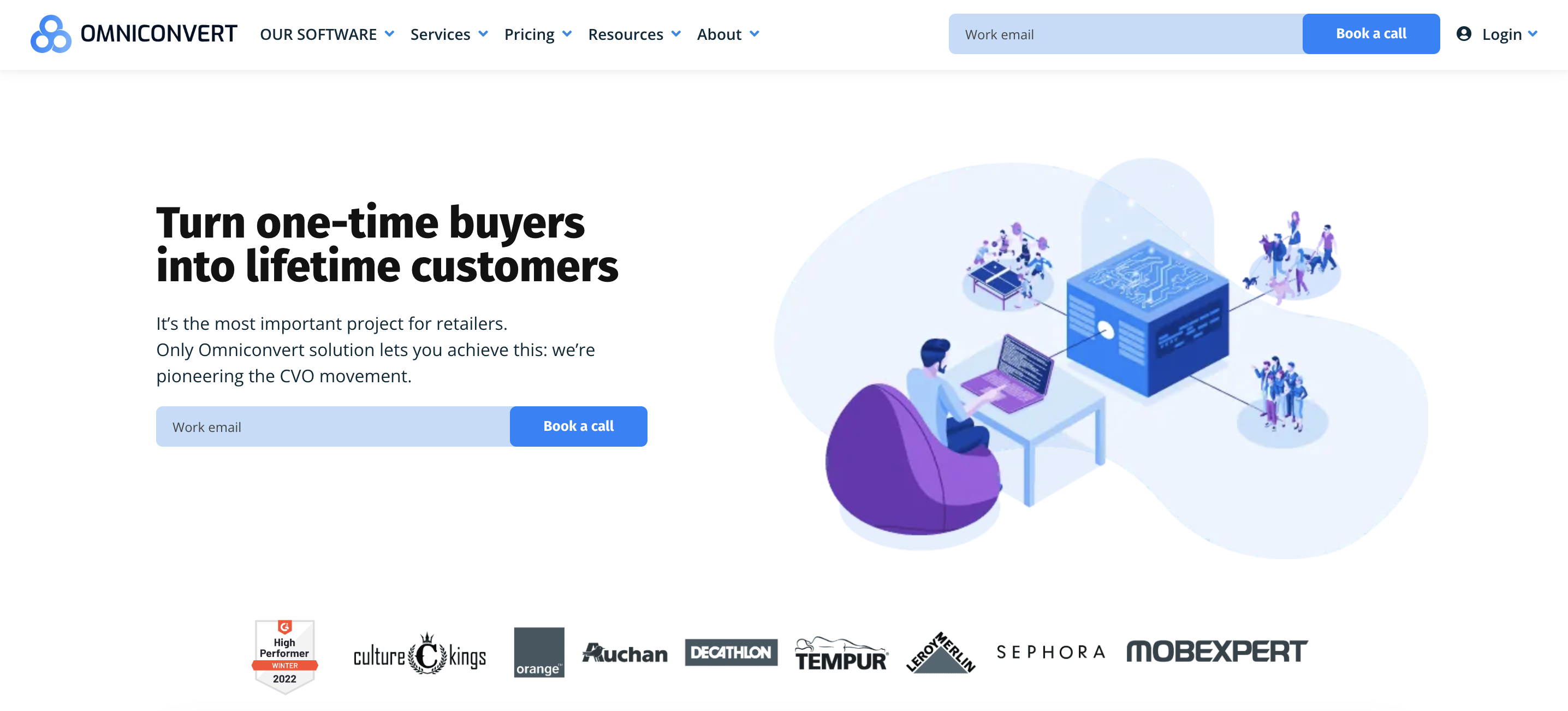 Omniconvert is a conversion optimization tool that empowers ecommerce businesses to maximize the ROI of their onsite campaigns. With a variety of customizable website overlays like popups and banners, you can make sure your messages get noticed by the right audience.
Main features:
Advanced segmentation:

Easily create a variety of customer segments using the data you have and common sense rules.

Debugger:

Find out why your tests and experiments aren't showing up correctly on your website.

Lots of templates:

Choose between over a hundred overlay templates, including exit-intent popups that enable you to reach the visitors who might never have completed a purchase.
Pricing: Starting from $320/month. Free trial available.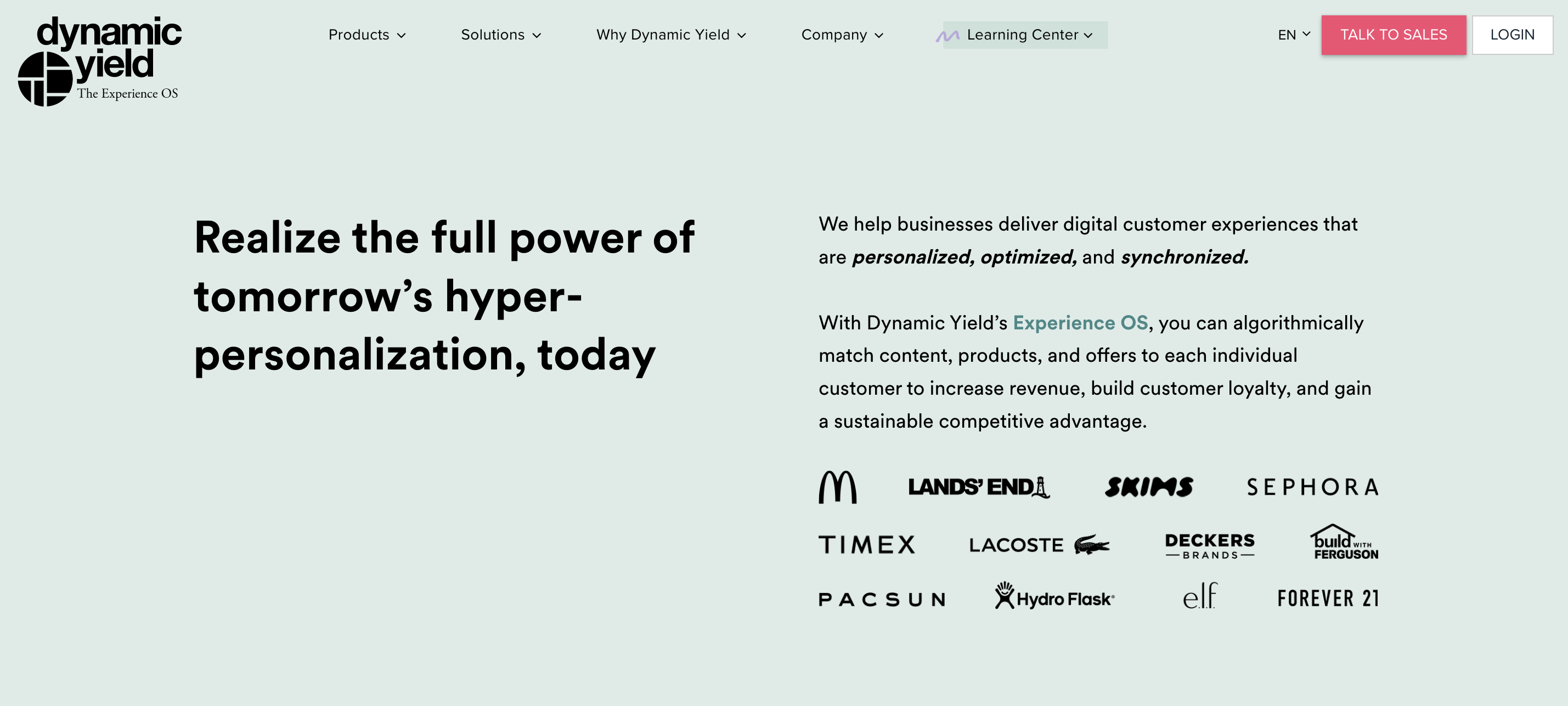 Dynamic Yield lets you deliver a personalized, synchronized, and optimized customer experience to your users. And their Experience OS uses an algorithm to match each user with relevant content, recommendations, and offers that they'll find irresistible.
Main features:
Manage your audiences:

Take advantage of the data you've collected from different digital touchpoints on one platform.

Recommendations:

Use deep learning to hyper-personalize your content and product recommendations.

Email personalization:

Use the same personalization features to adapt your email marketing messages to different audiences.
Pricing: Quotation-based pricing.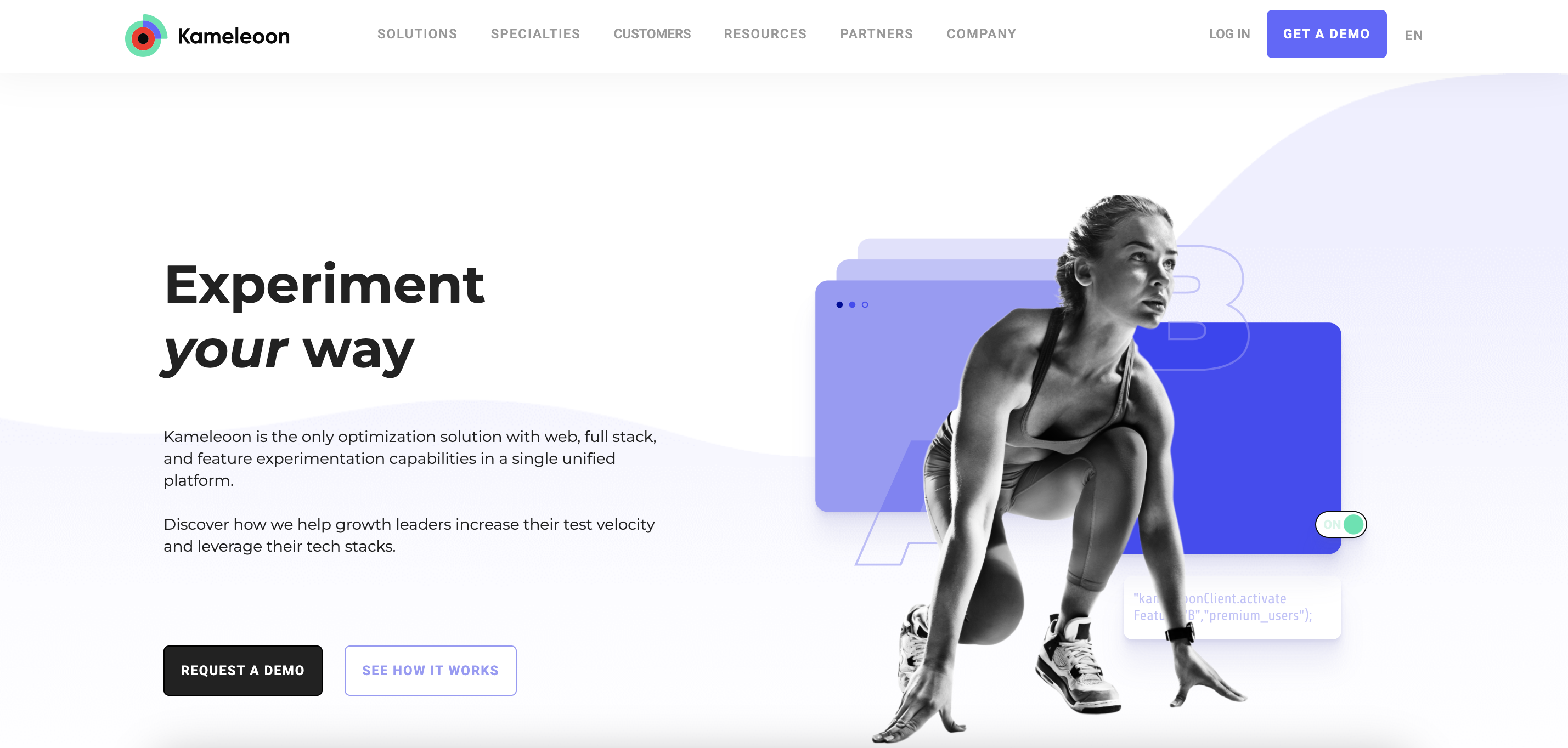 Kameleoon is a platform that improves your optimization efforts by allowing you to conduct both A/B testing and web personalization. And with a well-optimized site, you'll not only see a better user experience and conversion rate, but also increased revenue. 
The tool uses an AI algorithm to track visitor behavior, uncover patterns, and measure conversion opportunities as they arrive. 
Main features:
AI predictions:

Find out which audience segments are most likely to respond to different personalized experiences.

Code editor:

The editor allows developers to use CSS and Javascript to run more complicated experiments.

Traffic allocation:

Choose which variant you want to send visitors to, or let the system direct traffic to the highest-performing variants.
Pricing: Quotation-based pricing.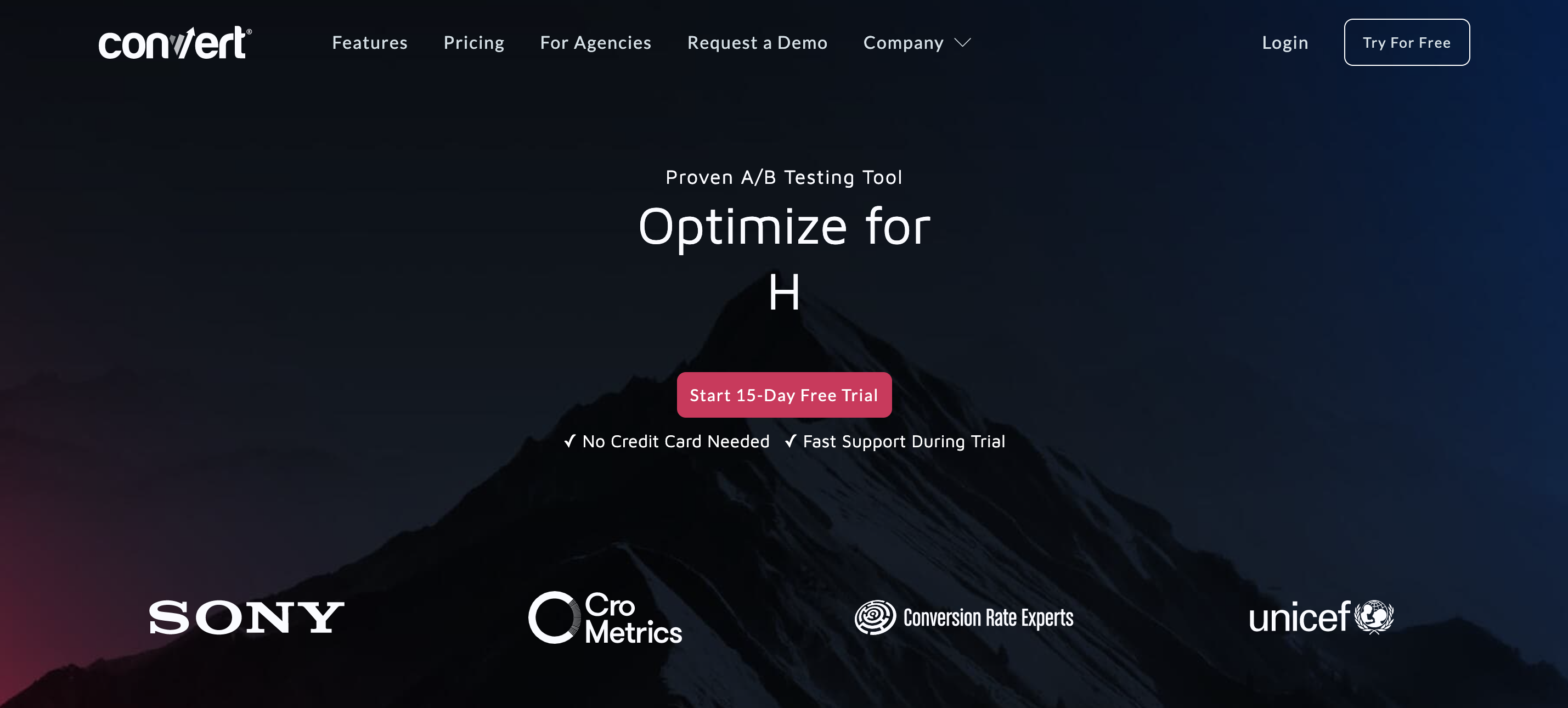 Convert Experiences is an A/B testing tool that also includes flicker-free personalization options. This platform is all about running accurate tests on your website performance.
You can access all your error checks and other reports whenever you like. 
Main features:
Multiple editors:

Choose whether you want to use the Visual Editor or the Code Editor. 

Audience targeting:

Play with dozens of factors (including location, language, device, and time of day) to define your most important audience segments.

Unlimited testing:

Run as many A/B tests on as many variants as you like in order to find out what your visitors respond to.
Pricing: Starts from $99/month. Free trial available. 
Google Optimize was an excellent way to test and improve ecommerce websites because it worked so well with other Google products, such as Google Analytics and Google Ads. 
However, the optimization software we've looked at today demonstrates that you can achieve better results by taking your experiments and A/B testing into your own hands.
If you want to take your experiments to the next level, give OptiMonk a try. The platform combines powerful A/B testing capabilities and an easy-to-use, flexible editor that allows you to create just about any personalized customer experience you can imagine.