In 2023, online shoppers expect to receive personalized content and a tailored customer experience whenever they're online. That's because everyone has gotten used to the types of digital experiences they find on ecommerce giants like Amazon.
Although many online retailers rely on Dynamic Yield as their personalization solution, it might be too expensive for a small or medium-sized ecommerce business. That's why we've collected the best Dynamic Yield alternatives that can help you personalize your website.
So let's get into our list of the 10 top alternatives to Dynamic Yield. One of them might just be perfect for your needs!
Why might you be looking for Dynamic Yield alternatives?
Dynamic Yield is a powerful personalization software solution that has a range of features. Although it can increase customer engagement and drive revenue growth, it isn't right for all users.
Let's take a look at some of the most common complaints that Dynamic Yield users mention in reviews.
1. Pricing
One of the most common complaints about Dynamic Yield is its high pricing. While enterprise companies can afford to use the software, many smaller businesses simply can't fit it into their budget.
If you're looking to free up some of your marketing budget by using a less expensive personalization solution, it might be time to check out some Dynamic Yield alternatives.
2. Lack of template options
Another common issue that emerges in reviews of Dynamic Yield is the lack of template options. Finding a ready-to-go template that fits a new campaign really helps marketers create personalized content as easily as possible.
While Dynamic Yield provides some out-of-the-box templates, it doesn't have as many options as some other platforms, which is disappointing considering the higher price you pay.
3. Requires IT assistance
Dynamic Yield can be complex to get up and running on an ecommerce website.
Many business users have reported that they've had to get their IT team involved in setting up and integrating the software with their other digital marketing systems.
On the client side, this is both time-consuming and costly, especially for businesses that don't have dedicated IT resources.
4. Difficulties with customer support
Some users have said the customer support provided by Dynamic Yield could be better. That means that if you face any of the problems identified above, you may have trouble getting in touch with their support team and receiving helpful assistance.
Top 10 Dynamic Yield Alternatives in 2023
If you're having trouble finding the ideal substitute for Dynamic Yield, we're here to help!
We've compiled 10 great alternatives that can help you provide your visitors with memorable personalized experiences on your website, so let's dive right in.
1. OptiMonk: The best website personalization platform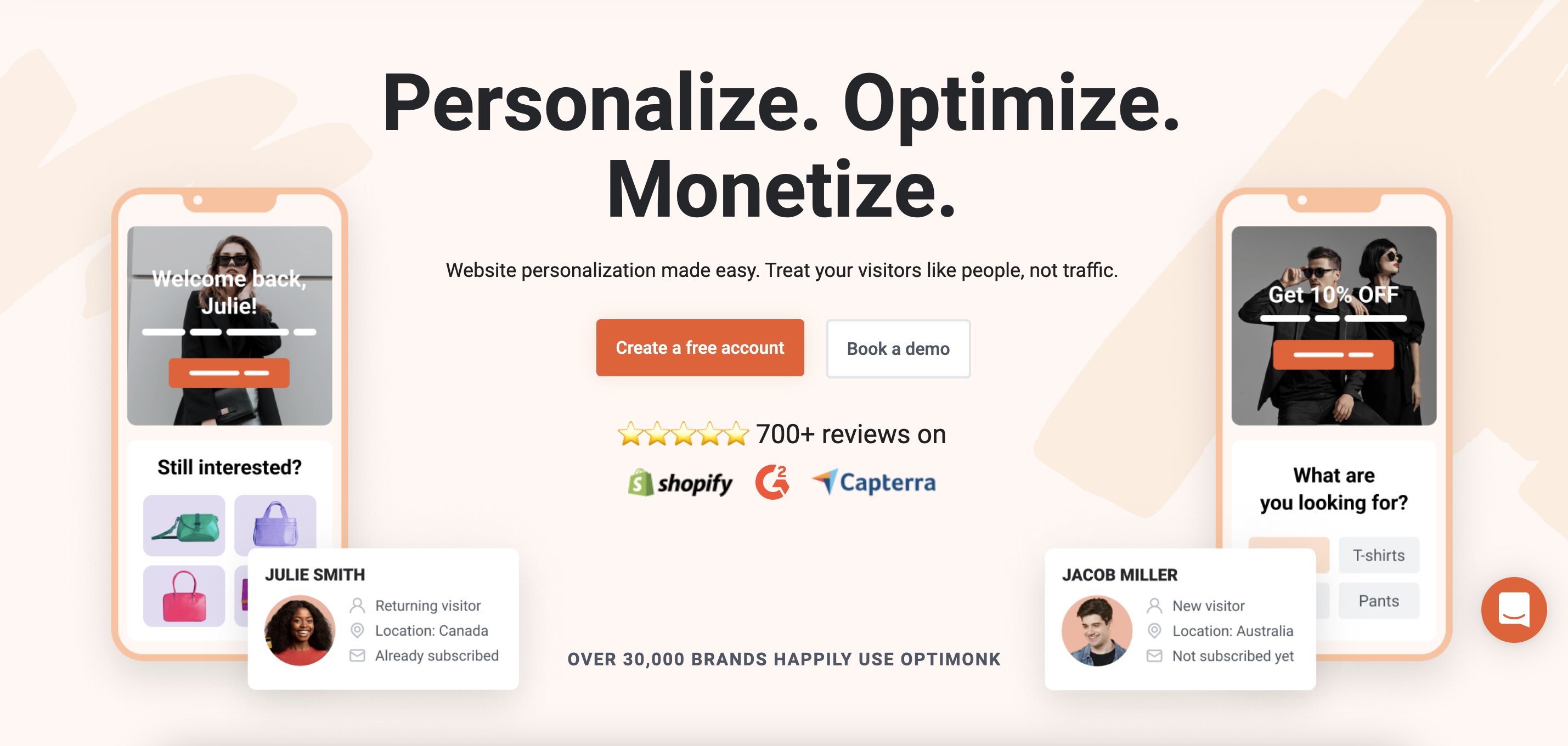 OptiMonk is a powerful website personalization platform that offers advanced personalization, segmentation, and customer engagement tools for ecommerce businesses.
With OptiMonk in your marketing toolbox, you'll have the ability to create unique and meaningful digital experiences across the entire customer journey.
Let's see how OptiMonk can help you optimize your business and stay a step ahead of your competitors.
Key feature #1: Embedded Content & Dynamic Content
With Embedded Content, you can customize your website's browsing experience to suit different groups of people—no coding skills necessary!
OptiMonk's easy-to-use editor allows you to personalize entire sections of your website. Whether you're running a blog, an online store, or any other type of website, you can add personalized offers, incentives, surveys, and messages with ease, all without overwhelming your visitors with promotions.
OptiMonk also offers Dynamic Content, which allows you to create tailored messages to appeal to each individual customer—without involving developers. This can boost everything from your customer engagement to your revenue.
Here's an example that shows how BlendJet does it on their landing pages: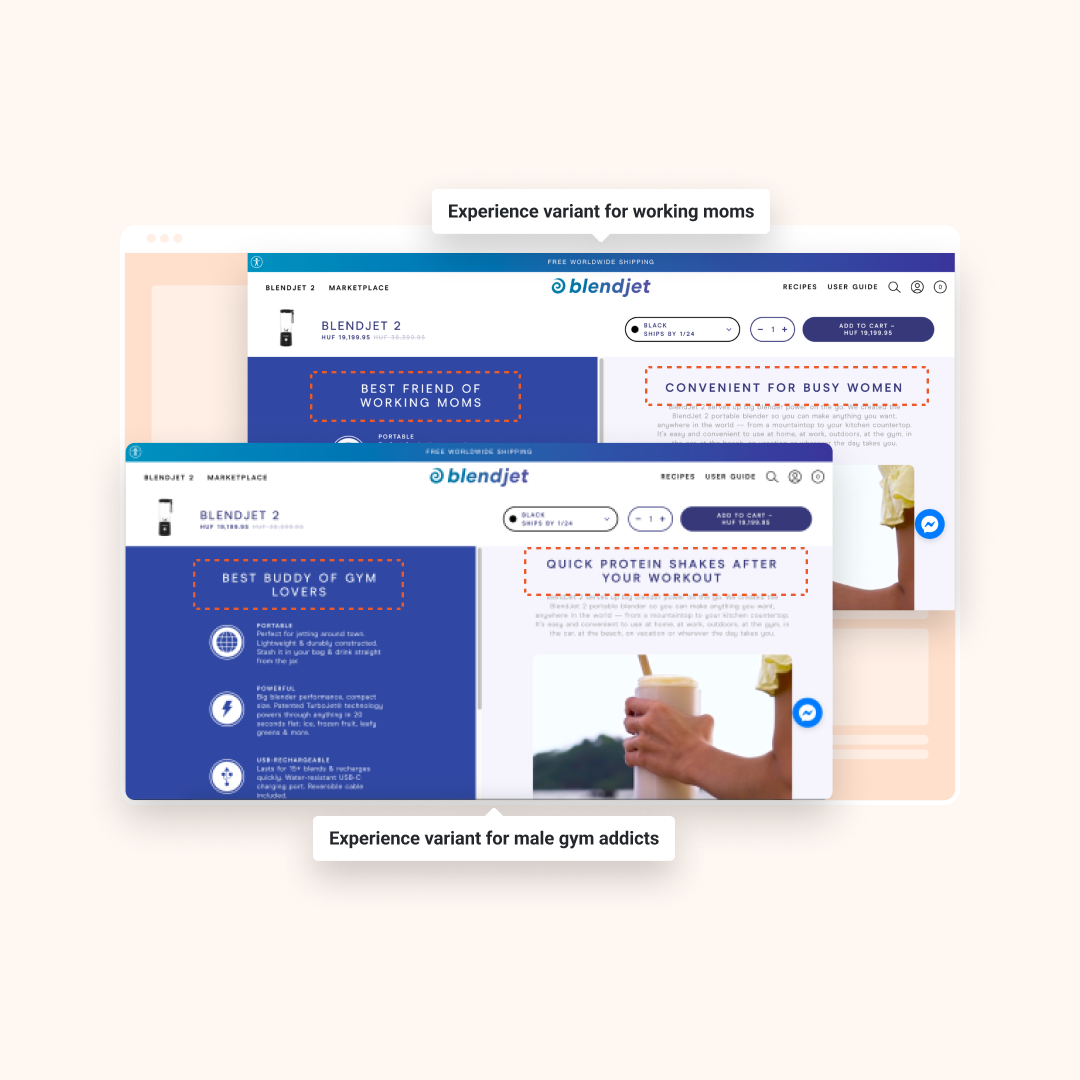 Key feature #2: Segments
In order to create personalized customer journeys for your website visitors, it's crucial to use audience segmentation to ensure that each person sees relevant content. However, this is often the trickiest part of running a personalized campaign.
OptiMonk's Segments feature makes it easy to set up targeting rules for your campaigns and determine who sees them.
Campaigns come with pre-made user segments, and you can even define and save your own custom segments. You'll never have a problem making the most of your customer data once you start using segments.
Key feature #3: Smart Tags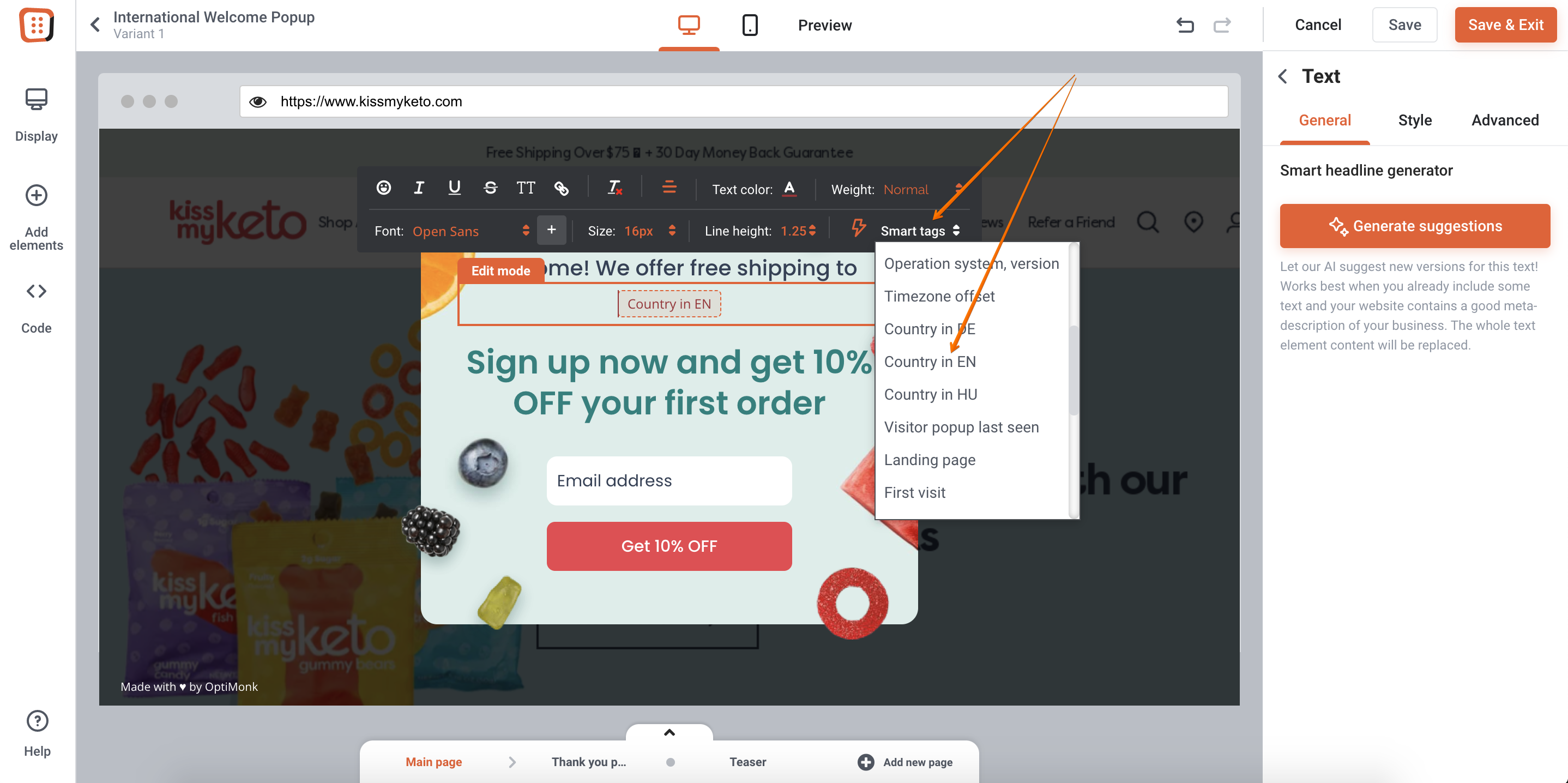 Smart Tags are another one of OptiMonk's innovative personalization solutions. This feature helps you improve the customer experience by adapting parts of messages based on visitor properties like a first name or geo-location.
Smart Tags adapt to display highly relevant messages to individual visitors, all within a single campaign.
Key feature #4: Experiments
The Experiments feature provides a straightforward, highly effective way to test multiple message variants.
By simultaneously comparing the conversion rates and levels of customer engagement for different versions of your messages, you can quickly identify the message that will perform best for your unique audience.
You can even test out different message types (comparing overlays vs. embedded content, for example) and see how your messages perform for different audience segments.
Additional features:
Source-based targeting:

This allows you to display campaigns to visitors who come from specific sources.

No-code editor:

This enables you to customize campaigns without the need for coding or technical expertise.

Themes:

This feature allows brands to quickly create a variety of different campaigns that are consistent with their brand identity and website style.

Audience recommendations:

This feature helps you reach predefined segments, such as new visitors or active shoppers, which can help you choose the right audience for your campaigns.

Klaviyo lists and segments:

This deep integration option helps you extend your personalization marketing efforts to different channels.

Mobile-optimized templates:

This

ensures that your campaigns look great on all devices.
Pricing: Free plan available, or from $39/month.
2. Emarsys: Intelligent customer engagement platform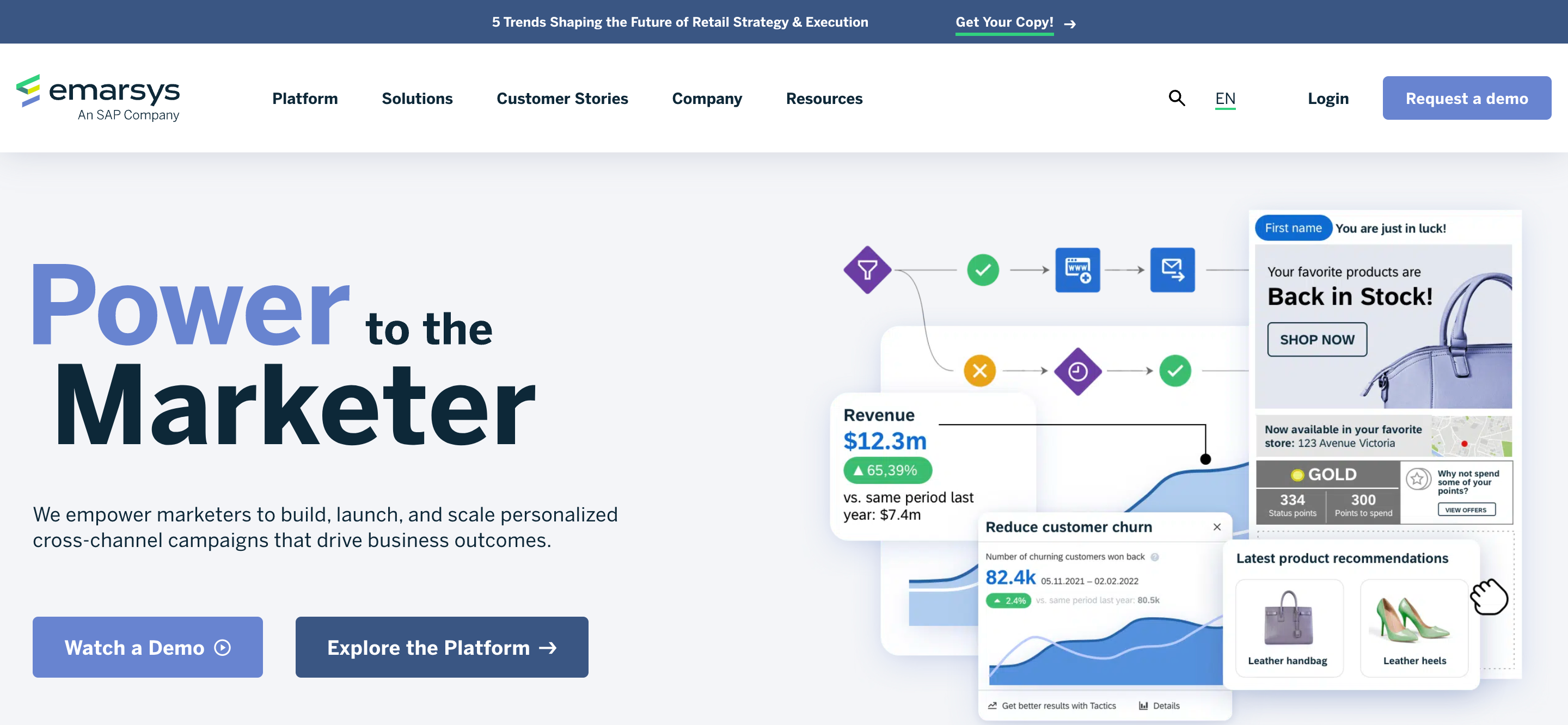 Emarsys offers ecommerce sites a versatile customer engagement platform that also boasts omnichannel marketing capabilities.
It has a variety of features, including advanced segmentation, email marketing, predictive analysis, and user-friendly design. All these features make it easy to both personalize customer experiences and automate complex procedures.
Pricing: Available upon request.
3. Monetate: Web optimization platform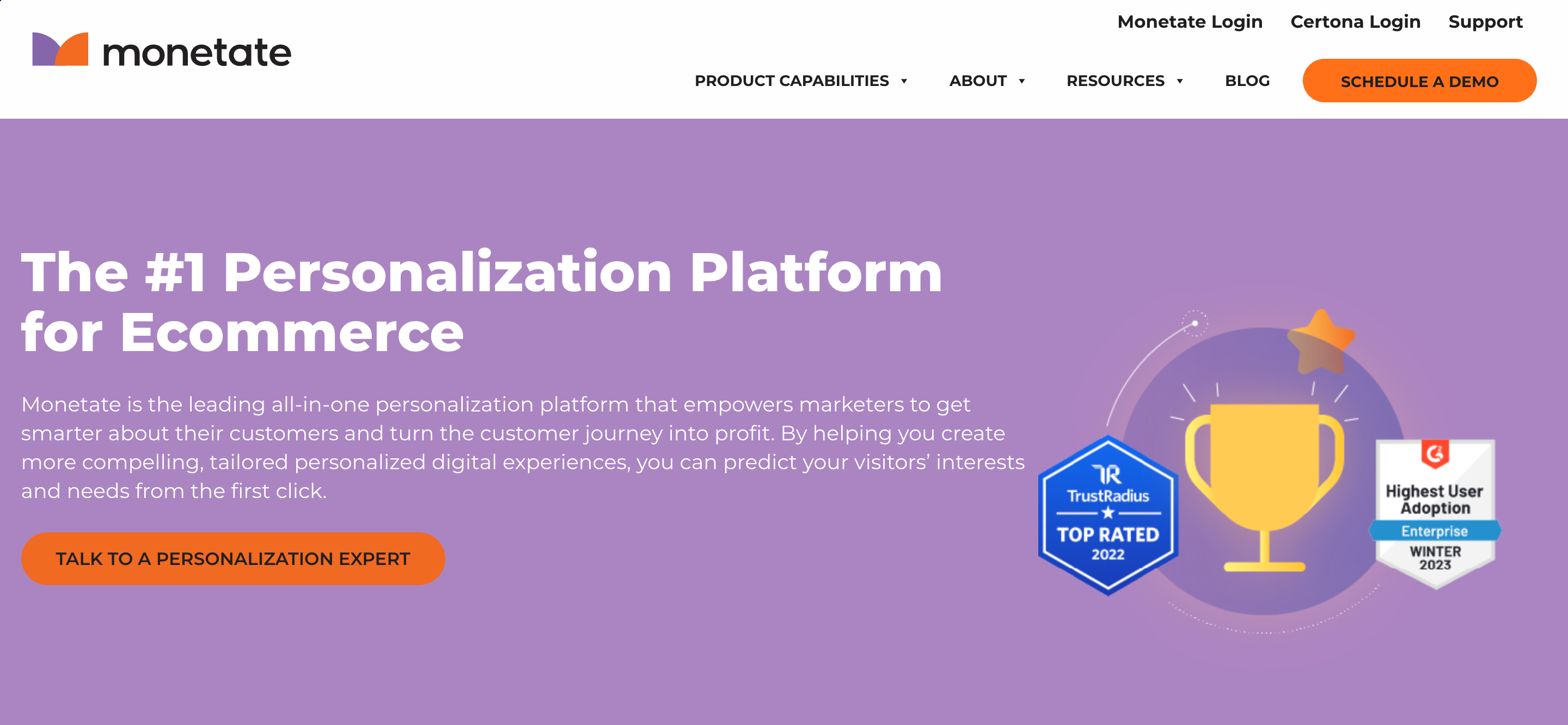 Monetate is personalization software that specializes in A/B testing, optimization, and segmentation features for ecommerce businesses. The platform uses artificial intelligence for real-time marketing automation, allowing you to deliver personalized recommendations to your customers.
Pricing: Free trial available, and there are custom pricing plans.
4. Optimizely: Web optimization platform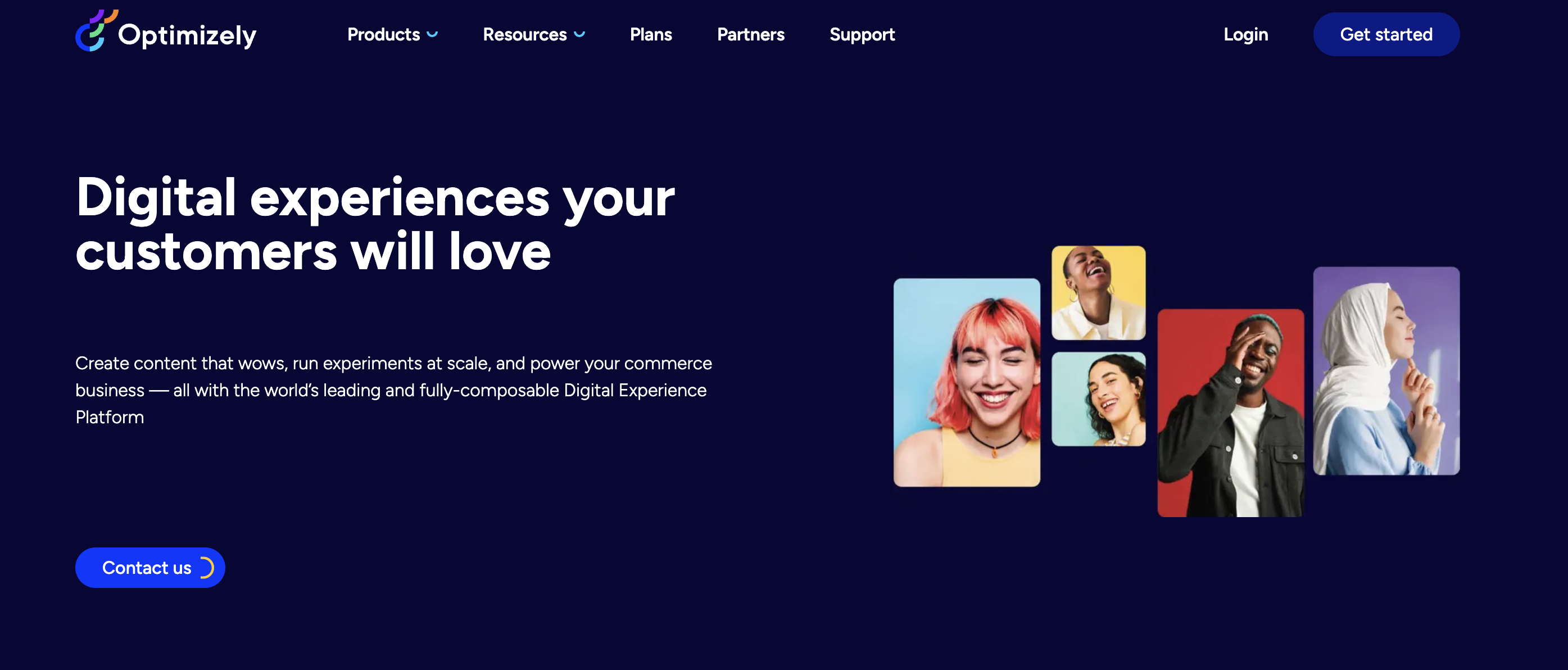 Optimizely is an A/B testing, experimentation, and analytics platform that helps businesses personalize their websites and optimize their customer experience. Using Optimizely, you can implement behavioral targeting, take advantage of real-time data analysis, and integrate your customer data with other platforms.
Pricing: Plans start at $50/month.
5. Insider: Growth management platform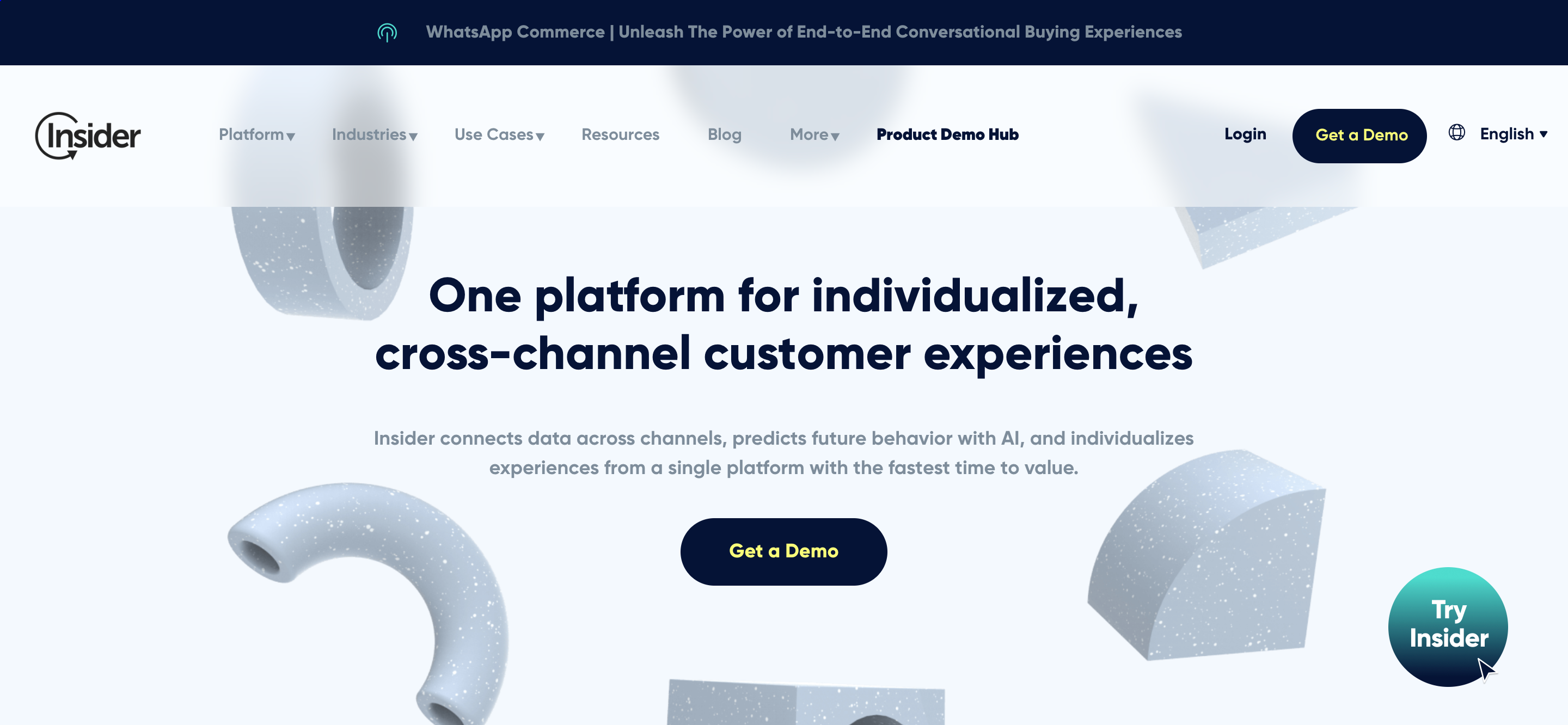 Insider is a personalization platform that offers artificial intelligence-powered recommendations, segmentation, and omnichannel marketing features for businesses. You can use it to create unified customer personas and then deliver tailored product recommendations and popups.
Pricing: Free trial available, and there are custom pricing plans.
6. Nosto: Ecommerce personalization platform
Nosto is a personalization platform that offers AI-powered segmentation suggestions for enterprise companies. By leveraging all the customer data you have access to, Nosto helps you deliver the most optimal personalized product recommendations and popups.
Pricing: Plans start at $500/month.
7. VWO: Marketing automation solutions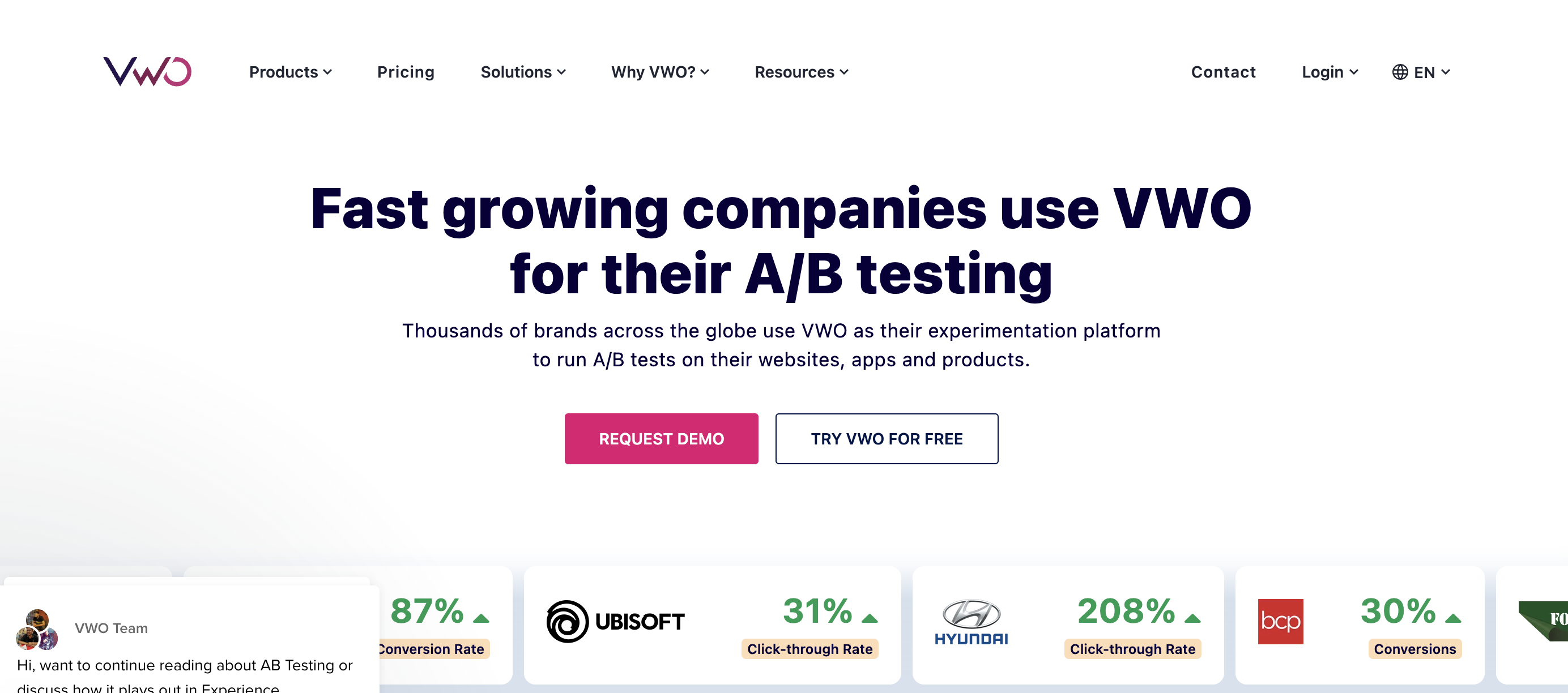 VWO Testing is an A/B testing and conversion optimization platform that offers heatmaps, surveys, and visitor recordings for businesses. By using these data analysis features, you can gain a better understanding of your audience and how they navigate your website. In addition, you can use the platform for behavioral targeting and integrations with other platforms.
Pricing: Free trial available, plans start at $199/month.
8. Bloomreach: Digital commerce growth platform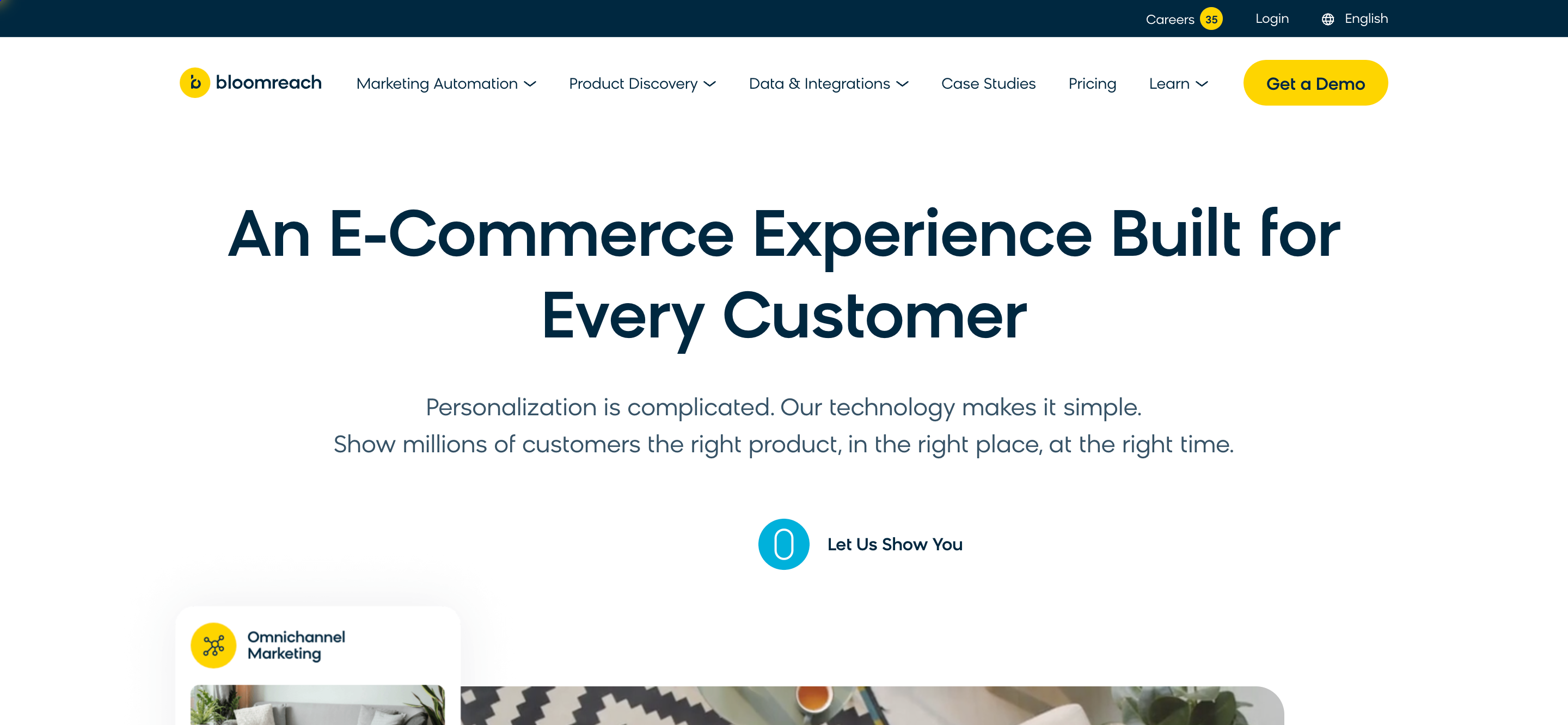 Bloomreach is an ecommerce experience platform that offers personalization, search, and merchandising features for ecommerce businesses. Its platform includes AI-powered recommendations, search optimization, and merchandising tools.
Pricing: Free trial available, and there are custom pricing plans.
9. AB Tasty: Analytics platform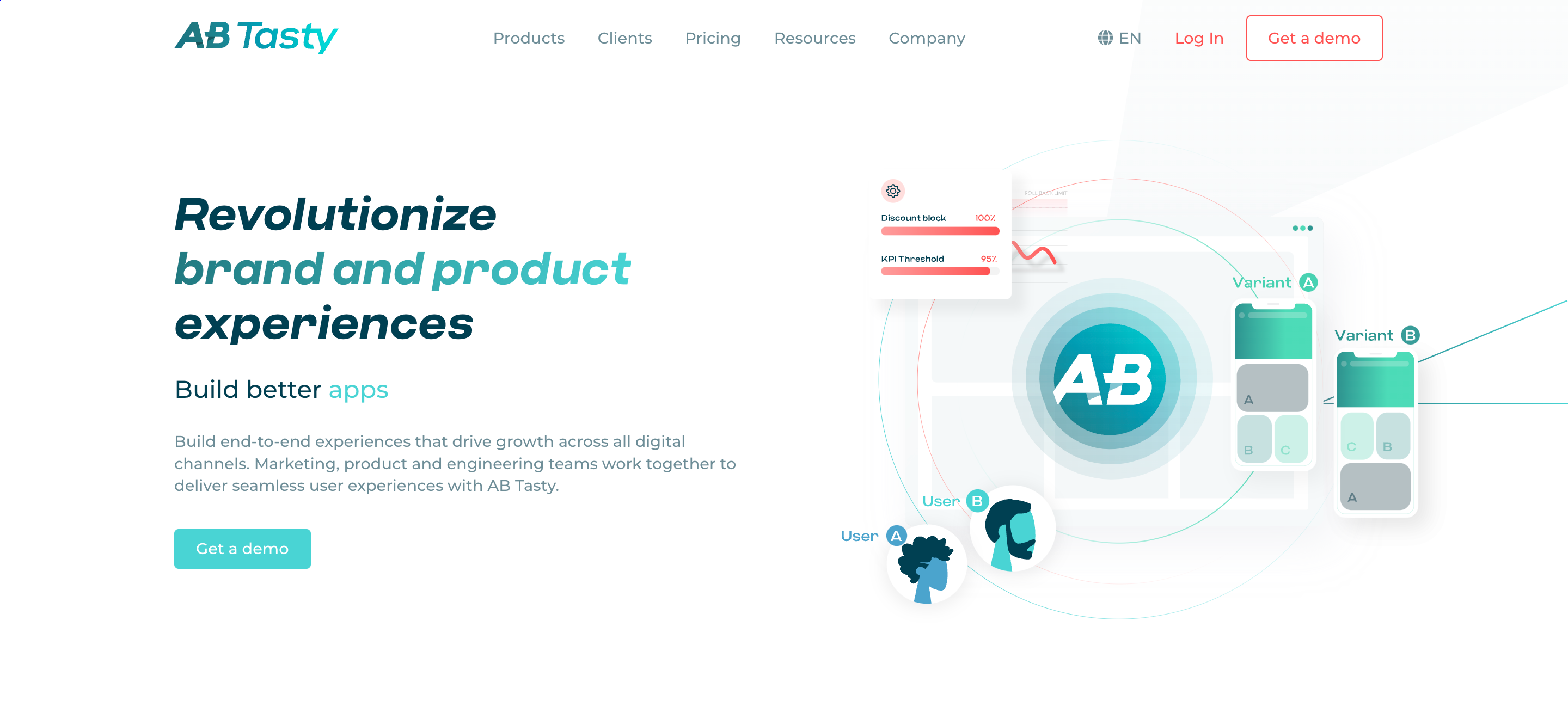 AB Tasty is an experimentation platform that offers A/B testing, personalization, and analytics features for businesses. The platform includes behavioral targeting, real-time data analysis, and integrations with other platforms.
Pricing: Pricing plans start at $499/month.
10. Yieldify: Personalized communication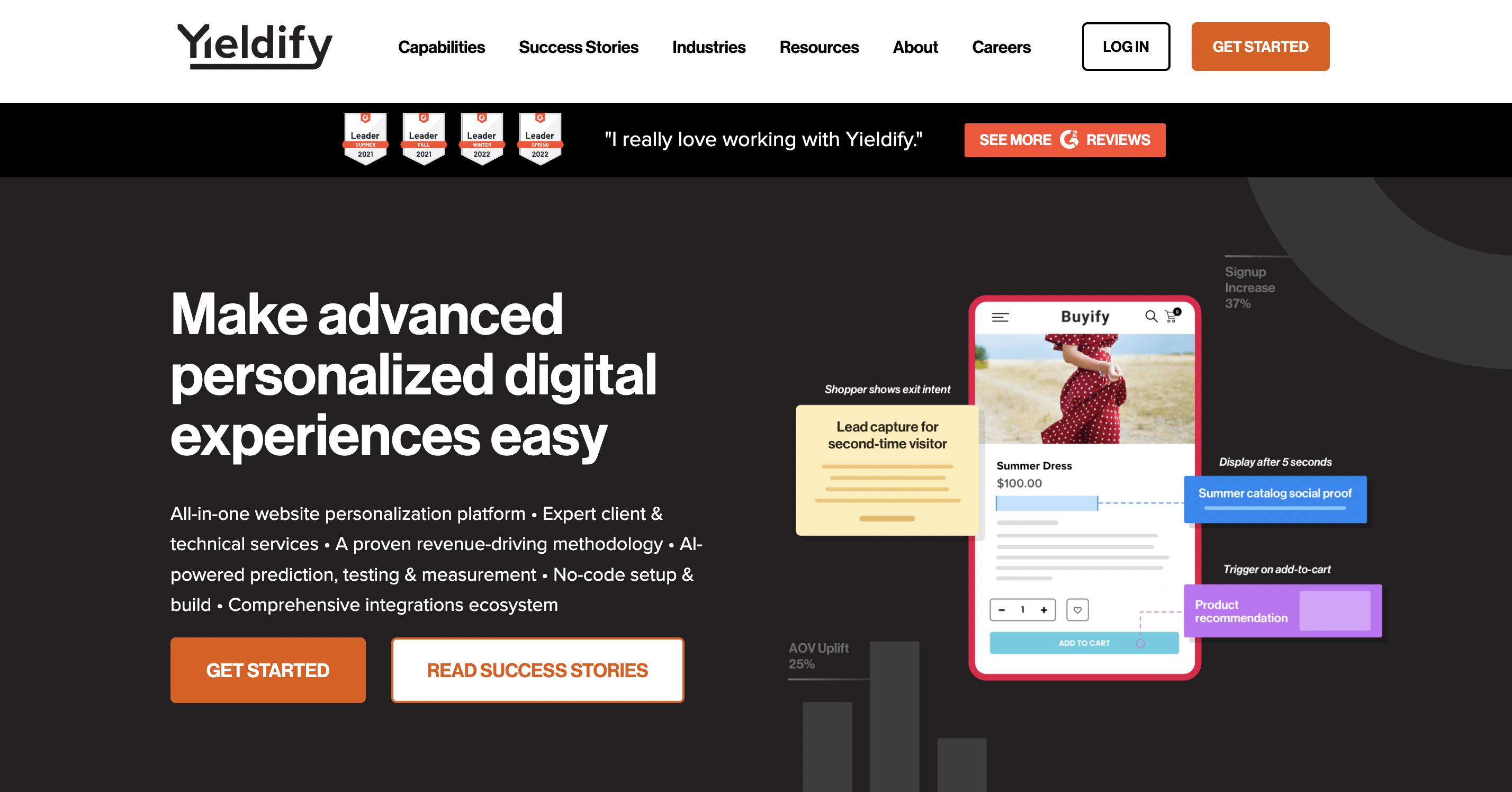 Another great alternative to Dynamic Yield is Yieldify, which offers personalized overlays (i.e. popups), notifications, and product recommendations. Yieldify's user-friendly interface makes it easy to launch campaigns, even if you're not the most tech-savvy of computer users.
Pricing: Starts at $500/month.
Well, that wraps up our list of the top Dynamic Yield alternatives for 2023! We hope you've gained some insights about how Dynamic Yield compares to its competitors and the other options available on the market today.
You should always be looking for ways to optimize your ecommerce site, and that may mean looking at new personalization solutions. Ultimately, when choosing a Dynamic Yield alternative, it's important to consider your specific business needs, goals, and budget.
OptiMonk offers you the chance to personalize your entire customer journey and create a unique experience for your users. With its wealth of template options and easy-to-use interface, you can boost your website conversion rate and your sales without a ton of effort.
And, since OptiMonk is freemium software, there's no reason not to make an account and give it a try!