VWO is one of the most popular choices when it comes to website optimization platforms. But there are lots of alternatives for helping ecommerce stores increase conversions, so it's worth considering whether VWO is the right choice for you.
That's exactly why we've put together this list of the top 10 VWO alternatives. Get ready to discover some amazing tools that will take your conversion rate optimization to the next level!
4 reasons why you might need a VWO alternative
After taking a deep dive into reviews of VWO, here are some of the top reasons that their customers decided to go with a VWO alternative.
1. Pricing
VWO's pricing might be why you're looking for alternatives, especially if you're on a tight budget. G2 users have reported that VWO is expensive for them, which is no wonder since their plans start at $199 per month.
This simply isn't feasible for many ecommerce stores. And even if you can afford it, you might want to look for services that do the same job for a lower price. You don't want to pay extra if you don't have to!
2. Limited features
Another reason you might need a VWO alternative is if you require additional features that VWO doesn't offer. Ecommerce websites have vastly different needs when it comes to marketing software, so it's important to find solutions that cover yours.
G2 reviewers have commented that VWO's reporting capabilities are limited, and that the platform lacks advanced personalization and targeting features.
3. Difficult UX/UI
Another reason that you might need a VWO alternative is dissatisfaction with the user interface and user experience that VWO offers. You don't want to be spending a lot of extra time trying to figure out how to accomplish the marketing tasks that you need to get done.
Some marketers on G2 have mentioned that they find VWO's interface challenging to navigate. Users also say that the software can be slow and clunky.
4. Limited integration capabilities
Most ecommerce websites use multiple tools and platforms for their conversion rate optimization, marketing, and analytics efforts. That means it's essential that your site optimization software integrates with all your other tools.
Many G2 reviewers decided to move to another tool, noting that VWO's integration capabilities are either too limited or require complex, painstaking configuration.
Top 10 VWO Alternatives in 2023
Your first thought might be that you will just sign up for Google Optimize. Unfortunately, Alphabet has decided to sunset Google Optimize, so you'll have to look a little bit harder for the right tool. But luckily there are many other great options out there!
Now let's get into the best VWO alternatives.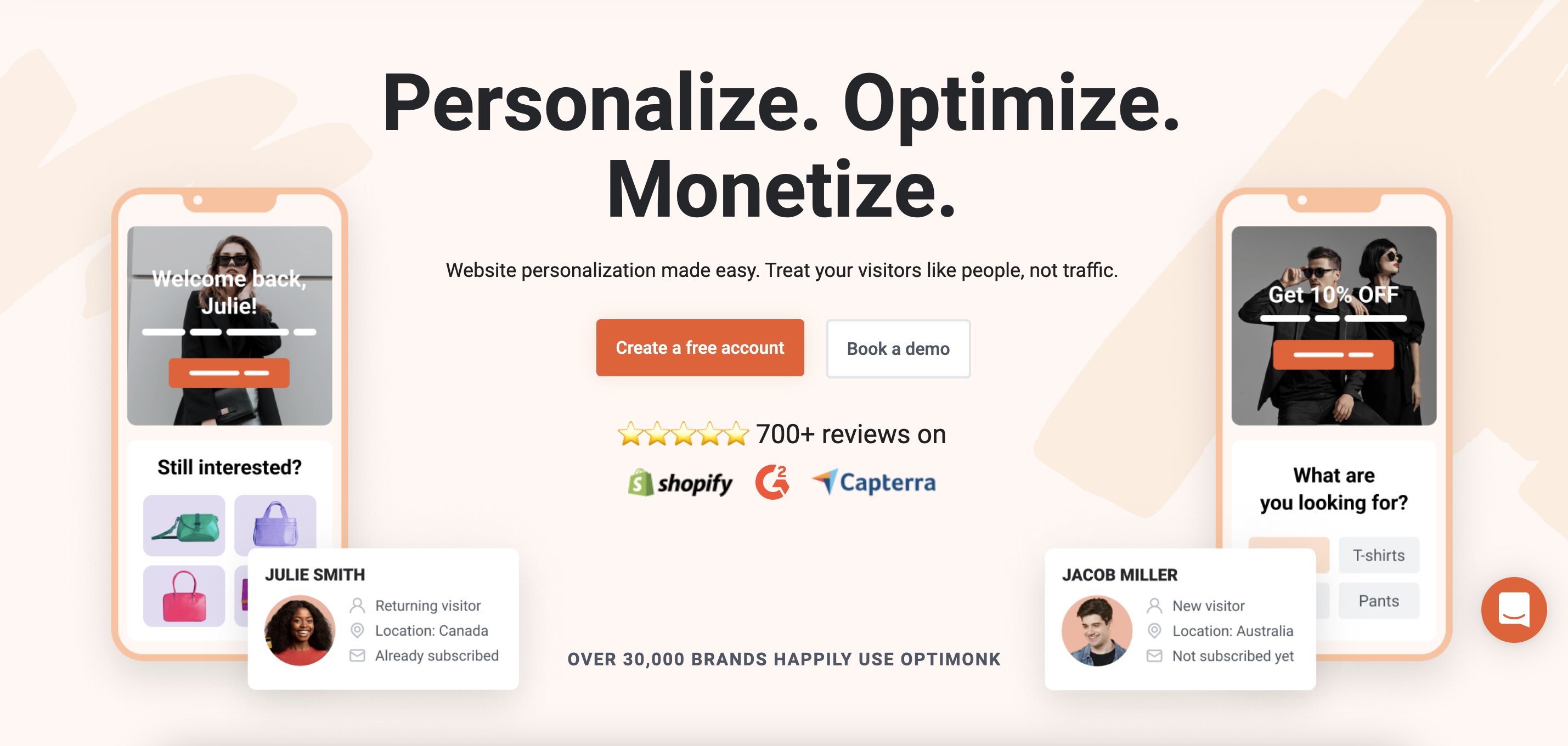 OptiMonk is a comprehensive (and affordable) website personalization platform that stands out as one of the best VWO alternatives. OptiMonk's marketing software is full of innovative features that can help you boost sales and conversion rates.
And it's super easy to use… no coding skills are required! Here are some of the most notable features that OptiMonk brings to the table.
Key feature #1: Experiments
It's difficult to know what types of campaigns and marketing tactics will work best on a specific online store and for a specific audience.
OptiMonk's Experiments feature goes far beyond the basic A/B test, allowing you to test multiple page versions and compare the conversion rate of a campaign among multiple audiences.
All of this can be done from a simple graphic interface, which means that you can get the experimentation going without needing to get developers involved.
Key feature #2: Smart Tags
With Smart Tags, your messaging can be targeted on a 1 to 1 level, making your visitors feel like your offers were made just for them.
This innovative system relies on leveraging all the first- and zero-party customer data you've collected to personalize your messaging.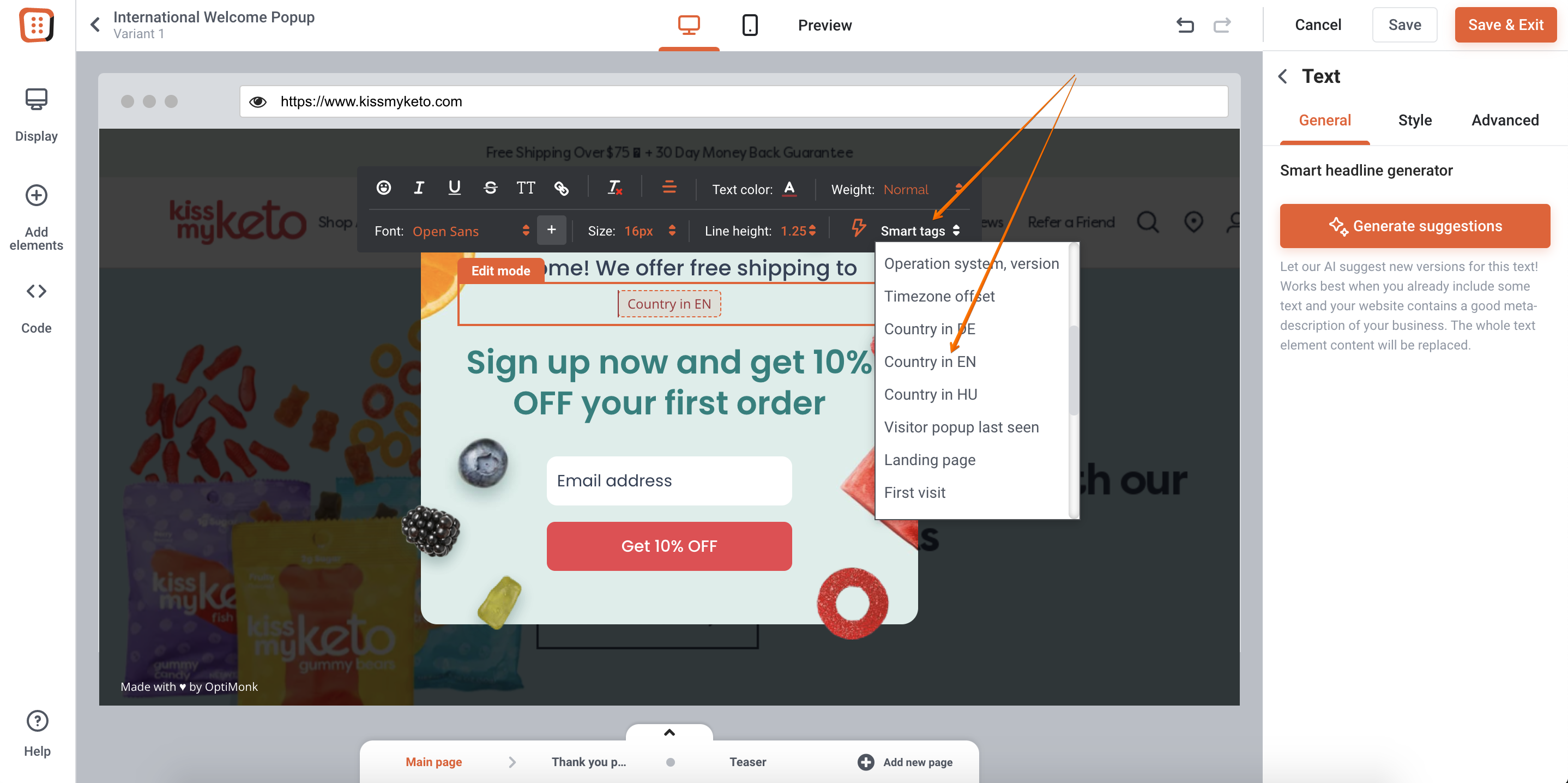 Key feature #3: Smart Headline Generator
Do you often have creative blocks when writing headlines? Let our AI help you! OptiMonk's Smart Headline Generator creates catchy campaign headlines proven to drive conversions.
You can access 5 unique headline suggestions within the Editor for any campaign, and optimize your conversion rate by testing multiple headlines and identifying the most effective one.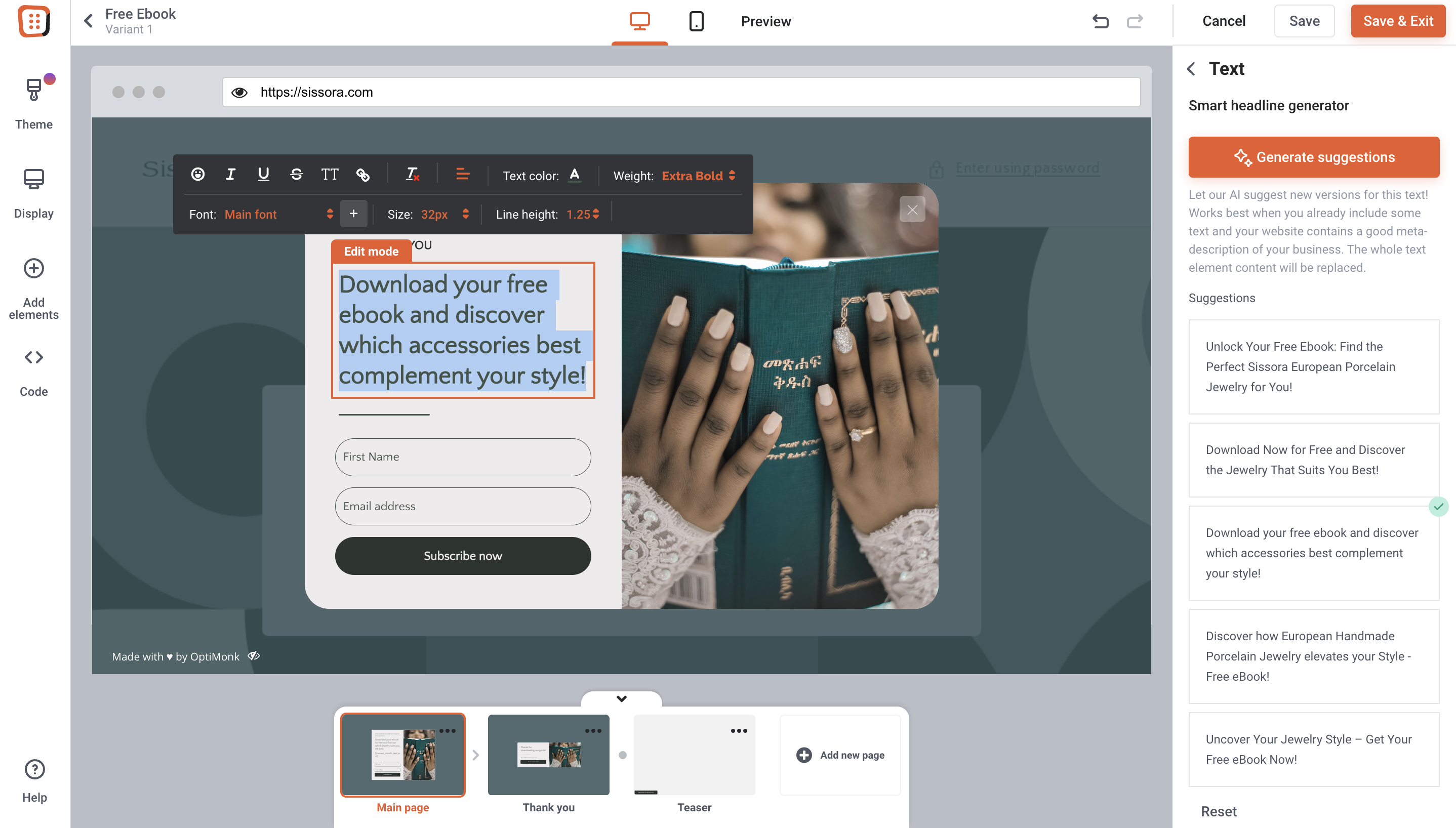 And that's not even close to all the features that OptiMonk has to offer. Here are some additional benefits:
Segments:

The Segments feature provides you with custom recommendations for groups of users so that you can send targeted messages.

Product Recommendations

: Your visitors can experience personalized product recommendations that respond to their interests.

Dynamic Content

: Maximize user engagement with compelling dynamic content that adjusts to each visitor.

Flicker-free delivery:

Your personalized content will load incredibly fast and won't compromise your Google search ranking.

Ready-to-use templates

: OptiMonk's Template Library includes 300 ready-to-use campaigns, including everything from embedded content templates to overlay templates like popups, side messages, sticky bars, lucky wheels, and more.
Pricing: Free, or from $39/month.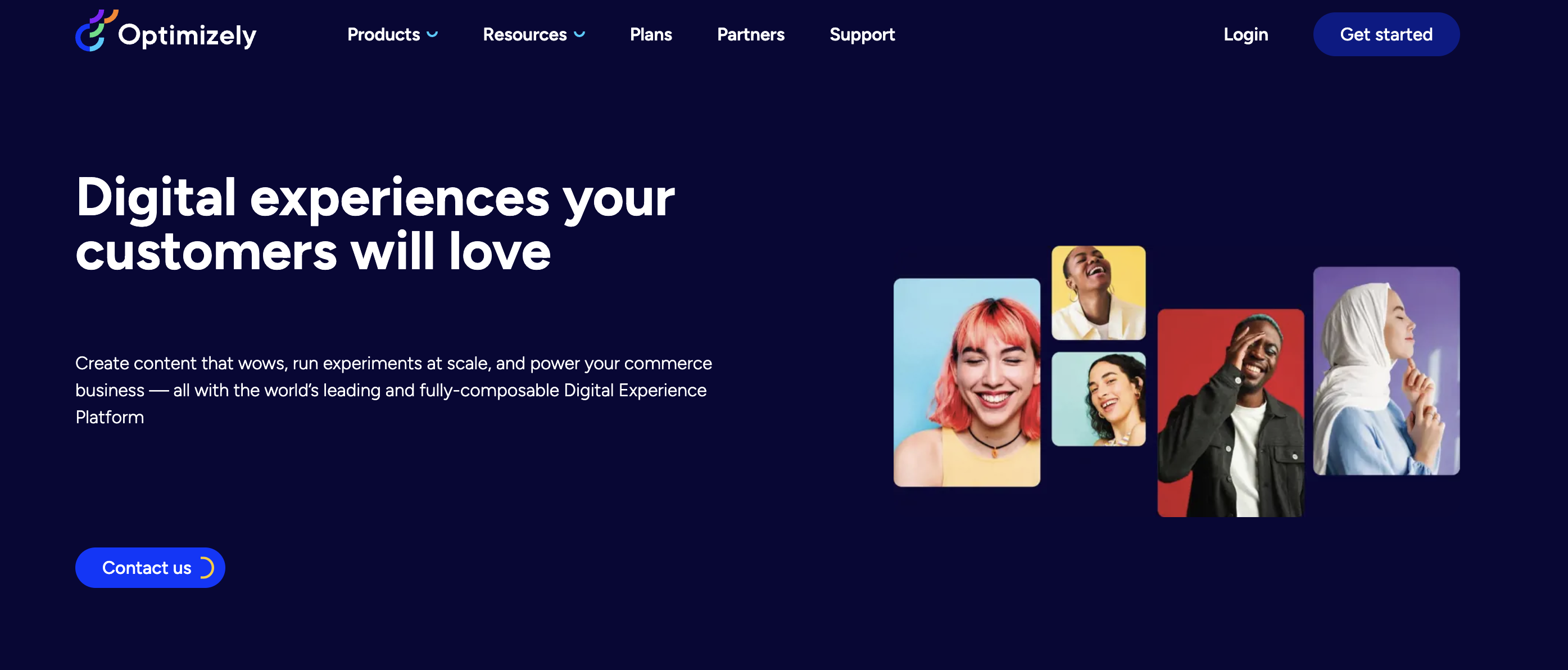 Optimizely is experimentation and personalization software devoted to helping online stores optimize their conversions.
It gives users access to A/B testing, multivariate testing, and personalization features. That means you can use the tool to create and launch experiments, segment your audience, and optimize performance.
Pricing: Contact with sales for the pricing.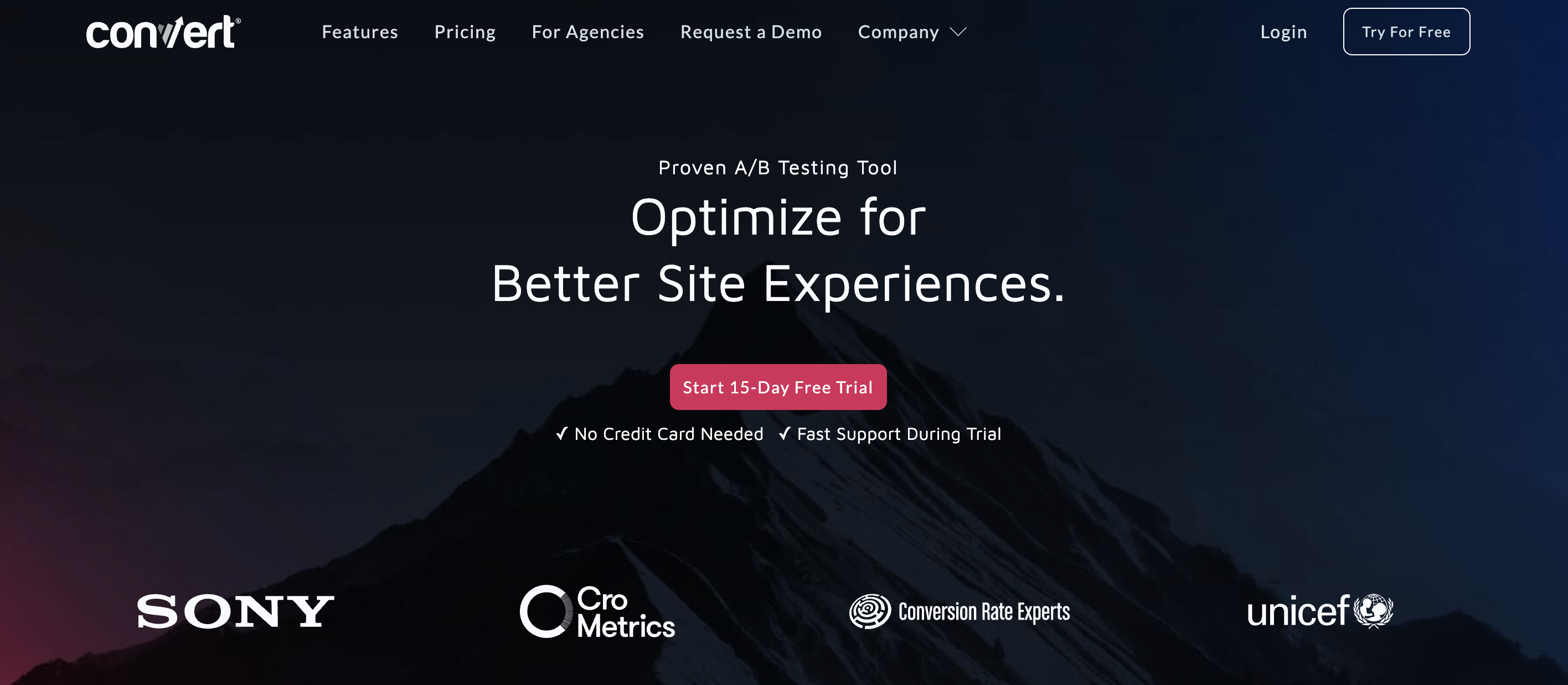 Convert is an A/B testing platform that allows you to conduct A/B tests, split tests, multivariate tests, and multipage experiments. You can also use real-time reporting to access all the data about the success of your personalized campaigns.
Pricing: Convert has a few pricing options, which start from $99/month. They also offer a 15-day trial.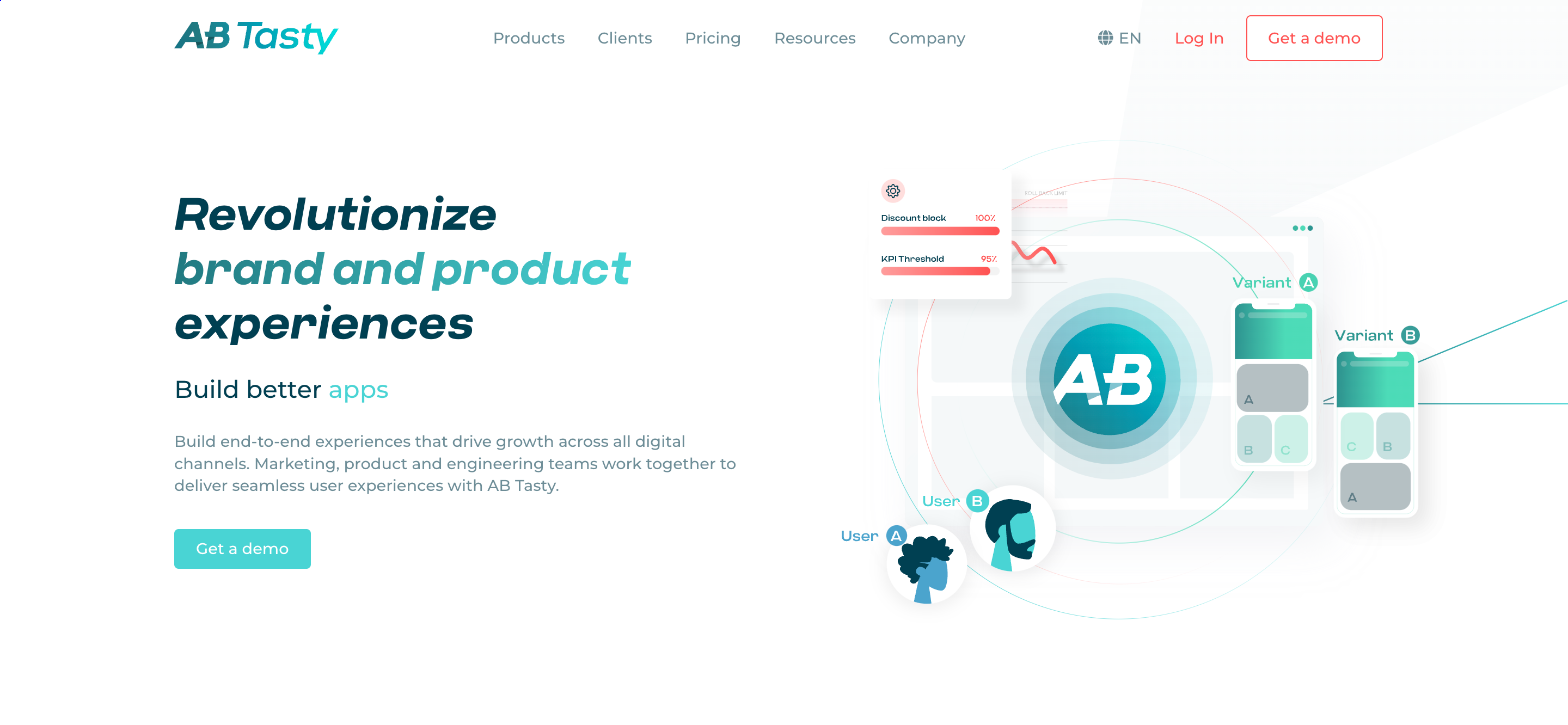 AB Tasty is an all-in-one conversion rate optimization platform that offers A/B testing, personalization, and user engagement tools. One unique feature of this VWO alternative is the use of machine learning algorithms to suggest ways for you to optimize your website.
Pricing: AB Tasty has custom pricing.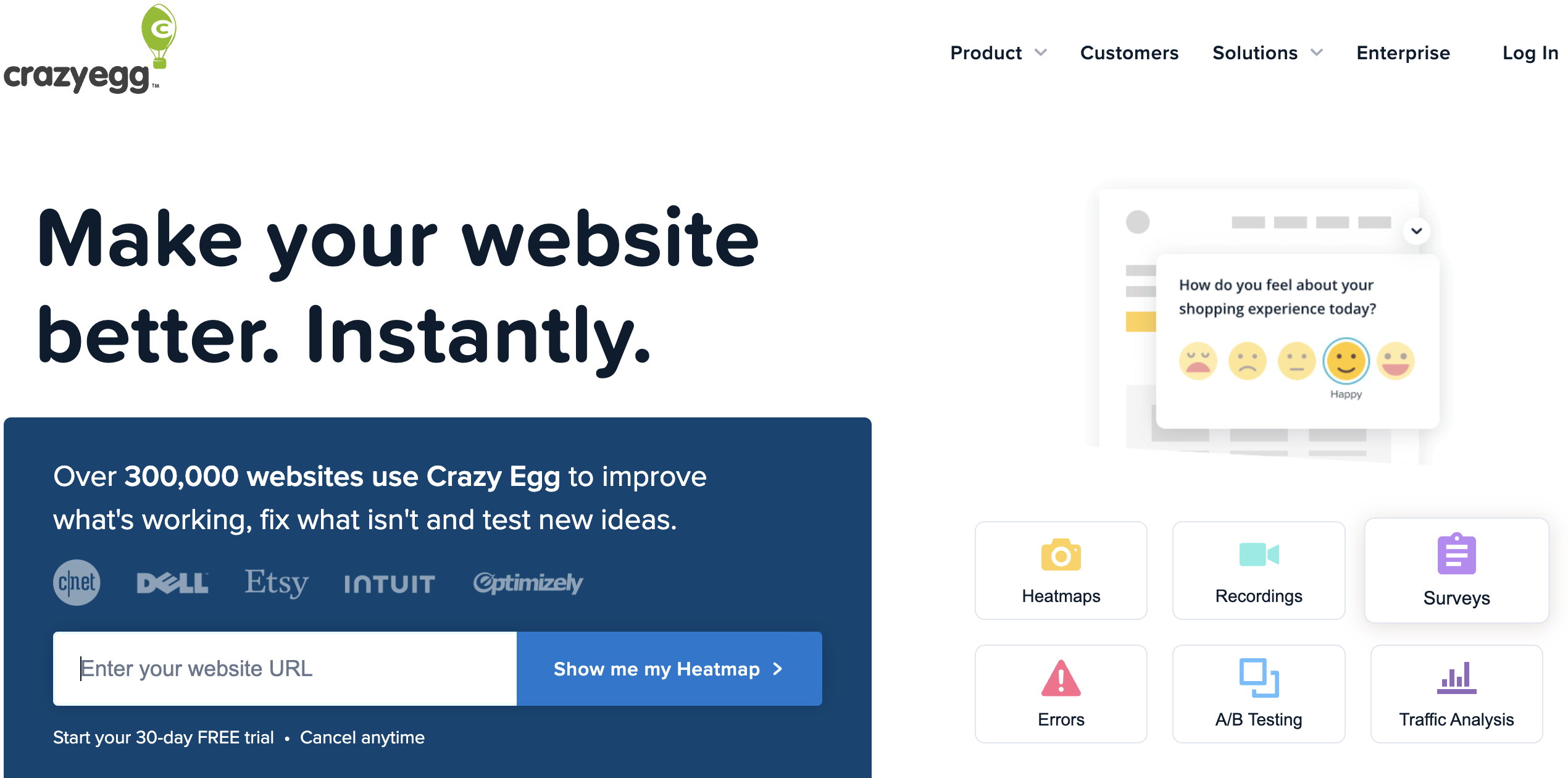 Crazy Egg is a user behavior tracking tool that provides event tracking capabilities, heatmaps, and session replay. All this user data helps you understand why users click and how they navigate each page of your site. Crazy Egg has A/B testing capabilities as well.
Pricing: Choose from one of four pricing plans that start from $29/month. They also offer a 30-day free trial.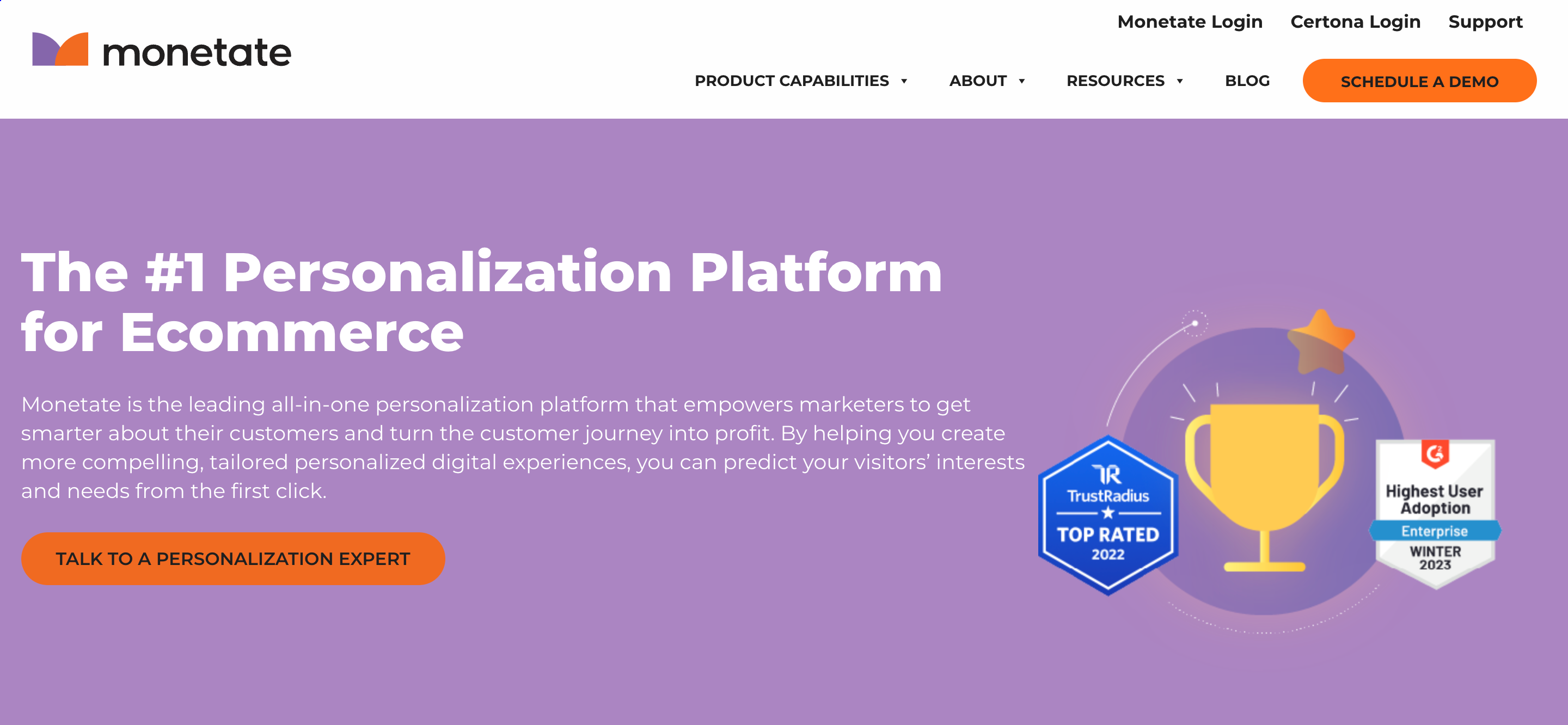 Monetate is another AI-powered personalization platform that leverages advanced technology to ensure your customers are always getting relevant content on an individual level. They apply that same technical savvy to their A/B testing and segmentation options, too.
Pricing: Monetate has custom pricing, so you'll have to contact sales.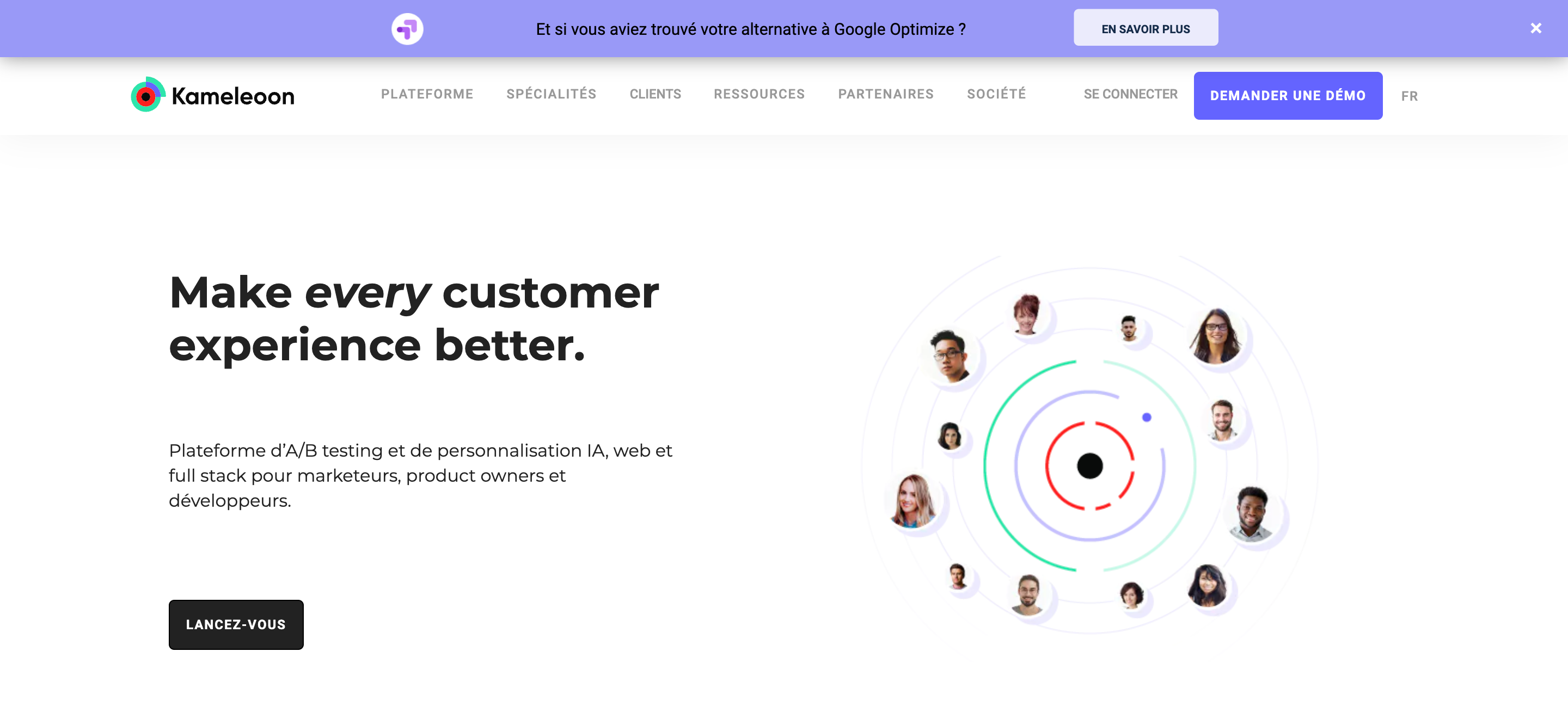 Kameleoon is a great alternative to both VWO and Google Optimize because it allows you to personalize and A/B test your site. The advanced targeting options, which are refined by AI, make segmenting your audience a breeze.
Pricing: Kameleoon's plans start at $500/month.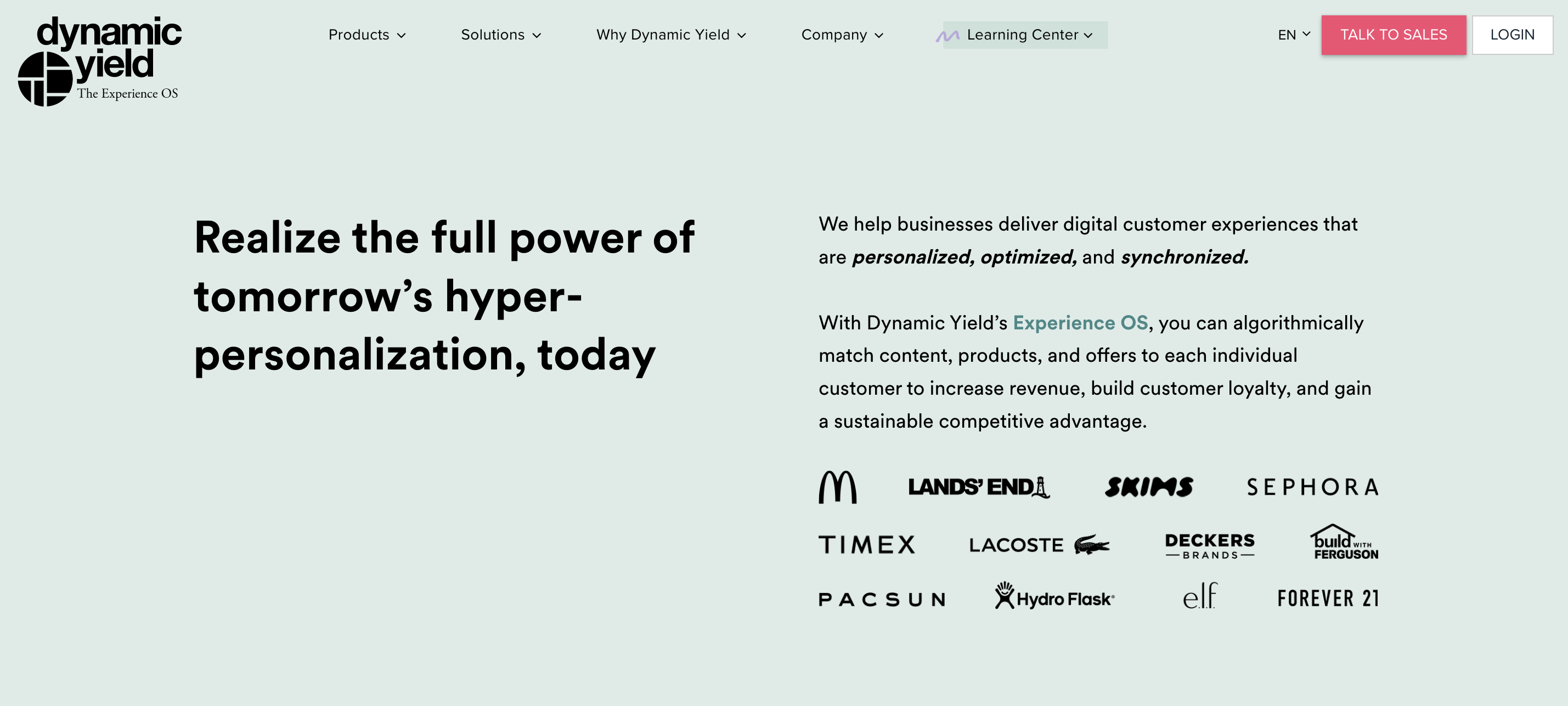 Dynamic Yield is dedicated to providing solutions to optimize ecommerce websites and improve the customer experience. They have a full suite of optimization tools, including A/B testing, personalized recommendations, and segmentation options to create targeted campaigns.
Pricing: You'll need to contact sales for pricing information.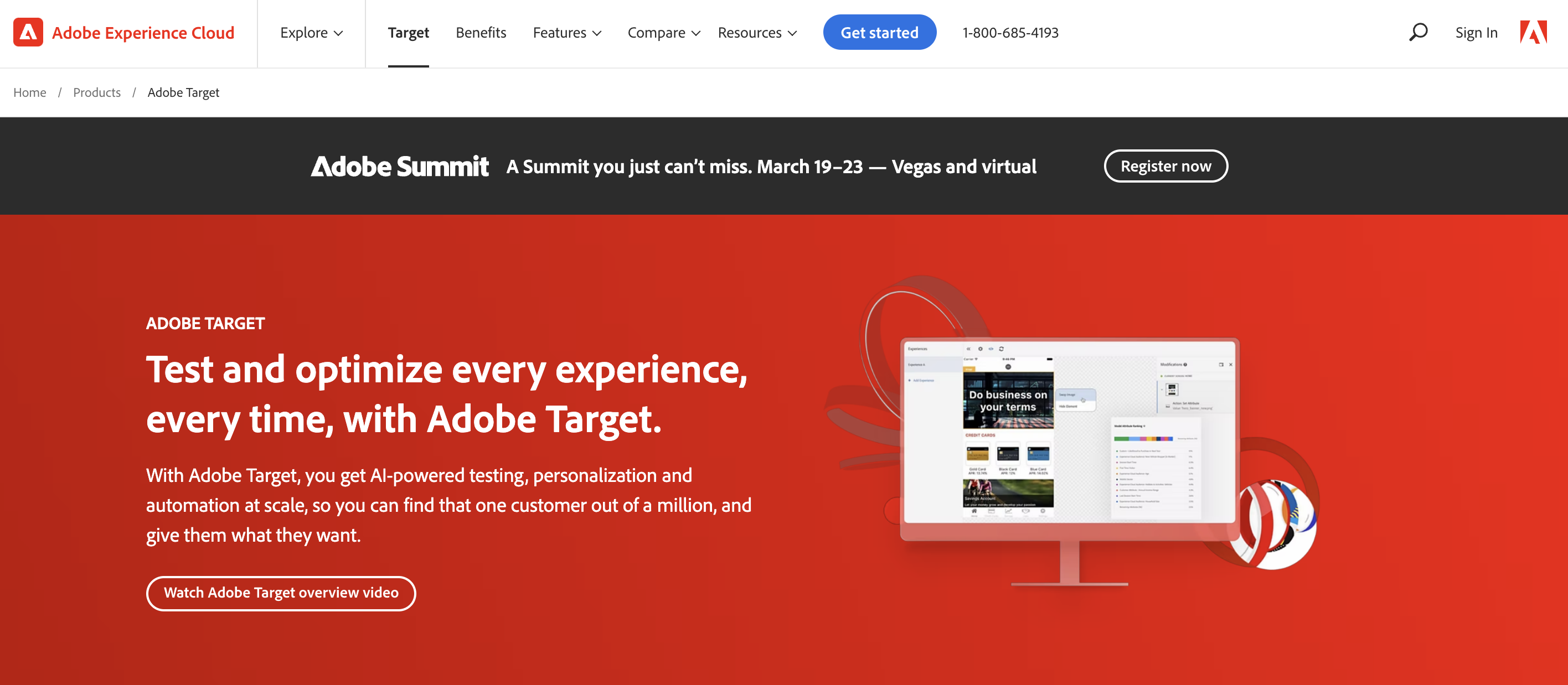 Adobe Target is a legacy personalization and A/B testing platform that helps businesses deliver the individually tailored experiences your website visitors are looking for. You can use it to dive deep into segmentation options and gain access to real-time analysis.
Pricing: Contact sales to learn about Adobe Target's custom pricing.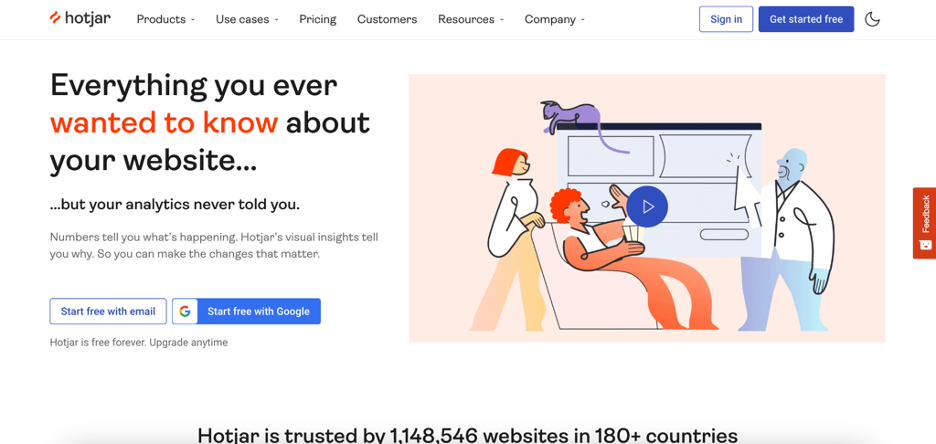 Hotjar's analytics and feedback platform can provide the key to understanding your website visitors. By using heatmaps, session recordings, surveys, and feedback polls, you can take the right steps to improve the performance of your website.
Pricing: Free or from $39/month.
What to look for in a personalization platform?
When considering a new personalization platform, there are several factors that you should take into account. You should also think about your specific needs and preferences and make sure the tools you're looking at can do what you need them to do.
Here's a quick rundown of the key factors you should be considering:
1. Ease of use
Ease of use is one of the most important factors to consider.
The tool should have a user-friendly interface that's easy to navigate, allowing you to quickly get campaigns up and running on your site or landing page. You should also be able to access data analysis easily to see how your campaigns are working.
2. Personalization capabilities
Personalization is becoming increasingly important in website optimization, so you'll want to choose a tool that offers advanced targeting and tailoring capabilities.
You should look for a tool that allows you to segment your audience into logical groups and deliver personalized experiences based on their behavior, preferences, and other relevant factors.
3. A/B testing options
A/B testing is essential for any business that wants to optimize its site. It's equally important to be able to conduct A/B testing on lots of different variations of your site and get access to detailed insights about the performance of each variation.
4. Analytics and reporting
Over a longer period, you can't measure the success of your website optimization efforts without robust analytics features.
A tool that provides great quantitative analytics can help you spot trends and keep an eye on key performance indicators like conversion rates, bounce rates, and engagement rates.
5. Integrations
Integrations are important for streamlining your website optimization workflow. Look for a tool that integrates with your existing tech stacks, such as Google Analytics or your email marketing platform, allowing you to easily import data and export results.
6. A free version
Although not all our top VWO alternatives have a free trial, many of them do. If you're on the fence about two or more VWO alternatives on this list, it's a good idea to sign up for a free trial and see how they work for you with a low-stakes marketing campaign.
Hopefully after reading this article you're much closer to finding a VWO alternative.
Each entry on this list of the best alternatives to VWO has the potential to improve your sales funnel, from your landing pages to your checkout flow. Now all you have to do is figure out which one fits your business best!
OptiMonk provides the perfect balance of deep optimization capabilities and ease of use that allows you to get your experimentation and personalized messaging up and running in minutes. And since there's a free plan available, you can see how the software works for you without any risk. Sign up today!