Yieldify is a popular ecommerce marketing solution, but is it the best option for you? To help you answer that question, we're going to take a look at what Yieldify's competitors have to offer.
Before we get into the list of the top 10 Yieldify alternatives, let's see why some companies have decided to switch away from the platform in order to boost their digital commerce growth.
Why might you be looking for a Yieldify alternative?
Yieldify is a digital marketing platform designed to optimize conversion rates and revenue for ecommerce stores. With this platform, you can improve the customer journey by delivering personalized experiences to your site visitors.
However, there are 5 big reasons that have caused many ecommerce businesses to look for alternatives:
Limited customization options:

Users have reported that Yieldify's customization options are limited, which means that it's difficult to create campaigns that match the look and feel of their online store.

High pricing:

Yieldify's pricing can make it difficult for small and medium-sized ecommerce businesses to use the platform, especially since the software has limited functionality and customizability.

Slow customer support:

Yieldify's users often criticize its customer support, both in terms of slow response times and issues with providing solutions to users' problems.

Complexity:

Some users find the platform complex and difficult to navigate. If you're a beginner or don't have a technical background, you might struggle to get the most out of Yieldify.

Integration issues:

Yieldify's customers have reported that it's difficult to integrate with other ecommerce software (such as an analytics platform). If you're an ecommerce business, the lack of easy integration options can hinder your workflow.
Top 10 Yieldify Alternatives in 2023
If you use Yieldify and you're struggling with one (or several) of the issues above, you'll be happy to know that the platform's competitors have solved many of them—here are the 10 best alternatives to Yieldify!
1. OptiMonk: Comprehensive website personalization platform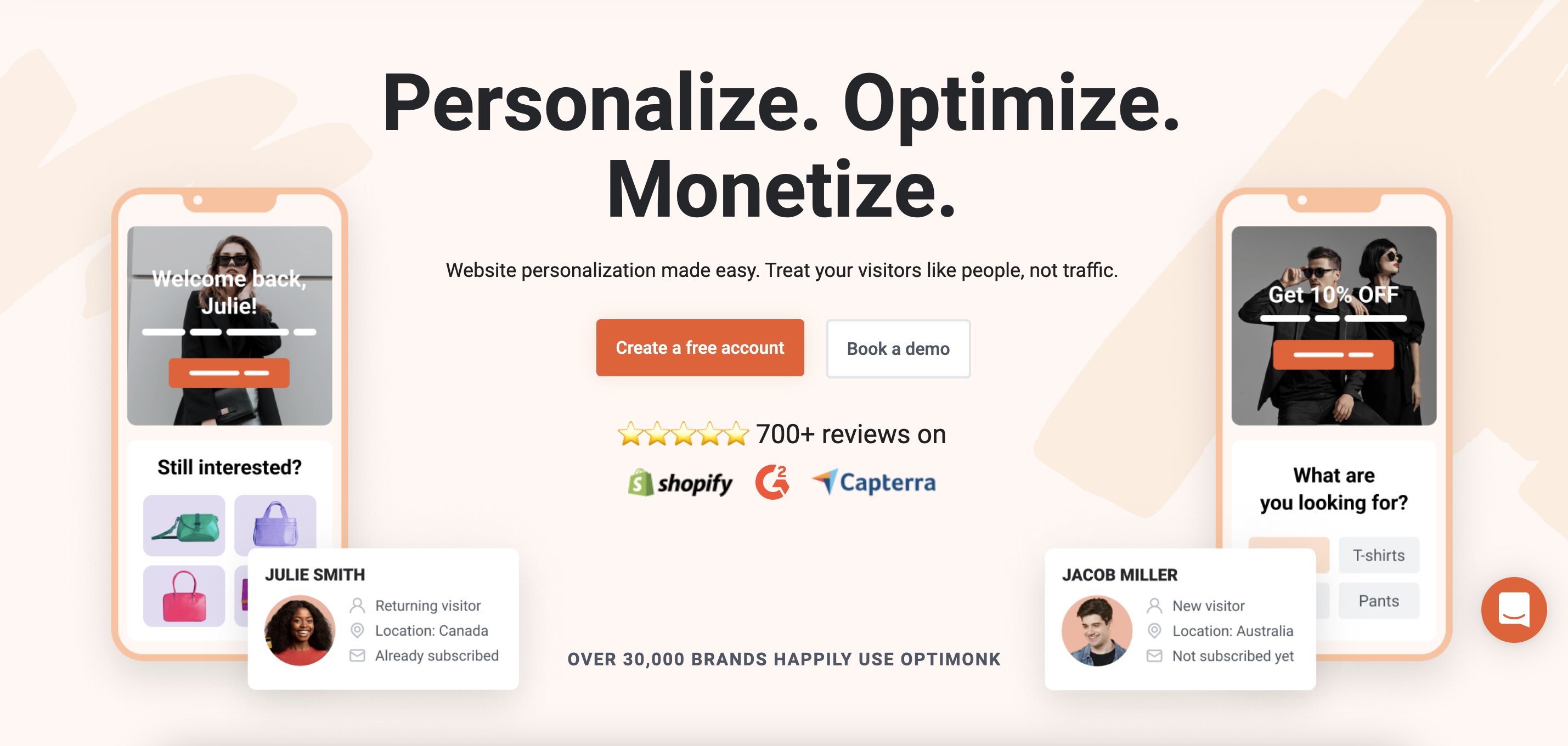 OptiMonk is a leading website personalization platform that helps businesses increase conversions and sales. With OptiMonk, you can create personalized messages and campaigns for your customers, allowing you to increase loyalty and sales at the same time.
However, it doesn't stop there. OptiMonk has a number of key features that place it at the top of our list of Yieldify competitors.
Key feature #1: Smart Tags
Smart Tags help ecommerce stores drive true personalization by delivering 1:1 personalized messages that make your visitors feel like your offers are speaking to them directly.
This feature allows marketers to go beyond rough audience segmentation, helping you easily thank your ecommerce site visitors by name or offer special deals based on their recently viewed products.
Smart Tags let you display highly targeted messages in popups or Embedded Content using any Visitor Property you want to use. This way, you can present fully personalized messages that engage your visitors and encourage them to buy or subscribe based on their individual needs.
Key feature #2: Experiments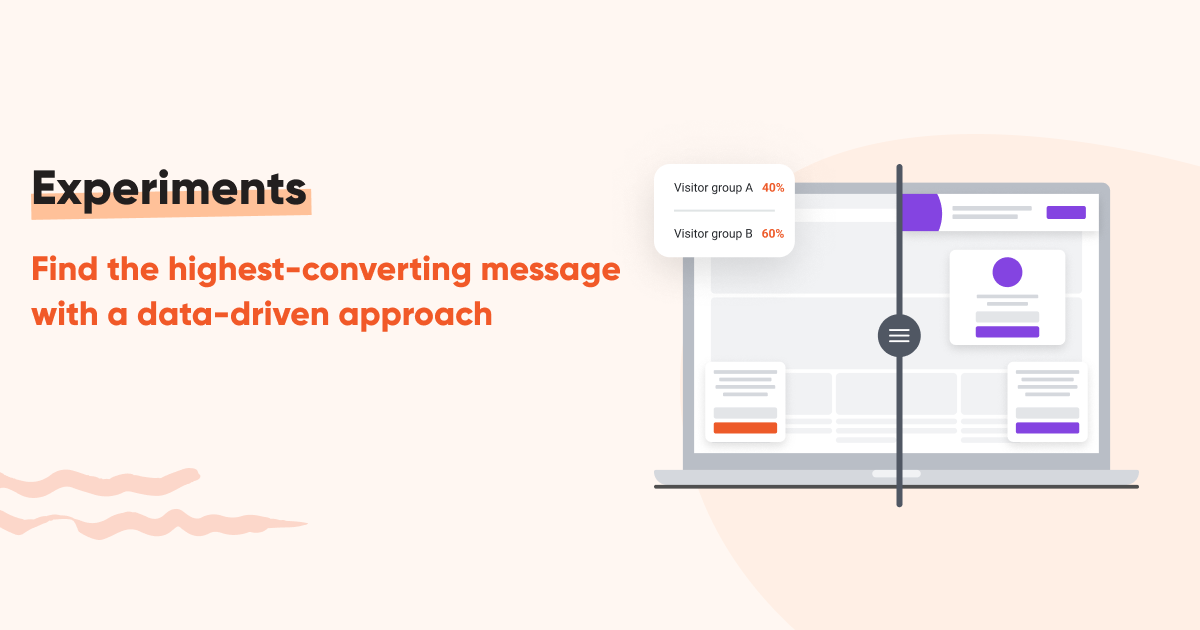 It's essential to make data-driven decisions when you're creating digital experiences for your customers. Most of Yieldify's competitors allow you to conduct A/B testing, but OptiMonk's Experiments feature takes it to the next level. Using Experiments, you can discover:
The most effective message types for your audience

Whether a campaign outperforms having no campaign at all

Which segments have the highest conversion rates

The optimal combination of messages to produce the best results
Experiments can be conducted on any new or existing campaign, active or inactive, and you can select any campaign for testing against any other.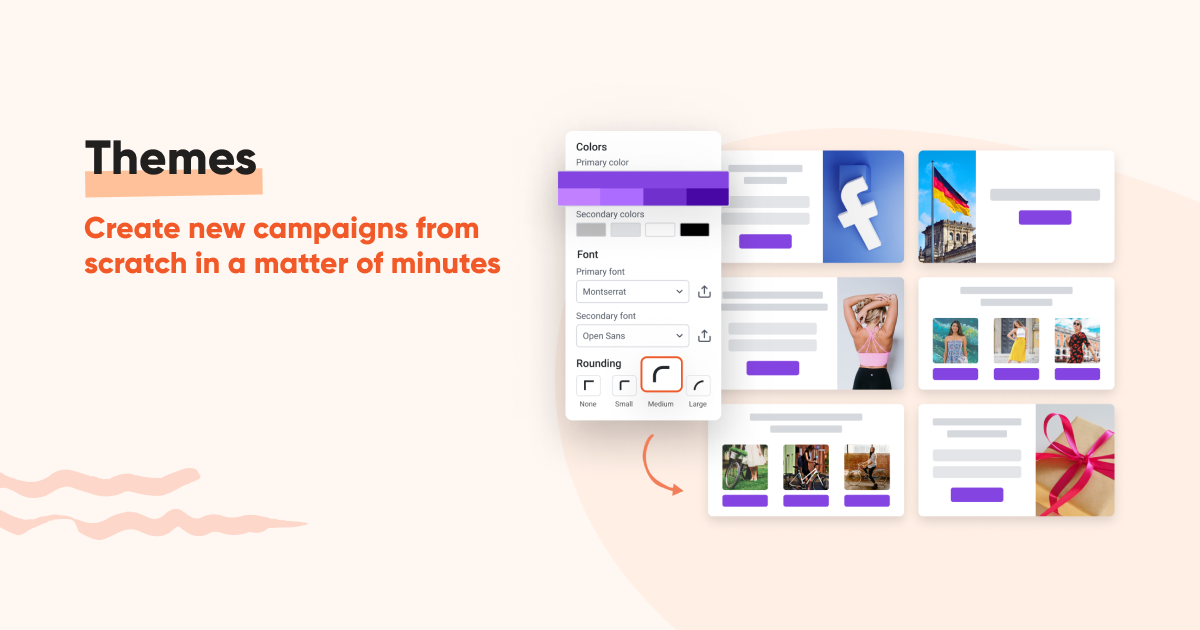 When creating a personalized campaign, the most time-consuming part is often designing it. After all, marketers are always looking to create a unified customer experience and brand identity across all the marketing channels they use.
If you're tired of painstakingly modifying each and every campaign you release, then it's time to start using OptiMonk's Themes feature.
With Themes, you can create your own custom templates and access them whenever you need them. That means you can effortlessly create a consistent look for all your campaigns by defining essential elements of your brand identity. These elements are called Saved Styles, and you can reuse them whenever you like.
Other key features:
Segments:

The Segments feature provides you with custom recommendations for groups of users so that you can send targeted messages.

Product Recommendations:

Your visitors can experience personalized product recommendations that respond to their interests.

Dynamic Content:

Maximize user engagement with compelling dynamic content that adjusts to each visitor.

Ready-to-use templates:

OptiMonk's Template Library includes 300 ready-to-use campaigns, including everything from embedded content templates to overlay templates like popups, side messages, sticky bars, lucky wheels, and more.

Mobile-optimized templates:

Templates designed to look great on both mobile devices and desktop screens.

Intelligent targeting and triggering options:

Over 30 different ways to target visitors based on their behavior, location, and other factors.

A/B testing:

Create multiple versions of your campaigns and compare their performance to discover what works best.

Advanced campaign management features:

Use the UX protection stack to ensure your popups never annoy your visitors.

Google, AdBlock & GDPR safe:

Compliant with Google, AdBlock, and GDPR regulations.

Drag & drop editor:

An easy-to-use editor that allows you to design your campaigns without any coding experience.

Overlays:

Choose from popups, side messages, sticky bars, or full screens to enhance the user experience.
Pricing: Freemium, or from $39/month.
2. Insider: Multichannel marketing automation tool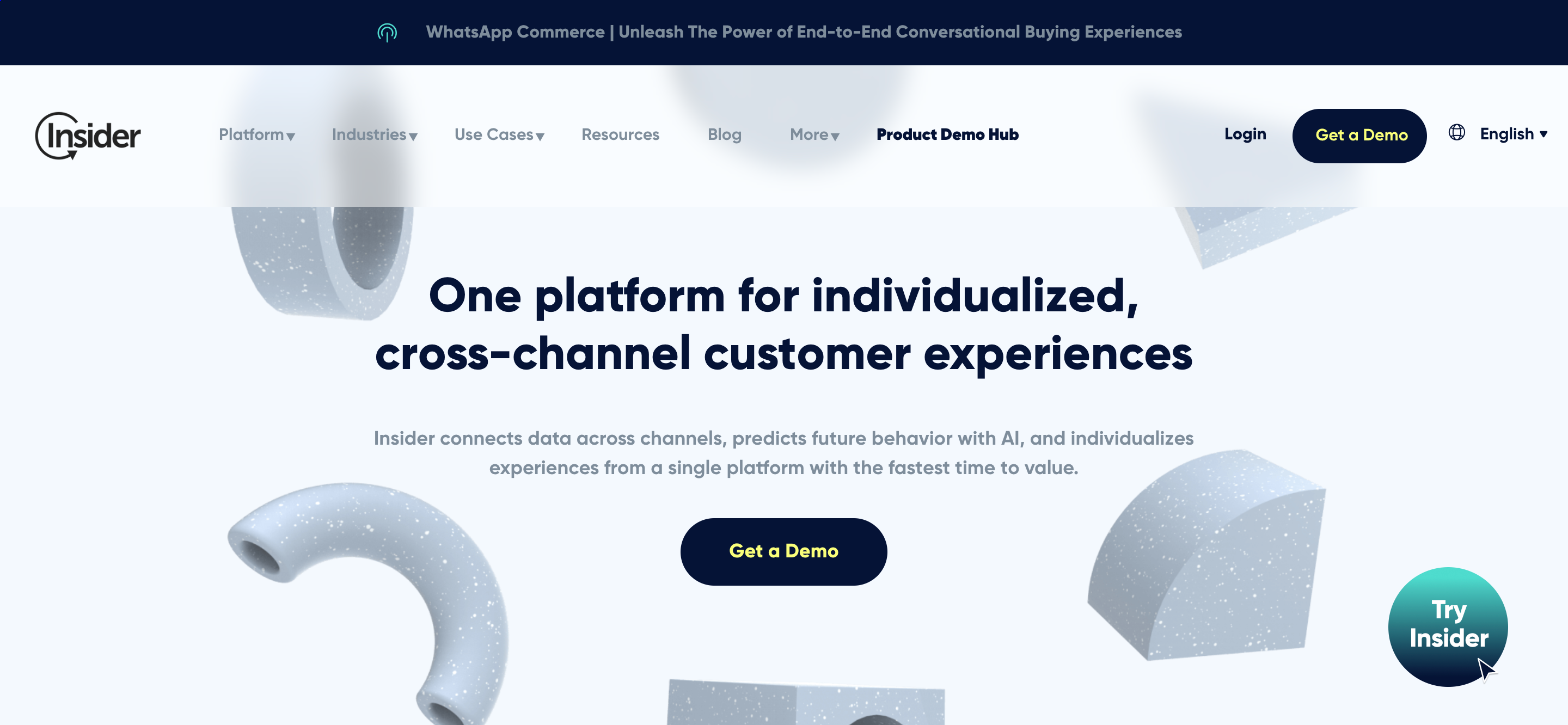 Insider is a multichannel marketing automation tool that helps ecommerce websites personalize the customer experience through predictive audience segmentation, machine learning-based recommendations, and behavior-based triggers.
Pricing: Not publicly available, you'll need to speak to the sales team.
3. VWO: A/B testing and conversion optimization tool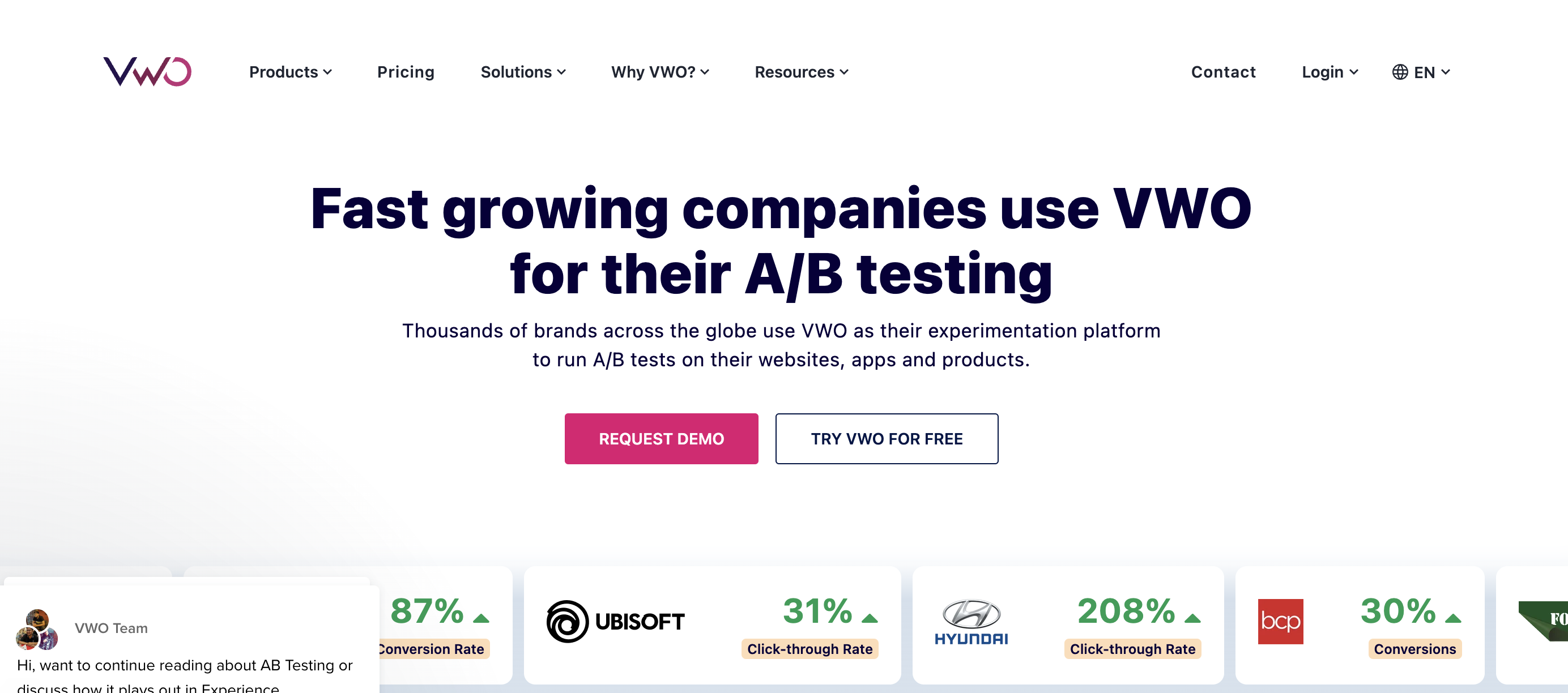 VWO is an A/B testing and conversion rate optimization tool that allows businesses to test different variations of their website. This makes it possible to create marketing campaigns that drive customer engagement and sales.
Pricing: Pricing starts at $199/month for their Standard plan.
4. Emarsys: Marketing automation tool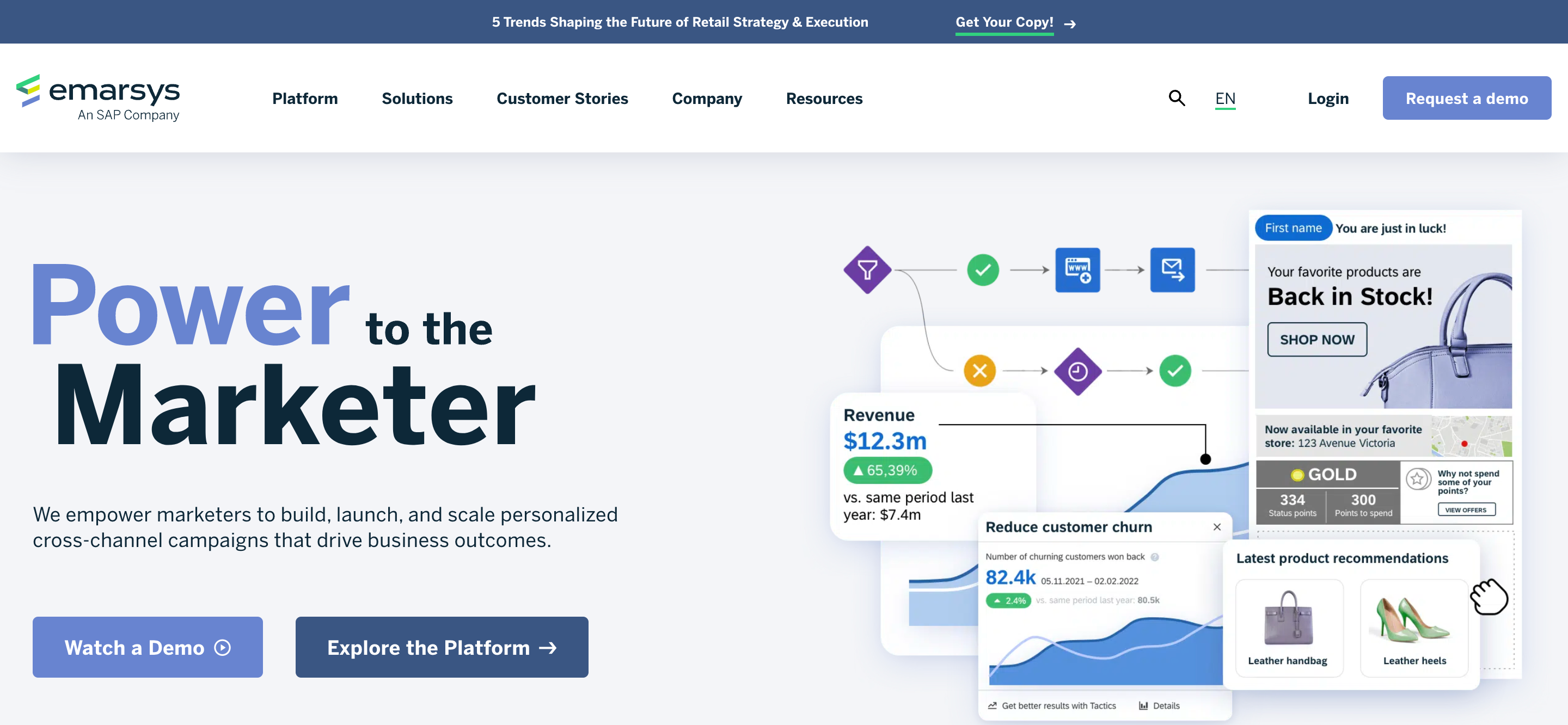 Emarsys helps businesses create personalized customer journeys and campaigns through advanced segmentation, data analysis, and machine learning-based recommendations. Each customer who sees your site will get a unique experience as a result of real time personalization.
Pricing: Emarsys uses custom pricing, so you'll have to contact their sales team.
5. Optimizely: Experimentation platform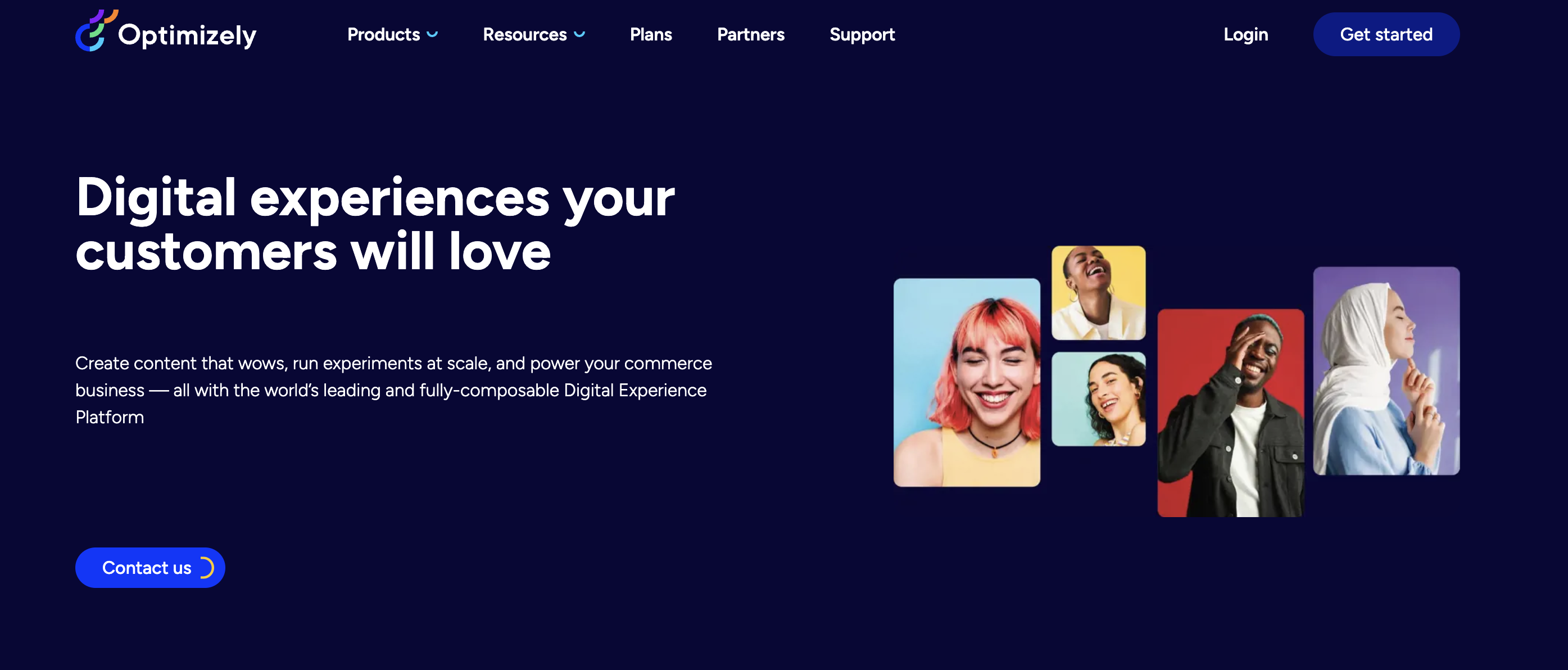 Optimizely is an experimentation platform that enables businesses to test and optimize websites and mobile apps. All of your digital experiences can be improved using Optimizely's A/B testing, personalization, and analytics.
Pricing: Pricing starts at $50,000/year.
6. Moosend: Email marketing platform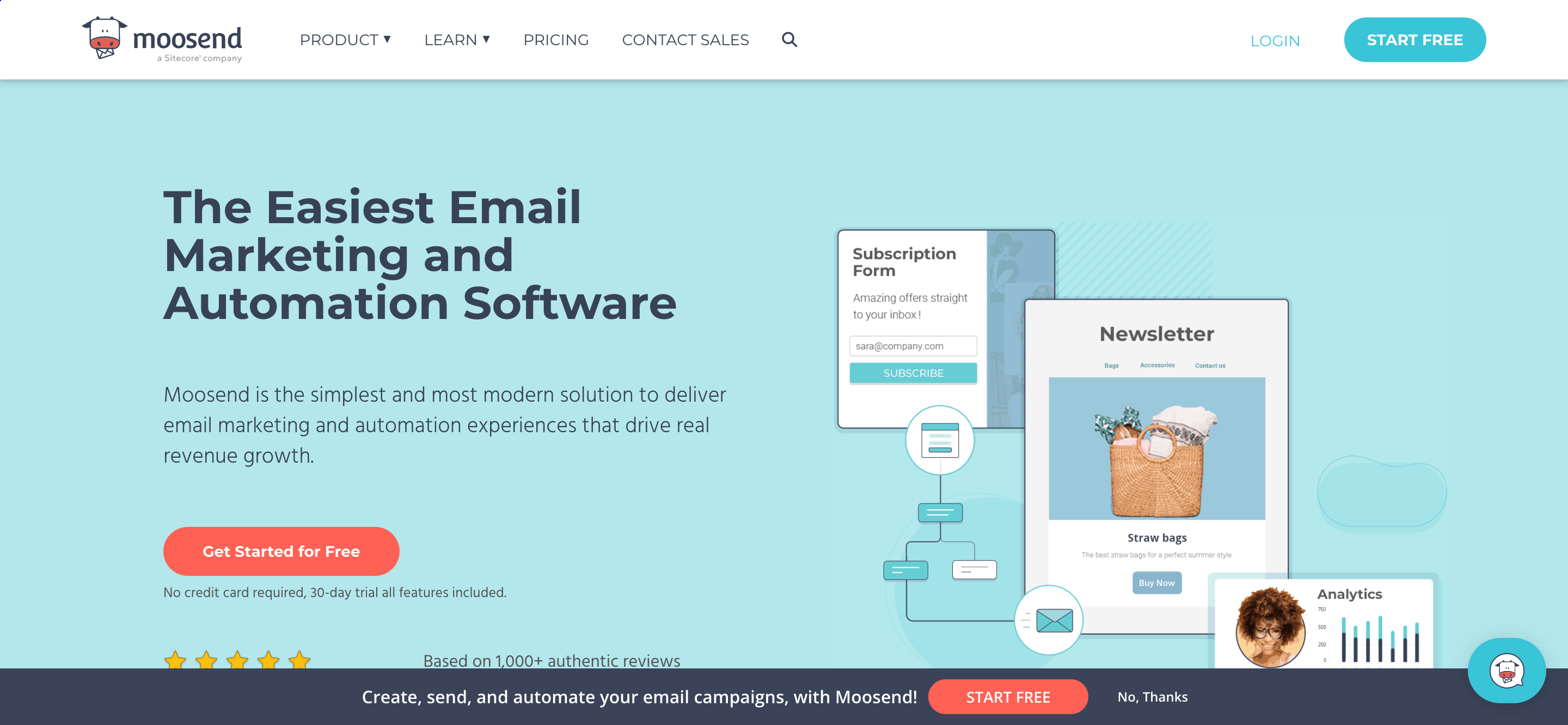 Moosend is an email marketing platform that helps businesses create and automate email campaigns, newsletters, and transactional emails using a user-friendly drag-and-drop editor. This deep level of customizability will help your email campaigns stand out from the crowd.
Pricing: Pricing starts at $9/month for their Starter plan.
7. Braze: Customer engagement platform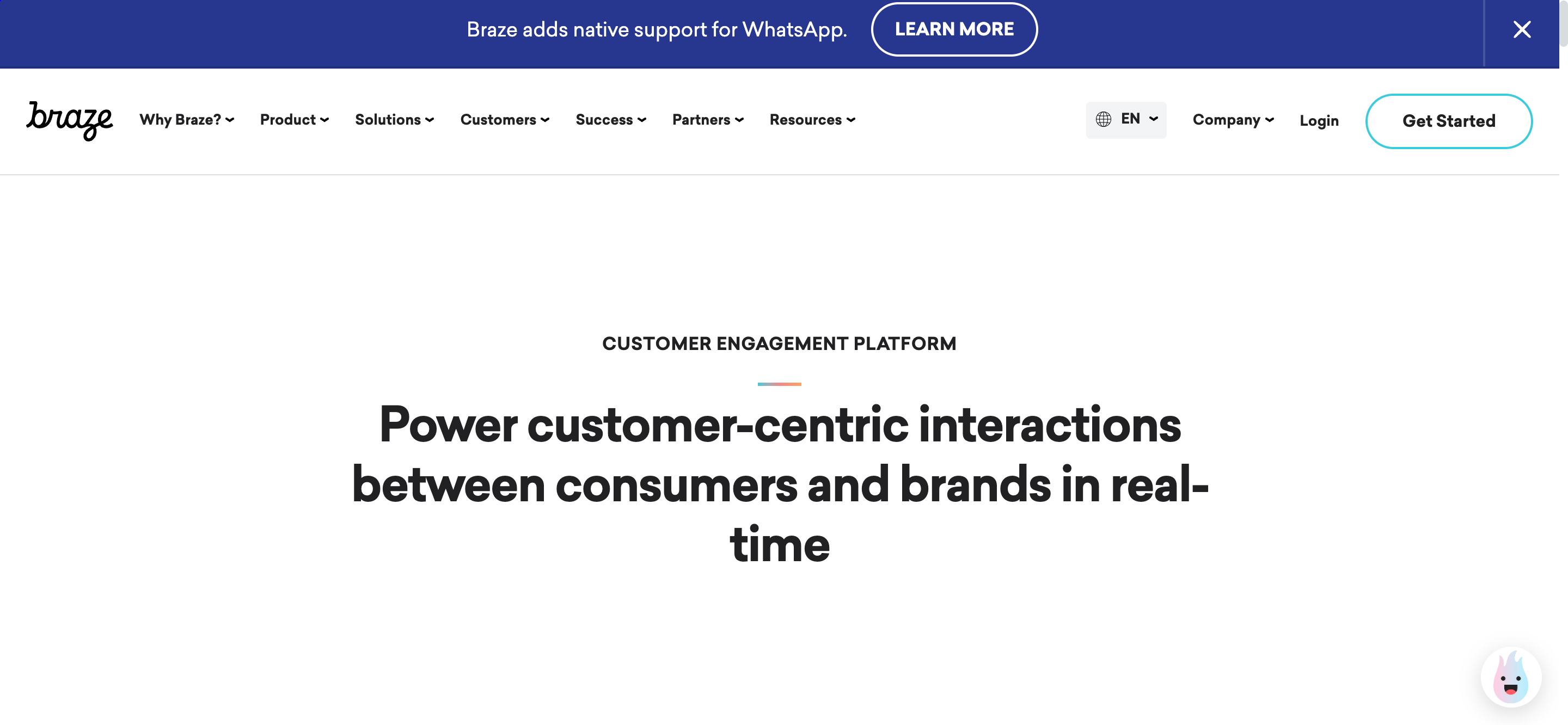 Braze is a customer engagement platform that helps companies create and deliver personalized messaging across multiple channels. This software can optimize messages delivered through email, push notifications, in-app messages, and more.
Pricing: Braze's pricing is customized based on a company's size and needs.
8. ActiveCampaign: All-in-one marketing automation tool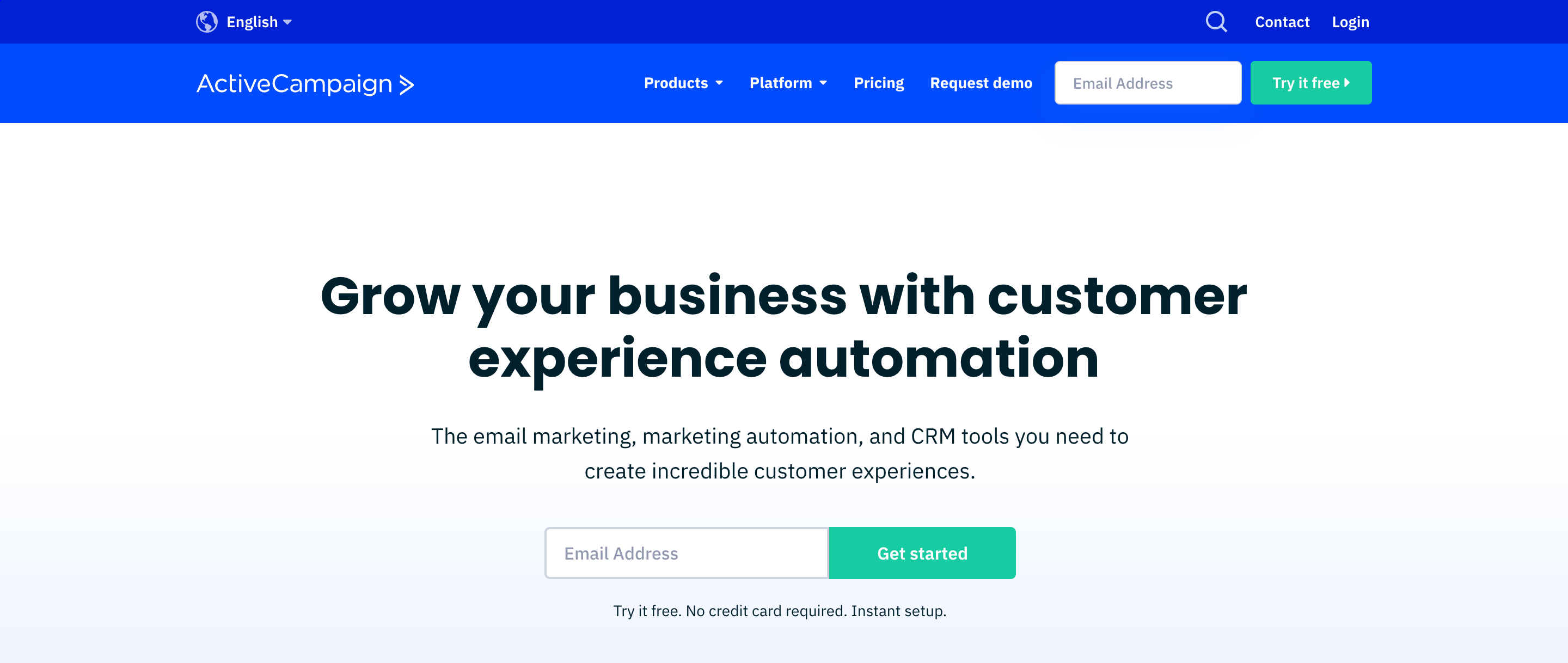 Activecampaign is an all-in-one marketing tool that includes email marketing, CRM, sales automation, and messaging features. That means you can adjust the entire customer journey for different customers using just one ecommerce solution.
Pricing: Activecampaign's pricing starts at $9/month for their Lite plan.
9. Omnisend: Omnichannel marketing automation platform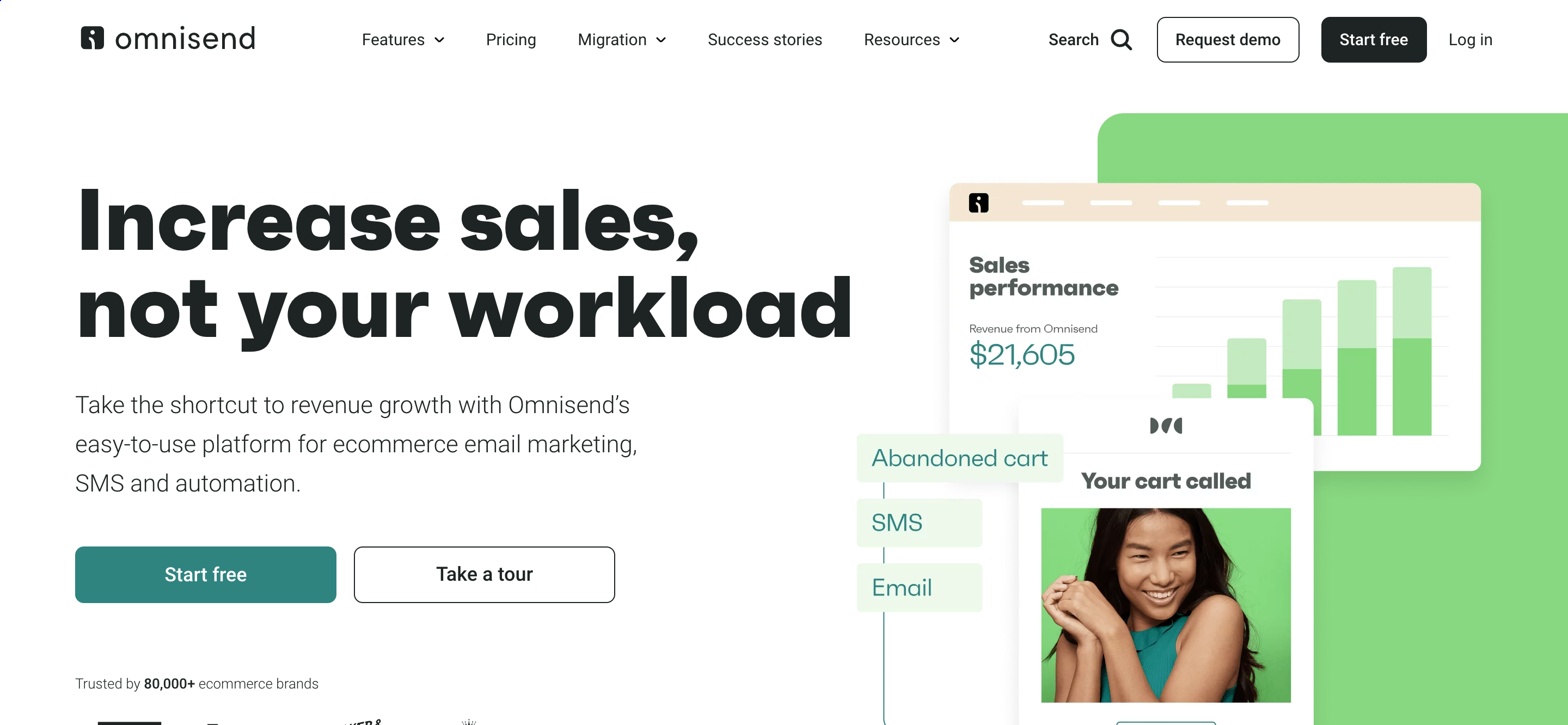 Omnisend is another one of the marketing solutions on this list that helps businesses personalize their messaging across multiple marketing channels, such as email, SMS, social media, and more.
Pricing: Omnisend's pricing starts at $16/month.
10. Dynamic Yield: Personalization and experimentation platform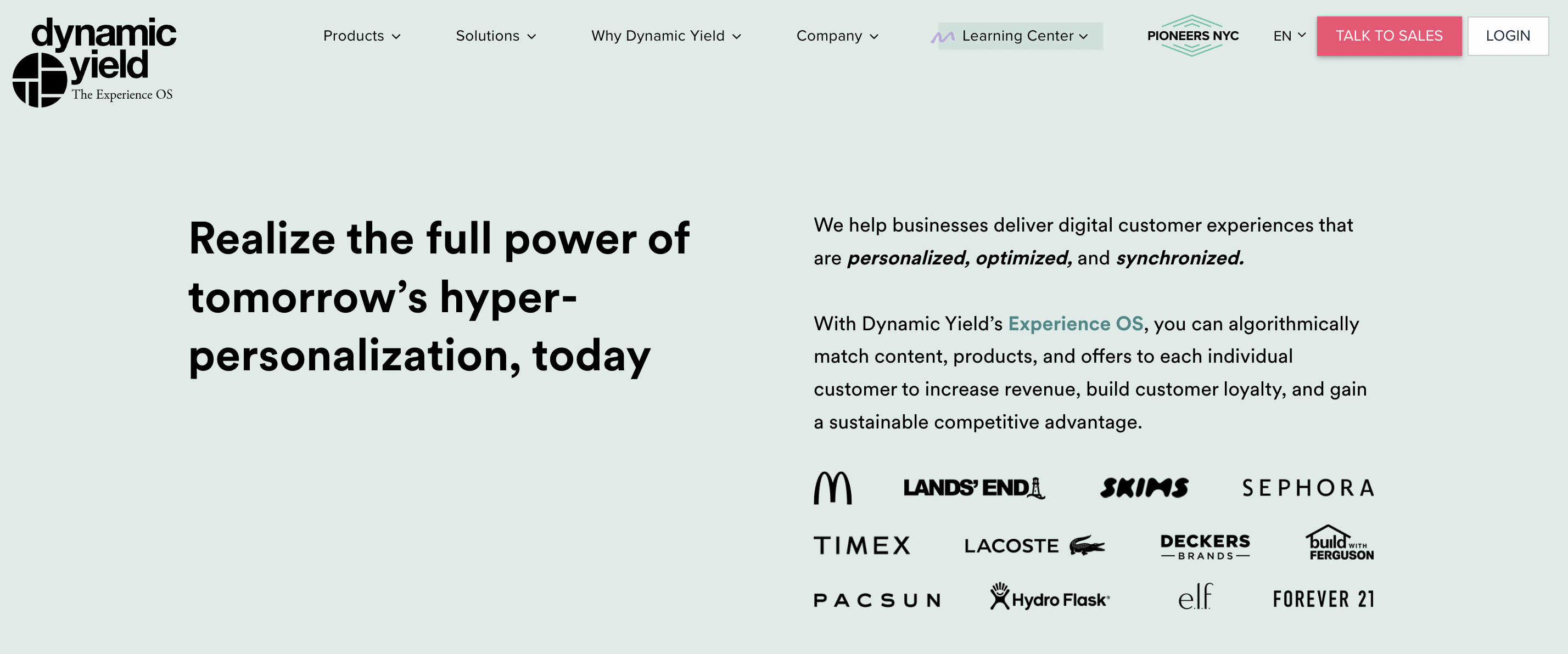 Dynamic Yield is a personalization platform that allows businesses to create and deliver hyper-personalized experiences. This helps you stand out from your competitors and drive customer engagement by providing a unique customer experience for each of your users.
Pricing: Pricing for Dynamic Yield starts at $2,000/month.
Are there any free Yieldify alternatives?
While some of these Yieldify competitors are quite pricey, many of them offer a free trial, and some of the alternatives are even completely free. For example, OptiMonk has a freemium version.
How easy is it to set up and use these marketing automation solutions?
Exactly how easy it is to use marketing software depends on the specific tool and the user's level of technical expertise.
Generally, the easiest-to-use tools have drag-and-drop interfaces and pre-made templates, while more advanced options require more technical know-how. Most tools offer documentation, tutorials, and customer support to help users get started.
Can these tools integrate with my existing website platform?
Most of these tools offer integrations with popular website platforms like WordPress, Shopify, and Magento. However, it's always a good idea to check that a marketing tool you're considering offers integrations with the particular platform(s) you use.
We hope you've found some promising Yieldify competitors and alternatives that suit you and your company's needs. In 2023, your customers expect to get a personalized website experience, and it's crucial that you deliver that!
While we may be biased, we say OptiMonk is the best choice you can make. It combines deep functionality with ease of use, and its freemium pricing makes it a great choice for businesses of any size.