Despite Nosto's growing popularity as an ecommerce marketing platform, it's not for everyone.
Here's the deal: if you're lacking in technical skills or don't have a coding background, trying to set Nosto up could be very frustrating. This is just one of the many reasons you might be looking for other ecommerce marketing solutions. Whatever yours is, we've got you!
In this article, you'll discover the best Nosto alternatives out there and find out how to evaluate them. But first things first: why should you be looking for an alternative?
Why should you consider looking for a Nosto alternative?
There are many different reasons a business might be looking for a Nosto alternative. Here are the main ones:
1. Long learning curve and tricky setup process
Setting up Nosto and integrating it with an ecommerce platform can be a complex and time-consuming process. 
The platform requires a certain level of technical expertise and knowledge, which can be challenging for businesses without a dedicated technical team. 
Plus, Nosto's interface can be overwhelming for users who aren't familiar with the platform, making it difficult to navigate and use effectively.
2. Basic coding knowledge required
Nosto requires businesses to have a basic understanding of coding in order to set up and customize the platform.
 This can be a barrier for businesses without a technical team or those who don't have the resources to hire a developer.
3. Potential cost concerns
Nosto's pricing can be challenging for small businesses or companies with a tight budget. The platform charges a monthly fee based on the number of visitors to the website, which can quickly add up for businesses with high traffic.
4. Customization limitations
While Nosto offers a range of personalization features, the platform has limitations on how much businesses can customize the user experience. 
Many businesses want more control over the look and feel of their website or the ability to customize the personalization algorithms, which may not be possible with Nosto.
5. Data privacy concerns
With the increasing focus on data privacy and security, businesses may be concerned about the data Nosto collects and how it's used.
Top 10 Nosto alternatives for 2023
Now that we've covered why you might want to look for Nosto alternatives, let's check out the best options worth considering!
1. OptiMonk: All-in-one toolset for increasing website conversion rates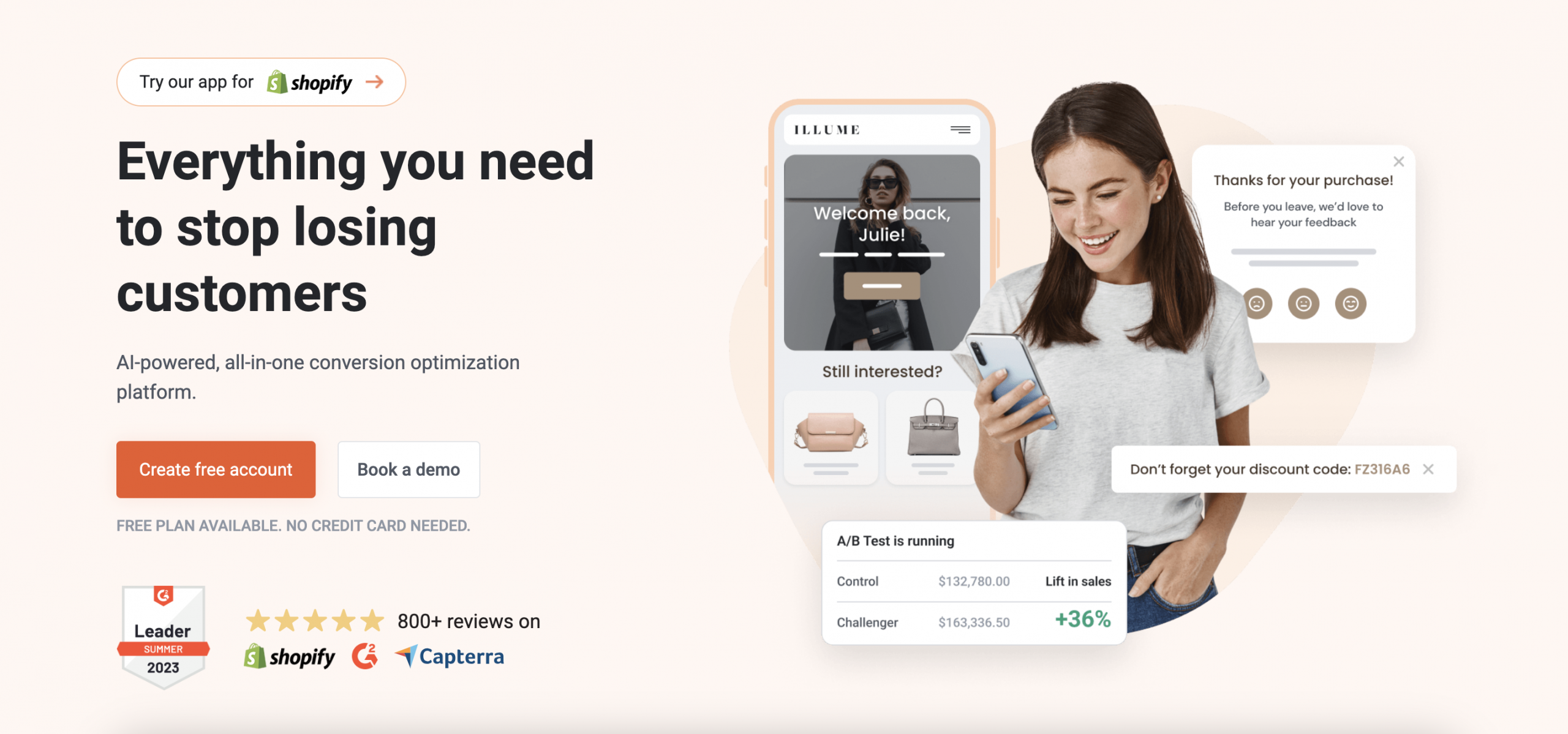 OptiMonk is the ultimate conversion optimization & personalization powerhouse, providing popups, website personalization, and A/B testing for ecommerce businesses.
Our platform maximizes website conversions by creating personalized shopping experiences in a flash, helping you increase customer lifetime value. 
With OptiMonk, there's no need for technical know-how, as setup takes less than 5 minutes. Want to know more? Let's shine a light on some of the features businesses love most!
Key feature #1: Smart Personalizer
Elevate your landing page experience for every individual visitor with our Smart Personalizer feature. You can customize headlines, descriptions, and text dynamically, automatically aligning them with each visitor's unique interests.
Imagine synchronizing your landing page messaging with your Google Search Ads or Facebook Ad campaigns, effortlessly and autonomously. That's exactly what the Smart Personalizer does.
Learn more about Smart Personalizer.
Key feature #2: Flicker-free delivery
You don't have to worry about compromising website performance because our content is optimized to maximize page speed, loading in just around 300 ms.
Key feature #3: Smart Tags
Integrate hyper-personalized content into your communications utilizing first-party and zero-party visitor data, allowing for a highly personalized approach with the help of Smart Tags. 
Here's an example of how you can personalize your welcome popup for new visitors by incorporating their country: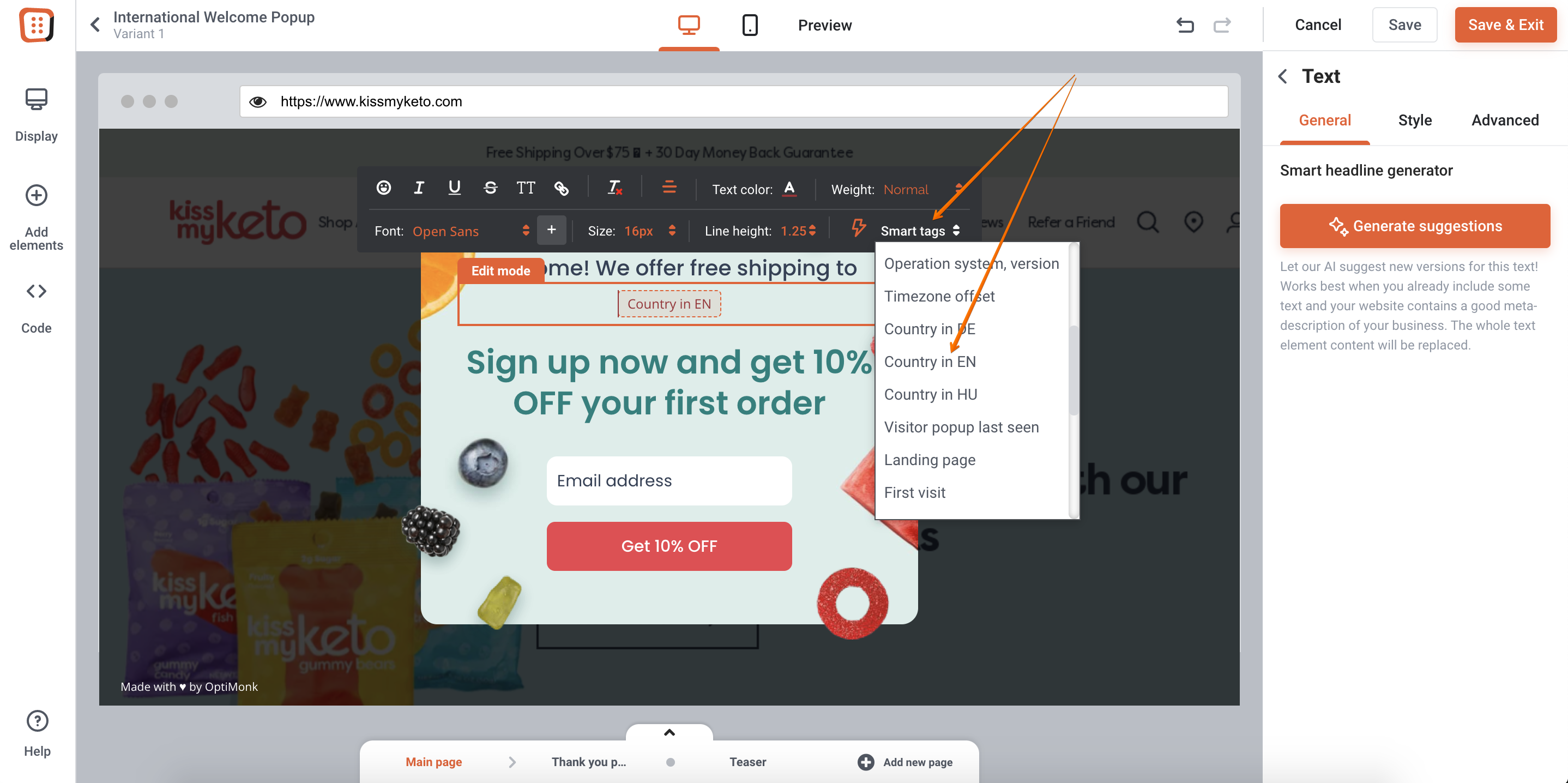 Key feature #4: Smart A/B Testing
Say goodbye to the hours spent on A/B testing. This feature simplifies what has traditionally been a complex and time-consuming task. With fully automated, AI-assisted A/B testing, the process becomes a breeze.
You can seamlessly run multiple A/B tests in parallel on any section of your website. The best part? You decide what to test, but the AI does the heavy lifting, executing them automatically.
It's a game-changer for marketers looking to optimize their web presence with data-driven insights.
Key feature #5: Segments
With OptiMonk, you'll receive tailored suggestions for predetermined segments, but you can also generate and store your own custom targeting parameters and quickly access them for future campaigns.
Other benefits: 
Mobile-optimized popup templates: Popup templates designed to look great on both mobile devices and desktop screens.

Intelligent targeting and triggering options: Over 30 different ways to target visitors based on their behavior, location, and other factors.

Countdown timers: Add a sense of urgency to your popup campaigns with a ticking clock.

A/B testing: Create multiple versions of your popups and compare their performance to discover what works best.

Advanced campaign management features: Use the UX protection stack to ensure your popups never annoy your visitors.

Email and CMS integrations: Over 30 integrations with popular email and content management systems.

Google, AdBlock & GDPR safe: Compliant with Google, AdBlock, and GDPR regulations.

Drag & drop editor: An easy-to-use editor that allows you to design your campaigns without any coding experience.

Overlays: Choose from popups, side messages, sticky bars, or full screens to enhance the user experience.
Pricing: Free plan available, or from $39/month. 
2. Dynamic Yield: Conversion optimization tool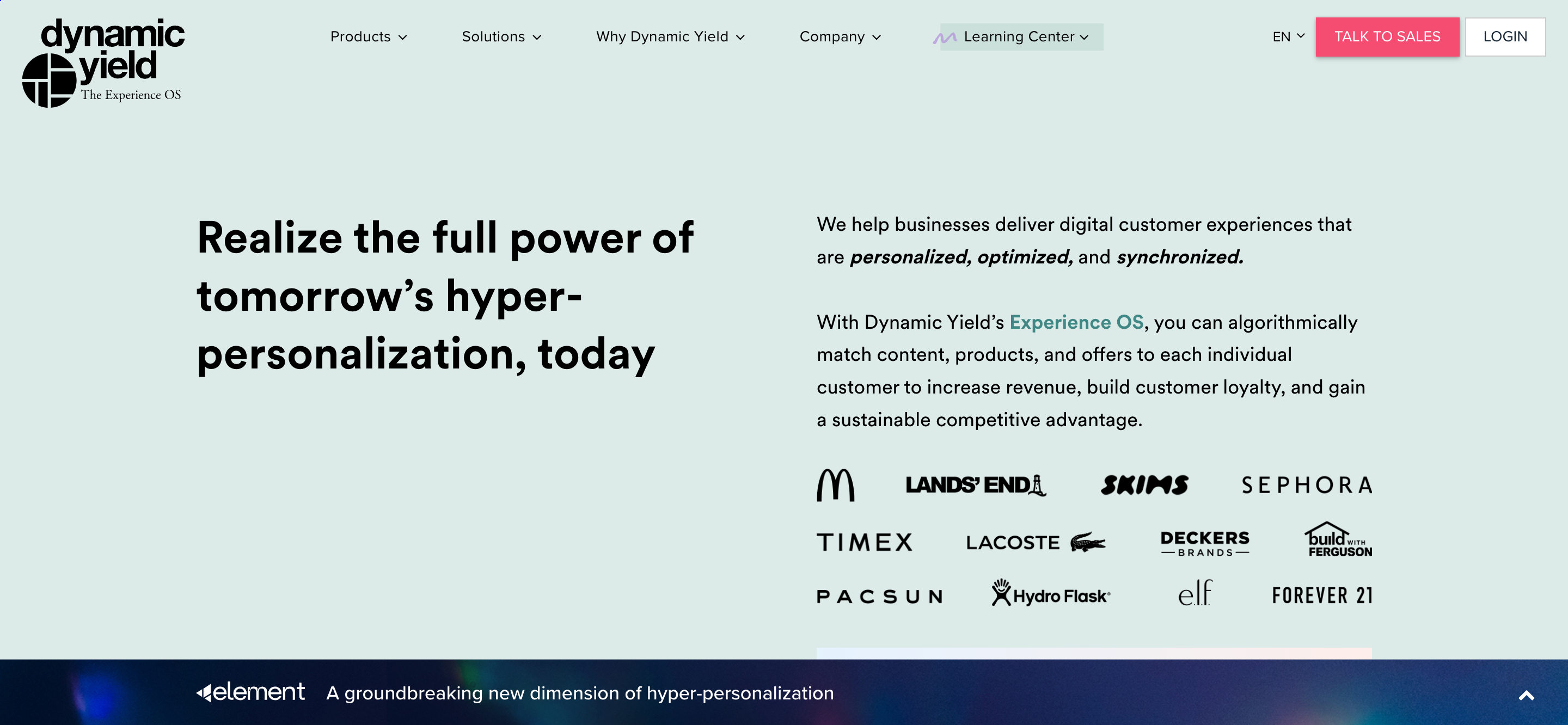 Dynamic Yield is a top-notch conversion optimization tool designed for businesses looking to deliver consistent, relevant interactions across various channels. It analyzes user behavior using machine learning algorithms and offers suggestions in real time, increasing user engagement, conversions, and revenue.
Dynamic Yield boasts several features that make it a great alternative to Nosto. Here are some of them:
Omnichannel personalization: Dynamic Yield provides businesses with a complete suite of personalization tools that can be used across various channels. With its omnichannel approach, businesses can optimize the customer experiences across every touchpoint of their journey, including web, mobile, and email.
Advanced segmentation: With Dynamic Yield's advanced segmentation feature, businesses can easily create advanced customer segments based on behavior, demographics, or other custom criteria. This helps deliver targeted customer experiences, resulting in increased engagement and conversions.
Dynamic messaging: Dynamic Yield's dynamic messaging feature enables businesses to create and deliver personalized messages to customers in real time. This feature is particularly useful in cart abandonment scenarios, where businesses can use the customer's browsing behavior to deliver personalized messages that encourage them to complete their purchase.
Machine learning algorithms: Dynamic Yield's sophisticated data-gathering system leverages machine learning algorithms to provide businesses with real-time recommendations for personalization and optimization. These algorithms analyze user behavior and provide businesses with actionable insights that help them make data-driven decisions.
Pricing: Contact sales.
3. Optimizely: Web experimentation tool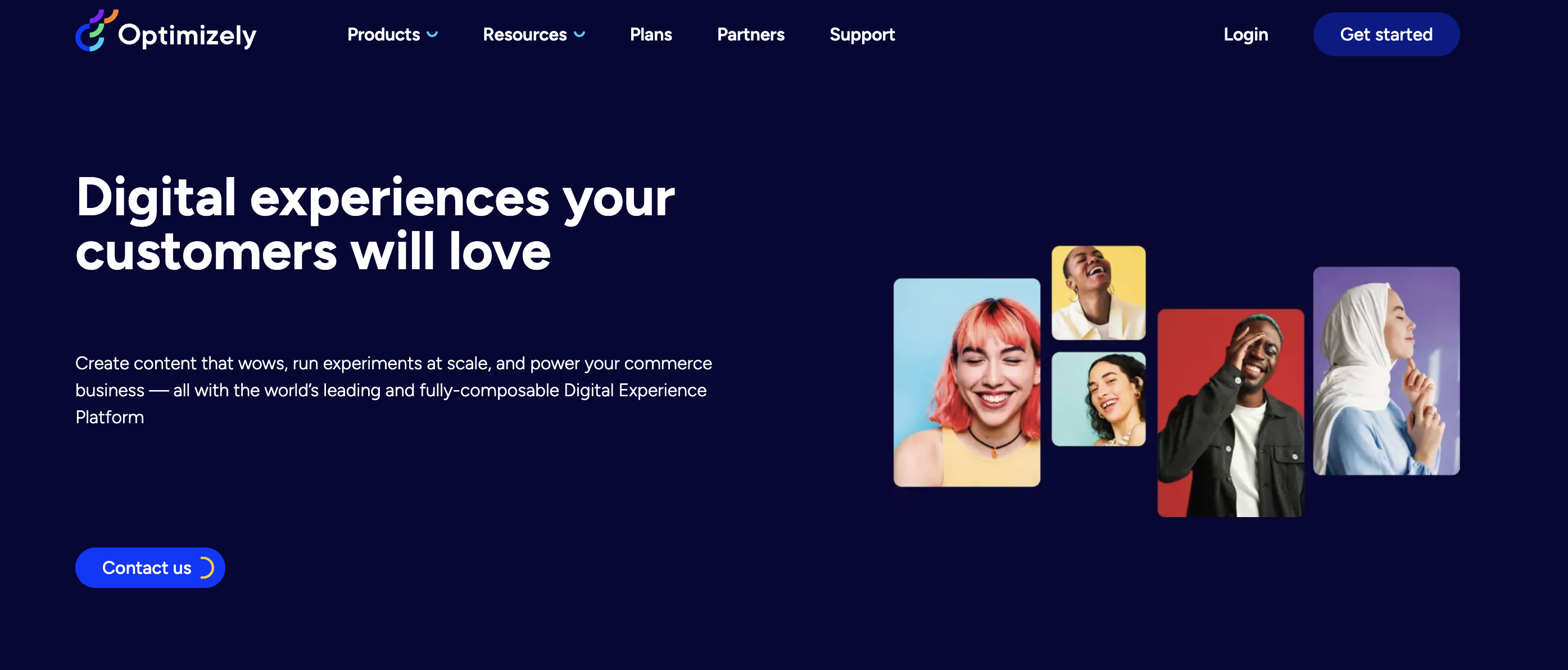 Optimizely is a powerful web experimentation tool that helps businesses optimize their website for better user engagement and conversions. With its user-friendly interface and visual editor, businesses can easily experiment with different website designs and content, all without needing any coding skills.
Optimizely is a great alternative to Nosto, offering several key features that help businesses improve their website's performance:
A/B testing: Optimizely's A/B testing feature allows businesses to experiment with different website designs and content, allowing them to identify which versions perform better in terms of user engagement and conversions. This feature is particularly useful in optimizing landing pages and call-to-action buttons.
Visual editor: Optimizely's visual editor allows users to make changes to website content and design in real time with no coding skills. This feature makes it easy for businesses to experiment with different website elements, optimizing their website for better user engagement and conversions.
Personalization: Optimizely's personalization feature allows businesses to deliver personalized experiences to their customers based on their behavior and demographic factors. Customers are more likely to convert when presented with personalized experiences.
Multivariate testing: Optimizely's multivariate testing feature allows businesses to experiment with multiple variables at once, helping them to gain reliable marketing insights. This feature is particularly useful in testing complex website elements, such as forms and product pages.
Pricing: Plans start at $50/month.
4. Insider: Integrated growth management platform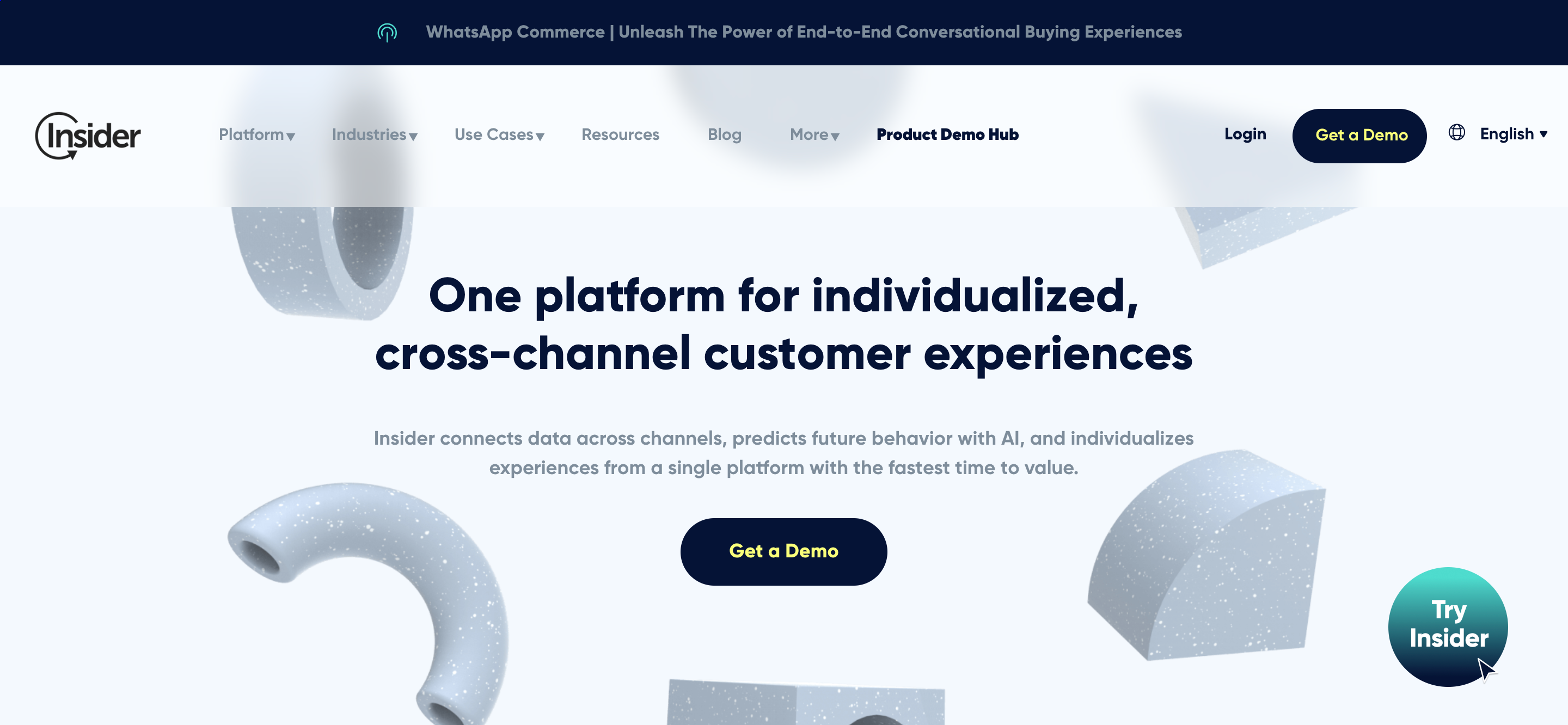 Insider is a comprehensive growth management tool that enables companies to provide personalized client experiences at scale. With its real-time messaging, predictive segmentation, personalization, and AI-powered product recommendations, Insider is definitely worth considering as you look for a Nosto alternative. 
Here are some of Insider's top features:
Real-time messaging: With Insider's real-time messaging feature, businesses can send people customized messages based on their actions and preferences in real time. Customers are more likely to respond to personalized messages that speak to their needs and interests, which means this feature helps to increase customer engagement and conversions.
Predictive segmentation: With Insider's predictive segmentation feature, businesses can segment their audience based on predictive analytics, such as customer behavior, purchase history, and demographics. This helps businesses deliver more targeted, relevant experiences to customers.
Personalization: Businesses can provide customers with personalized experiences on a variety of channels withInsider's personalization feature. This feature helps businesses build stronger customer relationships, leading to increased loyalty and revenue.
AI-powered product recommendations: Insider's AI-powered product recommendations feature uses machine learning algorithms to recommend products to customers based on their behavior and preferences. This helps businesses increase customer lifetime value and revenue, as customers are more likely to make purchases when presented with relevant product recommendations.
Pricing: Not available on the site. 
5. Drip: Advanced marketing automation tool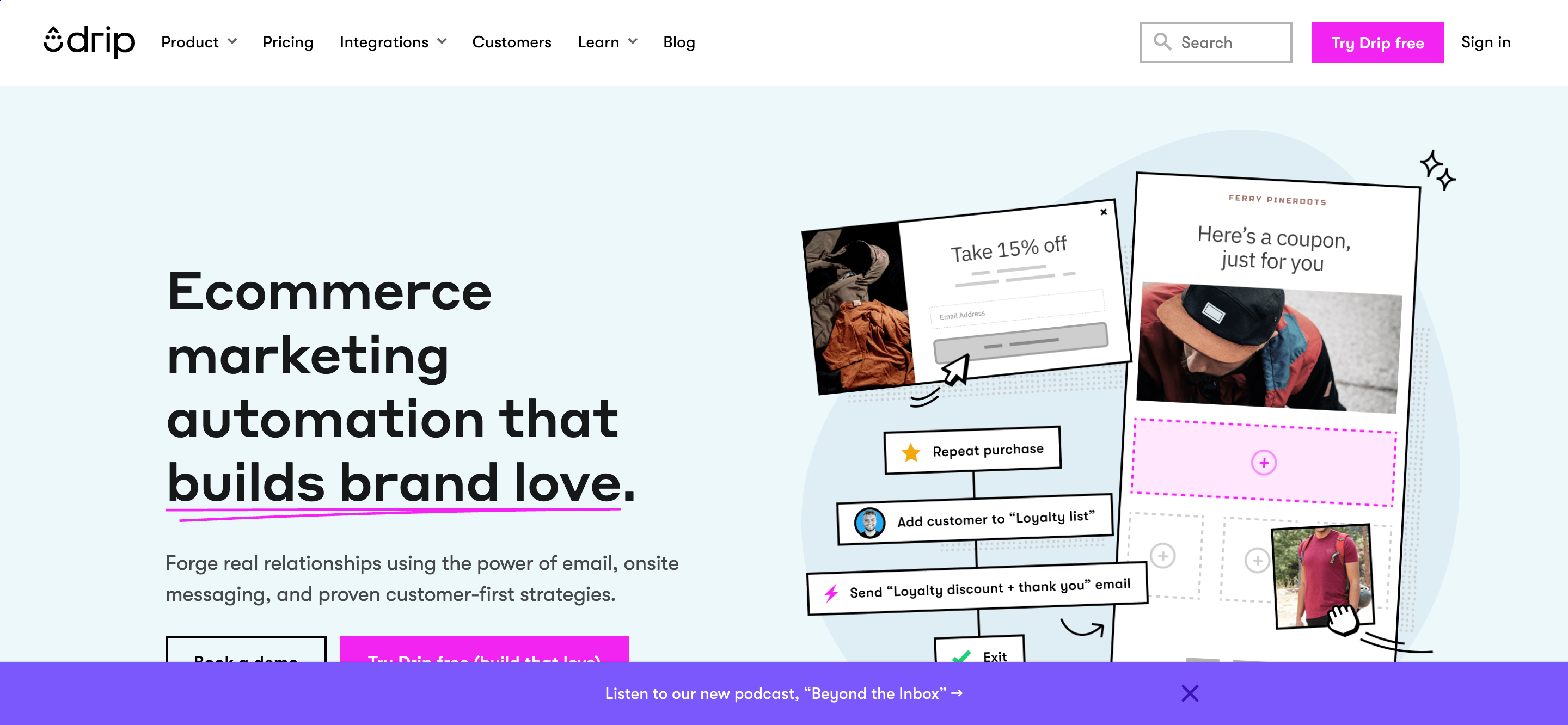 Drip is an ecommerce CRM platform that provides businesses with email marketing, personalization, and other advanced marketing automation tools. It helps businesses build strong customer relationships and increase sales by providing relevant,personalized messaging. 
Here are some Drip features that make it a great alternative to Nosto:
Advanced segmentation: Drip allows businesses to segment their audience using a variety of factors, including demographic information, engagement, and behavior. This helps businesses to send targeted, personalized messages to specific groups of customers.
Automated workflows: Drip offers a visual workflow builder that allows businesses to create automated campaigns based on triggers and actions. As a result, companies can build up a sequence of automatic messages that are sent in response to particular behaviors, like leaving a cart empty or subscribing to a newsletter.
Personalization: Drip allows businesses to personalize their messages by including dynamic content, such as product recommendations and personalized images. This is a great way for ecommerce businesses to increase conversions.
Detailed analytics: Drip provides businesses with detailed analytics and insights into their campaigns, including open rates, click-through rates, and revenue generated. In order to maximize their marketing efforts, ecommerce businesses  can use this information to assess how their campaigns are performing and make data-driven decisions.
Pricing: Plans start at $19/month.
6. Emarsys: Intelligent customer engagement platform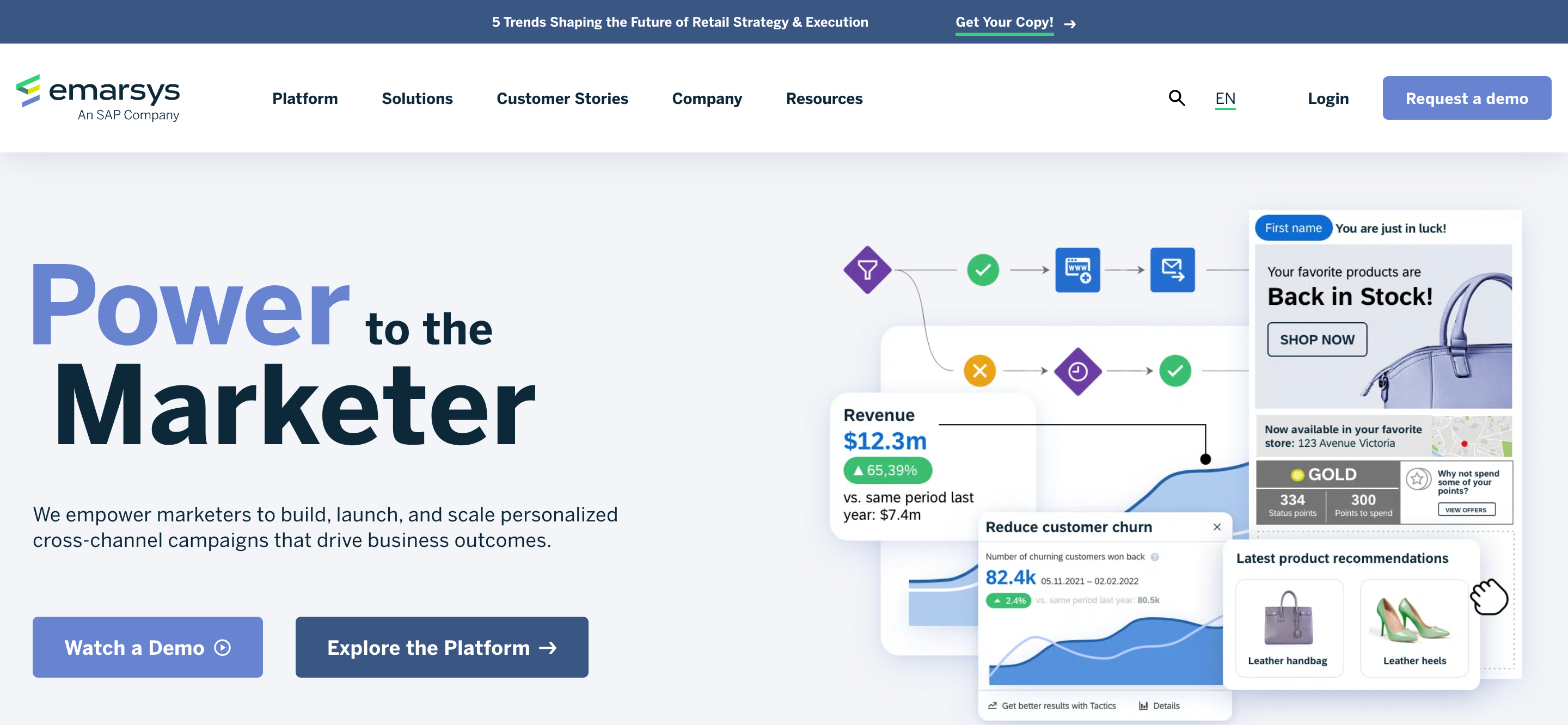 Emarsys is an intelligent customer engagement platform that has made a name for itself as one of the top alternatives to Nosto. 
With its powerful omnichannel marketing automation capabilities, Emarsys enables businesses to deliver personalized customer experiences using true cross-channel campaigns.
Let's take a closer look at its key features:
Advanced segmentation capabilities: Emarsys allows businesses to segment their customers based on a wide range of criteria, including demographics, behavior, and interactions with their brand. This makes it possible for companies to design highly targeted ads suited to their customers' needs and preferences.
Email marketing capabilities: Emarsys provides various tools that enable businesses to create and send personalized emails to their customers, including dynamic content and product recommendations. Emarsys also provides detailed analytics that allow businesses to track the performance of their email campaigns and make more informed decisions about how to optimize them.
Predictive analysis: The platform analyzes consumer data using cutting-edge machine learning algorithms and provides real-time recommendations that help companies give their customers more relevant, personalized experiences.
User-friendly design and intuitive interface: Businesses can easily develop and customize their campaigns on the platform using its drag-and-drop editor, and its robust automation features make automating complex procedures easy.
Pricing: Not available on the website.
7. Bloomreach: Digital experience platform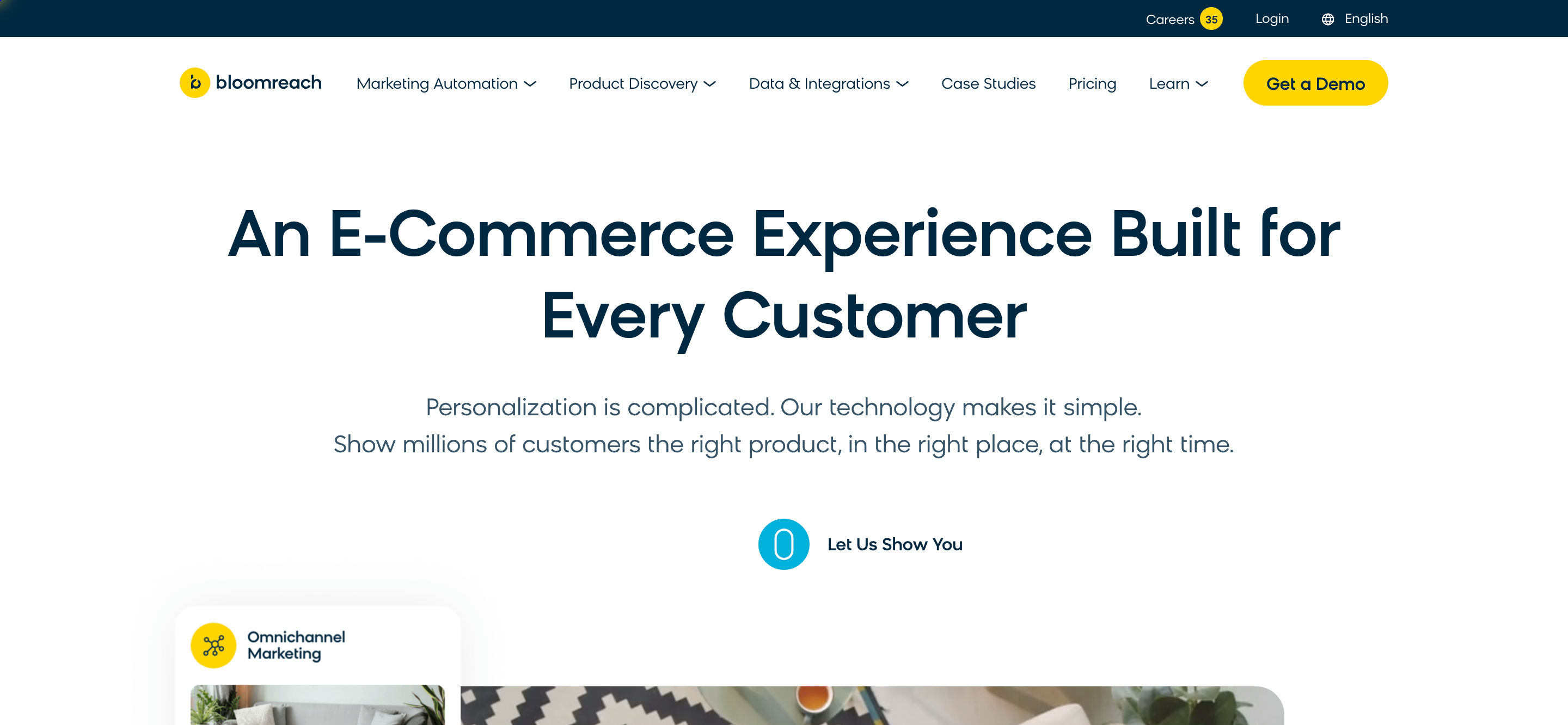 Bloomreach is a personalization platform that uses artificial intelligence and machine learning algorithms to provide personalized content to customers.
The platform includes features like personalized search, recommendations, and navigation, and it can be integrated with other ecommerce tools like CRM and CMS systems. 
Here are some of its other features:
AI-powered personalization: Bloomreach's platform uses artificial intelligence and machine learning algorithms to provide personalized content and experiences to customers. This can help businesses increase engagement and conversions by providing relevant content to each individual customer.
Personalized search: Bloomreach's personalized site search feature helps customers find exactly what they're looking for by providing tailored search results based on customer search intent and their previous behavior and preferences. Making it easier for people to locate the things they want improves their experience and helps increase conversion rates.
Recommendations: Bloomreach's recommendation engine suggests products to customers based on their browsing and purchase history. This can help businesses increase average order value by encouraging customers to buy related products.
Integration with other ecommerce tools: Bloomreach can be integrated with other ecommerce tools like CRM and content management systems, making it simple for businesses to manage all facets of their ecommerce operations in one place. This can help businesses save time and increase efficiency.
Pricing: Pricing is not available publicly.
8. Clerk.io: Ecommerce personalization tool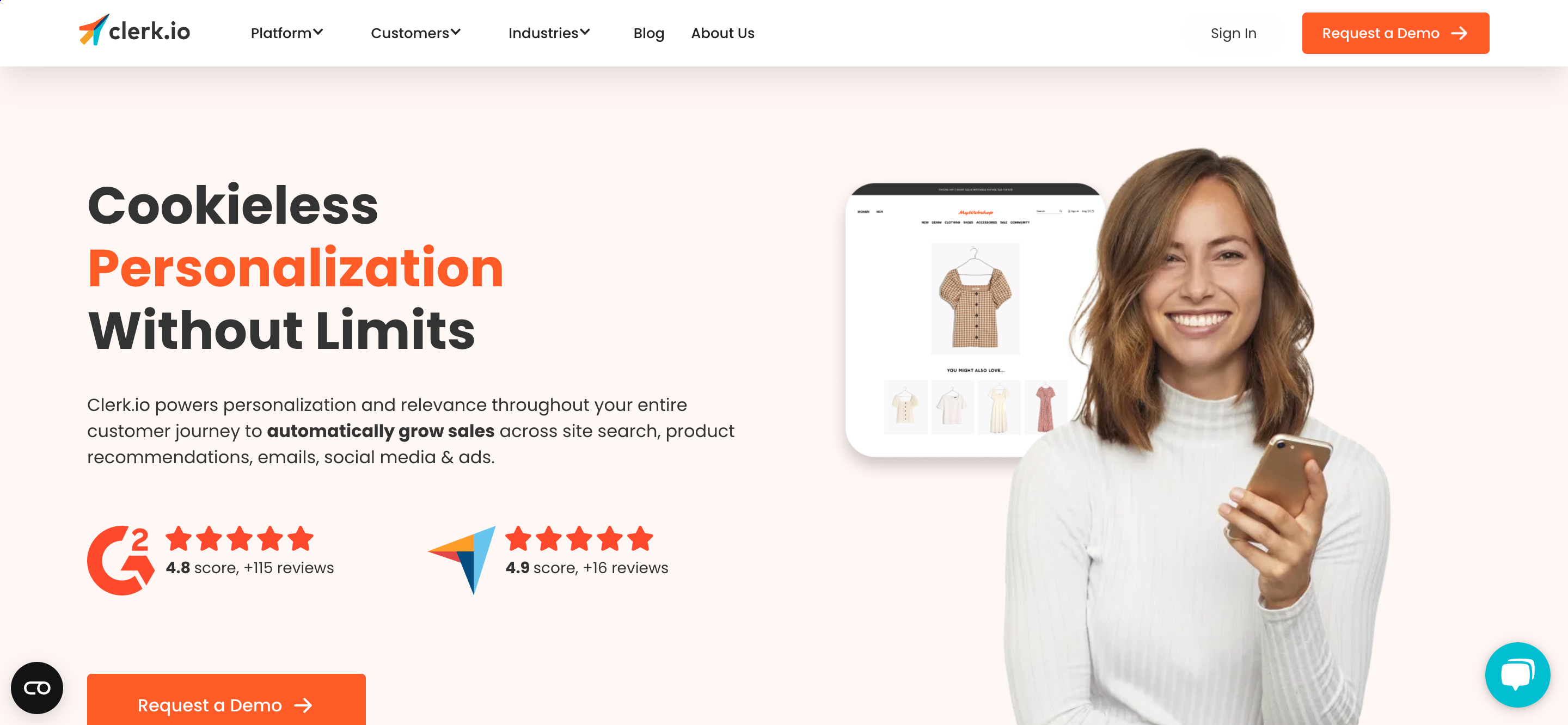 Clerk.io is a personalization solution driven by AI that assists companies in streamlining their online shops so that customers receive personalized experiences.
The tool uses machine learning algorithms to analyze customer behavior (including browsing and purchasing history) to provide personalized product recommendations and search results. 
Here are four features that make Clerk.io a good alternative to Nosto:
Personalized product recommendations: Clerk.io enables businesses to provide personalized product recommendations based on customer behavior. This feature helps businesses increase sales by showing customers relevant product recommendations.
Smart search: Their smart search feature provides customers with personalized search results based on their search history and behavior. This improves the customer experience by providing relevant search results that match customer intent.
Email marketing: The tool includes email marketing features that enable businesses to send personalized emails to customers with predictive AI sending. This feature helps businesses increase customer engagement and loyalty by delivering relevant content and offers directly to customers' inboxes.
Content personalization: Clerk.io's content personalization features enable businesses to deliver personalized content to customers with a privacy-first, cookieless approach.
Pricing: Starts at €79/month. 
9. SearchSpring: Ecommerce search platform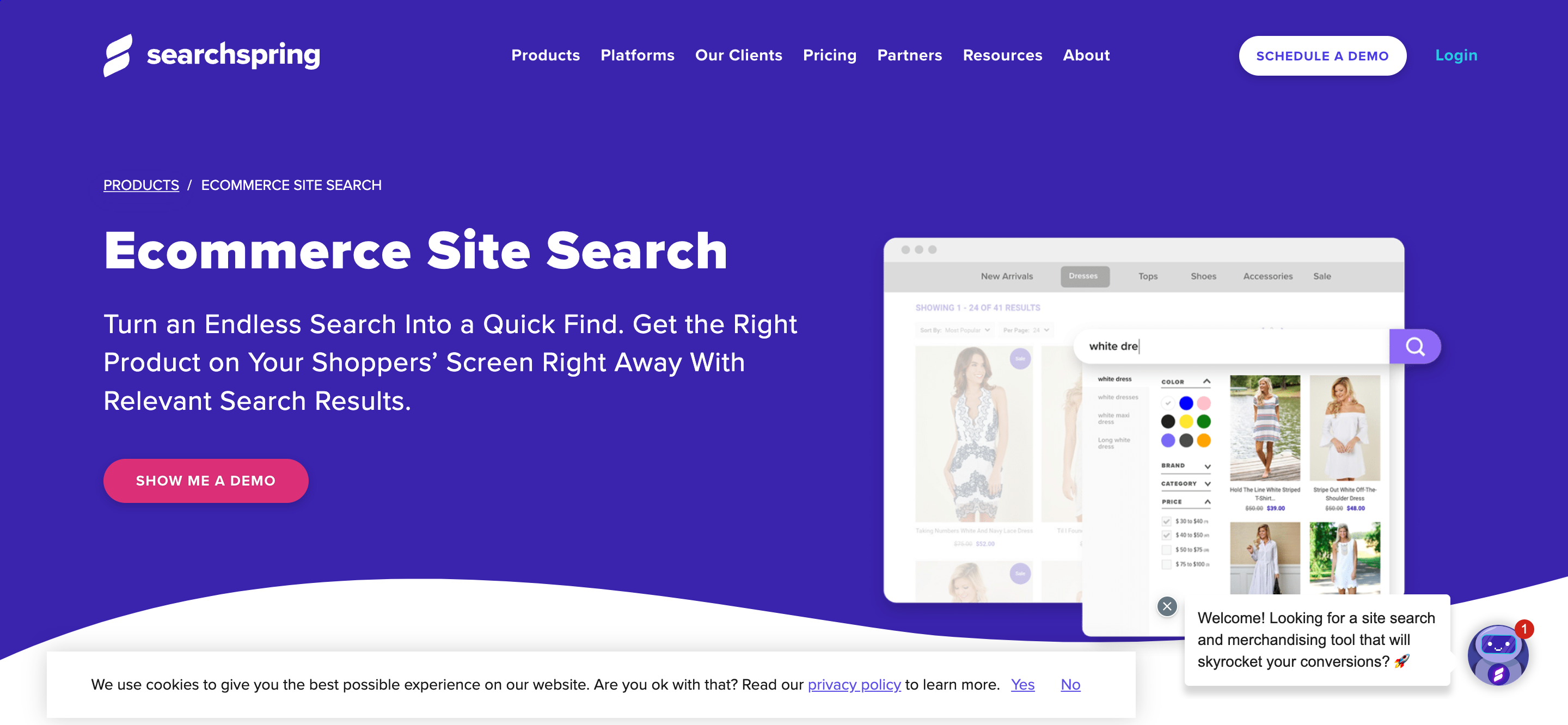 Searchspring is an ecommerce site search and merchandising platform that uses AI and machine learning to deliver personalized search results, product recommendations, and merchandising experiences. 
Here are some of the features of SearchSpring:
Personalized search results: SearchSpring uses AI and machine learning to deliver personalized search results to customers. The platform analyzes customer behavior and shopping history to provide relevant search results that increase the chances of customers finding what they're looking for quickly.
Faceted search: Customers can filter and narrow down their search results using SearchSpring's faceted search tool based on a variety of factors, including price, brand, color, size, and more. Customers who use this option are more likely to locate products that satisfy their unique needs and preferences.
Product recommendations: SearchSpring's product recommendation engine uses AI and machine learning to suggest products to customers based on their shopping behavior and preferences. This feature can increase the chances of customers making additional purchases, thus boosting revenue.
Merchandising tools: SearchSpring offers several merchandising tools that help businesses create personalized product collections and product displays. These tools allow businesses to highlight specific products or product categories, making them more visible to customers and increasing the chances of customers making a purchase.
Pricing: There's a 14-day trial available, and plans start at $599/month. 
10. Algolia: Search and discovery platform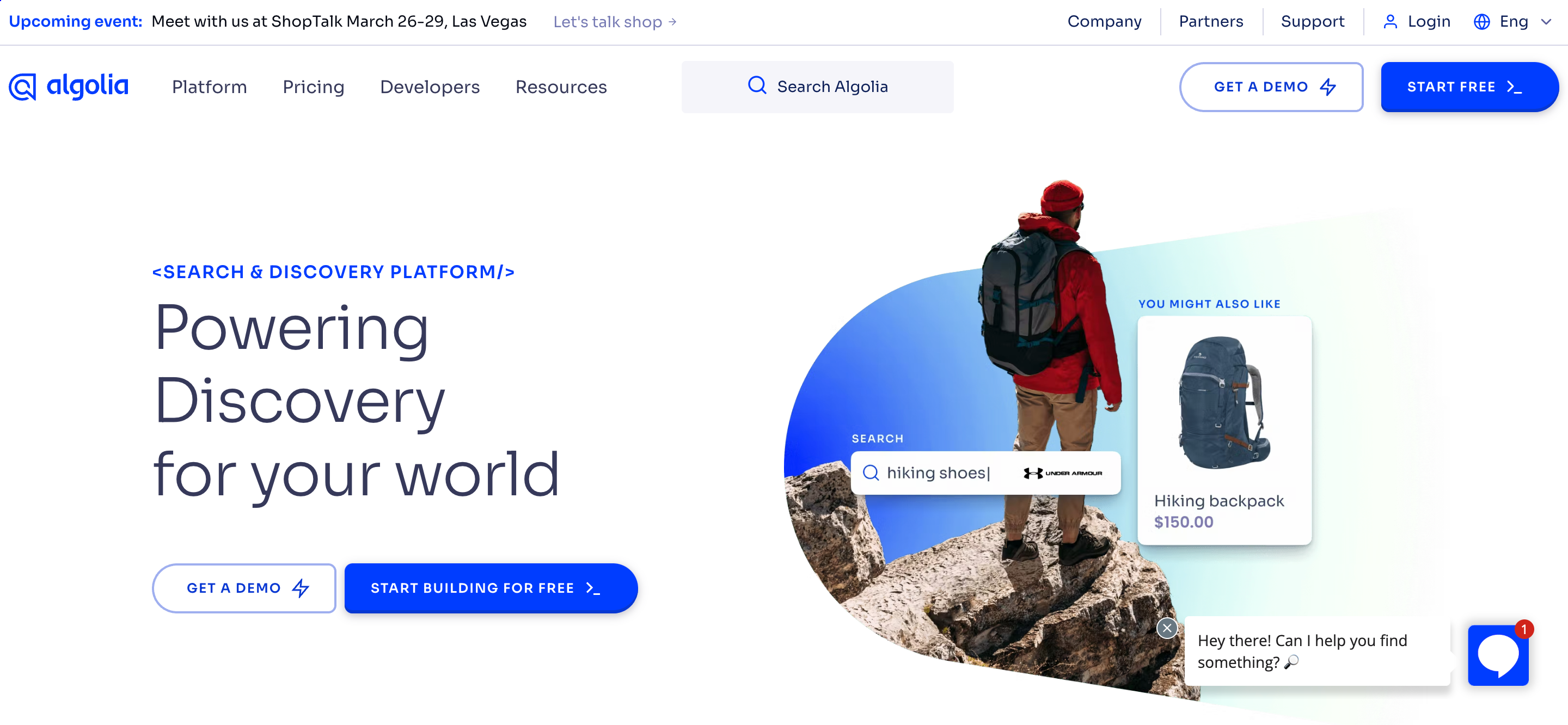 The search-as-a-service platform Algolia helps companies deliver quick, accurate search results on their websites or mobile applications. 
It has the following features that make it a good alternative for Nosto:
Easy to integrate: Algolia provides a straightforward and user-friendly API that enables companies to quickly add intelligent search solutions to their websites or mobile applications. It is therefore a fantastic choice for companies who want to enhance their search results quickly.
Intelligent autocomplete: Customers can find what they're looking for more easily thanks to Algolia's intelligent autocomplete feature, which proposes search keywords as they type. Due to the greater likelihood that customers will discover and buy the things they want, this can enhance engagement and conversions.
Personalization: Businesses can modify search results for each individual client depending on their browsing habits and preferences using Algolia's personalization tools. This can lead to a more rewarding search experience for customers, resulting in higher conversion rates and client loyalty.
Real-time indexing: As new products are added to or withdrawn from a catalog, businesses can instantly update their search results thanks to Algolia's real-time indexing technology. As a result, customers will always have access to the most recent search results, which can positively affect customer online shopping experience and foster loyalty.
Pricing: Plans start at $500/month.
6 factors to consider when choosing a Nosto alternative
Here are some key factors to consider before choosing a Nosto alternative:
Ease of use and setup process:

You want to look for an alternative that is easy to use and has a user-friendly interface. The setup process should also be straightforward, with clear instructions and minimal technical knowledge required.

Pricing and value for money:

Consider not only the cost of the alternative, but also the value it provides for the money. You should look for a platform that strikes a good balance, providing the features you need now and a solution that can scale with you as you grow. 

Features and functionality:

Take a close look at the features and capabilities of the alternatives you're considering to ensure they meet your needs. Look for a platform that offers personalization, recommendation engines, analytics, and other features that will help you achieve your specific goals and objectives.

Customization options:

The ability to customize the platform to meet your specific needs should also be taken into consideration. You want enough flexibility in terms of branding, design, and functionality to make it adaptable to any future changes your business might go through.

Data privacy and security measures:

The alternative should have strong data privacy and security measures to protect sensitive customer data. This includes compliance with industry standards such as GDPR and CCPA and robust security protocols.

Customer support and resources:

Consider the level of customer support and resources provided by the alternatives you're looking at. You want a platform that offers a responsive customer success team and a range of resources such as documentation, tutorials, and training materials to help you get the most out of the platform.
We hope you gained some good takeaways from this article on the top alternatives to Nosto in 2023. Whether you're looking to make a switch from Nosto or simply trying to find the perfect solution for your business, having a clear picture of what you need is a major factor in choosing the best alternatives for you. 
Remember that a good Nosto alternative should not only help you improve your bottom line, but also improve the customer experience. Start by examining your needs and goals, and then compare the features and benefits offered by each alternative to find the best solution for your business.