Whether you're offering a new visitor discount or running a lead generation campaign, your goal is to capture the attention of your target audience. And there's no better way to do that than by using overlay popups!
In this article, we'll explore how to create great overlays by taking a look at 9 high-converting popup overlay examples.
Popup overlays appear on your website, covering up a portion of the users' screen and delivering a secondary message. This secondary message can be something like a discount offer, an exclusive deal, or an email sign-up form.
There are a number of different types of popup overlay triggers that determine when overlays appear on browsers' screens: user behavior, time delay, and scroll-based triggers, among others.
Because popup overlays dim the background and need to be dismissed before a site visitor can continue browsing, they're great at drawing attention to a message.
Ecommerce stores and other websites can use popup overlays for various purposes, such as:
growing an email list,

decreasing cart abandonment,

displaying important messages, and

collecting user feedback.
9 popup overlay examples to boost conversions
Each of these popup overlay examples can help you capture users' attention and guide them through your sales pipeline.
Hopefully you find some popup inspiration on this list!
1. Welcome overlay popup
A welcome popup overlay is a great way to greet new visitors and leave a positive first impression. You could also use it to guide visitors towards the next step you want them to take.
In the example below, an ecommerce website used a welcome popup to promote a discount offer to their new visitors and personalized it based on country to make it more special.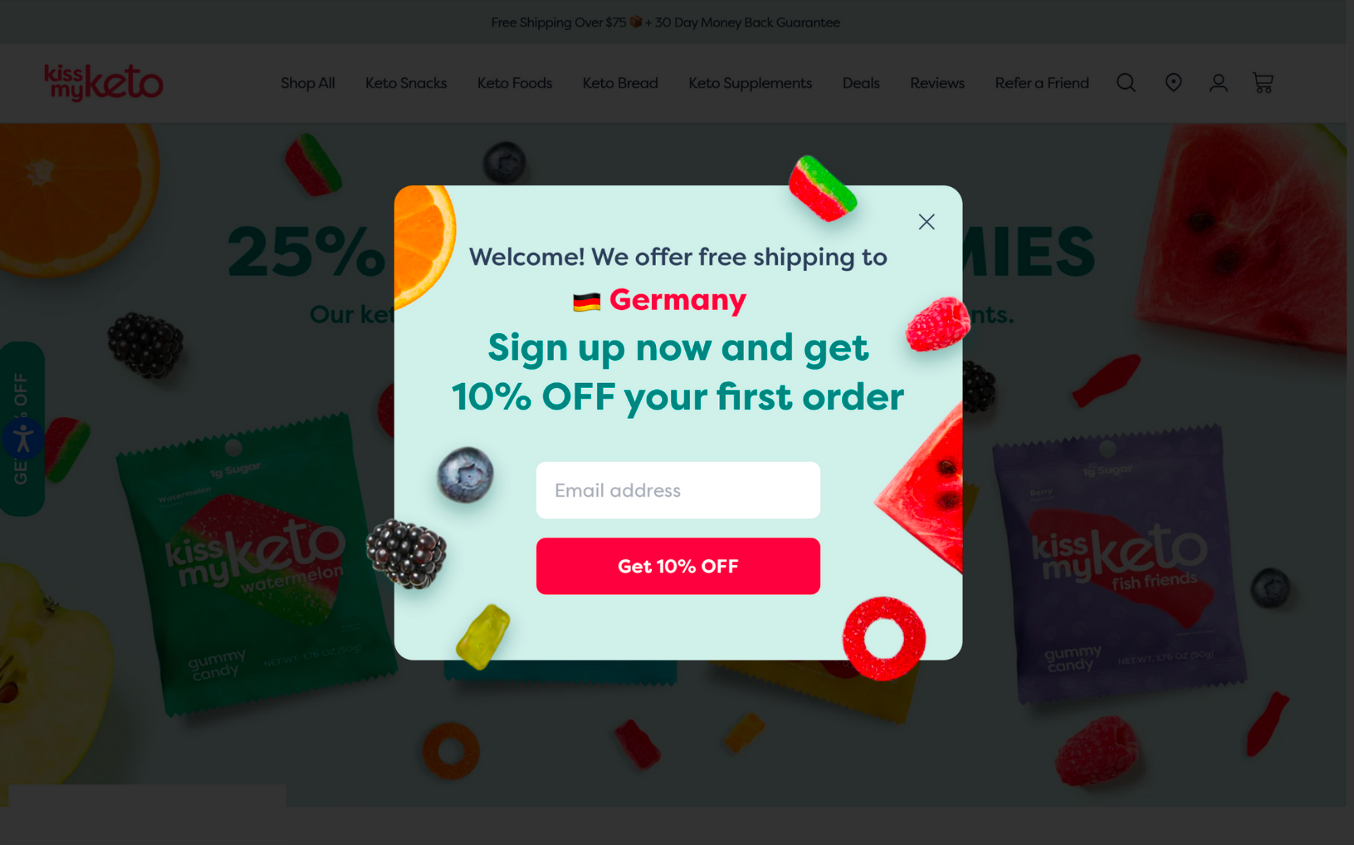 2. Seasonal overlay popup
Seasonal popups make it possible to keep your website feeling fresh and new throughout the year. An overlay popup that fits with a particular time of year will convert much better than a generic popup.
When a popup overlay mentions a particular time of year, like the example below, it creates a sense of urgency because it doesn't seem like the offer is going to be available forever.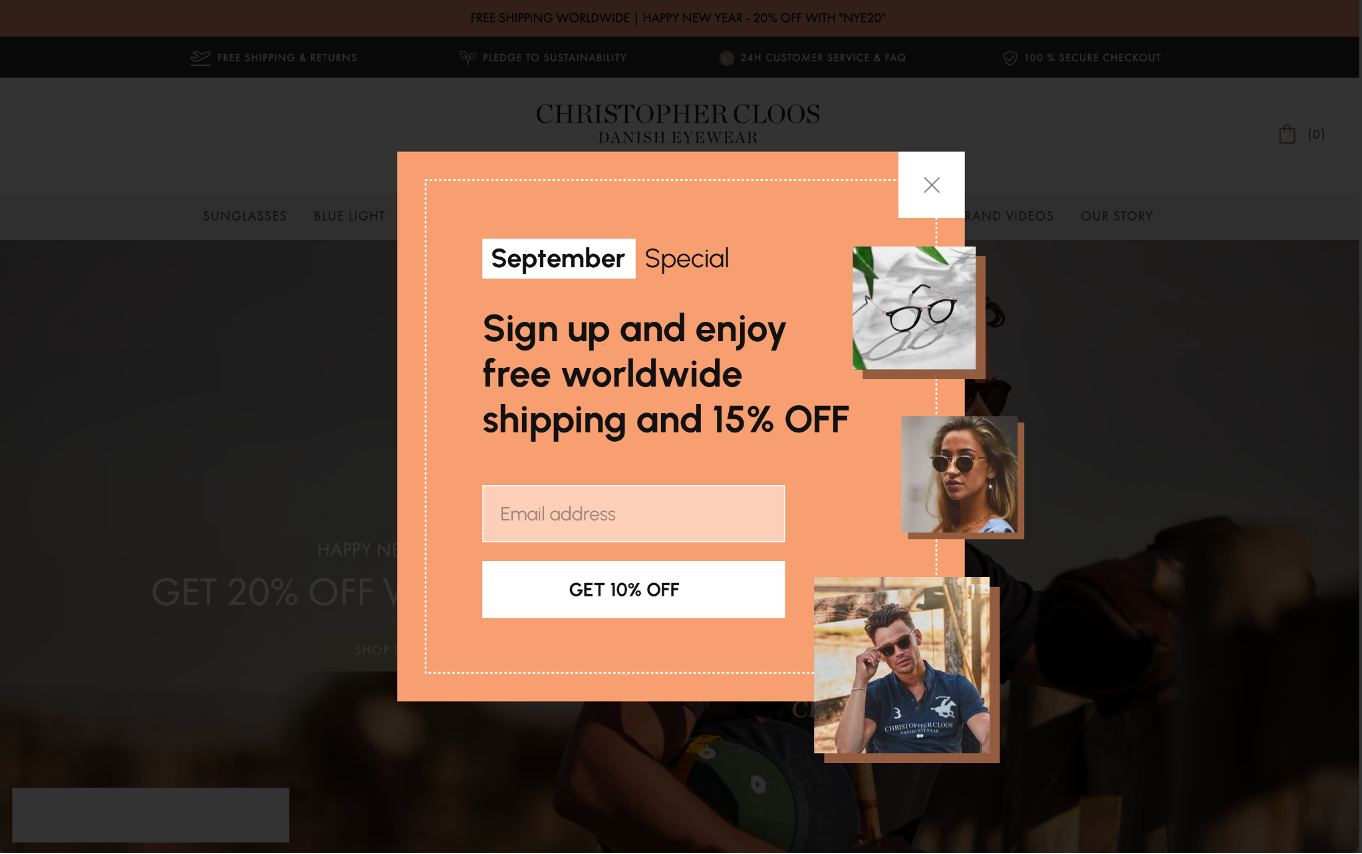 3. Product recommendation overlay popup
The right product recommendation popup overlay can dramatically shorten the customer journey. When you promote your best-selling or most popular products, it makes it easier for your web visitors to find the products they're really interested in.
The popup below manages to do several things at once: reinforce a unique selling proposition, establish seasonal relevance, and recommend relevant products.
You can also customize product recommendation popup overlays by using any customer data you have access to, such as an individual's purchase history or the product categories they're interested in.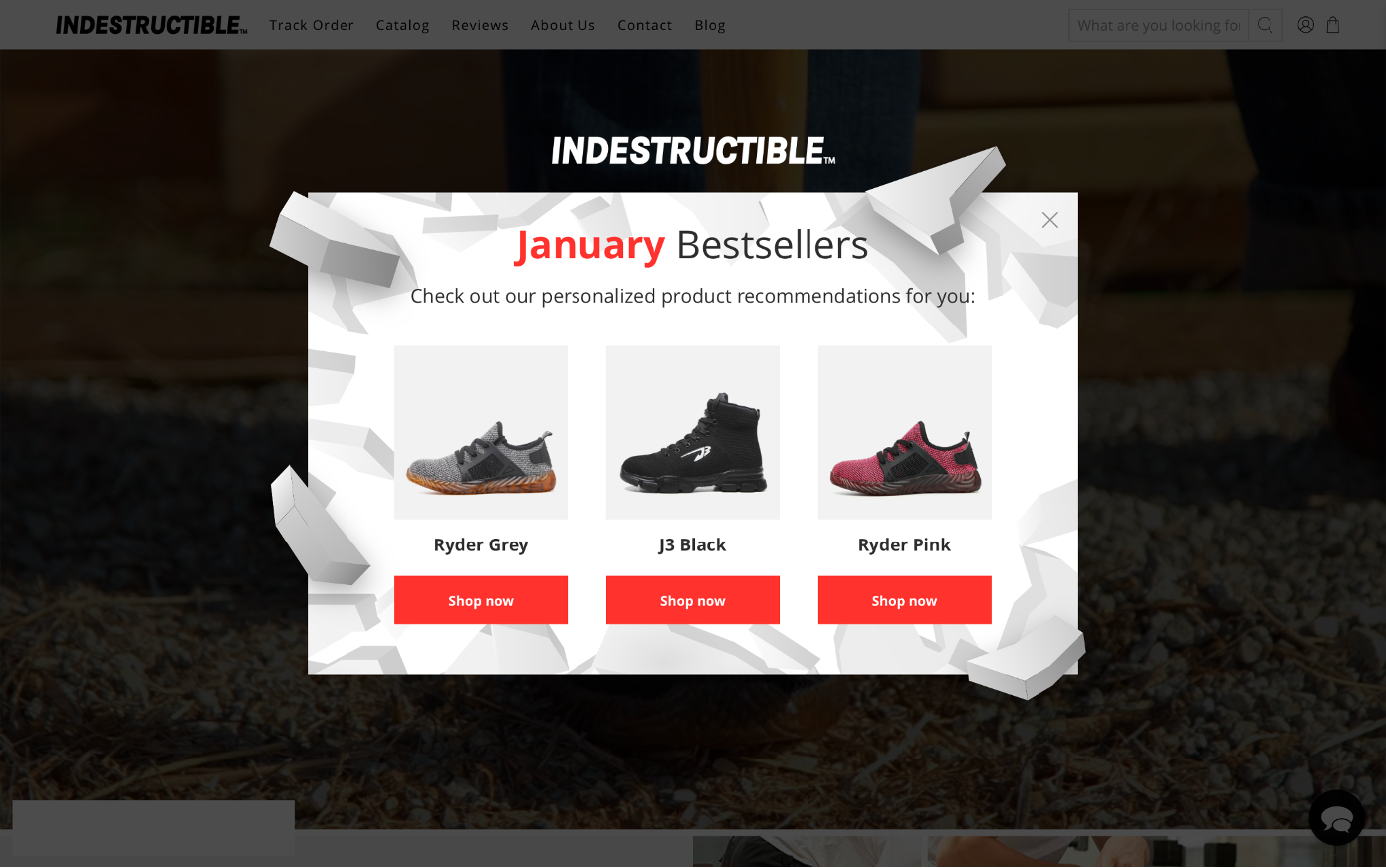 4. Discount overlay popup
Discount popups are one of the best ways to encourage users to make a purchase now rather than later. Online shoppers are used to getting discounts, especially the first time they make a purchase from a brand. That's why personalizing your discount popups is a great strategy.
In a small popup window, Blendjet offers a personalized discount to visitors coming from Facebook.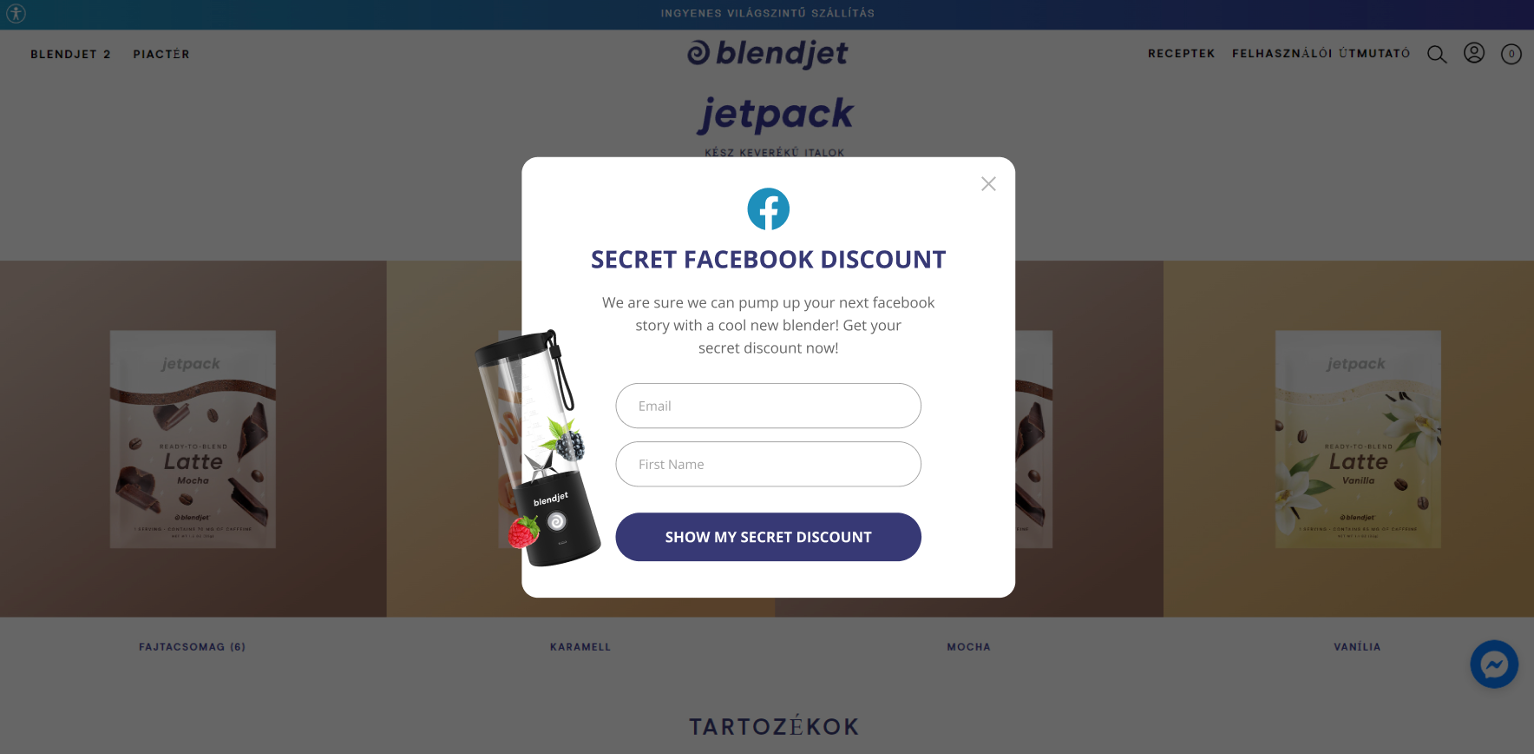 5. Cart abandonment overlay popup
Cart abandonment happens when a user exits an online store after adding an item to their cart but before completing the checkout process.
Almost all online stores struggle with high rates of cart abandonment, meaning that cart abandonment popups are an essential part of optimizing your website.
The limited-time cart abandonment popup overlay below gives Obvi a second chance to convert their abandoning visitors. It's a great example of using a well-timed message to save lost conversions.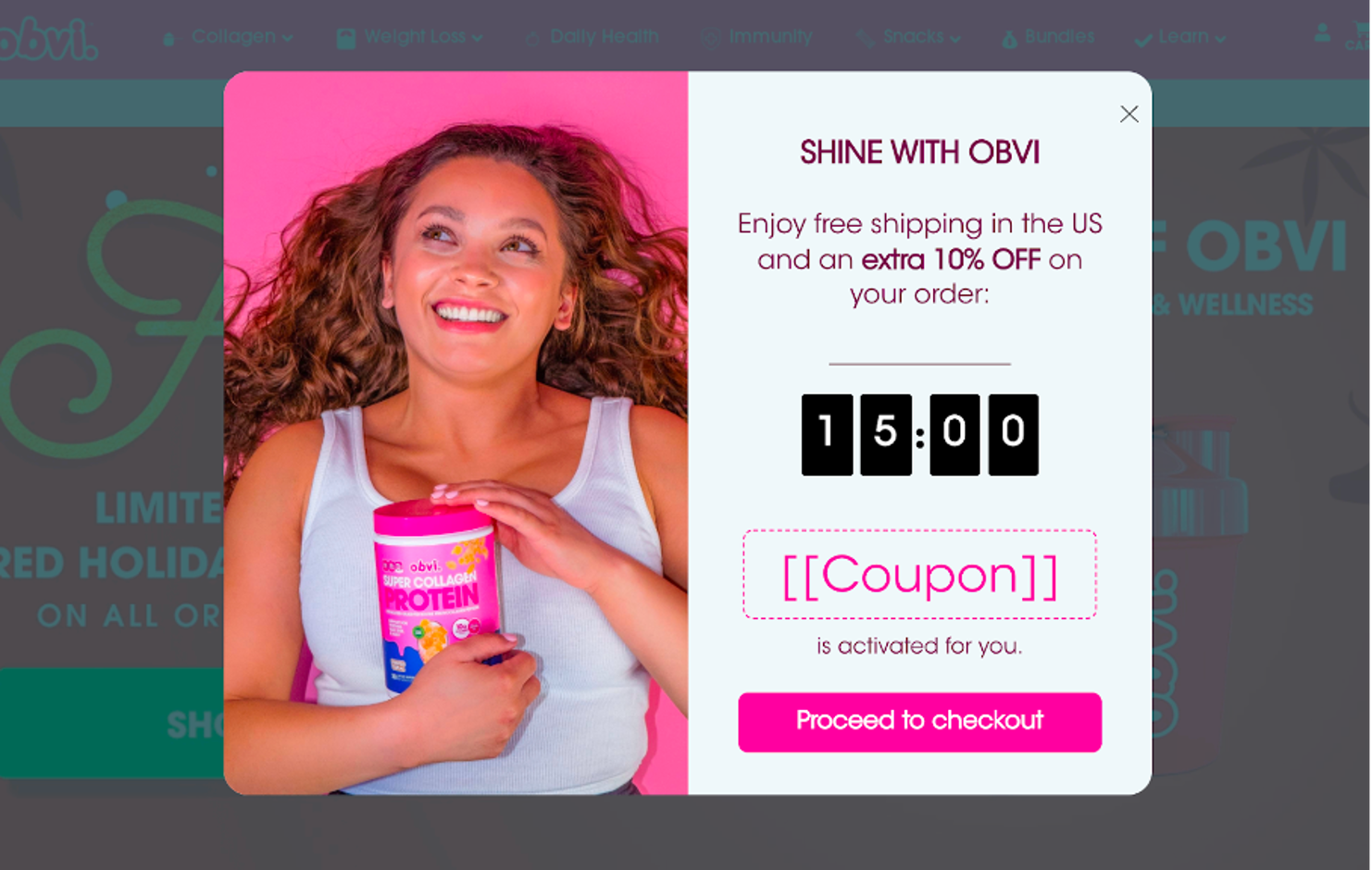 6. Welcome back overlay popup
Most customers won't make a purchase the first time they visit a website, since they're still exploring their options. A welcome back popup overlay can help users get back to where they left off during a previous visit.
You can take a few different routes with your welcome back popup overlay: you could offer a welcome back discount, like in the popup overlay example below, you could display new arrivals, or you could show users their previously viewed products.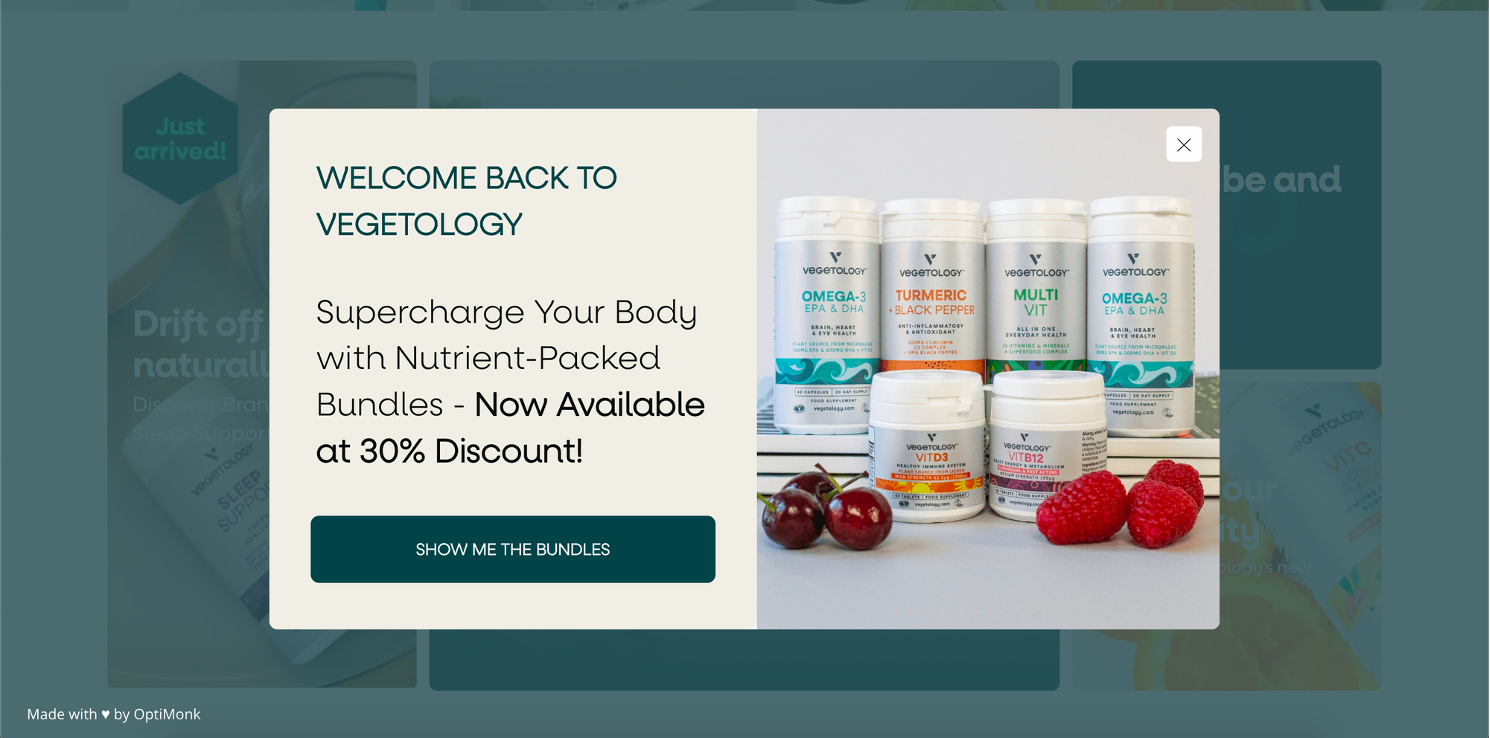 7. Free shipping overlay popup
Free shipping is one of the most persuasive incentives you can offer to your site visitors. Using an overlay popup to promote your free shipping offer ensures that everyone who shops on your site will be aware of it.
The example below combines a simple free shipping offer with a short description and customer testimonial.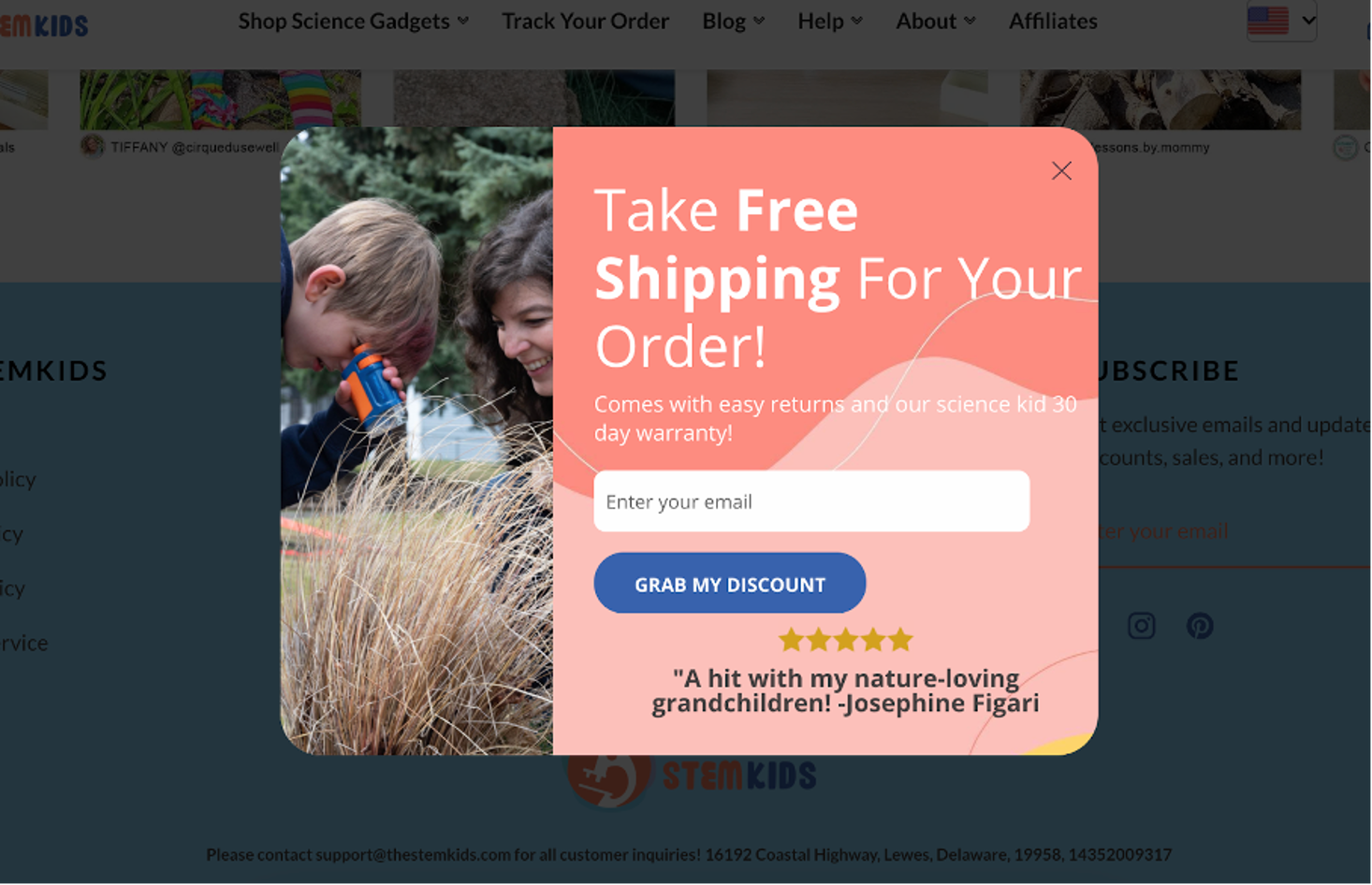 8. Lucky wheel overlay popup
Lucky wheel popup overlays are a fun, engaging way to encourage site visitors to sign up for your email list. When people have the option to play to win rather than simply getting handed a discount, they'll be more likely to enter their email address.
The example below manages to create a real sense of fun.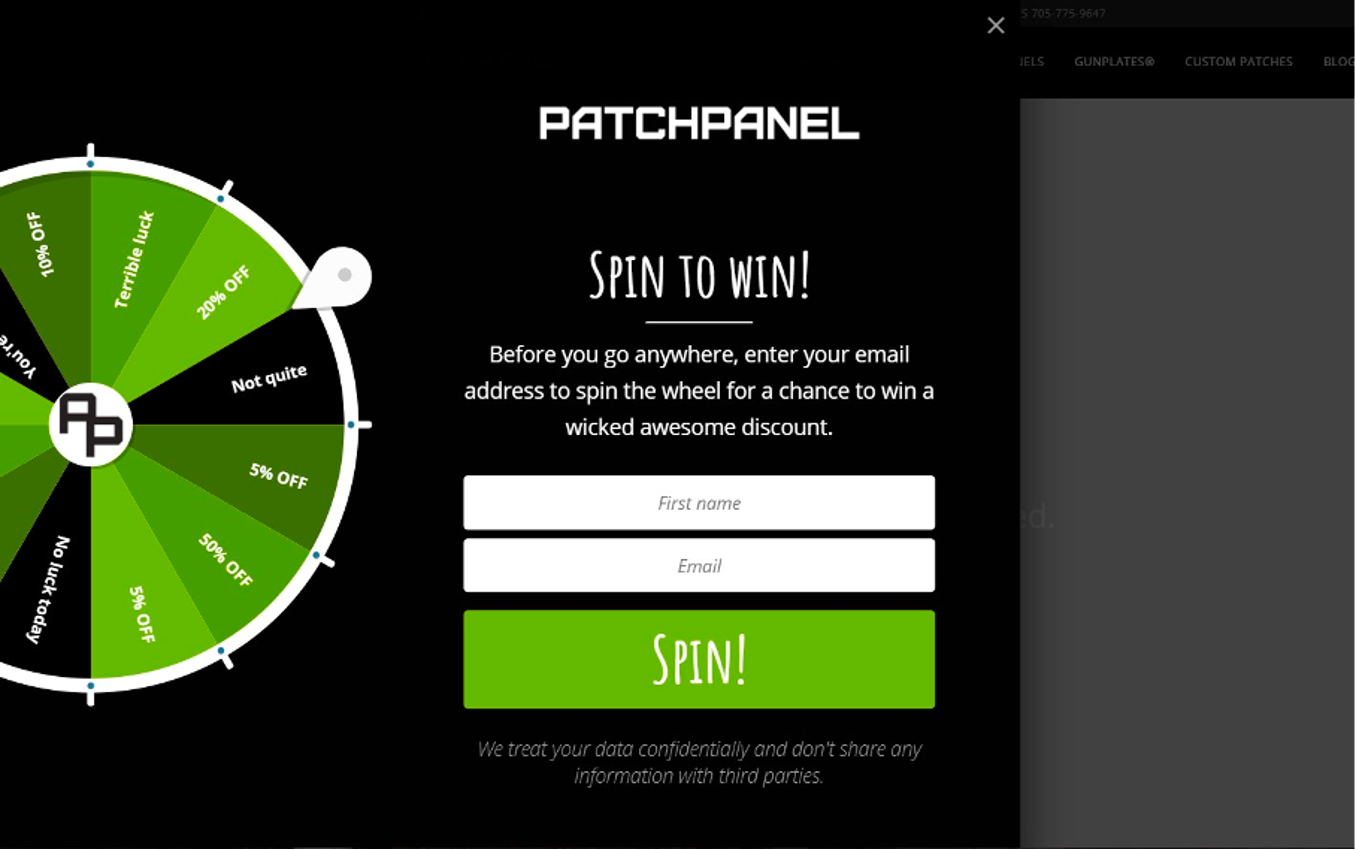 9. Lead magnet overlay popup
Lead magnet popup overlays are a powerful way to build your list. You can create ebooks or other resources that present valuable information and give your web visitors a great reason to sign up for your list.
The example overlay popup below offers a comprehensive sleep guide in the form of a free ebook.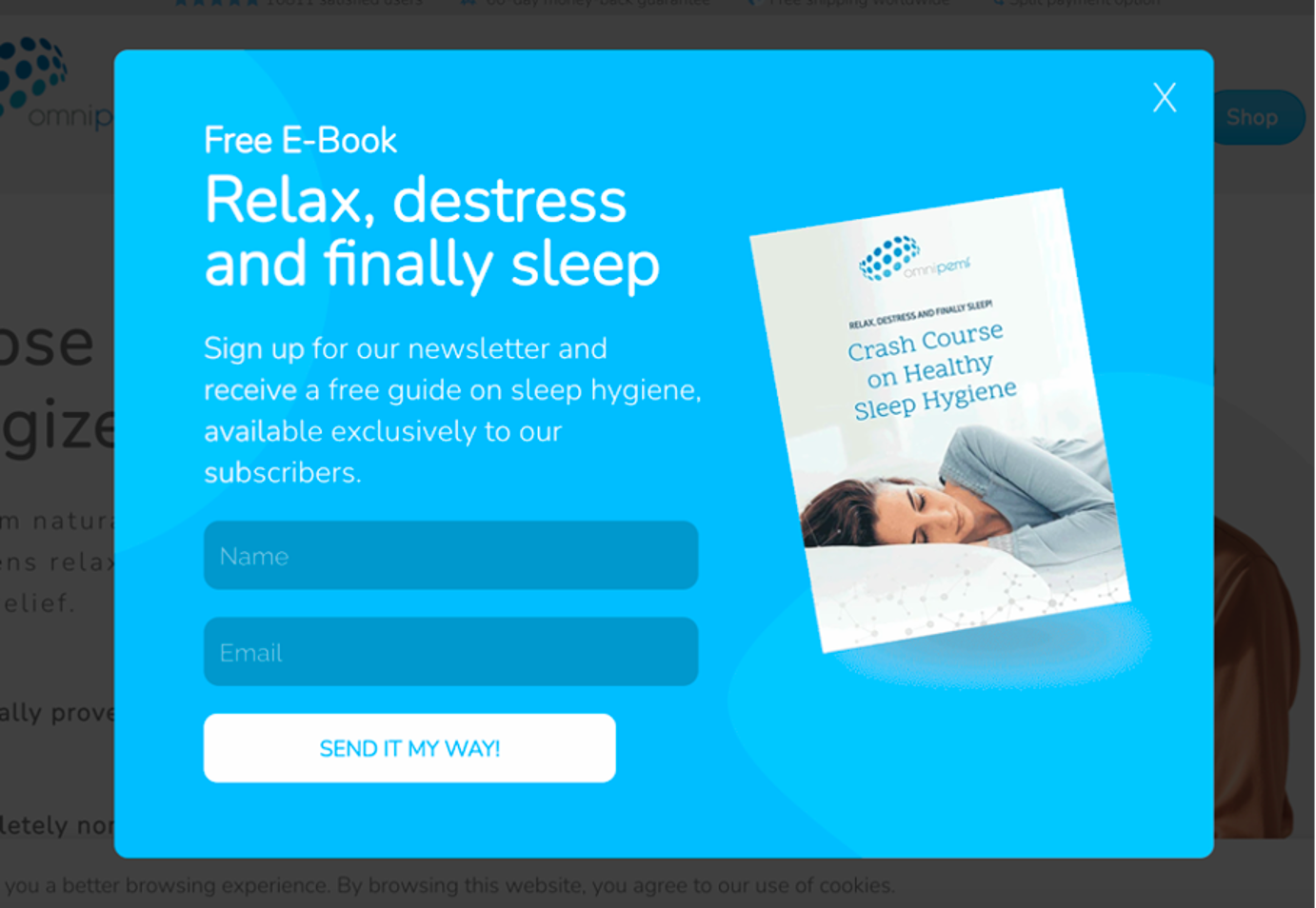 There's no element that can spice up a web page as easily as a popup overlay. You can create unique, persuasive website experiences for your users by employing popup overlays on your pages. Each of the great popup overlay examples above can act as inspiration for your own website.
If you'd like to start adding an overlay popup or two to your site, there's no better tool than OptiMonk! Using one of our 300+ popup overlay templates, you can get amazing campaigns up and running almost immediately.