There has never been a better time to grow an ecommerce business.
By now, we've accumulated plenty of practical insights from the pandemic-caused online shopping boom. At the same time, we're already noticing a trend toward normalization, with customers switching back from online-only to offline purchases.
For marketers, this represents an opportunity. The only challenge is that we must cater to the heightened expectations of our audiences. Buyers have acquired a taste for personalized experiences available on mobile, so you have to figure out how to fit them into your omnichannel strategy.
Sounds complicated? Don't worry, we're going to demystify it for you!
Keep reading to learn how to implement communication scenarios that feel like one-on-one interactions to your customers, which can be a powerful boost to your ecommerce business.
Three pillars of personalized communications
When it comes to communications, personalization can be achieved in three steps.
1. Behavioral segmentation
First, you'll want to narrow down your audience to the customers who've performed a certain behavior in your ecommerce mobile app.
Pushwoosh's recent research on ecommerce mobile messaging shows that the messages sent to behavior-based segments gain 7X higher engagement and can multiply conversion rates by the hundreds.
Here are just some of the trigger events you may want to track and use for segmentation:

PRO tip: target segments based on user behavior and attributes. This strategy enabled Bantoa (a Pushwoosh customer) to achieve incredible CTRs of up to 91.9%.
Read more about behavioral segmentation in this post.
2. Personalized choice of channels
Your customers may prefer (and react better to) different messaging channels:
Part of your audience may have opted in for

push notifications

while another part may ignore or even block them

Some users like the benefits that come with an

email

subscription

Others may expect (and enjoy!) special offers in the form of

in-app messages

Some customers may have allowed you to contact them via

SMS

or

WhatsApp
You want to keep track of the granted permissions and choose the most relevant channel for each customer. Or even better, create omnichannel mobile messaging experiences for them.
For example, you can still get your message to users who haven't opted in for pushes, if you send it via email!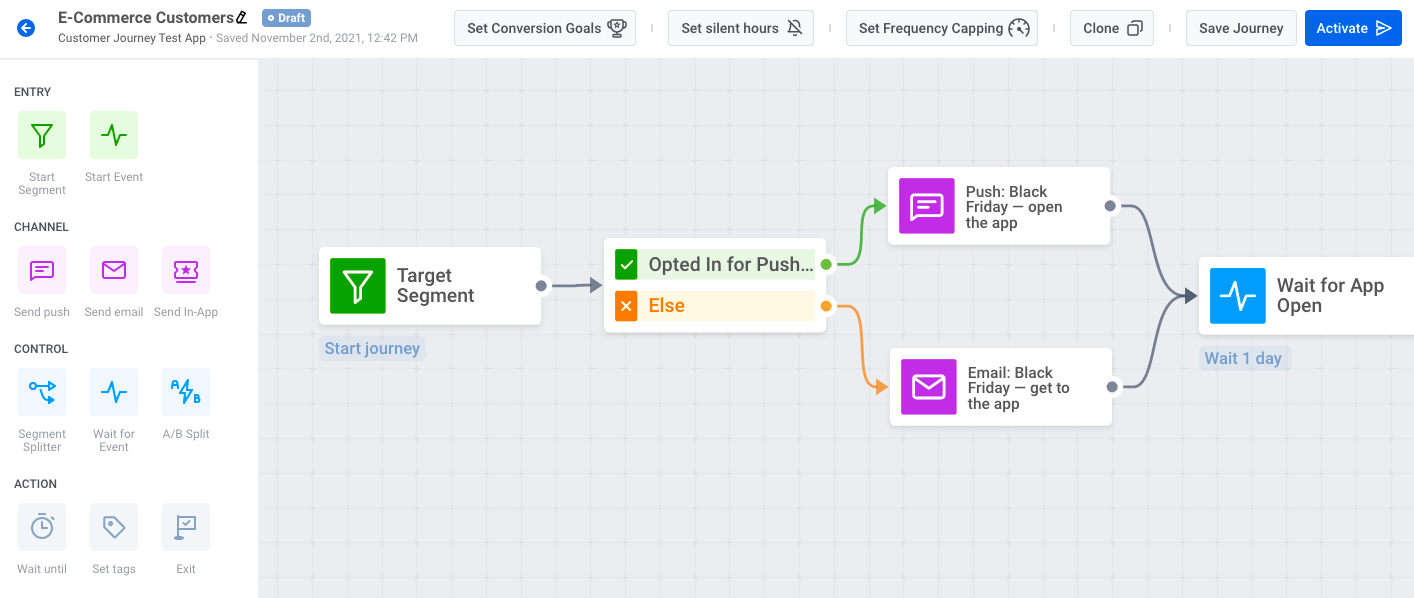 3. Content personalization
To win the minds and the hearts of your audience, you have to show them you care.
This means going beyond simply calling customers by their names:
Create

dynamic content

with automatically entered information that's specific to each customer (e.g. customer's geolocation or favorite product).

Consider

multilanguage messaging: show localized versions of the copy to users who speak different languages.
For example, when La Redoute's customers fail to complete a purchase, the brand sends them an email reminder.
The message content is 90% generic: "You left something in your basket"—but the remaining 10% is dynamic. A colorful image showcases the exact item a customer considered purchasing, and tempts them to proceed to checkout.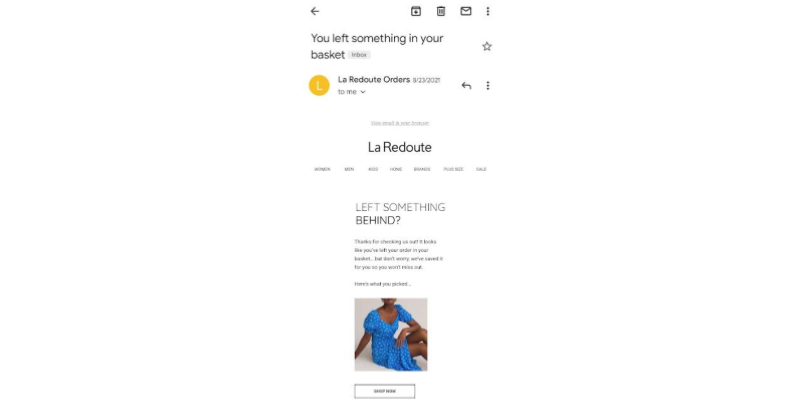 This kind of personalization goes a long way—and doesn't take much effort if you use automation tools.
With the same means, you can adapt your communications to specific customers' behaviors.
Let's dive into the most common scenarios and examples!
Personalize your communications to particular users' behaviors
1. Promote relevant products to repeat customers
If you're looking for a surefire way to grow sales, opt for targeting repeat customers. They are 9 times more likely to convert compared to first-time shoppers.
We recommend you segment out those who have ever purchased anything from you, and then wait until their next order.
If they do complete a purchase in the set amount of time, you'll want to work on strengthening your bond by sending them a thank-you in-app message—preferably, with some kind of bonus or reward.

If they don't make another purchase within the timeframe you're tracking, you'll try to get them back to shopping at your mobile store by sending a personalized special offer in a push.

PRO tip: deep linking is a great solution for this. Embed a deep link in your push notification that will take a customer to the list of recommended items you've chosen specifically for them.
2. Make a special offer to cart abandoners
What if we told you that you could boost your ecommerce orders by up to 85.69%?
This is the percentage of purchases businesses lose to cart abandonment. And you can actually win back a good share of those reluctant buyers with properly personalized communications.
A limited-time offer sent in a push notification will normally do the job. Make sure to mention (or, even better, showcase) the exact product your customer has left repurchased.
The Wish app goes even further. It tries to prevent a customer from abandoning the cart by showing an in-app message with a discount. The trick is, the offer is only valid if a user completes the purchase immediately, without leaving the checkout screen.

3. Convert your "almost purchasers"
Your most promising sales may come from your almost purchasers—highly engaged customers that are one step away from making a purchase.
Besides cart abandoners (which we've talked about above), your "almost purchasers" are the customers that have viewed or saved a product to favorites, but maybe they haven't added those items to their cart…yet.
A customer who's expressed interest in a particular product is usually the easiest to sell to. A promo code or a seasonal price change may nudge them into action.

Alternatively, you could create a sense of urgency by mentioning that there's only one of their desired item left in stock.
4. Handle any purchase objections in a win-win manner
Why would a customer hesitate to complete their purchase? There might be a dozen different reasons, and you'll only discover them if you experiment.
Here's a curious case from the ASOS app.
Apparently, its team learned that many shoppers stop before checkout if they don't qualify for free delivery. So the brand came up with a great strategy: it calculates the exact additional sum a customer must spend to qualify for free delivery, and shows it in an in-app message at the top of the checkout screen.
This helps to meet the customer needs (free delivery) and cross-sell at the same time!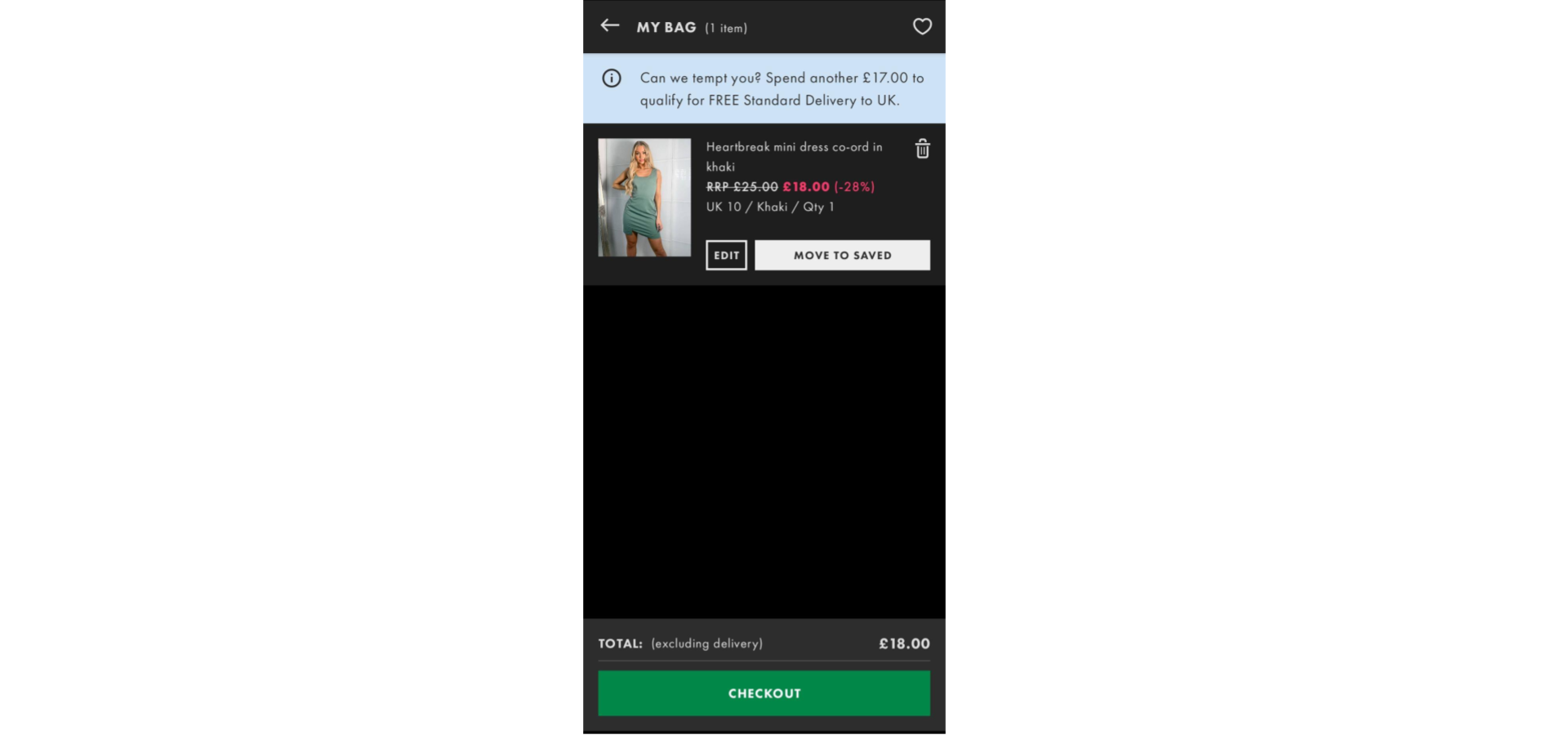 5. Enable back-in-stock notifications
If a customer has expressed a desire for a popular item, your job is to deliver them a notification once the product is back in stock.
Such messages require deep personalization and precise targeting, but the effort tends to pay off.

6. Drive new visitors toward their first conversion in your app
We bet you've even fallen for this trick yourself as a customer: when you've just installed an ecommerce app, the brand entices you with a discount for the first order.
The trick is simple, but it never gets old.

PRO tip: embed a promo code as custom data into your push, so when a user clicks on the notification, the offer is activated automatically.
7. Address special-occasion offers to those who celebrate
During all sorts of holidays, buyers tend to spend 17% more per transaction. And when it comes to repeat customers, their average order value is likely to increase by 25%.
Don't miss the chance to drive sales with holiday offers—just be careful with the campaign timing as the exact dates and occasions differ from one region to another.
For example, European and US marketers may be accustomed to scheduling their Mother's Day campaigns for May, while some of their customers may actually celebrate this holiday in March.
This means that to optimize the opportunity from a Mother's Day promo, you need to segment your audience by geolocation and time your holiday communications to local calendars.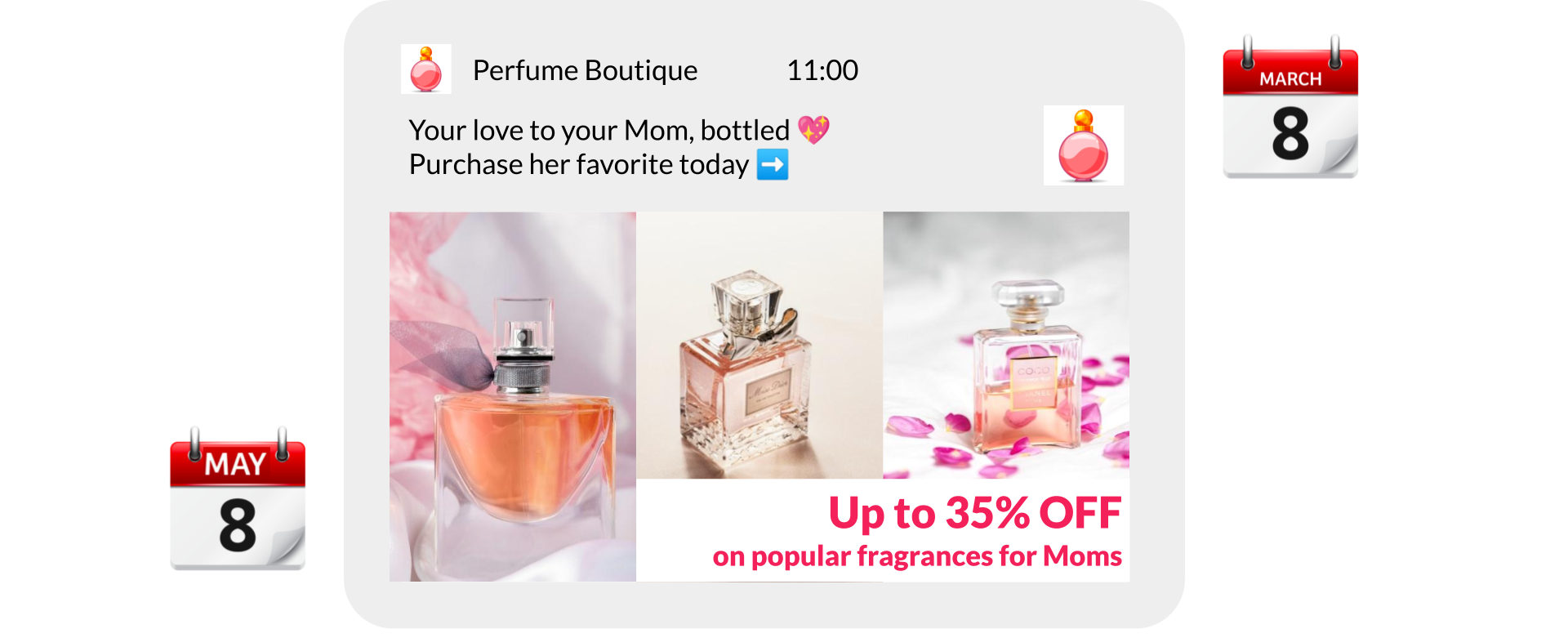 Benefit from personalized communications in the short term and the long term
There's no question that personalized communications lead to higher conversions, and an immediate increase in sales builds a strong foundation for ecommerce business growth. But there are also long-term benefits for e-tailers that use personalized communications.
84% of customers say that personalization brings them closer to a brand, paving the way for loyalty and trust to grow. With the support of your ecommerce brand advocates, you can enjoy a stable revenue flow from repeat customers and a safety net for expanding to new territories and markets.
Try the scenarios we've described in this blog post and see how much they can help your business scale!