In 2023, it's crucial to have access to a top-of-the-line digital marketing automation tool that can help you leverage customer data and personalize your marketing messages.
Personyze is an incredibly popular solution, but you should always be on the lookout for upgrades and new tools. In this article, we'll go over the eight best Personyze alternatives on the market right now.
Let's get started!
Why might you need a Personyze alternative?
There are lots of Personyze alternatives that can help online stores deliver exceptional user experiences, run seasonal campaigns, and optimize revenue streams.
Here are some reasons you might be looking for Personyze alternatives.
1. Difficult user interface
Although Personyze does have advanced capabilities, many users complain that it's quite difficult to take full advantage of them. On Capterra, there are lots of reviews that say the software is difficult to use and that it takes a lot of time and effort to learn even the basics.
If you're not the most tech savvy and you're struggling to use Personyze, you'll be happy to know that many of the Personyze alternatives on our list are much easier to use.
2. Lack of training videos
Personyze is also lacking when it comes to resources. For example, there aren't any training videos to help people learn what steps they should take to create high-converting on-site messages. This makes it hard for users to make the most off Personyze's personalization features.
3. It's expensive
Finally, a major reason you might be looking into Personyze alternatives is the high cost of the marketing platform. They have a very limited free tier (which only gives you access to 3 campaigns for up to 5K pageviews) and after that, their lowest-priced plan costs $250 per month.
This puts a large burden on small and mid-sized ecommerce businesses.
What's the best Personyze alternative?
There are several different types of tools on the list below, and they each excel in a specific area. So which of these Personyze alternatives is the best option for you? That will depend on your unique needs, goals, and priorities—read on to learn more about them!
1. OptiMonk: All-in-one conversion rate optimization platform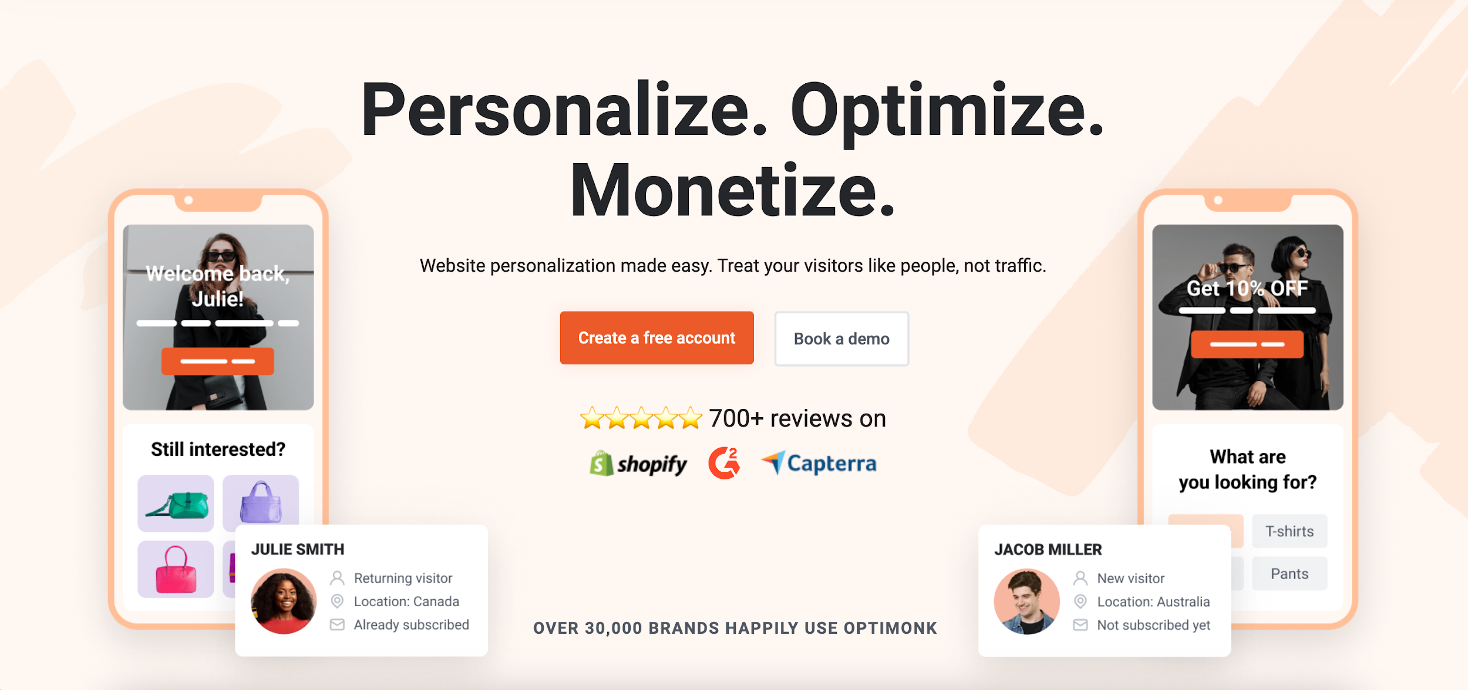 OptiMonk is a conversion rate optimization platform that combines features for customer data collection, audience segmentation, and intelligent on-site message personalization. When an ecommerce store has OptiMonk in its toolbox, it has the ability to bring its most creative marketing ideas to life.
From a customer perspective, the digital experiences that OptiMonk enables feel individually tailored, meaningful, and enjoyable.
Let's take a deeper look at how OptiMonk helps businesses optimize their store and maximize customer lifetime value.
Key feature #1: Product Recommendations
As a personalization marketing platform, OptiMonk is built to deliver relevant messages to each and every customer. One place you can see this is in OptiMonk's personalized product recommendations.
OptiMonk has top-notch customer data integration, which means that you can unlock customer data to find out which types of products an individual is likely to be interested in. Then, OptiMonk automatically adapts your product recommendations to each user's preferences.
No more worrying about customers seeing irrelevant recommendations!
Key feature #2: Embedded Content & Dynamic Content
OptiMonk sets itself apart from other marketing automation solutions by giving you the ability to personalize the embedded content of your website. Instead of just showing personalized content in popups, you can adapt your entire site to each individual customer.
And even better, the Embedded Content system is super easy to use—no coding skills necessary! Just drag and drop the content to where you'd like to see it.
Here's an example of how Blendjet modifies their homepage for different customer segments.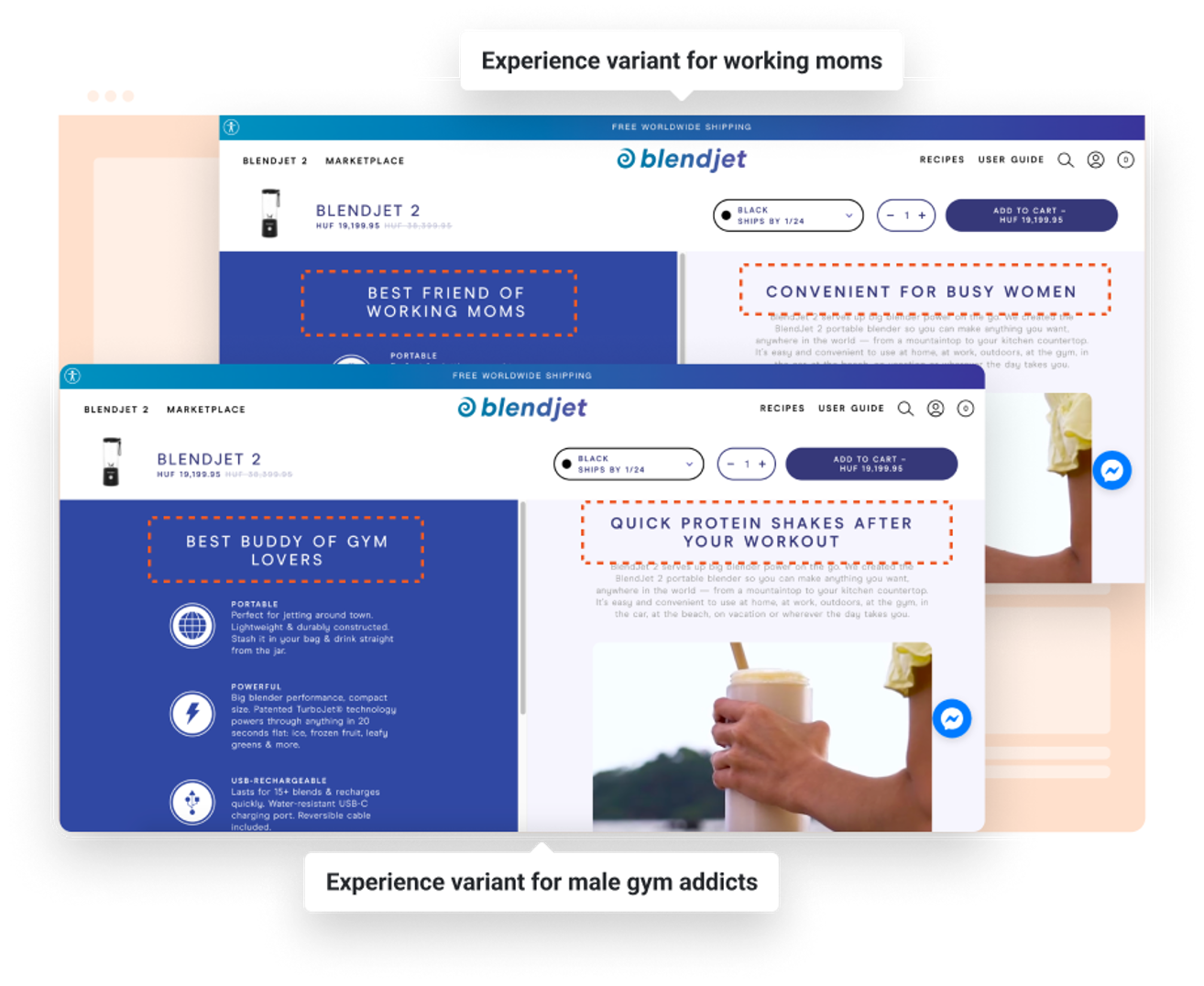 There's no better automated conversion optimization platform than OptiMonk if your goal is to boost sales through personalization.
Key feature #3: A/B Testing
OptiMonk's Experiments feature helps ecommerce businesses gain reliable marketing insights that they can turn into more online sales. You can use all your data to predict future sales trends and deliver a world-class customer experience.
Not only can you A/B test all your campaigns, you can perform multi-variant testing that puts multiple variations of a campaign in competition with one another. By comparing KPIs like conversion rate, customer engagement rate, and sales attribution for different message types and different audience segments, you'll find the best-performing messages in no time.
Key feature #4: Behavioral targeting
OptiMonk's behavioral targeting capabilities are part of its powerful customer analytics suite. By tracking each and every customer interaction with your website, you can deliver your messages at the perfect moment.
For example, OptiMonk's exit intent technology tracks when a user is about to exit your page, allowing you to display cart abandonment popups and save valuable conversions.
And OptiMonk's Experiments feature makes it easy to monitor behavioral messaging outcomes and optimize them progressively.
Additional features:
Smart Tags

help you adapt your messaging based on individual visitor properties such as their name or geographic location.

Source-based targeting

displays specific campaign variants to incoming traffic from different sources.

Using the

no-code editor,

you can customize campaigns without ever needing to involve developers.

Themes

help you create campaigns that are visually consistent with the look of your website.

Audience recommendations

puts advanced business intelligence into your back pocket by helping you reach predefined segments like new visitors or active shoppers.

The

zero party data

API helps gather and distribute the data your customers provide in surveys and quizzes.

The integration with

Klaviyo lists and segments

makes it easy to personalize your email marketing campaigns.

OptiMonk's customer success team will bring their

global retail expertise

to help your campaigns succeed.

Campaign templates

are optimized for phones and tablets, helping you take your mobile marketing to the next level
Pricing: Free plan available, or from $39/month.
2. Dynamic Yield: Digital marketing automation platform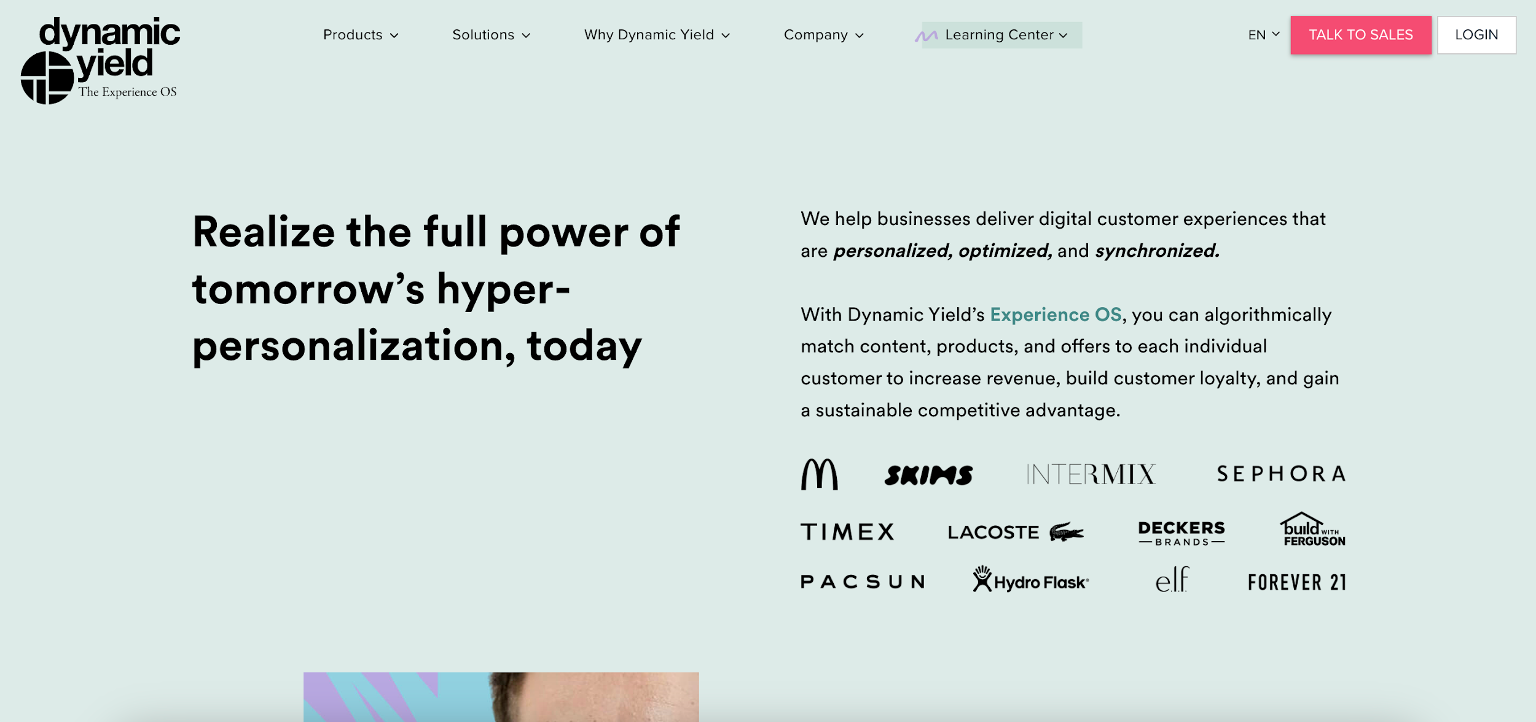 Dynamic Yield is designed to help online businesses create and deliver hyper-personalized experiences to their new and existing customers.
Their flexible development capabilities enable the creation of unique campaigns that set you apart from the competition. Your own digital campaigns can drive customer engagement and create a unique customer experience for each of your users.
Pricing: Starts at $2,000/month.
3. Algonomy: AI-assisted omnichannel marketing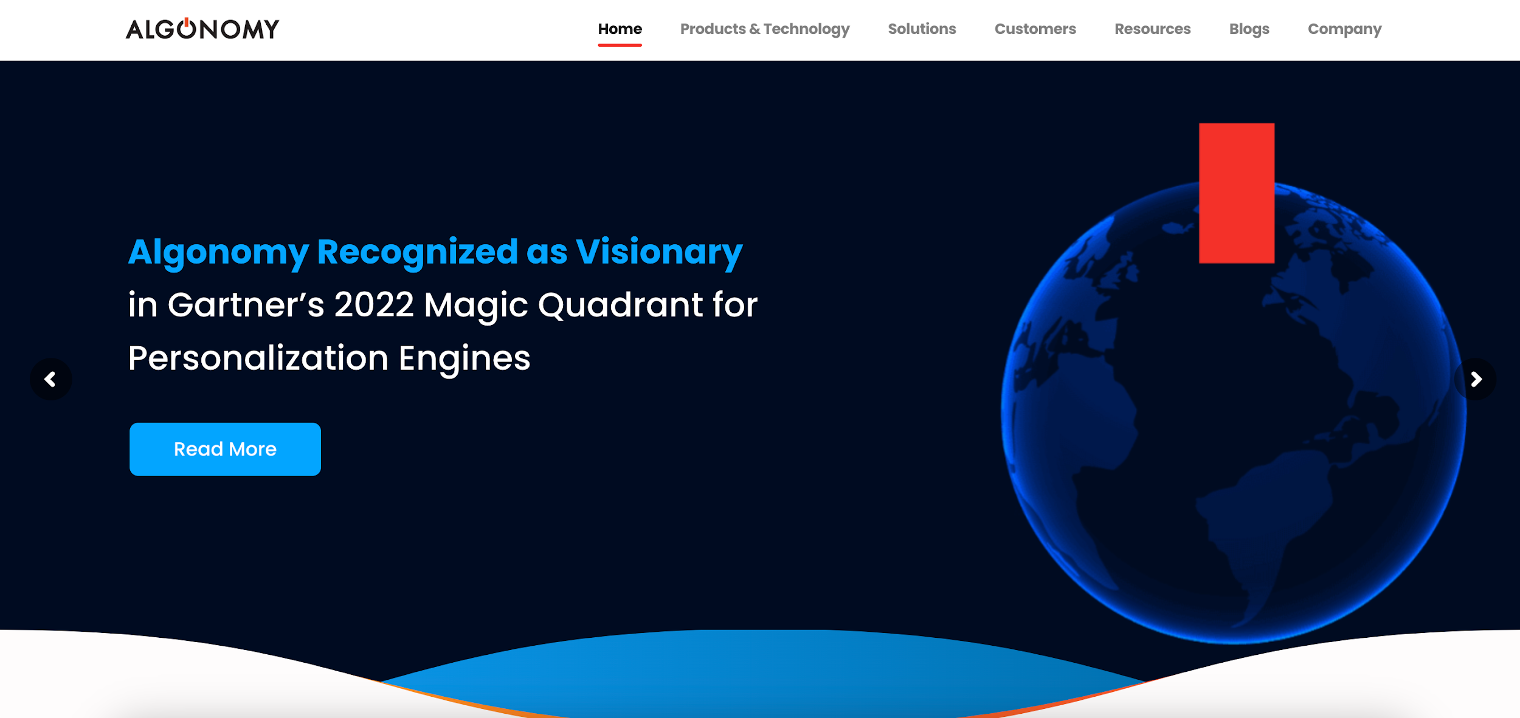 Algonomy is an AI-enabled onmichannel marketing solution that helps customer-centric brands access aggregated analytics and build personalized digital experiences across the internet.
The platform also has both a customer journey manager and tools that help you precisely integrate demand and supply through interfacing with your suppliers.
Pricing: You'll need to contact Algonomy for pricing information.
4. Coveo: Personalize your customers' search results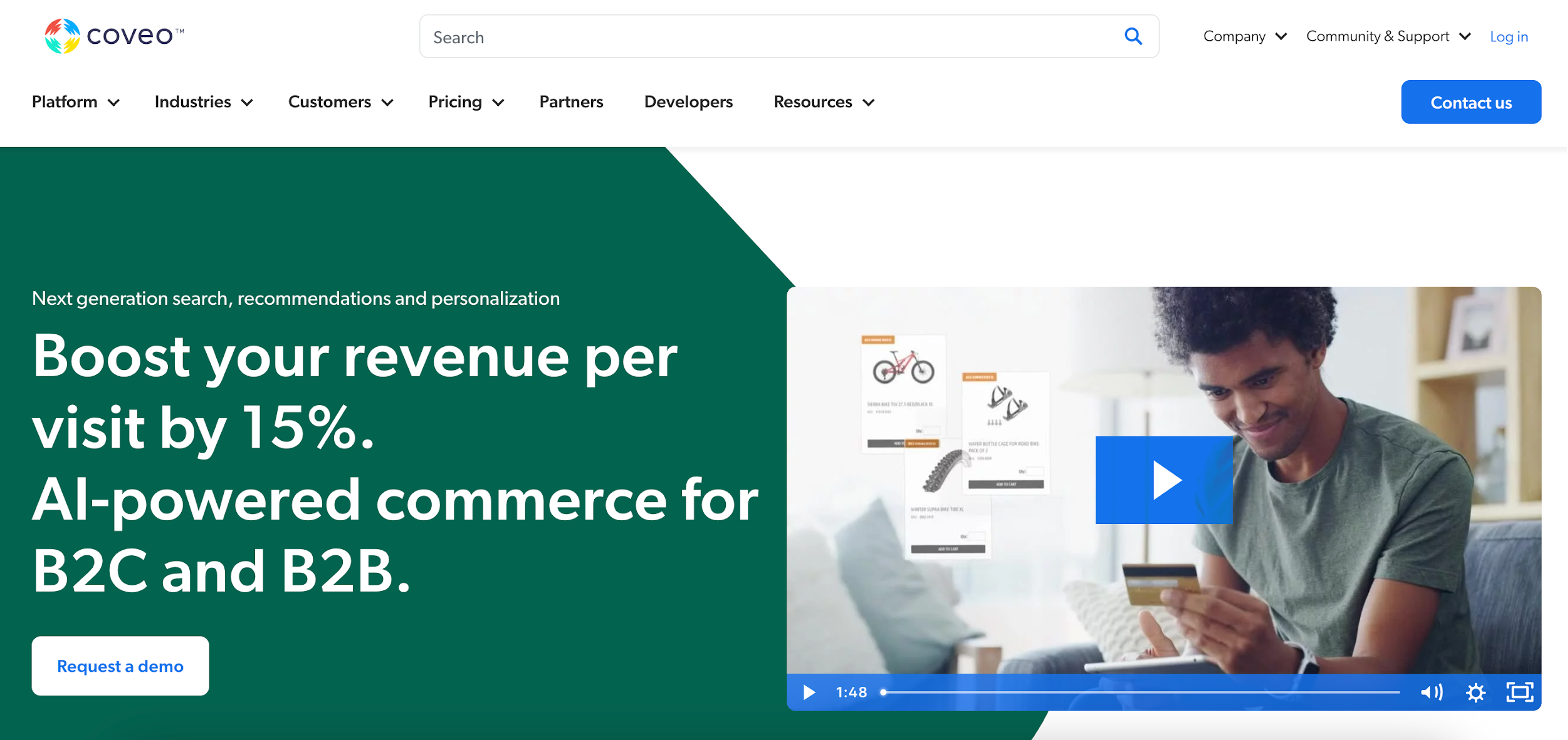 Coveo includes a few separate business systems that use AI to help create value for ecommerce stores. Their most unique features include smart search, which helps customers find the products they're looking for, and customer service assistants, which help resolve cases in a timely manner.
Like the rest of these Personyze alternatives, you can also use Coveo to integrate first-party data and deliver personalized customer experiences.
Pricing: Get in touch with Coveo for pricing information.
5. Monetate: Intelligent customer engagement platform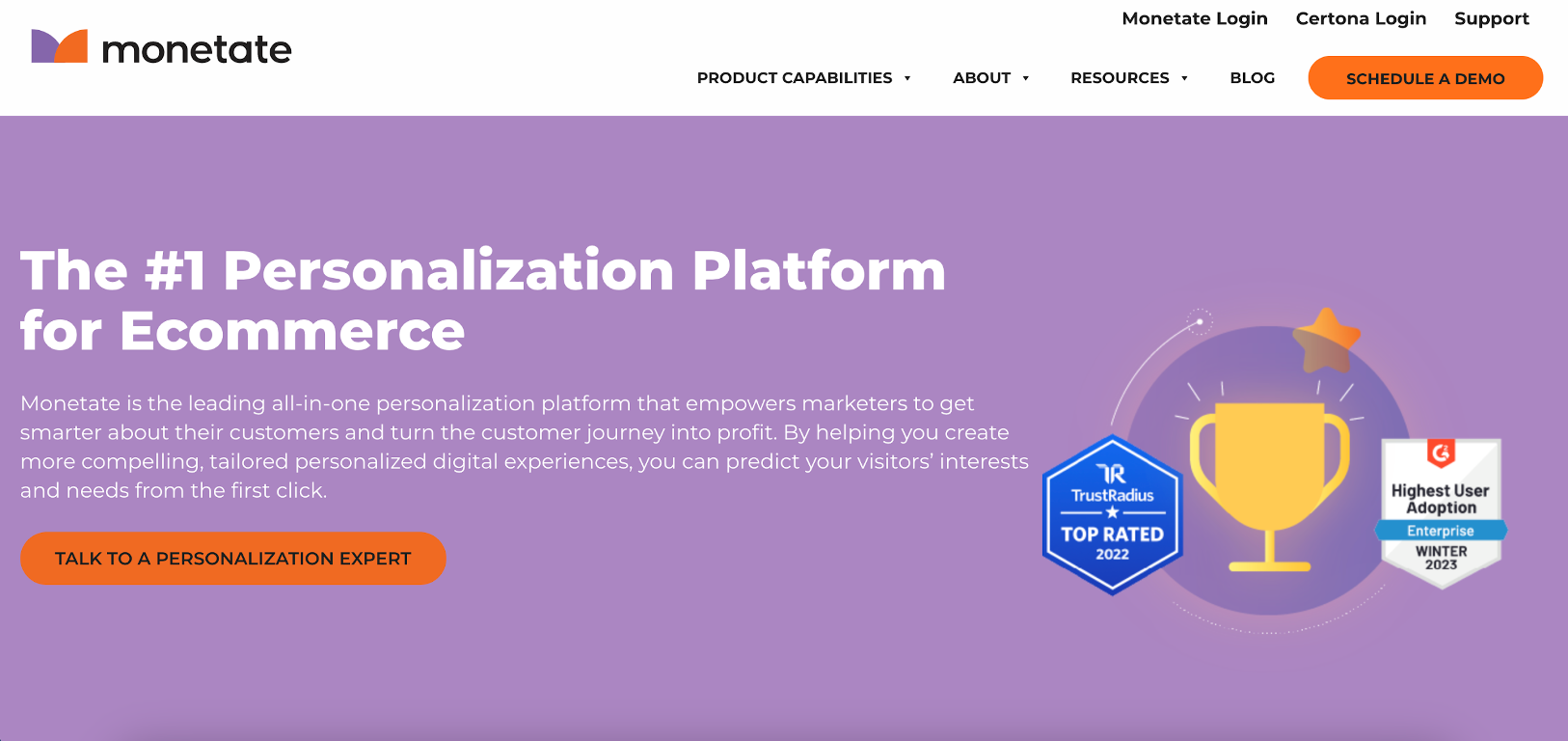 Monetate is another one of the marketing automation solutions on this list that uses AI and predicts global consumer preferences. If you want to make sure that your customers are always getting relevant content, you need to use a tool like Monetate.
This tool also helps you calculate key metrics in order to understand how you can improve your marketing efforts.
Pricing: Monetate has custom pricing, so you'll have to contact sales.
6. Barilliance: Ecommerce personalization tool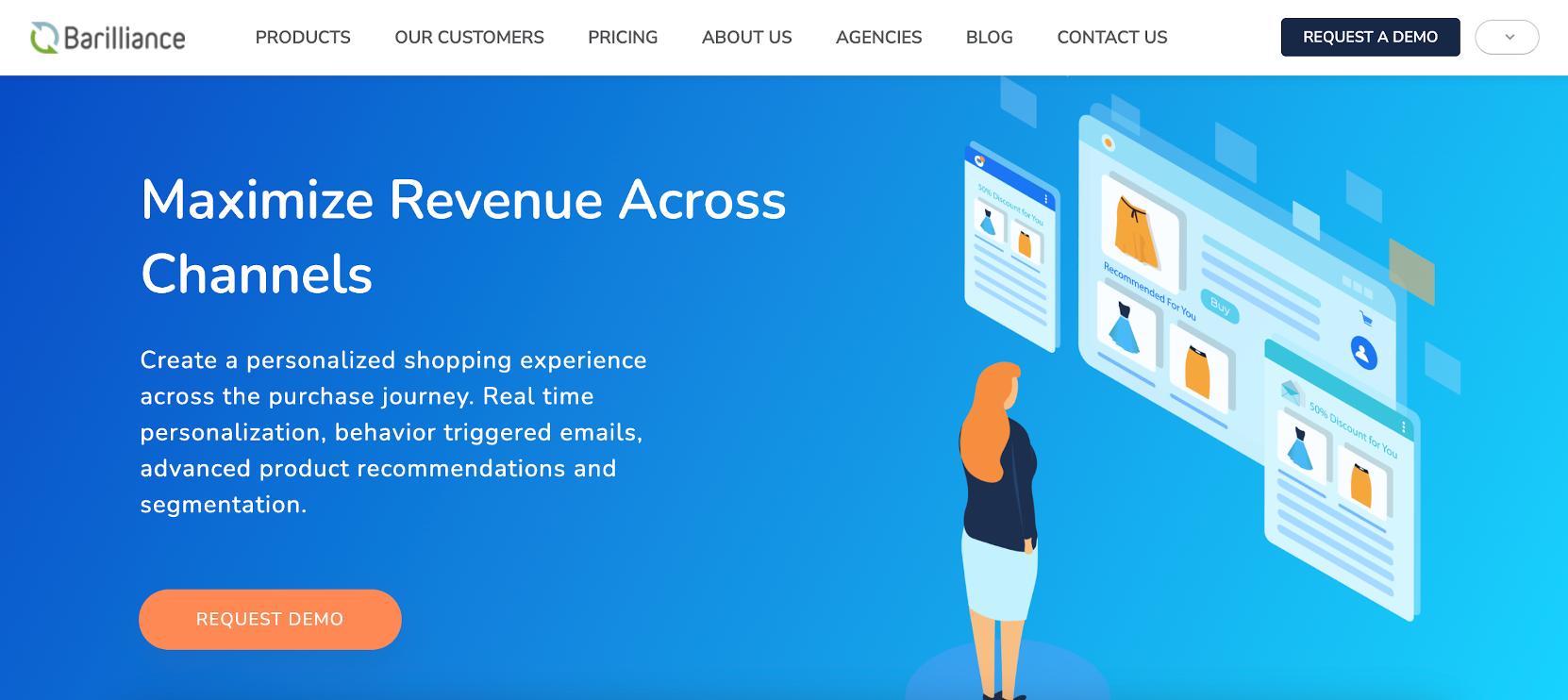 Barilliance is a personalization solution that can help adapt each touchpoint of your customer journey to maximize conversions. If you want to personalize your website based on factors like age, interest, or customer search intent, Barilliance has the tools to help you.
Another useful feature that comes with Barilliance is their customizable opt-in tools, which can help you build an email marketing list quickly.
Pricing: Plans start from $250/month.
7. Kameleoon: A/B testing platform and AI-driven personalization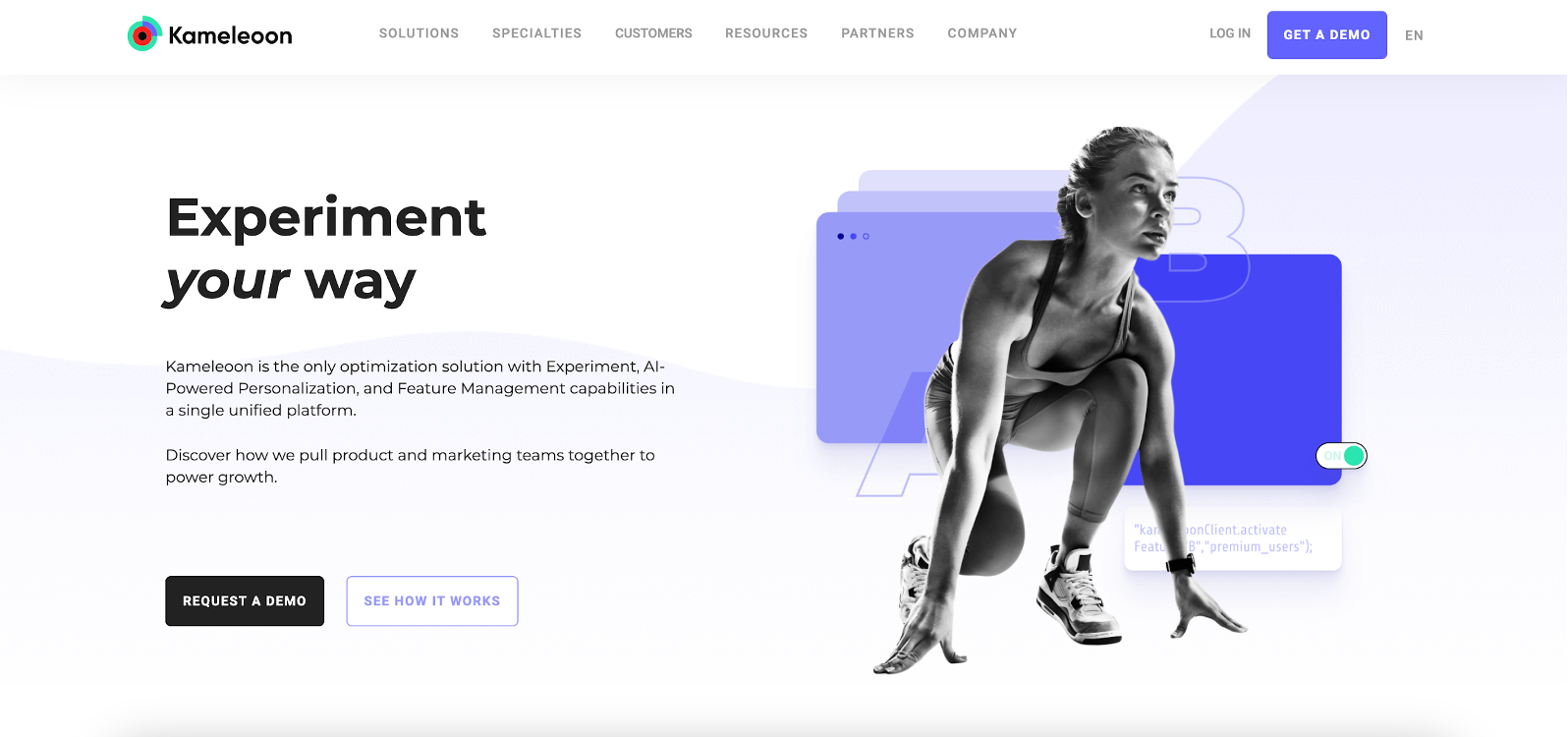 Kameleoon is a powerful A/B testing and experimentation tool that helps ecommerce brands optimize their websites and software. Once you've tested your messaging with Kameleoon, you can be confident as you roll it out to your entire customer base.
Pricing: Get in touch with Kameleoon for pricing information.
8. Nosto: Personalization and customer data platform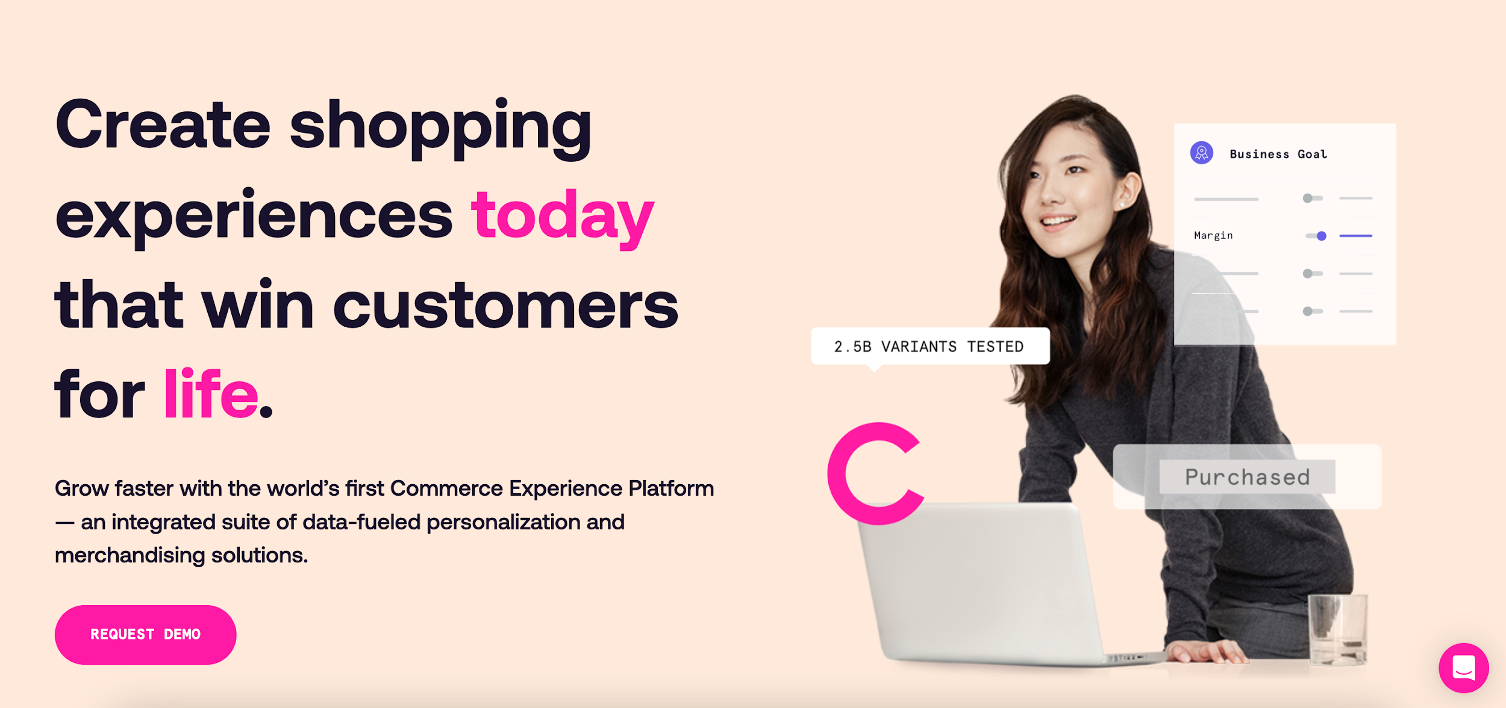 Nosto is a personalization platform that helps enterprise companies segment their audience using AI-powered suggestions. You can leverage all the first-party data you have and integrate CRM data in order to deliver customer journeys that are filled with personalized product recommendations and relevant offers.
Pricing: Plans start at $500/month.
Which of these marketing and analytics tools is best for you?
You want to be utilizing cutting-edge technologies to give your online store a competitive edge in 2023. The Personyze alternatives on this list can help you carry out richer data collection, access deep analytics, and then automate personalized messages.
Achieving scalable business growth is possible using one of these Personyze alternatives.
OptiMonk is the best solution on this list, striking a balance between deep capabilities and ease of use. And, since it's free to sign up, there's no reason not to give it a try!