Attention marketing lovers! We're thrilled to announce that the all-new OptiMonk is here including a new admin interface, new editor, new website, new logo, and new features… All in all: a totally new experience. Make every visitor count with the revised, refreshed and totally improved OptiMonk!
Let's jump into the details 😉
Become a master seller online
OptiMonk started out as an exit-intent popup tool in 2014. Over the past 4 years, we have grown and expanded our mission to become more than just popups. We're now a better way of making every visit count.
Our overall goal remains the same – to help ecommerce businesses succeed. However, we realized that we created something more than a tool for saving lost traffic, we created a user-friendly way to increase revenue. OptiMonk is a human-centric marketing tool built from our passion to make everyone a master seller online.
The question is: how do you become a master seller?
What are on-site messages?
On-site messages give you the power to reach your audience while they're still on your website. Although your website may do a great job explaining your product or services, on-site messages give you a second chance to communicate with your visitors and convince them to take a desired action. For example, complete checkout, sign up for your newsletter, or leave a review.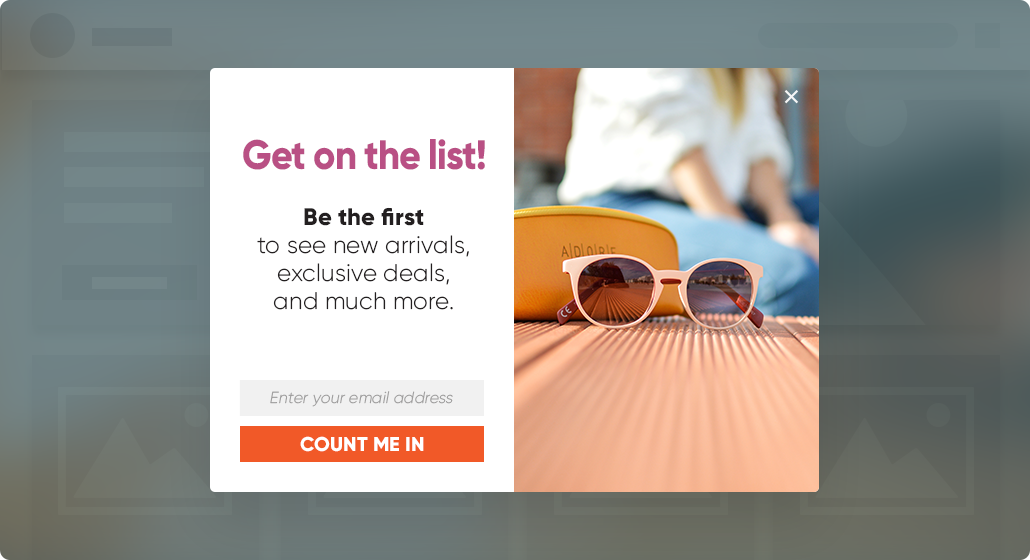 If you're familiar with OptiMonk, you may be familiar with the phrase "on-site retargeting". We used this expression before "on-site messages". At the time, "on-site retargeting" was used to express the original goal of OptiMonk: retargeting abandoning visitors just before they leave your site.
While OptiMonk can still be used to target abandoning visitors and convince them to stay, our new platform can do so much more.

As an online store owner or marketer with growth in mind, OptiMonk gives you all the tools you need right at your fingertips:
1. Capture more subscribers: Most of your visitors aren't ready to buy yet – make them subscribe to your newsletter and turn them into sales later.
2. Promote your special offers: Turn new visitors into first-time buyers and existing customers into repeat buyers by promoting your best offers and incentives.
3. Reduce cart abandonment: Detect potential buyers who are about to leave without making a purchase and show a secondary offer to prevent cart abandonment.
4. Collect feedback: Value your customers by asking for feedback or reviews, and improve your overall customer satisfaction rate.
5. Increase cart value: Increase your average order value (AOV) and generate more revenue from the same amount of traffic.
6. Facilitate social sharing: Build and grow social communities, and reach your website visitors through social media.
We've been working hard to make it easier than ever to get started with OptiMonk on your website. Don't waste time, start your 14-day free trial here and be one of the first to try it out!
Go behind the scenes with our new look
With so many updates to OptiMonk, our brand needed to reflect the changes and improvements we've made. People are using OptiMonk in new ways, and it was time for a new look.
New Brand Colors
When we launched four years ago, it wasn't a coincidence that we chose the orange and gray as our brand colors. Orange represents our creative & adventurous team. While gray and dark colors may seem dull and depressing – they're not! The phrase "gray matter" refers to smarts, intelligence, brains, and intellect.
Those two colors reflect our team perfectly. That's why we wanted to stick with them, but them bolder and more fun. So we made the original OptiMonk brand colors darker. We also added new colors to our brand, like purple that is often associated with power and ambition.
New Logo
After some discussion, we decided to remove the "Monk" from our logo. Not because we don't love him anymore. You'll continue to see him around on the website. Our objective was to create a new logo that provided a dynamic, modern and a professional feel. While the Monk is gone, our logo retains the typical 6 dots that were drawn on his head.
New "Monk"
The purpose of our product is to help sellers stay on top of the latest marketing trends, and we thought that our Monk character should reflect this. The new Monk is more unique and has a positive, youthful and reliable aura. It puts a smile on our face every single time we look at it, and we hope you feel the same.
Now, say hello to our new Monk!
Of course, our new brand is a reflection of all the other improvements we've made in launching the all-new OptiMonk. The biggest changes are inside the software.
Read on to explore the revised and improved features designed to help you connect with your customers and make more sales.
Brand-new interface – work faster and be more profitable
New dashboard to easily get deep insights
Along with the cleaner look and feel of the new OptiMonk interface, the new Dashboard displays all your important metrics in one place. If your inner data-obsessed marketer is geeking out, I feel you.
Top campaigns for quick access
No more jumping in and out of your campaign settings for simple checks and updates. Now you can easily access your top campaigns on the main page of your Dashboard. You can see a preview of each campaign, important metrics, and you can even turn each campaign on or off.
Choose a template that best fits your marketing goal
We have so many templates to choose from, we decided to add the option of filtering our templates by goals. This makes it a lot easier to find the right template for the campaign you want to run.
Just select your goal on the left side (e.g. Capture subscribers) and you'll see the set of ready-to-use templates that can be used for each goal. This really streamlines the creation process.
New, much easier menu logic for quick and effective personalization
This is our personal favorite among all the recent improvements we've made. We worked hard to make it easy to create personalized popups because this is where you prevent your popups from annoying your visitors.
We created a new menu logic which makes it much easier to choose your desired campaign settings. You'll see three options here:
When to show: specify the event here that triggers your message
Who to show: determine the visitors who will see your message
Integrations: connect your campaign with your CRM or newsletter system
What's more, you can add as many triggers, conditions and integrations as you want. It's a lightweight and powerful approach to engaging the right visitors at the right time.
In addition to traditional exit-intent technology, you have four more options to trigger your campaign – ensuring that your message is displayed at the very best moment:
As you can see below, the new settings menu comes with a more straightforward description making it much easier to understand and setup when your on-site messages will be displayed:
We truly believe the power of personalization is what drives sales and we know this is the secret sauce behind all successful OptiMonk campaigns. That's why we paid special attention to refreshing the "Who to show" section.
We worked with UI/UX experts to design an interface that allows you to segment your visitors while achieving delightful customer experiences. The revised look and feel makes it easier to choose who will see your messages – and who won't!
Would you like to learn more about the different personalization and customization options for your on-site messages? Click here to check out our full feature list.
Settings summary to see vital campaign details at a glance
We've upgraded the campaign settings section to provide all the important details in a glance, so you can quickly review and confirm. After setting up all the details of your campaigns, you will now see a summary of the settings on the campaign page.
Global integrations to save you time and effort
With global integrations you no longer need to copy and paste API credentials every time you create a new campaign. From now on you can create a new API integration for your campaigns with previously saved credentials. Just one click and you're all set – it has never been easier.
Not sure which campaign it is? The campaign preview will help.
It can be a challenge when you have multiple campaigns with similar names and you're not sure which one is which. Instead of browsing through a number of campaigns to find the one you're looking for, now you can easily easily see a preview of each campaign in the campaign list. Just like the preview on the dashboard, you'll see important metrics for each campaign along with an image for reference:
In the campaign list, you can now filter your campaigns by domain, device or status to find the one you want. Plus, we've added a search field to make finding the right campaign as easy as pie.
New back-end technology for a faster platform
With the all-new OptiMonk, we've also upgraded the back-end technology behind our platform. Your OptiMonk account will be faster than ever before and still works with all major web browsers.
Even better templates, editor and lead management
Optimized Drag & Drop editor
Our first step towards the all-new OptiMonk was the brand-new Drag'n'Drop editor we introduced earlier this year. The new editor allows you to create and customize your message in less than 5 minutes!
We've made further improvements to streamline the workflow, and it's even easier to create attractive messages that engage your customers:
Beautiful, ready-to-use templates to create your on-site messages quickly
If you love our ready-to-use templates, then I have some good news – we've created more for you. Check out some of the latest popup and interstitial templates we've added to our ever-growing library of designs: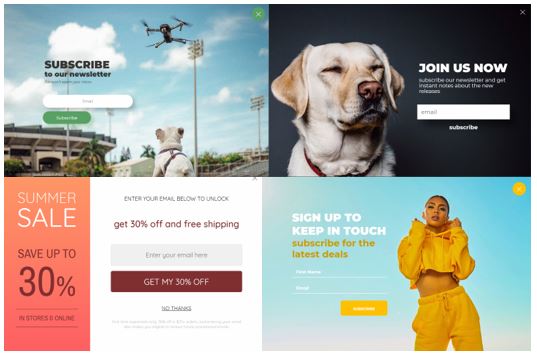 And here's an all-new nanobar template containing a countdown timer to increase the sense of urgency in a more polite way. OptiMonk users asked for this feature, and we delivered:

Wanna see all your leads in one place? Now you can!
The new OptiMonk allows to access all your leads in one place: the new Leads menu. Here you can see a list of all your subscribers; and, you can filter them by date, campaign and domain, or export them to a file.
And finally: our new and refreshed website is live
To reflect all the changes to OptiMonk and improve our own website, we have totally refreshed and restructured it!
The updated site includes changes to navigation, with dropdown menus for both mobile and desktop versions. We've also improved the structure of our blog, so you can find more of the tips and tricks you need when building your campaigns.
All across our website and interface there are a ton of smaller but impactful changes, all of which add up to making the experience of OptiMonk that much better.
Take a tour of our website and discover how to make every visit count with OptiMonk. We hope you'll like the new site as much as we do.
Don't miss our refreshed About us page and the chance to get to know our team 😉
Although OptiMonk is totally revised, refreshed and improved, I can assure you that one thing will never change – we are always here to help you. Our enthusiastic team will support you from right from the start and all the way until you reach your conversion goals.
Ready to give the all-new OptiMonk a try?
We hope you enjoy the refreshed OptiMonk – a faster, more streamlined way to create on-site messages that connect with your customers and increase your sales.
Come check out the new "OptiMonk 2.0" today: create an account or sign in to your existing one and let us know what you think!
Thank you to all of our customers who have supported us. It really means a lot to us to help so many businesses succeed with OptiMonk and we're excited to help even more businesses become master sellers online!
– Nicole Mezei
CEO, OptiMonk