People become accustomed to routines. That's why they – well honestly, me too – will click through websites without a second thought. But as a website owner, you want to prevent visitors from leaving your website without converting which is where the below copywriting examples below come into play.
So, how do you do that?
Attention is the first step towards engagement. You need to grab your visitors' attention and interrupt their typical behavior patterns. To do that, you need to create popups with content that really rocks.
In this article we'll look at the best headlines, essential elements and magic words that will make you a popup copywriting rockstar.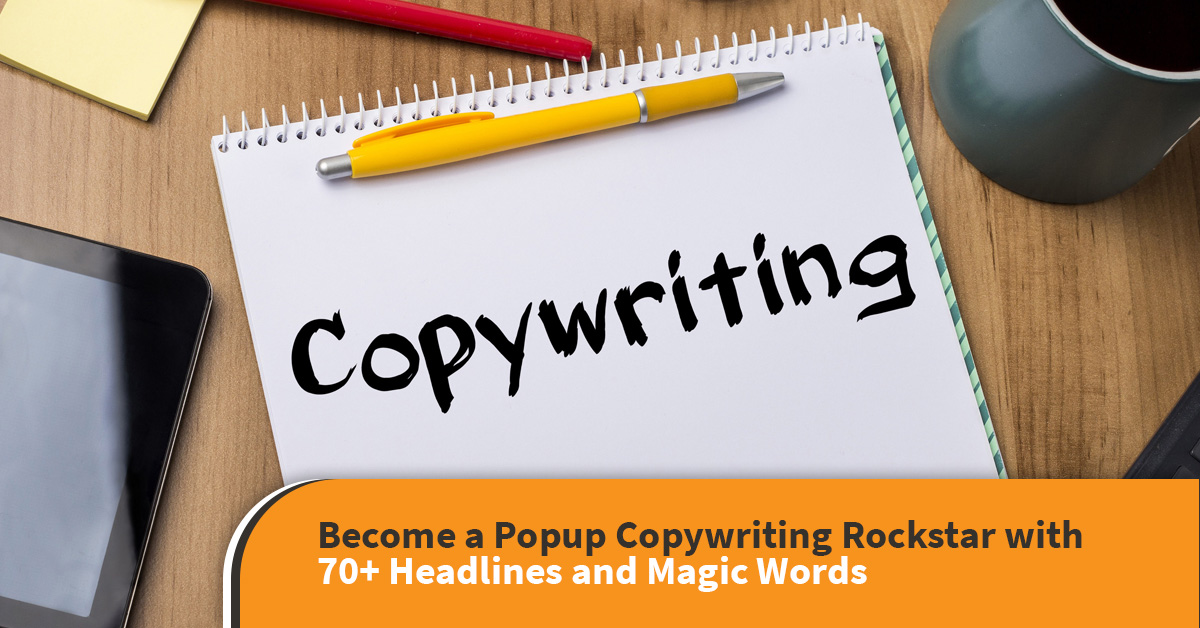 Guide your visitors through the buying process
I'm sure you've already heard about the A.I.D.A. model even if you're not that familiar with marketing concepts. It's probably one of the best known marketing models, and represents a very linear view of the purchasing process. A.I.D.A. stands for awareness, interest, desire and action.
This model reflects what I said earlier. Attracting attention, or raising awareness is the first step in the process. Onsite retargeting is a great way to grab your visitors' attention and interrupt their typical routine of clicking from one site to the next.
Using one popup, you can guide your visitors through all the steps of the buying process.
The first step raises the awareness of your visitor by displaying your popup. After you've got their attention, you need to maintain their interest with the content. A good example is to provide a solution for their particular problem.
Next, you need to create desire, for example by giving a discount or offering free shipping for a limited time. The final step of the process is getting your visitor to take an action. This is why you should always include a call-to-action, a button or link with a clear message to take the desired action, on your popup.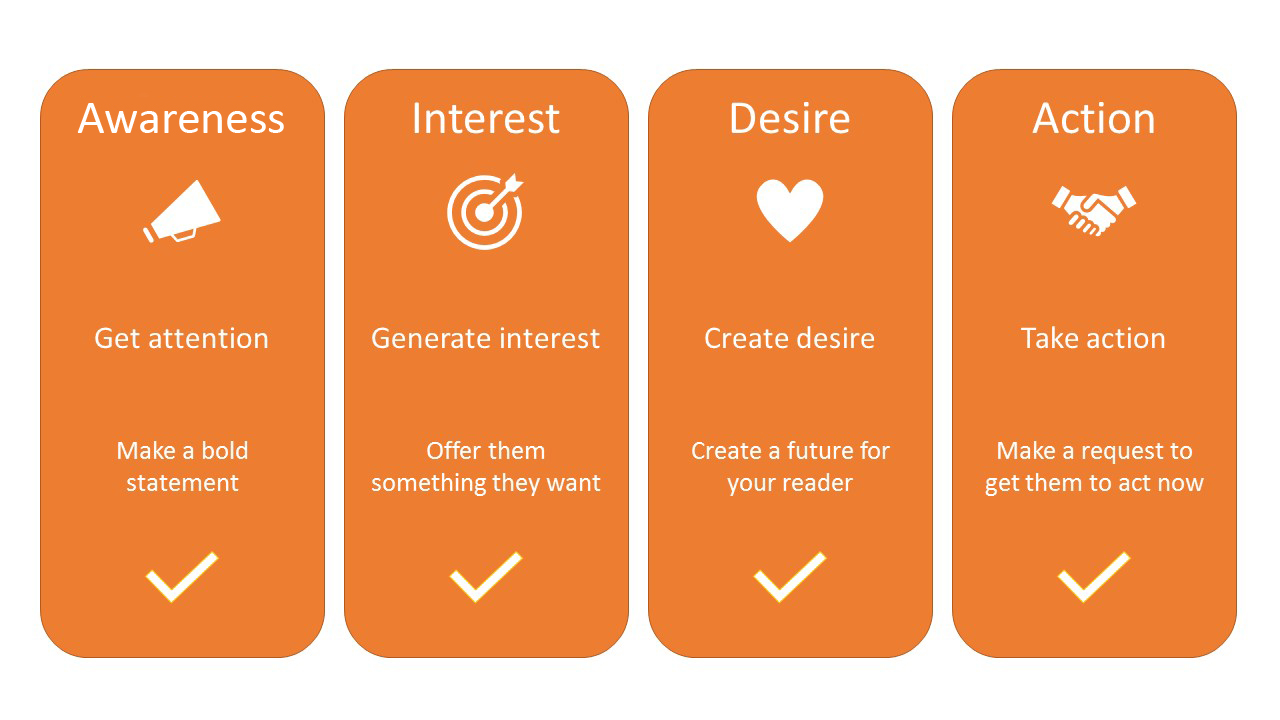 A well-timed onsite retargeting popup also guides visitors through the purchase process by eliminating distractions and limiting choices. It causes visitors to pause and consider your offer again – addressing many of the psychological factors that can delay decision-making.
Here are some additional ways you can use your popup to encourage a purchase decision:
Make one irresistible offer
Describe different benefits, including rational and emotional explanations
Display customer reviews, or expert opinions
Set limits: deadlines, discount thresholds, etc.
Tests to run on your popups
While we've provided some examples of best practices based on our experience, you'll see the most improvement by optimizing your campaigns based on actual results on your site. A/B testing allows you to test different versions of your popup and choose what works best to improve your conversion rates.
When A/B testing or split-testing different versions of your popups, you should evaluate changes to the design and content, but make sure to only make changes in one or two elements at a time. Otherwise, you won't have a clear picture of what works and what doesn't.
Here are some different elements you should test to determine the most effective popup for your visitors.
Headline: After brainstorming a dozen headlines, start with 2-3 variations. When creating different headlines, you can test different sentence lengths, or replace certain words and expressions.
Call-to-action (CTA): Experiment with a few variations of your call-to-action, i.e. – "Get started with your free eBook", "Sign up for a free eBook" or "Subscribe to get your free eBook".
Change CTA button color: It's also worth testing the color of your CTA. Usually, the CTAs that get the most clicks stand out from the rest of the design.
Place the button in different locations: Analyze how different CTA placement can impact your conversion rate.
Font style and treatment: How you present your content matters. Test the font style, color, size, and other text treatments to see what works best.
Images: See which images are the most compelling for your customers by testing different graphics and images.
Offer: Your offer plays an important role in the success of your onsite retargeting campaign. You can test percentage discounts vs. dollar amounts. Or, see what works better: free shipping based on cart value or the number of items in a visitor's cart?
(Note: Would you like to learn more about popups and OptiMonk? Click here and download our free ebook that contains over 100 pages of tips and best practices for engaging and reengaging your customers and boosting the sales on your site with onsite retargeting.)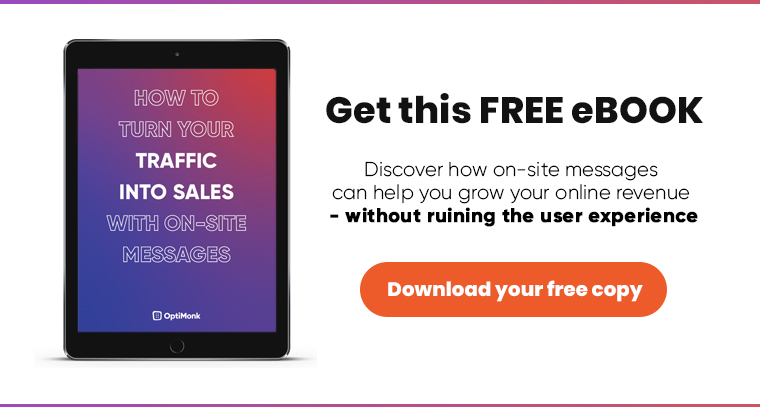 How to write a catchy content
All popup optimization efforts confirm that copywriting is crucial to achieving good results with popups.
"What words should we use? What headline will perform best and get visitors attention?"
Questions like these come up all the time, right?
There are a few basic rules that will help you become a popup copywriting rockstart who's cranking out content that converts. Here's what works best:
Keep it short: When you show a popup to your visitors, you only have 1 second to get their attention, especially if it's an exit-intent popup. They don't want to read a huge amount of text when they are trying to leave your website. Use short, simple and clear text to get your message across in a second or less. According to CoSchedule, blog post headlines with 6-7 words typically get the best results. We experienced that this rule works well with popup headlines too.
Stay accurate: Accuracy is important because it sets clear expectations for your readers about what they will get from your offer. You will lose your subscribers' trust if you set high expectations in your content that you can't fulfill in the offer.
Make it emotional: Instead of listing product features, focus on your value proposition. Use power words like "free" and "easy". Using the word "you" is also a great practice to write emotional headlines that speak directly to your visitors.
Create urgency: If your offer seems like it will always be available, visitors have no immediate need to make a purchase. Create a sense of urgency by adding a deadline or use time-sensitive language such as: "Offer expires tomorrow", "Only for a limited time" or "Last chance".
Tailor your CTA: Make your CTA more specific than "Click here". Instead, try to make your CTAs clearly indicate your offer. Rather than a CTA which simply says "Download Now", it's better to use a phrase such as "Download Our Free Guide Now".
Offer a solution to a problem: Figure out the biggest problem your visitors are facing, and offer a solution on your popup. You can even ask your existing customers what problem your product solved for them. It's a great way to stay in touch and create content for a well-converting popup that attracts new business.
25+ magic words to use on your popup
Take a look at the word cloud here for the top 27 magic words you should use on your popups. Next time you design an onsite retargeting campaign, don't forget to use at least one of these magic words.

50+ popup headlines that convert – copywriting examples
After reviewing and analyzing a number of popups created by OptiMonk users, we've built a list of the 50+ headlines that performed the best for them. Grab a few and then test to see what works for your store:
Promotional Headlines – The aim of these headlines is to sell.
Check out now and receive [number]% OFF
Get a $[number] gift card
Take [number]% off your first order
Sign up now for an instant [number]% off coupon
Save [number]% now!
Sale at [webshop]! Up to [number]% off!
Enter your email for a special discount
Join our email list and get free shipping today
Get [number]% off your first purchase
Urgency Headlines – These headlines add a sense of urgency to the message.
Last chance! [number]% of all products ends tomorrow!
Here's $[number]off. This purchase only!
Check out our exclusive offers – only for a limited time!
Free shipping if you complete your purchase within 15 minutes
Free shipping on orders over $[number]. Offer expires on [date]
Sign up to our newsletter to get [number]% off! Hurry, offer ends in 3 days!
Email List-Building Headlines – The main goal of these headlines is to collect subscribers, but you can include an offer too.
Keep up with the latest news
Sign up for the newest [industry] tips you won't want to miss!
Sign up to get an exclusive sneak peek into [blank]
Subscribe to our newsletter and get our ultimate guide for FREE
Get a free copy of [ebook]
Before you go… Grab your free eBook
Join [number] of customers already enjoying [benefit]
Enter your email for your chance to win
Get your free membership today!
Don't miss out on our amazing offers!
Enter to win your dream [product]
Subscribe for access to email-only deals
Receive special offers only available to subscribers
Enter your email and get a free gift!
Sign up to receive your promo code
Get the latest tips from top influencers
Get free instant access
Question Headlines – These headlines pose a question to your visitors. The goal with question headlines is typically to make visitors click on "YES" in response to your question.
What are you waiting for? [number]% off
Up to [number]% off [product]?
Are you ready to boost your [blank]?
Do you want to boost your [blank]?
Want to score [number]% off your first purchase?
Are you ready? Get your bonus right now!
Leaving so soon? We just wanted to give you [number]% off…
Command Headlines – These headlines will clearly tell visitors what to do.
Wait! We want to give you a [number]% discount for your first order.
Wait! You forgot your free copy of [ebook]!
Wait! Grab this free eBook!
Don't miss our special offer!
Grab a free [something] now!
Direct Headlines – These headlines are straightforward and get right to the point.
Get free shipping
New products in stock
[number]% off
$[number] off any [product]
Conclusion
Now that you've got a better understanding of the purchase process, some essential elements to test on your popups, and bunch of headlines to grab from, you're ready to rock when it comes to writing content for your popups.
Remember to test and see what works best. It's always good to check with existing customers to learn what influenced their decision to make a purchase. One more tip: offer a discount in exchange for completing a brief survey. Your customers deserve a special thanks for their opinion too!
What was your best-converting headline that really rocked? Share it in the comment section below.