The Golden Quarter is almost here. And you know what that means. Shoppers are in a shopping frenzy—from October to New Year's Eve.
Use this time to plan deliberate sales promotion strategies to increase revenue and set your business up for a successful upcoming year.
In this article, we'll show you different sales promotion ideas to attract potential customers and grow your revenue.
Let's check it out!
5 types of sales promotion ideas
To help you get started, we've collected some real sales promotion examples and grouped them into 5 types of sales campaigns. These sales promotion ideas will help you to grow your business and get more loyal customers.
The end of the year is full of opportunities for seasonal sales campaigns. Take a look at what's trending!
Create spooktacular sales promotions for Halloween
Halloween is a great chance to drive revenue for all online business owners—no matter what you're selling.
You can get your website looking spookily festive by updating your backgrounds and home page banners. 
Customers appreciate a little personality, so delight them with a fun Halloween-styled popup that promotes your sale:
Get the most out of Black Friday
Black Friday marks the beginning of the yearly Christmas shopping season.
Your customers are typically in a rush and looking to score the best sales promotions of the year.
Most of them will visit your website while at work or in the grocery store. While some shoppers might be comparing multiple businesses at once.
Therefore, it's important to assume that they won't spend too much time researching your deals. To capture their attention right away, create a popup to tell site visitors about any deals you have. Direct them right to your Black Friday sales promotion page.
Here's an example of a short and snappy Black Friday popup. It immediately shows customers what they came for—the discount and the coupon code: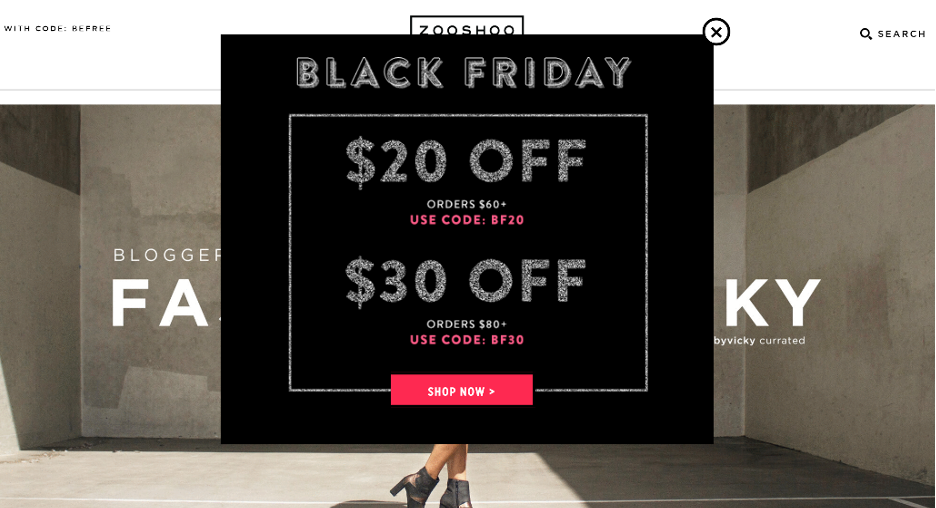 Try out our ready-to-use templates to do something similar:
Help Christmas gift shoppers 
During the Christmas season, people tend to be generous with their spending. Seize this opportunity to sell more products. 
Well-targeted popups are a powerful tool to build awareness, drive engagement on your website, and fuel sales.
To engage people who land on your site, run a Christmas contest just like Extreme Digital did in the example below. 
They offered two choices, segmenting their visitors based on preference—showing ideal products for different needs. On the second page of the popup, they asked for an email address.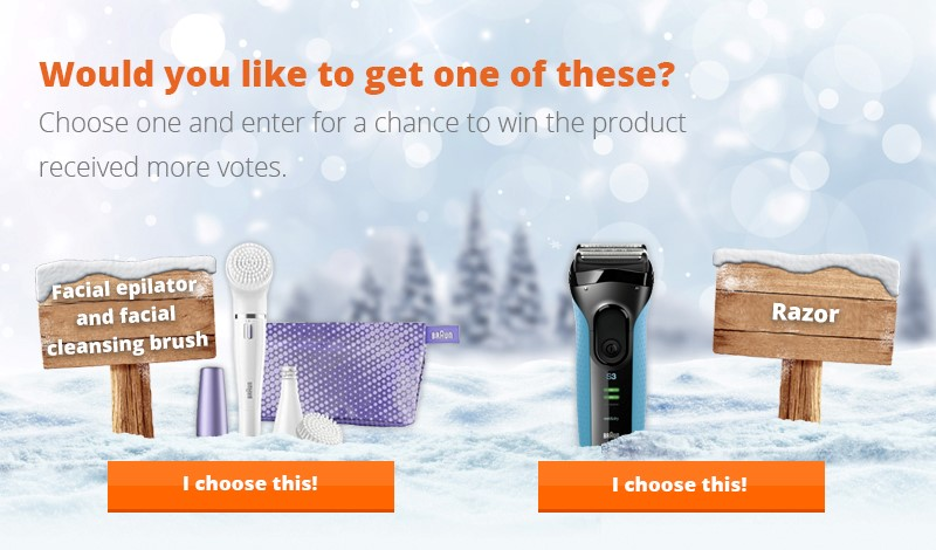 This helped Extreme Digital to better personalize email communication for these subscribers. It resulted in revenue growth. 
Why? The more closely your product recommendations match the interests of your visitors, the more likely they are to buy. 
Run after Christmas sales to boost your business
After Christmas, ramping up your post-jingle bells' sale is a great way to sell any overstocked products. Not to mention—it's an awesome technique to cash in on all of the gift cards people got for Christmas.
For a successful post-Christmas sale make sure customers know that you're selling out all of your seasonal stock.
Blast your sale campaign over social media, across your site with the help of popups, and promote it in your email campaigns.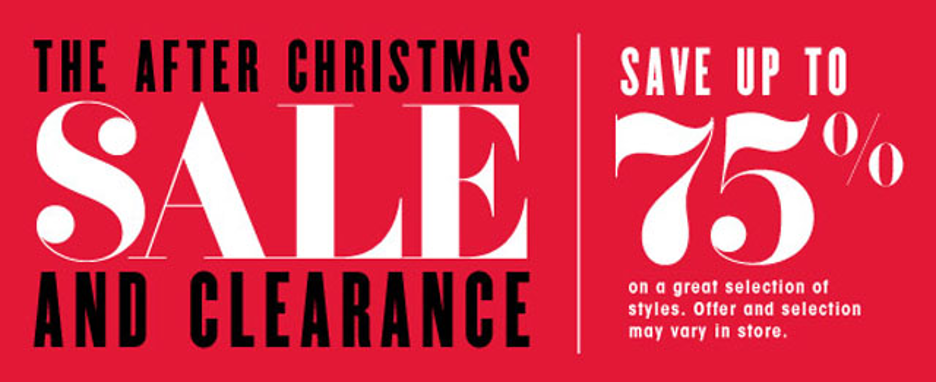 A flash sale typically lasts for a short period of time—from 24 hours to a few days. And it generates an average of a 35% lift in transaction rates. 
A successful flash sale creates a sense of urgency and hype. With the right marketing campaigns, you will drive a huge amount of traffic to your site. And you'll incentivize your visitors to also purchase non-sale products. 
To give your flash sale an elite feel, offer shoppers a unique discount code that they can use to save money. Also, promote your discount in your email marketing campaigns so your customers won't miss it: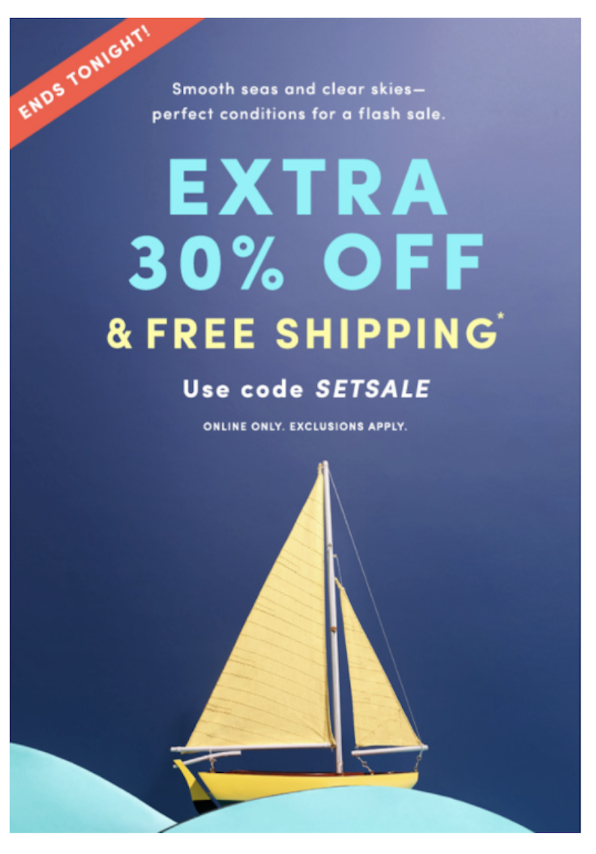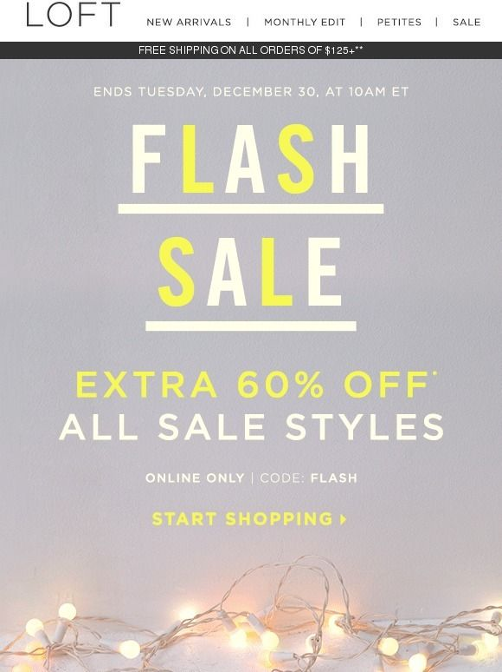 3. Buy one, get one sales (BOGO)
People always like to get more for less. This makes them feel like they're getting an awesome deal. And it pushes them to buy more—which increases your sales. 
You'll typically see BOGO followed by a percentage off—like so: Buy One, Get One 50% Off.
Researchers found that BOGO sales are more effective than percentage discounts. Approximately 77% of people selected a high BOGO discount instead of a percentage-off discount. When the BOGO discount was lower, approximately 72% still went for BOGO over a discount-off deal. 
Experiment for yourself by testing discount deals versus BOGO offers for a two-week period. Here's what Colourpop did: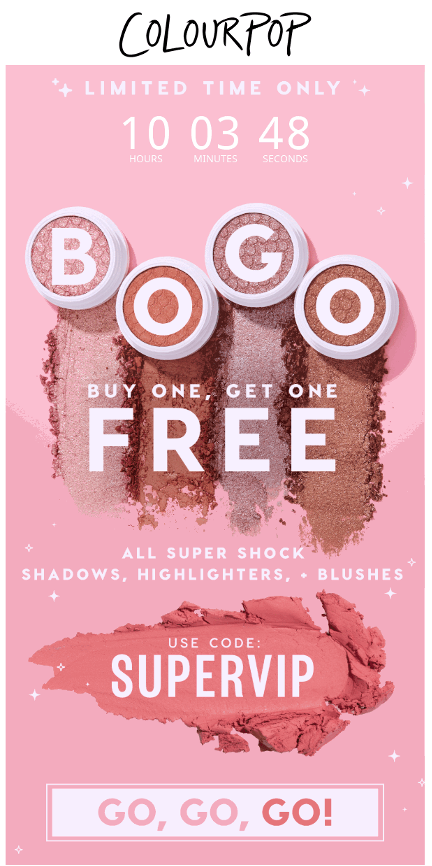 Coupons and discounts are the most popular type of sales campaigns. 
They're great for cart abandoners or visitors who are not yet sure about making a purchase. This is especially important during the holiday shopping season when customers jump from site to site—trying to find the perfect gift at the best price.
Discount codes and coupon codes create a sense of urgency. 
Visitors will feel that they only have a limited amount of time to bag a brilliant promotion deal on a desirable item. This can jolt them out of the frenzy and uncertainty that can characterize our shopping habits in the run-up to Christmas. 
You should make discount codes and coupons a regular feature of your marketing promotions for the upcoming year too.
93% of shoppers admit to using a discount code or coupon at some point during the year. 
The best way to boost your sales—now and throughout the year? Feature them in exit-intent popups just as someone is about to leave your site. Most people will find them too hard to resist, and they will head through to the checkout! 
Here's a selection of some of the best popups to help you accomplish this: 
Brands like Gymshark have carved out a niche by offering sales only twice a year. This adds an element of exclusivity that makes their brand super desirable to their target audience.
Moreover, a recurring sale creates pent-up expectations. So when it comes around, their customer base is ready to spend.
Want to try this out for yourself? Why not test it to see how it performs in comparison to your normal sales schedule this upcoming year.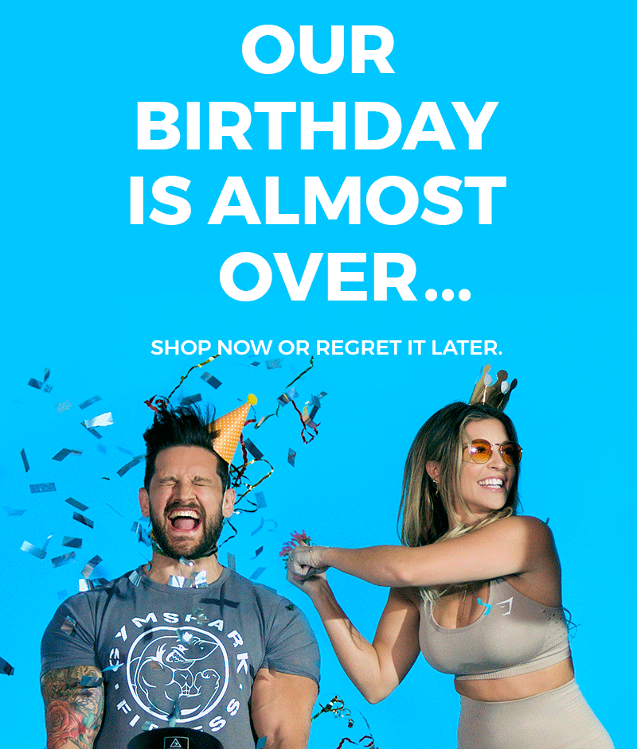 Sales campaigns to spike your year-end promotion
As an ecommerce business owner, you likely already know the revenue and growth potential of the Golden Quarter.
The key to boosting your ecommerce sales is in the details. A well-written, creative sales proposal will leave potential customers wanting more and with an overwhelming sense of urgency for you to provide what they need so quickly!
But it's easy to feel stressed and overwhelmed trying to figure out which sale campaign ideas will work best to max your revenue. 
From flash sales to seasonal sale promotion strategies, we showed you some sure-fire tactics to grow your revenue during the most important shopping period of the year!
What's your plan to boost your end-of-year sales? What's your favorite sales campaign idea? Let us know in the comments.