As marketers, it's always a struggle to know exactly how effective our actions are. Whether you've just implemented a new tool or launched a new campaign, you want to make sure that it has a positive impact on your revenue, right?
Basing your marketing decisions on your gut instincts isn't the best idea—you need real data. You need to be A/B testing!
In this article, we'll share 5 easy-to-implement A/B testing ideas that will help to grow your revenue.
Let's get started!
Why do you need A/B testing?
Let's use an example to understand why A/B testing is so important.
Say you've set up a welcome popup for new visitors that encourages them to subscribe to your newsletter in exchange for 10% off their first purchase. The popup has a solid conversion rate, which you can also see reflected in the assisted revenue.
This is a good sign that your campaign is making a real contribution to your bottom line, but is it making the best possible contribution?
An exit-intent popup with a teaser might actually work better, or perhaps an embedded form would be best.
You can make assumptions, but you won't know anything for sure… unless you test it. By using A/B testing, you'll get the answers you need to keep improving your marketing strategy.
5 ideas on what to A/B test (with real-life examples)
Ready to see what kind of results you can achieve with A/B testing? Check out the real-life examples below for inspiration about how to get started.
1. A/B test the design of your messages
The most basic kind of A/B testing is when you test different design variants, CTAs, colors, copy, or images in your messages.
DTC brand Obvi tested two different variants for their discount popup: one with a countdown timer and one without.
Their hypothesis was that a countdown timer would increase the sense of urgency and result in higher conversion and coupon redemption rates. And they were right! The variant with a countdown timer converted 7.97% better than the one without a timer.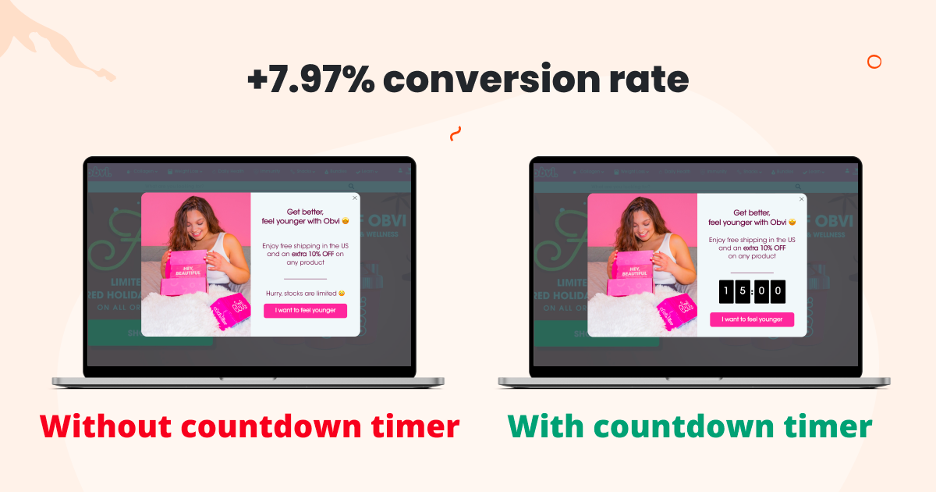 This can be done easily with OptiMonk's Variant A/B testing feature. Here's a step-by-step guide on how to set it up.
Keep in mind that you shouldn't change more than one thing when you test design variants against each other. If you change too many things at once, you won't know why each variant is performing better or worse than the others—and you won't be able to use what you learn in your next campaigns.
If you'd like to test multiple elements, you can simply set up more variants or test a new element every few weeks, making it a continuous process.
2. A/B test the effectiveness of teasers
Here's another example from Obvi. They A/B tested two variants of their Black Friday popup: one with a teaser that showed up before the popup and one without a teaser.
After running a one-week test, they happily noted that in the case of the "with teaser" variant, the number of SMS subscribers and the campaign's conversion rate was 36% higher.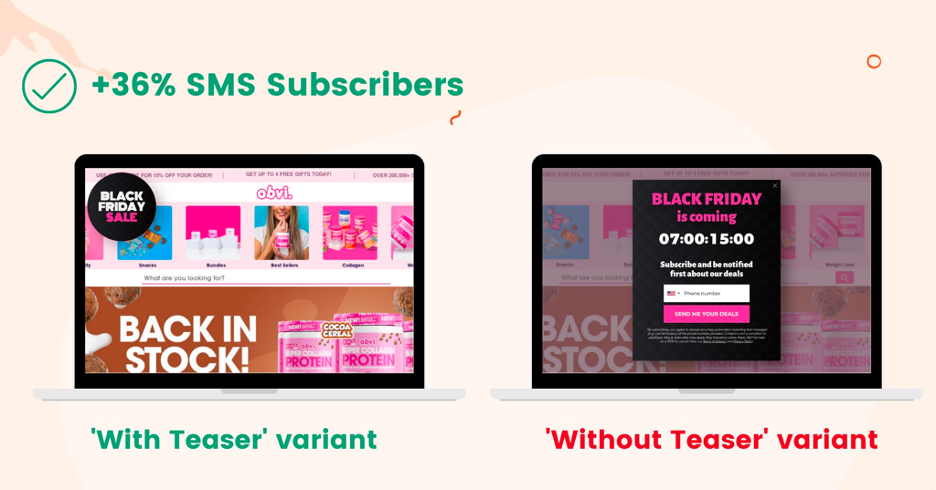 Again, you can use the Variant A/B testing feature to test this idea.
While teasers were really effective for this campaign (and we think they're a great asset for popups in general), it doesn't mean that they'll work the same way for every campaign and for every target audience. That's why we suggest testing them for your own website.
3. A/B test different types of campaigns
Do you love a lucky wheel but you're not sure if it's working better than a simple email list builder popup? Test it!
In fact, you can test any campaign type against any other.
Some examples worth testing:
Popup vs. embedded message

Popup vs. sidemessage

Popup vs. fullscreen

Gamification template vs. standard list builder

Conversational popup vs. welcome popup
The Christopher Cloos team A/B tested a classic welcome popup and a more personalized conversational popup to see which produced better results.
They performed a one-month test and found out that the conversational popup converted at a 15.38% higher rate than the classic welcome popup.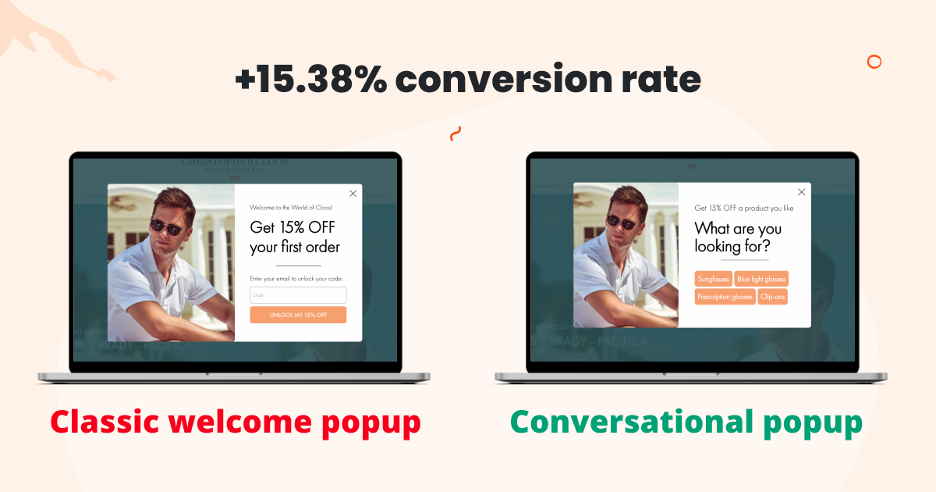 To compare the results of two different types of campaigns, you'll need to use OptiMonk's Experiments feature.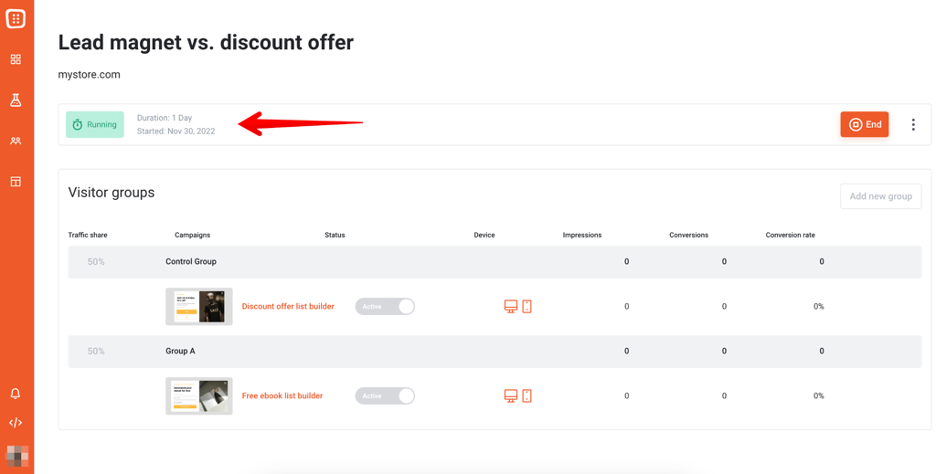 If you'd like to learn more about Experiments, check out this video:
4. A/B test different triggers
Not sure if you should use an exit-intent trigger, a scroll-based trigger, or a time-based trigger? You can easily test which triggering option works better for each of your messages with the Experiments feature.
For example, you could test your email newsletter popup with the following triggers:
Showing the popup 5 seconds after the visitor lands on your site

Showing a teaser after 5 seconds and showing the popup on exit intent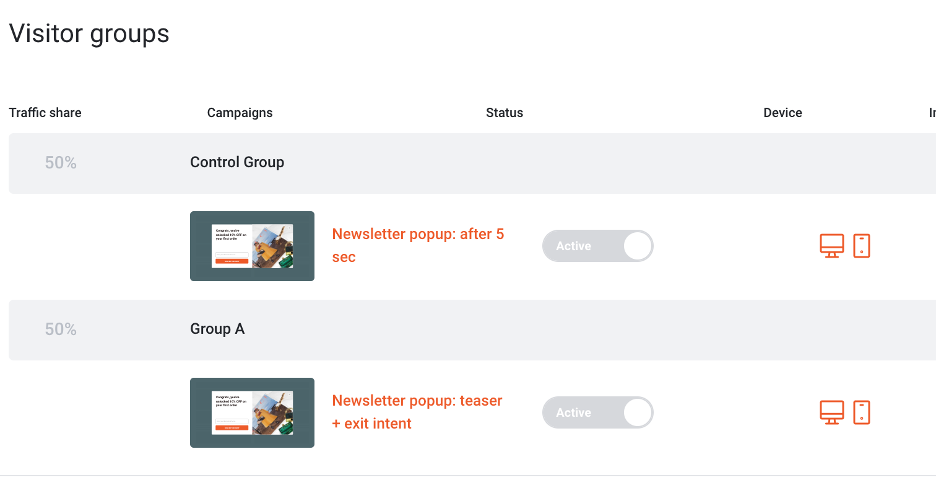 5. A/B test landing page headlines
Finally, you can test headlines on your landing pages using embedded content and Variant A/B testing.
If your USPs are not perfectly defined, or you're still not sure what type of headline will resonate best with your target audience, you can test different value propositions in embedded content. This will help you discover which USP lures the most customers.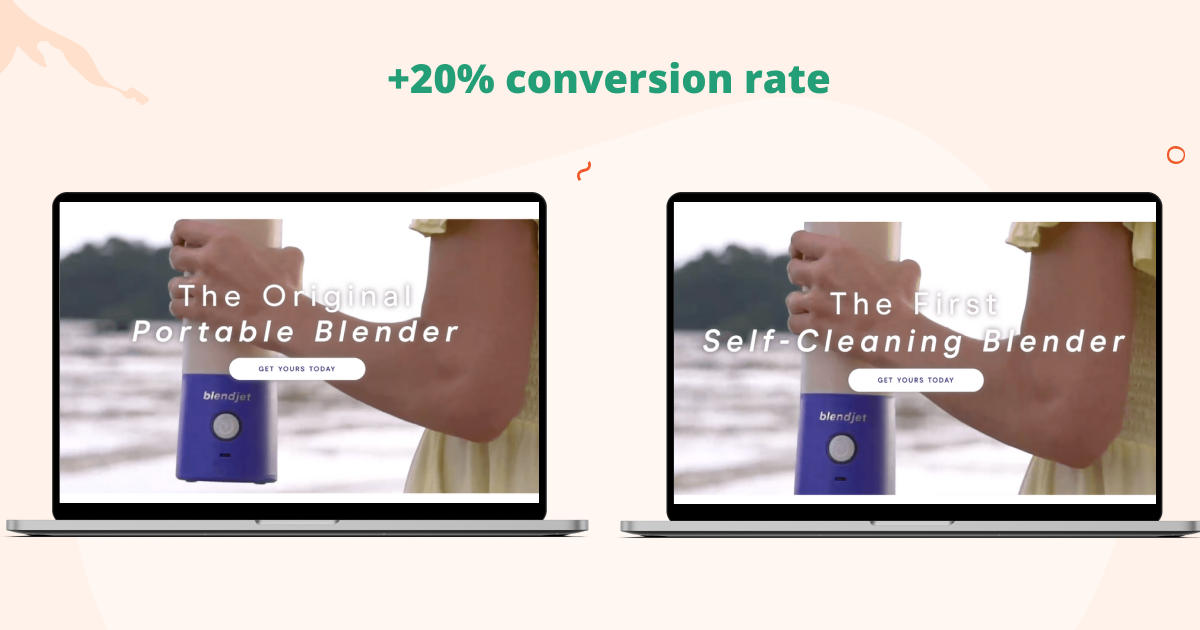 Whether you're investing time or money (or both) into your new campaigns, you need to make sure that they're worth the investment. With the right software, you'll have no problem knowing what's working and what you should improve.
Experimenting is a vital tool for optimizing your campaigns and maximizing your marketing ROI.