Ever since 4G and smartphones went mainstream the use of mobile devices to shop online has grown dramatically. The first major indicator of things to come was in 2015, when mobile Google searches overtook the number of desktop computer searches for the first time.
The phenomenon of "research online, purchase offline" or (ROPO) whereby shoppers research products online while in store, looking for online deals, reading reviews and carrying out price comparisons became commonplace, a trend now leveraged by retail chains globally, providing discount coupons and other special offers to website visitors to incentivize purchase.
More recently, the mobile share of total ecommerce reached 58.9% ($1.4 trillion) (according to Statista), and this figure will only grow.
Every year the drumbeat of mobile first gets louder, fueled in part by the rise of text to voice technology, making it easier to navigate on mobile devices and input text through speech to text recognition. Looking forward to 2019 and beyond as 5G is rolled out more widely and as costs decline, retailers and app makers will make it easier and easier to purchase via a mobile device.
Therefore we say that the megatrend for 2019 and beyond is more of the same, with more consumers choosing to shop and purchase with their mobile devices.
Here within lies several hurdles for vendors to overcome to leverage this growing trend.
Challenges for Ecommerce Marketing in 2019
With the mobile share of total eCommerce increasing significantly the below points need to be addressed urgently for most ecommerce website owners.
How to leverage mobile shoppers and turn them into customers.
How to track users throughout a multi-device customer journey?
How to reach their target group on the mobile.
How to increase conversion rates on mobile devices
How to get the most out of Mobile Advertising?
The changing consumer behaviour toward mobile ecommerce has greatly impacted on how we interact with customers over recent years. Facebook has been instrumental in the rise of mobile advertising and re-targeting.
The tight integration of Facebook messenger with its other offerings enables the Facebook platform to provide true multi-device tracking, in addition, their mobile apps and the Facebook platform has unified advertising and inbox.
This article, however, is about how businesses can resolve the question of how to implement a new mobile-first multi-device landscape with their own website.
Google Signals: How to track users throughout a multi-device customer journey?
Googles new Google Signals platform will exit Beta during some time in 2019. It is specifically designed to track users across all their devices. This is achieved by issuing universal user id's to every website visitor, so when they do become a customer you have all their interaction data even before their identification.
The impact of free cross-device tracking will cause a sea change in how we interact with audiences, no doubt causing a big increase in mobile advertising. It also poses a serious challenge to the dominance of Facebook in the retargeting advertising space.
Mobile First – The first touch point.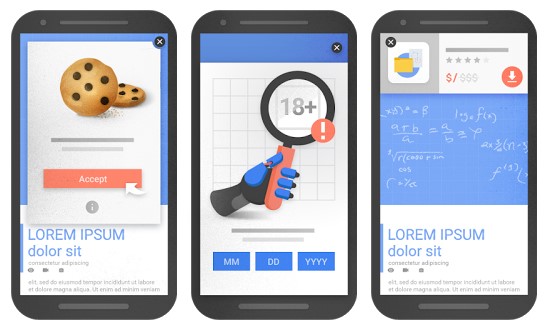 What mobile first means is that Mobile devices are the first touch point, the place that customer first encounters your brand during the consumer journey. People are leveraging every free moment to search and research, on buses, trains and taxi's to search for things they would like to buy.
One of the most critical rules of CRO is to alway's do everything possible to get people's details before letting them leave your website, a relatively simple task on desktop devices is made very difficult for users with smaller screens and commuting in moving vehicles.
In 2019 emphasis will be on capturing data of visitors while on mobile devices, – during the first contact, because currently, this is far from effective on most websites.
This is made more difficult by the fact that on the first interaction, visitors linger for shorter periods of time when on mobile devices than those on desktop (bounce rate is ever increasing) and they are less likely to check multiple web pages.
If they are interested in what they find, they tend to come back using secondary devices, either tablets or desktops when time allows, hence the rise of the term multi-device marketing. This is where Google Signals will play an important role.
This can be achieved with personalized messages and offers, that lead them through the consumer journey down the conversion funnel to become a customer (will come back to this).
CRO tools are evolving rapidly to provide a solution to the mobile problem, putting mobile first.
Onsite data-driven personalized messages or popups, – if you use them in the first place, are often problematic for mobile users because they are often not mobile responsive and people hate to have to type their details into form fills on a moving train.
Hence most websites exclude users from seeing personalized messages at all.
It is a little ironic that many companies are spending vast amounts of money on mobile advertising campaigns without the ability to catch visitors details effectively when they do come to their website, they are literally throwing money away.
Another issue mentioned above is that many tools can't track users across multiple devices effectively, so how do you know which message to show them and on which device? But as I mentioned above the Google Signals Platform is likely to be the answer to this question.
Finding the right product
The success of an eCommerce store relies heavily on the product you sell. To begin with, you need to make sure that there is a sustainable demand for your products. Fads like 'fidget spinners' come up all the time and picking such a category would mean that your success is dependent on factors outside your control. Take a good look at the Google search trends for your category to ensure a steady, growing demand.
The ideal product is also determined by other factors like product type, shipping times, buying behavior, and competition. Large and heavy products incur massive shipping fees and this makes ecommerce a tad unviable. Also, if the average customer prefers to touch and feel the product before buying them, then it makes the category difficult to be served online.
Facebook Solves the Data Input on Mobile Device Problem.
OptiMonk is a leading the market by providing true exit intent on mobile devices, here most CRO tools out there today do not have mobile responsive messages or pop-ups with true exit intent but rather only offer scroll trigger or time delay trigger, miss leading users by calling it "leave intent". In addition, most tools require the creation of separate messages for mobile and desktop devices, duplicating the amount of effort.
The problem with this approach is that it duplicates the amount of work you have to do on the admin side. Additionally, the mobile version tends to be limited by available viewport space.
What we have done with OptiMonk is phase out the need for templates entirely (but still provide them to help our users with the transition) by creating an advanced message/popup editor that automatically generates a mobile version of the desktop message you are creating.
Since mobile visitors typically stay for less than a minute on a website, – onsite retargeting has become increasingly important for mobile conversion, to get their information early (first few seconds) or at least before they leave (within 60 seconds). This is why mobile exit intent messages are so important, necessary to capture details before they leave.
It is the combination of onsite retargeting and Facebook tracking, using the Facebook pixel to track your website visitors across multiple devices that are empowering the mobile first revolution.
And with onsite retargeting with OptiMonk, you can provide targeted messages that can be triggered either by on scroll or by time delay or via exit intent which can be dismissed or approved in an instant.
Once the visitor has arrived on your site using a mobile device, every second count and so forms requesting data should not require any input at all. So, how do I get their details I hear you ask. Currently the only way to do this effectively is through the use of Facebook Messenger feature, "send to messenger", a simple magnet link and call to action including Subscribe with Messenger can be added to your message, that once tapped subscribes the person to your Facebook page quickly and simply allowing them to continue on with their purpose.
In OptiMonk creating this message comes as a simple drag and drop send to facebook element within the message editor that displays perfectly no matter the device type. In addition, there is a social media button block element that can be drag and dropped anywhere on your mobile message. You can now create a usable mobile friendly triggered message with "send to messenger" and social buttons within just a few minutes that are triggered according to exit intent.
Conclusion
The biggest ecommerce marketing trend of 2019 is, without doubt, the growth of mobile device ecommerce. It is a result of 5G, free cross-device analytics with Google Signals and Facebook messenger.
The value of Facebook Messenger features "Send to Messenger" cannot be understated and the use of messenger marketing as a whole. In order to benefit from this megatrend leverage OptiMonk to capture visitors' data via messages with send to Messenger. No form fills are required.
Still not convinced? Check out our guide to Facebook Messenger marketing and our free 14-day trial.