Would you like to double your Mailchimp subscriber list? Are you already using a Mailchimp popup form on your website, but you're not satisfied with the results you're getting?
You're in the right place!
In this article, we'll take a look at a great alternative to using Mailchimp popup signup forms.
OptiMonk is a dedicated popup tool that's tailored to the needs of ecommerce websites. And OptiMonk integrates with Mailchimp, meaning that you can use OptiMonk's advanced popup capabilities while also taking advantage of Mailchimp's great email marketing system.
Let's have a look at how to boost your Mailchimp list-building campaigns by using OptiMonk and Mailchimp together!
1. A Mailchimp popup vs. an OptiMonk popup: What's the difference?
You might be wondering: why not just go with the convenience of using the popup that comes as part of your Mailchimp account?
To put it simply, OptiMonk has many, many more options than Mailchimp when it comes to design, targeting, and triggering.
For starters, Mailchimp's popup form builder doesn't give you much freedom when it comes to design. You get access to one very simple, basic template design.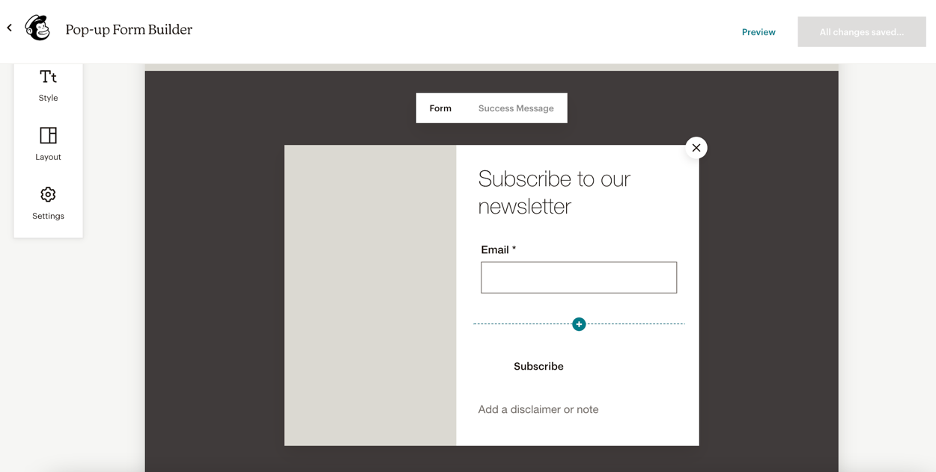 You have 5 options to choose from when it comes to the layout of this template.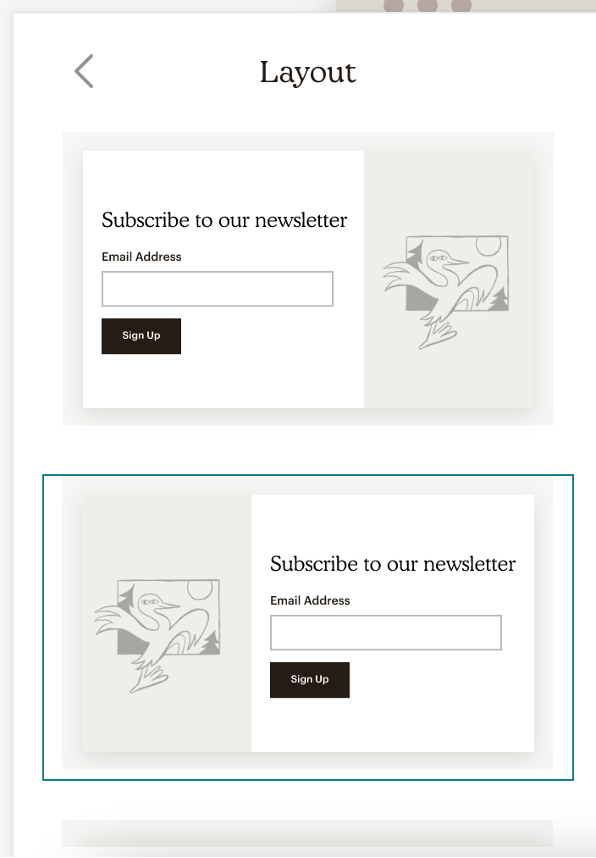 These very limited design options can be a problem when you want to create on-site messages that look like they belong on your website. Without the ability to customize your popups, it's difficult to make them fit the look and feel of your online store.
With Mailchimp's popup, you have the most freedom when it comes to editing the style of your text. You can choose the font, color, and paragraph style to use.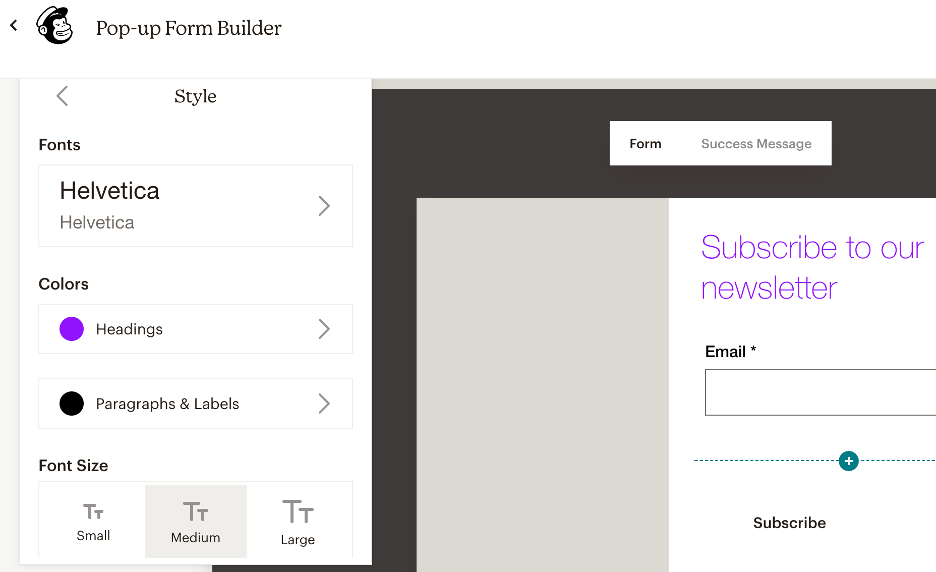 You can also upload an image and add extra fields (like first name) to your popups.
Finally, in the settings, you can choose when to display your popup and its position.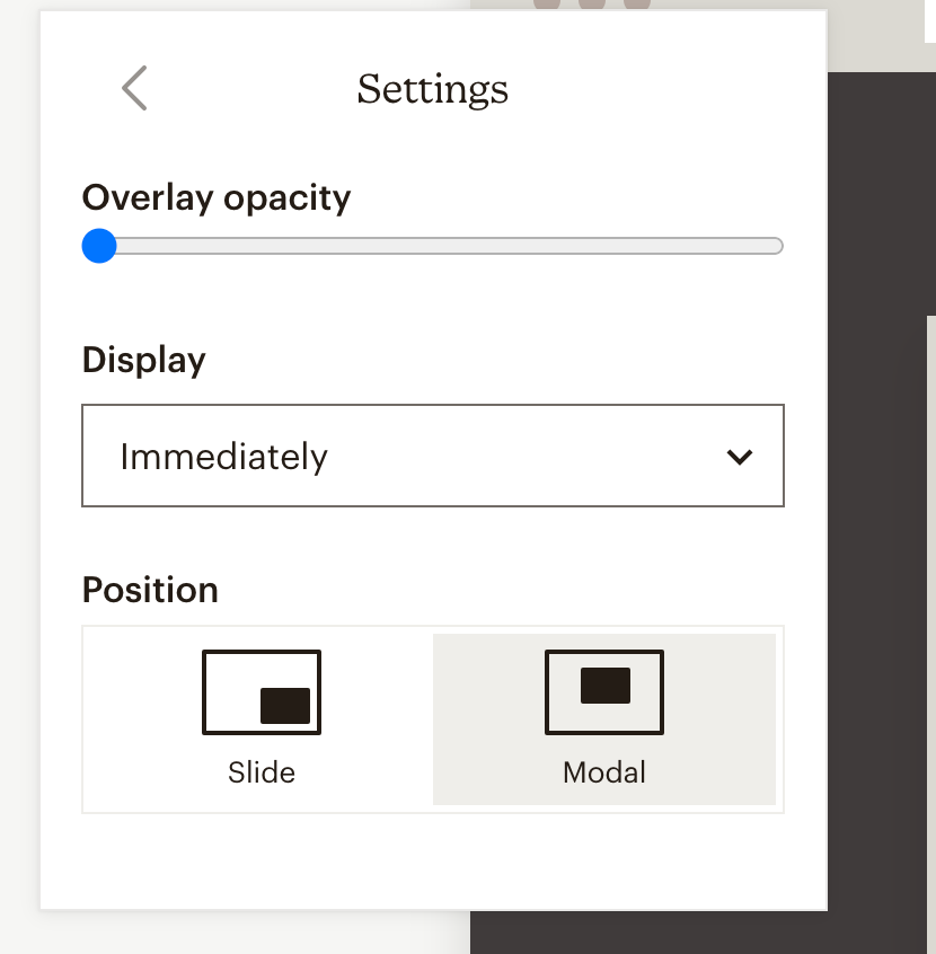 Unfortunately, the settings end there in Mailchimp!
You don't have any targeting options—your popup will be shown to all website visitors on all pages. That will probably end up annoying your audience, right?
Now, let's take a look at what you can do with OptiMonk.
The most significant difference is that OptiMonk allows you to target users at different stages of the customer journey and tailor messages just for them. Since a visitor will never see an irrelevant message, they'll be much more likely to subscribe to your list. Multiply that by hundreds or thousands of visitors, and you can imagine the boost to your conversion rates.
You also have a lot more options when it comes to templates. OptiMonk's massive Template Library contains more than 300 templates that you can choose from—all of which look equally great on desktop and mobile devices.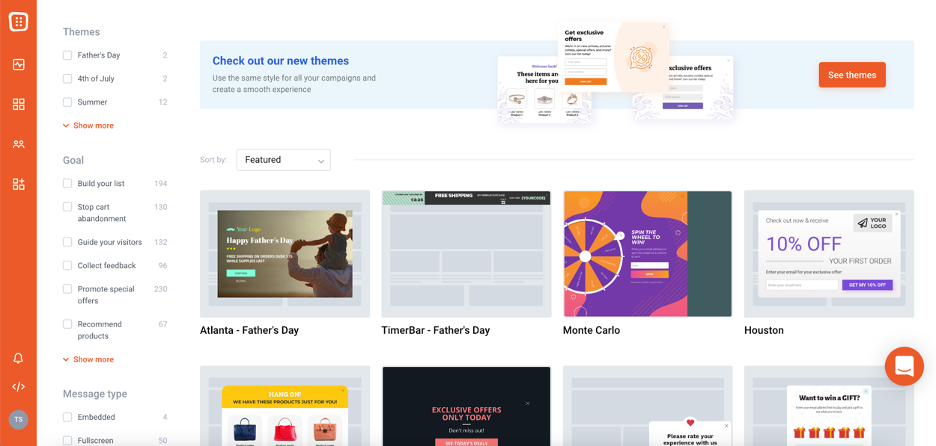 You can edit and customize each template using OptiMonk's drag and drop builder.
There's a long list of elements you can add, including countdown timers, custom coupon codes, and product recommendations. That means you can create almost any layout you can imagine and add lots of custom content:
Using OptiMonk, you can choose signup forms that get your message across in 6 ways:
Classic popups

Sticky bars

Sidemessages

Fullscreen popups

Gamification

popups (Spin the wheel, Scratchcard, Pick a gift)

Embedded forms
Here are just a few of OptiMonk's ready-to-use templates that are great alternatives for your Mailchimp form:
In addition to list-building campaigns, OptiMonk offers several other types of campaigns for different use cases:
Guiding your new website visitors with a welcome flow

Promoting sales and discount offers

Stopping cart abandonment with exit-intent technology

Collecting feedback

Recommending products or blog articles
When you have access to these other types of messages, your business can address more of its on-site messaging needs through a single account.
Finally, you have many triggering and targeting options with OptiMonk. Here's the list of popup triggers that OptiMonk's settings allow you to choose from:
On exit-intent

On-click to a specific area

After X percent scrolling

After X seconds of inactivity

After X seconds

After a JavaScript event
Here are a few of the ways you can show different popups to different segments of site visitors:
Returning vs. new visitors

Based on traffic source

Based on cart rules

Based on country

Current page / URL

…and more!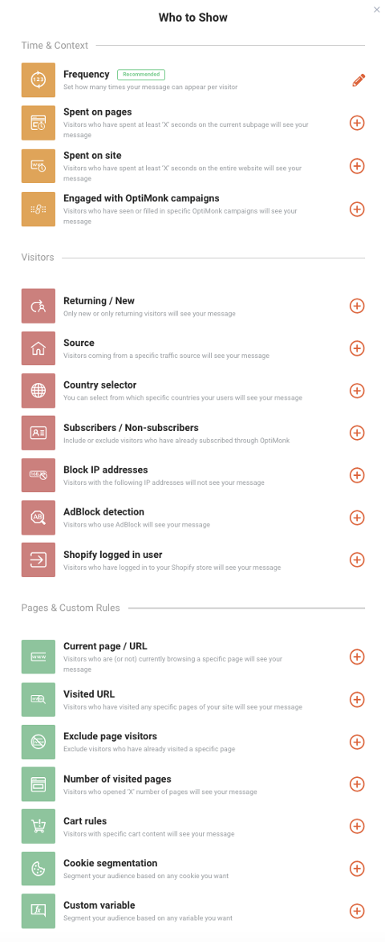 The difference between creating a form in Mailchimp vs. OptiMonk
Marketers are realizing more and more that in order to display relevant, helpful popups to a visitor, the popup's content needs to be personalized.
With all the advanced options you get with OptiMonk, you can start delivering different campaigns to different users based on their needs, preferences, and buying intent.
For example, a user who's viewing your website for the first time might be more interested in helpful information like educational blog posts rather than a discount code.
You can make a single opt-in form using Mailchimp, but you can't really push your popup strategy any further than that.
Personalization and advanced targeting will always be out of reach, as will other types of campaigns (like cart abandonment campaigns) that are important to the customer experience and the profitability of your online store.
It all boils down to this: OptiMonk is a dedicated popup tool, which means that you can do so much using the software that simply isn't possible if you use a Mailchimp popup!
2. How to use your Mailchimp account and OptiMonk account together
Now that we've seen why an online business using OptiMonk holds an advantage over one that uses a Mailchimp popup, let's take a look at how to use OptiMonk to build your list and Mailchimp to send emails to your subscribers.
It takes less than a minute to set up the integration between Mailchimp and OptiMonk. All you have to do is navigate to the "Add Integration" menu in OptiMonk: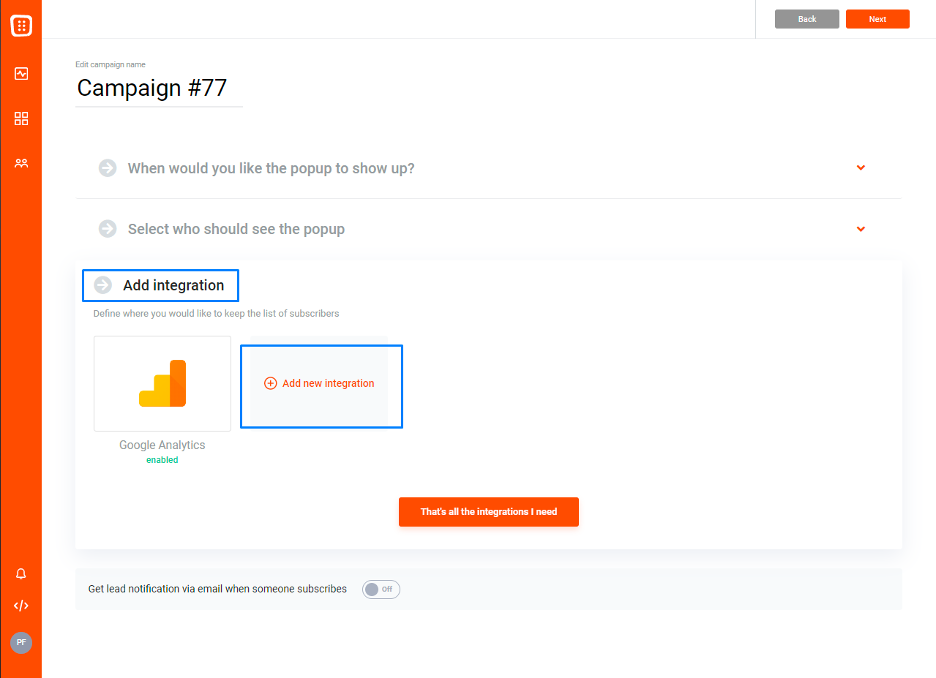 Select MailChimp from the list of available integrations: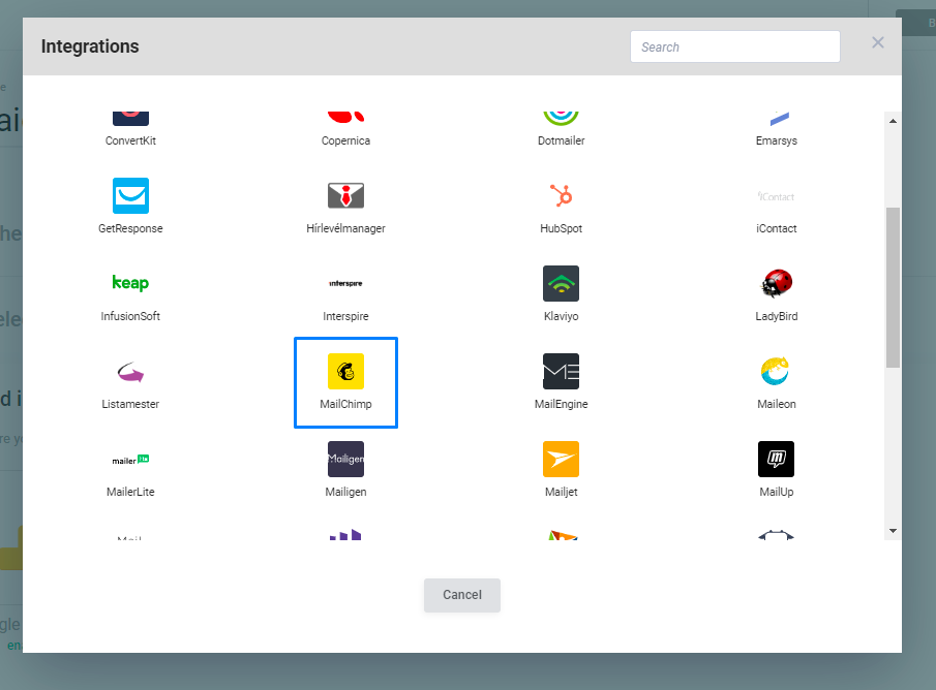 Then get the API key from your MailChimp account, and put it into the respective field in your OptiMonk account:

After you've named your integration, the next screen will allow you to select the list (called Audience in MailChimp) from your MailChimp account where you want to send the new subscriber data that OptiMonk collects.
You also have the option to associate your campaigns' input fields with the fields of your MailChimp form.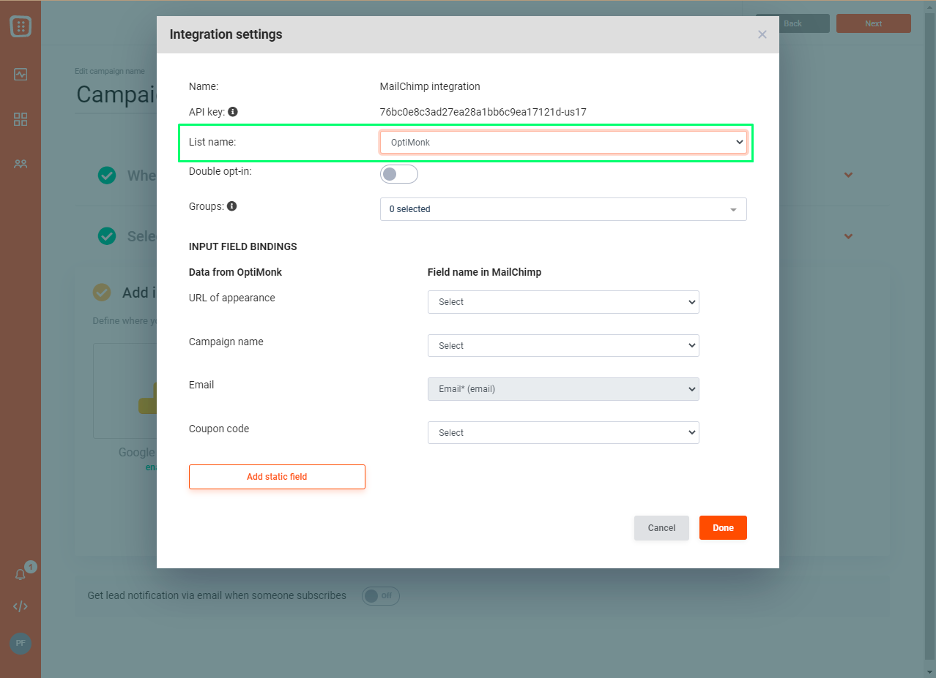 You can read this support article for a more detailed step-by-step breakdown of how to integrate OptiMonk and Mailchimp.
Whether you have a Shopify store, a WordPress site, or a custom website, you're going to need signup forms to generate new subscribers for your email list.
OptiMonk is the best choice for building your list, while Mailchimp is ideal for sending everything from confirmation messages and coupon codes to updates about your products via email.
Create a free OptiMonk account today and start using the most powerful popup software to build your email audience immediately!