In a brick-and-mortar store, you'll often see brightly colored signs promoting seasonal sales, or an employee might appear and tell you about their new product line.
Businesses use these methods because they're effective.
But an online store can't send an employee over to grab a shopper's attention. Instead, on-site popups are the best way to ensure that a customer receives your messages.
It doesn't matter if you're promoting a sale, offering a free ebook, or reminding customers about your free shipping, there's always a popup that will raise your conversion rates through the roof.
There's a catch, though. You need to make sure that you're using the right type of popup in the right situation. Otherwise, it won't be nearly as effective as it could be. And, in the worst-case scenario, an annoying popup can really put off a shopper.
In this post, we'll take a look at the ins and outs of the best types of popups to use for your ecommerce store.
Let's dive right in!
Would you like to create amazing and catchy headlines that make your popups irresistible? Grab our 50 Headline Popup Examples swipe file and get inspired!
Showing website visitors social proof is one of the best ways to build their trust. This is because they gain more interest when other people are enthusiastic about your brand.
Social proof popups guarantee that your website visitors see those great comments you've been getting. Make sure to choose an enthusiastic testimonial from one of your customers that resonates with people.
You can also use sidemessages to display social proof.
This helps to improve your customers' impression of your site without interrupting their browsing.
2. Cart abandonment popups
Cart abandonment is undoubtedly one of the greatest challenges for any online business. And those feelings are backed up by numbers: the industry-wide rate of shopping cart abandonment is about 70%.
One proven way to reduce cart abandonment is to use exit-intent popups.
When a customer moves their mouse towards the upper right-hand corner of their screen, it's a sign that they're about to close the window. That's exactly when an exit-intent popup appears.
An exit popup is most effective when they offer an incentive.
The popup template below, allows you to inform visitors about your 20% off and free shipping. These perks might be enough to convince someone to purchase a product that they weren't planning to.
You can also include a countdown timer. This creates the impression that the deal will only be there for a limited time.
There's also the option to deliver cart abandonment messages without a countdown timer.
Conversational popups are a way to start a dialog with your customers through personalized messaging.
This popup type can lead to several outcomes depending on your needs. They can act like a lead magnet that helps to grow your email list, and they can also provide valuable data for your online marketing team.
Conversational popups start by asking website visitors a simple question (like the one below). And answering it is almost automatic.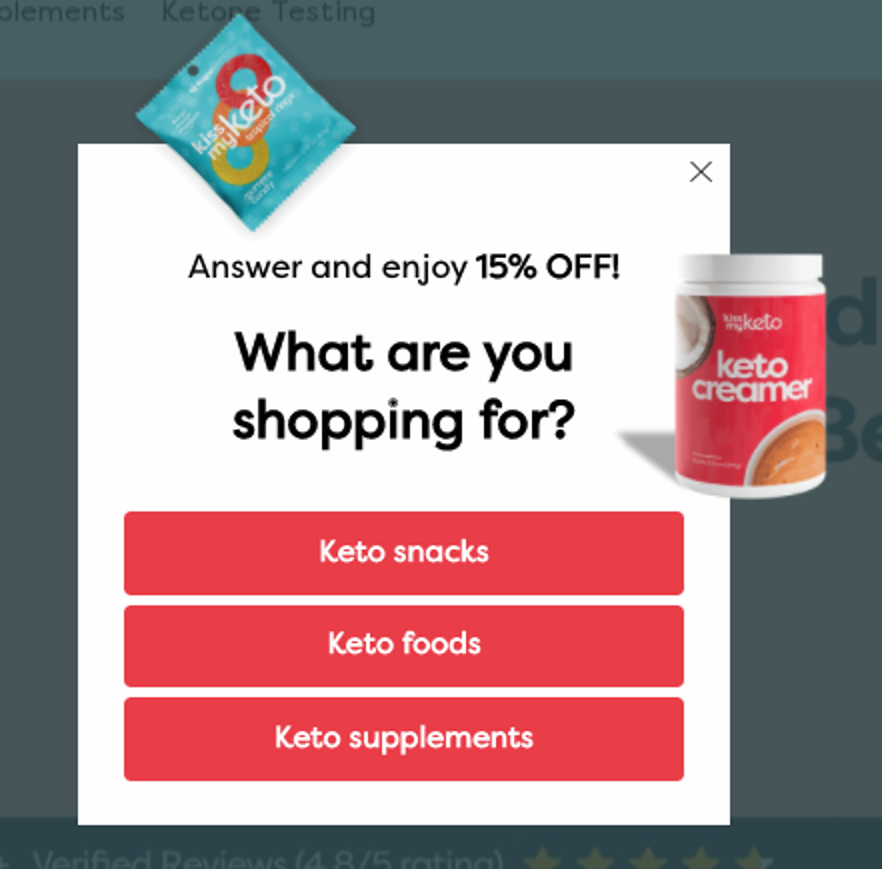 This popup asks what customers are looking for and promises a discount code as an incentive for moving forward.
Once a user clicks on one of the options, the next box pops up. Notice how it responds to the last bit of dialog by saying "Yummy, sounds delicious"?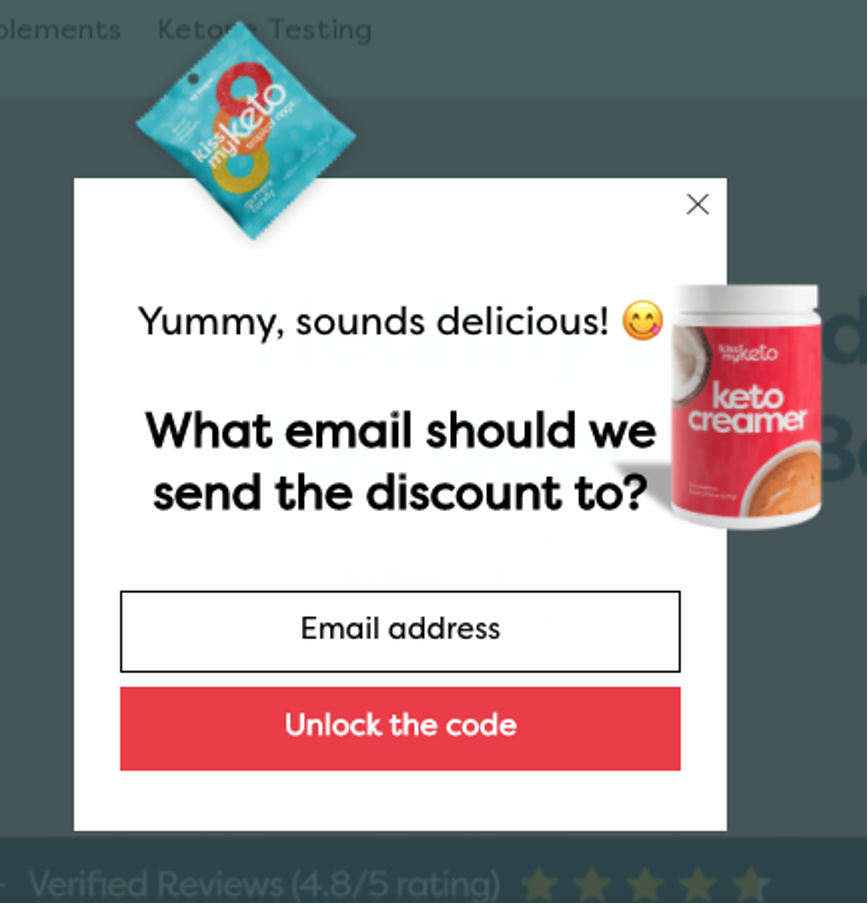 When a visitor clicks through the first page, it means they're already invested in the process. So they'll likely put their contact information into the signup form on the second page.
At the end of the process, visitors will see some personalized product recommendations based on their answer.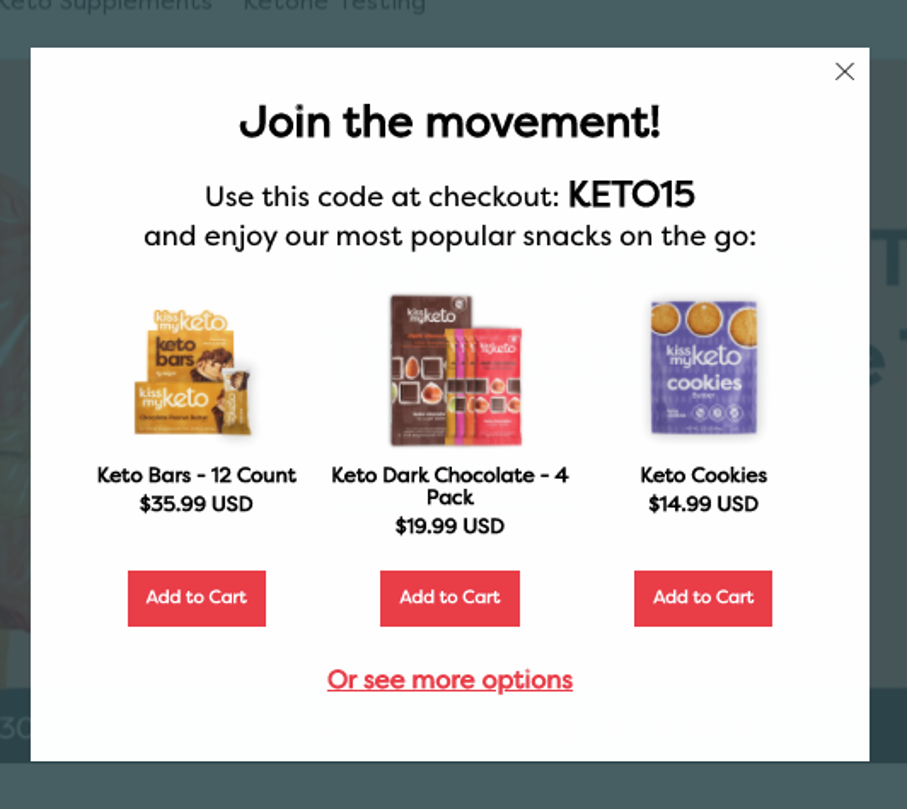 Now you know their email address and what category of products they're most interested in. You can use this data for targeted campaigns and tailor your email marketing strategy towards their preferences.
Use OptiMonk's popup templates to create custom conversational sequences that can be suited to your business needs. Check out this post for some tips on how to create high-converting conversational popups.
You'd be making a critical mistake if you think customers only view your popups on a desktop.
Over 50% of ecommerce traffic originates from smartphones. Therefore, you'll be missing out on half of your website visitors by using popups that are hard to see or navigate on a small screen.
Some popup types work better on mobile than others. Scroll-triggered popups can still work well on mobile devices: appearing when they're supposed to.
But, a traditional exit-intent popup won't be able to pick up on behavioral cues on a mobile interface: like moving the mouse to close a window.
Luckily, there are specific popups designed for mobile ecommerce.
OptiMonk has exit-intent popups specifically for mobile users, which appear when a customer:
Taps on the URL bar

Opens a new tab

Clicks the back button
These triggers allow you to time your popups to block cart abandonment.
Now it's time to consider how your users would experience the popup in real-time.
The text on mobile popups needs to be big. And buttons should be big enough to press easily with a finger. Check out this mobile popup from BlendJet that checks all the boxes: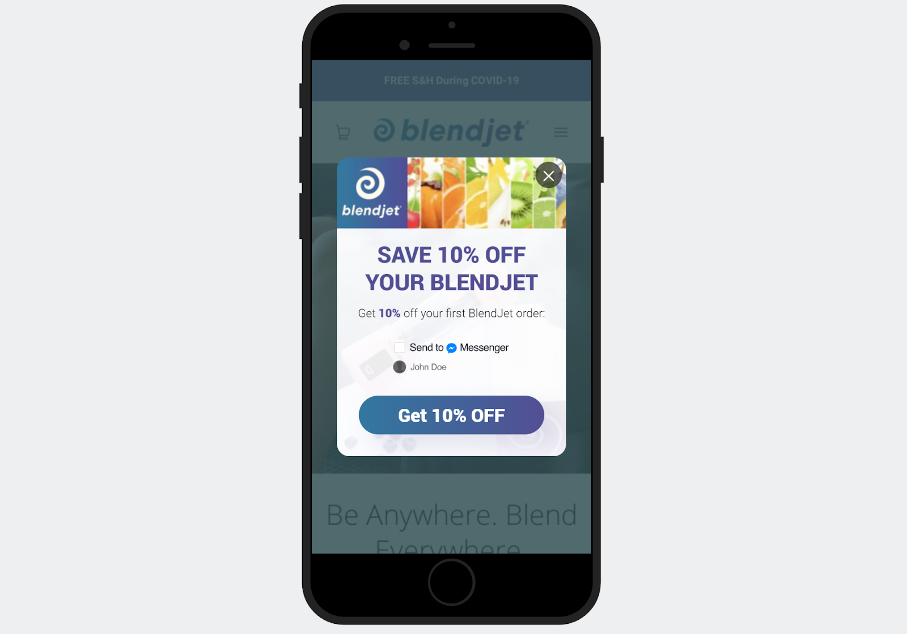 Popups are a great way to promote seasonal products and sales. They can dovetail perfectly with your seasonal marketing campaigns.
Let your customers know that your sales won't last forever. This can build a sense of urgency that convinces shoppers to buy now. The OptiMonk template below uses a different font to emphasize that shoppers will miss out if they wait.
You can also use a sticky bar instead of a fullscreen popup. Sticky bars convey vital information to your customers, and they use a minimal amount of space.
6. Content upgrade popups
Some customers love learning more after reading an article. That's where content upgrade popups come in.
You want a website visitor to spend some time enjoying your content before offering them something more. So they are usually displayed on a scroll or on click trigger.
Content upgrades can be offers such as free guides, ebooks or swipe files when paired with collecting email addresses.
This lead generation strategy catches lots of high-quality leads that are interested in learning more about your business field.
By utilizing a WordPress popup plugin, you can easily display popups on a scroll or on click trigger, ensuring that your visitors engage with your content before presenting them with additional offers.
Exit-intent popups also work great. See an example below.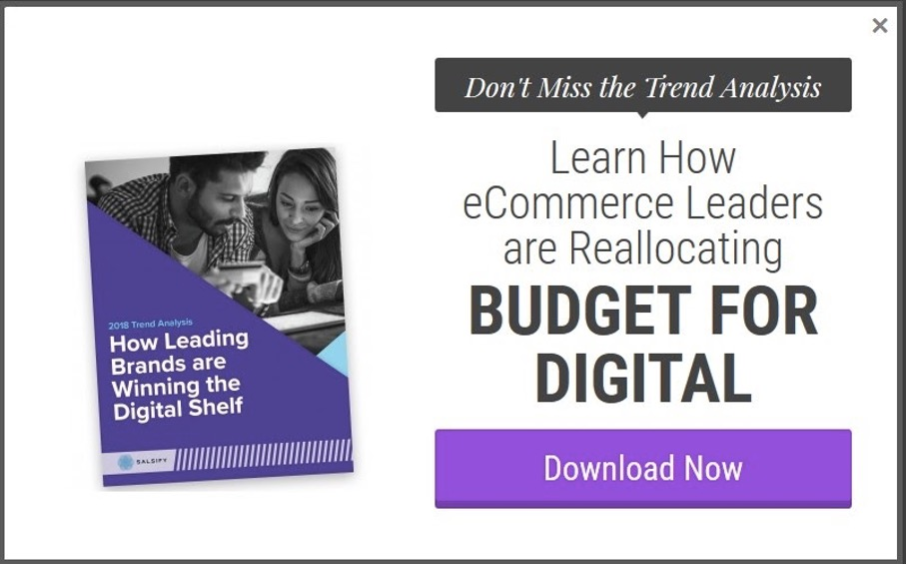 7. Product recommendation popups
Website popups that recommend specific products can help shoppers cut down on the time they spend looking for something.
You can increase the conversion rate of popups like these by recommending your most popular items. Or, even better, by using any data you've gained from user feedback and tracking to personalize what items you suggest.
You can display recommended products:
Right after a visitor arrives on your landing page

While visitors are browsing your site

Just before visitors leave
On the popup below, ZooShoo recommends multiple options tailored to their customer's taste—complete with pictures and pricing.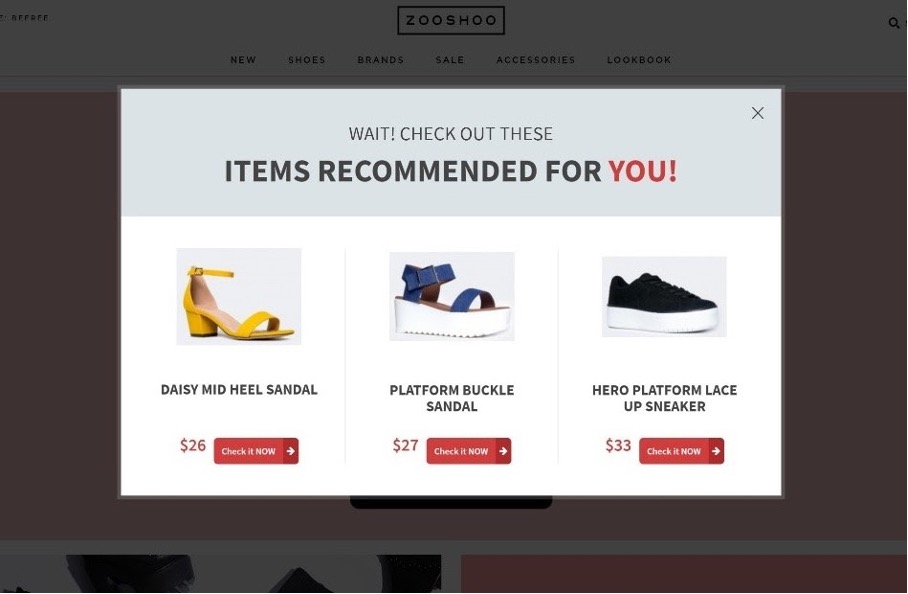 Display your product recommendation popups on exit intent is a great way to prolong your visitor's shopping time on your site. Check out OptiMonk's popup templates for some inspiration.
Gamified popups give website visitors a chance to win prizes like free shipping or a discount. They are usually attention-grabbing with bright colors, and feature some kind of game. To play, visitors only need to give some contact details.
These popups go beyond adding more subscribers to your email list. Gamified popups usually increase conversions because a website visitor wins something and applies the discount to their purchase. The nice buzz from winning a prize will carry over to their decision about buying or not.
Some websites put gamified popups on their landing pages. Others chose to place them on a pricing page to help users feel like they're getting a good deal on a specific product.
When you use OptiMonk's gamified popup templates, you're able to customize your prizes and the odds of winning. All these options will help you create highly profitable campaigns.
You've seen how you can create different types of popups for your ecommerce store. However you decide to use your website popups, they have the potential to increase your conversions.
Some are all about getting more email subscribers for your newsletter. Others are for generating sales. Indeed, there are popups that manage to do both, and more!
What kind of popups do you use on your website? Let us know in the comments!