Website personalization is the best way to engage your visitors, impress them, and convert them into customers. By personalizing your website, you can create a relevant customer journey for everyone.
Customers are getting more and more used to personalized experiences while shopping online. A recent study found that 74% of customers get frustrated when they see website content that isn't personalized. No site visitor wants to see irrelevant website content when they could be seeing personalized recommendations, tailored landing pages, and specific social proof.
Simply put, one-size-fits-all messaging doesn't work anymore.
Just getting started with website personalization? Then this article is for you: we'll cover the benefits, some great examples to inspire you, a step-by-step guide, and the best tools to use.
Let's get right into it!
What is website personalization?
Website personalization is the real-time tailoring of a site to suit the specific needs of every single visitor. It touches on all aspects of the conversion funnel from lead capturing to the moment a user makes a purchase.
Practically speaking, website personalization is the process of delivering content to your visitors and customers based on their previous interactions with your site, plus demographic data, contextual data, and visitor behavior. You need to use all the data and information you have about your visitors to create the most personalized experience for each site visitor.
It's fair to say that a well-executed website personalization strategy can have a direct impact on your conversion rates. That's because a personalized experience makes it easier for your site visitors to actually make a purchase. Instead of forcing them to spend lots of time browsing to find the products they're interested in, you can use their purchase history to deliver relevant recommendations that they can add to their cart right away.
Web personalization is often used interchangeably with content personalization, which can confuse marketers and businesses. While personalized content is necessary, a fully executed website personalization strategy goes beyond personalized content, personalizing the entirety of the customer journey.
What are the benefits of website personalization?
We mentioned above that website personalization can have a direct impact on your conversion rates, but it can also benefit your business in the following ways: 
1. Differentiating your brand 
Netflix, Apple, and Amazon are just a few of the brands that have mastered website personalization. They've set themselves apart because they have brilliant ways of making each customer feel special. 
A simple example is how Starbucks baristas always ask for your first name after you give your order. They were arguably the first large coffee company to do this, and it played a huge role in boosting brand awareness. That small gesture of asking for a name, just like you would in a regular conversation, makes the interaction a little warmer and friendlier. 
You can borrow this technique for your website personalization efforts as well. Whether it's a landing page, blog post, or email marketing message, addressing your customers as individuals is a great idea.
Check out how Hyperise personalizes its homepage by adding the site visitor's first name on the CTA button: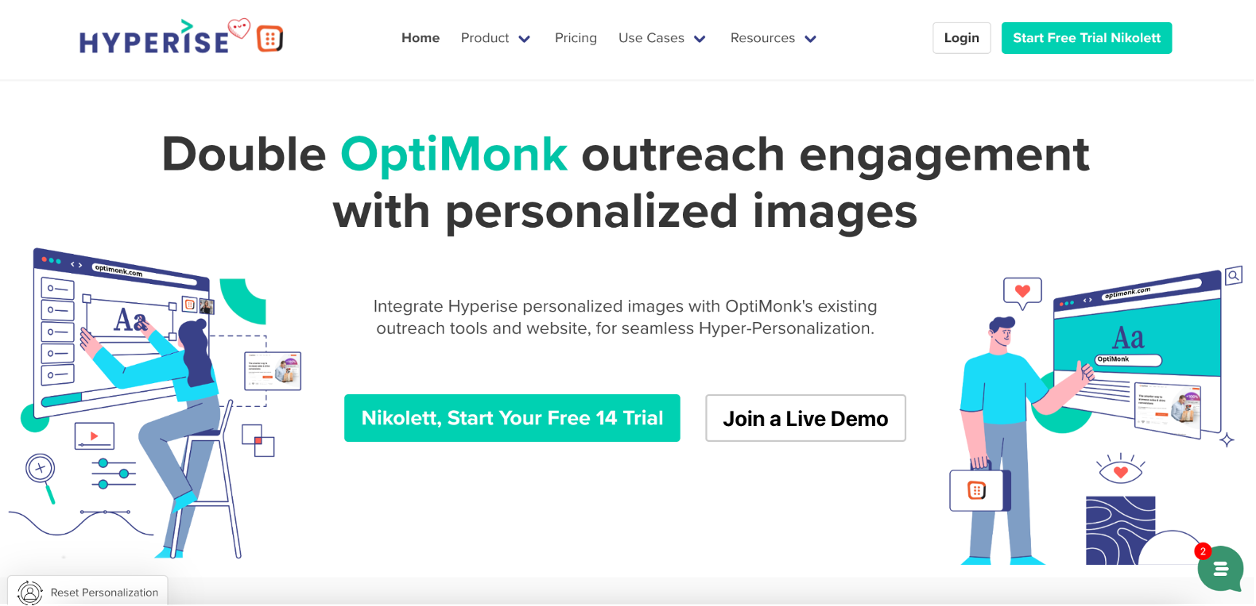 2. Converting website visitors
The unfortunate reality is that the overwhelming majority of website visitors remain anonymous. Part of the reason for this is that businesses aren't using a personalization solution to capture crucial customer data.
Website personalization involves tracking important demographic and behavioral data, which can unmask visitors and give them the tailored experience they deserve. 
When you're able to anticipate what a customer wants, you can deliver the content and products they need in a convenient way. The easier it is to make a purchase from your online store, the more people will actually make a purchase—and the higher your conversion rate will be!
Every time a customer gets lost or confused on your web page, there's a chance that they'll leave rather than sticking around to figure out what the problem is. Website personalization is your best way of avoiding this.
Website personalization helps you generate more subscribers and collect much more first-party data. This will also reduce your reliance on Facebook and Google as your main acquisition channels.
3. Cross-selling and upselling 
You can nudge online visitors who have already added something to their cart to purchase more by recommending complementary products or bundles.
Another huge advantage of website personalization is that it allows you to segment efficiently so that you can create contextual, timely offers for different customer segments.
You need website personalization to create persuasive cross-selling and upselling messages because both sales tactics are contextual. One cross-selling offer might be irresistible to one group of users, but completely ignored by another group. Using all the data you have is a great way of discovering which offers fit which customers.
Here's a personalized popup example you could show customers right after they add something to their cart: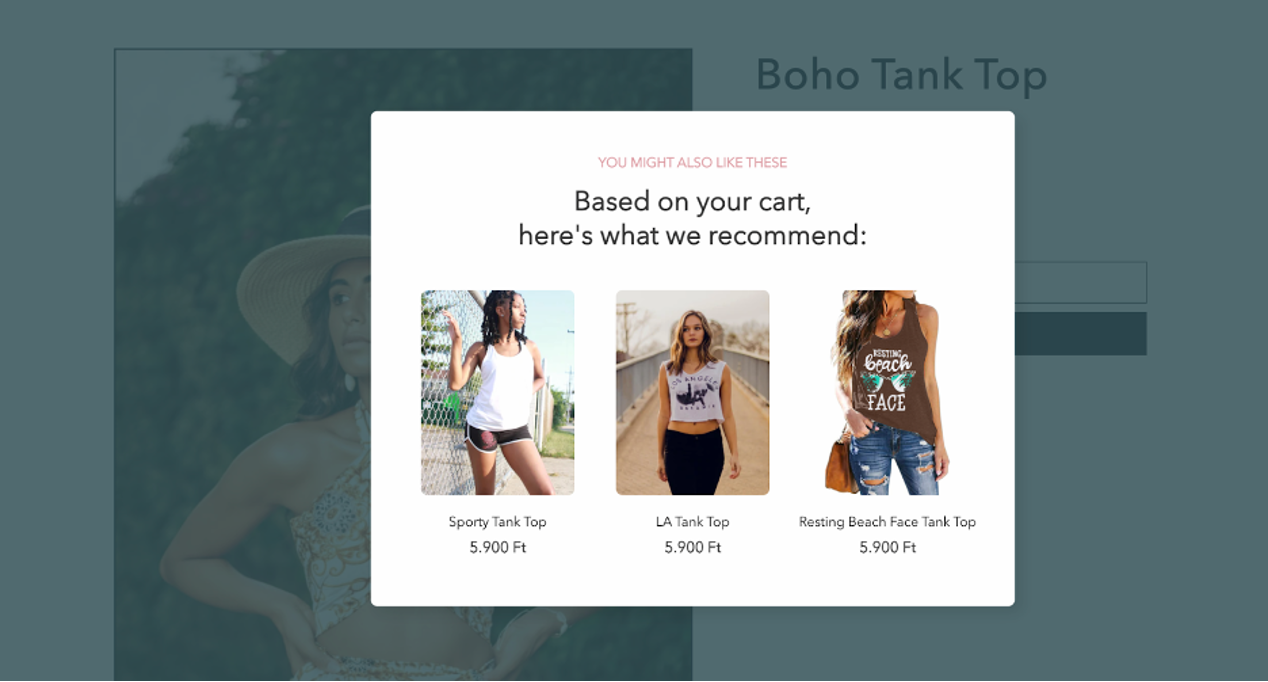 4. Optimizing your campaigns
Many campaigns don't work because they're too general. The target market is too broad, and one message can't possibly fit such a massive audience.
When you split up your audience according to their demographics and past behavior, your personalization efforts will lead to several distinct campaigns you can optimize for a group of people who are already primed to like them.
In contrast, although you can optimize a one-size-fits-all message or landing page, there are always going to be people who won't respond to it because they're simply not interested. You should be especially careful with your high-value leads, since this segment has high buying intent. Messaging mistakes can be incredibly costly.
Website personalization makes campaigns resonate with the target audience.
5. Increasing revenue
When you better understand your site visitors, you can provide a better browsing and shopping experience for them, which in turn means you're improving your ability to drive more revenue.
Website personalization helps you gather the information you need to nurture and educate your audience based on who they are, what they do, and what products they like the most.
This will lead to happier visitors, building real connections and greater customer loyalty. The more you know about each customer, the more effectively you can implement all these website personalization ideas.
9 fantastic website personalization examples
1. Gusto
When you visit Gusto's home page for the first time as an unidentified visitor, the copy is clear and lets you know exactly what Gusto does. There's also a simple registration form, which allows Gusto to start collecting user-specific data.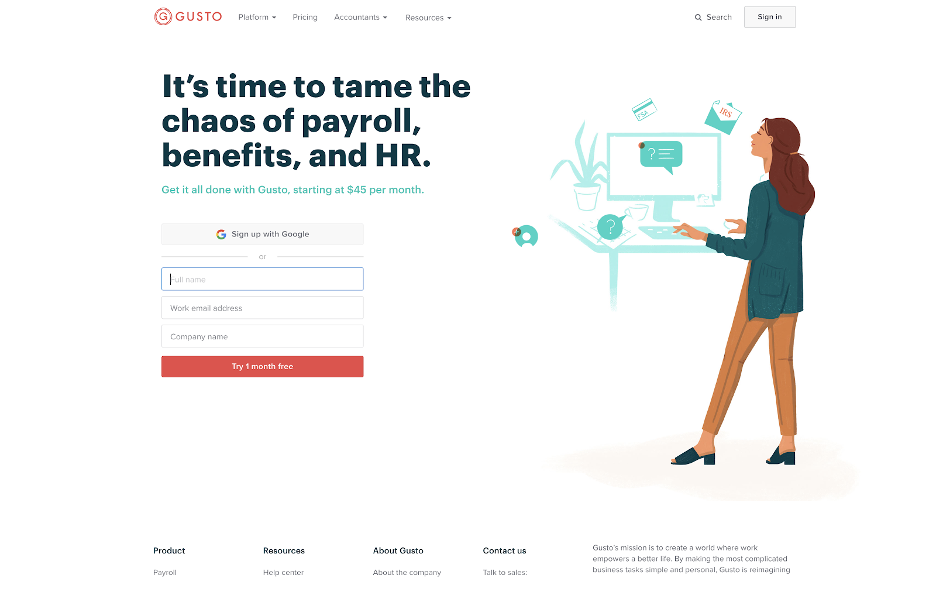 When you come back to the website as a returning visitor who has already signed up for Gusto, you see the following web page with tailored copy.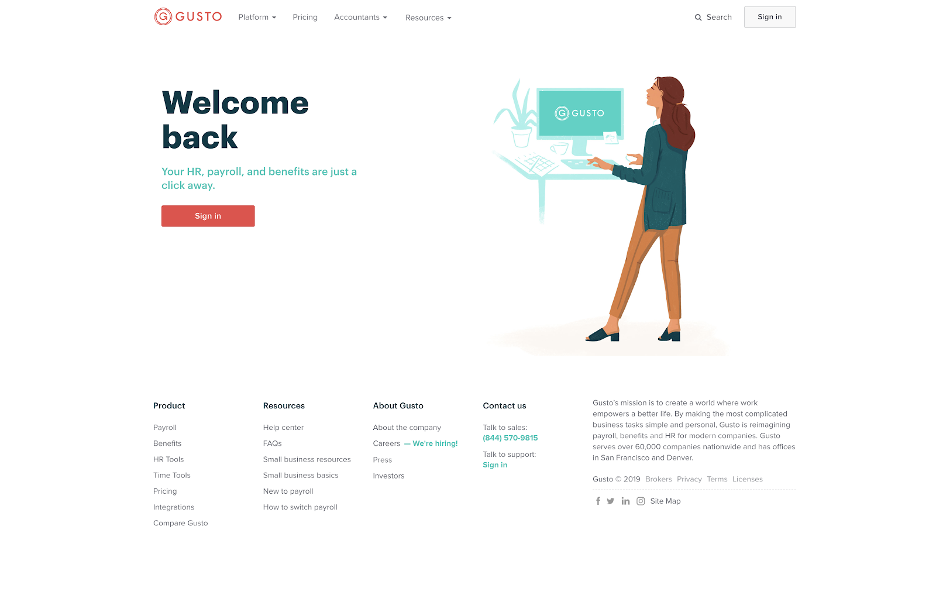 2. Boohoo
There are few things worse than finding out that a product you love can't be delivered to your geographic location or isn't available in your country. This is how many ecommerce store owners lose customers. 
The best way to remedy this is by offering to redirect visitors to the site made for the country they're visiting from. Boohoo does this below with clear, friendly copy, helping visitors avoid the frustration of undeliverable items or inaccurate currency information.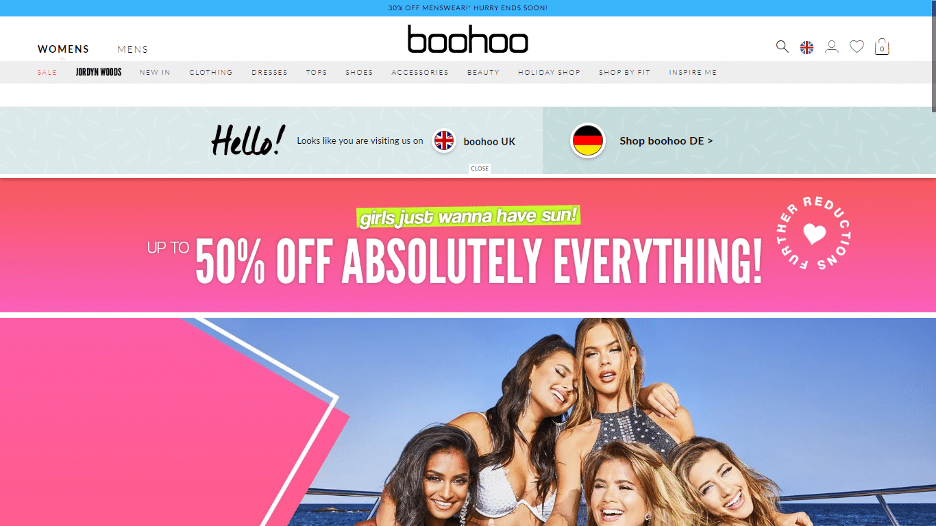 You could also use a popup to help site visitors choose the right site: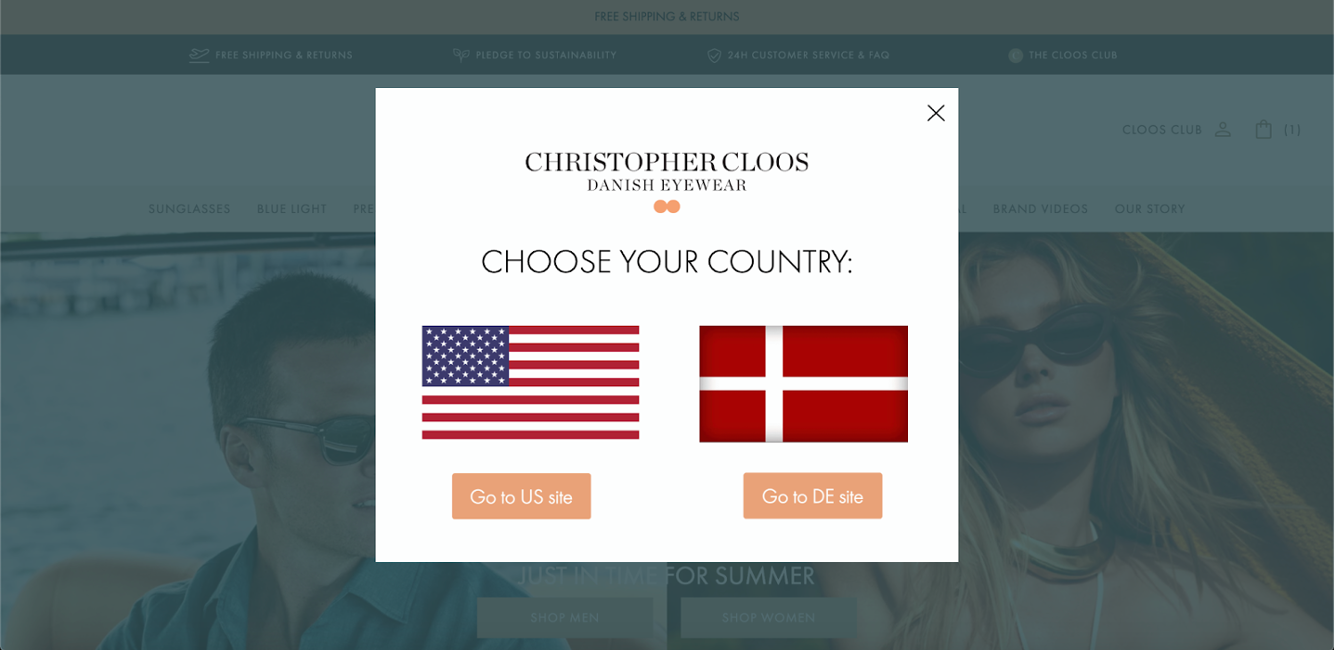 3. Amazon
We can't show website personalization examples without mentioning ecommerce giant Amazon. When you land on Amazon's homepage, it feels like the page was specifically designed for you. And that's because it was! 
The company spends millions of dollars on sophisticated AI, machine learning, and behavioral tracking tools that enhance the customer experience to an insane level of personalization. The example below shows the customer's name, an option to review previous orders, and recommendations based on products they might like.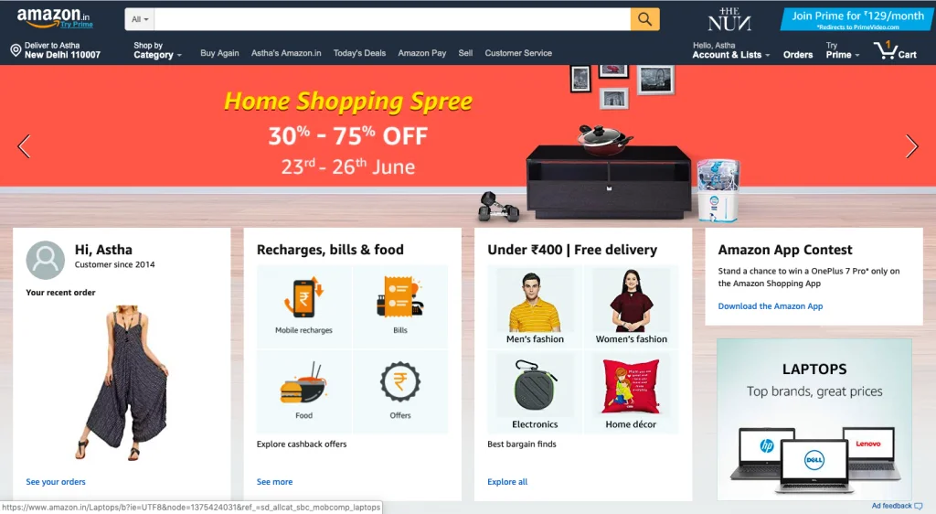 4. Optimizely
Optimizely does an excellent job here by making the background image and the copy relevant to the audience (Adidas). Different audience segments see different landing pages depending on their industry.
You should think of things like background images as part of a holistic website personalization strategy. Any element on a web page can be the tipping point that converts a site visitor into a customer.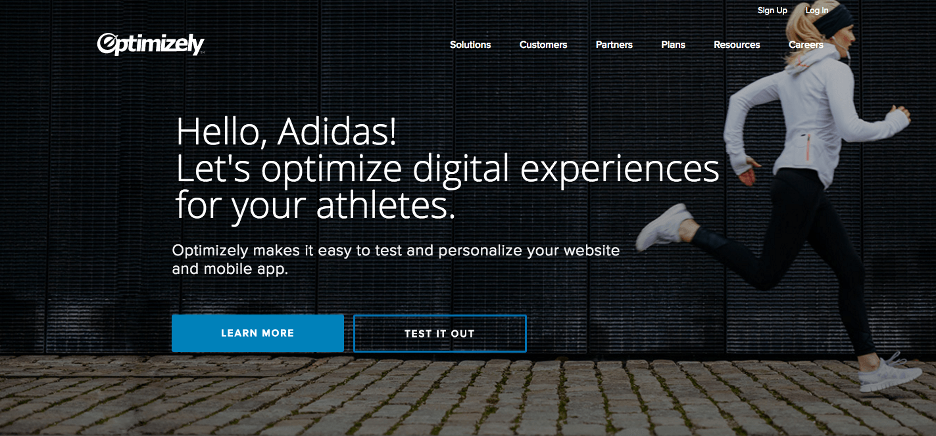 5. FarFetch
Lack of accurate data is a big problem in ecommerce, and it's one of the main reasons cart abandonment rates are so high. When a customer makes a purchase, returns to your store after previous visits, opens an account, or subscribes to your mailing list, they provide you with information that you can use to tailor their shopping experience.
But what about completely new customers?
In the example below, FarFetch makes it easier for new visitors to keep track of the products they've viewed and takes advantage of the fact that visitors will often look at more than one product in a single session. So why not make it as easy as possible for them to pull the trigger on a purchase?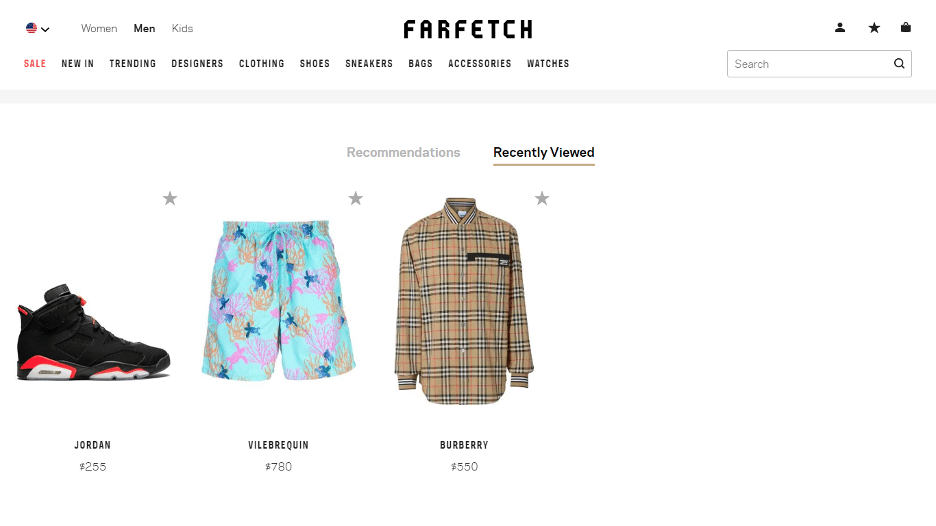 6. Fossil
When you offer customers different shipping options, you allow them to personalize their orders based on their preferences. Some customers don't mind paying a little extra to get their order faster while others want to save money and stick with standard shipping.
The web personalization example below shows Fossil's careful consideration of this issue, showing two shipping options that add that extra bit of personalization based on customer preferences.  
7. Zalando
It has become harder and harder to keep people's attention, especially when it comes to the battlefield known as the "Inbox." Some customers sign up for newsletters on a whim, but never end up opening a single email. 
A powerful technique to avoid ending up in the "Junk" folder is to offer different types of emails your customers might be interested in. For example, if you have both men's and women's clothing, you could provide the opportunity for customers to choose whether they want to receive sales emails based on the products that matter to them.
Zalando does this below offering two options in their newsletter sign-up. This is an underrated technique that more retailers should employ not only to increase their open rates but also to get customers excited about new products and/or sales.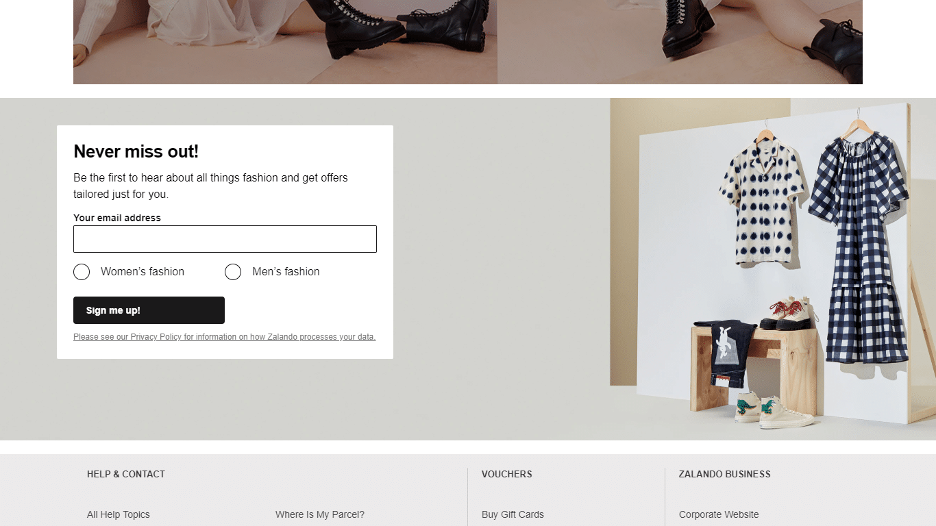 8. Ryanair
When returning customers use your search bar, why not offer a dropdown menu of autocomplete suggestions? This allows them to quickly make a repeat purchase. For new visitors, this autocomplete suggestion technique lets them see relevant categories and filters.
In the example below, Ryanair demonstrates this perfectly by showing suggestions of relevant flights along with a predetermined filter that makes it easy for new or repeat customers to make a purchase.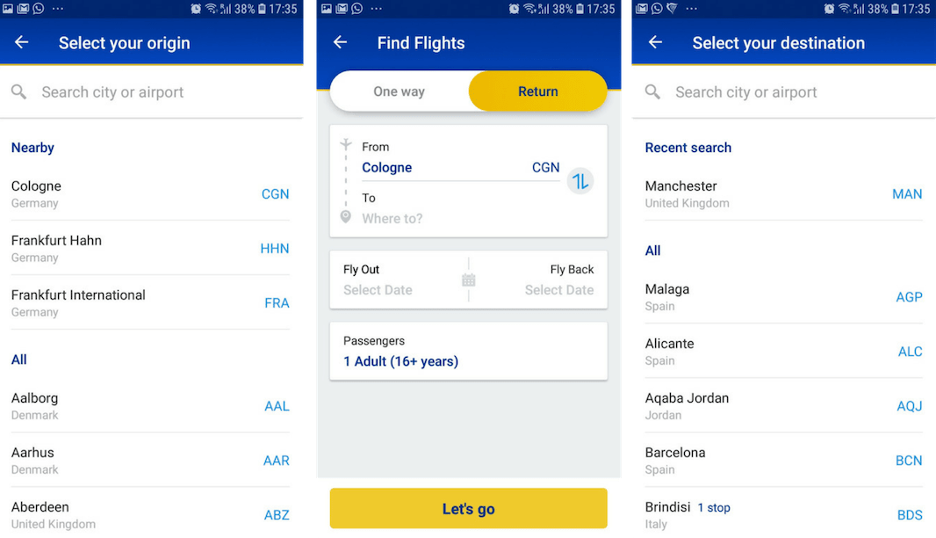 9. BLK & Bold
Dynamic free shipping bars show your customers how much more they need to spend to qualify for free shipping. This website personalization tactic is great for increasing your average order value because customers will often spend more to qualify for free shipping.
Here's how it works: when a customer arrives on the site, they see a message informing them of the free shipping threshold for their region. Once they add something to their cart, the message changes.
Let's see what that looks like on BLK & Bold's website. They do a great job of implementing this website personalization idea: 

Everyone sees the message above, but once an individual adds something to their cart, the message changes.
Say they add an item worth $14 to their cart. This is what they'd see:

And once their cart value is above the free shipping threshold, the message updates again:

For more ideas on how to personalize your ecommerce store, watch this 6-min video:
Website personalization step-by-step
To recap, we've gone over the benefits of a website personalization strategy and learned that website personalization is all about showing website visitors that they're valuable. They're spending their time with you and they deserve an experience that is tailored to their needs and preferences. 
So how do you get started? How do you ensure that each website visitor feels like they're getting a personalized experience? 
Here are some tips: 
1. Identify your target audience segments and collect customer data
You can't personalize a customer's experience if you don't know who the customer is. To overcome this problem:
Look at your current visitor base and user behavior

List all your products/services and see who is currently buying or is likely to buy

Analyze what items people buy from you, and 

Which kinds of people are bringing in more business
You can dive deeper by segmenting your most important visitors based on geography, visitor frequency, purchase history, site behavior, and much more. Putting all this data to use will make your marketing and sales efforts much more effective. 
Pro tip: avoiding data silos is an excellent way to ensure your whole team (and every tool you use) has the information they need to implement personalization. Make sure the insights you're gathering from different data sources can be shared.
2. Understand customer intent
What do visitors want when they're on your website? When you figure this out, you'll be able to create irresistible, timely offers on the regular. Here are 3 ways to figure out intent: 
Contextual intent:

This is one of the most commonly used (and recommended) ways of understanding your existing customers and visitor base. Look at the keywords they use to search for your products and arrive on your site. Using these keywords, you can dynamically show site content that matches their exact intent, boosting the chances they'll enter your sales funnel.

Behavior-based intent:

This type of intent, which you can gather from the browsing history and previous behavior of your potential customers, can give you lots of insight into their likes and dislikes. Use visitor data like past purchases, visit frequency, browsing history, and more to personalize their experience and make every visit worth the effort. 

Stated intent:

You can discover this by asking for basic information from the visitors landing on your site, which you can then use to personalize their experience. For instance, asking visitors about the industry they work in, their area of expertise, company size, etc. can help you show software products that would best suit their company. This is one of the most reliable data sources because you're hearing directly from your visitors.
3. Create powerful, tailored messaging 
When you've figured out what your target segments want, you can draft content that encourages dialogue, showcases your products, and contains the right calls-to-action. Using your data points, you can create relevant content based on geography, gender, and other information.
Remember, tailored messaging means coherent messaging throughout the entire journey on your website.
You want all your copy and every call-to-action to make sense based on where the audience is in their buyer journey. This also goes for email marketing, social, and other channels where you communicate with them. Think holistically when it comes to running personalization campaigns!
If you'd like to get started with website personalization, we recommend reading our ultimate guide here.
5 great website personalization tools
In order to get your website personalization strategy off the ground, you'll need quality software to manage it for you. Here are 5 excellent website personalization tools that every ecommerce store should consider!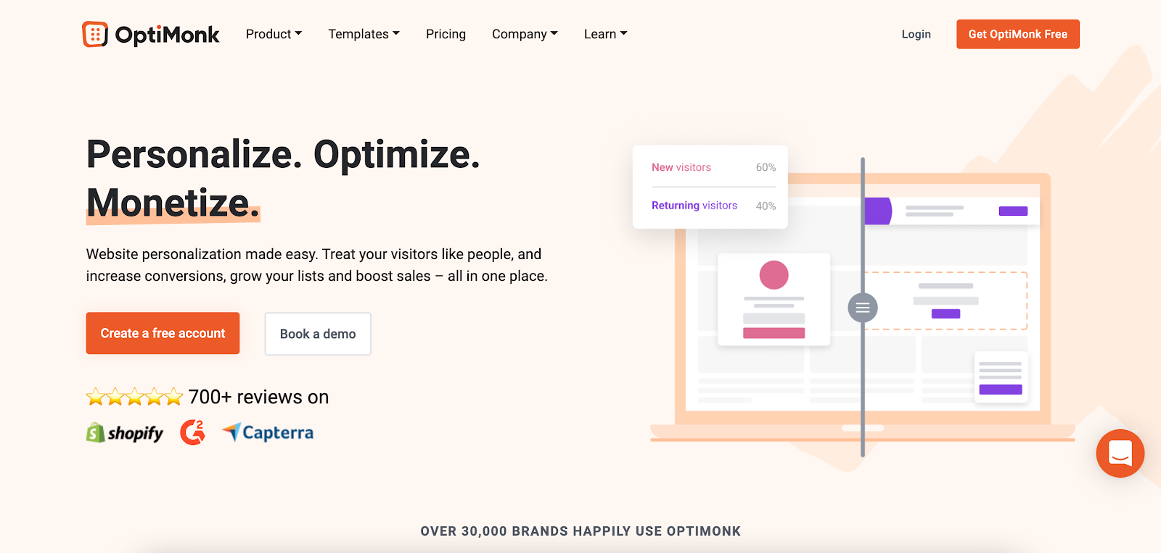 OptiMonk is a comprehensive website personalization tool that allows marketers to create personalized shopping experiences with ease, maximizing website conversions and winning customers for life.
It's your best choice if you want to create personalized messaging that's timely, relevant, and gives just the right push to turn visitors into customers. These personalized messages are effective in reducing cart abandonment, building urgency, and effectively recommending products to visitors. 
Key features:
Embedded content:

You can add personalized offers, incentives, surveys, and messages to your website without involving developers.

Flicker-free delivery:

Thanks to our advanced architecture, flickering is a thing of the past. Embedded content is optimized to maximize page speed.

Personalized recommendations:

Implementing relevant product recommendations doesn't have to involve complicated development processes. With OptiMonk, it can be done in a few clicks.

Smart tags:

Include hyper-personalized content in your messages, using first-party and zero-party customer data.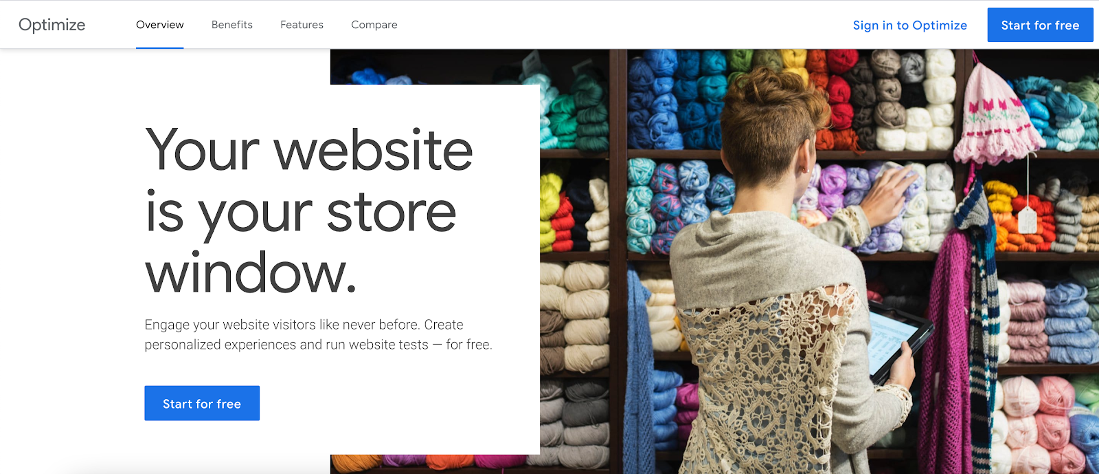 Built on Google Analytics, Google Optimize is another leading tool in web personalization. You can personalize the customer experience and run A/B tests on all of your pages to see what works and what doesn't.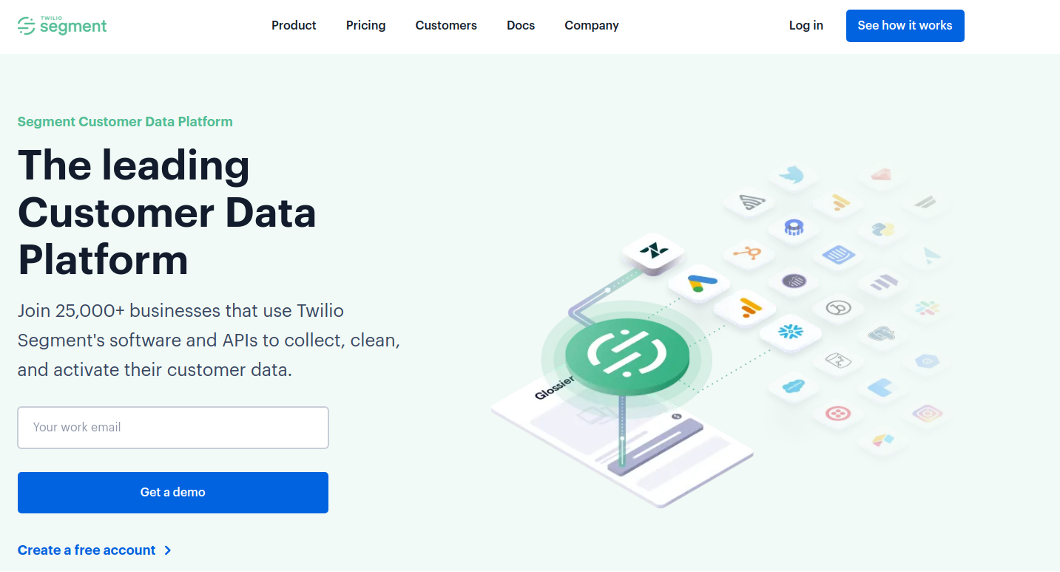 To offer a personalized experience for your customers, you need to collect customer data, manage it, and make it accessible to your teams and the other apps that you use. Customer data platform Twilio Segment helps you do this with a single view of all the important data on your customers. 

Adobe Target lets you test, optimize, personalize, and easily automate your business. This personalization solution uses powerful AI testing and omnichannel personalization to help you create coherent messaging and offers for a variety of channels and devices.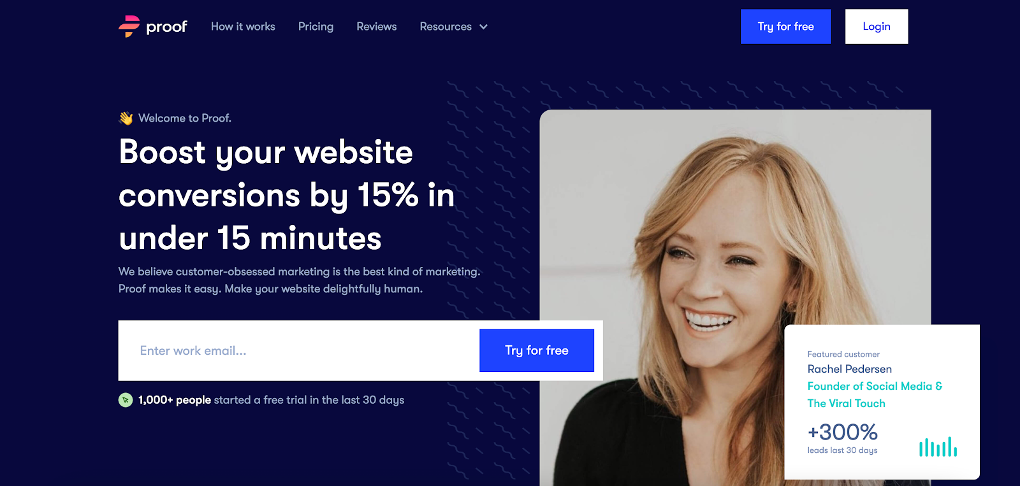 Proof is another great personalization tool. It allows you to build visitors' trust with personalized social proof badges. You can use whatever social proof will be most persuasive for each individual customer.
In this article, you learned all about website personalization. You discovered the advantages of creating a customized experience for each user and their specific needs. You saw powerful examples of web personalization in action and got an overview of how to create customized experiences for your audience. Lastly, you got a list of tools that can help your sales team take your web personalization efforts to the next level.
Bookmark this article and come back to it regularly as you create engaging, unique shopping experiences for your audience!