A quiz funnel helps you collect valuable information about your customers in a fun and engaging way. Not only will you generate leads and collect email addresses, but you'll also learn about your potential customers' interests, concerns, and preferences. You can even use a quiz funnel to direct visitors to specific products that will solve their problems.
In this article, we'll explain what a quiz funnel is, why you should use one, and how to create a quiz for your own store. We'll also show you 7 real-life examples of great quizzes that top ecommerce brands are using.
A quiz funnel (also known as a quiz marketing funnel) is essentially a survey form that users fill out to learn something about themselves. 
They're very similar to a personality quiz.
You've probably seen them before—or perhaps you've even taken one yourself to find out what skin type you have or what shampoo you should be using.
Visitors begin to move through the quiz funnel by answering a series of questions. After they've answered all the questions, they'll get the quiz results, which tell them what type or category they fit into. Each possible result of the quiz funnel represents a different user segment, which you can use to deliver personalized product recommendations and tailored messaging.
Why should you use a quiz marketing funnel?
Using an online quiz marketing funnel as part of your conversion funnel has several benefits:
1. Quizzes generate interest
Whatever quiz funnel topic you choose, your website visitors will be excited to fill it out. That's because quizzes are not only fun and engaging, but also reveal something to your users about themselves. 
People don't know what the quiz result will be in advance, which creates a powerful sense of curiosity.
And once someone fills out the quiz questions and receives their results, they'll likely want to share their results with friends. How often do you see a friend of yours sharing a Buzzfeed-style quiz on social media? The positive word of mouth that results from this social sharing will motivate others to take the quiz, too.
2. Quizzes help you get to know your audience
Ecommerce companies are always looking for more information about their customers. The more information you have, the more effectively you can personalize and tailor your messaging.
Quiz funnels allow you to segment your target audience with precision, going far beyond indistinct categories like "first-time visitor" or "email subscriber." Instead, you can discover what each customer is interested in on an individual basis. 
When you know what categories of products a specific visitor is likely to buy, you can develop messages that are highly relevant and targeted.
3. Quizzes address customers' uncertainties
One of the biggest challenges for ecommerce companies is dealing with the reservations customers have about trying new products. Since your visitors can't see, touch, or try on the products, there will always be an element of doubt involved.
Quiz funnels help solve this problem by reassuring potential customers that specific products are a good fit for them. After all, they've just filled out a quiz that tells them what products suit them!
4. Quizzes drive more sales
For all the reasons above, quiz funnels are a highly effective way to drive sales. They're also very cost-effective: once you've put in the effort to create them, they don't have any ongoing costs.
7 quiz funnels to copy for your ecommerce store
Let's see how 7 top ecommerce brands accomplished the goals above with their own quiz funnels.
1. Sephora
Sephora's quiz funnel is dedicated to helping visitors discover solutions for their hair problems. 
Since the store carries such a wide array of hair care products, customers can easily get confused and overwhelmed. The step-by-step quiz funnel helps narrow down all those options and find the right products for them.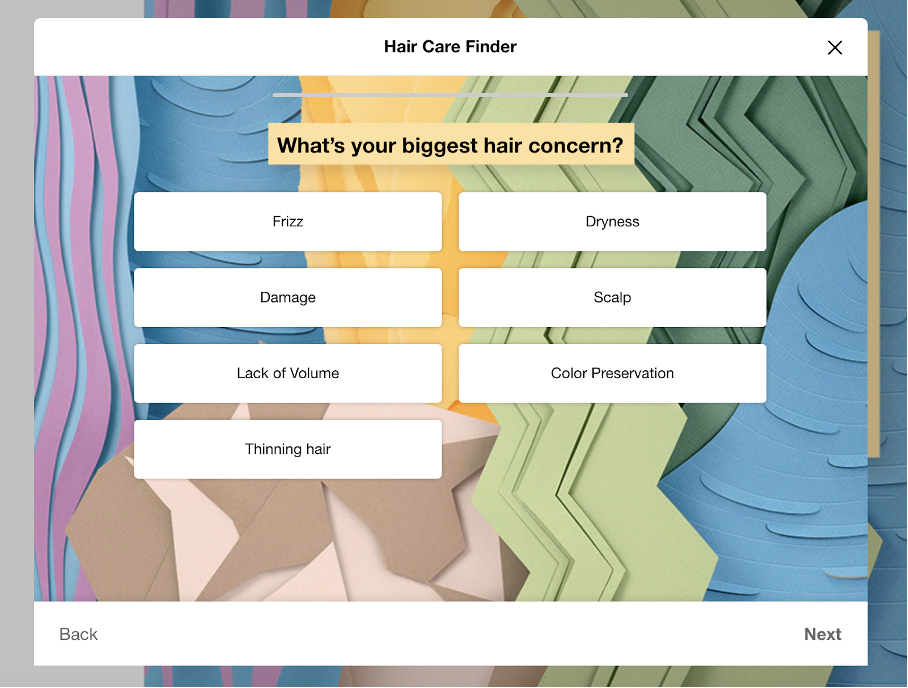 2. Warby Parker
Buying eyeglasses is notoriously difficult—even in a brick-and-mortar store. You could try on a hundred different frames and still not find the one you like. 
Warby Parker's quiz funnel asks users about important factors, like face size and shape, that help determine which frames are suitable for a certain person's face. It also asks about style preferences, like color and frame shape. As a result, quiz takers will receive truly valuable product recommendations.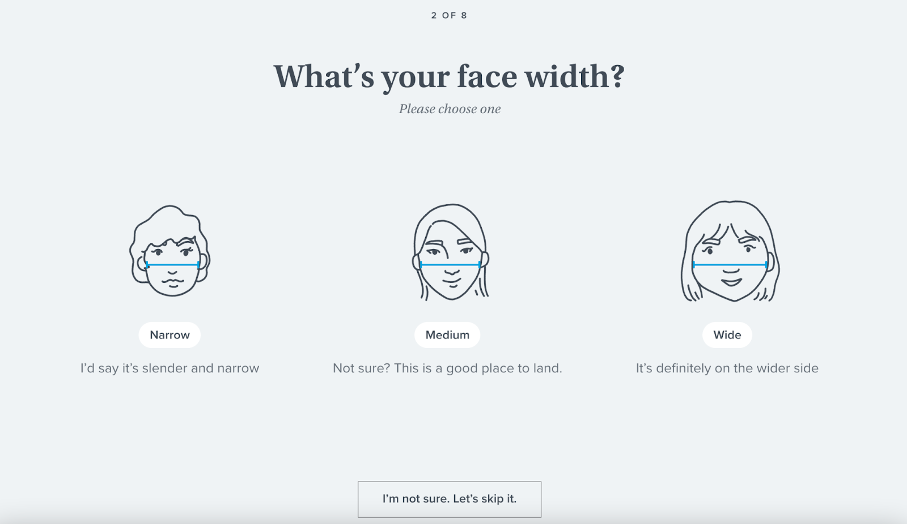 3. Function of Beauty 
Function of Beauty's quiz funnel takes a slightly different approach to hair care than Sephora's. Rather than asking quiz takers about their hair problems, they ask customers about their hair goals.
Here, visitors have the option to select multiple options. This open-ended approach can lead to product recommendations that solve multiple problems at once, or to a bundle that contains multiple products.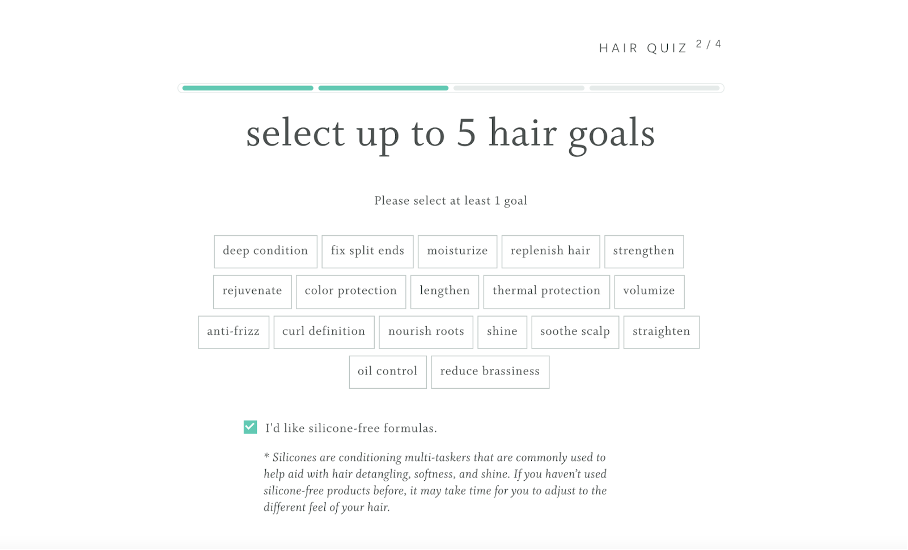 4. Stitch Fix 
Stitch Fix's quiz funnel also allows customers to choose multiple options. This time, it's from a list of reasons they're "excited to try Switch Fix." 
The reasons behind a visitor's interest in a brand can tell you a lot about what they're expecting from the interaction, helping you tailor your messaging.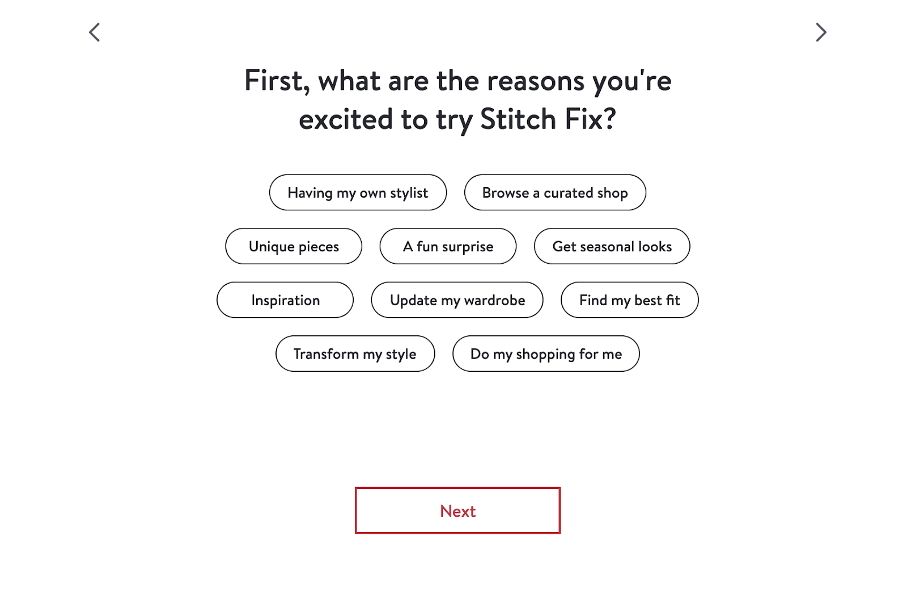 5. Rare Beauty 
Rare Beauty asks quiz takers about their skin tone to provide more appropriate product recommendations. The quiz is simple and beautifully designed, with photos that help their audience answer the questions more easily.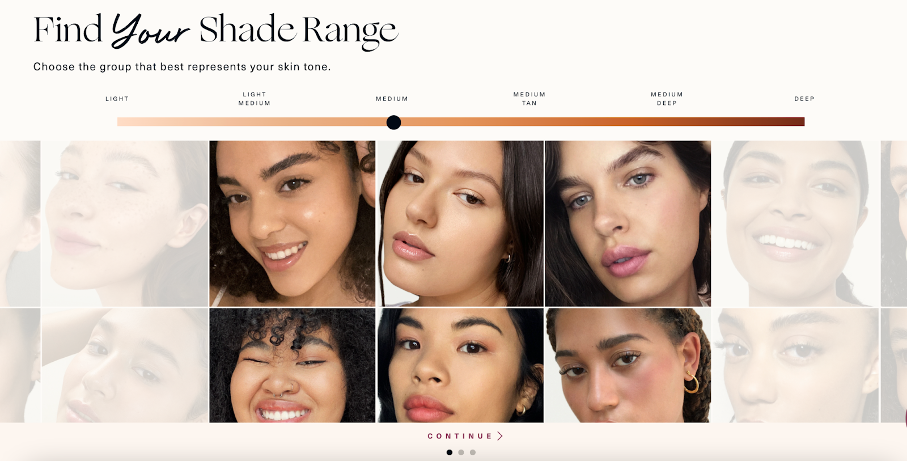 6. ThirdLove
The quiz funnel from ThirdLove starts very simply, asking visitors "What brings you here today?" 
Interestingly, this is the very same question you'd expect to hear when walking into a brick-and-mortar store. It sets the tone for a highly personal, informal shopping experience.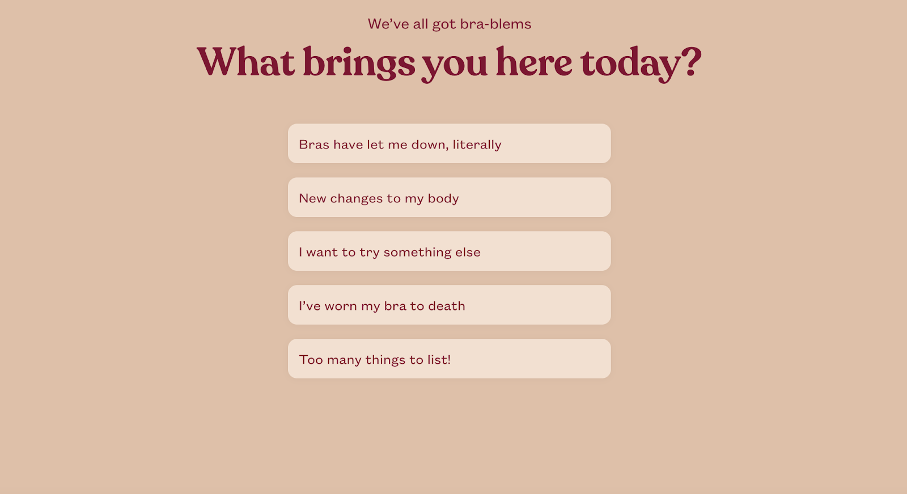 7. Murad Skincare
Murad Skincare asks their audience about the biggest problem they want to solve. It's a straightforward way of getting a customer's input on exactly why they're shopping. 
Note the concise, understandable copy, which ensures answering the quiz questions won't require any effort on the customer's part.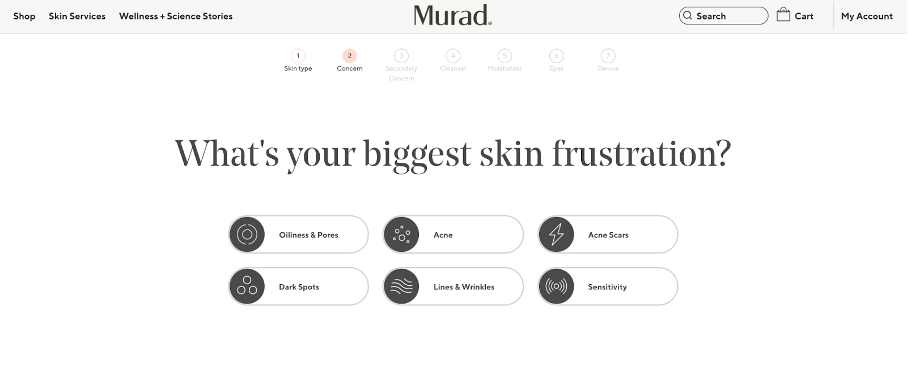 How to create a quiz funnel?
OptiMonk's conversational popups make it easy to create your own engaging quiz funnel. Your customers will be able to fill out all the quiz questions in a multi-step popup without ever leaving your landing page.
Here's how a conversational popup funnel works, step by step: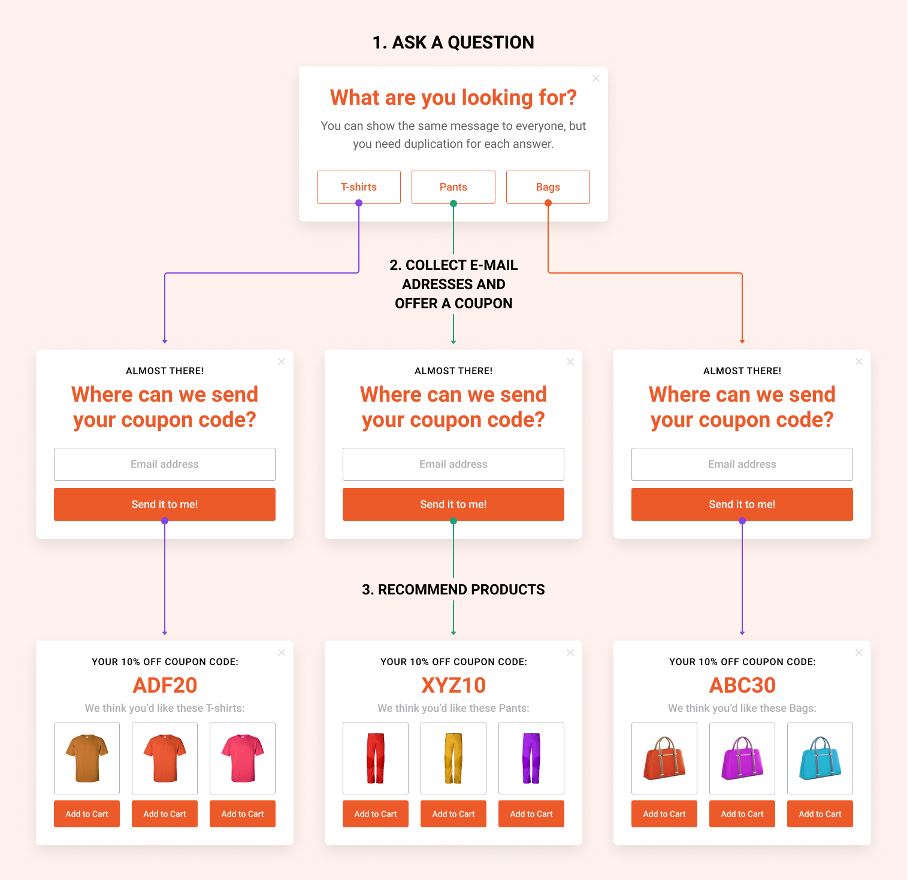 Now let's see step-by-step how you can create your own quiz funnel!
Step 1: Choose a relevant quiz topic
You need to create a quiz that resonates with your potential customer and to achieve that, you need to understand your audience.
Get to the core of what makes your audience tick! What challenges are they facing, and how can your product or service help them overcome those challenges?
By creating a quiz that helps your audience identify the right product or service for their needs, you'll establish trust and credibility with your potential clients.
So get brainstorming and choose a topic that will leave your audience begging for more!
Step 2: Choose a template
Now that you have a clear understanding of your audience and have decided on the perfect quiz topic, it's time to choose a template that will bring your quiz to life.
Fortunately, OptiMonk's Template Library offers a variety of conversational popup templates to choose from.
These templates are designed to captivate your audience's attention and keep them engaged from start to finish.
Step 3: Create the quiz
Once you've chosen a template, it's time to customize it with your specific questions and answers.
Using OptiMonk's drag-and-drop editor, it's easy to edit all the placeholder text and create an amazing quiz that reflects your brand. Note that you can make your quiz as simple or as in-depth as you like!
Then, you'll customize your email capture screen with a special offer or coupon to entice your visitors before revealing their results.
The final step is setting up personalized product recommendations that will appear based on your visitors' answers. You'll want to make sure that the products you're recommending align with the quiz taker's results. 
Step 4: Publish your quiz
Now, all that's left to do is activate your popup campaign and wait for the customer data and email addresses to start rolling in!
The boom in quiz funnels doesn't show any sign of slowing down. They're one of the best ways to learn about your audience and provide more relevant messaging and recommendations.
Have the examples of great quizzes we've looked at inspired you? Now it's your turn…take a stab at creating your own engaging quiz funnel! Your customers will thank you when their shopping experience becomes smoother and more enjoyable.
Take some time to browse through OptiMonk's Template Library and select a conversational popup template that will take your quiz to the next level. With the right template in hand, you're well on your way to creating a quiz that your audience will love and remember for a long time.