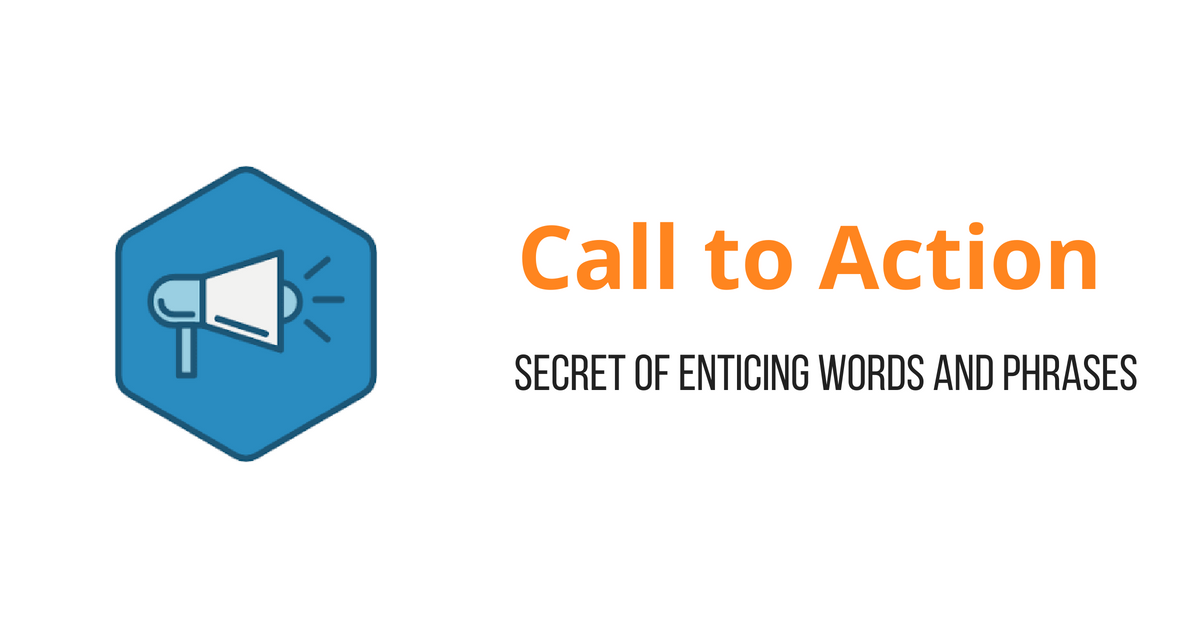 Calls to action are more than just words or directions to help with navigation. When placed within the right visual context, call to action words or phrases have the power to convert. Have you ever heard the English language idiom "A picture is worth a thousand words"? Images convey emotion and emotions greatly impact the decision-making process.
Power Call to action words and phrases
The context in which the CTA is placed explains the value, which is why its known as the value proposition. In sales speak it is the what is referred to as the WIIFM (what's in it for me) if I click this CTA button. This is a story, a message that should elicit an emotional response from the potential customer. The offer should be distilled into a single sentence, it is a lead magnet in combination with a CTA that should elicit the desired effect.
Have you ever heard the English language idiom "A picture is worth a thousand words"?
For ecommerce websites, a picture really is worth a thousand words with regards to conveying the right set of emotions and your message to potential buyers. Static images or a short background video presentation are essential to convey the backstory to whatever you are selling, necessary to build a high converting campaign. These visual experiences explain what the potential buyer can achieve through the purchase of your product or by subscribing to your newsletter. Typically, images of cheerful happy people or power images portraying success are the norms, however, images that convey a pain point that the visitor experiences (identifies with) and a lead magnet providing a solution in combination with a CTA should initiate the desired action to get the answer or solution they need, – this is also highly effective.
When placed within the right context, a call to action phrase has the power to convert.
Click To Tweet
All too frequently, those unfamiliar with CRO slap a poorly considered lead magnet, A call to action and phrases together with content or images that are irrelevant to the consumer, – with little thought or consideration to consumer motivation and buying emotions. These are unlikely to be AB tested. It will also fail to take into consideration that there might be more than one consumer type with a different motivation. CRO is the secret sauce to creating successful ecommerce websites.
Understand your customers, and understand CRO and you will be successful with ecommerce.
Click To Tweet
The right message.
The message composition and design must consider background color, surrounding images, and surrounding text and specifically in reference to the buyer persona and buyer motivation. There is likely to be more than one kind of buyer and therefore there are multiple personas to target. Choose images and CTA's relevant to each one.
You are probably wondering how can you target each persona separately?
I'm sure you have already heard about segmentation, well, one way to segment visitors into a consumer type (or persona) is to have a landing page for each type. Here you can craft a highly targeted message that elicits emotion surrounding the hopes or fears of potential customers of each persona in order to trigger the all-important set of buying emotions (persona specific).
This is easier said than done.
To start you need to understand your customers in order to define the different types. For insights into your customer's motivations take a look at your google analytics data, this is crucial to see the route your website visitors/customers take through your content (and conversion funnel) to become customers.
For each type of customer identified you need to break down the route or journey into stages, – (conversion funnel stages) in order to track future visitors according to progress along your sales, marketing or conversion funnel.
Perhaps the simplest way, to target the various consumer types is to automatically trigger personalized message based on their stage and the content interacted with. To do this you need a way to trigger the right kind of message at exactly the right moment in real time, in precisely the right location to get the visitors attention. Enter onsite retargeting.
Onsite Retargeting.
Onsite retargeting is a quick and in the moment solution. Immediacy is, without doubt, its biggest strength. Your content sets the context for the message and so the message in effect becomes the landing page. The background image to the message is critical since space is limited, but only a few words are needed (the lead magnet). There are detailed examples and explanations of onsite retargeting on this website. If you are unfamiliar with it please explore our blog.
The following examples of lead magnets and great calls to action in context are from leading brands. Please note the context of the entire message and the emotions the brand is trying to elicit, – not just the CTA.
CTA Examples
Every CTA must take into consideration.
The reward for clicking the button – what would be of value to the customer?
Nike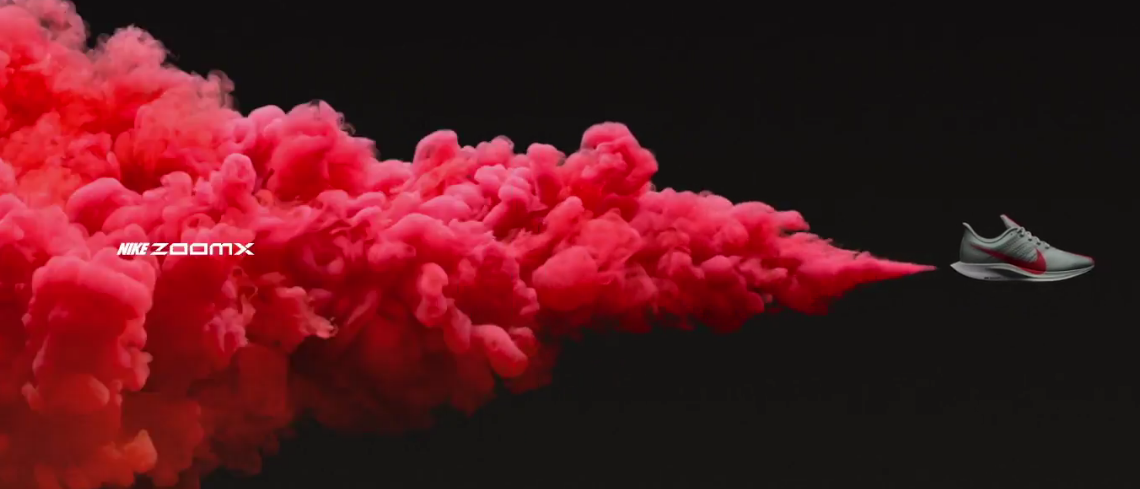 The 2018 homepage campaign for their Nike ZoomX product is a short video, designed to be attention-grabbing. The above image is a screenshot from this video. Above it in the most important place on the entire website above the fold is a scrolling message with a "learn more" CTA. Yes, that's right, multiple scrolling messages dealing with primary pain points of the customer, – objections to buying online. In addition, there is a discount for a primary target group, students. In combination this is a powerful campaign, dismissing each of buyers concerns within the first 20 seconds of coming to the website.
Although the "learn more" CTA from the scrolling message is rather uninventive, it is a good use of space, ensuring that the visitor knows where to find more info about how Nike addresses their concerns. The visitor is effectively being asked, is this a problem for you? If the user clicks any of them then straight away it provides a way to further address the fears of the customer and to further incentivize purchasing actions.
After 30 seconds or so on the homepage a popup is displayed, over the homepage banner. It targets the emotions related to being a VIP and exclusivity. Get something unique and be the first to be in the know, this is the message.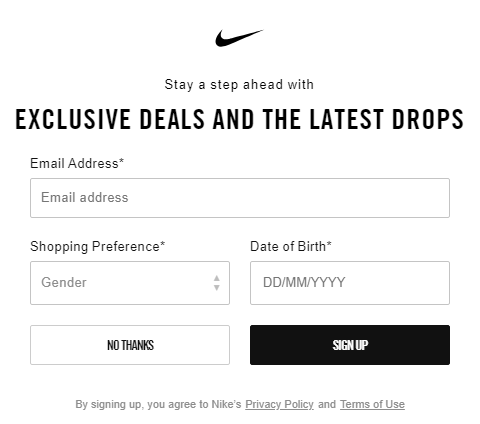 The short time delay before the popup means that the first time visitor has little to no time to do anything except deal with their fears and sign up for exclusivity and access before they can look around. The email subscription segments the visitors according to gender and date of birth straight away via the popup message.
This combination of cool emotive imagery, the messages addressing consumer fears, incentivizing discount for students and the promise of exclusivity is designed to trigger the buy-in to the brand. Trust is essential, and dealing with the fears early is a good move for building trust in your brand early on.
Curry's / PC World

This consumer electronics store is probably the leading consumer electronics store in the United Kingdom, although they are also located throughout southern Europe as well. Their website is deal focused, offering discount coupons on just about every goods category.

The most frequently used CTA is "Shop now' which creates a sense of urgency just by using the word "now". The homepage slider transitions to the offers listed on the right. These offers are effective at focusing the visitors' attention on certain products, preventing the visitor from becoming overwhelmed by the vast selection available.
Underneath this deals slider is the 24hr Power Deals banner, a limited time deal which instills the sense of urgency. Once again "Shop now" CTA is used.

The coupon system is focused on bundling items together in order to achieve discounts in addition to offering free delivery and installation services as well as having a price matching service.
Surprisingly, this website has no exit intent message and seemly does not use an onsite retargeting solution although it does remind users by email about the contents of their shopping cart if abandoned (this can be opted out of though).
John Lewis.
The John Lewis brand is another highly successful UK based department store, including electronics, homewares, and fashion brands, it is a co-operative entirely owned by its employees. It has achieved a luxury high-end status and is a business brand which focuses on seasonal exclusivity rather than discount deals. Their summer 2018 homepage banner is a good example of the strategy.

This particular range of makeup and cosmetic accessories are only available at John Lewis but is a well known cosmetic brand. The CTA is "Shop the exclusive collaboration" and this CTA is common across all departments, – luxury goods suppliers offering ranges exclusive to John Lewis department stores.
The John Lewis brand is associated with quality and is a stylish trendsetter with a loyal customer base. Just like Nike, it leverages its premium high street store locations in upmarket areas to provide exclusivity that manufacturers must supply. That being said, there are deals and offers but these are not prominent. Discounts of value are available via the partnership card program. Points are earned through purchases and these can be exchanged for a discount for any items in store online or offline effectively discouraging you from purchasing elsewhere. The John Lewis app enables customers to keep track of their points and track purchases.
The three examples above show how CTA's can be used to good effect. Consumer electronics consumers tend to be disloyal, opting to price check to find the best deal online, no matter the supplier. Curry's / PC World, therefore, offers discount coupons and timed offers with a "Shop now" CTA reflects this, – relying on the urgency to close the deal.
Both Nike and John Lewis are selling exclusivity and quality with strong loyalty programs however John Lewis is more aware of CTA power and uses it to better effect. "Shop the exclusive collaboration" is a little bit over the top for a button, however, perhaps it could be "Shop Exclusively" instead.
Whatever you are selling in your ecommerce store consider your brand placement carefully within your sector and try to create CTA's that target the correct segment accordingly, just as the 3 examples above have done. Every single one of your offers and CTA's should be AB tested using OptiMonk. Create a free OptiMonk account now to see why.