Who doesn't want to maximize their profits and increase sales?
If you're an ecommerce business owner, you probably know that boosting profits comes down to optimizing your ecommerce store. And lucky for you, we're about to embark on a journey to explore 9 essential tips for ecommerce optimization, revealing the secrets behind boosting your conversion rates and overall site performance.
Are you ready? Let's dive right in!
Ecommerce optimization is vital for maximizing conversion rates, increasing revenue, expanding audience reach, and creating a seamless customer experience, all of which lead to higher sales and profits.

Conversion rate optimization tips include improving site speed, enhancing product pages, streamlining navigation, personalizing the user experience, catering to mobile users, implementing A/B testing, reducing cart abandonment, discovering hidden conversion killers, and using a dynamic free shipping bar.
What is ecommerce optimization?
Ecommerce optimization is the process of improving the user experience, conversion rates, and overall performance of your online store to maximize profits.
Why is it so important?
Well, ecommerce optimization is an invaluable tool for increasing revenue and expanding your audience, giving you the opportunity to reach even more people.
Optimizing ecommerce sites essentially means that you're fine-tuning every aspect of your store to create the best possible experience for your customers. And when your customers are happy, they're more likely to make a purchase, which ultimately boosts your sales and profits.
How do you optimize your ecommerce store?
Without further ado, let's dive into our step-by-step ecommerce optimization guide and discover the top 9 tips to maximize your profits and give your online store a competitive edge!
1. Boost site speed
Did you know that optimizing your site speed can help your ecommerce business by reducing the bounce rate and increasing conversion rates?
Studies have shown that a slow-loading website can lead to a higher bounce rate, as website visitors simply won't wait around more than a few seconds for a site to load. And if they do happen to stick around, they're likely to leave without making a purchase if your site is slow.
To ensure your website is as fast as possible, consider selecting a reliable hosting provider, optimizing images, and eliminating any unnecessary elements.
2. Enhance product pages
High-quality product pages can boost your ecommerce success by helping customers feel more confident about their purchase and leading them to the checkout page.
But how can you create effective product pages?
First, you'll want to start by conducting a comprehensive audit to pinpoint and eliminate unnecessary elements from your entire website (including your product pages), making it more search engine friendly.
Next, remember to craft a compelling product description and use a variety of high-quality images including your ecommerce logo, to show your product and demonstrate the benefits shoppers will experience by purchasing from you.
Social proof is another powerful way to boost your product pages. Here's a great example from Vegetology, where they featured a testimonial at the top of the product page: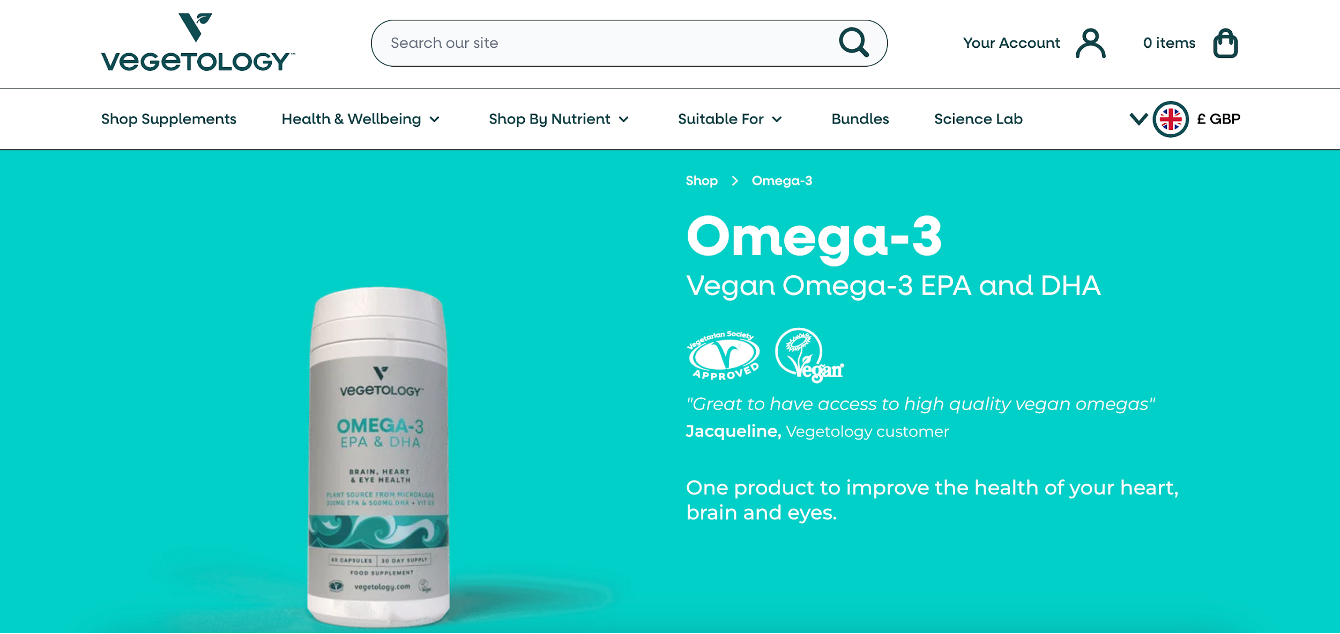 And they also have plenty of reviews at the bottom: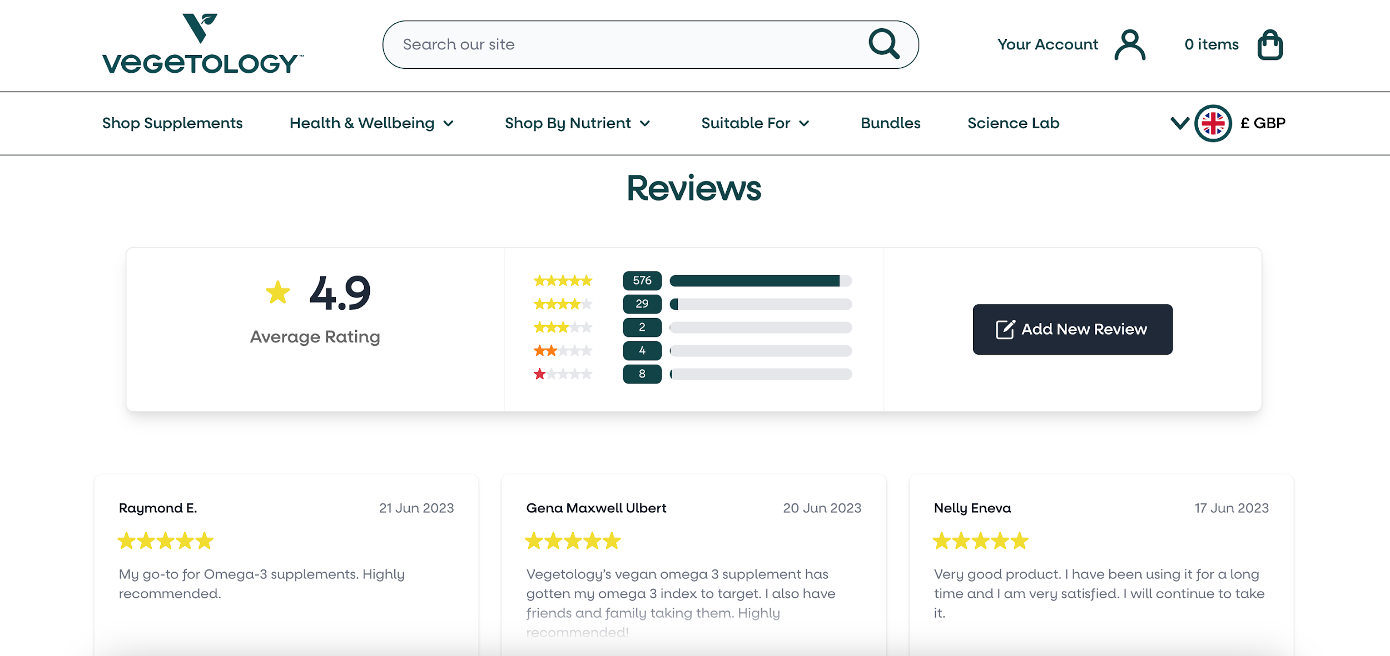 You can either inspire customers to submit reviews and visual content, or you can source images and videos from social media. This will not only enhance your brand credibility, but also encourage potential buyers to trust your product offerings and make a purchase.
Remember, your product pages are the heart of your ecommerce store. By investing time and effort into enhancing them with high-quality images, detailed descriptions, and engaging user-generated content, you're setting yourself up for success in the competitive world of ecommerce.
Recommended reading: 20 Best Practices To Build a Perfect Ecommerce Product Page
3. Streamline navigation
Navigation is essential for ecommerce success—it's how shoppers move around your ecommerce store and find the specific product or category they have in mind.
Clear navigation can make it easier for shoppers to locate what they need on your site, leading to more sales and even boosting your search engine ranking.
Utilizing a prominent search bar is a must-have for clear navigation. Amazon's search bar is a great example of facilitating easy product searches on your website.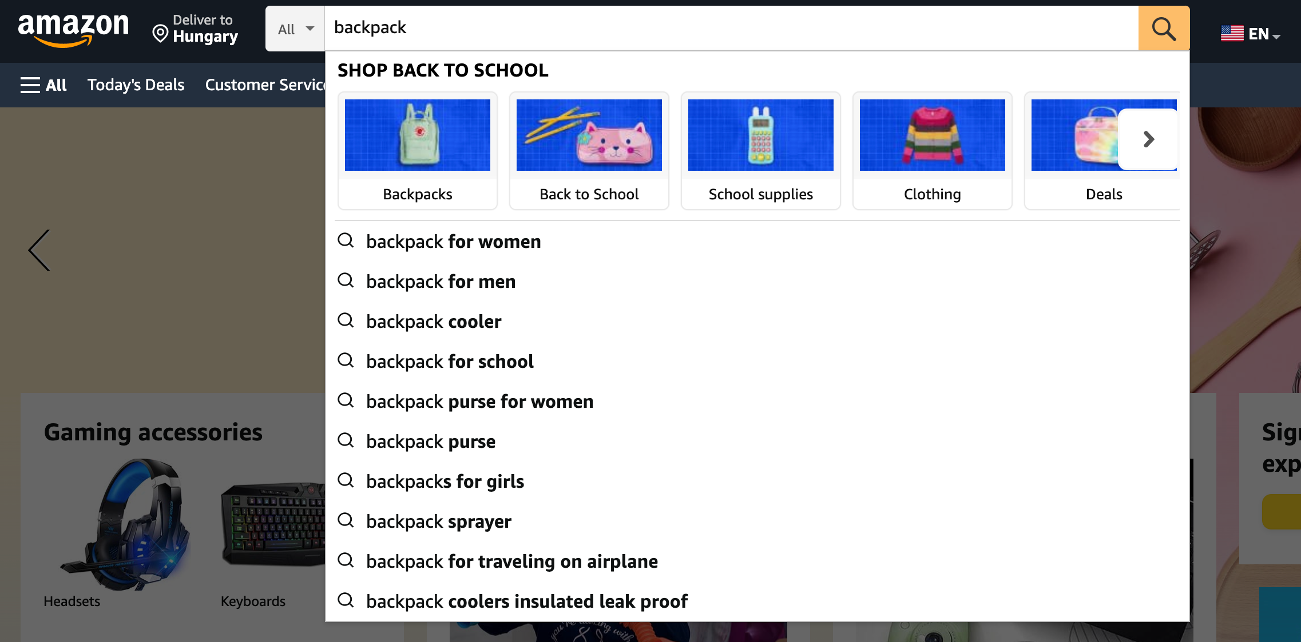 Another key aspect is an effective ecommerce navigation menu that quickly and clearly presents a wide range of product categories.
Check out Sephora's menu as an example:

The easier it is for customers to find what they're looking for on your ecommerce site, the more likely they are to make a purchase, driving up your sales and profits.
4. Personalize user experience
Personalization is at the heart of ecommerce success. By offering customers a personalized shopping experience, you can significantly increase customer satisfaction and boost your profits.
Upselling and cross-selling are great techniques to offer customers additional products or services that can complement or even enhance their original purchase.
Research shows that 68% of online shops' income is a result of recommending related products with the language "visitors who viewed this product also viewed." This clearly demonstrates how important product recommendations can be for an ecommerce business.
Lammle's used a product recommendation popup on category pages to help engaged shoppers choose by recommending the most popular products. This led to a 26.3% increase in revenue among these category page shoppers.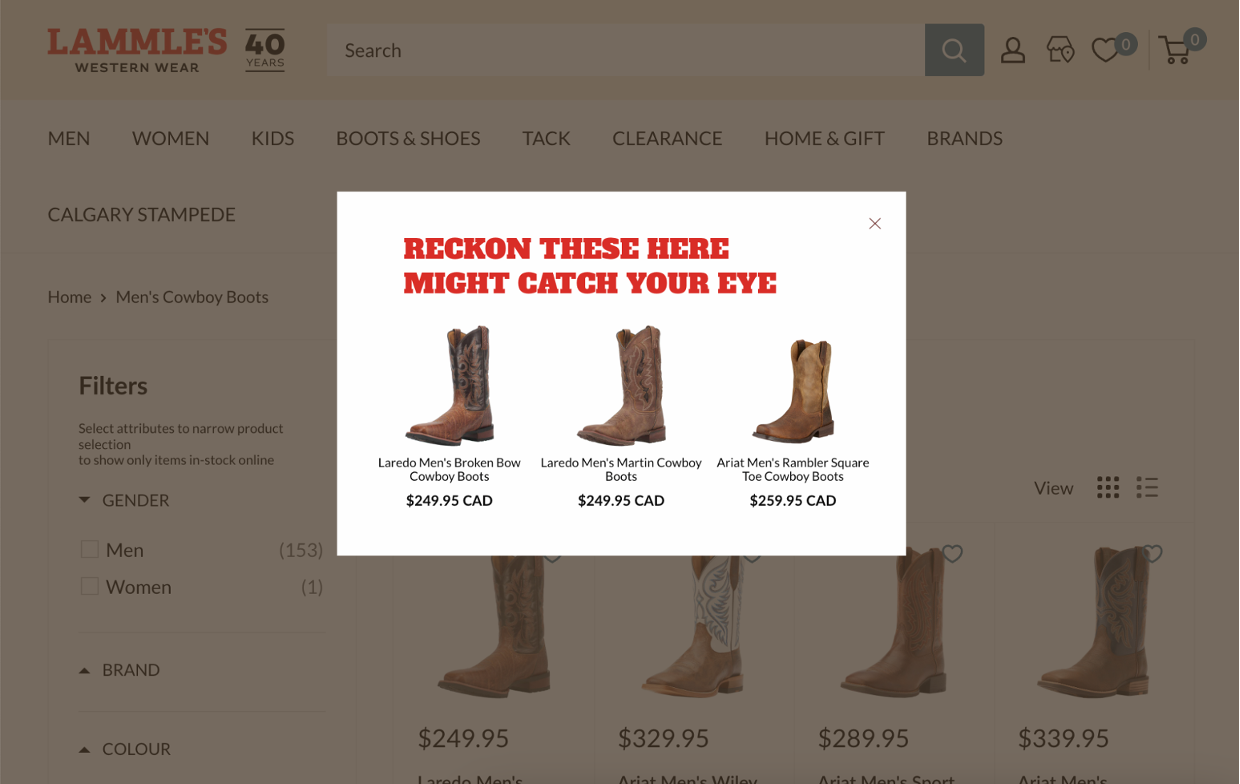 To make sure you're displaying relevant products, you can also start by asking visitors what they're interested in. Once they make a choice, you can use that information to show them the most relevant product recommendations across your website, including on the product pages and cart pages.
This could help to improve the user experience and increase product recommendation conversion rates by 30-50%.
Today's shoppers expect a personalized shopping experience, and using personalization strategically is an excellent way for store owners to differentiate themselves. With personalized experiences in place, you'll be well on your way to achieving ecommerce success.
Recommended reading: The Ultimate Guide to Website Personalization
5. Cater to mobile users
Mobile ecommerce sales have been growing dramatically, and there's no better time to take advantage of that growth.
To optimize your ecommerce store for mobile devices, start by ensuring you have:
a responsive design,

easy navigation, and

large, clear calls-to-action.
By creating a great mobile experience, you're expanding your reach.
6. Implement A/B testing
A/B testing is a powerful technique that can help you identify which version of a page (or a specific on-page element) works best.
It can unlock incredible potential for ecommerce optimization, providing invaluable insights into which on-page elements are most effective at converting visitors into buyers.
You can test different versions of headlines, images, and CTAs to see which ones bring in the most conversions.
To address low landing page conversion rates or underperforming popup campaigns, you can also conduct A/B tests on your offers to identify the most compelling ones for your target audience.
You can experiment with different discount types (like percentage or dollar-off discounts, mystery discounts, or free shipping) to determine their impact on conversions.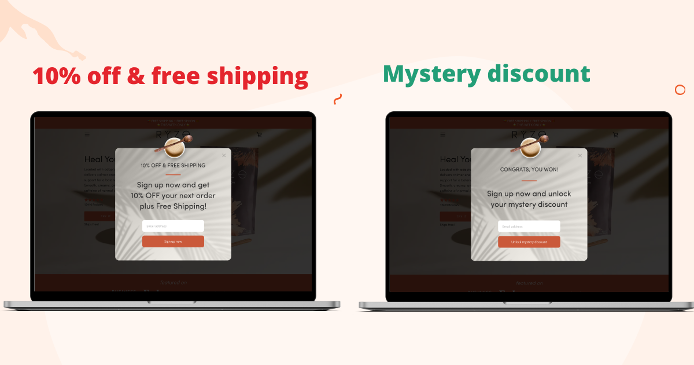 The value of A/B testing lies in its ability to ensure your efforts are as effective as possible. By constantly testing and refining your on-page elements, you can stay ahead of customer expectations and shopping habits, as well as keep up with the ever-changing search engine algorithms.
Ecommerce success requires a solid A/B testing strategy, which will help you continuously improve your store.
Recommended reading: 7 Easy-to-Implement A/B Testing Ideas to Grow Your Revenue & Increase Landing Page Conversion Rates
7. Reduce cart abandonment
A whopping 66% of potential customers abandon their shopping carts before completing a purchase.
To reduce cart abandonment, streamline the checkout process by:
offering clear, concise shipping information,

providing a guest checkout option,

ensuring a variety of payment methods are available,

making the checkout process easy to navigate, and

requesting all required information upfront.
Exit-intent technology is also an effective way of reducing abandonment by detecting when visitors are about to leave the page and popping up an offer to get their attention just in time.
With a special discount, you can entice hesitant shoppers to complete their purchase and become customers. Start turning those abandoned carts into sales with these ready-to-use templates:
8. Discover hidden conversion killers
The best way to uncover hidden issues with your buyer's journey is by gathering feedback.
Ask for feedback from visitors who don't convert and you'll gain important insights into what's working on your website and what's not.
By applying their suggestions, you'll be able to optimize your ecommerce store for maximum engagement, conversions, and revenue growth.
9. Use a dynamic free shipping bar
Have you ever found yourself adding an extra item to your cart just to meet the free shipping threshold?
According to a survey, 9 out of 10 consumers consider free shipping as the most enticing incentive for online shopping.
By leveraging this knowledge, you can effectively increase your average order value and overall revenue.
For ecommerce stores that offer free or discounted shipping above certain thresholds, implementing a dynamic free shipping bar that updates in real-time, showcasing the exact additional value needed to qualify for free shipping, can make a big impact.

What are the factors in ecommerce website optimization?
For successful ecommerce website optimization, you need to focus on specific factors like site speed, efficiency of navigation, mobile-friendliness, and overall user experience. By improving many different aspects of your website, you'll be able to deliver an exceptional on-site experience which will lead to more sales, more profits, and happier customers.
How do I optimize my ecommerce website for search engines?
Conduct thorough keyword research to identify relevant and high-demand keywords that align with your products. Incorporate these keywords naturally throughout your website's content, including product descriptions, headings, and meta tags. Ensure your website has clear, descriptive URLs, and optimize your site's structure and navigation for easy crawling by search engine bots. Don't forget to implement a solid internal linking strategy to enhance the discoverability of your pages.
How can I personalize the user experience on my ecommerce site?
Personalizing the user experience on your ecommerce site allows you to create a more meaningful, engaging shopping journey for your customers. Try to offer customized product recommendations based on customer browsing history, tailored content that resonates with individual users, and AI-driven features to better understand user preferences.
Well, there you have it—an actionable guide to ecommerce website optimization in 2023. By focusing on the 9 conversion rate optimization tips shared in this article, you can maximize your profits and achieve ecommerce success.
Remember, the key to a thriving ecommerce business is a seamless, enjoyable customer experience. Now get out there and optimize your ecommerce store for success!