Wishpond is an all-in-one marketing platform that promises to help you grow your online business.
Wishpond's marketing software can help ecommerce stores build landing pages, website popups, embedded forms, contests and promotions, marketing automation, email marketing, lead management, and more.
As you can see, Wishpond offers a lot of solutions, but if you take a closer look, you'll see that it also has some limitations.
In this article, we'll go over 7 great Wishpond alternatives that have the same key features. You might find that one (or two) of these marketing tools could serve your needs much better than Wishpond!
Why would you need a Wishpond alternative?
First, let's discuss why you might consider looking for Wishpond alternatives.
In theory, running everything from your best social media ads to your contact management using only one marketing platform seems incredibly convenient, right?
Unfortunately, when a tool tries to be an all-in-one marketing platform, many of its individual tools will lack important features. This means you'll struggle to achieve the results you want.
For example, dedicated lead generation software like OptiMonk will naturally gather more leads than Wishpond because it has advanced features developed just for this purpose.
We can see how these limitations affect real businesses by looking at Wishpond's G2 reviews. They have 24 1-star reviews, (with an average rating of 3.8/5 stars) and there are many complaints about the company and its customer support. That's a shame!
Let's have a quick look at some of the reviews:


As you can see, some of these comments have to do with key features that don't work properly, while others refer to the company's poor online support.
The best alternatives to Wishpond won't have either of these issues. So let's get right to it… our list of the 7 best Wishpond alternatives!
What are the best Wishpond alternatives for marketing automation?
First, an important note: some of these Wishpond alternatives don't have all the features that Wishpond does. In most cases, you'll see that's actually a good thing.
Many of them are devoted to just one purpose, whether that's social media management, email marketing, or personalized campaigns. As a result, they have more robust features and functionalities in these areas.
Based on your content strategy and marketing goals, some of these platforms might be more or less important for you to focus on. As you read through the list, consider the challenges you're dealing with and your business goals.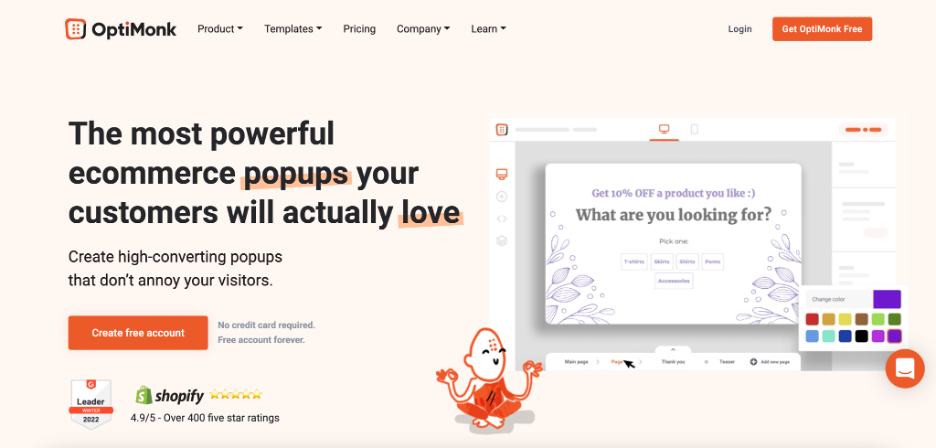 Although OptiMonk is not an all-in-one marketing automation tool, it does help ecommerce stores achieve many of their marketing goals, including email list growth, revenue growth, feedback collection, and user experience optimization.
OptiMonk's ecommerce popup tool comes with many customization options, so you can control precisely how and when your popups appear to your visitors.
It's clear that users appreciate these features and the great results they bring: OptiMonk has over 450 five-star reviews in the Shopify App Store!
OptiMonk's unique features
OptiMonk's popup software is full of useful features that lead directly to higher conversion rates. 
Over 300 pre-made templates
OptiMonk's template library is full of professionally-designed popup templates that deliver great results. And all its templates are mobile friendly. 
Powerful drag and drop editor
Once you've chosen a template for your popup, you can easily customize it to match your website design. Some of the customization options include:
Size, layout, and position

Colors

Images

Opt-in form fields and copy
The process is simple and doesn't require any coding knowledge.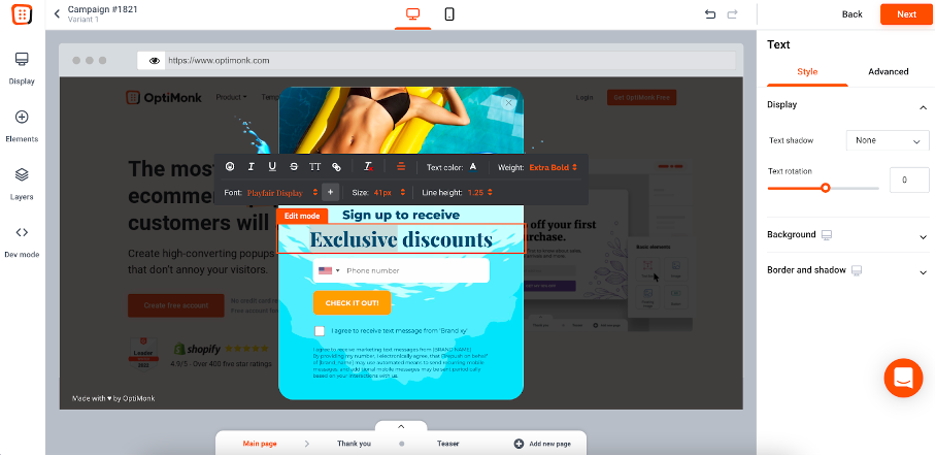 Lots of campaign types
OptiMonk offers many campaign types and use cases for your ecommerce store, including:
Email & SMS signups

Conversational popups & quizzes

Free shipping bars

Gamification campaigns

(e.g. lucky wheel)

Sticky bars

Feedback forms

Advanced targeting features
You can tailor your messages for different segments of visitors by using OptiMonk's many targeting features. 
For example, you can display certain popups to users who have added specific items to their cart. You can also show different popups to first-time visitors and returning visitors. Or you can target visitors based on a specific landing page they've visited.
You can also engage customers based on:
Location

Traffic source

Time spent on specific pages

Time spent on site
With these advanced targeting features, you'll only show relevant popups to your visitors based on their behavior, which means you'll improve their customer experience, rather than annoying them.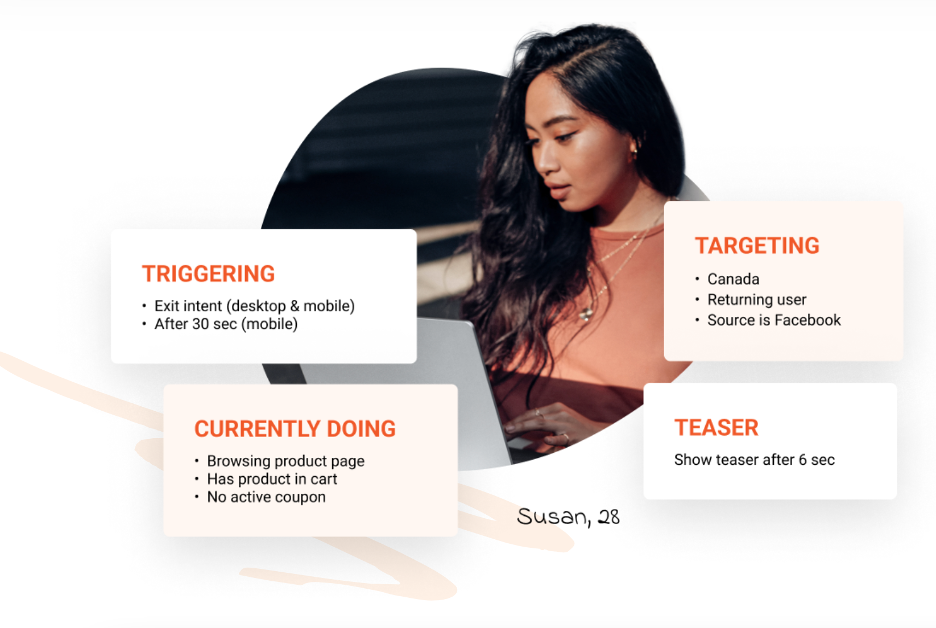 Stellar customer service
If you're unsure about the best setup for your popup campaign or need help using OptiMonk, you can always reach out to our professional customer support team via email, chat, or phone.
Check out this customer review below:

A wealth of integration options
OptiMonk integrates with all the most popular tools that help business owners run their online stores. 
Here are just a few of the many integrations available through OptiMonk (check out the full list here).

Who is this tool for?
OptiMonk is a perfect tool for any ecommerce business that wants to grow its email list or boost its sales and conversion rates. It's easy to use and offers tailored solutions for your marketing campaigns. Even if you're running a store all by yourself, you can create popups quickly and efficiently.
Pricing
Free, or from $29/month.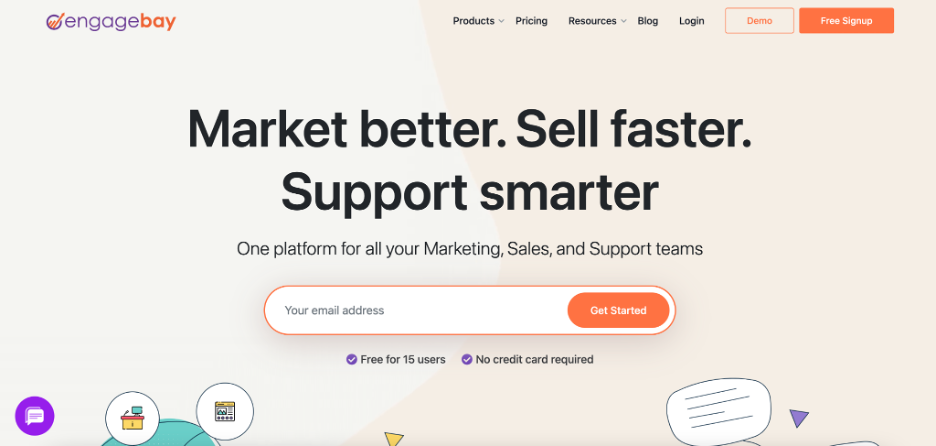 EngageBay is an alternative to Wishpond that bills itself as an "all-in-one content management system." 
It's geared towards sales and marketing, but also provides solutions for your customer support team. Plus, it helps with marketing automation through email marketing sequences and web forms for your landing pages.
EngageBay's unique features:
Conduct market research with the system's "360-degree customer view," which gives you deep insight into your contacts and potential customers.

Send a sequence of emails to convert leads rather than sending just one thank-you message.

Build landing pages using customizable templates and a drag-and-drop designer.
Pricing
Free CRM for up to 500 contacts. Then, from $11.99 a month.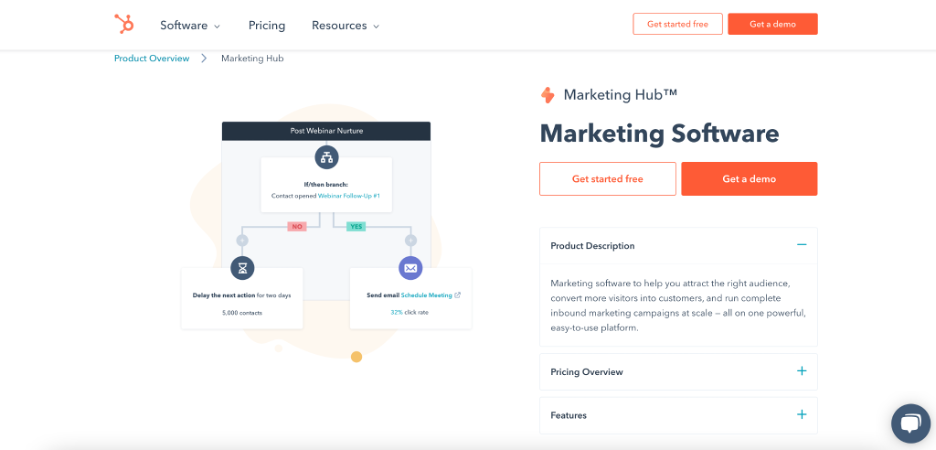 HubSpot is a platform that integrates a range of marketing tools. From lead management to SEO, landing pages, and CRM, HubSpot offers it all.
This has both benefits and drawbacks.
There are some gaps, since the platform isn't totally devoted to any one purpose. For instance, HubSpot's popup builder doesn't offer as many customization options as one might expect. You'll have to decide if the convenience of an all-in-one tool is worth the sacrifice in specific capabilities.
HubSpot's unique features:
Attract visitors through blogging, social media, ads, and more. 

Track ROI with revenue attribution reporting.

Everything is powered by the customer data in your CRM to enable personalization at scale.
Pricing 
From $45 a month.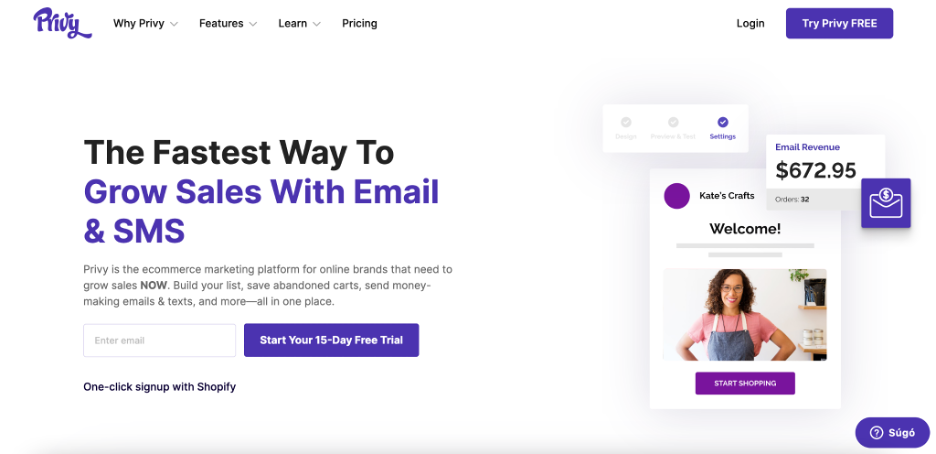 Privy is a lead generation tool that offers ecommerce stores the opportunity to run their email marketing campaigns through their application. Again, this simplicity is convenient, but it does come with a few drawbacks. 
Privy's unique features:
Privy's opt-in form templates come in many shapes and sizes. You can choose from forms that contain different numbers of fields and customize the type of information you'd like to collect.

By using Privy, you can send cart abandonment emails to customers that don't complete the checkout process.

There's also the option to send personalized emails.
Pricing
Free for up to 100 contacts. Then, from $15/month.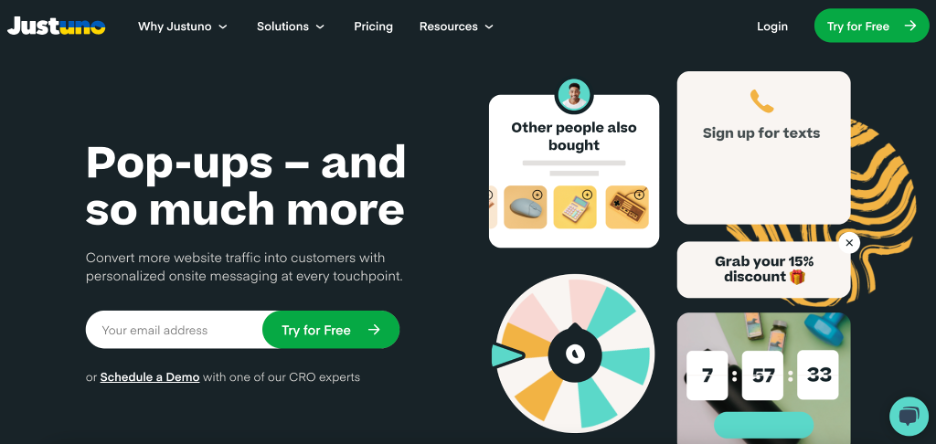 Justuno is a conversion optimization platform that leverages an advanced AI system to deliver insights about your customers and their preferences. Using these insights, you'll be able to automatically create more personalized messages and boost conversions.
Justuno's unique features:
Justuno automatically gathers customer data to create personalized campaigns.

You can also take advantage of Justuno's personalization features while upselling and cross-selling products to your customers.

The specific offers that Justuno displays to your customers are based on what they've already shown interest in.
Pricing
From $49/month. 
Mailchimp is one of the most well-known email marketing platforms on the market. Small businesses and large enterprises use it to keep in contact with their subscribers. 
Furthermore, with Mailchimp you'll be able to add a personal touch to your email communication, which means more relevant messages and more sales.
Mailchimp's unique features: 
Access to over 100 email templates that are appropriate for different message types.

Use marketing automation to set up effective sequences of emails.

You have the option of using Mailchimp's lead generation software to create popup campaigns for your website.
Pricing
There's a limited free version. Then, from $11/month.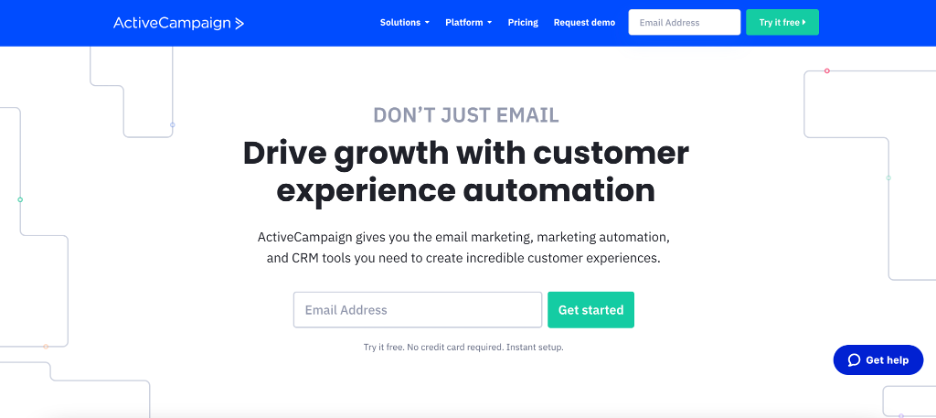 ActiveCampaign is a customer experience and marketing automation platform that helps you manage your customer relationships. 
They specialize in helping small and midsize businesses personalize their landing pages, email campaigns, and website content.
ActiveCampaign's unique features:
Continually improve your messaging and convert visitors more reliably using A/B testing.

Split your target audience into smaller segments and send tailored messages to each segment.
Pricing
You can request a demo, but there's no free version. Starting price is $29/month.
If you've read this far, you probably already realize that you need to look beyond Wishpond if you really want to optimize your user experience and conversion funnel. On that note, we hope you've found some tools that interest you on our list of the top Wishpond competitors. 
All of these user-friendly tools can help both small businesses and marketing professionals use automated marketing to drive growth without a lot of effort. 
Once you set up the ideal combination of tools, your marketing efforts will result in more leads, more sales, and more conversions!