A spin-to-win popup (also known as a lucky wheel or a spinning wheel) is a type of discount popup that gamifies your visitors' experience. A spin wheel game offers visitors the chance to win a variety of prizes (usually a few different levels of discount). To play, the visitor provides their contact details, crosses their fingers, and spins!
Lucky wheel popups have many benefits. They help boost user engagement, convert more visitors, and lead to more sales. In fact, 60% of customers are more likely to buy from a brand if they've enjoyed gamified content.
And the best part? Adding a discount wheel popup to your WordPress site is easy if you have the right plugin. This article will help you find the software you need to implement great spin-to-win popups and start boosting those conversion rates.
Why should you use a lucky wheel popup?
A spinning wheel can bring a sense of fun to your WordPress website. Not many marketing tools are as capable of sparking curiosity as spin-to-win wheels. People have a natural desire to try their chances, which means they'll be happy to sign up for your email list when they can win a "mystery" prize.
Our internal data shows that lucky wheel popups have a 13.23% average conversion rate, which is far higher than the 7.65% conversion rate of email popups that present a simple discount offer. Switching to spin-to-win wheels is a great way to grow your email list much faster than using traditional popups.
And, since more visitors will be getting discounts, a spin-to-win popup can also boost your sales!
How to choose a discount wheel popup?
There are a number of key features you need to look for when exploring WordPress spinning wheel plugins for your online store.
Keep an eye out for:
Easy setup:

You don't want to spend lots of time navigating a difficult process to set up your spinning wheel popup. Make sure that the WordPress plugins you're considering have an easy-to-navigate user interface with just a few steps. If you have a WooCommerce store, for example, make sure that the spin-to-win plugin works on the platform.

Pre-made templates:

You should choose a WordPress spinning wheel plugin that has lots of templates to choose from. You'll definitely want to update your spin wheel popup regularly to fit the season, so having pre-made templates for the Back to School, Black Friday, and Christmas periods is essential.

Easy customization options:

You'll need to be able to customize both the appearance and the offers that customers can win on your spin-to-win popups. Look for a tool that has a drag and drop editor, as well as the ability to choose the levels of discount and the odds of winning each.

Email integration:

Once you collect email addresses using a spin-to-win wheel, you'll need to put that information to good use. Your lucky wheel plugin should integrate with whichever email marketing service you use.

Analytics:

You always want to make sure your marketing tools offer robust analytics that you can use to track your success and ROI. It's no different with spin-to-win popups!
What's the best WordPress spinning wheel plugin?
Here's our list of the top 8 WordPress spinning wheel plugins. They all offer the important core features mentioned above, and they're a great way to start collecting more email addresses, improving the user experience, and boosting sales.
Read on to find the perfect spin-to-win plugin for your ecommerce site!
OptiMonk is an on-site personalization platform that allows you to build your email list, grow sales, collect feedback, and more—all using popups.
Spin-to-win popups are one of the areas where OptiMonk excels, and the platform can help you grow your email list faster by giving your customers a fun way to sign up for your newsletter.
Key feature #1: Access to a huge template library
300+ beautiful pre-built, mobile-friendly templates at no additional cost (including discount wheel popup templates). OptiMonk also offers scratchcards and win-a-gift popups that are other popular types of gamified popups.
With OptiMonk's responsive design, all your popups (including your discount wheel) will look great on any device.

Get started with one of these templates in just a few minutes:
Key feature #2: Set the odds for winning
You can decide if visitors can win a prize with your lucky wheel, and choose the levels of discount to include on the wheel. You can also configure the chances of winning for each slice.
Key feature #3: 30+ intelligent targeting features and triggering options
You can target different visitor segments with fully customized messages and different forms. Use URL targeting, targeting based on cart value or products added to the cart, targeting based on traffic source, and much more.
Other key benefits:
An easy-to-use drag & drop builder:

Creating unique popups has never been easier.

Ecommerce-specific features:

From a great countdown timer to auto-generated coupon codes and WordPress-specific targeting options.

Google, AdBlock & GDPR safe:

OptiMonk campaigns are fully GDPR compliant and Google friendly, so you and your customers are safe and secure.

Detailed analytics & insights:

Get in-depth insights into how your campaigns are performing (and why) based on user behavior.

30+ email, CMS, and ecommerce integrations:

Including popular solutions like MailChimp, Klaviyo, and HubSpot. You can automatically send all the lead data you collect for more targeted email marketing.

A/B testing:

Test alternative versions of your messages to find out which have the best conversion rate.
Pricing:
Free, or from $29/month.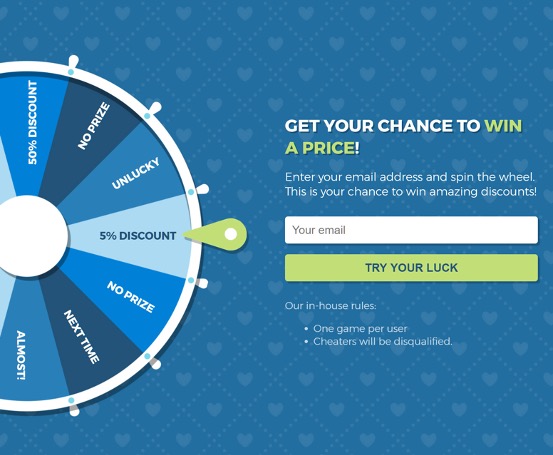 WP Optin Wheel is a WordPress and WooCommerce plugin that focuses on spin-to-win popups. You can attach different coupon codes to your spinning wheel game, which can contain up to 12 slices.
Main features:
Predefined themes:

Choose between templates with different colors and backgrounds to make your spin-the-wheel popup match the look and feel of your website.

MailChimp integration:

When you capture email addresses from your website visitors, you can send them emails from your MailChimp account.

Create multiple wheels:

The free version of WP Optin Wheel allows you to create multiple wheels using one account.

Set the win probabilities:

Configure the chances of winning for each slice.
Pricing:
Free, or from $49/year.
3. Lucky Wheel for WooCommerce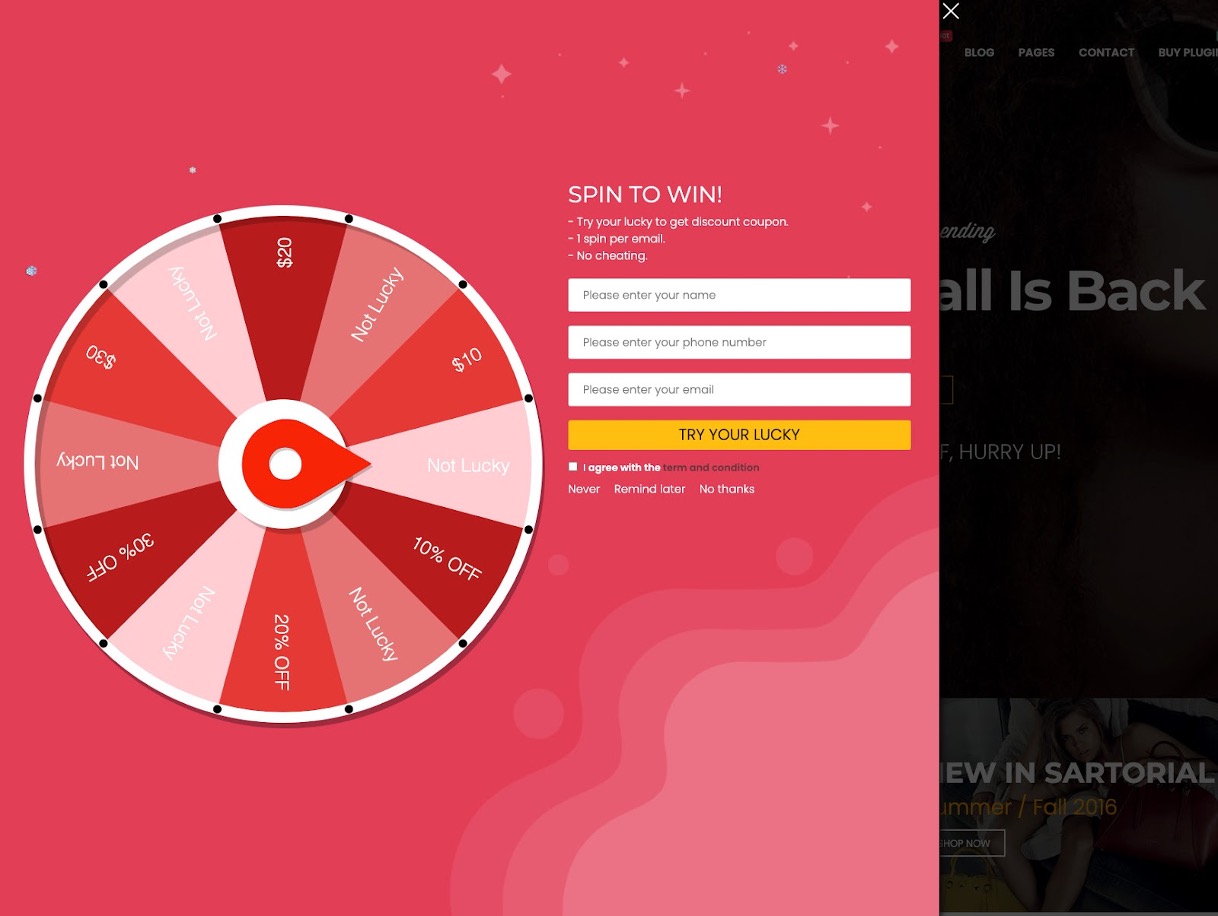 Lucky Wheel is a WooCommerce extension that lets you create discount code spin-to-win popups. It helps to grow your email list by offering your visitors a chance to win a coupon or other prizes by spinning the wheel of fortune.
Main features:
Custom input fields

: Use two extra fields on your Lucky Wheel popup to collect additional information (like name, gender, or other info you can use to personalize future communcations).

Flexibility

: Select how many times a web visitor can spin the wheel after they provide their contact information.

Exit intent technology:

Convert abandoning visitors by timing your spinning wheel popup to appear just before a visitor closes your ecommerce store.
Pricing:
Free.
4. CrazyRocket Spin Wheel Pop Up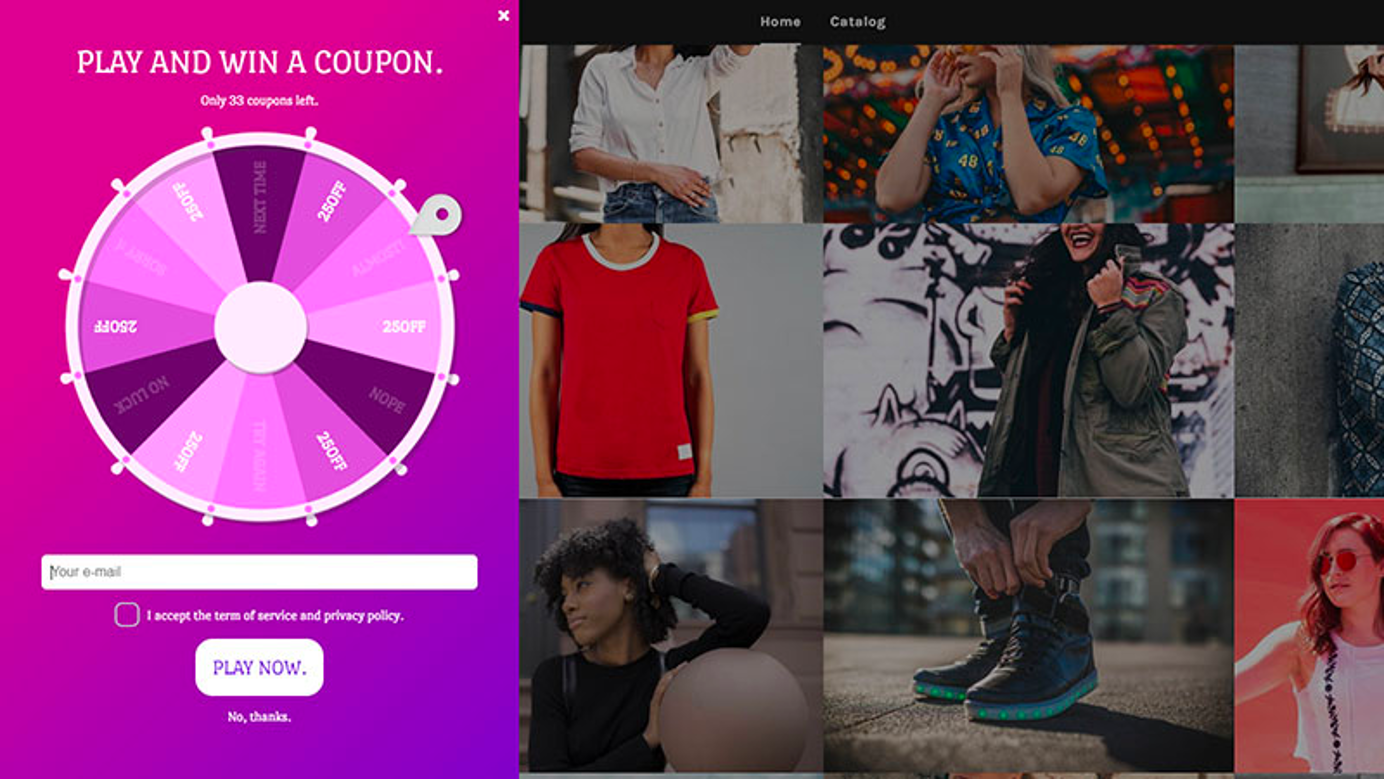 Crazy Rocket's Spin Wheel popup marketing tool offers several types of gamified popups that encourage customers to sign up for email lists.
Main features:
Discount coupons:

Generate unique coupon codes and automatically apply customers' discounts to their shopping cart.

Slot machine popup:

Use a popup that looks like a slot machine, giving visitors a different gamified experience than the one they get with discount wheels.

GDPR compliant:

Have lots of European visitors? No worries, since all of Crazy Rocket's Spin Wheel popups are GDPR compliant.
Pricing:
From $9/month.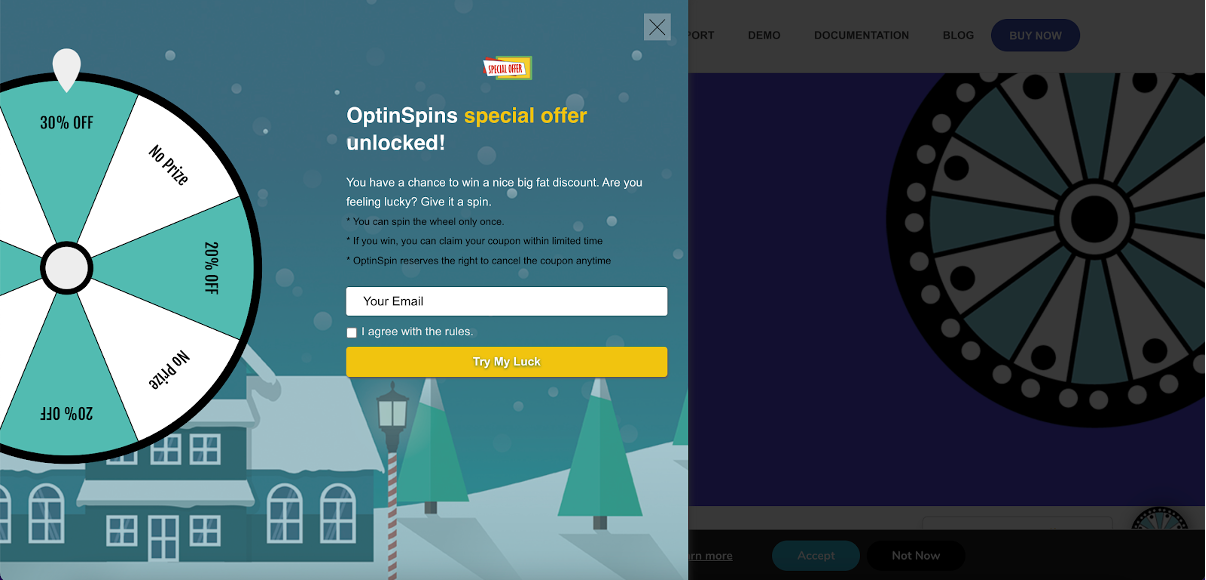 You can create beautiful spin-to-win popups with the Optin Spin WordPress spinning wheel plugin.
Main features:
Mobile-first design:

Every Optin Spin spinning wheel popup will look great on both mobile devices and desktops.

Automatic emails:

When a visitor wins a prize, this premium WordPress plugin sends their code directly to their email address.

Facebook Messenger:

In addition to using email marketing to retarget your visitors, you can also use Facebook to start a personal conversation.
Pricing:
From $99.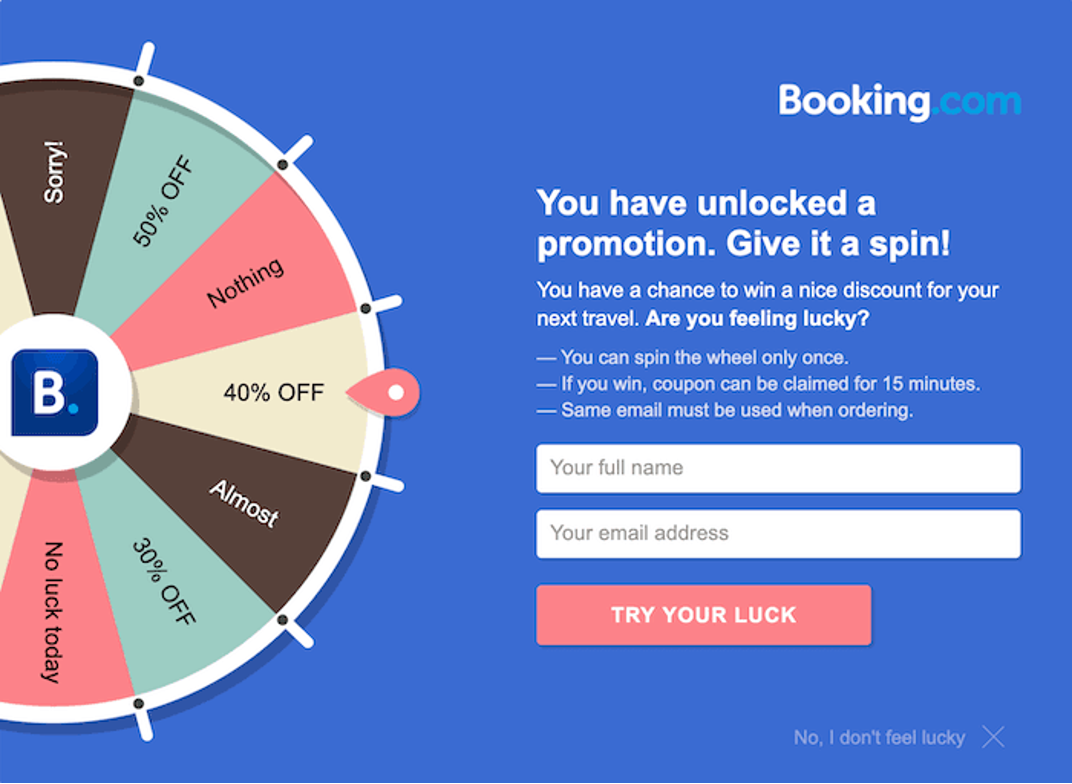 Wheel of Popups is a top-of-the-line spin-to-win wheel plugin for WordPress with many impressive features. It's used by lots of top brands and ecommerce sites.
Main features:
Logos:

Add your brand's logo to the middle of the spinning wheel to create a more branded experience. Customizing the wheel center is a great way to integrate the popup into your website as a whole.

Multiple triggers:

You can set your spin-to-win wheel to appear based on several different triggers, from a timer to exit-intent behavior.

Social media giveaways:

Use the spin-to-win wheel as part of your Instagram giveaways, creating a more engaging campaign.
Pricing:
From $29/month.
7. Spin Wheel For WooCommerce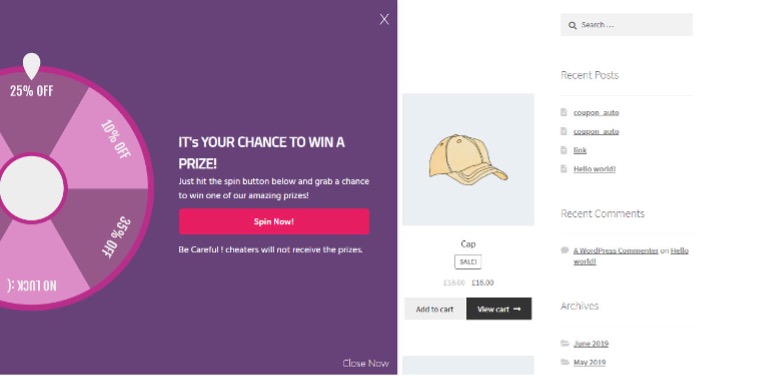 Like the other WordPress plugins on this list, Spin Wheel allows you to create a discount wheel using all the key features of similar plugins.
Main features:
Seasonal templates:

Show different spinning wheels at different times of the year, making use of special effects like a snowfall animation during the holiday season or a cute spring-themed background image.

Schedule discount wheel campaigns:

After you create your spin the wheel popup, schedule it to appear automatically at a specific date and time.

Automatic coupon codes:

When visitors win prizes, discount codes can be automatically generated by the Spin Wheel plugin.
Pricing:
From $49/year.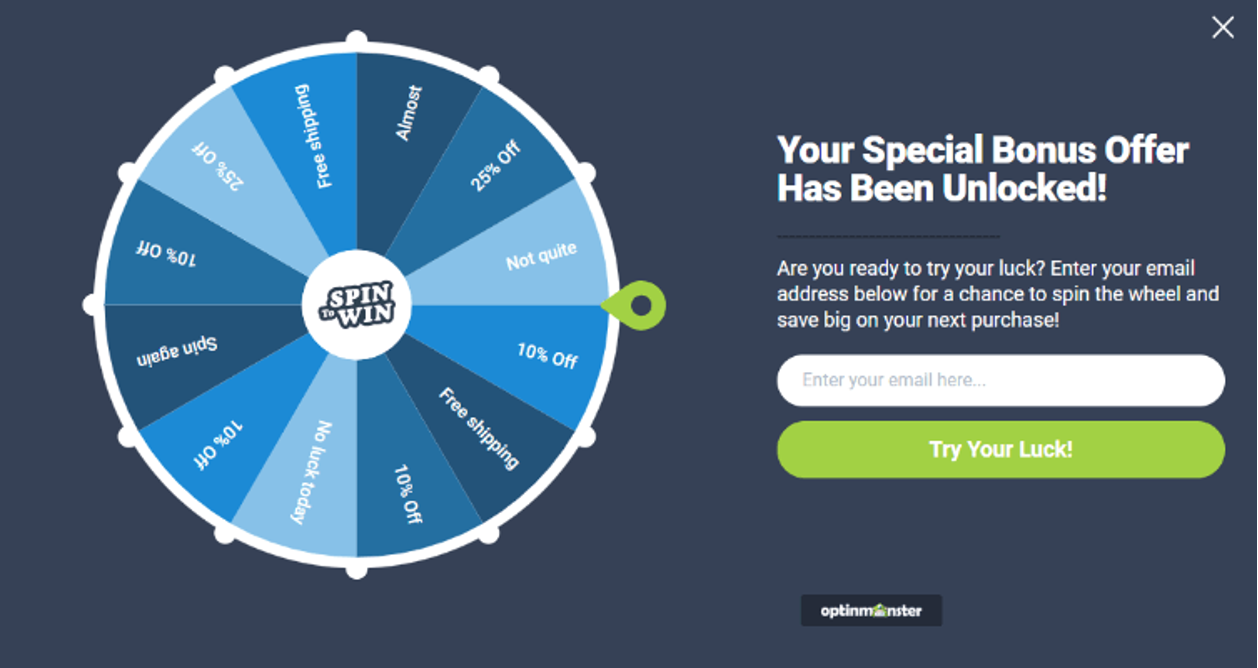 OptinMonster has a number of spin-the-wheel templates available through their popup creation software. When you create a spinning wheel popup, you can take advantage of all the advanced targeting and triggering options that OptinMonster offers.
Main features:
Customizable WordPress lucky wheel popups:

Choose how many wheel slices to use and the odds of winning each prize.

Drag and drop popup builder:

Customize all your lead capture form details with OptinMonster's easy-to-use drag and drop builder.

Multiple types of lead forms:

choose between classic popups, floating bars, fullscreen overlays, and slide-ins.
Pricing:
From $14/month.
So that's our list of the best WordPress spinning wheel plugins for 2023! All these options have the key features you need to create a fantastic gamified popup.
When a customer wins a discount, they're more excited than when they're simply handed one. So why not create your own lucky wheel, spin-to-win, or even scratchcard popup and start boosting your conversions and sales?
Sign up for OptiMonk today to gain access to dozens of spin-to-win wheel templates for free (without even entering your credit card details). Your visitors will love playing!